In recent years, coffee lovers have become wildly enthusiastic about manual coffee making. Manual coffee brewing methods are perfect for getting that coffee shop quality cup at home.
Pour-over and French press coffee brewing are trendy right now, although neither method is new. Both the French press and pour-over coffee are tried and true methods that have been used for decades.
If you want a fresh way to make over your usual coffee making routine, trying one of these methods will do the trick. It's not hard to see why these methods have gained popularity, because finicky coffee drinkers get the advantage of quality control. Manual coffee brewing is a satisfying way to make some of the best coffee you've ever made in your kitchen.
Don't know which method to try?
Here's a detailed comparison of French press vs pour-over coffee to help you make the right decision when brewing the perfect morning cup of joe. Grab your favorite travel mug and let's get started.
Manual Brewing 101
A few basic tips will make a world of difference in the taste of your coffee, no matter which method you prefer. To make great coffee consistently, follow these guidelines.
Invest in a coffee grinder—it's life-changing. Be sure to grind your coffee beans right before brewing to craft an unparalleled cup of coffee. Burr grinders work the best because they evenly grind beans to create a smoother brew.
Pick the right grind size. A finer grind—think espresso—creates a stronger cup because the smaller particles of coffee grounds have more exposure to water. Coarser grounds will create a smoother, more mellow flavor. Be sure not to grind too fine or brew too long—the result will be bitter coffee. Too coarse of a grind or too little brewing time will create a cup that lacks flavor.
Treat your coffee to the best water. If you don't drink water straight from the tap at home, don't use it to make coffee. Use filtered water instead.
How To Make French Press Coffee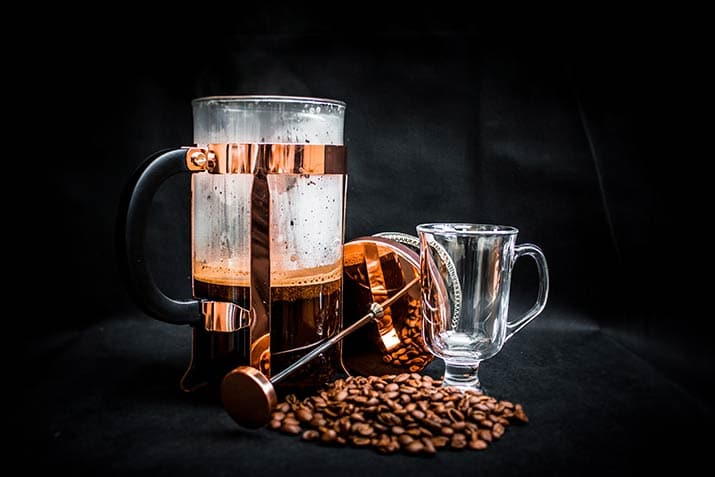 Ironically, modern French press coffee makers were designed in Italy in 1929. There are three parts to the French press—a glass carafe, a plunger, and a stainless steel screen filter. The following recipe for success makes two cups of coffee, so simply double or triple the recipe to brew for a crowd.
Rather than water merely dripping through coffee and landing in your mug, the coffee that will make it into your morning cup will be made from an immersion of coffee and water.
French Press Coffee Ratio
1:15 coffee to water is a good place to start, no matter the size of your French press. You'll need 1 gram of coffee to 15 grams of water. If you don't have a kitchen scale, the measurement is equivalent to 3 tablespoons of coffee to 1 cup of water. Adjust for preference, if needed.
What You'll Need
4-cup French press
27 g (5 Tbsp.) coarsely ground coffee (aim for the consistency of Kosher salt)
400 g (1.75 cups) water, just off boil
Spoon for stirring
Step 1: Heat water and bring to a boil. The ideal water temperature for coffee is 200 degrees, so use a thermometer if you have one.
Step 2: While awaiting the boiling water, grind your coffee beans to a coarse grind.
Step 3: Have your scale (or measuring spoons and measuring cup), your timer, and a spoon ready. Measure and pour water and coffee grounds into the carafe. Evenly distribute the coffee grounds at the bottom of the carafe and pour hot water on top.
Step 4: Stir to be sure all of the coffee grounds are fully immersed in the water.
Step 5: Place lid on the carafe with the plunger all the way up. Set your timer for 3 minutes and 30 seconds or 4 minutes. The brew time can be played with to customize your coffee. The longer the brew, the stronger the flavor.
Step 6: When the timer goes off, remove the lid from the carafe and stir the coffee grounds that have formed at the top. After stirring, replace the lid and push the plunger all the way down. Now, the grounds are separated from the water.
Step 7: Your coffee is ready for pouring! Did you know that the smell of coffee lowers stress? Take in the aroma of your freshly made French press coffee and enjoy.
Top Picks for Best French Press Coffee Makers
Advantages Of French Press Coffee
Rich: Coffee made in a French press is rich, satisfying, and a bit thicker than other brews. The water and coffee grounds married together from start to finish means that the oils are extracted from the coffee, which adds a strong, full-bodied flavor.
Effortless: Using a French press is effortless. Once you perfect the coffee ratio you prefer, the process is foolproof.
Customizable: Another popular reason coffee lovers choose a French press is that it is completely customizable. You control each aspect of the brewing process from the grind size to the coffee ratio. Customizable coffee brewing is a huge advantage to any self-proclaimed coffee snob.
Disadvantages Of French Press Coffee
Thick Texture: There are a few potential downfalls to this method depending on your preferences. The first one is the thickness of the brew and the possibility of a gritty mouthfeel. Because the coffee grounds are steeped in hot water without a filter, finer pieces of grounds may not fully strain out. However, this can be combated with a coarse grind and an effective filter.
Cleanup: The French press needs to be dismantled and cleaned by hand if it's not dishwasher safe (but many are). If you have busy mornings with little cleanup time, then this is one downfall to consider.
How To Make Pour-Over Coffee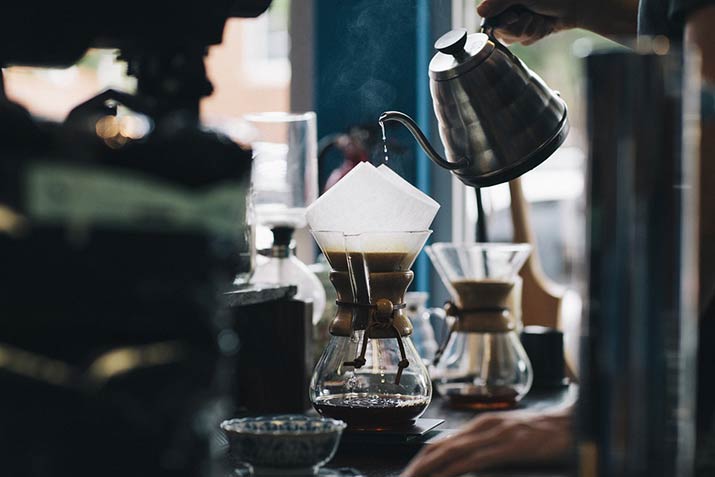 Pour-over coffee brewing essentially performs the same way that your drip coffee maker works, but you have more control in the brewing process. This method is also low maintenance and simple. The following recipe will make enough for one coffee drinker.
Pour-Over Coffee Ratio
Start with a 1:15 coffee to water ratio. You can always adjust the ratio of coffee for taste after you've become more acquainted with the pour-over method.
What You'll Need
25 g (4 Tbsp.) of coffee beans (ground to a sand-like consistency)
375 g (1.5 cups) of water, just off boil
Paper filters
Scale
Timer
Step 1: Bring water to 200 degrees (double-check with a thermometer), or bring to a boil and let stand for 30 seconds to reduce heat.
Step 2: Measure grams of coffee beans and grind them to the consistency of sand.
Step 3: Place a coffee filter into the pour-over cone. It is recommended to rinse hot water through the filter to get rid of the woodsy paper taste. The hot water will also preheat the cone, which creates a consistent temperature for the brewing process.
Step 4: Toss out the water used to rinse the filter and add your coffee grounds. Use double the amount of water to grounds, in this case, 50 grams of water. The water and coffee grounds will make contact and "bloom," creating CO2. The gasses escape and make the grounds more capable of absorbing water. Pour the water in a spiral motion and wait 30 seconds.
Step 5: After 30 seconds, pour enough water to total 375 grams, and set a timer for 2 minutes and 30 seconds to 3 minutes.
Step 6: Swirl your carafe one last time and take in that aroma! Your pour-over coffee is ready for your favorite mug.
Top Picks for Best Pour-Over Coffee Brewers
Advantages Of Pour-Over Coffee
Smooth: Pour-over coffee will create a balanced and flavorful coffee. If you want to taste all of the unique attributes of a given coffee, then the pour-over coffee method was made for you.
Customizable: Just like the French press, a pour-over coffee can be completely customized to the drinker's preference.
Easy Cleanup: Pour-over coffee makers are easy to use and easy to clean. The pour-over cup can be tossed in the dishwasher or quickly hand-washed.
Disadvantages Of Pour-Over Coffee
Subtle: Although pour-over coffee is full of flavor, it might not have the same body as coffee made with a French press. For coffee drinkers who prefer a really robust flavor and full-bodied coffee, a French press with a medium or dark roast coffee would be best.
Extra Effort: Pour-over coffee requires a slow and deliberate process. The French press requires less babysitting.
French Press Vs. Pour-Over: Enjoy Specialty Coffee No Matter Which Brewing Method You Prefer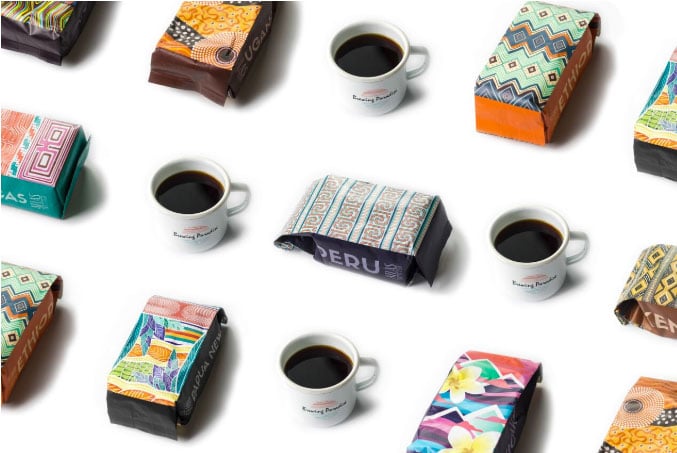 After weighing the options of how to brew French press and pour-over coffee, you might be ready to use one or the other.
Choosing one coffee brewing method is really a matter of the coffee drinker's preference. Both methods require about the same amount of time and effort, and both methods are inexpensive to invest in. The real deciding factor here is the flavor produced by each kind of brew.
Still can't decide? In truth, enthusiastic coffee lovers will have a French press and a pour-over coffee maker in their kitchens. Why not try both?
Do you prefer robust, dark roasts or mellow, delicate roasts? Maybe it just depends on what kind of morning you're having. No matter how you make your morning brew, the first step is using the finest coffee beans. Atlas Coffee Club brings you single-origin, top-quality coffee beans delivered on a schedule that works for you.
Think of us as your coffee tour guides, sending you exotic, high-quality coffees you can't find anywhere online or on the shelf. Enjoy coffee from a new country every month. Your coffee world tour is waiting in a subscription box personalized just for you.
---
More Related Articles:
---