Quick Summary: After extensively researching a wide array of coffee blends, we've come to the conclusion that Lavazza Super Crema Whole Bean Blend stands out from the rest. Blended and roasted in Italy, this aromatic tasting mild and creamy medium espresso roast incorporates notes of hazelnuts and brown sugar that take the coffee blend to the next level. The coffee blend comprises 60% Arabica and 40% Robusta and is manufactured using innovative roasting techniques that lead to a well-balanced taste. You'll unquestionably enjoy this coffee blend if you prepare it with a machine.
One of the great things about espresso is that it caters to a variety of tastes. Some people like the straight shot, while others like it to create mochas, cappuccinos, macchiatos, and lattes. The taste changes based on the type of machine used to brew it.
Espresso coffee is known to not only provide a quick pick-me-up to start the day but is a different experience than a standard cup of coffee. The finish is faster, but the flavor and aroma stay with you for a while. After an espresso, your mood is different and you feel as if you can accomplish anything!
While you can use any ground blend for espresso, there's a difference when using coffee specifically designed to deliver the espresso taste. Additionally, a regular bean won't work in certain machines because the coffee grind is too big.
Purchasing espresso or a whole coffee bean to personally grind to accommodate coffee for machine use is the best way to go. Whether you're using a coffee maker or espresso machine, there's an amazing taste waiting for you. Here are 10 top choices in Espresso.
Quick Navigation
---
10 Best Espresso Beans Comparison
| | | |
| --- | --- | --- |
| | Blended and roasted in Italy, this mild and creamy single-origin espresso medium roast has notes of brown sugar and hazelnut in every whole bean. This is best used with espresso machines. | Read Our Review |
| | This is a dark roasted single-origin coffee for an espresso maker, with whole beans, delivers a smooth crema with a bright tang and hazelnut nuance in a smoky and full-bodied blend. One thing to note here - it is one of the best coffee for espresso machine use. | Read Our Review |
| | Originating from Columbian, Guatemalan, and Sumatran rain forests, these rich, organic coffee espresso beans are smooth and full-bodied laced with cinnamon, and bright with a long finish. | Read Our Review |
| | These caffeinated whole espresso coffee beans carry a bright, bold, medium roast with a citrus twist and is a coffee for an espresso maker. | Read Our Review |
| | Pienaroma Italian whole coffee beans carry this 100 Arabica medium espresso roasted blend with notes of jasmine flowers and figs is best used with a maker. | Read Our Review |
| | Grown and responsibly sourced, this decaf dark roast blend delivers a full-bodied, smoky taste appealing to the senses. If you like a strong, robust flavor, this decaffeinated coffee is it. | Read Our Review |
| | This natural water processed dark roast decaf has notes of smoky brown spice, dark chocolate, and vanilla bean in a One Cup coffee pod. | Read Our Review |
| | These organic, caffeinated espresso cups are compatible with the Nespresso Original Line machine, specifically designed to deliver an enhanced tasting experience. | Read Our Review |
| | Designed for chocolate lovers, this full-bodied caffeinated Illy blend is 100% Arabica and preservative-free, delivering notes of deep cocoa with an intense, robust, full-flavor. | Read Our Review |
| | This classic top coffee for espresso delivers a robust, full-bodied flavor. Ready to brew from electric and manual makers or machine, the bold, Latin flavor stands out with or without sugar. | Read Our Review |
---
Reviews of Top 10 Espresso Beans
Below we have compiled 10 best espresso beans reviews to make it easy for you to reach a decision when shopping for the beans that will match your style.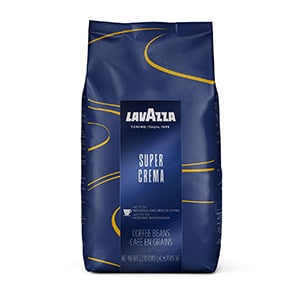 Designed for your everyday coffee needs, this is a blend of the delicate sweet Indonesian, Central American milds, and Brazilian coffee varieties.
This unique blend produces not only a velvety crema and long-lasting taste but also a persistent aroma of honey and almonds.
The coffee gives you an espresso with a mild flavor and sweet notes. When you buy the product, you will find whole bean coffee in the 2.2-pound bag.
This gives you the option of grinding the beans to your preferred fineness, with fine grinding for espresso and coarse grinding for preparing drip coffee.
Pros:
Flavorful, mild, and creamy with no aftertaste
Authentic hazelnut taste laced with brown sugar
Authentic, Italian blend suitable for coffee lovers
Cons:
Only available at 2.2 lb. bag
---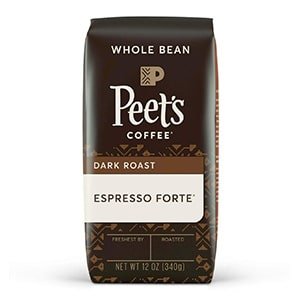 This uniquely rich coffee product makes use of the best coffee from top growing coffee regions in the world. It combines the depth of the Indo-Pacific coffee with the spiciness of American coffee.
Perfectly balanced to give you rich flavor and perfect crema, the product is specifically processed for espresso.
The process of roasting the beans is such that they will retain their freshness and full flavor, with the roast date indicated on the packaging bag.
With the whole bean characteristic of the product, the manufacturer allows you to grind the beans you're the fineness you desire. This allows for easy preparation and the best flavor.
Pros:
Beans can be ground to specific fineness
Smooth taste laced with hazelnut
Full-bodied and smoky with no aftertaste
Cons:
Should only be used with espresso machine
---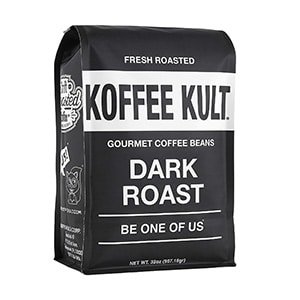 Whether whole, ground or during the brewing process, the Koffee Kult dark roast produces a great aroma that will attract you.
The product comprises organically sourced and fresh beans from Columbia, Sumatra, and Guatemala.
The rich exotic beans are blended before they are dark roasted and then packed, a factor that ensures perfect freshness and consistency in every bag.
The end result is smooth and strong tasting coffee with a bold flavor. When you buy Koffee Kult dark roast, you will not have to worry about a bitter taste or low acidity. The whole bean is ideal for use by any coffee grinder.
Pros:
Rich and organic statement
A unique blend of three regions – Columbia, Guatemala, and Sumatra
Smooth and full-bodied delivery with no aftertaste
Cons:
---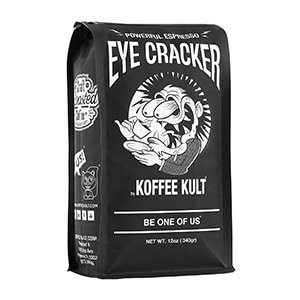 This bright espresso promises to deliver sweet and fruity flavors of caramel, tangerine, mild lemon, cherry and a tinge of natural sugar.
With high caffeine content, this would be amazing beans for preparing espresso at any time of the day. The high caffeine content will allow you to start your day with energy and flavor.
The product is a unique blend of coffee from Kenya and Central America, some of the top coffee growing regions in the world.
The beans are contained in a re-sealable bag that allows you to keep the beans fresh at all times.
Pros:
Bright, bold flavor wrapped into a medium roast
Flavorfully wrapped in citrus for a bright finish
Quick pick-me-up
Cons:
Best used with an espresso machine
---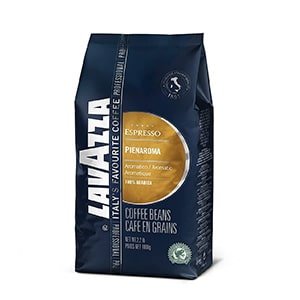 Lavazza whole bean coffee is 100% Arabica coffee beans that are contained in a 2.2-pound bag. The rich and high-quality coffee is air roasted, a factor that ensures the bean is never burned.
The roasting of the beans also ensures that you get a fruity and floral aroma every time you prepare your espresso.
You also get to enjoy an ultra-smooth flavor and a faint but sweet finish. When you buy the whole coffee, you will have a choice over how strong your coffee will be.
Grinding the beans to produce fine powder will be more suitable for espresso while coarse grinding will deliver great-tasting drip coffee.
Pros:
Can be ground into a fine powder
Full, smooth taste
Laced with the amazing smell of jasmine and figs
Cons:
---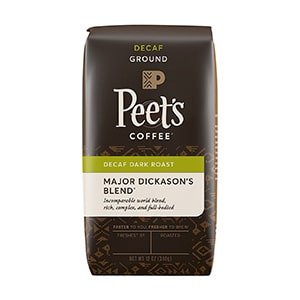 Without caffeine content, this popular blend will produce probably the most flavorful cup of espresso you have ever had.
The coffee blend combines the best characteristics beans from the top growing regions in the world to produce a smooth balance.
Whether you prepare the dark roast coffee as drip or espresso, you will enjoy the bold flavor and richness of the premium beans.
When you buy this product, you will get pre-ground coffee that makes it easy and convenient during brewing.
These premium beans are for espresso lovers who are obsessed with freshness and would not settle for less.
Pros:
Responsibly sourced with fresh, authentic beans
Full-bodied, smoky taste that lingers well after completion
Rich, roasted blend with a stellar reputation and no bitter aftertaste
Cons:
---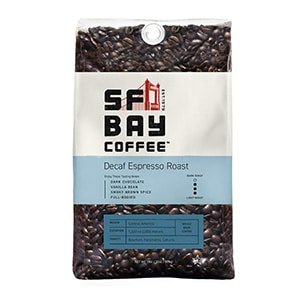 San Francisco bay coffee is full-bodied coffee that can be used for both regular coffee and espresso. Made from exotic regional coffee, the unique custom blend does not contain caffeine.
The beans used to make the product are sourced from a single estate to give you a richer flavor than other roast coffees in the market.
The coffee beans are inspected at every stage of the roasting process to ensure that everything goes right so that the richness and fullness can reach the end consumer.
When buying these coffee, you will have a wide selection range with each product delivering delicious coffee and great value.
This natural water processed dark roast decaf has notes of smoky brown spice, dark chocolate, and vanilla bean in a One Cup coffee pod.
Pros:
Can be used for regular and espresso
An interesting blend of brown spice, vanilla bean, and dark chocolate
Designed to accommodate Keurig coffee maker or other pod machines for a quick finish
Cons:
Does not contain caffeine
---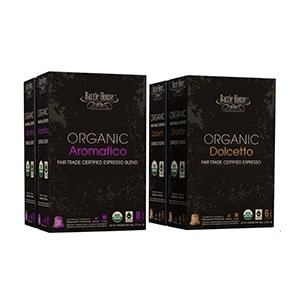 Just as the name suggests, the Nespresso Compatible Barrie House Fair Trade Organic Espresso Capsules are compatible with Nespresso machines.
With such compatibility and the important role that machines play in producing quality beverages, you will enjoy full flavor, great aroma, and freshness.
The capsules are not only organic but also 100% Arabica coffee. This gives you the premium espresso with minimal caffeine and a sweet taste.
When you buy the coffee capsules, you will get eight boxes, each holding a total of ten capsules.
Pros:
Organic and made with 100% Arabica beans
Strong, full-bodied taste
Coffee pod cups making it easier for anyone to use
Cons:
---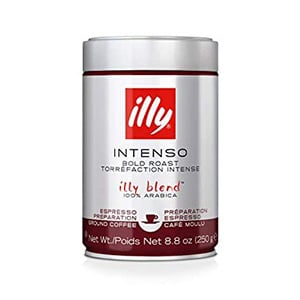 This product is made with 100% Arabica coffee that promise you rich flavor and attractive aroma.
It is a blend of the finest Arabica coffees aimed at giving you a flawlessly rich, smooth, and full-bodied flavor. The dark roast, fine grind coffee is suitable for use on all machines.
This gives you the convenience of using the machine you have at home while assuring you of a cup of premium coffee.
In order to maintain the robust flavor, the beans are skillfully roasted before they are air-cooled. Afterward, the beans are packed in nitrogen as a way of preserving their freshness.
Pros:
Full-bodied, robust flavor with no aftertaste
Made with no preservatives and 100% Arabica, with extra fresh taste
Made for those who love the taste of cocoa but need the intensity of coffee
Cons:
Can only use with espresso machines
---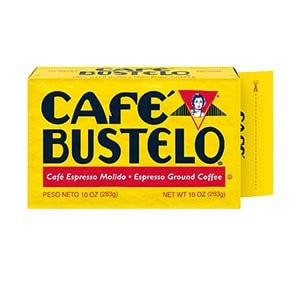 During brewing, the espresso ground coffee will have an irresistible aroma and rich flavor that stands up to both sugar and milk.
The distinct flavor of the finely ground coffee will be evident whenever you prepare and drink your espresso.
Whichever method of preparation you choose to use, you will be part of the unique culture that Café Bustelo Espresso Coffee has created.
The pure and flavorful beans are carefully sourced and skillfully roasted to ensure that you enjoy every espresso cup you drink. The total weight you will get when you buy the product is 10 ounces.
Pros:
Distinct but tasty dark coffee with a full flavor
Works well by itself or with milk
Versatile enough for different types of coffee maker machines
Cons:
---
How to Pick the Best Coffee Beans for Espresso
A lot goes into preparing that cup of espresso that you enjoy once in a while. While you should get the best espresso machine, it is equally important to use the best espresso coffee beans.
Getting the right beans means doing enough research to establish whether you will get the flavor and aroma that you like. When buying coffee for espresso, there are several things you will need to consider.
The coffee bean varieties
There are numerous coffee bean varieties in the market, a factor that may make the process of choosing overwhelming. However, you should narrow down to Arabica and Robusta coffee beans.
Although the flavor of the Arabica coffee will depend on where the growing region, they are known to contain less caffeine and to offer a sweet but slightly acidic taste. Robusta coffee beans, on the other hand, have higher caffeine content and tend to produce a bitter, acidic taste.
Choose the right toast
Roasting refers to the heating process that turns green coffee into the dark brown beans that you enjoy.
Since the process draws the flavor and aroma from the green beans, the level of roasting will determine the taste of your coffee. The different levels of roast can be classified into light, medium, medium-dark and dark.
How fine or coarse the beans are ground
When it comes to grinding your coffee beans for an espresso machine, you have the choice of fine powder of keeping the beans coarse.
The fineness of your beans will go a long way in determining whether you will enjoy your coffee. The finer the beans are, the richer and stronger your drink will be. At the time of purchasing beans, you should go for whole beans. This will allow you to grind them to your desired fineness.
The part of the world that they come from
Beans from different parts of the world will have different characteristics and flavors. Since the different coffee species will be appealing to different espresso lovers, it is important to find the one that works for you.
The main regions where quality coffee is grown are Central America and Colombia, Brazil, Ethiopia, Kenya, Indonesia, and Hawaii.
Taste and aroma
Each of the factors mentioned will contribute to the taste and aroma of your espresso. However! when choosing the best coffee for the espresso machine, you should pay attention to balance.
Balance refers to how all the factors interact to produce the taste you like and enjoy. You should choose coffee that will match your individual taste and preference.
Once you have chosen the best coffee beans and you have the right espresso machine, enjoying your coffee will come down to personal preference, taste, and style.
---
Our Recommendation: Best Espresso Beans
Based on the reviews we have put together as well as the factors to consider when choosing the best espresso beans is Lavazza Super Crema Whole Bean Blend.
One of the most outstanding features of the beans is that they are specifically sourced, roasted and packaged.
The coffee is a unique blend of the finest coffees from the top growing regions in the world, a factor that promises you rich flavor and irresistible aroma.
The roasting process is also designed to preserve this rich and full-bodied flavor. Since you get whole beans when you buy the product, you have the choice of grinding them to your preferred fineness.
More Related Articles:
---