Is your fridge making an obnoxiously loud humming, buzzing, or rattling sound? It could indicate a bigger problem.
Take action when your fridge produces strange noises like whirring. Contact professional fridge repair services, especially for mini refrigerators, to address the issue promptly.
Identifying the cause, such as a noisy fridge compressor, is crucial for effective repairs. Excessive heat, vibrations, or other factors may contribute to the buzzing sound. Understanding the root cause and addressing it can restore efficiency and peace in your home. Discover how to stop the refrigerator from buzzing by soundproofing it with a soundproof cabinet. Say goodbye to that loud humming for good.
Supplies You'll Need to Stop Loud Fridge Noises
To stop loud fridge noises, you may need the following supplies:
Screwdriver: A screwdriver is essential for tightening any loose screws or hinges that may be causing the noise.
Soft brush or cloth: Use a soft brush or cloth to clean the condenser coils, fan blades, and other components inside the fridge.
Vacuum cleaner with a brush attachment: A vacuum cleaner with a brush attachment can be useful for removing dust and debris from the condenser coils and other hard-to-reach areas.
Lubricant: Depending on your fridge's manufacturer recommendations, you may need a specific lubricant to lubricate the fan motors and other moving parts to reduce friction and noise.
Cleaning solution or vinegar: If you need to clean clogged water lines or remove dirt and debris, a mild cleaning solution or vinegar mixed with warm water can be effective.
Replacement parts: If you discover damaged or worn-out components, you may need to purchase replacement parts such as hinges, fan blades, or gasket seals.
Soundproofing materials: If the noise persists despite other measures, soundproofing materials such as loaded vinyl sheets, vibration mats, or a soundproof cabinet can be used to minimize noise transmission.
Remember to refer to your refrigerator's user manual or contact the manufacturer for specific recommendations and instructions on addressing loud fridge noises.
How to Stop the Refrigerator from Buzzing
Step 1: Align Drip Fan and Drip Pan
To fix a fridge, align the refrigerator compressor drip fan and drip pan by following these steps.
Locate the drip pan: The drip pan is also known as the drain pan and is typically located at the bottom of your refrigerator. It collects any excess water that drips from the cooling coils or condensation from the freezer.
Inspect for misalignment: Carefully examine both the drip fan and drip pan to determine if they are properly aligned. Look for any visible signs of displacement or movement.
Adjust their position: If you notice any misalignment, gently reposition both components until they fit snugly together. Ensure that they are level and secure.
So, if your fridge compressor has been buzzing incessantly, don't fret! Follow this simple step to align the drip fan and drip pan, and say goodbye to the unwanted noise.
Step 2: Tighten Loose Parts
If your fridge is buzzing, loose parts like the compressor could be the cause. Here are steps to troubleshoot and fix the issue:
Inspect for loose components: Check for visible signs of loose screws, bolts, hinges, or handles. These can vibrate against surfaces and cause buzzing sounds from the compressor.
Tighten door handles: Use a screwdriver to securely fasten loose screws on the door handles. Listen for any buzzing noise from the compressor.
Check fridge shelves: Ensure shelves are properly seated in their slots or brackets. Adjust them if needed for a snug fit. Listen for buzzing noises.
Examine gasket seals: Inspect the gasket seal for damage or gaps. Replace if necessary to maintain an airtight closure.
Tighten bolts and legs: Check for loose bolts and adjust adjustable legs for a secure fit against the floor.
Inspect rubber mounts and grommets: Replace worn or loose rubber pieces that act as shock absorbers between components like compressors and condenser coils.
Check additional fridge parts: Inspect valves, water lines, or ice makers for looseness or damage.
Seek professional help if needed: If the buzzing persists, it's advisable to contact a qualified fridge repair technician for further diagnosis and resolution.
By addressing loose parts, you can often fix the buzzing issue in your fridge. However, if the problem persists, professional assistance may be required.
Step 3: Fill Up the Fridge
To stop your fridge from buzzing, ensure it is adequately stocked with food items. A partially empty fridge can vibrate more, resulting in buzzing sounds. Here's how to fill up your fridge effectively:
Organize your fridge: Maximize space utilization by using shelves and compartments efficiently, avoiding overcrowding.
Stock up on essential items: Purchase perishable goods like fruits, vegetables, dairy products, and beverages that require refrigeration.
Utilize freezer space: Store frozen foods such as meat, fish, ice cream, and frozen vegetables in the freezer section to optimize space.
Make ice: Use the ice maker tray or ice dispenser feature to regularly make ice cubes, which helps fill up space in the freezer.
By following these steps and filling your fridge with essential items, you can minimize vibrations and reduce buzzing caused by an empty or partially filled refrigerator.
Step 4: Clean for Silence
Regularly cleaning the condenser coils and fan blades of your fridge is crucial to prevent excessive vibration and noise caused by dust accumulation. Here's how to do it:
Unplug the fridge: Ensure the fridge is unplugged from the power source for safety.
Clean the condenser coils: Locate the condenser coils at the back or beneath the fridge. Brush off visible dust gently or use a vacuum cleaner with a brush attachment to remove debris.
Clean the fan blades: Carefully clean each fan blade using a soft brush or vacuum cleaner. Dust on the blades can disrupt balance and create vibrations that cause buzzing sounds.
Check for loose items: Look inside the fridge for any loose items that could be rattling and causing buzzing noises. Securely handle and reposition items to prevent contact during operation.
If after cleaning your fridge you still experience buzzing noises, consider using soundproofing techniques as an additional measure.
Soundproof Cabinet: Place your refrigerator in a specially designed soundproof cabinet that helps absorb noise.
Vibration Mats: Use vibration mats under your refrigerator to minimize vibrations transmitted through contact with the floor.
Loaded Vinyl: Apply loaded vinyl sheets on walls near your fridge to reduce noise transmission.
White Noise: Consider using white noise machines or fans near your refrigerator to mask the buzzing sound with a more soothing noise.
Remember, it's important to differentiate between normal operational sounds and abnormal buzzing. While some noise is expected during the fridge's normal function, excessive buzzing can indicate an underlying issue that requires attention. If you notice any signs of malfunction or if the buzzing persists even after cleaning, it may be best to consult a professional technician for further diagnosis and repair.
Step 5: Troubleshoot Buzzing Noises
In this step, we will guide you through some troubleshooting techniques to help you identify and resolve the source of those annoying buzzes.
1. Check Specific Areas for Potential Issues
Start by focusing your attention on specific areas of your fridge that could be causing the buzzing noise. Common culprits include ice makers, water valves, or fans. These fridge components are prone to wear and tear over time, which can lead to unusual sounds.
Inspect each area of the fridge carefully and listen for any buzzing sounds originating from these fridge parts. If you notice anything out of the ordinary with the fridge, it's likely that there is an issue that needs addressing.
2. Clean Out Clogged Water Lines
Sometimes, a clogged water line in your fridge can cause excess noise. When water doesn't flow freely through these lines, it can lead to vibrations and hissing sounds, creating a noisy environment.
To tackle this problem, follow these steps:
Locate the water supply valve connected to your refrigerator.
Turn off the valve and unplug the fridge from the power source to address the buzzing noise.
Remove any accessible water line connections.
Use a cleaning solution or vinegar mixed with warm water to flush out any debris or mineral buildup inside the fridge lines and stop the buzzing noise.
Reconnect the fridge securely and turn on both the water supply valve and power source to stop the buzzing noise.
By cleaning out clogged water lines, you may eliminate one potential cause of buzzing noises in your fridge.
3. Tighten Loose Wiring Connections
Here's what you need to do:
Another common reason for buzzing noises is loose wiring connections within your fridge. Over time, vibrations from normal usage can loosen wires or connectors in your refrigerator, resulting in irritating sounds.
Unplug your refrigerator before attempting any repairs.
Carefully remove the back panel or access cover of the fridge to gain access to the wiring and address any buzzing noise.
Inspect all visible wires and connectors for any signs of looseness, especially if you hear a buzzing noise coming from the fridge.
Using a screwdriver or pliers, tighten any loose connections you come across in your fridge to address the buzzing noise.
Once you've secured all the wiring of your fridge and addressed any buzzing noise, replace the back panel or access cover and plug your refrigerator back in.
By ensuring that all wiring connections in your fridge are tight and secure, you can minimize buzzing noises caused by loose components.
Step 6: Maintain Fan Motors
To ensure your fridge operates smoothly and quietly, regular maintenance of the fan motors is important. Follow these steps to minimize buzzing caused by friction:
Lubricate fan motors regularly: Regular lubrication reduces friction and prevents buzzing sounds. Refer to the manufacturer's recommendations for suitable lubricants.
Use manufacturer-recommended lubricant: Always use a lubricant specifically recommended for your fridge's fan motor. Consult the manual or contact customer support for guidance.
Proper maintenance reduces noise levels: Regular maintenance of fan motors contributes to overall noise reduction in your kitchen.
Evaporator fans: Clean dust and debris from the fan blades using a soft brush or cloth to prevent buzzing. Ensure there are no obstructions hindering their movement. Follow manufacturer instructions to apply lubricant if needed.
Condenser fans: Remove dirt or debris from the fan blades to prevent buzzing. Check for loose or damaged blades and replace if necessary. Lubricate the motor following manufacturer guidelines.
By regularly maintaining your fridge's fan motors, cleaning them, and applying suitable lubricant, you can minimize friction and prevent buzzing noises. Enjoy a quieter kitchen environment.
Step 7: Level the Refrigerator
A spirit or bubble level can help you determine if your refrigerator is balanced properly. Here are some steps you can follow to level your fridge effectively and eliminate any buzzing noise.
Check for Levelness: Begin by placing a spirit or bubble level on top of your refrigerator. Ensure that it is positioned in the center, side to side, and front to back. This will help you identify any areas where the fridge may be uneven.
Adjust the Leveling Legs or Wheels: Once you have determined that your refrigerator isn't level, locate the leveling legs or wheels at the bottom of the appliance. These legs provide stability and support, preventing vibrations that could lead to buzzing noises.
Stabilize with Leveling Legs: If your refrigerator has leveling legs, use a wrench or pliers to adjust them accordingly. Turn them clockwise to raise the fridge and counterclockwise to lower it until it becomes level.
Ensure Stability with Wheels: In case your refrigerator has wheels instead of leveling legs, look for adjustable screws near each wheel. Rotate these screws clockwise or counterclockwise until all four wheels are firmly planted on the ground.
Test for Balance: After making adjustments, recheck the balance using a spirit or bubble level as mentioned earlier. Repeat steps 3 and 4 if necessary until you achieve perfect balance.
A properly leveled refrigerator significantly reduces buzzing noises caused by imbalance. By eliminating vibrations through proper adjustment of leveling legs or wheels, you can enjoy a quieter kitchen environment.
Step 8: Check Hinges and Water Line
Inspecting the hinges of your refrigerator is crucial in identifying the source of a buzzing sound. Over time, worn-out or damaged hinges can cause vibrations and noise. Follow these steps to address the issue:
Examine the hinges: Take a close look at the hinges on both sides of the door for signs of wear or damage.
Tighten loose hinges: If the hinges are loose, use a screwdriver to carefully tighten them. Avoid over tightening to prevent further damage.
Check water line connections: Buzzing may persist even after tightening the hinges. Examine the water line connection to the refrigerator's water dispenser. Ensure all connections are tight and properly secured.
Secure loose connections: If you find any loose water line connections, gently push them together until they click into place. This helps prevent vibrations and reduces buzzing noises. Check for damage or leaks along the length of the water lines.
Ensure clearance around water lines: Make sure there is enough space between the water lines and adjacent walls or objects to prevent contact-induced noise.
Evaluate clearance around the refrigerator: Check if there is sufficient space for proper airflow and movement without obstructions. Adjust nearby items or furniture if necessary.
Inspect the door seal: Examine the door seal for wear, tears, or gaps that may contribute to buzzing noises. Consider replacing the door seal for better sound insulation.
By thoroughly inspecting the hinges, water line connections, clearance, and door seal, you can effectively address buzzing sounds in your refrigerator. These steps will help restore a peaceful and quiet kitchen while ensuring your fridge remains in optimal condition.
Common Causes of Refrigerator Buzzing
1. Loose parts:
inside mini refrigerators can cause a loud humming sound. When various components within the fridge, such as the evaporator fan motor, become loose or worn out, they may vibrate against each other, resulting in an annoying buzzing noise.
The most common culprit is the compressor, which is responsible for cooling the fridge. Over time, the vibration caused by its operation can loosen screws and bolts, leading to a rattling noise in the refrigerator.
2. An unbalanced drip fan or drip pan
It can also lead to loud humming noises in your fridge. The drip fan helps circulate air within the refrigerator, while the drip pan collects condensation. If either of these components becomes unbalanced or misaligned, it can produce vibrations that manifest as loud humming sounds.
Checking and adjusting these parts can often resolve the issue and bring tranquility back to your kitchen. If the issue persists, consider vacuuming the evaporator coils to ensure optimal performance.
3. Insufficient food in the fridge
It can result in increased vibrations and humming sound. When a refrigerator is not adequately stocked with items, there is less mass to absorb vibrations produced by running components like compressors and fans. This lack of mass amplifies any noise generated within the appliance, causing it to resonate more loudly and create a bothersome hum.
Ensuring your fridge is well-stocked with food can help dampen these vibrations and reduce unwanted noise. Additionally, soundproofing the refrigerator can also help minimize the humming sound.
To address a loud refrigerator compressor, some potential causes of loud noise include refrigerator door issues and the need for refrigerator repair.
Cleaning: Dust accumulation on the compressor's coils or fan blades can disrupt its smooth functioning and generate excessive noise.
Leveling: If your refrigerator isn't leveled properly, it may cause uneven weight distribution on the compressor, leading to increased vibrations.
Faulty Components: Worn-out motor mounts or faulty compressor parts could be contributing to excessive noise levels.
When troubleshooting a noisy fridge, it's important to follow safety precautions such as unplugging it before attempting any repairs or maintenance tasks. Excess noise, such as a buzzing noise, can be reduced through soundproofing.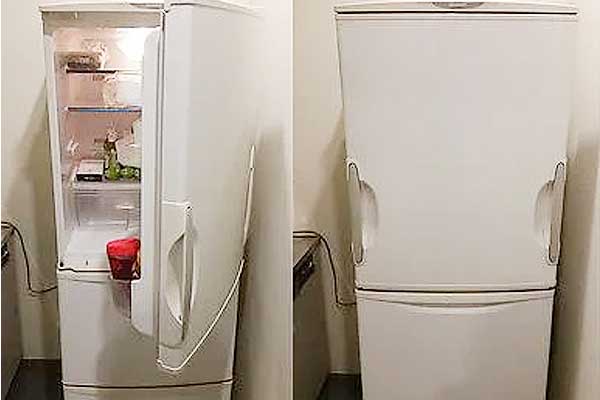 Common Refrigerator Sounds and Noises
Humming: A low, steady hum is often normal and indicates the refrigerator is functioning properly. This sound is typically generated by the compressor or cooling fan.
Clicking: Occasional clicking sounds may occur when the refrigerator's components, such as the thermostat or defrost timer, cycle on and off. This is a normal operation.
Water dripping: Water dripping or trickling sounds can be heard when the refrigerator is defrosting or when the automatic ice maker is filling with water. These sounds are usually normal and nothing to be concerned about.
Hissing or sizzling: Hissing or sizzling noises are commonly heard when the refrigerator is defrosting or when the refrigerant is circulating through the evaporator coils. These sounds are normal and should not cause alarm.
Buzzing or vibrating: Buzzing or vibrating sounds may indicate loose parts, such as fan blades or hinges. Tightening or adjusting these components can often resolve the issue.
Rattling or banging: Rattling or banging sounds can occur when items inside the refrigerator or freezer compartments are not properly secured. Ensure that food containers, bottles, or other objects are arranged securely to prevent them from rattling against each other or the refrigerator walls.
It's important to note that while many of these sounds are normal, excessive or unusual noises may indicate a problem. If you notice persistent or new sounds that are loud, irregular, or concerning, it's recommended to consult the refrigerator's user manual or contact a professional technician for further evaluation and assistance.
What Refrigerator Parts Can Make Noise
Several refrigerator parts can make noise, including:
Compressor: The compressor is responsible for circulating refrigerant through the system and can produce a low hum or buzzing noise during operation.
Evaporator Fan Motor: This motor circulates air within the refrigerator and freezer compartments. If the fan blades become dirty or worn out, they can create buzzing, rattling, or whirring noises.
Condenser Fan Motor: The condenser fan motor helps cool the condenser coils, and if it becomes dirty or faulty, it can generate buzzing, humming, or rattling sounds.
Defrost Timer: The defrost timer controls the defrosting cycles of the refrigerator. When it switches on or off, it can produce clicking sounds.
Water Inlet Valve: The water inlet valve supplies water to the ice maker and dispenser. If it is faulty or has mineral buildup, it can cause humming, buzzing, or rattling noises.
Ice Maker: The ice maker can create various sounds during operation, such as water filling the ice tray, ice cubes dropping into the bin, or the motor rotating the ice tray. These sounds are typically normal.
Door Hinges and Latches: Loose or worn-out door hinges or latches can result in squeaking, creaking, or banging noises when opening or closing the refrigerator door.
Gasket Seals: Damaged or worn-out gasket seals around the refrigerator door can cause air leaks and lead to whistling or hissing sounds.
Water Dispenser: The water dispenser can generate sounds when dispensing water, such as water flowing through the lines or the motor operating.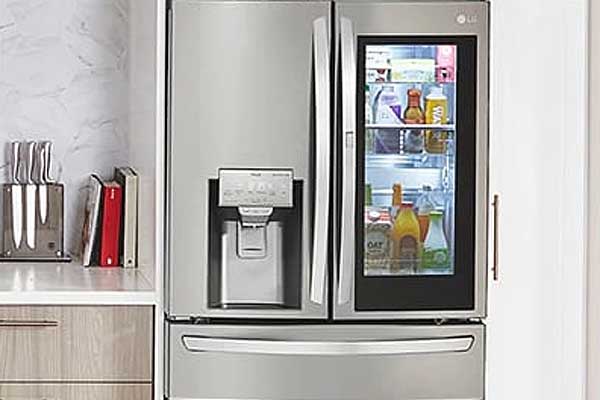 How to Quiet a Noisy Refrigerator Compressor
If you have a noisy refrigerator compressor, there are a few steps you can take to help quiet it down:
1. Check for proper leveling:
Ensure that your refrigerator is sitting level on the floor. Use a bubble level to check the alignment. If it's not level, adjust the front leveling legs or wheels until it sits evenly.
2. Clean the condenser coils:
Dust and debris on the condenser coils can cause the compressor to work harder and generate more noise. Unplug the refrigerator, locate the coils (typically at the back or underneath), and clean them using a soft brush or vacuum cleaner with a brush attachment.
3. Check for loose parts:
Inspect the compressor and surrounding components for any loose parts. Use a screwdriver to tighten any screws, bolts, or mounting brackets that may be causing vibrations and noise.
4. Create sound insulation:
Place a rubber or foam mat under the refrigerator to help absorb vibrations and reduce noise transmission to the floor. You can also use anti-vibration pads or mats specifically designed for appliances.
5. Check for proper clearance:
Ensure that there is enough space around the refrigerator for proper airflow. The compressor may work harder and generate more noise if it's surrounded by obstacles or if the ventilation is restricted. Maintain at least a few inches of clearance on all sides and at the back of the refrigerator.
6. Soundproof the area:
If the noise persists, consider using soundproofing materials in the surrounding area. Hang curtains, install acoustic panels, or place sound-absorbing foam on nearby walls to help dampen the noise.
7. Consult a professional:
If the compressor noise continues to be excessively loud or if you're unsure about performing any maintenance tasks yourself, it's best to seek assistance from a professional technician. They can diagnose and address any underlying issues with the compressor or other components.
Remember, some amount of noise is normal in refrigerator operation, but if the noise is loud, persistent, or bothersome, these steps can help reduce the noise level and make your refrigerator quieter.
IS A NOISY FRIDGE DANGEROUS?
A noisy fridge is generally not dangerous in itself. However, it could be an indication of an underlying problem that needs attention. Refrigerators make various sounds during their normal operation, such as humming, buzzing, or occasional clicking sounds. These noises are typically not a cause for concern.
Conclusion
In conclusion, addressing the buzzing noise coming from your refrigerator is essential for a peaceful and functional kitchen. By following these steps, you can effectively put an end to the bothersome buzzing:
To keep your refrigerator functioning quietly and efficiently, it's important to address these common causes of buzzing noises promptly. By implementing these solutions, you'll enjoy a quieter kitchen environment while preserving the longevity of your appliance.
FAQs
Can a buzzing sound indicate a serious problem with my refrigerator?
While some buzzes may be harmless due to normal operation, persistent or loud buzzing sounds could indicate underlying issues that require professional attention. It's best to consult a technician if you're concerned about the noise.
How often should I clean the coils and other components of my refrigerator?
Cleaning the coils and other components every three to six months is generally recommended. However, if you have pets or live in a dusty environment, more frequent cleaning may be necessary.
Why does filling up the fridge help reduce buzzing noises?
When a refrigerator is empty, it tends to vibrate more due to lack of weight. By keeping it adequately stocked, you can minimize vibrations and subsequently reduce buzzing sounds.
Are there any specific lubricants I should use for fan motors?
It's best to consult your refrigerator's user manual or contact the manufacturer for recommendations on suitable lubricants for fan motors.
Should I attempt to level my refrigerator myself?
Leveling a refrigerator requires precision to ensure proper functionality. If you're unsure about doing it yourself, it's advisable to seek professional assistance to avoid any potential damage.