Quick Summary: The best moka pot is The Original Bialetti Moka Express 6 Cup Stovetop Coffee Maker because it produces just the right amount of rich, velvety brew. Its high-quality aluminum design is durable and brings out the best attributes of Italian coffee.
Coffee making is an art that only a few people manage to excel and master. Many people believe that the secret to making the perfect cup of coffee is limited to the type of coffee used, the amount of coffee mate added, etc.
While the quality and amount of ingredients used is an essential factor, professionals and experts believe that the best Moka pots are indeed the most significant factor in coffee making.
In this age of convenience and technology, coffee machines have become a new norm and very few people make the effort to use moka pots. Years ago, moka pot was the only device that was used for preparing coffee.
The well-planned structure of these Moka pots would let coffee brew perfectly to produce rich, strong, and intensely flavored coffee. This is one of the main reasons why all traditional coffee recipes call for an authentic moka pot.
The modern coffee makers are easy to use, but they are costly, and therefore, they are a luxury item to have-however moka pots are made to be affordable which explains why they are considered a staple product in every family.
Moreover, moka pots are compact and are portable-these qualities give it an edge over the heavy-duty coffee machines as they cannot be easily moved and transported.
Check out our list of the best moka pot with detailed reviews including pros and cons and hurry up and buy a moka pot today to enjoy a fully flavored, rich, and strong cup of coffee.
Quick Navigation:
---
Comparison of 10 Best Moka Pots
| | | |
| --- | --- | --- |
| | This moka pot has been given the most eco-friendly structure and therefore it produces zero waste and is super easy to clean. The curved handle attached to it acts as comfortable support to lift this pot. | Read Our Review |
| | Prepare authentic Italian coffee with Bialetti stainless steel moka pot. This user-friendly pot is compatible to use with all stovetops and is safe to use because of its ergonomic, heat-resistant handle. | Read Our Review |
| | This sleek moka pot is designed with 18/10 stainless steel and is provided with 1 extra gasket and reducer. Additionally, this smart pot is induction based and can be used to prepare 6 cups in one serving. | Read Our Review |
| | This stylish, innovative coffee pot is a delight for coffee lovers as it gives the perfect taste to your coffee by improving its organoleptic properties. Due to the delicate structure of this pot, it is recommended to hand wash it and avoid using it on induction stovetops. | Read Our Review |
| | This pot comprises a heavy-duty aluminum boiler along with a fast motor which prepares coffee instantly. The on/off switch and keep warm function has made it the best device to have for making intensely flavored coffee. | Read Our Review |
| | You can try out every type of coffee in this versatile coffee maker. Its transparent container can store 3 or 6 cups and it can quickly prepare fresh espresso in under 10 minutes. | Read Our Review |
| | Bonvivo's high-quality espresso maker always produces high class, intensely flavored coffee. This elegant moka pot is suitable to use with every stovetop, whereas its heat resistant handle has made its usage easier and safer. | Read Our Review |
| | This compact coffee maker is made with premium quality stainless steel and is paired with an ergonomic, stay-cool silicone handle. The wide, spacious container of this pot can be used to prepare 6 cups of coffee in one go. | Read Our Review |
| | Brew the most authentic cup of coffee instantly with a Bellemain aluminum-based espresso maker. A smart safety valve has been added to ensure that the pot and coffee are not overheated. | Read Our Review |
| | This Italian coffee maker consists of an octagon-shaped container that can be used to prepare 3 cups of strong coffee. With this coffee maker, you can brew coffee in under 5 minutes-additionally, this device is easy to clean and disassemble. | Read Our Review |
---
Reviews of 10 Top Moka Pots
We reviewed hundreds of products, comparing features, prices, and customer reviews to choose which are the best.
We looked at each pot's features and weighed all the pros and cons. Finally, we came up with the top ten moka pots. Here they are:
Best Overall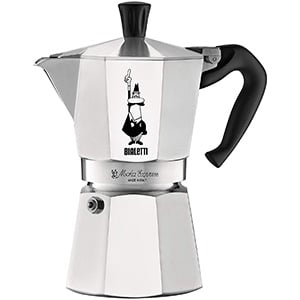 What You'll Love: This best moka pot brews an excellent pot of coffee and is available at a price that makes it difficult to pass up.
Bialetti Moka Express 6-Cup stovetop espresso makers came in at first place because of its all-around quality and ease-of-use. Capable of making 9.2 ounces of coffee, it brews enough joe to fill your cup completely, followed by a little top-off, just enough to hit the spot.
With its distinctive octagonal shape, it diffuses heat perfectly to optimize the rich aroma of your favorite Italian coffee. Made in Italy, it's constructed with a durable aluminum frame and a shut-off valve for safety.
This Bialetti Moka Express makes it incredibly easy to make coffee from your stovetop in just a few simple steps. All you have to do is fill the bottom chamber with cold water, add espresso (without tamping it), line up the Moka pot on your stovetop, heat it, and enjoy.
To clean the pot, just hand-wash it with warm water and dry it thoroughly, taking care not to put it back together until each component is dry.
Avoid using abrasive products during clean-up. Bialetti Moka Express lightweight stovetop espresso makers are not dishwasher-safe. It comes with a 2-year warranty.
Pros:
It brews excellent coffee, allowing you to save money by making at home what used to only be available at coffee shops.
If all you need to do is rinse the pot when it's time for clean-up. It can be done quickly, and most of the time, this is all the maintenance that's required.
Cons:
Sometimes it can be difficult to get the coffee to brew just right, primarily because you have to be careful to use a small flame-otherwise, the coffee will taste burnt. Disassembly is complicated if the pot requires deep-cleaning.
---
Best Budget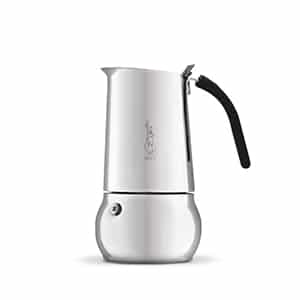 What You'll Love: If you want a coffeemaker that gets the job done and doesn't cost a fortune, this appliance bearing the trusted Bialetti label may be the right moka pot for you. It brews a great pot of coffee and is easy to take apart, clean, and reassemble, making it low-maintenance.
Looking for a rapid brew stovetop coffee maker at a modest price? Look no further than the Bialetti 06661 Kitty stovetop espresso makers. It's capable of brewing up to 12 ounces of espresso.
Made of 18/10 stainless steel, this Bialetti Moka pot is designed by Michele de Lucchi. It features an ergonomic Bakelite heat-resistant handle that gives you a wider reach. You can use the coffeemaker on gas, ceramic, and electric stovetops.
The parts are dishwasher-safe, making clean-up hassle-free. Its upscale design gives it a modern look. It's easy to use, but be sure not to put anything else besides coffee (such as cocoa, tea, finely-ground coffee, or instant coffee) inside the unit or it will clog the filter plate.
With this efficient appliance, coffee only takes 3-6 minutes to brew over a medium heat source. This Moka pot is made in China.
Pros:
This rapid brew stovetop coffee maker brews quickly and can last a long time.
Customers also reported that cleaning and reassemble is easy.
This appliance may be used on a variety of cooking surfaces and can be had for a reasonable price.
Cons:
Some customers complained that a few of the moka pot's components, such as the handle, are made of inferior-quality materials and not as durable as they expected.
---
Best Stovetop Moka Pot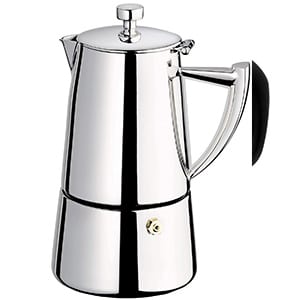 What You'll Love: This best moka pot in the pricier category brews a superb pot of coffee. Even though it costs more than many other coffee makers on the market, it pays for itself when you see how much you save by not purchasing it regularly from a cafe.
If you're looking for a high-end stovetop espresso makers, take a look at the Cuisinox Roma 6-Cup Stainless Steel Stovetop Espresso Maker. Made from stainless steel, it uses the classic Italian method for brewing espresso.
With an induction base and premium-crafted design, this exceptional coffee maker comes with an attractive mirror finish and is suitable for all types of cooking surfaces-many customers happily reported that it even works on induction stoves.
Several customers commented on how easy Cuisinox Roma 6-Cup Moka Pot is to use. Just fill the reservoir with cold water, add coffee grounds (without tamping), and brew over medium-high heat for three to four minutes, or until you hear a streaming sound.
Make sure the flame isn't wider than the stovetop espresso moka pot; overheating could melt the gasket.
To keep the pot in optimal condition for as long as possible, the manufacturer recommends hand-washing only. The unit includes one extra gasket and reducer. It's made in China and is covered by a 25-year warranty.
Pros:
Cleaning is easy, looks attractive, brews great coffee, and lasts a long time.
Compatible with gas and electric stovetop
Extra components are included in the packaging.
Cons:
Some customers complained that the moka pot distributes heat in such a way that the handle also becomes uncomfortably hot to touch.
You can get around this problem by preheating the water first or just using an oven mitt when you touch the pot.
Also, the inside of the reservoir has a deep ridge, where coffee grounds can easily become trapped, making clean-up a bit more involved. You'll need a cloth and a butter knife to remove the fine coffee residue.
---
Best Looking Moka Pot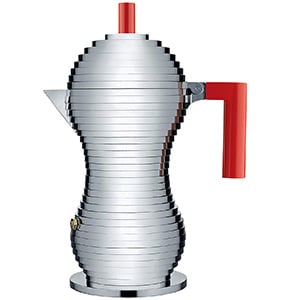 What You'll Love: This coffeepot has a style all its own, with a ridged aluminum-cast design and a V-shaped spout reminiscent of a baby duck's beak that allows you to pour without dripping.
It features innovative components that reduce the likelihood of your coffee having a burnt or bitter aftertaste.
If you want a stylish coffee pot that combines aesthetics and functionality, we have found one: the Alessi MDL02/6 R"Rulcina Stove Top Espresso 6 Cup Coffee Maker.
With its solid, sturdy base and innovative features, this aluminum appliance allows you to brew the perfect pot of coffee. Its boiler is specially-designed to stop filtering coffee before it reaches the "eruption phase," which is the last stage of filtering, when coffee may develop a burnt, bitter aftertaste.
The aluminum-cast pot's V-shaped spout allows for easy pouring. Alessi Stove Top Espresso 6 Cup Coffee Pot comes with a reducer if you want to make less than the full amount. The manufacturer recommends that you hand-wash this coffeepot.
Pros:
With its red handle and unique design, this moka pot adds a one-of-a-kind touch of style to your kitchen. Its easy-pour spout cuts drops of coffee to prevent splashing.
It's practical and easy to use, operating in much the same way as a conventional coffeemaker.
Cons:
You can't use it on an induction stove. A few customers complained that the materials this appliance is made of were not as durable as they expected.
When it came to selecting the best electric moka pot, there were so many to choose from, we couldn't just pick one, but we did manage to narrow it down to two.
---
Best Electric Moka Pot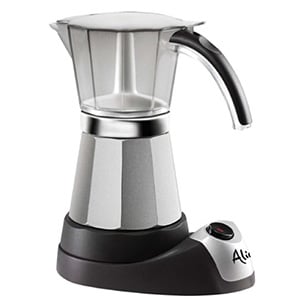 What You'll Love: This coffeemaker comes with a host of convenient features: an automatic shut-off valve, a keep-warm feature, and a cool-touch handle and base-to name a few.
If you like to enjoy an authentic cup of espresso without leaving the comfort of your kitchen, consider what the De Longhi EMK6 Alicia Electric Moka Espresso Coffee Maker can do for you.
You'll never have to worry about coffee burning or overflowing with the automatic shut-off valve.
The keep-warm feature ensures that your caffeinated concoctions remain heated for 30 minutes after brewing-a plus if, like most of us, you don't drink the whole pot at once and don't like the taste of coffee that's been warmed in the microwave. (The coffeepot also shuts off automatically when you remove it from the base).
The transparent container lets you watch the whole brewing process. Want different brewing options? The De Longhi Moca Pots let you choose to make either 3 or 6 cups, so you don't have to make a full pot every time if that's not your preference.
It has a detachable swivel base and it's cordless, which makes it especially convenient for serving. The base is cool-touch, so you can use the coffeepot wherever you have access to an outlet to plug it in. Other helpful features include a cool-touch handle and indicator light.
In terms of maintenance, this coffee pot is easy to clean and durable enough for frequent use. Italian-engineered, this high-performing appliance packs a lot of power into a small moka pot.
Pros:
It's compact and convenient, with its ease-of-use and an adaptive filter that allows you to brew two different quantities.
Because it's cordless, it's great to have it at the office or take it on the go when traveling.
Cons:
Not many to report with this superior appliance. Customers commented that it may not be the best option if you need to make multiple pots of coffee in a short span of time because you have to wait around 20 to 30 minutes before the coffeemaker is cool enough to clean out and re-fill.
---
Runner-Up (Electric Moka Pot)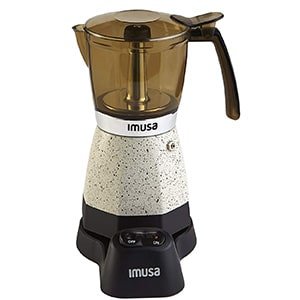 What You'll Love: This espresso pot allows you to brew as much or as little as you want, which is especially beneficial if enjoying your favorite hot Italian beverage is a solo venture.
Next up in the best stainless steel moka pot category is the IMUSA USA B120-60011 Electric Espresso Moka Maker (3-6 Cups).
With an insert that allows you to select from two portion sizes, you can opt to make either 3 or 6 cups.
Its on/off switch and detachable base allow for easy operation. Once you get Imusa Electric Espresso/Moka Maker started, you won't have to wait long for your caffeine fix; you can have your pot of Italian coffee ready in less than ten minutes.
You can track the brewing process with the transparent container. The cool-touch handle means you won't burn your fingers when reaching for a freshly-brewed pot, and the spout is outfitted with a knob that prevents splashing.
Pros:
It's user-friendly and easy for cleaning.
It brews relatively quickly and gives you the option to prepare different quantities.
You can track the brewing process and pour your favorite cup of coffee without a mess.
Customers who were pleased with this appliance noted that the pot does a good job of preserving the aroma and flavor of the coffee.
Cons:
While most customers gave this appliance stellar reviews, many who were dissatisfied complained of leaking bases or other components not being up to par.
Some customers were also disappointed because the unit doesn't shut off automatically.
As with the best electric moka pot, finding the very best stainless steel moka pot gave us quite a challenge, because so many of them were popular among reviewers. Once again, we have two options for you in this department.
---
Best Stainless Steel Moka Pot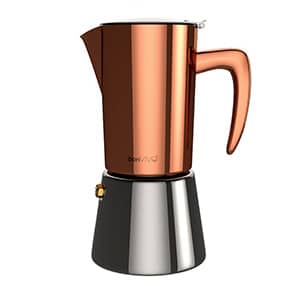 What You'll Love: The copper and chrome finish on this pot adds a touch of elegance. It allows you to make 5-6 cups of your favorite Italian coffee quickly and easily.
If you can't resist a full-bodied cup of espresso, then the bonVIVO Intenca Stovetop Espresso Maker can be an indispensable addition to your kitchen.
With its copper chrome finish, it looks attractive on tables or countertops. It's user friendly. Just follow a few simple steps and your coffee is ready in minutes. You can use it on any stovetop: electric, gas, ceramic, or induction.
This durable coffeemaker (and its ergonomic handle) are heat-resistant, so you shouldn't have to worry about melted gaskets or other components becoming damaged on the cooking surface.
The Bon Vivo Intenca Espresso Maker is equipped with a safety valve to prevent excess pressure build-up. Other components of this phenomenal appliance include a sieve basket, a kettle, and a filter.
The Moka pot uses a traditional brewing process to make excellent cups of coffee. Items bearing the Intenca label are made in China.
Pros:
The copper finish is designed to resist wear.
Made from stainless steel.
Heats the coffee thoroughly, so it doesn't cool off as quickly as when it's made in an aluminum pot.
Its authentic brewing process brings out the fullness of flavor and aroma of your favorite espresso.
Cons:
Some people complained that the unit is difficult to clean and is not as sturdy as they anticipated it would be.
---
Runner-Up (Stainless Steel Moka Pot)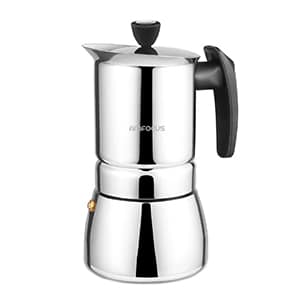 What You'll Love: This is a moka pot that brews enough for a small crowd. It's easy to handle, use, and clean. Plus, it looks great in the kitchen.
Coming in at No. 2 for the best moka pot made of stainless steel, the AMFOCUS Stovetop Espresso Pot allows you to brew up to 6 cups of Italian coffee, so you're not limited to preparing portions individually.
Amfocus Stovetop 6 Cup Espresso Maker distributes heat efficiently enough to make a full pot of espresso in as few as 4 or 5 minutes. This pot features a Stay-Cool silicone ergonomic handle that helps you easily and comfortably maneuver it.
With its contemporary design, the moka-maker looks great in just about any kitchen. Made of food-grade stainless steel, this appliance is durable, sanitary, and cleaning is easy.
Pros:
Many customers are especially pleased with the look of this Moka pot and note that it makes great-tasting coffee.
They also pointed out how convenient it is to clean – provided you do so regularly.
If you allow too much residue to build up inside the appliance, clean-up can be quite a hassle. Although it may take a few batches to get the hang of using the pot, once you do, it's incredibly easy.
Cons:
Customers are advised not to leave it on the stove unattended for significant periods of time, as it will dry out. If that happens, rusting and corrosion will follow.
---
Best 6 Cup Moka Pot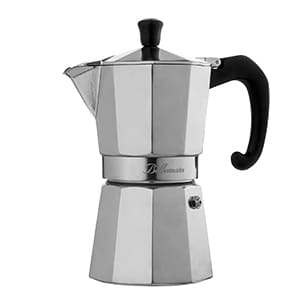 What You'll Love: It makes enough moka for a small gathering. It's built to last, and easy to clean and maintain.
If you're looking for the best moka pot that makes enough joe for multiple people in your household or your community coffee klatch, the Bellemain 6 Cup Stovetop Espresso Maker Moka Pot makes enough to go 'round.
It heats quickly and efficiently, yielding multiple cups of Italian coffee, right from your stovetop. Carefully crafted to be sturdy and durable, it's constructed with safety in mind, with a stay-cool handle and lid knob to keep your fingers from being burned.
The internal temperature of the appliance is regulated by a safety valve, so you don't have to worry about excessive pressure building up during the heating process.
You can use Bellemain Stovetop Espresso Maker on a gas or electric stovetop, and it comes with a 2-year "wake-up" guarantee to ensure that you can use this item whenever you need it.
It's easy to clean, provided you use a non-abrasive pad or cloth, but you cannot put it in the dishwasher. Usually, a thorough rinse is all that is needed. This coffeepot is made in China.
Pros:
It makes multiple servings, is designed to last a long time, and is easy to clean. Customers were also happy with the price.
Stainless steel construction
Cons:
Reviewers warn that, because it doesn't shut off automatically, the moka pot must be removed from the stovetop as soon as it is done brewing.
Otherwise, the soft seals on it can become damaged from overheating, and your coffee will probably burn too.
---
Best 3 Cup Moka Pot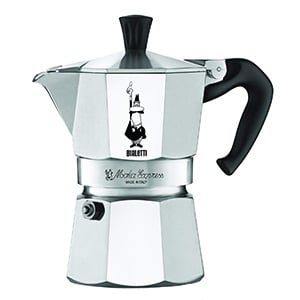 What You'll Love: This coffeepot is small, thoughtfully-designed, and allows you to make coffee in minutes. It's easy to maintain and use.
If you want to prepare smaller quantities of moka quickly and easily, check out the Bialetti Original Moka Express 3 Cup Stovetop Coffeemaker. It can brew up to 4.4 ounces (or a little over 3 espresso cups).
With a distinctive octagonal shape, the aluminum extracts maximum flavor and aroma from your favorite Italian coffee. It's easy to use, too.
Just add water and coffee, then place on the stovetop, taking care to ensure that if you're brewing over a flame that the fire doesn't reach the sides of the Bialetti Moka Express Stovetop Coffee Maker.
Clean-up is simple and straightforward – just rinse with warm water. Avoid placing the pot in the dishwasher or using an abrasive material to get rid of any residual coffee grounds.
Pros:
This Italian-engineered and manufactured coffeepot heats efficiently to bring out the best qualities of your favorite Moka blend.
Stainless steel construction
Other bonuses: It's low-maintenance and user friendly.
Cons:
Clean-up requires a little more work than if you could just place the pot in the dishwasher.
---
How to Choose the Best Moka Pot?
There are so many to choose from, making it difficult to make a decision. Here are some things to look for so you can be more informed as you explore your options in your quest for the best moka pots.
Material
Moka pots can generally be found in one of two materials aluminum or stainless steel. Aluminum is porous, meaning that over time, it can form tiny holes that serve as a trap for coffee and other debris.
Your go-to solution is probably to reach for the soap and water to clean the moka pots. But using anything abrasive will scratch the aluminum right off, leaving your espresso with a metallic taste.
Instead, you can use warm water and a soft rag. Aluminum also has the potential to rust, especially if you don't dry it thoroughly.
Stainless steel, on the other hand, is non-porous and corrosion-resistant. It is durable enough that it probably won't sustain any dings or scratches, even if you use the moka pot frequently.
Stovetop Compatibility
Some Moka pots can do their jobs effectively on all stovetop types whether it is a gas cooktop or electric stovetop, while others are stove-specific only operating on an electric stove, for instance.
Capacity
Think about how much coffee you expect to make before purchasing a moka pot.
Do you share your household with other coffee-drinkers, or are you the only one who enjoys a strong shot of espresso?
Do you want to make larger batch at once, or several small ones throughout the day?
Do you expect to take your moka pots on-the-go, such as when you travel or commute back and forth between home and office?
These are all questions to consider. Some moka pots allow you to choose different settings to adjust brewing quantity. Others are designed to brew one set amount, such as 3 cups or 6 cups. Keep in mind that moka cups are not your standard-size cups.
They're more in the neighborhood of 2 fluid ounces of espresso. A three-cup moka pot, for example, only brews about 6 ounces of coffee.
Related: Best Single Serve Coffee Makers
Country of Origin
Espresso is a drink that has long been enjoyed by Italians, and some of the moka pots we reviewed are engineered there.
This may provide a more authentic experience, since the pot was made in its country of origin. Many of the items we reviewed, however, were made in China.
Warranty
Some customers are concerned about what recourse (if any) they have if the pot stops working or parts need to be replaced. Check the warranty information before you buy.
Of the products we surveyed, some Moka pots had warranties as short as two years, while others lasted for decades. If warranty info is not included with the product description, contact the manufacturer.
As you do your research, find out how difficult it is to get replacement parts, say if you need another gasket or filter. Some appliances come with a back-up gasket included in the packaging, but others don't.
Cleaning
To get the most out of the best stovetop espresso makers, you will need to know how to maintain it. Always read the care instructions that come with the appliance when you order it.
While a number of Moka pots have dishwasher-safe parts, most should be washed by hand for best results. Abrasive pads and even soap can prove detrimental to the pot's finish, so usually a good warm-water rinse is all you need.
It's important to clean the pot thoroughly after using it. If residual coffee grounds are allowed to accumulate, or the moka pot isn't dried out completely after brewing or washing, it may become damaged.
Aluminum Moka pots, for instance, is prone to rusting when it comes in contact with acid and oxygen.
Manual or electric
It can take a while to get the hang of using a moka pot. The electric variety make it easier to learn the ropes.
Electrical espresso machine essentially walks you through how to use them and can be especially popular among the highly-tech-savvy.
They're also more likely to come with helpful safety features and add-ons, like a keep-warm setting that keeps coffee hot for a while after brewing. However, they usually come with a considerably higher price tag than the manual types.
Style
You may also want to consider the style of the pot to see if it's a good fit for your kitchen. While this may not be a deal-breaker for most people, if you entertain frequently, you may want a coffeepot or espresso machine that's more attractive.
Similarly, you may want to look for one that's especially durable and scratch-resistant so that it maintains its appearance for a long time.
Coffee connoisseurs point out that, while having the right pot is important, knowing how to use it, and having the right kind of coffee on hand, are at least as crucial. It may take a few "practice batches" before you can turn out the rich, thick brew you expect.
However, once you have that down to a science, you'll likely wonder how you got along without your moka pot, especially when you see how much money you save by not getting your daily shot of joe from the local cafe.
More Related Articles:
---