Quick Summary: You can't ignore what people have to say, and according to the thousands of Reviews online, the Breville BES870XL Barista Express is one of the best home espresso machines money can buy. This high-end model has dozens of impressive features and functions that put it right in line with what you might expect to find at your favorite local coffee shop, and it makes drinks that rival what you'll find anywhere else.
It can be challenging to know what to look for when investigating the top espresso makers for your home.
Manual espresso machines allow you to control every part of the process, but it may take some time to adjust things to make espresso at home like the pros.
The top espresso machines are often decorative as well as functional. Semi-automatic machines have electric pumps which make them easier to use, but you don't have quite as much control or ease of use as you do with the machines.
However, semi-automatic machines are the most popular espresso machines of 2020. Then there are fully automatic machine which are easier to use but with less control over the final flavor of your cup of coffee.
Finally, there are the super functioning machines where you add your coffee grounds and press a button. You don't have much control over your espresso, but you have the added convenience and speed.
But how do you know which model to choose? Are they as good as they say they are?
Read on for our comprehensive review of the best espresso machines we tested so that you can make an informed choice as to which model is best for your home.
Quick Navigation:
---
Comparison of 10 Best Home Espresso Machines
| | | |
| --- | --- | --- |
| | A beautiful brushed stainless-steel espresso machine. Breville has included a built-in burr grinder, high steam wand performance, and a dial to control the grind size. | Read Our Review |
| | This semi automatic home espresso machine is a 3-in-1 espresso maker, cappuccino maker, and latte maker. Automatic milk frother, one-touch control panel. | Read Our Review |
| | Making espresso is easy with this machine with 15 bars of pressure, a removable water tank, froth enhancer, cup-warming plate and a removable drip tray and grid. | Read Our Review |
| | Choose between 1 shot, 2 shots or manual control over how much espresso ends up in your cup for the perfect dose every time. Wide range of accessories included. | Read Our Review |
| | This semi automatic espresso machine offers manual control of espresso shot volume and filter baskets for use with freshly ground or pre-ground coffee beans. | Read Our Review |
| | This semi automatic machine is the best espresso machine for flexibility. It automatically self-primes and allows you to use pods or ground coffee. | Read Our Review |
| | The best home espresso machine for ease of use. Make single or double espresso, cappuccino or latte. The manual frothier allows you to create the kind of froth that you prefer. | Read Our Review |
| | Professional quality results each time with 15 bars of professional pressure. A second tier tray accommodates larger cups, and there's a removable 37-ounce water tank. | Read Our Review |
| | This machine has a 'cappuccino system' frother to mix steam and milk for a rich and creamy froth, as well as a 'direct-to-brew' system that grinds beans instantly. | Read Our Review |
| | Create a dark, rich espresso with this 15-bar pump system machine. The frothing arm allows you to make creamy froth for cappuccinos and lattes. | Read Our Review |
---
Reviews of Top 10 Home Espresso Machines
Best Overall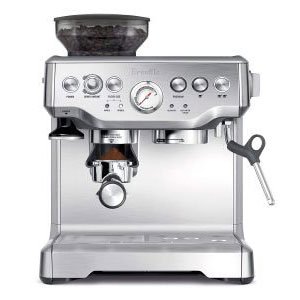 The Breville Express Espresso Maker is one of our top ten picks for the best machines to make espresso for your home, and for a good reason.
The Breville brand is well known for using high-quality materials and putting a lot of thought into how to craft the perfect cup of coffee with each of their models.
When you purchase a Breville Machine for espresso, you're purchasing quality.
Whether you go with the Breville Barista, The Breville Infuser Espresso Machine, the Breville Cafe Roma, or the Breville ESP8XL or one of the other models you'll get the thick, Italian style quality you're looking for in a cup of espresso.
Pros:
Precise espresso extraction with digital temperature control (PID) to deliver hot water at precisely the right temperature for quality espresso
Steam wand allows you to create latte art
Hands free operation with grinding cradle
Adjustable grind amount and manual override
Cons:
Can take some time to learn how to use this machine correctly
Related: Best Single Serve Coffee Makers
---
Best Budget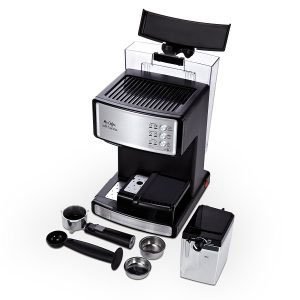 This top of the line machine from Mr. Coffee is the best espresso machine for your home the brand offers.
This Cafe Barista for making espresso is a 3-in-1 espresso, cappuccino and latte maker that features a 15-bar pump system making it simple to brew a rich-tasting brew with nothing more than a push of a button.
The Mr. Coffee ECMP1000 Espresso Machine comes with an attached automatic milk frother with a removable reservoir making it simple to whip up a frothy cream and then remove and clean the attachment.
The removable water tank and drip catcher are two additional features that make it easy to keep the system clean and functioning well.
One of the best features of the Mr. Coffee Cafe Espresso is the one-touch control panel that allows you to brew both single and double shot drinks with a push of a button.
In our reviews, users appreciated that the system comes with a single shot filter, a double shot filter, a measuring scoop, a tamper, and a book of coffee recipes to give ideas on how to creatively brew your next cup.
Pros:
Automatic milk frother
15 bars of pressure for rich tasting espresso
Removable water and milk reservoirs to store leftover milk in the refrigerator for later use
One-touch control panel for drink selections
Cons:
You cannot wash the water reservoir in the dishwasher
Frothing tube must be cleaned after each use
---
Best Stainless Steel Espresso Machine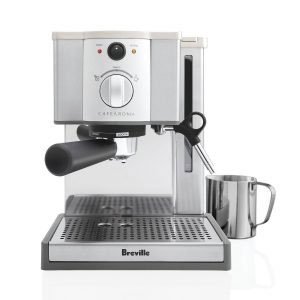 This stainless-steel espresso maker, the Breville ESP8XL Cafe Roma, is a strong contender for a highly functional espresso machine.
Like the Breville Barista Express, it has a dual-wall filter system and a 15-bar thermoblock pump that offers the perfect temperature and pressure to create a dense cup of coffee.
Connoisseurs mention in Breville ESP8XL reviews that they like the included steel frothing pitcher, tamping tool, measuring spoon, and cleaning tool as they complete the setup and give you everything you need to make a variety of cafe style beverages.
This Breville Cafe Roma review liked the size of the 1.2L (40.6 oz.) removable water tank, and the ease of filling it up and keeping it clean. There's also a removable drip tray and grid which is another convenient feature.
This model can brew single, double, or pods giving you lots of versatility. Like many of the other high-end Breville espresso makers reviewed, it also has a cup warmer on top of the model.
Pros:
High-quality steel espresso machine for maximum durability and easy cleaning
Single shot of espresso, double shot and pod
Removable drip tray and grid for easy cleaning
Adjustable steam wand
40.6 oz (1.2 L) removable water tank
Cons:
Some users say it can take time to learn how to pull good espresso shots
Related: Best Coffee Makers
---
Best for Infusion Function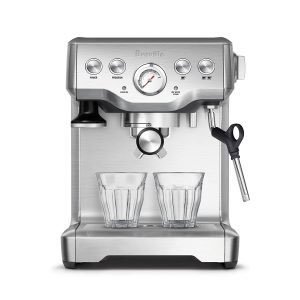 The Breville Infuser Espresso Machine is another top of the line model.
In Breville BES840XL reviews, users loved the pre-infusion function that begins by using lower water pressure at the beginning of the extraction which gently expands the grinds before blasting them with the full pressure of the 15-bar Italian pump.
This results in a more complete and even brew. In other Breville espresso machine reviews for this model, the 1600w thermocoil heating system was a big hit.
It offers accurate temperature control every time and combined with the auto-purge function that automatically adjusts the temperature after steam; you'll never experience bitter beans.
The integrated milk frother is a handy accessory for making cappuccinos and lattes.
This home espresso model comes with single and dual-wall filter baskets, a coffee scoop, and steel jug, cleaning accessories, and a water filter.
Pros:
Pre-infusion for an even extraction from coffee beans
Auto purge function to adjust water temperature automatically for great espresso extraction temperature
Single and dual wall filter baskets included as well as coffee scoop, jug, cleaning disc and tablets, cleaning tool, water filter and holder
Cons:
Related: Best 4 Cup Coffee Makers
---
Best Customizable Espresso Machine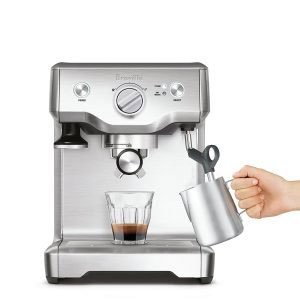 The Breville Duo Temp Espresso Machine is a good choice for beginners who want the option to grow into the intricacies of espresso making.
In Breville Duo Temp Pro reviews, experts loved that you have the possibility of using both a pressurized or non-pressurized portafilters, which gives you the opportunity to experiment with brewing once you've mastered the basic steps.
Like you'll see in other Breville reviews, this model has a 15-bar Italian pump, and produces 1600w of thermocoil controlled heat and pressure, allowing you to brew a perfect cup and use the integrated frother to steam your milk too.
This dual coffee espresso machine is a good value relative to its approximate cost.
Pros:
Extract one or two shots of espresso at a time
Steam wand included for steaming and frothing milk like a barista pro
61-ounce water tank capacity
Includes razor dose trimming tool, 1 and 2-cup single and dual wall filter baskets, milk jug, water filter and filter holder
Cons:
No automatic milk temperature feature
---
Best Semi-Automatic Espresso Machine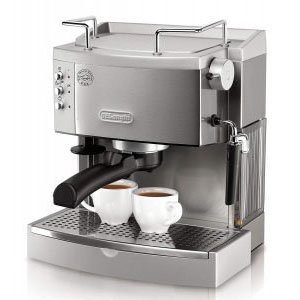 The elegant stainless-steel design is just one of the features that make users of the DeLonghi EC702 review it as one of the best DeLonghi espresso machines for home uses in its class .
The DeLonghi EC702 Espresso Machine gives you lots of home brewing options, allowing you to use either to ground espresso or E.S.E. pods in the unique patented dual filter holder.
The system comes with two separate thermostats that control the water and steam pressure, so you can make an adjustment and make both espresso or cappuccino at the appropriate temperatures.
The attached frother uses a special chamber to mix milk and steam in your coffee concoctions.
The DeLonghi Pump Espresso machine has a self-priming operation feature that eliminates long start-up times, a no-drip design, and a durable boiler that will stand up to years of home use with ease.
Pros:
This De Longhi machine is pump driven and uses 15 bars
You can froth milk for cappuccinos or lattes with the easy-to-use frothier
Use pods or ground coffee with the convenient patented filter holder
Cons:
Some users say that water can continue to run from the steam nozzle after use
---
Best Space Saving Design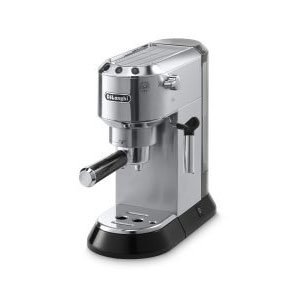 The ultra-compact stainless steel DeLonghiDedica Espresso Machine is one of the best espresso machines for home use if you have a small kitchen or limited counter top space.
At under 6 inches wide, the DeLonghiDedica also tops our list as one of the best affordable machines for making espresso novice baristas can buy.
This model utilizes thermoblock technology which heats up your water in less than a minute.
Combined with the self-priming system, you'll never have to wait long to get your perfect cup of espresso with this DeLonghi pump espresso maker.
The integrated three-in-one filter is a common DeLonghi feature and a favorite in DeLonghi espresso machine reviews.
It can accommodate single or double shots, as well as the easy-serving espresso pods that cut down on prep time on a busy morning.
The attached frother on the DeLonghiDedica espresso machine gives you the ability to make fancy coffeehouse-style drinks even in small apartment-sized kitchens.
Pros:
Includes a three-in-one filter holder with a holder for one shot, one for two shots and one for an easy-serve pod
Accommodates taller cups, as the bottom tray is simple to adjust/remove
Water reservoir is also removable
Space-saving design to fit easily on a kitchen countertop
Cons:
Some users say this machine can leak
Related: Best Coffee Urns
---
Best for Easy to Use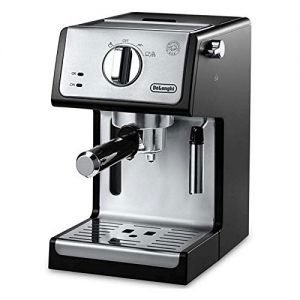 The DeLonghi ECP3420 Espresso and Cappuccino maker is one of the more affordable espresso machines from the DeLonghi line.
This 15-bar DeLonghi pump espresso machine is a good choice if you're a ground coffee purest.
While it can't accommodate pods like some of the more expensive models, it can brew single or double espressos.
The attached advanced cappuccino system has hot milk and cappuccino options that mix and whip milk for an even froth for cafe style drinks.
The double drip tray can accommodate larger cups and is often mentioned as a nice feature in DeLonghi ECP3420 reviews.
The self-priming operation eliminates long start-up times, and the stainless-steel boiler system delivers consistent results with every cup you brew with this DeLonghi espresso and cappuccino maker.
Pros:
Includes convenient filter storage
Has a self-priming operation for minimum start up preparation
Stainless steel boiler system for maximum durability
Double wall filters for high-quality crema
Cons:
Maximum cup height -3.5 – 5 inches
Use 2% milk at room temperature for best results
Related Reading: Best Coffee Storage Containers
---
Best Automatic Espresso Machine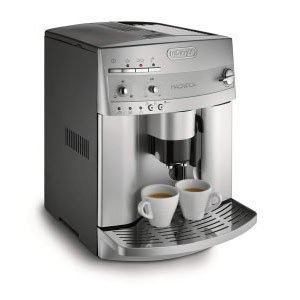 Coffee connoisseurs who can't function before they get their first cup frequently favorite the DeLonghi EASM3300 in reviews.
As one of the best super automatic espresso machines available in its class, this model does everything short of drinking the coffee for you.
The DeLonghi Magnifica coffee machine features the unique beans-to-brew system that stores espresso beans and grinds them to your desired texture immediately before brewing to deliver fresh and aromatic espressos.
With two stainless-steel boilers, you get excellent heat distribution and instant reheating, making it possible to brew perfect quality cups one right after another without any wait time.
The front panel offers user-friendly controls that let you choose from single or double shots brewed at five different strengths and four different lengths to suit your individual taste.
The patented cappuccino system rates 180 degrees so you can accommodate any size milk container.
As a DeLonghi super automatic coffee machine, this system even comes with rinse and decalcification auto programs, meaning it does most of the cleanup for you.
If you're someone who is always short on time in the mornings, DeLonghi Magnifica reviews show that this might be the perfect way to ensure you get a high-quality cup of coffee no matter what.
Pros:
Easy-to-use rotary and push button control panel with programmable menu settings
No need for chemical cleaning tablets each month like some other models
Energy saving function with a 3-hour automatic shut-off feature
Coffee grounds container has capacity for 14 cups
Cons:
One-touch functions are only for single or double espresso
Related: Best Coffee Percolators
---
Best All-In-One Espresso Machine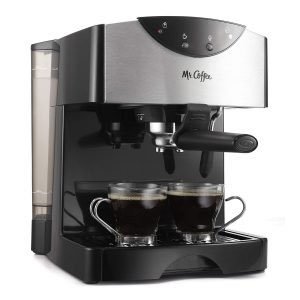 This Mr. Coffee pump espresso maker is one of the best machines to make espresso for home that you can purchase without breaking the bank.
It features a 15-bar pump system and has a dual-shot brewing design that allows you to brew two single shots simultaneously.
This is especially helpful if you're not the only coffee lover waiting in line at the machine in the mornings.
The attached milk frother uses manual steam to whip up creamy espressos and cappuccinos.
Like most espresso and cappuccino makers that made our list, this Mr. Coffee cappuccino maker uses a thermal block heating system for fast brewing at even temperatures.
A smaller machine than some of the others we reviewed, it includes a 40-ounce refillable water reservoir.
Pros:
Dual-shot brewing included to save time making two single shots at once
Thermal block heating system to provide top-speed brewing and heating
Drip tray is removable and washable
Frothing arm makes creamy froth to top off your cappuccinos and lattes
Cons:
Best for beginners rather than experienced baristas
Related Reading: Best K Cup Coffee Pods
---
Final Verdict: Best Home Espresso Machines
After scouring the web for espresso machines, we've rounded up only the best of the best to feature in this guide. We hope you've found a model that meets both your needs and your budget, and will give you a big daily caffeine boost for years to come.
More Coffee Maker Related Articles:
---