Have you ever noticed a funky smell coming from your air fryer while cooking?
Don't worry, you're not alone. Air fryers can emit unpleasant odors that can affect your cooking experience. But what causes these smells, and how can you get rid of them?
The truth is, there are several factors that contribute to the odor in your air fryer. It could be leftover food particles, oils or fats burning, or even the type of ingredients you're cooking. But fret not! By understanding the reasons behind these smells, you'll be better equipped to tackle them head-on.
In this guide, we'll dive into the nitty-gritty of why your air fryer might be emitting unwanted odors and how to remove smell from air fryer. So let's cut to the chase and banish those pesky smells for good!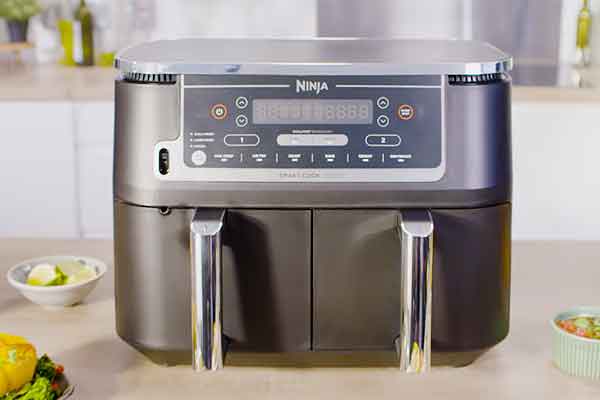 Causes of Unpleasant Smell in Your Air Fryers
1. Overheating oil
One common culprit is overheating oil or food residue. As you use your air fryer, small particles of oil and food can accumulate on the heating element or the interior surfaces. When these particles are exposed to high temperatures for an extended period, they can burn and emit a strong burnt odor.
2. Certain foods may leave lingering odors
In addition to burnt smells caused by overheating oil or residue, certain types of foods can also contribute to lingering odors in your air fryer. Fish is notorious for its strong aroma that tends to linger even after cooking. Similarly, dishes with potent spices like curry powder or garlic can leave behind noticeable smells.
3. Poor ventilation and lack of cleaning
Another factor that can lead to unpleasant smells in your air fryer is poor ventilation and lack of cleaning. If your air fryer doesn't have adequate ventilation, the odors produced during cooking can become trapped inside, making them more difficult to remove. Similarly, if you neglect regular cleaning, oil and food residue can accumulate and create a breeding ground for bacteria, resulting in foul smells.
4. Low-quality materials used in manufacturing
Low-quality materials used in manufacturing can contribute to an off-putting odor in your air fryer. Cheaper models may be made from materials that emit unpleasant smells when exposed to high temperatures.
5. Storage without Proper Drying:
Storing the air fryer without drying its components can foster mold or mildew growth and lead to musty smells. Before storage, ensure all parts are completely dry to preserve a fresh-smelling appliance.
6. Dirty Filters (if applicable):
Neglected filters can trap odors and decrease the air fryer's efficiency. Clean or replace filters regularly as per the manufacturer's guidelines to prevent odor buildup and ensure optimal performance.
7. Inadequate Cleaning:
Infrequent or insufficient cleaning of the air fryer allows odors to build up over time. Clean all components thoroughly after each use to remove food residues and grease, maintaining a clean and odor-free air fryer.
How to Remove Smell from Air Fryer
1. Thorough Cleaning:
To keep your air fryer free from lingering smells, practice thorough cleaning after each use. Disassemble the appliance and wash all removable parts, such as the basket and tray, with warm soapy water. Pay special attention to the interior surfaces to ensure any food residues and grease are completely removed. This meticulous cleaning prevents the buildup of odors and maintains a fresh environment for future cooking endeavors.
2. Baking Soda:
Harness the power of baking soda, a natural deodorizer, to neutralize unwanted odors in your air fryer. After cleaning, sprinkle a layer of baking soda on the bottom of the appliance. Allow it to sit for a few hours or, for best results, leave it overnight. Baking soda will effectively absorb and eliminate any lingering smells, leaving your air fryer smelling fresh and ready for use.
3. Vinegar Solution:
Combat persistent odors by utilizing a simple vinegar solution. Create a mixture of equal parts water and white vinegar and pour it into the air fryer's basket. Run the appliance at a low temperature for approximately 10 minutes. The acidity of the vinegar aids in breaking down and eliminating any lingering smells, effectively refreshing your air fryer's interior.
4. Ventilation:
Proper kitchen ventilation is vital in maintaining an odor-free air fryer environment. Whenever you use the appliance, ensure your kitchen is well-ventilated. Open windows or turn on the exhaust fan to allow any odors produced during cooking to disperse quickly. This prevents the smells from lingering and permeating the air fryer for subsequent uses.
5. Avoid Strong-Smelling Foods:
Be mindful of the foods you cook in the air fryer, especially those with strong aromas such as fish, garlic, or heavily spiced dishes. Opt for less aromatic dishes whenever possible to minimize lingering smells in the air fryer. This conscious choice will contribute to a fresher cooking environment.
6. Replace Filters (if applicable):
For air fryers equipped with removable filters, adhere to the manufacturer's guidelines for regular cleaning or replacement. Dirty filters can trap odors and reduce the efficiency of the appliance. By maintaining clean filters, you ensure that the air fryer continues to operate optimally and remains free from unwanted smells.
7. Proper Storage:
Before storing the air fryer, ensure that all components, including the basket and tray, are completely dry. Residual moisture can lead to mold growth and unpleasant smells when left unattended. Prioritize proper drying to preserve a fresh and pleasant environment within your air fryer.
By diligently implementing these causes and applying the appropriate solutions, you can effectively eliminate unpleasant smells from your air fryer. Embrace these practices to ensure each cooking experience is enjoyable, odor-free, and yields delicious, aromatic dishes.
Video Guide
How To Prevent from Unwanted Smells in Your Air Fryer
1. Preheating your air fryer before cooking
Preheating your air fryer is a simple yet effective way to minimize unwanted smells. By preheating, you allow the appliance to reach its optimal temperature before adding any food. This not only ensures even cooking but also helps eliminate any residual odors from previous use. To preheat your air fryer, follow these steps:
Plug in your air fryer and set the desired temperature.
Allow the appliance to heat up for about 3-5 minutes or as recommended by the manufacturer.
Once preheated, you can proceed with adding your ingredients and cooking as usual.
By taking this extra step, you create an environment that discourages lingering smells and promotes a fresh cooking experience.
2. Using high-quality ingredients
The quality of ingredients you use plays a significant role in determining the odor produced during cooking with an air fryer. Opting for fresh and high-quality ingredients can help minimize unwanted smells. Avoiding heavily seasoned foods or those with strong aromas can further contribute to a more pleasant cooking experience. Consider these tips when selecting ingredients:
Choose fresh produce: Opt for fruits, vegetables, and meats that are fresh and free from any off-putting odors.
Use mild seasonings: Instead of using heavily spiced or strongly flavored marinades or sauces, opt for milder options that won't overpower the natural aroma of the food.
Avoid pungent ingredients: Ingredients like garlic, onions, and certain spices tend to have strong smells when cooked. While they may add flavor to your dishes, using them sparingly can help prevent overwhelming odors.
By being mindful of the ingredients you choose, you can enjoy delicious meals without worrying about lingering smells in your kitchen.
3. Regularly cleaning and maintaining
Proper maintenance and regular cleaning are crucial for keeping your air fryer free from unpleasant smells. Here are some essential steps to follow:
Allow the air fryer to cool down completely before cleaning.
Remove any excess oil or food particles from the cooking basket and tray.
Wash the removable parts with warm soapy water, ensuring thorough cleaning.
Wipe the interior and exterior of the appliance using a damp cloth.
Dry all parts thoroughly before reassembling.
Regularly cleaning your air fryer not only eliminates odors but also ensures optimal performance and longevity of the appliance.
4. Proper ventilation and ensuring adequate airflow
To prevent smells from lingering in your kitchen, proper ventilation is key when using an air fryer. Ensure that there is sufficient airflow around the appliance during cooking by following these suggestions:
Place the air fryer on a heat-resistant surface away from walls or cabinets to allow proper circulation of air.
Keep surrounding areas clear of any obstructions that may hinder airflow.
Open windows or turn on exhaust fans to facilitate ventilation during cooking.
By promoting good airflow, you can minimize any potential odors and maintain a fresh atmosphere while using your air fryer.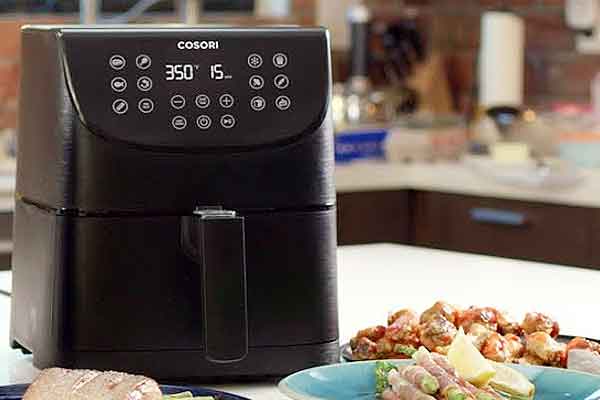 5 Things You Should Avoid to Prevent Smell in Your Air Fryer
Keeping your air fryer odor-free is essential for enjoyable cooking experiences. To prevent unpleasant smells from developing in your air fryer, avoid the following:
1. Excessive Oil Usage:
While air fryers are designed to cook with minimal oil, using excessive amounts can lead to the buildup of grease and residue. Over time, this can cause a lingering smell in the appliance. Use a light mist of oil or invest in an oil sprayer to control the amount of oil used during cooking.
2. Cooking Highly Fragrant Foods:
Strong-smelling foods like fish, certain spices, and pungent vegetables can leave behind potent odors in your air fryer. If possible, cook these items in a well-ventilated area or use an exhaust fan to reduce the impact on the air fryer's interior.
3. Cooking with Wet Batters:
When cooking items coated in wet batters or liquids, excess moisture can accumulate in the air fryer. This can lead to unpleasant smells and even mold growth. Make sure to pat dry the food before coating it with batter to reduce excess moisture.
4. Neglecting Regular Cleaning:
Regular cleaning is crucial to prevent odor buildup in your air fryer. Neglecting to clean the appliance after each use can lead to the accumulation of food particles, grease, and residue, which can cause persistent odors. Refer to the manufacturer's cleaning instructions and follow them diligently.
5. Using Strong Chemical Cleaners:
Avoid using harsh or strong chemical cleaners to clean your air fryer, as they can leave behind unpleasant chemical smells. Stick to mild dish soap, warm water, and non-abrasive sponges or cloths for regular cleaning. Additionally, avoid using abrasive materials that can damage the non-stick coating.
By avoiding these common pitfalls, you can keep your air fryer smelling fresh and ready to cook up delicious meals without any unwanted odors. Regular maintenance and mindful cooking practices will ensure your air fryer remains an odor-free and enjoyable kitchen appliance.
When You Need To Remove Odors From An Air Fryer
You may need to remove odors from an air fryer under various circumstances. Here are some common situations where odor removal becomes necessary:
After Cooking Strong-Smelling Foods: Certain foods, like fish, garlic, onions, or spices, can leave behind strong and lingering odors in your air fryer. If you've recently cooked such items, you'll likely want to remove the lingering smells to prevent them from affecting the taste of future dishes.
Infrequent Use and Stagnant Air: If you haven't used your air fryer for an extended period, the appliance may develop stale odors due to stagnant air and the accumulation of food residues. Proper cleaning and airing out the unit can help eliminate these odors.
Residue Buildup: Over time, cooking residues, grease, and food particles can accumulate in the air fryer, leading to unpleasant smells. Regular cleaning is essential to prevent such buildup and maintain a fresh-smelling appliance.
Unpleasant Smells from Previous Cooking: Sometimes, even after thorough cleaning, you may notice lingering odors from previous cooking sessions. In such cases, additional odor removal methods can be helpful.
New Air Fryer Smell: As mentioned earlier, new air fryers may have a plastic or manufacturing smell when first used. Removing this initial odor is essential for a pleasant cooking experience.
To effectively remove odors from your air fryer, you can follow the cleaning and deodorizing techniques mentioned earlier in this conversation. Disassembling the parts, cleaning with mild soap and water, using baking soda paste, and running a freshening cycle with lemon juice and vinegar are some effective methods to tackle unwanted smells.
Removing Burnt Smell from Your Air Fryer
If you've ever used an air fryer, you know how amazing it is for creating crispy, delicious meals with less oil. However, sometimes accidents happen, and your food ends up burnt, leaving a lingering smell in your air fryer. Don't worry though; there are several effective methods to remove that burnt smell and get your air fryer smelling fresh again.
1. Soaking Removable Parts
One of the first steps to tackle the burnt smell is to remove any removable parts from your air fryer and soak them in warm soapy water. This allows the soap to penetrate into every nook and cranny, breaking down any residue causing the unpleasant odor.
After soaking for about 15-20 minutes, scrub the parts gently with a sponge or soft brush to remove any stubborn stains or smells. Rinse thoroughly and allow them to dry completely before reassembling.
2. Vinegar and Water Solution
Another effective method is wiping down the interior of your air fryer with a mixture of vinegar and water. Vinegar has natural deodorizing properties that can neutralize even the strongest burnt odors. Mix equal parts of white vinegar and water in a spray bottle or bowl.
Spray or wipe this solution onto a cloth or sponge, then thoroughly clean the inside of your air fryer. Pay extra attention to areas where food residue may have accumulated. Once done, rinse with clean water and dry thoroughly.
3. Baking Soda Overnight
Baking soda is known for its ability to absorb odors effectively, making it an excellent option for removing burnt smells from your air fryer. Sprinkle baking soda generously inside the air fryer's basket and let it sit overnight.
The baking soda will absorb the unpleasant odor as it sits, leaving behind a fresher scent by morning. In the morning, simply discard the baking soda and wipe away any remaining residue with a damp cloth.
4. Lemon Juice or Citrus Peels
If you're looking for a natural and refreshing way to eliminate lingering burnt odors, try running a cycle with lemon juice or citrus peels. Squeeze the juice of one or two lemons into the air fryer's basket, or place citrus peels directly inside.
Set your air fryer to a low temperature and let it run for about 10-15 minutes. The acidic properties in the lemon juice or citrus peels work to neutralize the burnt odors, leaving behind a pleasant citrus fragrance.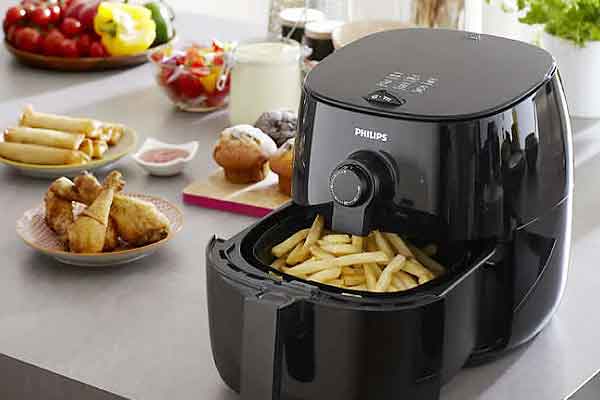 Natural Remedies for Eliminating Odor in Air Fryers
1. Coffee Grounds or Activated Charcoal
One effective way to remove unpleasant smells from your air fryer is by placing coffee grounds or activated charcoal inside. These natural odor absorbers work wonders in neutralizing any unwanted odors that may linger after cooking.
Simply place a small bowl filled with coffee grounds or activated charcoal pellets in the air fryer basket before turning it on. As the air circulates during the cooking process, these substances will absorb and trap the odorous particles, leaving your air fryer smelling fresh and clean.
2. Boiling Water with Cinnamon Sticks
If you're looking to mask existing odors with a pleasant aroma, boiling water with cinnamon sticks can do the trick. Fill a pot with water and add a few cinnamon sticks to it. Allow the mixture to come to a boil on the stovetop.
As the water boils, it will release a delightful scent that permeates through your kitchen and masks any lingering odor in your air fryer. This simple remedy not only eliminates unpleasant smells but also adds a touch of warmth and coziness to your cooking space.
3. Baking Soda
Baking soda is known for its deodorizing properties and can be an excellent solution for combating odors in your air fryer. It works by absorbing and neutralizing foul smells over time. To use this method, leave an open box of baking soda near your air fryer when not in use.
The baking soda will gradually absorb any unpleasant odors present in the surrounding area, including those emitted by your appliance during cooking sessions. This low-cost and readily available ingredient is an effective way to keep your air fryer smelling fresh without relying on harsh chemicals.
4. Activated Charcoal Filters
To tackle odor-causing particles at their source, consider using activated charcoal filters specifically designed for air purifiers or ventilation systems. These filters are highly effective in trapping and eliminating unwanted smells. Simply place the activated charcoal filter inside your air fryer's ventilation system or attach it to the exhaust outlet.
As the air circulates through the fryer, the activated charcoal will capture odor-causing particles, leaving you with clean and fresh-smelling air. Remember to replace or clean these filters regularly to maintain their effectiveness.
By utilizing these natural remedies, you can easily eliminate unpleasant odors from your air fryer without resorting to harsh chemicals or expensive solutions.
Deep Cleaning Techniques to Remove Lingering Odors
1. Disassembling and Soaking in Vinegar Solution
To effectively remove lingering odors from your air fryer, it is crucial to disassemble the appliance and clean each part thoroughly. Follow these steps:
Unplug and Cool Down: Start by unplugging the air fryer and allowing it to cool down completely. Safety first!
Remove Removable Parts: Carefully take out the basket, tray, and any other removable parts from the air fryer.
Prepare Vinegar Solution: In a bowl or sink, create a mixture of vinegar and water. Soak the removable parts in this solution for about 15-20 minutes. Vinegar's odor-neutralizing properties will help break down stubborn smells that may have accumulated over time.
Scrub Away Residue: After soaking, use a sponge or soft brush to scrub away any remaining residue or odor-causing particles. Pay close attention to crevices and hard-to-reach areas where food debris might have built up.
Thoroughly Rinse: Rinse each part thoroughly with water to ensure all traces of vinegar are removed.
2. Using Baking Soda Paste
For deep-seated odors that refuse to budge, using a paste made from baking soda and water can work wonders. Follow these steps:
Create Baking Soda Paste: Mix equal parts baking soda and water in a small bowl until it forms a thick consistency.
Apply the Paste: Apply the baking soda paste generously to the interior surfaces of your air fryer, focusing on areas where odors seem to be concentrated.
Allow Time to Work: Let the baking soda paste sit for at least 30 minutes or longer if possible. This will give it enough time to penetrate deep into the surface and neutralize any lingering odors.
Gentle Scrubbing: Afterward, use a damp cloth or sponge to gently scrub away the dried paste.
Thorough Rinse: Rinse the interior of the air fryer thoroughly with warm water to remove any residue left behind by the baking soda paste. Ensuring no traces of baking soda remain is crucial, as they can affect the taste of your food during the next use.
3. Running a Freshening Cycle with Lemon Juice and Vinegar
For a final burst of freshness, run a cycle using a solution of water, lemon juice, and vinegar. Follow these steps:
Prepare the Solution: Fill the air fryer's reservoir with equal parts water and vinegar. Squeeze the juice of one lemon into the mixture for an added fresh scent.
Run the Cycle: Place the basket back into the air fryer and run a full cycle at a moderate temperature setting.
Steam Away Odors: As the cycle runs, the combination of water, lemon juice, and vinegar will create steam that helps dislodge any remaining odor-causing particles. The acidic properties in lemon juice and vinegar work together to neutralize unpleasant smells effectively.
Cool Down and Rinse: Once the cycle is complete, allow the air fryer to cool down before emptying out the reservoir. Rinse it thoroughly with warm water to remove any traces of lemon juice or vinegar.
By following these deep cleaning techniques regularly, you can ensure that your air fryer remains odor-free and ready to cook up delicious meals without any unwanted aromas lingering behind.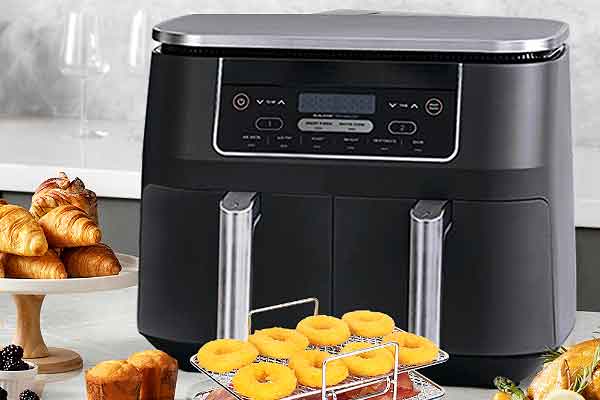 Why Do New Air Fryers Have a Plastic Smell?
If you've recently purchased a new air fryer, you might notice a plastic smell when you first use it. This is a common occurrence with many brand-new appliances, including air fryers. Several factors contribute to this plastic smell:
Manufacturing Residue: During the manufacturing process, various components of the air fryer, such as the heating elements, fans, and plastic parts, undergo molding, cutting, and assembling. Sometimes, small residues of materials used in the manufacturing process can be left behind, resulting in a plastic smell when the air fryer is used for the first time.
Packaging Materials: The air fryer is typically packaged in plastic or other materials to protect it during transportation and storage. The close contact with the packaging materials can sometimes cause a transfer of odors to the air fryer.
Adhesives and Sealants: Adhesives and sealants are commonly used in the assembly of appliances like air fryers. While manufacturers strive to use low-emission adhesives, some residual odor may still be present initially.
Heat Cycling: The first time you use your air fryer, it undergoes heat cycling as it reaches high temperatures for cooking. This can accelerate the release of any lingering smells from the manufacturing process.
Tips to Reduce the Plastic Smell:
Thorough Cleaning: Before using your new air fryer, give it a thorough cleaning. Disassemble any removable parts and wash them with warm soapy water. Wipe down the interior and exterior surfaces with a damp cloth.
Ventilation: Allow the air fryer to run empty for a few minutes in a well-ventilated area. This will help dissipate any initial plastic smell and improve air circulation within the appliance.
Baking Soda Paste: Create a paste using baking soda and water, and apply it to the interior surfaces of the air fryer. Allow it to sit for a short period before wiping it off. Baking soda is known for its odor-absorbing properties and can help neutralize any residual smells.
Time and Use: In most cases, the plastic smell will diminish with time and regular use. As you continue to cook with the air fryer, any remaining odors should dissipate.
Patience: Patience is key. The plastic smell is usually temporary and should not affect the performance or safety of your air fryer.
It's essential to remember that the plastic smell is a common occurrence with new appliances and is not a cause for concern.
Conclusion
In conclusion,Baking soda proves to be an effective and affordable solution. By absorbing and neutralizing odors, baking soda helps keep your air fryer smelling fresh and clean.
Throughout this guide, we have discussed various causes of unwanted smells in air fryers, preventative measures you can take to minimize odors, techniques for removing burnt smells, natural remedies for eliminating odor, and deep cleaning methods to get rid of lingering odors. However, if you're looking for a simple yet powerful solution, baking soda is the way to go.
So why wait? Give baking soda a try and say goodbye to unwanted smells in your air fryer. Enjoy cooking without worrying about unpleasant odors infiltrating your food!
FAQs
Can I use other odor-absorbing products instead of baking soda?
While there are other odor-absorbing products available on the market such as activated charcoal or specialized odor absorbers, baking soda remains one of the most accessible and cost-effective options.
How often should I deep clean my air fryer?
It is recommended to deep clean your air fryer every 10-15 uses or whenever you notice a buildup of grease or residue. Regular maintenance will help prevent odors from developing.
Can I use vinegar to remove burnt smells from my air fryer?
Yes, vinegar can be an effective solution for removing burnt smells. Simply mix equal parts of water and vinegar, then wipe down the interior of your air fryer with the mixture.
Are there any precautions I should take when using baking soda in my air fryer?
It is important to ensure that the baking soda does not come into direct contact with the heating element or any electrical components. Always place the container of baking soda away from these areas.
Will baking soda affect the taste of my food?
No, baking soda will not affect the taste of your food. It works solely to absorb and neutralize odors, leaving no residual flavor behind.
Remember, if you have any other questions or concerns about removing odor from your air fryer, don't hesitate to reach out. Happy cooking!