The air fryer may blink due to preheating, ongoing cooking, errors or malfunctions, timer or settings adjustments, and power issues. Consult the user manual or contact the manufacturer for troubleshooting.
But fear not! We'll walk you through each one and provide simple solutions that will have your air fryer back in action in no time.
In this short guide, we'll dive into the perplexing world of air fryer blinking issues, shedding light on why it happens and how to fix it. Troubleshooting these concerns is crucial for maintaining the optimal performance of your air fryer.
Stay tuned as we uncover the secrets behind your air fryer's blink-a-thon.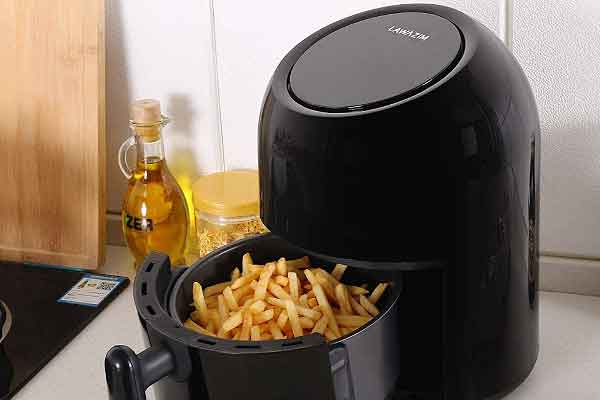 Common Causes of Air Fryer Blinking
1. Overheating and Blinking Lights
Overheating can cause your air fryer to blink, ensuring proper ventilation.When your air fryer starts blinking, one of the common causes could be overheating. Air fryers generate intense heat to cook food quickly and efficiently.
To prevent this issue, it is essential to ensure proper ventilation for your air fryer.
2. Faulty Power Supply or Cord
Another reason why your air fryer might be blinking is due to a faulty power supply or cord connection. If there is an interruption in the electrical current flowing into the appliance, it can cause the device to start blinking as a safety precaution.
To troubleshoot this issue, begin by checking if the power cord is securely plugged into both the wall outlet and the back of the air fryer. Ensure that there are no loose connections or frayed wires that could disrupt the flow of electricity.
3. Excessive Oil Buildup
Over time, excessive oil buildup in your air fryer can also lead to blinking lights. As you use your appliance for cooking various foods, oil residue accumulates inside its components such as baskets and trays. This buildup can interfere with normal functioning and trigger safety mechanisms that cause blinking lights.
To address this issue, it is crucial to clean your air fryer regularly. Start by unplugging the appliance and allowing it to cool down completely. Then, carefully remove all removable parts such as the basket and trays. Wash them with warm soapy water, ensuring to remove any greasy residue. Use a soft brush or sponge to scrub away stubborn buildup.
After cleaning the removable parts, wipe down the interior of the air fryer with a damp cloth. Pay attention to areas where oil may have splattered or accumulated. Once everything is clean and dry, reassemble the components and plug in your air fryer again.
4. Device Malfunctions
Software Errors: Glitches or bugs in the air fryer's software can cause the indicator lights to behave abnormally.
Hardware Failures: Issues with internal components can lead to inconsistent functioning of indicator lights.
5. User Errors
Incorrect Usage: Operating the air fryer incorrectly or not following the manufacturer's instructions can trigger blinking lights.
Safety Precautions: Certain safety features in air fryers, such as auto-shutoff mechanisms, can cause the lights to blink if specific conditions are not met.
How to Fix a Blinking Air Fryer
1. Resetting Your Air Fryer
If you find that your air fryer is beeping, one of the first steps you can take to resolve the issue is to reset the appliance. This simple action can often help restore normal functionality and eliminate any beeping noises. To reset your air fryer, follow these steps:
Unplug the air fryer from the power source.
Wait for a few minutes to allow any residual electricity to dissipate.
Plug the air fryer back into the power source.
Resetting your air fryer can clear any temporary glitches or errors that might be causing it to beep. If this doesn't solve the problem, there are other troubleshooting steps you can try.
2. Check for Loose Components
Another reason why your air fryer may be beeping is due to loose components within the appliance. Vibrations during cooking or movement while handling could cause various parts of the air fryer to become loose over time. Here's what you can do:
Carefully inspect all visible components of your air fryer, such as trays, baskets, and heating elements, making sure they are securely in place.
Gently tighten any loose components using appropriate tools if necessary.
Ensure that all detachable parts are properly inserted and locked into position before starting a cooking cycle.
By checking for and securing any loose components, you can prevent them from triggering unnecessary beeping sounds during operation.
3. Adjust Cooking Time and Temperature Settings
Sometimes, an air fryer may beep if its cooking time or temperature settings are not adjusted correctly. This could indicate that either too much or too little time/heat has been set for a particular recipe. To avoid this issue:
Refer to your air fryer's instruction manual or recipe book for recommended cooking times and temperatures.
Double-check that you have set the appropriate values for your desired dish.
Make adjustments as needed, increasing or decreasing the cooking time and temperature to achieve the desired results.
By ensuring that your air fryer is set to the correct cooking parameters, you can minimize beeping interruptions during the cooking process.
Troubleshooting Error Codes in Air Fryers
If you've noticed your air fryer blinking and displaying error codes, don't panic. These error codes are actually helpful indicators that can guide you towards resolving specific problems with your appliance. To troubleshoot the issue effectively, it's important to refer to the manual that came with your air fryer.
Here are some steps you can take to tackle these error codes and get your air fryer back up and running smoothly.
1. Refer to the Manual for Specific Problems
When faced with an error code on your air fryer, the first thing you should do is consult the user manual. The manual will provide a list of common error codes along with their corresponding meanings and suggested solutions. This resource will be invaluable in helping you understand what might be causing the problem.
2. Power Cycle Your Air Fryer
Sometimes, certain error codes may appear due to temporary glitches or minor malfunctions. In such cases, power cycling your air fryer can often resolve the issue. Simply switch off the appliance, unplug it from the power source, and wait for a few minutes before plugging it back in and turning it on again.
3. Contact Customer Support if Issues Persist
If you've followed the instructions in the manual or attempted power cycling but are still encountering persistent error codes, it's time to reach out to customer support. They have trained professionals who can provide expert assistance tailored specifically to your situation.
When contacting customer support, make sure to provide them with all relevant information about your air fryer model and any specific error codes displayed. This will help them diagnose potential issues more accurately and offer appropriate solutions.
It's worth noting that there may be instances where an error code appears on your air fryer but is not listed in the manual. In such cases, contacting customer support becomes even more crucial as they can help identify less common issues that might require specialized attention.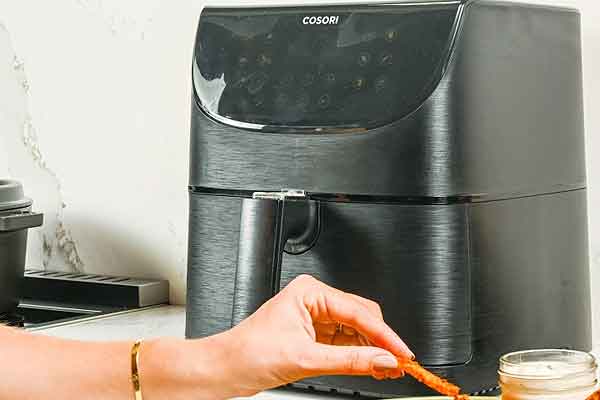 The Significance of Blinking Lights
In the world of air fryers, indicator lights play a crucial role in conveying important information to users. These lights are designed to communicate various statuses and conditions of the appliance. Among them, blinking lights hold particular significance as they indicate specific situations that users need to be aware of. Understanding the meaning of these blinking lights can help users troubleshoot issues and ensure the proper functioning of their air fryers.
The Indicator Lights and Their Meanings
Power Indicator: This light typically shows whether the air fryer is receiving power or not. A blinking power indicator may suggest a power supply issue or a problem with the power cord.
Heating Indicator: When the air fryer is preheating or actively cooking, the heating indicator may be solid. However, if it blinks, it could indicate an overheating problem or a blocked air vent.
Timer Indicator: The timer indicator informs users about the remaining cooking time. A blinking timer indicator might indicate an error in the timer function or a disruption in the cooking process.
Blinking vs. Solid Lights: Differences and Interpretations
Solid Lights: In general, solid indicator lights signify normal operation. For instance, a solid power indicator means the air fryer is connected to a power source and ready to use.
Blinking Lights: On the other hand, blinking lights suggest an abnormal condition that requires attention. The frequency and pattern of blinking can provide valuable clues about the specific issue.
It is essential for air fryer users to familiarize themselves with the meanings of blinking lights in their specific models, as different brands and models may have varying indicator systems. Referencing the user manual and manufacturer's guidelines can provide valuable insights into the exact interpretations of blinking lights for a particular air fryer.
By understanding the significance of blinking lights, users can respond appropriately when faced with such indicators, allowing them to troubleshoot problems effectively and enjoy the benefits of their air fryers without unnecessary interruptions.
Maintaining and Cleaning Tips for Your Air Fryer Blinking
1. Regularly Clean Removable Parts for Optimal Performance
To maintain your air fryer's longevity and ensure peak performance, regularly clean the removable parts. After each use, clean the baskets and trays to remove grease, food particles, and residue. Neglecting this can lead to odors, reduced efficiency, and potential health hazards.
To clean effectively, remove the parts from the air fryer and rinse them with warm water to remove loose debris. For stubborn stains or residue, use mild detergent or dish soap with a non-abrasive sponge. Gently scrub until clean.
2. Use Mild Detergent and Non-Abrasive Materials
Opt for mild detergents designed for kitchen appliances. Avoid harsh chemicals or abrasive cleaners that can damage the coating, reducing non-stick properties. Use soft sponges or brushes to prevent scratching.
3. Avoid Submerging Electrical Components
Never submerge electrical components, like the heating element or control panel, in water. Wipe them with a damp cloth or sponge, avoiding water dripping into the air fryer. Submerging can cause irreversible damage and safety risks.
4. Exercise Caution Cleaning Electrical Components
Unplug the air fryer before cleaning sensitive areas. Use a damp cloth to wipe exterior surfaces gently. Ensure all electrical components are dry before use to avoid malfunctions or hazards.
By following these practices, your air fryer will serve up crispy delights for years to come. Remember to clean removable parts after each use, use mild detergents and non-abrasive materials, and avoid submerging electrical components.
When to Seek Professional Help
While air fryers are generally user-friendly appliances, there may be instances where seeking professional assistance becomes necessary. In situations where troubleshooting efforts fall short or when faced with potential warranty-related issues, reaching out to customer support or authorized service centers can be the best course of action.
When to Contact Customer Support
Persistent Blinking Issues: If the air fryer's blinking lights continue despite following the troubleshooting steps, it may indicate a more complex problem that requires expert attention.
Error Messages: Some air fryers display error codes along with blinking lights. In such cases, customer support can help decode the error and provide appropriate solutions.
Unusual Noises or Smells: Strange noises or odors during operation might indicate internal malfunctions, and customer support can advise on the appropriate actions to take.
Warranty Coverage and Claims
Understanding Warranty Terms: Familiarize yourself with the warranty period and its terms. Most air fryers come with a limited warranty that covers manufacturing defects and certain issues during a specified period.
Validity of Warranty: Ensure that the warranty is still active and has not expired before contacting customer support for warranty-related claims.
Necessary Documentation: To make a warranty claim, you will likely need proof of purchase, the serial number of the appliance, and other relevant information. Have these documents ready when reaching out to customer support.
Authorized Service Centers: If the air fryer requires repair or replacement covered under the warranty, customer support can direct you to authorized service centers where trained technicians can assist you.
Remember, attempting to repair the air fryer yourself or seeking assistance from unauthorized service providers may void the warranty and cause further damage. To safeguard your appliance and ensure efficient and safe repairs, always rely on the assistance of professionals endorsed by the manufacturer.
By knowing when to seek professional help and understanding the warranty coverage, air fryer owners can navigate potential issues with confidence, prolong the lifespan of their appliances, and continue to enjoy the benefits of healthier cooking with their air fryers.
Preventing Air Fryer Blinking Issues
1. Stable Surface for Your Air Fryer
To prevent blinking issues with your air fryer, ensure it is placed on a stable and flat surface. Avoid positioning it near heat sources or water, as these can disrupt the appliance's functioning and cause blinking alerts.
2. Avoid Overcrowding the Basket
Overloading the basket can obstruct airflow and lead to uneven cooking and blinking issues. Follow the manufacturer's guidelines for maximum fill levels and distribute food evenly in a single layer.
3. Follow Recommended Cooking Times and Temperatures
Always follow the recommended cooking times and temperatures specified in your air fryer's manual or recipe instructions. Incorrect settings can stress the appliance's components and trigger blinking alerts.
4. Regular Maintenance and Cleaning
Clean the interior and exterior regularly according to the manufacturer's instructions. Accumulated grease or debris can hinder proper functioning and lead to blinking alerts. Keep the air intake and exhaust vents unobstructed.
5. Power Supply and Circuit Issues
Check the power supply and circuit connections. Ensure the power cord is securely plugged into a functioning outlet without any loose connections. Consider consulting an electrician if needed.
Remember to consult the manual for model-specific troubleshooting steps. By following these preventive measures and proper maintenance, you can minimize blinking issues and enjoy hassle-free cooking with your air fryer.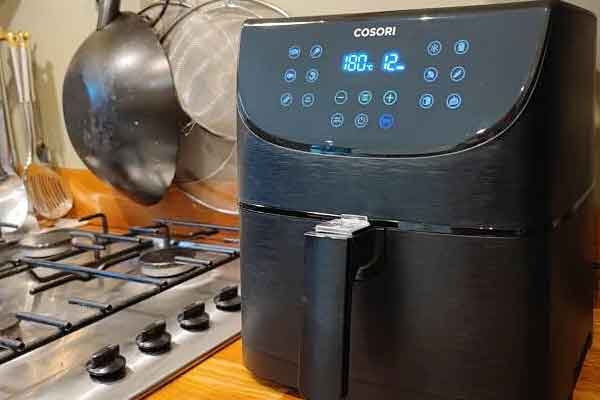 Addressing Electrical Problems in Air Fryers
1. Ensure Proper Power Outlet Functionality
Before troubleshooting specific electrical problems with your air fryer, ensure the power outlet is functioning correctly. Many times, blinking issues can be traced back to power supply problems. Verify that the power outlet is in good condition and compatible with your appliance.
If you use an extension cord or adapter, make sure they are also in good condition and suitable for your air fryer. Avoid using multiple extension cords or adapters, as they can introduce additional points of failure.
2. Consult an Electrician for Frequent Electrical Issues
If you frequently encounter electrical problems with your air fryer, consider seeking professional assistance from an electrician. They can identify any underlying wiring or circuitry issues that may be causing the blinking problem. Skilled electricians can assess and rectify faulty connections or circuit problems specifically related to your air fryer and your home's wiring system.
3. Prevent Electrical Overload
Electrical overload can contribute to blinking in air fryers. This happens when multiple high-power appliances share the same circuit, exceeding its capacity. To prevent overloading circuits and experiencing frequent blinking episodes:
Distribute high-power appliances evenly across different circuits.
Prioritize essential appliances on separate circuits.
Unplug unused devices when not in use.
Be mindful of simultaneous usage of multiple high-power appliances, especially in the kitchen where air fryers are commonly found.
By following these guidelines, you can reduce the chances of electrical overload and minimize blinking issues in your air fryer. Ensuring a stable power supply and seeking professional help when needed will contribute to smooth and reliable operation of your appliance.
COMPARING DIFFERENT BRANDS OF AIR FRYERS BASED ON THEIR RELIABILITY
When comparing different brands of air fryers based on their reliability, several factors come into play. Reliability is a crucial aspect to consider as it determines the consistency and durability of the appliance. Below, we'll assess some well-known air fryer brands and highlight their strengths in terms of reliability:
Philips:
Philips is a reputable brand known for producing high-quality kitchen appliances, including air fryers. Their air fryers are built with robust materials and undergo rigorous testing, ensuring long-lasting performance. Users often praise Philips for the reliability and consistent results their air fryers deliver over time.The brand also offers excellent customer support and warranty coverage, adding to their reliability factor.
Ninja:
Ninja has gained popularity for its innovative kitchen gadgets, and their air fryers are no exception. These air fryers are well-regarded for their sturdiness and durability, making them a reliable choice for everyday use. The brand incorporates advanced technology in their air fryers, providing consistent and efficient cooking results. Users appreciate the reliability and versatility of Ninja air fryers, as they often come with multiple cooking functions.
Cosori:
Cosori is known for producing reliable and budget-friendly air fryers that appeal to a wide range of users. Their air fryers boast solid build quality and intuitive controls, ensuring ease of use and consistent performance. Cosori often provides extended warranty periods, reflecting their confidence in the reliability of their products. Many users express satisfaction with the reliability and longevity of their Cosori air fryers.
Instant Pot:
Instant Pot, renowned for its multi-functional pressure cookers, has also ventured into air fryer technology. These air fryers are well-engineered and known for their durability and reliability. The brand's reputation for producing dependable kitchen appliances extends to their air fryer lineup. Users appreciate the brand's commitment to quality and reliability, making Instant Pot a trustworthy choice.
When comparing air fryer brands based on reliability, it's essential to consider customer reviews, warranty coverage, build materials, and the brand's reputation in the market. Individual models within a brand may vary in reliability, so researching specific product reviews can provide more insights.
Remember, a reliable air fryer can be a valuable investment, providing you with consistent, healthy cooking experiences for years to come.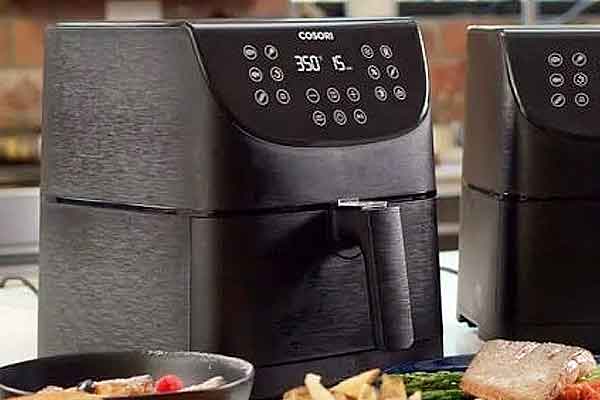 Conclusion
When facing blinking issues with your air fryer, it's essential to take proactive steps for resolution. Understanding common causes, fixing beeping air fryers, troubleshooting error codes, and proper maintenance are key. Check the power supply, clean the appliance regularly, and avoid overloading the basket. Address any electrical problems promptly and prioritize safety.
By maintaining and using your air fryer correctly, you can ensure smooth and efficient operation, extending its lifespan. Embrace these proactive measures, and you'll enjoy hassle-free cooking experiences with your air fryer, savoring delicious meals every time.
FAQs
Why does my air fryer beep?
Your air fryer may beep for several reasons such as reaching the desired temperature or completing a cooking cycle. Refer to your user manual for specific information on beeping sounds.
Can I fix my blinking air fryer on my own?
Yes! Many common blinking issues can be resolved by following simple troubleshooting steps like checking connections or resetting the device. However, if you encounter complex electrical problems or persistent issues after attempting fixes yourself, it's best to seek professional help.
How often should I clean my air fryer?
It is recommended to clean your air fryer after each use. Regular cleaning prevents the buildup of grease and food particles, ensuring optimal performance and preventing potential blinking issues.
What should I do if my air fryer displays an error code?
Error codes on your air fryer indicate specific issues. Consult your user manual for a list of error codes and their corresponding solutions. If the problem persists, contact customer support for further assistance.
Can overloading the basket cause my air fryer to blink?
Yes, overloading the basket can obstruct proper airflow and cause your air fryer to blink. Ensure you follow the recommended maximum capacity guidelines provided by the manufacturer to avoid this issue.