Quick Summary: Our pick for the best milk frother is the Stainless Epica Automatic Electric Milk Frother. It is made of stainless steel for durability, and it can froth different types of milk and keeps your froth hot or cold. You can make milk for cappuccinos, lattes, or iced drinks, and other beverages. We have looked at the best milk frothers available today and have researched them to put together a selection of the best for you to choose from. Read on to find details on all of our top picks to decide which of these frothers for milk suits you and your needs.
You can aim for a high-quality milk frothers within your budget, as there are many different models at various prices.
You want a milk frother that will be easy to clean since once milk froth dries, it can be difficult to get off. Some models are dishwasher-safe, which could be important to you. Other handheld milk frothers can be wiped clean.
You also want a frother that is easy to use, preferably lightweight and simple to carry. Look at the quality of the froth that it produces, and the temperature of the froth.
Some of the best milk frothers will froth all kinds of milk, such as coconut, hemp, soy, or almond milk. Another important factor is the energy usage – does the model require batteries? Does it plug into a socket? Also consider the item's overall durability. Stainless-steel models are less likely to corrode or decay over time.
The best milk frothers will fulfill all of your top criteria. But are they really as good as they say they are? And which one is best for you?
In our review here, we have done all of the careful research for you. Here are our reviews for the very best milk frothers on the market today.
Quick Navigation:
---
Comparison of 10 Best Milk Frothers
| | | |
| --- | --- | --- |
| | This frother for milk can make hot froth or cold froth for cappucinos, iced drinks, etc. It is made of stainless steel with a vacuum insulation, and froths 4.25 ounces of milk. | Read Our Review |
| | This milk frother has a latte frothing disc for milk that is silky smooth, and a cappucino frothing disk for froth that is thick and creamy. Doubles as a hot chocolate maker. | Read Our Review |
| | This milk frother has a detachable base, vacuum insulation, and makes hot and cold milk froth at the touch of a button for lattes, cappuccinos, and hot cocoa. With a 2 year warranty. | Read Our Review |
| | This milk frother heats hot milk for lattes and makes froth that can be cold or hot. Maximum and minimum level indicators, and can make about 1/2 a cup of froth at a time. | Read Our Review |
| | This frother makes hot milk froth in 70 seconds and has a detachable base. It also makes cold froth and hot milk for lattes, and has maximum and minimum level indicators. | Read Our Review |
| | This frother is easy to clean, has a durable, stainless steel exterior, and a non-stick interior. It makes thick and creamy froth and heats milk by pushing a button, and has a 1-year warranty. | Read Our Review |
| | This is one of the best frothers for its style alone. Make hot or cold milk froth, or heat milk. The milk can be heated to 140 degrees Fahrenheit, and the generous froth capacity is 4.4 ounces of milk. | Read Our Review |
| | With 4 settings, you can make café-quality drinks at the touch of a button, with three different textures of milk foam. With a double wall for extra insulation, and the cup can be wiped clean easily. | Read Our Review |
| | This compact frother heats 1 cup of milk at a time, has a removable base, an auto shut-off feature, and a transparent lid that allows you to observe the frothing process. Durable and easy to clean. | Read Our Review |
| | Create a rich froth in minutes with this frother. Milk can be of any type: coconut, soy, almond, and more. You can froth 8 ounces at once, and the pitcher is removable and dishwasher-safe. | Read Our Review |
---
Reviews of 10 Top Milk Frothers
To make it easy for you to choose a milk frother that will best serve you, we have put together reviews of 10 top milk frothers.
Best Overall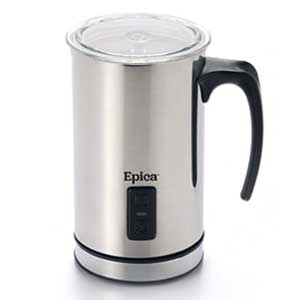 What You Will Love: You can use this stainless steel frother to make hot or cold milk for iced drinks or cappuccino as well as heat milk for latte and other hot beverages.
It can also froth almond milk, soy milk, and other non-dairy milk.
The stainless steel, together with the vacuum insulation, is designed to help in maintaining temperature, effectively keeping the froth or milk hot or cold.
Additionally, you can easily detach the carafe from the base so as to pour your beverage easily.
Pros:
Cleaning is easy
Stainless steel makes it hard to wear out
Can froth different types of milk
Keeps milk or froth hot or cold
Cons:
Hot milk feature overheats
Milk runs over the top
Does not hold much quantity
It is not a true nonstick
---
Best Budget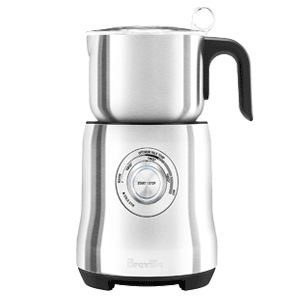 What You Will Love: This creamy milk and the hot chocolate maker has a latte frothing disc, a feature that makes it possible to produce smooth and silky milk.
Breville Milk Cafe Milk Frother also features a cappuccino frothing disc that makes thick and creamy froth.
By simply adding drinking chocolate powder, syrup or flakes to the warming milk, you will be able to enjoy your hot chocolate.
The Breville Milk Cafe Milk Frother employs induction heating so you can just place the jug in a dishwasher for easy cleaning.
Pros:
Easy to use
Adequate capacity
Easy to wash
Makes minimal noise
Cons:
Does not froth so well
Minimum amount is too much for one cappuccino
Machine does not last long
Quite an expensive frother
---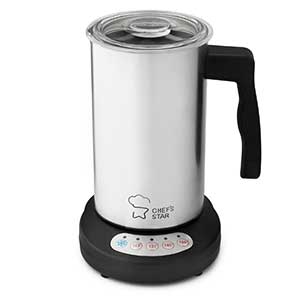 What You Will Love: Made of premium stainless steel, this device features a powerful heating system. With this, by simply pushing a button, you can effortlessly make creamy froth and heated milk.
With a detachable base, this milk frother makes it easy for you to pour milk.
More to this, the inbuilt temperature controls allow you to froth cold milk, froth and heat milk as well as heat with smaller amounts of froth.
The waterproof connector is an important safety feature that keeps you safe whenever you attach the power base. Apart from the stylish design, it is clearly one of the best frothers for home use.
Pros:
Quickly heats and froth milk
Detachable base for easy pouring
Very sturdy and long lasting
Has multi-temperature control
Cons:
Needs clean-up immediately after use
Only froths small volumes of milk
Slow in heating milk
Not so good for lattes
---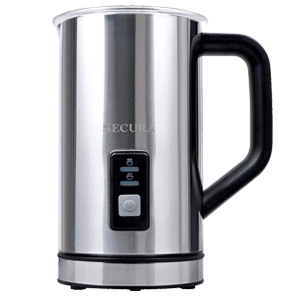 What You Will Love: With a stainless steel exterior and vacuum insulation, the frother makes both cold and hot milk for cappuccinos and heats milk for lattes.
Secura Automatic Electric Milk Frother features a detachable base and comes with a free brush for cleaning. The frother also has three level marks to make a creamy froth for coffee.
The top level mark is for milk warmer, the second mark is for milk frother while the minimum level mark means you should not turn on the Secura Automatic Electric Milk Frother without the minimum required amount of milk.
Pros:
Top quality machine
Excellent froth quality
Easy to use
Quite affordable
Cons:
Cannot be submerged in water when cleaning
Thin layer of burnt milk after every use
Leaks milk
Does not last very long
---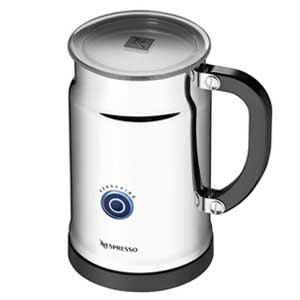 What You Will Love: The Nespresso frother has a maximum capacity of 130 ml for frothing and 250 ml for hot milk preparation. The device can make hot milk for lattes as well as cold and hot milk froth for cappuccinos.
This milk frother has minimum and maximum level marks and can prepare hot milk froth in about 70 seconds.
Lastly, the frother features a detachable base to make it easy for you to use.
Pros:
Cleaning is easy
Warm and stiff foam for cappuccino
Device works great
Heats milk quickly and quietly
Cons:
After some time, milk gets scorched at the bottom
Line indicator for frothing is difficult to see
Not very long lasting
Milk easily overflows
---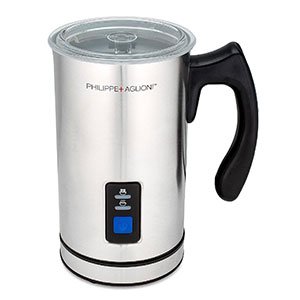 What You Will Love: You'll love that you can make a variety of drinks with this frother – cappuccinos, lattes, hot chocolate, and hot frothed milk.
Create hot froth in less than 90 seconds with any type of milk for your hot and cold drinks. Pour in 1/2 cup of milk for 1 cup of froth in a snap.
Simple to clean
The base is detachable, so the next best thing to a handheld milk frother for simple pouring and for effective cleanup. The non-stick interior is also simple to wipe clean after use.
Easy to use
Add milk, push a button and have a creamy, thick froth in seconds.
Versatility
It can make hot as well as cold froth.
Pros:
Stainless steel exterior that is made to last
Comes with a 1-year warranty and a 100% money-back guarantee
Double-walled insulation keeps liquids hot for longer
Once the milk is frothed, the unit switches to heating mode to keep it warm
Cons:
Some users say it takes a while to froth the milk, but this could depend on the type of milk used
Be very careful not to go over the capacity limit as the milk will spill
---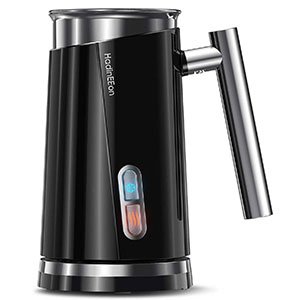 What You Will Love: You'll love this foam maker and milk frother and steamer that will enable you to make anything from iced drinks to lattes and cappuccinos in minutes.
The velvety smooth foam of this frother will add extra pleasure to your drinks. Perfect for entertaining and for enjoying your own barista-quality coffee at home.
Heats milk to a high temperature
You can froth and heat the milk at the touch of a button to 140 degrees Fahrenheit and then immediately pour it into your coffee.
Large capacity
Will froth 4.4 ounces of milk and will heat 10.1 ounces of milk.
Silent when in operation
The HadinEEon milk steamer has a silent motor so your conversation doesn't have to compete with noisy machines in your kitchen.
Simple to clean
The jug detaches from the base for easy pouring and cleaning – just like handheld milk frothers, but with the convenience of electric power.
Pros:
Sleek design, so adds style to any kitchen and makes a great gift
Safety feature: automatically shuts itself off when milk is ready
Two different frothing milk whisks included
Easy to operate
Interior of jug is non-stick for simple cleanup
Cons:
Use whole milk with a fat content of at least 3 percent for best results
---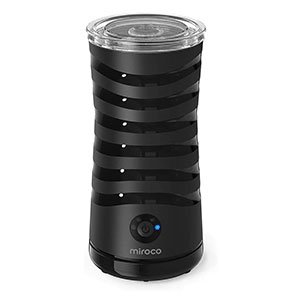 What You Will Love: You'll love that this model has not one but four different settings for café-style drinks like coffee, cappuccinos, latte, hot milk, hot chocolate and flat whites just by pushing a button on the frother.
This sleek, black model is one of the more attractive frothers on the market, and will brighten up any kitchen. The LED lights indicate the status – blue means cold milk frothing, and red means milk frothing and heating.
Three different textures to choose from
Select either Airy Foam, Hot Dense Foam or Cold Milk Froth
Ergonomic grip
Hold the steamer by its slim and streamlined silhouette to prepare your favourite espresso coffee with ease.
Shut-off feature
This frother has a Strix Temperature Controller and switches off automatically once your milk or your froth is finished.
Pros:
Double-walled lining for better insulation to keep your hot drinks hot for longer
Non-stick interior wipes clean with a wet cloth to keep your frother in good condition and always ready to use
Ease of use
Quiet while in operation
Heats milk automatically up to 140 degrees Fahrenheit within 1 to 2 minutes
Cons:
For frothing, the manufacturer recommends the use of whole fat milk only
---
What You Will Love: You'll love the transparent lid of this frother which allows you to watch the frothing process. Perfect for curious children and guests!
Create coffee and other hot drinks like a professional barista in your own kitchen, even if you don't have the best coffee maker. Pour the milk, and this slim and attractive frother with two universal whisks will do the rest.
Compact design
This frother won't take up much room on your countertop, and has a convenient cord storage in the removable base for convenience.
Non-stick interior
The non-stick coating of the interior surface is food-grade and stick-free, and is 100% contaminant-free. You can easily wipe off any dried milk after each use.
Durable design
The stainless steel body and the double-walled interior are built to last.
Pros:
Automatic shut-off feature when your foam or hot milk has finished
Large capacity – you can heat up 1 cup of milk at a time, so perfect for serving a family
Three beeps sound when the heating or frothing process is completed
Glowing lights red or blue indicate which program is in progress
Cons:
You have to press the button several times depending on the program that you select
---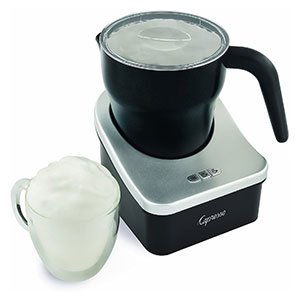 What You Will Love: You'll love that you can remove this milk pitcher from the base to pour at the table to serve family and guests. The cord can be stored within the base so that you don't lose a lot of space on your countertop.
This pro milk frother has a compact design and a heavy-duty construction to make sure durability as well as practicality.
Dishwasher-safe
The removable pitcher with see-through lid is dishwasher safe, making cleanup time quick and easy.
High-quality froth
This model produces wonderfully frothed milk for cappuccinos, hot chocolates and café lattes
Large capacity
You can froth a full 8 ounces of milk, which is more than most other models. Heat up to 12 ounces of milk. Perfect for families, or for those who like to entertain.
Pros:
Simple to operate, with the illuminated controls that allow you to easily select cold, hot or warm functions
Patented technology for high-quality froth with a minimum of effort
Two frothing disks and one heating disk which are easy to put in as well as take out
Cons:
Several users say that this machine did an excellent job at first, but did not last as long as they expected
---
How To Choose The Best Milk Frother?
If you own or run a coffee shop, we know how important quality is for your business. For you to be able to make the best hot beverages in the market, it is important that you invest in good milk frothers.
While doing this, there are several factors that we would like you to keep in mind.
Cost
The amount of money you are willing and able to spend on a milk frother is definitely one of the top factors to consider when buying the gadget.
Luckily, frothers for every budget are available in the market. With a small budget, you can opt for the relatively affordable handheld battery operated milk frother or a manual frother.
While simpler and more affordable frothers will be suitable for home use, more expensive and higher capacity frothers are the best for commercial use.
As such, those who make the cream for commercial purpose will require a different kind of gadget, such as an automatic milk frother.
Regardless of the use to which you plan to put the milk frother, you should not compromise on quality.
Design
A neat and clean looking kitchen is always an important aspect of preparing any meal. As such, it is necessary that you like the gadget that you will probably be using every day.
Today, most frothers are made of shining chrome materials and incorporate modern designs.
Such modern designs will go well with the contemporary design of your kitchen. Moreover, almost every frother in the market is small, making it easy for you to use him or her.
Lastly, a good milk frother features easy-to-push buttons and has operation mechanisms that let you do an excellent job.
Clean-up
Once milk dries stiff, it is not easy to clean. As such, it is important that you purchase a milk frother that will be easy to clean. Here, there are a number of options.
There are dishwasher-safe frothers that you can just put in the dishwasher.
While you can just rinse off a hand-held battery powered frother, a manual milk frother fits properly when placed in a dishwasher. However, you cannot put an electric frother in a dishwasher, a factor that will force you to be washing the frother each time you finish using it.
In fact! For the safety of the electric milk frother, you will have to rinse and dry it with a paper towel after every use.
Temperature
This is heavily dependent on whether you prefer hot or cool froth on top of your coffee. Depending on individual preferences, you want to buy a device that is going to match your tastes and needs.
Some frothers do not get to the heat level that is the preference of certain people. With this in mind, you may choose to make your hot milk, which will allow you to choose a more affordable frother since temperature control frothers will not give you what you desire.
However, if you froth milk for commercial purposes, you will definitely have to choose a frother that will meet the needs of all your clients.
Ability to Froth Different Types of Milk
Today, more than just cow's milk, different people prefer different types of milk. Some people may like coconut, soy milk, hemp, or almond milk. Almost every froth manufacturer guarantees that their frothers can froth cow milk.
Depending on the type of milk you like, you will want to establish whether your frother of choice can work on other types of milk. While keeping this aspect in mind, you should also remember that the different kinds of milk produce varied effects.
Froth
When it comes to the quality of froth, most people tend to prefer stiff, thick and creamy froth. Electric frothers are likely to make good and stiff froth.
They are followed by manual milk frothers with battery powered frothers making the least stiff product.
In case you are a choosy consumer, you may want to consider buying the best electric milk frother.
---
Our Recommendation for The Best Milk Frother
If you are looking for the best milk frother for home use, we recommend that you purchase the Epica Electric Milk Frother. According to our compilation of reviews, there are a number of reasons why this milk frother ranks top.
The machine can be used to froth both cow's milk and non-dairy kinds of milk. At the same time, the stainless steel construction makes it durable and the vacuum insulation helps in keeping milk or froth hot or cold.
Lastly, the cleaning process is easy and has a detachable base for easy pouring of beverages.
We hope that our buying guide to choose the best milk frother and our compiled 10 best milk frother reviews will be of use to you as you decide the most suitable frother.
We will greatly appreciate if you can share our articles through social media.
Related Articles: