Wondering, "Why does my air fryer say E1"? You're not alone. This common issue often leaves users scratching their heads. The E1 error code serves as a warning sign that something isn't quite right with the functioning of your beloved air fryer. But fear not, because understanding what this code means and its possible causes is crucial for troubleshooting.
Air fryers have become increasingly popular due to their ability to cook crispy and delicious meals with less oil. However, encountering an E1 error can be frustrating. By delving into the meaning and potential triggers of this error code, you'll gain valuable insights into resolving it efficiently.
So, let's dive in and uncover the secrets behind why your air fryer says "E1.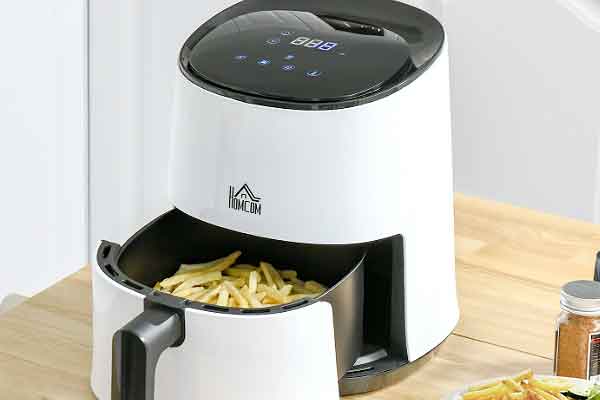 Understanding Error Code E1 in Air Fryers
Error Code E1 in air fryers is a common issue that users may encounter. When this error appears, it typically indicates a problem with the air fryer's temperature sensor or thermostat. Here's a breakdown of what the error means:
Temperature Sensor Malfunction:
The E1 error code suggests that the temperature sensor in your air fryer is not functioning correctly.
The temperature sensor is responsible for detecting and regulating the internal temperature of the air fryer during operation. If it fails to provide accurate readings, the appliance may not function properly.
Thermostat Issue:
In some cases, the E1 error could also be related to a malfunctioning thermostat. The thermostat is responsible for maintaining the desired cooking temperature and can trigger the error code if it detects a problem.
Possible Causes why does Your air fryer say e1
The E1 error code can be quite frustrating when it appears on your air fryer's display. It indicates that something is not right with the appliance, and it needs your attention. Understanding the possible causes of this error code is crucial for resolving the issue effectively.
1. Overheating or Sensor Malfunction
One common trigger for the E1 error code is overheating or a malfunctioning sensor. Air fryers generate high temperatures to cook food quickly, and if they become too hot, they can shut down to prevent damage.
When the temperature inside the appliance exceeds safe limits, it triggers the E1 error code as a safety measure.
To address this issue, you should first ensure that your air fryer has enough space around it to allow proper airflow.
Crowding it against other appliances or placing it in an enclosed space can hinder ventilation and cause overheating. Check if there are any obstructions blocking the air vents or if the fan is functioning correctly.
If you've taken these steps and are still encountering the E1 error code, there might be a problem with the temperature sensor itself.
In such cases, contacting customer support or a professional technician may be necessary to diagnose and fix this issue.
2. Power Supply Issues
Another potential cause of the E1 error code is power supply problems. If your air fryer isn't receiving adequate power or experiencing fluctuations in voltage, it can lead to errors like E1. Insufficient power supply may occur due to faulty outlets, damaged cords, or issues with electrical circuits in your home.
To troubleshoot this problem, try plugging your air fryer into a different outlet to rule out any issues with the current one being used.
If that doesn't resolve the error code, inspect the power cord for any visible signs of damage such as frayed wires or exposed insulation. In case you find any defects in the cord, it's essential to replace it with a new one.
If the E1 error code persists even after these checks, it might be necessary to consult an electrician to examine your home's electrical system for any underlying problems causing voltage fluctuations or inadequate power supply.
3. Faulty Wiring or Damaged Components
Faulty wiring or damaged components within the air fryer can also contribute to the occurrence of the E1 error code.
Over time, wear and tear may affect the internal wiring connections, leading to errors in communication between different parts of the appliance.
Inspecting the air fryer for any visible signs of damage such as loose wires, burnt connectors, or broken components is crucial.
If you notice any issues, it's advisable to contact a professional technician who specializes in repairing small kitchen appliances.
They will have the expertise to identify and rectify specific faults within your air fryer that are triggering the E1 error code.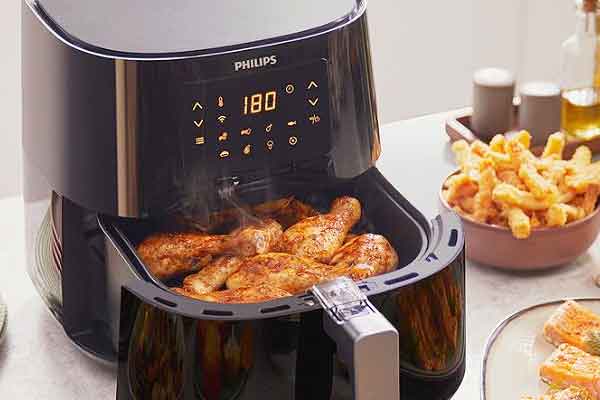 Troubleshooting Steps for Resolving E1 Error Code
If you've encountered the E1 error code on your air fryer, don't panic. This common issue can be easily resolved with a few troubleshooting steps. Here's what you need to do:
1. Check for Loose Connections or Damaged Wires
The first thing you should do is ensure that there are no loose connections or damaged wires causing the E1 error code. Inspect the power cord and make sure it is securely plugged into an outlet. If you notice any frayed or damaged wires, it's important to address them immediately.
2. Allow the Air Fryer to Cool Down
Sometimes, the E1 error code may occur due to overheating. To resolve this issue, simply allow your air fryer to cool down completely before attempting to restart it. This will give the internal components enough time to reset and prevent any further errors.
3. Clean and Maintain Your Air Fryer Regularly
Blockages or malfunctions can trigger the E1 error code in your air fryer. To prevent this from happening, make sure you clean and maintain your appliance regularly.
Remove any leftover food particles or grease buildup from the cooking chamber, basket, and accessories.
Regularly check and clean the air intake vents as well. A clogged vent can restrict airflow and lead to overheating issues.
By keeping your air fryer clean and free from obstructions, you'll minimize the chances of encountering the E1 error code.
4. Consult Your User Manual or Contact Customer Support
If all else fails and you're still seeing the E1 error code on your air fryer, it's time to consult your user manual or contact customer support for further assistance. The user manual often provides specific troubleshooting steps tailored to your model.
In case you don't have access to a physical copy of the manual, most manufacturers provide online versions on their websites. Alternatively, reach out to customer support for guidance. They can offer valuable insights and help you resolve the E1 error code.
Remember, troubleshooting steps may vary depending on the brand and model of your air fryer. Always refer to the manufacturer's instructions for accurate information.
How to Fix Error Code E1 in Air Fryer
To fix Error Code E1 in an air fryer, you can try the following steps, which may involve repairing or replacing certain components:
Replacing Temperature Sensors:
The E1 error code is often related to a malfunctioning temperature sensor. To fix this issue, you may need to replace the faulty temperature sensor with a new one. This component is responsible for monitoring the cooking temperature inside the air fryer, and a malfunctioning sensor can cause the error code to appear.
Repairing or Replacing Wiring:
Inspect the wiring inside the air fryer for any visible damage, loose connections, or burnt wires. If you find any issues with the wiring, you can attempt to repair or replace the damaged parts. Ensure that the air fryer is unplugged before attempting any repairs on the internal wiring.
Replacing the Control Board:
The control board is the main electronic component that manages the air fryer's functions, including temperature regulation. If the temperature sensor and wiring are in good condition, but the E1 error persists, the control board might be faulty. In this case, you may need to replace the control board with a new one.
Please note that working on the internal components of electrical appliances can be complex and potentially dangerous. If you are not experienced with appliance repair or electronics, it's best to seek professional assistance. Contact the manufacturer's customer support or a qualified technician to ensure the repair is done safely and correctly. Also, if your air fryer is under warranty, attempting repairs yourself might void the warranty, so it's important to consider that as well.
Video Guide:
Error Code E1 for Different Air Fryer Models
Here is a table that summarizes what error code E1 means for some popular air fryer models and how to fix them:
| | | |
| --- | --- | --- |
| Air Fryer Model | Error Code E1 Meaning | How to Fix |
| Gourmia Air Fryers | No pan or the pan isn't suitable | Check whether the cookware is not suitable, or switch the appliance on again after it has naturally cooled down. |
| Power Air Fryer | Broken circuit of the thermal sensor | Call customer service. |
| Nuwave Brio Air Fryer | Sensor open-ended | Contact customer service. |
| Master Culinary Air Fryer | System Malfunction | Contact customer service. |
| GoWise Air Fryer | Sensor open-ended | Unplug your appliance for about 10 minutes. Make sure there's no residual oil left in your fryer. Then, turn on your air fryer and press Cancel when you see the E1 error code appear on-screen. |
| Cook's Essential Air Fryer | Broken circuit of the sensor | Unplug the unit, let it cool completely, and then restart. |
| Ninja Air Fryer | Overheating due to overfilling | Remove some food from the basket or pan and let the air fryer cool down before restarting. |
I hope this information helps you resolve your air fryer issue.
How to Reset an Air Fryer Showing E1 Error
If you've ever encountered an E1 error on your air fryer display, don't panic! This common issue can easily be resolved by following a few simple steps.
Step 1: Unplug and Wait
The first thing you should try is unplugging your air fryer from the power source. Leave it unplugged for a few minutes to allow any residual electricity to dissipate. This step often helps in resolving temporary glitches that may have caused the E1 error code to appear.
Step 2: Plug it Back In
Once you have waited for a few minutes, plug your air fryer back in and see if the E1 error persists. In many cases, this simple power cycle is enough to reset the device and resolve the issue. However, if the error message still lingers on your display, there are additional steps you can take.
Step 3: Check Your User Manual
Some air fryer models have specific button combinations that initiate a reset function. Check your user manual for instructions on which buttons to press and hold simultaneously to trigger a reset. These combinations can vary depending on the brand and model of your air fryer, so it's important to consult the manual for accurate guidance.
Step 4: General Troubleshooting Techniques
If you no longer have access to your user manual or cannot find specific instructions for resetting after encountering an E1 error code, don't worry! There are general troubleshooting techniques that can help across various models.
Press and Hold Buttons:
One such technique involves pressing and holding certain buttons while plugging in or powering on the air fryer.
This action might activate a factory reset mode or clear any errors stored in its memory. Again, refer to your user manual or conduct an online search using your specific model number for more information on this method.
Expert Advice for Dealing with E1 Error Code
Encountering the E1 error code on your air fryer can be frustrating, but with some expert advice, you can address the issue effectively and prevent it from happening again. In this guide, we'll provide you with valuable tips to handle the E1 error code and keep your air fryer in top-notch condition.
1. Seek Professional Help if Unsure
When faced with the E1 error code, it's essential to evaluate your own skills and knowledge in troubleshooting and fixing electrical appliances. If you feel uncertain or uncomfortable with the process, it's best to seek professional assistance. A qualified technician will be able to diagnose the problem accurately and offer appropriate solutions.
Trying to repair the air fryer beyond your expertise can worsen the issue and may even void the warranty.
Certain components of an air fryer require specialized skills and tools for repair, making professional help the safest option.
2. Regularly Clean and Maintain Your Air Fryer
A common cause of the E1 error code is the accumulation of dirt, grease, or food particles inside the appliance. To reduce the chances of encountering this error, make sure to clean and maintain your air fryer regularly.
Follow the manufacturer's cleaning guidelines specific to your model, cleaning removable parts like baskets and trays with warm soapy water or a dishwasher if they are dishwasher-safe.
Wipe down the interior surfaces of the air fryer using a damp cloth or sponge to remove any residue.
Pay attention to filters, cleaning or replacing them as recommended by the manufacturer to prevent grease buildup and error codes like E1.
3. Follow Manufacturer's Safety Precautions
To avoid encountering error codes like E1 and ensure the safe operation of your air fryer, it's crucial to adhere to the safety precautions provided by the manufacturer.
Place the air fryer on a stable and heat-resistant surface to prevent accidents.
Maintain a safe distance between the air fryer and other objects or walls to allow proper airflow and prevent overheating.
Avoid overcrowding the food in the basket, as it can obstruct the airflow and affect cooking performance.
Use oven mitts or heat-resistant gloves when handling hot components to avoid burns or injuries.
Never immerse the main unit or power cord in water to prevent electrical hazards.
By following these expert tips, you can effectively address the E1 error code on your air fryer and ensure its smooth and safe operation.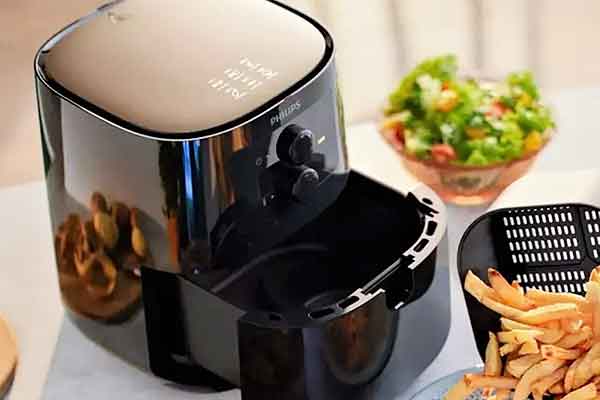 Preventing the E1 Error: Maintenance Tips for Air Fryers
1. Clean After Each Use
One of the most important steps in preventing the dreaded E1 error on your air fryer is to clean it thoroughly after each use. This includes cleaning the air fryer basket, tray, and any other removable parts.
Leftover food particles and grease can accumulate over time, leading to clogs and malfunctions. By taking a few minutes to clean your air fryer properly, you can ensure its optimal performance and avoid encountering the E1 error.
2. Inspect and Clean the Heating Element Regularly
The heating element plays a crucial role in an air fryer's operation. Over time, it can accumulate residue from cooking oils and food particles, which may result in errors such as E1. To prevent this buildup, it is essential to inspect and clean the heating element regularly.
Start by unplugging your air fryer and allowing it to cool completely. Gently remove any visible debris or residue from the heating element using a soft brush or cloth. Be careful not to use abrasive materials that could damage the surface.
By keeping the heating element clean, you'll reduce the chances of encountering errors like E1 while enjoying perfectly cooked meals.
3. Avoid Overloading Your Air Fryer
While it might be tempting to fill your air fryer with as much food as possible for convenience, doing so can lead to obstructed airflow and overheating issues. Overloading your air fryer not only affects its overall performance but also increases the likelihood of encountering errors like E1.
To prevent this problem, make sure you follow the recommended guidelines provided by your specific air fryer model regarding capacity limits for different types of food. It's better to cook multiple batches if necessary rather than risking an error due to overloading.
4. Proper Storage Practices
Proper storage of your air fryer when not in use is crucial for maintaining its functionality and preventing errors like E1. Store your air fryer in a cool, dry place to protect it from potential damage caused by moisture or extreme temperatures.
Ensure that the air fryer is completely clean and dry before storing it away. Any residual food particles or moisture left inside the appliance can contribute to malfunctions and errors.
By taking these simple storage precautions, you can extend the lifespan of your air fryer and minimize the chances of encountering the E1 error.
When to Reach Out to Customer Support
If you've exhausted all troubleshooting efforts and the E1 error on your air fryer persists, it's time to get in touch with the manufacturer's customer support. Additionally, contact them if you encounter any other issues during the troubleshooting process that you are unsure how to handle. Customer support representatives are there to assist you and provide expert guidance.
Providing error details to customer support
When contacting customer support regarding the E1 error, be prepared to provide specific error details. This information will aid the support team in understanding the problem better and offering appropriate solutions. Include the following details:
Error Code: Clearly mention that you are experiencing the E1 error and any other related error codes that appear.
Error Occurrence: Describe when and how frequently the error occurs. Is it intermittent or persistent?
Troubleshooting Steps: Briefly outline the troubleshooting steps you've already taken, so the support team knows what you've tried.
Potential warranty coverage for E1 errors
Check your air fryer's warranty documentation to determine if the E1 error is covered. In some cases, E1 errors may be considered manufacturing defects and fall under warranty coverage. If your air fryer is within the warranty period and the error is not caused by misuse or negligence, you may be eligible for repairs, replacements, or other solutions at no cost.
Note: It's essential to act promptly and follow the manufacturer's instructions for warranty claims to ensure a smooth and successful process. Keep your purchase receipt and warranty documents handy when reaching out to customer support.
Common Misconceptions about E1 Errors
1. E1 error does not always indicate a critical issue:
Many air fryer users panic when they see the E1 error displayed on their appliance, assuming it signifies a severe malfunction.
However, this is not always the case. In some instances, the E1 error may be triggered by minor and easily fixable problems, such as temporary overheating or power fluctuations.
Understanding that the E1 error can be caused by various factors, both significant and minor, will help users respond appropriately and avoid unnecessary stress.
2. Avoiding common pitfalls in troubleshooting the E1 error:
When confronted with the E1 error, users may attempt various troubleshooting steps without proper guidance, which can lead to wasted time and potential damage to the air fryer. Some common pitfalls to avoid include:
Resetting the air fryer repeatedly without identifying the root cause of the error.
Disassembling the appliance without the necessary expertise, which can void the warranty and create safety hazards.
Ignoring the instruction manual and attempting unconventional solutions that could worsen the problem.
It is crucial to approach troubleshooting systematically and refer to the manufacturer's guidelines to avoid these pitfalls and ensure the best possible resolution for the E1 error.
Can a Power Surge or Fluctuation Trigger the Appearance of This Error Code?
Yes, power surges or fluctuations can sometimes lead to an E1 error code being displayed on your air fryer's control panel. Electrical disturbances can disrupt the normal functioning of electronic components within the appliance, causing errors to occur. To protect your air fryer from potential damage due to power irregularities, consider using a surge protector or voltage stabilizer when connecting it to a power source.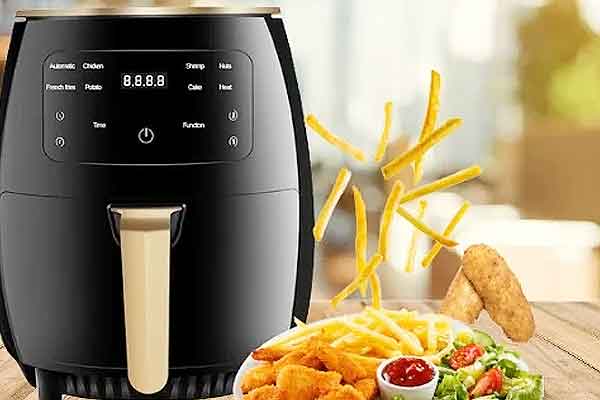 Are There Any Specific Brands or Models More Prone to Experiencing This Error?
The occurrence of an E1 error code can vary across different air fryer brands and models. While it is not possible to pinpoint specific brands or models that are more prone to this error, it is worth noting that electronic appliances may encounter errors due to various factors, including software glitches, manufacturing defects, or improper usage.
To ensure a smooth cooking experience with minimal error occurrences, consider researching and purchasing air fryers from reputable brands known for their quality and reliability.
Reading customer reviews and checking product ratings can also provide insights into the performance of different models.
Remember that even with high-quality appliances, occasional errors may still arise. Therefore, it is essential to familiarize yourself with your air fryer's user manual for troubleshooting tips and manufacturer-recommended solutions in case you encounter an E1 error code or any other issues along the way.
By following these steps and seeking appropriate assistance when needed, you can effectively address the E1 error code on your air fryer and continue enjoying delicious meals without interruption.
Conclusion
In conclusion, encountering the E1 error code on your air fryer can be frustrating, but it is not an insurmountable problem. By understanding the possible causes of the error code and following troubleshooting steps, you can resolve the issue and get your air fryer back to working condition. Resetting your air fryer is often a simple solution to clear the E1 error code.
However, if the issue persists, it is advisable to seek expert advice. Prevention is always better than cure, so remember to perform regular maintenance on your air fryer to avoid future errors like E1. Refer to your device's manual for accurate troubleshooting instructions.
Taking these proactive measures will ensure smooth operation of your air fryer, free from the hindrance of the E1 error code.
FAQs about E1 Error Code
What does the E1 error code mean?
The E1 error code typically indicates a malfunction or issue with certain components of your air fryer. It could be related to temperature sensors or other internal mechanisms.
How do I reset my air fryer when it shows an E1 error?
To reset an air fryer displaying an E1 error, start by unplugging it from the power source for at least 10 minutes. Then plug it back in and try turning it on again. This process should reset the device and clear any temporary errors.
Can I fix the E1 error myself or should I seek professional help?
You can attempt to fix the E1 error code on your own by following troubleshooting steps mentioned in the manufacturer's manual. However, if the issue persists or you are unsure about the cause, it is recommended to seek professional assistance to avoid any further damage.
How often should I clean my air fryer to prevent E1 errors?
Regular cleaning is essential for maintaining optimal performance and preventing errors like E1. It is advisable to clean your air fryer after each use by wiping down the exterior and removing any food residue from the cooking basket and tray.
Are there any specific maintenance tips to prevent E1 errors?
Apart from regular cleaning, ensure that you do not overload your air fryer with excessive food items. Avoid placing objects on top of the appliance that could obstruct airflow. Following these simple maintenance tips can help prevent E1 errors and prolong the lifespan of your air fryer.
Can power fluctuations cause E1 errors?
Power fluctuations can potentially trigger error codes like E1 on electronic devices, including air fryers. To minimize this risk, consider using a surge protector or stabilizer to regulate power supply to your appliance.
Is it safe to continue using my air fryer when it displays an E1 error?
It is generally not recommended to continue using an air fryer that displays an E1 error code as there may be underlying issues affecting its functionality or safety. It's best to resolve the error before using the appliance again.
Are all air fryers prone to encountering E1 errors?
While most modern air fryers are designed with advanced technology and built-in safety features, occasional errors like E1 can still occur due to various factors such as usage patterns, maintenance practices, or manufacturing defects. However, following proper care and maintenance guidelines can significantly reduce the likelihood of encountering such errors.
Can I prevent future occurrences of the E1 error code?
While it is not possible to completely eliminate the risk of encountering the E1 error code, you can minimize its occurrence by following proper maintenance practices, avoiding misuse, and promptly addressing any issues that arise. Regularly referring to your air fryer's manual and seeking professional advice when needed can also contribute to preventing future occurrences of the E1 error code.