Are you puzzled by a bothersome issue with your air fryer? If you're wondering, "Why does my air fryer smell like chemicals?" You're not alone!
Your air fryer smells like chemicals, it may be due to newness, cleaning residues, low-quality materials, or cooking sprays. Clean it thoroughly, use high-quality oils, and seek manufacturer assistance if needed for a safe cooking experience.
Fret not, as we have the perfect solution to tackle this problem! We'll delve into the root causes of the chemical smell and offer effective remedies to restore your air fryer's freshness.
Our expert tips and proven methods have already helped numerous users eliminate the chemical smell from their air fryers, ensuring a delightful cooking experience without any unwelcome odors. Say goodbye to mystery smells and savor the true flavors of your meals!
Let's get straight to the heart of the matter!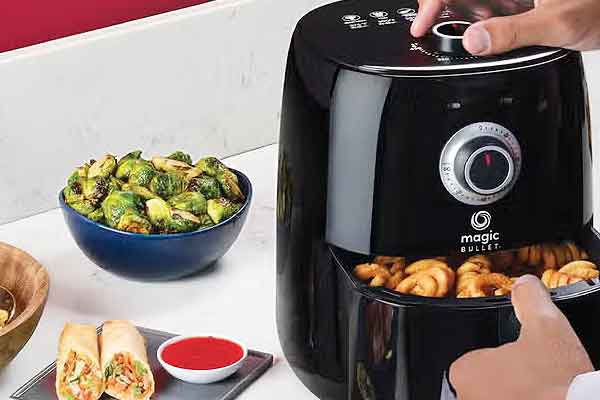 Common Causes of Why Does Your Air Fryer Smell Like Chemical
1. Poor Quality or Damaged Non-Stick Coating
If you're wondering why your air fryer emits a chemical smell, one possible culprit is a poor quality or damaged non-stick coating.
The non-stick surface, essential for easy cooking, can release chemicals when heated if it's of low quality or scratched.
Frequent use or cooking at high temperatures can accelerate the breakdown of the coating, leading to unpleasant odors.
Check for signs of damage, such as peeling or scratches, and consider replacing the basket if needed.
2. Residual Oils and Food Particles
Another common cause of chemical smells is the buildup of residual oils and food particles inside the air fryer.
These remnants can burn when exposed to continuous heating during subsequent cooking, resulting in unpleasant chemical-like odors.
Regularly cleaning the cooking basket, tray, heating elements, and fans after each use can prevent this issue and keep your air fryer fresh.
3. Low-Quality Cooking Oils with Impurities
The choice of cooking oil can significantly impact the cooking experience and resulting smells in your air fryer.
Low-quality oils with impurities or those that have gone rancid can contribute to chemical odors.
Opt for high-quality options such as olive oil, avocado oil, or coconut oil, which have higher smoke points and are less likely to produce unpleasant smells when heated.
Avoid using oils with low smoke points to minimize unwanted odors.
4. Overheated Components
If certain parts of the air fryer, such as the heating elements or electrical components, become excessively hot due to malfunction or prolonged use, they may emit unpleasant chemical-like odors.
This overheating could be a safety concern, and it's crucial to unplug the appliance immediately if you notice such smells. Contact the manufacturer or a professional technician for inspection and repair.
5. Low-Quality Accessories or Packaging
Using low-quality accessories or even packaging materials inside the air fryer can also lead to chemical odors.
Some cheaply made cooking accessories, parchment papers, or aluminum foil may release harmful chemicals when exposed to high temperatures, contaminating the air fryer and affecting the taste of your food.
Always use accessories and packaging materials specifically designed for air fryers and are labeled as safe for high-temperature cooking to avoid any potential chemical smells.
How To Prevent Chemical Odors in Your Air Fryer
1. Choose a High-Quality Non-Stick Coating
To prevent chemical smells in your air fryer, look for models that feature reputable non-stick coatings such as ceramic or PFOA-free Teflon.
These coatings are designed to withstand high temperatures without releasing any unpleasant odors or toxic fumes into your food.
Investing in an air fryer with a reliable non-stick coating will not only enhance your cooking experience but also ensure the safety and quality of your meals.
2. Use High-Quality Cooking Oils
The type of cooking oil you use in your air fryer can greatly impact the odor it produces during the cooking process.
Low-quality oils tend to have impurities and higher levels of fatty acids, which can result in stronger and more unpleasant smells when heated.
To avoid chemical odors, opt for high-quality cooking oils with neutral flavors and higher smoke points. Some options include:
Avocado oil
Canola oil
Peanut oil
Grapeseed oil
These oils are known for their mild tastes and ability to withstand high temperatures without emitting strong odors.
By choosing the right oil, you can enjoy deliciously cooked food without any lingering chemical smells.
3. Clean Regularly to Prevent Residue Buildup
Residue buildup inside your air fryer can contribute to persistent chemical odors.
Over time, grease, food particles, and other residues can accumulate on the heating element and interior surfaces of the appliance.
When these residues are subjected to heat, they can emit unpleasant smells that transfer to your food.
To prevent this, it is crucial to clean your air fryer regularly. Here's a simple step-by-step guide:
Unplug the air fryer and allow it to cool down completely.
Remove the basket or tray and wash it with warm soapy water.
Wipe down the interior surfaces of the air fryer using a damp cloth or sponge.
Pay special attention to the heating element, as residue tends to accumulate there.
If necessary, use a non-abrasive brush or toothbrush to gently scrub away stubborn residues.
Rinse all parts thoroughly and dry them before reassembling.
4. Good Ventilation
Ensure that your kitchen has proper ventilation to allow any odors generated during cooking to dissipate quickly. Open windows, turn on exhaust fans, or use a range hood if available.
5. Use Fresh Ingredients
The quality and freshness of ingredients used in your air fryer can also impact the resulting smells. Using fresh produce, meats, and oils can help minimize any potential chemical-like odors.
By maintaining a clean air fryer, you can eliminate any residue buildup that may cause chemical odors and ensure that your meals are free from unwanted smells.
6. Avoid Overheating
Be mindful of the cooking temperature and duration when using your air fryer. Excessive heat can lead to the production of more odor-causing compounds.
Follow recipes and recommended guidelines for optimal cooking times and temperatures.
Video Guide:
What Are The Chemistry Behind Your Air Fryer Odors
Breakdown of Compounds at High Temperatures
During the cooking process, heat causes chemical reactions within the ingredients. These reactions lead to the formation of various molecules, including volatile organic compounds (VOCs) that contribute to odors.
For example, when fats and oils are heated, they undergo a process called oxidation. This results in the production of aldehydes and ketones, which can have strong smells resembling chemicals.
Proteins present in foods undergo a reaction known as the Maillard reaction when exposed to heat.
This reaction between amino acids and reducing sugars produces aroma compounds that give cooked food its delicious scent.
However, if not controlled properly, this reaction can also generate undesirable smells.
The Maillard Reaction: A Double-Edged Sword
The Maillard reaction is responsible for creating enticing aromas in many cooked dishes such as roasted meat or baked goods like bread and cookies.
It occurs when proteins react with reducing sugars under high temperatures, resulting in a complex series of chemical reactions.
During this process, hundreds of different aroma compounds are formed through intricate pathways.
These compounds contribute to the pleasant smell we associate with well-cooked food.
However, if the Maillard reaction is not properly regulated or if there is excessive heating or burnt residues in your air fryer, it can lead to unpleasant odors reminiscent of chemicals.
By understanding the chemistry behind air fryer odors and implementing these tips, you can enjoy deliciously cooked meals without being bothered by unwanted smells resembling chemicals.
Harmful Chemicals in Air Fryers and Their Health Implications
If you're wondering why your air fryer smells like chemicals, it's important to understand the potential health implications of these odors.
1. Non-Stick Coatings:
One possible reason for the chemical smell is the presence of non-stick coatings on the cooking basket or tray of your air fryer.
These coatings often contain chemicals such as perfluorooctanoic acid (PFOA) or perfluorooctanesulfonic acid (PFAS), which are used to make them resistant to sticking.
While these coatings make cleaning easier, they can release toxic fumes when heated at high temperatures.
2. Overheated Cooking Oil
Another factor that may contribute to the chemical odor is overheating of cooking oil. When oil reaches its smoke point, harmful compounds can be released into the air.
Inhaling these fumes can irritate your respiratory system and lead to symptoms such as coughing, wheezing, or shortness of breath.
It's essential to monitor your cooking temperature and avoid overheating the oil in your air fryer.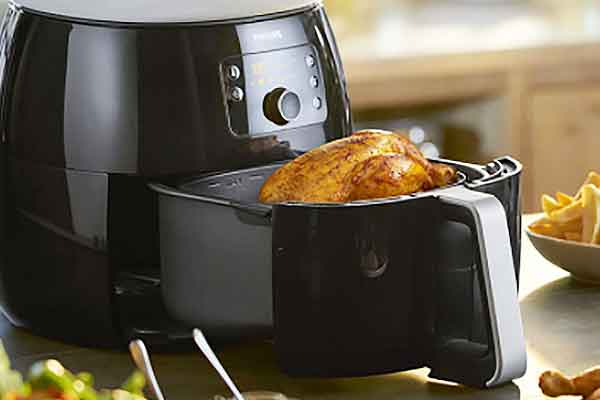 How To Minimize Chemical Health Risk
Repeated exposure to certain chemicals emitted by air fryers may pose health risks over time.
Studies have linked PFOA and PFAS exposure to various health issues, including liver damage, thyroid disorders, and even certain types of cancer.
While more research is needed to fully understand the long-term effects of using air fryers with non-stick coatings, it's crucial to consider potential risks and take necessary precautions.
To minimize the risk of exposure to harmful chemicals from your air fryer, here are a few tips:
Choose an air fryer with ceramic or stainless steel cooking surfaces instead of non-stick coatings.
Avoid overheating your cooking oil by following recommended temperature guidelines for different types of food.
Ensure proper ventilation in your kitchen when using the air fryer to prevent fumes from accumulating.
Clean your air fryer regularly according to the manufacturer's instructions to remove any built-up residue that could emit odors.
By being mindful of these factors and taking appropriate measures, you can enjoy the benefits of air frying while minimizing potential health risks associated with harmful chemicals. Remember, it's always important to prioritize safety and make informed choices.
Proper Cleaning Techniques to Eliminate Chemical Odors
Cleaning your air fryer thoroughly after each use is essential to eliminate chemical odors and maintain a fresh-smelling appliance. Follow these steps for effective cleaning:
Step 1: Disassemble and Clean Removable Parts
Detach the basket, tray, and any other removable components from the air fryer.
Wash each part with mild dish soap and warm water, avoiding harsh chemicals or abrasive sponges.
Step 2: Clean Interior and Exterior Surfaces
Dampen a soft sponge or cloth with a mixture of mild dish soap and warm water.
Gently wipe down the interior, paying attention to areas that came into contact with food or oil.
Clean the exterior surfaces, including buttons and control panels, with gentle strokes.
Step 3: Ensure Thorough Drying
After cleaning, ensure all parts are completely dry before reassembling.
Place components on a clean towel or allow them to air dry to prevent mold growth and odors.
Step 4: Reassemble Carefully
Once dry, reassemble the air fryer according to the manufacturer's instructions.
Ensure all parts fit snugly and securely before using the appliance again.
By following these proper cleaning techniques, you can effectively eliminate chemical odors and maintain a fresh-smelling air fryer.
Safe Alternatives to Chemical Cleaners for Your Air Fryer
1. Natural Cleaning Agents
You might be wondering if there are any safe alternatives to chemical cleaners. The good news is that there are several natural ingredients you can use to keep your air fryer clean and odor-free.
Vinegar and Baking Soda: These two kitchen staples can work wonders. Mix equal parts vinegar and water in a spray bottle and spritz the interior of the fryer. Let it sit for a few minutes before wiping it clean with a damp cloth. For stubborn stains or residue, create a paste using baking soda and water, apply it to the affected areas, and gently scrub with a soft brush.
Lemon Juice: Lemon juice is not only great for adding flavor to dishes but also for removing stubborn stains and odors from your air fryer. Mix lemon juice with water in a spray bottle and generously spray the interior of the fryer. Allow it to sit for about 10 minutes before wiping it clean with a damp cloth.
2. Avoid Abrasive Cleaners
While natural cleaning agents can effectively remove dirt and grime from your air fryer, it's important to avoid using abrasive cleaners or harsh chemicals that may damage the non-stick coating.
Abrasive cleaners, such as steel wool or scouring pads, can scratch the surface of your air fryer, making it more prone to sticking food during cooking. Harsh chemicals like bleach or ammonia can also degrade the non-stick coating over time, compromising its performance.
Instead, opt for gentle cleaning methods that won't harm your appliance:
Use soft-bristle brushes or sponges specifically designed for non-stick surfaces.
Avoid soaking your air fryer in water for extended periods as this may cause damage.
Always refer to the manufacturer's instructions for specific cleaning recommendations.
3. Regular Maintenance
To keep your air fryer in top condition and prevent unpleasant odors, it's essential to practice regular maintenance:
Empty the Crumb Tray: After each use, remove and empty the crumb tray to avoid buildup and potential odor sources. Wipe it clean with a damp cloth or wash it with mild soap if necessary.
Wipe Down the Exterior: Clean the exterior of your air fryer regularly using a damp cloth. This will help remove any grease or food residue that may have splattered during cooking.
Deep Cleaning: Every few weeks, perform a deep clean by disassembling removable parts (such as the basket and pan) and washing them with warm soapy water. Rinse thoroughly and allow them to dry completely before reassembling.
By following these simple tips and using safe alternatives like vinegar, baking soda, lemon juice, and avoiding abrasive cleaners, you can ensure that your air fryer remains clean, fresh-smelling, and in optimal working condition for many delicious meals to come!
Temperature, Time, and Seasoning: Minimizing Chemical Smells in Your Air Fryer
Experiencing chemical smells during cooking can be off-putting, but you can take simple steps to minimize them and enjoy delicious meals:
1. Preheating the Air Fryer:
Before cooking, preheat the air fryer for a few minutes. This helps eliminate any residual chemicals or manufacturing odors, ensuring your food won't absorb unwanted smells and enhancing your cooking experience.
2. Adjusting Cooking Time and Temperature:
Avoid overcooking or burning your food, as this can release compounds leading to unpleasant odors. Follow recommended cooking times and temperatures for specific foods to prevent excessive heat exposure.
3. Properly Seasoning Your Food:
Seasoning your food with aromatic herbs and spices like garlic, onion powder, paprika, or rosemary can enhance flavors and mask potential odors. Consider marinating ingredients before air frying for added taste.
4. Use Light Oil or Non-Stick Cooking Spray:
Applying a light coating of oil or using non-stick cooking spray on your food prevents sticking and potential burning, which can generate chemical smells.
By following these tips, you can minimize chemical odors in your air fryer and enjoy appetizing and flavorful meals every time.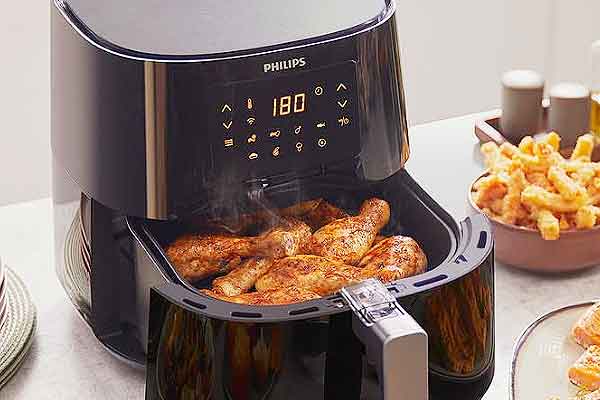 How To Choose Right Cooking Oil to Avoid Chemical Odors
To enjoy delicious and healthy meals without unpleasant odors, it's essential to select the right cooking oil for your air fryer. Here are some tips to minimize strong odors and enhance your cooking experience:
1. Opt for Oils with High Smoke Points:
Choose high-quality oils that have high smoke points to prevent them from breaking down and releasing undesirable odors. Avocado oil (smoke point around 520°F/270°C) and peanut oil (smoke point approximately 450°F/232°C) are excellent options. Refined coconut oil with a smoke point of 350°F to 400°F (177°C to 204°C) is also suitable.
2. Consider Oils with Neutral Scents:
Select oils known for their ability to maintain a neutral scent even at high temperatures. This way, they won't overpower the natural flavors of your food or leave behind any unwanted smells. Avocado oil, peanut oil, and refined coconut oil are good choices as they have mild or no scent when heated.
3. Avoid Oils with Low Smoke Points:
Steer clear of oils with low smoke points, as they tend to break down quickly and produce noticeable odors during air frying. Extra virgin olive oil (smoke point around 375°F/191°C) and butter are examples of oils to avoid in the air fryer due to their low smoke points.
By using high-quality oils with high smoke points and neutral scents, you can minimize chemical-like smells while air frying and enjoy delicious, odor-free meals.
Impact of Food Residue on Air Fryer Odors
The presence of food residue in an air fryer can have a significant impact on the development of unpleasant odors.
When leftover food particles and grease accumulate inside the appliance, they create an ideal breeding ground for bacteria and mold.
As a result, foul smells can emerge and linger in the kitchen.
The buildup of food residue occurs when the air fryer is not thoroughly cleaned after each use. When cooking, some food particles may stick to the basket, tray, or interior surfaces.
If not promptly removed, these residues can mix with cooking oil and become hardened over time.
The combination of old food particles and residual oil can emit strong and undesirable odors when the air fryer is used again.
To prevent unpleasant odors and maintain a fresh kitchen environment, follow these cleaning and maintenance steps:
1. Regularly Clean the Basket:
After each use, empty the basket and discard any food debris. Soak the basket in warm soapy water if needed, and scrub with a non-abrasive sponge to remove stubborn residues.
Rinse thoroughly to eliminate any soap residue.
2. Wipe Down Interior Surfaces:
Use a damp cloth or sponge with mild dish soap to wipe away grease and grime from the interior of the air fryer.
Pay attention to areas around heating elements and vents, where residue tends to accumulate.
3. Clean Hidden Areas:
Remove the drawer or tray and clean it thoroughly. Don't forget to clean the drip tray or pan underneath, as it can collect excess oil and drippings contributing to odors.
By following these steps and incorporating additional odor-fighting methods when needed, you can effectively eliminate chemical smells from your air fryer.
Identifying Damaged Air Fryers and Their Connection to Chemical Smells
Air fryers are loved for their quick and low-oil cooking, but if you encounter an unpleasant chemical smell, it might be due to damage or wear and tear. Here's what you need to know:
1. Scratched or Damaged Non-Stick Coatings Can Release Chemicals
A potential reason for chemical smells is scratched or damaged non-stick coatings. These coatings prevent food from sticking, but when compromised, they can release harmful chemicals during cooking. Over time, repeated use and cleaning can cause these coatings to wear off or develop scratches.
2. Regularly Inspect Your Air Fryer for Wear and Tear
To check for damage, regularly inspect your air fryer's interior surface for signs of wear. Look for scratches, peeling, or discoloration that may indicate a compromised coating. Also, examine the heating element and other components for visible damage.
3. Promptly Address Issues
If you notice any problems with the non-stick coating or other parts, take action promptly. Ignoring signs of damage can lead to more unpleasant smells and impact your air fryer's performance.
4. Options for Resolving the Issue
Replace Damaged Parts: Contact the manufacturer or authorized service center for replacement parts. They can guide you on how to replace the damaged component, ensuring your air fryer functions optimally without odors.
Consider Professional Repair: If the damage is extensive or you're unsure about DIY repairs, seek professional repair services. A trained technician can assess the issue and eliminate chemical smells.
Purchase a New Air Fryer: If your current air fryer is heavily damaged or beyond repair, consider investing in a new one. Research different models, prioritize durability and quality construction, and choose one that suits your needs.
By addressing issues promptly and maintaining your air fryer properly, you can enjoy odor-free cooking and extend the appliance's lifespan.
Preheating for Reduced Chemical Odors
Preheating your air fryer is a simple yet effective way to eliminate any potential chemical smells before you start cooking.
By following this step, you can ensure that your food cooks evenly and without any strong odors that may affect its taste.
Let's take a closer look at why preheating is important and how you can do it properly.
Set the Air Fryer Temperature
To begin the preheating process, set your air fryer to the desired temperature. This will depend on the recipe or type of food you plan to cook.
Make sure to refer to the manufacturer's instructions for recommended temperatures.
Run Empty for a Few Minutes
Once you have set the temperature, let your air fryer run empty for a few minutes. This allows any initial chemical smells from manufacturing or packaging materials to dissipate before adding your food.
Running it without any ingredients inside helps in getting rid of any lingering odors and ensures a better cooking experience.
Eliminating Potential Odors
During the preheating process, pay attention to any unusual or strong smells coming from your air fryer.
If there are persistent chemical odors even after running it empty, make sure to check if there are any residues or debris stuck inside that could be causing the smell.
Clean the interior thoroughly using mild dish soap and warm water, ensuring all parts are dry before using it again.
Benefits of Preheating
Preheating not only helps eliminate chemical odors but also offers several other benefits when cooking with an air fryer:
Even Cooking: Preheating ensures that the entire cooking chamber reaches the desired temperature before adding food. This promotes even cooking throughout and prevents unevenly cooked meals.
Crispy Results: When you preheat your air fryer, it allows for better circulation of hot air within the chamber, resulting in crispier and more evenly browned food.
Reduced Cooking Time: By preheating, you reduce the overall cooking time as the air fryer starts at the desired temperature, allowing your food to cook faster.
Importance of Proper Ventilation in Preventing Chemical Smells
Proper ventilation is essential to ensure that your air fryer doesn't emit unpleasant chemical smells. Without adequate airflow, these odors can linger in your kitchen and even spread to other areas of your home. Here's how to prioritize good ventilation while using your air fryer:
1. Utilize a Range Hood or Open Windows:
One effective way to improve airflow and reduce trapped smells is by using a range hood or opening windows in your kitchen.
This creates a continuous exchange of fresh air, preventing any lingering odors from the air fryer.
By removing the smelly air and replacing it with fresh outdoor air, you can enjoy a clean and odor-free cooking experience.
2. Preventing Condensation:
Proper ventilation not only eliminates unwanted smells but also prevents condensation from forming inside your kitchen.
When hot air from the air fryer comes into contact with cooler surfaces, such as walls or windows, moisture can accumulate.
This excess moisture creates an ideal environment for mold growth and leads to unpleasant odors.
3. Ensure Sufficient Airflow:
To combat condensation and mold growth, make sure there is sufficient airflow around the area where you use your air fryer.
This allows moist air to escape instead of settling on surfaces. By maintaining good ventilation in your kitchen, you can minimize the risk of mold growth and keep unpleasant odors at bay.
By prioritizing proper ventilation, you can enjoy cooking with your air fryer without any lingering chemical smells.
Practical Tips to Improve Ventilation While Using an Air Fryer
Here are some practical tips to improve ventilation while using an air fryer:
Utilize a range hood: If you have a range hood installed above your stove or countertop where you use the air fryer, turn it on while cooking. The range hood will effectively capture steam and odors generated during the cooking process.
Open windows: Opening windows in your kitchen allows fresh outdoor air to circulate freely while pushing out any unwanted smells. This simple step can significantly enhance ventilation and eliminate chemical odors emitted by the air fryer.
Use fans: If you do not have a range hood, consider using portable fans to create airflow in your kitchen. Position the fans strategically to direct air towards open windows or doors, facilitating the removal of any lingering odors.
Clean and maintain filters: Regularly clean and maintain the filters in your range hood or exhaust fan to ensure optimal performance. Clogged or dirty filters hinder proper ventilation, making it harder for odors to dissipate.
Avoid cooking strong-smelling foods: Certain ingredients and dishes can produce strong smells that may linger even with proper ventilation. Be mindful of what you cook in your air fryer to minimize the chances of chemical odors permeating your kitchen.
By implementing these measures and prioritizing proper ventilation, you can enjoy all the benefits of using an air fryer without enduring unpleasant chemical smells.
Good airflow not only eliminates unwanted odors but also prevents condensation and mold growth, creating a more pleasant cooking environment overall.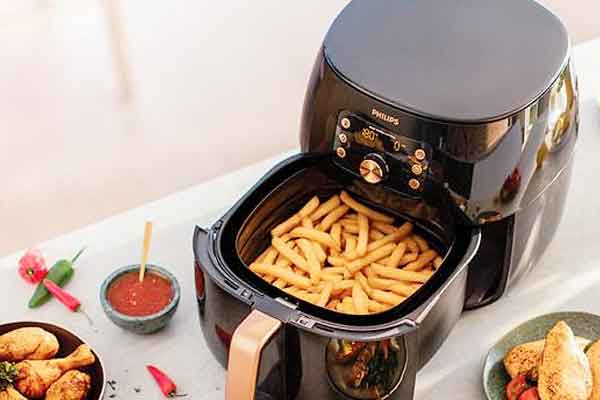 When To Seek Professional Assistance for Persistent Chemical Smells
If you've tried various solutions without success and the chemical smell in your air fryer won't go away, it's time to consider contacting the manufacturer or a professional technician for help.
Here's why professional assistance can be beneficial:
1. Expertise in Dealing with Air Fryers:
Manufacturers and professional technicians have extensive knowledge about air fryers and their components.
They can thoroughly inspect your appliance to identify the root cause of the persistent chemical odor, which may not be apparent to an untrained eye.
2. Tailored Solutions:
Once the source of the problem is pinpointed, experts can provide appropriate solutions tailored to your specific situation.
This may involve replacing faulty parts contributing to the smell or recommending proper cleaning techniques to eliminate lingering odors effectively.
3. Ensuring Appliance Safety:
Professional help not only eliminates unpleasant smells but also contributes to your appliance's overall safety.
Chemical odors may indicate potential hazards or malfunctions that require immediate attention. Seeking professional assistance prioritizes your well-being and the longevity of your air fryer.
4. Warranty Coverage:
In some cases, manufacturers may offer warranty coverage for certain issues related to chemical smells in their air fryers.
If you're still within the warranty period, reaching out to them will save you money and ensure that authorized personnel perform any necessary repairs or replacements using genuine parts.
5. Specialized Knowledge for Different Makes and Models:
Each brand and model of air fryer may have unique quirks and maintenance requirements. Relying on professional assistance is crucial as they possess specialized knowledge regarding different air fryer types.
Don't Hesitate to Seek Help:
If persistent chemical smells remain despite your best efforts, don't hesitate to seek professional help.
Contact the manufacturer or a trusted technician who can inspect your air fryer, identify underlying issues, and provide suitable solutions.
By doing so, you'll be one step closer to enjoying odor-free cooking and peace of mind in your kitchen.
Conclusion
This is all about your query "why does my air fryer smell like chemicals".
To combat this issue, prioritize regular and proper cleaning techniques, opt for cooking oils with high smoke points, and ensure adequate ventilation during cooking.
If persistent chemical smells persist, consider seeking professional assistance to identify and resolve any underlying issues.
By maintaining a clean and odor-free air fryer, you can enjoy healthier meals and a more pleasant cooking experience for you and your family..
FAQs
Can I use any type of oil in my air fryer?
It is recommended to use oils with high smoke points such as avocado oil, peanut oil, or coconut oil to avoid chemical odors.
How often should I clean my air fryer to prevent chemical smells?
It is best to clean your air fryer after each use, removing any food residue that could contribute to unwanted odors.
Are chemical odors from the air fryer harmful to my health?
While the short-term exposure to these odors may not cause significant harm, prolonged exposure can potentially have adverse health effects. It is important to address and eliminate chemical smells for a healthier cooking environment.
What are some natural remedies for removing chemical odors from my air fryer?
Natural remedies such as using vinegar or lemon juice can effectively help eliminate chemical smells from your air fryer. Simply wipe down the interior with a mixture of water and either vinegar or lemon juice, then rinse thoroughly.
How can I identify if my air fryer is damaged and causing the chemical smell?
Signs of damage in an air fryer may include malfunctioning controls, unusual noises during operation, or visible physical damage. If you suspect your appliance is damaged, it's advisable to seek professional assistance for inspection and repair.