Your air fryer may blow cold air due to incorrect temperature settings, insufficient preheating, or a faulty thermostat. Check the control panel settings, preheat before use, and consult the manufacturer's instructions or customer support if the problem persists. Understanding how air fryers generate heat is crucial in troubleshooting and resolving the issue effectively.
However, fear not, as there's a straightforward solution to this perplexing situation. In this article, we'll explore the reasons behind your problem: "why is my air fryer blowing cold air" and discover the effortless steps you can take to get your air fryer back to its sizzling glory.
Let's dive in and troubleshoot this common problem together.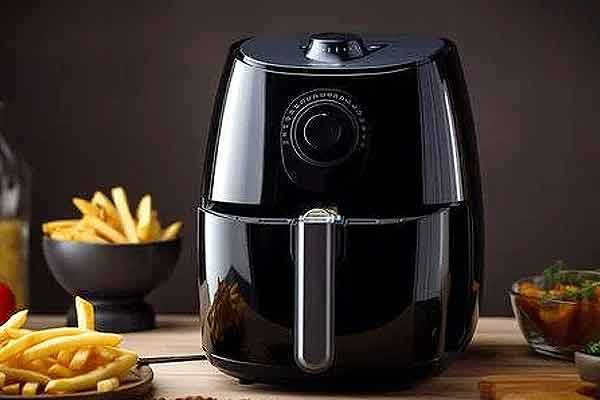 Why is My Air Fryer Blowing Cold Air: Common Issues and Solutions
Air fryers have become a popular kitchen appliance for their ability to cook food quickly and efficiently. However, there may be times when you notice that your air fryer is blowing cold air instead of heating up properly. This can be frustrating, but fear not!
Reasons Behind Air Fryers Not Heating Up Properly
Power Supply Issues: One common reason why your air fryer may not be heating up is due to power supply problems. Ensure that the power cord is securely plugged into a functioning outlet and that there are no loose connections.
Thermostat Malfunction: The thermostat in your air fryer plays a crucial role in regulating the temperature. If it malfunctions or becomes faulty, it can result in cold air being blown instead of hot air. Consider checking the thermostat for any signs of damage or irregularities.
Faulty Heating Element: The heating element is responsible for generating heat in an air fryer. Over time, it can wear out or develop faults, causing inadequate heating or no heat at all. If you suspect a faulty heating element, it may need to be replaced by a professional technician.
Practical Solutions to Resolve Heating Issues
Check Power Source: Before jumping to conclusions about a malfunctioning air fryer, make sure that the power source is working correctly by plugging another device into the same outlet. If there's an issue with the power supply, contact an electrician to address it.
Reset and Restart: Sometimes, simply resetting your air fryer can solve minor glitches that affect its performance. Unplug the appliance from the power source, wait for a few minutes, and then plug it back in before turning it on again. This can help reset the internal mechanisms and resolve heating issues.
Clean and Maintain Regularly: A dirty air fryer can hinder its ability to heat up properly. Food residue, grease, or debris may accumulate over time and block the heating elements or vents. Regularly clean your air fryer according to the manufacturer's instructions to ensure optimal performance.
What Is the Heating Element in an Air Fryer?
The heating element in an air fryer is a crucial component responsible for generating the intense heat needed to cook the food. It is typically a coil or a halogen heating element located at the top of the air fryer's cooking chamber. When the air fryer is turned on, the heating element gets activated, and it rapidly heats up to the desired cooking temperature.
This heat is then circulated throughout the cooking chamber by a powerful fan, creating a convection effect that evenly cooks and crisps the food without the need for excessive oil, resulting in healthier and deliciously fried dishes.
Troubleshooting Guide: Air Fryer Blowing Cold Air
If you've noticed that your air fryer is blowing cold air instead of hot, don't panic just yet. There are a few simple steps you can take to troubleshoot the problem and potentially fix it yourself. Let's dive in:
Check the Power Supply: Start by ensuring that your air fryer is properly plugged into a working power outlet. Sometimes, a loose connection or power outage can cause the heating element to malfunction.
Inspect the Heating Element: Take a look at the heating element inside your air fryer. If it appears damaged or broken, it may need to be replaced. Contacting the manufacturer or seeking professional help might be necessary in this case.
Clean the Air Vents: Over time, dust and debris can accumulate in the air vents of your air fryer, obstructing proper airflow and causing cooling issues. Use a soft brush or cloth to gently clean these vents and remove any blockages.
Reset Your Air Fryer: Many modern appliances have built-in safety features that automatically shut off when they detect an issue. To reset your air fryer, unplug it from the power source for a few minutes before plugging it back in again.
Adjust Cooking Time and Temperature: It's possible that you simply need to adjust your cooking settings for optimal performance. Experiment with different time and temperature combinations to see if this resolves the problem.
Determining if You Can Fix the Problem Yourself or Need Professional Help
While some issues with your air fryer can be easily resolved at home, others may require professional assistance:
If you've followed all the troubleshooting steps and still haven't been able to resolve the problem, it's best to contact a professional technician who specializes in repairing air fryers.
If your air fryer is still under warranty, reach out to the manufacturer for guidance on how to proceed.
Remember that attempting complex repairs yourself without proper knowledge or experience may void any existing warranties and potentially cause further damage.
Common Mistakes That Prevent Air Fryers from Getting Hot
1. Overloading the Basket:
Overfilling the air fryer basket with food can obstruct proper airflow, leading to uneven heating or no heating at all. To avoid this issue, follow the recommended guidelines for food quantity and spacing in your air fryer's user manual.
2. Using Incorrect Temperature Settings:
It is essential to set the correct temperature when using an air fryer. Using a lower temperature than required may result in inadequate heating, while setting it too high could lead to overheating or burnt food. Refer to recipes or cooking guides for appropriate temperature settings.
3. Neglecting Preheating:
Preheating your air fryer before use helps ensure that it reaches the desired temperature for efficient cooking. Neglecting this step might cause cold air to be blown initially until the appliance heats up adequately.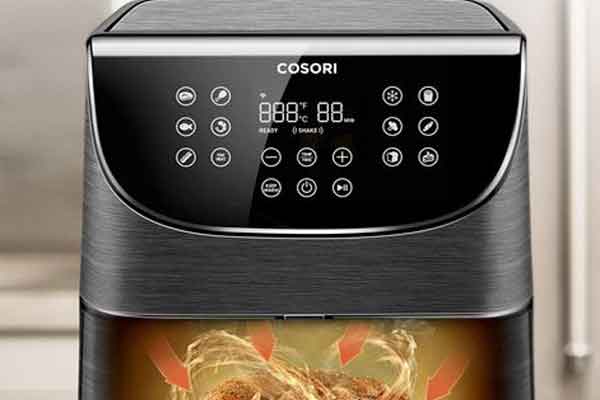 Understanding the Heating Mechanism of Air Fryers
Air fryers have gained popularity in recent years as a healthier alternative to deep-frying. These countertop appliances use hot air circulation to cook food, resulting in crispy and delicious meals without the excessive use of oil. However, if you've noticed that your air fryer is blowing cold air instead of generating heat, there are a few factors to consider.
1. How Air Fryers Generate Heat for Cooking
To understand why your air fryer may be blowing cold air, it's essential to grasp the heating mechanism behind these appliances. Air fryers work by using a powerful heating element located above the cooking chamber. When you turn on your air fryer and set the desired temperature, this heating element begins to warm up rapidly.
2. Components Involved in the Heating Process
Several components work together to generate heat inside an air fryer. Alongside the heating element mentioned earlier, there is also a fan responsible for circulating hot air throughout the cooking chamber. This combination ensures that food is cooked evenly from all angles.
Apart from these primary components, most air fryers also feature a thermostat that helps regulate temperature control. The thermostat monitors and adjusts the heat output based on your selected temperature setting. It plays a crucial role in achieving consistent results while preventing overheating or undercooking.
3. Temperature Control for Desired Results
Temperature control is vital. By understanding how it influences your cooking experience, you can troubleshoot issues like cold airflow more effectively.
If your air fryer is blowing cold air instead of generating heat, check if you have set the correct temperature on its control panel. Sometimes, accidental adjustments or incorrect settings can result in inadequate heat production.
Another factor affecting temperature control is preheating time. Just like conventional ovens, it's important to allow your air fryer some time to reach its designated temperature before adding the food. Preheating ensures that your air fryer is operating at the desired heat level, enabling efficient cooking.
In some cases, a faulty thermostat might be the culprit behind cold airflow. If you suspect this to be the issue, it's best to consult the manufacturer's instructions or contact customer support for guidance on troubleshooting or potential repairs.
Understanding how air fryers generate heat and the components involved in their heating process can help you identify why your appliance may be blowing cold air.
Proper Maintenance and Cleaning Tips for Your Air Fryer
Regular maintenance and cleaning are crucial for ensuring optimal performance of your air fryer. By following these essential practices, you can prevent heating problems and prolong the lifespan of your appliance.
1. Discover Essential Maintenance Practices
To keep your air fryer in top shape, it's important to perform regular maintenance. Here are some key practices to incorporate into your routine:
Inspect the Power Cord: Before each use, carefully examine the power cord for any signs of damage or fraying. If you notice any issues, replace the cord immediately to avoid electrical hazards.
Clean the Exterior: Wipe down the exterior of your air fryer regularly with a soft cloth and mild detergent. This helps remove dust and grease buildup that can affect its overall performance.
Check the Heating Element: Over time, food particles may accumulate on the heating element, leading to uneven cooking or cold air blowing from your air fryer. Gently clean this component using a soft brush or cloth to ensure proper heat distribution.
Inspect the Fan Blades: The fan is responsible for circulating hot air within the appliance. Inspect the fan blades for any debris or obstructions that could impede airflow. Use a small brush or toothbrush to clean them thoroughly.
2. Learn How Regular Cleaning Prevents Heating Problems
Cleaning your air fryer regularly not only ensures hygienic cooking but also prevents heating problems that result in cold air blowing from the appliance. Here's why cleaning is so important:
Prevents Grease Buildup: During cooking, oil and grease can accumulate on various parts of your air fryer, including the heating element and fan blades. This buildup restricts proper airflow and hampers heat distribution, resulting in cold air blowing instead of hot.
Avoids Clogged Air Vents: The air vents play a vital role in maintaining proper air circulation within the appliance. If they become clogged with food particles or grease, it can lead to poor heating performance. Regular cleaning prevents these vents from becoming blocked and ensures consistent heat distribution.
3. Find Out Which Parts Require Special Attention
While regular maintenance is important for your air fryer, certain parts require special attention to ensure optimal functioning. Here are the components that deserve extra care:
Basket and Pan: After each use, make sure to clean the basket and pan thoroughly. Remove any leftover food particles or oil residue using warm soapy water or a non-abrasive sponge. This prevents buildup that can affect the taste of future meals and cause heating issues.
Non-Stick Coating: Over time, the non-stick coating on your air fryer's basket may wear off. To maintain its effectiveness, avoid using abrasive materials while cleaning and opt for gentle scrubbing instead.
Drip Tray: The drip tray collects excess oil and grease during cooking, preventing them from accumulating in other areas of the appliance. Empty and clean the drip tray after each use to prevent clogs and maintain proper airflow.
By following these maintenance practices and regularly cleaning your air fryer, you can enjoy hassle-free cooking experiences with consistently hot air circulation throughout your appliance.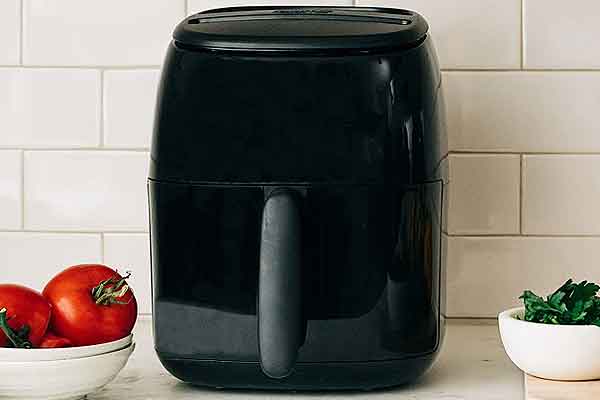 Effective Strategies for Maintaining Ideal Temperature
To ensure your air fryer consistently delivers perfectly cooked meals, it's crucial to implement effective strategies that keep it at an ideal temperature throughout the cooking process. By following these tips, you can prevent your air fryer from blowing cold air and enjoy delicious, evenly cooked dishes every time.
1. Preheat Properly:
One of the most important steps in maintaining heat is preheating your air fryer adequately. Allow it to reach the desired temperature before adding any food. This ensures that the cooking chamber is already warm when you begin cooking, minimizing heat loss during the process.
2. Avoid Frequent Opening:
Continuously opening the air fryer during cooking can cause a significant drop in temperature. Each time you open the fryer, hot air escapes and is replaced by cooler ambient air. To prevent this, resist the temptation to constantly check on your food and only open the fryer when necessary.
3. Use Appropriate Cookware:
The type of cookware you use can affect heat retention in your air fryer. Opt for pans or baskets specifically designed for air frying as they are usually constructed with materials that promote better heat distribution and retention.
Proper Placement and Ventilation for Optimal Heat Retention
The placement of your air fryer plays a vital role in its ability to retain heat effectively. Consider these tips to optimize its performance:
1. Choose a Suitable Location:
Place your air fryer on a stable, flat surface away from walls or other appliances that may obstruct airflow or transfer heat away from the unit.
2. Allow Sufficient Space:
Ensure there is ample space around the air fryer for proper ventilation. Crowding it with other items restricts airflow and hampers its ability to maintain optimal temperatures.
3. Avoid Blocking Vents:
Check that the vents on your air fryer are not obstructed by any objects or ingredients. Blocked vents impede proper air circulation, leading to uneven cooking and potential heat loss.
Insulation Techniques to Prevent Heat Loss
Insulating your air fryer can help minimize heat loss and maintain a consistent temperature. Consider these techniques:
1. Wrap External Surfaces:
If you notice excessive heat loss from the exterior of your air fryer, you can insulate it by wrapping the sides with a layer of aluminum foil. This simple step helps trap heat within the unit, preventing it from escaping into the surrounding environment.
2. Cover with a Lid:
Some air fryers come with accessories such as lids or covers designed to retain heat during cooking. Using these accessories can significantly reduce heat loss and improve overall cooking efficiency.
3. Consider an Insulated Mat:
Placing an insulated mat beneath your air fryer provides an additional layer of insulation, preventing heat transfer to the surface it sits on. This is particularly useful if you have a countertop made of materials that tend to dissipate heat quickly.
By implementing these strategies for maintaining ideal temperatures, optimizing placement and ventilation, and utilizing insulation techniques, you can prevent your air fryer from blowing cold air. Enjoy perfectly cooked meals every time without having to worry about inconsistent heating or disappointing results!
Advanced Troubleshooting Techniques Used by Professionals in the Field
1. Reset and restart:
Sometimes, a simple reset can resolve minor technical glitches in an air fryer. Unplug it from the power source for a few minutes before plugging it back in and turning it on again.
2. Contact customer support:
If basic troubleshooting methods fail to solve the heating problem, reach out to the manufacturer's customer support. They can provide specific guidance tailored to your air fryer model and offer further assistance.
3. Seek professional repair:
In rare cases, when all else fails, it may be necessary to consult a professional technician for repairs. They have the expertise and tools required to diagnose and fix complex issues with your air fryer's heating mechanism.
Additional Resources Where You Can Find Expert Advice on Air Fryer Heating Problems
1. Online forums and communities:
Joining online forums or communities dedicated to air fryers can connect you with experienced users who have encountered similar heating issues. They can share their insights, tips, and tricks for troubleshooting.
2. Manufacturer websites:
Many air fryer manufacturers provide comprehensive troubleshooting guides on their websites. These guides often include step-by-step instructions and FAQs that address common problems like cold air blowing from the appliance.
3. YouTube tutorials:
Video tutorials on platforms like YouTube can visually guide you through diagnosing and fixing various heating problems in air fryers. Watching experts demonstrate the troubleshooting process can be immensely helpful.
By following these expert recommendations and utilizing advanced troubleshooting techniques, you'll be well-equipped to tackle any heating issues that arise with your air fryer. Remember to always prioritize safety by unplugging your appliance before attempting any repairs or inspections. Happy cooking!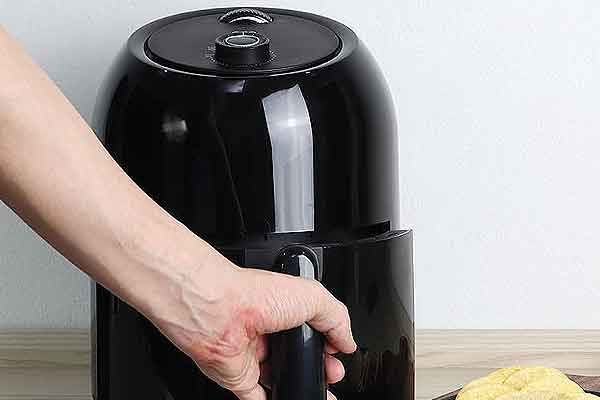 Safety Precautions with Air Fryers
Air fryers have gained immense popularity due to their ability to cook delicious, crispy dishes with minimal oil. However, like any kitchen appliance, they come with certain safety risks that users must be aware of. In this section, we will delve into three crucial safety precautions to follow when using an air fryer: overheating risks, electrical safety, and childproofing.
1. Overheating Risks
Overheating is a potential hazard that can arise when an air fryer is not used correctly or when its components are faulty. To prevent overheating and reduce associated risks, consider the following precautions:
Follow Proper Usage Guidelines: Always read the user manual provided by the manufacturer before using your air fryer. Understanding the recommended cooking times, temperature settings, and capacity limits will help prevent the appliance from overheating.
Avoid Overloading the Fryer: While air fryers are designed to be efficient, overloading them with food can obstruct proper air circulation and lead to overheating. Ensure that there is enough space for hot air to flow around the ingredients for even cooking.
Keep the Exterior Ventilation Unblocked: Air fryers release hot air during operation. Ensure that the exterior ventilation slots are not blocked by any objects or placed against a wall. Proper ventilation prevents the buildup of heat inside the appliance.
2. Electrical Safety
Air fryers are electrical appliances and require careful handling to avoid potential electric shocks or fire hazards. To ensure electrical safety, consider the following precautions:
Use a Grounded Outlet: Always plug your air fryer into a properly grounded outlet. This reduces the risk of electrical malfunctions and ensures a safe power supply.
Check the Power Cord: Before each use, inspect the power cord for any signs of damage or wear. If you notice any fraying or exposed wires, refrain from using the appliance and seek professional repairs or a replacement cord.
Keep Away from Water: Avoid placing the air fryer near sinks or other sources of water to prevent accidental splashes that could damage the electrical components.
3. Childproofing
The compact and easy-to-use design of air fryers can make them enticing to curious children. To protect your little ones from potential accidents, consider the following childproofing precautions:
Keep Out of Reach: Store the air fryer in a location that is not easily accessible to children, preferably at a higher level or in a locked cupboard.
Supervise Children Around the Appliance: When the air fryer is in use or cooling down after cooking, ensure that children are supervised to prevent any accidental contact with hot surfaces.
Educate Children About the Dangers: Teach children about the potential risks associated with using kitchen appliances and explain to them why the air fryer should only be operated by adults.
By following these safety precautions, you can enjoy the convenience and benefits of air fryers while minimizing any potential risks to yourself, your family, and your home. Remember, safety should always be a top priority when using any kitchen appliance.
Why Won't the Air Fryer Go Above 200?
If your air fryer is not going above 200 degrees Fahrenheit (approximately 93 degrees Celsius), there could be several reasons for this issue:
Temperature Limitation: Some air fryer models have a maximum temperature limit, and 200 degrees Fahrenheit may be the highest setting on your specific unit.
Defective Thermostat: A faulty thermostat can cause inaccurate temperature readings, preventing the air fryer from reaching higher temperatures.
Safety Feature: Certain air fryers have built-in safety features that prevent them from reaching very high temperatures to avoid overheating or potential hazards.
Power Supply Issue: Inadequate power supply or voltage fluctuations might hinder the air fryer from reaching higher temperatures.
Technical Malfunction: Internal technical issues can also lead to temperature limitations.
If your air fryer has adjustable temperature settings and it's not going above 200 degrees, it's best to refer to the user manual for troubleshooting steps or contact the manufacturer's customer support for further assistance.
Conclusion
In this article, we discussed the issue of an air fryer blowing cold air and provided a comprehensive guide to troubleshooting and resolving the problem. The steps include checking power supply and connections, verifying temperature settings, inspecting the heating element, clearing blocked airflow, and maintaining the appliance properly.
If your air fryer is not heating properly, follow these steps to identify and rectify the problem. Understanding the heating mechanism and practicing regular maintenance are crucial for optimal performance. Implementing preventive measures can help prevent future issues. Remember to seek professional advice if problems persist. By taking good care of your air fryer, you can ensure deliciously cooked meals for years to come.
FAQs
Can a faulty power supply cause my air fryer to blow cold air?
Yes, a faulty power supply can prevent your air fryer from heating up properly. Make sure to check the power source and connections before troubleshooting further.
How often should I clean my air fryer to prevent heat loss?
It is recommended to clean your air fryer after each use. Regular cleaning prevents grease buildup and ensures optimal heat circulation.
What should I do if the heating element is damaged?
If you suspect that the heating element is damaged, it's best to contact the manufacturer or a professional appliance repair service for assistance in replacing it.
Can overcrowding the cooking basket affect heat distribution in an air fryer?
Yes, overcrowding the cooking basket can impede proper heat circulation, resulting in unevenly cooked food. It's important to leave enough space for hot air to circulate around the ingredients.
How can I prevent my air fryer from losing heat during cooking?
To prevent heat loss, ensure that there are no obstructions blocking airflow around the appliance. Avoid opening the air fryer unnecessarily during cooking as this can cause temperature fluctuations.