If your Ninja Air Fryer is making a clicking noise, it could be due to normal operation, the timer or thermostat, expansion/contraction of materials, loose parts, or a defective unit. Check the user manual for proper operation, ensure all parts are securely assembled, and place the air fryer on a stable surface. If the noise persists and you suspect a defect, contact Ninja customer support for assistance. Prioritize safety and seek professional help if needed.
It's time to take control and put an end to this annoyance. Addressing the ninja air fryer clicking noise is crucial if you want to enjoy hassle-free cooking sessions. Troubleshooting and fixing methods are available, allowing you to regain peace in your kitchen.
Don't let a simple noise ruin your culinary adventures. So let's dive in and silence that irritating click once and for all!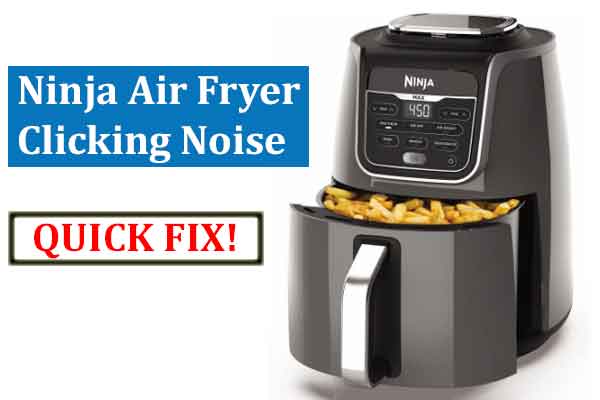 Causes and Common Problems of Clicking Noise in Ninja Air Fryers
Common Causes of Clicking Noise:
Fan Issues:
A Loose Fan Blade: If the fan blade becomes loose, it can create clicking sounds as it spins. The loose blade may hit other components or the air fryer's housing, resulting in the noise.
Dust or Debris Accumulation: Over time, dust, dirt, or food particles can accumulate around the fan. When the fan operates, it may draw in these particles, causing clicking noises due to the obstruction or interference.
Heating Element Malfunction:
Loose Heating Element: The heating element in the air fryer can cause clicking noises if it becomes loose or misaligned. As the element heats up and cools down during cooking cycles, the movement might generate the clicking sound.
Expansion and Contraction Noises: Heating elements naturally expand when they heat up and contract when they cool down. These thermal expansions and contractions can produce subtle clicking or popping sounds.
Timer Mechanism Faults:
Faulty Timer Mechanism: A malfunctioning timer can lead to irregular clicking noises. The timer may not be engaging or disengaging properly, causing repetitive clicking sounds during operation.
Control Panel Malfunction: Clicking noises might also arise from issues with the control panel. If buttons or switches are faulty, they may produce clicking sounds when pressed or activated.
Defective unit:
In some cases, a clicking noise could indicate a defect in the air fryer's components. If the unit is under warranty, you might want to contact Ninja customer support to see if they can assist you with troubleshooting or replacing the unit if necessary.
It is crucial to prioritize safety when addressing these issues in your Ninja air fryer. Avoid attempting repairs yourself unless you have sufficient expertise and knowledge about electrical appliances.
Fixing Clicking Noise in Ninja Air Fryers: Step-by-Step Guide
Tightening Loose Screws or Bolts
One common cause of clicking noise in Ninja Air Fryers is loose screws or bolts. Over time, the vibrations and movements during cooking can cause these fasteners to become loose, resulting in an annoying clicking sound. To fix this issue, follow these steps:
Unplug the air fryer and ensure it is completely cool before proceeding.
Carefully inspect the exterior of the air fryer for any visible screws or bolts.
Using a suitable screwdriver or wrench, tighten any loose screws or bolts found on the air fryer's casing.
Pay close attention to handles, knobs, and other movable parts that may have fasteners.
By tightening these loose components, you can eliminate unnecessary movement that leads to clicking noises during operation.
Lubricating Moving Parts Properly
Another culprit behind clicking noises in Ninja Air Fryers is insufficient lubrication of moving parts. When certain components rub against each other without proper lubrication, they can produce irritating sounds. Follow these instructions to lubricate your air fryer effectively:
Consult the user manual to identify which parts require lubrication.
Purchase a food-grade lubricant suitable for kitchen appliances.
Unplug the air fryer and wait until it cools down completely.
Apply a small amount of lubricant to the designated areas as indicated by the manual.
Use a soft cloth or sponge to spread the lubricant evenly across all surfaces.
Properly lubricating your air fryer will help reduce friction between moving parts and minimize clicking noises during operation.
Replacing Faulty Components
If tightening screws and lubricating moving parts does not resolve the clicking noise issue in your Ninja Air Fryer, it may be necessary to replace faulty components. Here's how you can go about it:
Identify the specific component causing the clicking noise. It could be a fan, motor, or other internal part.
Refer to the user manual or contact Ninja customer support to obtain the appropriate replacement component.
Unplug the air fryer and allow it to cool down completely before attempting any repairs.
Follow the manufacturer's instructions for disassembling and replacing the faulty component.
Carefully install the new component, ensuring it is securely in place.
Reassemble the air fryer and test it to ensure that the clicking noise has been resolved.
By replacing any defective parts, you can restore your Ninja Air Fryer to its optimal functionality without any annoying clicking noises.
Remember, if you are unsure about performing any repairs yourself, it is always recommended to seek professional assistance or contact Ninja's customer support for further guidance.
Video Guide
Understanding the Clicking Noise in Ninja Air Fryers
If you own a Ninja Air Fryer and have noticed a clicking noise while it's in use, don't worry – you're not alone. Many users experience this phenomenon, and understanding its cause can help put your mind at ease and troubleshoot effectively.
Explanation of what causes the clicking noise
The clicking noise in Ninja Air Fryers is typically caused by the expansion and contraction of internal components during operation. As the heating element heats up, it expands, and when it cools down, it contracts. This expansion and contraction process can result in a clicking sound that may be alarming if you're not aware of its origin.
Mention of internal components involved
Several internal components contribute to the clicking noise in Ninja Air Fryers. The primary culprit is often the heating element itself. As mentioned earlier, as it heats up and cools down, it undergoes changes in size that lead to the audible clicks. Other parts such as fans or motors might also contribute to the overall noise level.
Clarification that it is a common occurrence
It's important to note that experiencing a clicking noise in your Ninja Air Fryer is quite common among users. Numerous reports from satisfied customers indicate that this phenomenon does not affect the performance or safety of the appliance. While it may sound unusual at first, rest assured that your air fryer is likely functioning perfectly fine.
Emphasis on understanding the source for effective troubleshooting
Understanding why your Ninja Air Fryer produces a clicking noise can be beneficial when troubleshooting any potential issues. By recognizing that this sound originates from normal thermal expansion and contraction processes within the appliance's internal components, you can focus on identifying any other irregularities or malfunctions unrelated to this common occurrence.
To effectively troubleshoot other problems with your air fryer:
Check for loose parts: Ensure all removable components are properly secured before operating.
Clean the appliance: Accumulated debris or food particles can sometimes cause unusual noises. Regularly clean your air fryer to prevent this.
Examine the power source: Ensure that your air fryer is properly plugged into a functioning outlet and that there are no electrical issues.
Contact customer support: If you've followed these steps and still experience problems beyond the clicking noise, reach out to Ninja's customer support for further assistance.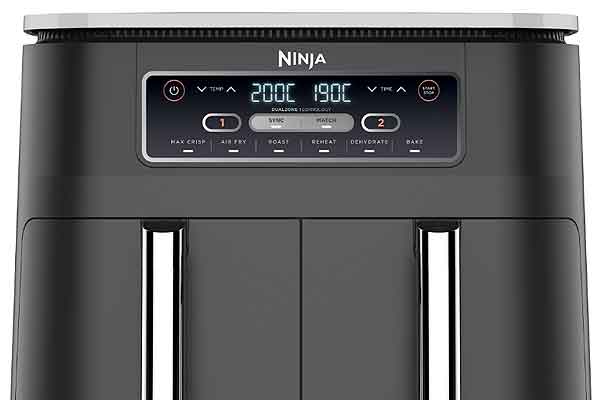 Troubleshooting Tips for Ninja Air Fryer Clicking Noise
Is your beloved Ninja Air Fryer making an irritating clicking noise? Don't fret! We've got you covered with some troubleshooting tips to help you get to the bottom of this issue. Follow these step-by-step instructions and soon you'll be enjoying peaceful cooking sessions once again.
Check Power Supply and Connections
The first thing you should do is ensure that your Ninja Air Fryer is properly connected to a reliable power source. Sometimes, a loose or faulty power connection can cause the clicking noise. Take a moment to inspect the power cord, ensuring it's securely plugged into both the fryer and the outlet. If there are any signs of damage or fraying, consider replacing the cord immediately.
Inspect Fan Blades and Clean if Necessary
Next up, let's take a closer look at your air fryer's fan blades. Over time, dirt, debris, and even food particles can accumulate on them, causing them to spin unevenly and produce that annoying clicking sound. Carefully remove the fan cover (refer to your user manual for guidance) and inspect the blades for any obstructions or buildup. If you spot any dirt or grime, gently clean them using a soft brush or cloth. Once they're sparkling clean, reassemble everything and see if the noise persists.
Resetting or Replacing Malfunctioning Parts
If neither of the above steps resolves the issue, it may be time to reset or replace some internal components of your Ninja Air Fryer. Start by resetting it – simply unplug it from the power source for a few minutes before plugging it back in again. This simple act can often resolve minor glitches that cause clicking noises.
However, if resetting doesn't do the trick, there might be a malfunctioning part that needs attention. In such cases, we recommend reaching out to Ninja customer support for further assistance. They can guide you through the process of identifying and replacing any faulty parts, ensuring your air fryer is back to its quiet self in no time.
Prevention and Maintenance Measures for Clicking Noise in Ninja Air Fryers
1. Regular cleaning routine:
To prevent debris accumulation and minimize the chances of a clicking noise in your Ninja Air Fryer, it is crucial to establish a regular cleaning routine. After each use, make sure to wipe down the interior and exterior surfaces of the fryer with a damp cloth or sponge. Pay close attention to areas where food particles may have accumulated, such as the basket, tray, and heating element. Remove any excess oil or grease that may have splattered during cooking. By keeping your air fryer clean, you can reduce the risk of obstructions that could lead to clicking noises.
2. Proper storage practices:
When your Ninja Air Fryer is not in use, it is important to store it properly to avoid potential issues like clicking noises. Firstly, ensure that the appliance has completely cooled down before storing it away. Then, find a safe and dry place where it won't be exposed to extreme temperatures or humidity.
To protect delicate components from damage during storage, consider covering your air fryer with a clean cloth or using its original packaging if available. By following these proper storage practices, you can help maintain the longevity of your appliance and minimize the likelihood of clicking noises when you next use it.
3. Manufacturer's maintenance guidelines:
One key aspect often overlooked by users is adhering to the manufacturer's maintenance guidelines provided in the user manual. These guidelines are designed specifically for your Ninja Air Fryer model and offer valuable information on how to care for and maintain your appliance effectively. 
It is essential to read through these instructions thoroughly and follow them diligently. They typically include recommendations on cleaning methods, frequency of maintenance tasks such as oiling or replacing parts, and troubleshooting tips for common issues like clicking noises. By following these guidelines closely, you can prolong the lifespan of your air fryer while minimizing potential problems.
4. Periodic inspection:
Performing periodic inspections of your Ninja Air Fryer can help you identify potential issues early on and prevent clicking noises from occurring. Regularly check the power cord for any signs of damage or fraying, as this can lead to electrical malfunctions that may cause clicking sounds.
Inspect the heating element for any visible debris or obstructions that could interfere with its proper functioning. Ensure that all components are securely attached and aligned correctly. By conducting these inspections at regular intervals, you can catch any problems before they escalate into more significant issues.
By implementing these prevention and maintenance measures, you can effectively address the issue of clicking noises in your Ninja Air Fryer. Remember to establish a cleaning routine, practice proper storage techniques, follow the manufacturer's guidelines diligently, and conduct periodic inspections. Taking these steps will not only enhance the performance and lifespan of your air fryer but also ensure a quieter cooking experience without those annoying clicking sounds.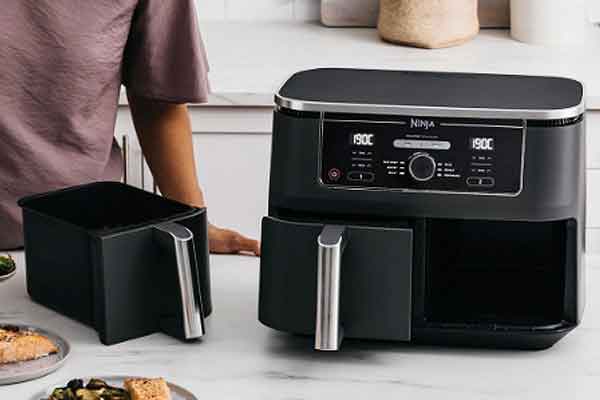 Impact of Clicking Noise on Cooking Performance in Ninja Air Fryers
Uneven Heat Distribution: A Culprit Behind Clicking Noise
One of the key factors that can affect the cooking results in Ninja air fryers is the presence of a clicking noise. This seemingly harmless sound may indicate an underlying issue that could compromise the performance of your appliance. One potential consequence of this clicking noise is uneven heat distribution during the cooking process.
When a Ninja air fryer is functioning properly, it ensures consistent and even heating throughout the cooking chamber. However, if you hear a persistent clicking noise, it could be an indicator that there is a malfunction within the appliance. This malfunction might disrupt the airflow and cause fluctuations in temperature distribution.
Cooking Time and Temperature Accuracy at Stake
The impact of clicking noise goes beyond just uneven heat distribution. It can also lead to inaccuracies in cooking time and temperature settings, affecting your culinary endeavors. The clicking noise may be indicative of faulty components or sensors within the air fryer, leading to imprecise readings.
Inaccurate temperature readings can result in undercooked or overcooked food items, compromising their taste and texture. Similarly, incorrect timing due to a malfunctioning mechanism can disrupt your meal planning and leave you with unsatisfactory results.
Resolving Clicking Noise for Optimal Cooking Experience
To ensure an optimal cooking experience with your Ninja air fryer, resolving any issues related to clicking noises becomes crucial. Here are some steps you can take:
Check for Loose Components: Inspect your air fryer thoroughly to identify any loose parts that may be causing the clicking noise. Tighten screws or fasteners as needed.
Clean and Maintain Regularly: Keep your air fryer clean by removing any debris or residue that may have accumulated over time. Regular maintenance prevents malfunctions caused by clogged parts.
Contact Customer Support: If you've tried the above steps and the clicking noise persists, it's advisable to reach out to Ninja's customer support. They can guide you through troubleshooting or assist with repairs if necessary.
Remember, a well-functioning air fryer ensures evenly cooked meals and enhances your culinary adventures. Resolving any clicking noise issues promptly will help maintain the performance of your Ninja air fryer and ensure delicious results every time.
When to Seek Professional Help
If you encounter clicking noises in your Ninja Air Fryer, it's essential to assess the severity of the issue before deciding whether to seek professional assistance. Here are the steps to determine when to contact an expert:
Assessing the Severity of the Clicking Noise
Pay attention to the clicking noise's frequency, volume, and any accompanying unusual sounds. If the clicking is occasional and doesn't affect the air fryer's performance, it may not be a cause for immediate concern. However, if the noise is persistent, loud, or seems to impact the appliance's functionality, it may indicate an underlying problem that requires professional attention.
Reaching Out to Ninja Customer Support
Before seeking third-party help, consider reaching out to Ninja's customer support. They can provide valuable insights and troubleshooting tips based on your air fryer's model and warranty status. Ninja's support team is knowledgeable about their products and can guide you through potential solutions or recommend further action.
Finding Authorized Service Centers
If the clicking noise persists despite attempts to resolve the issue, or if your Ninja Air Fryer is still under warranty, it's best to locate authorized service centers. These centers have certified technicians who are trained to diagnose and repair Ninja appliances properly. Contacting an authorized service center ensures that your air fryer is handled by experts familiar with the product, minimizing the risk of further complications.
Remember, dealing with electrical appliances can be hazardous, and attempting DIY repairs without proper knowledge may lead to safety risks or voiding the warranty. Seeking professional help when needed ensures the longevity and efficient functioning of your Ninja Air Fryer, allowing you to enjoy delicious meals without any disruptive noises.
Common Sounds in Ninja Air Fryers
When using a Ninja Air Fryer, it is normal to encounter various sounds during its operation. Understanding these common sounds can help users differentiate between typical operational noises and potential issues. Here are some of the usual sounds you may experience:
Fan Noise: The air fryer's fan is responsible for circulating hot air inside the cooking chamber. As it operates, a gentle whining or humming sound is normal. This noise indicates that the fan is functioning correctly to ensure even cooking.
Heating Element Buzz: The heating element in the air fryer generates the heat required for cooking. When it activates, you may hear a slight buzzing sound. This sound is usually low and consistent, signifying the element is working as intended.
Timer Ticking: Many Ninja Air Fryers feature timers with audible ticking sounds. This ticking is a standard indicator that the timer is counting down and will cease when the cooking cycle is complete.
Control Panel Beeps: Whenever buttons on the control panel are pressed, the air fryer may emit beeping sounds. These beeps serve as feedback to confirm the selected settings or adjustments.
Normal Operational Sounds of Air Fryers
A properly functioning Ninja Air Fryer will produce the sounds mentioned above, and they should not cause any concern. These sounds are an inherent part of the air frying process and indicate that the appliance is operating efficiently.
Identifying Unusual Clicking Noises
While certain noises are expected during air fryer operation, unusual clicking noises can be cause for attention. It's essential to recognize the differences to address any potential problems promptly. Unusual clicking noises may manifest as:
Repeated Clicking: If the air fryer emits rapid and continuous clicking sounds during operation, it could signify a malfunctioning component or loose part.
Loud and Sharp Clicks: Clicking noises that are particularly loud or sharp may indicate a more serious issue, such as a loose fan blade or a malfunctioning timer mechanism.
Clicking with Erratic Functioning: If the air fryer clicks and experiences irregular performance, like unexpected shutdowns or failure to reach the desired temperature, there may be an underlying problem that needs investigation.
When encountering any of these unusual clicking noises, it's advisable to troubleshoot and, if necessary, seek professional help or contact Ninja Customer Support. Timely identification and resolution of such issues can help maintain the longevity and effectiveness of your Ninja Air Fryer.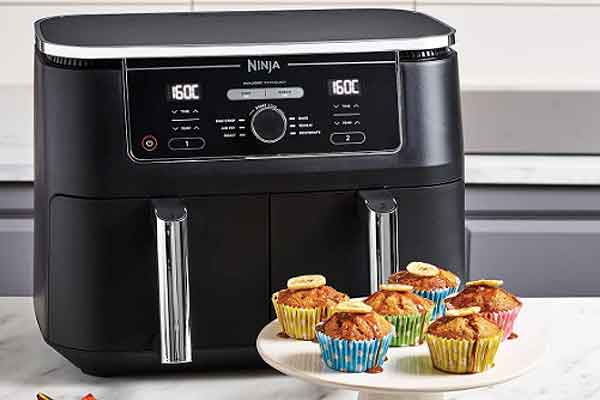 Ninja Air Fryer Not Making Noise
If your Ninja air fryer is not making any noise, it could indicate a possible issue with the appliance. Here are some troubleshooting steps you can follow to identify and resolve the problem:
Check the Power Source:
Ensure that the air fryer is properly plugged into a functioning power outlet. Sometimes, a loose connection or a tripped circuit breaker may cause the air fryer to appear non-functional.
Power Indicator Light:
Check if the power indicator light on the air fryer is on. If it's not lit, there may be a problem with the power supply or the fryer's internal electronics.
Controls and Settings:
Verify that you have set the correct cooking time and temperature. The air fryer may not start if the timer is set to zero or if the temperature is too low.
Safety Features:
Some air fryers have safety features that prevent them from starting if the basket or the tray is not properly inserted. Ensure that all parts are correctly in place.
Cooling Down:
If you have recently used the air fryer and it's still hot, it may not start immediately. Air fryers have built-in safety mechanisms that prevent them from turning on until they have cooled down sufficiently.
Reset or Restart:
Try turning off the air fryer and unplugging it for a few minutes. Then, plug it back in and attempt to start it again.
Contact Customer Support:
If none of the above steps work, and the air fryer is still under warranty, consider reaching out to Ninja's customer support for assistance or to inquire about repairs or replacements.
Please remember that troubleshooting electrical appliances can involve some risks. If you are unsure about performing any of these steps or if your air fryer is not working as expected, it's best to consult the user manual or contact the manufacturer for guidance.
Conclusion
In conclusion, if you're experiencing a clicking noise with your Ninja Air Fryer, there are several expert recommendations to help resolve this issue. Understanding the clicking noise and its causes is essential in troubleshooting and finding a solution.
By following the step-by-step guide for fixing the clicking noise, you can ensure optimal performance of your Ninja Air Fryer.
FAQs
Is it normal for my Ninja Air Fryer to make a clicking noise?
No, a clicking noise is not normal for a properly functioning Ninja Air Fryer. It indicates an underlying issue that should be addressed.
What are some common causes of clicking noises in Ninja Air Fryers?
Common causes include loose components, improper accessory placement, or debris interfering with moving parts.
Can I fix the clicking noise on my own?
Yes, you can try troubleshooting steps such as checking for loose parts, ensuring proper accessory placement, and cleaning your air fryer. If the issue persists, contacting customer support is recommended.
How can I prevent clicking noises in my Ninja Air Fryer?
Regularly clean your air fryer, handle it with care, and ensure all components are properly secured during use.
Will the clicking noise affect the cooking performance of my Ninja Air Fryer?
Yes, the clicking noise may impact the cooking performance by indicating an underlying issue that could affect temperature control or airflow.
These FAQs address common concerns about Ninja Air Fryer clicking noises and provide guidance on resolving and preventing them.