Quick Summary: One of the best single serve coffee makers is the Keurig K-Cup Single Cup Brewing System. This machine will get you a great cup of coffee in less than 5 minutes, leaving you more time to sip, wake up, and enjoy the morning. It's especially useful for people on the go. There is very little setup, maintenance, and waiting required. This affordable machine gives you what you want with no headaches or hassle.
SO many times, it happens that after making a full pot of coffee, only half is consumed and the rest is drained because it went cold.
While some people feel there is no solution to it, few of them even let their coffee maker sit idle and collect dust instead of using it.
If you are going through the same issue, then a single serve coffee maker is all you need. A single serve coffee maker not only eliminates this waste, making them ideal for personal use, but they are typically one of the fastest kinds of brewing devices. The biggest factor of convenience that you get from a single server coffee maker is that it pours fresh coffee directly in your cup with just the push of a button.
Moreover, single server coffee makers work like other coffee machines and you can use them for adding variety to your coffee as well. Since a single server coffee maker prepares only one cup of coffee, you will notice a substantial cut in your coffee costs as you will be using less amount of coffee.
These compact sized machines are integrated with modern features and have such a strong presence so that one can't overlook them. But like anything in life, we don't want you to settle for less, therefore what you need is not a single server coffee maker but the best single server coffee maker.
Quick Navigation
---
10 Best Single Serve Coffee Makers Comparisons
| | | |
| --- | --- | --- |
| | This personal machine is perfect for single-cup needs. Step-by-step instructions can be found on the unit that make your morning cup even easier. | Read Our Review |
| | Brew your own ground coffee with a single-serve scoop filler with this machine. Choose between decaf and regular on its simple interface. | Read Our Review |
| | A 72-oz water display means you can keep stopping by for coffee throughout the day without filling it up. Single-press buttons make it easy to brew. | Read Our Review |
| | Enjoy three cup sizes and brew time less than a minute with this machine. A 7" mug can fit under this reliable coffee maker. | Read Our Review |
| | With a large water reservoir and removable drip tray, this machine takes all of the worries out of your daily coffee. Cleaning is easy and refilling the reservoir couldn't be simpler. | Read Our Review |
| | This silver machine fixed with a touchscreen makes you feel like a barista every day. Styled to impress, every cup will taste luxurious. | Read Our Review |
| | Simply insert your capsule, choose your serving size, and enjoy your cup of coffee. This machine is compact, easy-to-use, and stylish. It's great for people who want it all. | Read Our Review |
| | Choose between five sizes through the backlit LCD on this advanced coffee maker. Enjoy the 80-oz water reservoir and adjustable temperature option. The perfect option for a household of coffee lovers. | Read Our Review |
| | This futuristic machine gives you the ability to truly customize your daily coffee. The large water reservoir makes your coffee refill as easy as the push of a button. | Read Our Review |
| | This coffee maker makes it easy. Put in your coffee capsule, choose from the three serving sizes, and hit the "Brew" button. Within seconds, your coffee will start to pour. | Read Our Review |
---
Reviews of 10 Best Single Serve Coffee Makers
Best Overall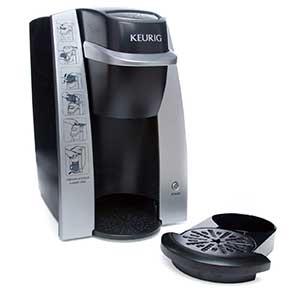 Topping the list of the best single cup coffee maker is the Keurig K-Cup In Room Brewing System which is specifically designed for hospitality purposes.
Without the need for the loose coffee grinds and the need for filters, the Keurig mini brewer keeps a delicious, freshly brewed cup of coffee at your fingertips.
With a single water reservoir, the small Keurig single cup coffee maker is the ideal brewing system choice of 11 cup size (8 ounces) that can perfectly brew your cup of water, coffee, tea, iced beverages, or hot cocoa in under three minutes.
What we liked most about the brewer is the fact that the step by step instruction allow anybody to handle the machine with ease. And the best part of the Keurig coffee maker is that there it's not messy and there are are no carafe or drip baskets to clean. All the brewing occurs in the K-cup pod which is easily disposed of with no zero mess.
Pros:
The 8-oz water reservoir makes it easy to get a cup of coffee started.
The compact design is great for single-user households, but it's more difficult for people who share a machine.
Cons:
The price is fair, but there are more affordable options.
Read more: Keurig Coffee Maker Reviews
---
Best Budget
If you are in search of reliability, versatility, and convenience without spending a fortune, the Hamilton Beach 49981A is among the best budget single cup coffee makers with low-maintenance costs.
Compared to the other Hamilton beach single cup coffee maker the Hamilton 49981A goes an extra mile where no coffee maker has gone before.
Often considered as an alternative to the ubiquitous K-cup brewer, the Hamilton beach single serve scoop coffee maker is an ideal choice for individual who prefer to use single serve brewers that do not need a coffee mug or pod for a successful brewing process.
And unlike other brewers in the single cup coffee maker reviews list, the Hamilton coffee maker does not rely on the pre-packaged coffee pods or K-cups which can at times be expensive and go stale over time.
Instead, the stainless steel coffee maker comes with a mesh scoop filter Hamilton Beach 49981A provides users with the choice of their favorite flavors. Relying on your coffee pods, you can brew a standard 8-ounce cup or a 14-ounce traveling mug.
Pros:
This machine is really easy to use, and very compact.
The ability to add your own coffee grounds and choose between decaf and regular is rare and impressive.
Cons:
It will take up very little counter space, but requires frequent filling of its small 8-oz water reservoir.
---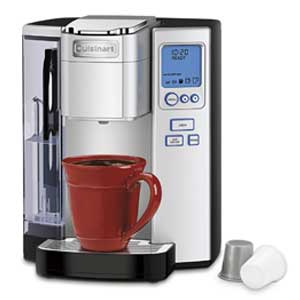 Got a large family, and do not need the hassle of refilling the reservoir after every three cups? Well, the Cuisinart SS-10 Single Serve Coffee Maker is just what you need.
The gigantic 72-ounce water reservoir eliminates the need for frequent refills. What's more, the Cuisinart Premium Single cup coffee maker offers freedom of choice; you can choose from a myriad of ounce serving sizes such as 4, 6, 8, 10, or 12-ounce.
The Cuisinart is among my favorite mid-tier single-serve brewers, thanks to its extreme functionality and extreme compatibility. The Cuisinart single serve brewing system is compatible with all the K-cup coffee brands and comes with a reusable Home Barista filter cup that allows you to enjoy making a single serving using your favorite coffee pods.
The hot water button on the coffee brewer provides a single-touch convenience for your coffee, while the rinse features button is perfect for instant cleaning the interior of the brew chamber in between the brews.
Being a successor to the discontinued SS-700, the Cuisinart SS-10 does not carry over some of the annoyances from its predecessor such as splattering, and longer brewing time.
Pros:
This sleek machine has a massive water reservoir.
The machine has a lot of customization which makes it ideal to act as a shared unit in a family's house.
Cons:
You wind up paying more for it, but many will argue it's worth the extra price.
---
Compared to Keurig K base model, the Keurig K55 coffee maker provides the users with plenty of add-on features and auxiliaries. The Keurig single cup coffee maker has combined a solid build quality, flexibility, ease of use and perfect coffee taste in a single package.
Keurig machines are known for their simplicity, easy to use layout and hassle free operation; the single serve Keurig K55 coffee maker does not deviate from the same tradition.
Whether you like your coffee hot, mild, decaf or flavored, the coffee brewer provides the users with a detachable 48-ounce water reservoir that is capable of providing water to the different cup sizes and saves you from the trouble of constant refilling.
And while the ground coffee lovers have always kept a distance from the Keurig machines, the reusable filters on the K-55 keurig machine have made it possible; just detach the K-cup holders and add a cup with your favorite ground coffee.
Even though the brewer is ideal for home and office purposes, the K-55 is extensively used in homes due to its easier setup. You will love the simple touch buttons make the brewing experience stress-free.
Pros:
This classic machine from the industry-titan works perfectly.
The programmable "Auto Off" button will save energy, and the selection of three cup sizes appeals to a large audience.
Cons:
There have been reports of clogged machines, so routine maintenance of this machine is important.
---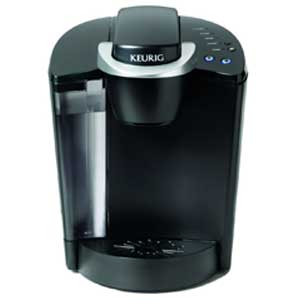 Keurig is arguably among the top industry leaders in the production of Coffee Brewers. The firm has built a significant following, thanks to its reliable products, and the Keurig K40 Elite Brewing System is no exception.
The elite brewing system is the most affordably priced single coffee brewer from the Keurig's stable. But what probably separates the coffee brewer from the rest of the pack in the best single cup coffee maker is the brewing power and convenience of the machine.
The single cup coffee maker will have your favorite beverage in less than a minute. This lightening speed of the Keurig k40 brewing system reviews means it's ideal for individuals who are in a hurry, especially in the morning when rushing to their jobs.
And whether you choose to have your drink from the 10 ounces, 8 ounces or 6 ounces sized cups, the Keurig mini brewer has a generous 48-ounce water reservoir that can hold up to 6 cups of water. For convenience purposes, the brewer features a detachable drip tray that allows you to remove it and instead use travel mugs and coffee storage containers.
Pros:
Boasting a 40-second brew time and easy-insert coffee capsules, this elite machine is one of the industry leaders.
A large water reservoir and choice of pour sizes are favorable for a shared unit.
Cons:
---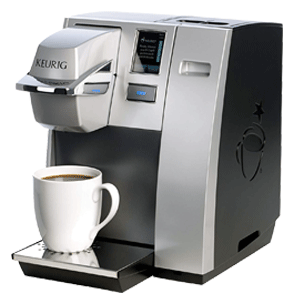 Designed to impress, the Keurig K155 Office PRO has features that coffee enthusiast would like to have on their brewer. And that's not all; the Keurig k155 commercial brewing system is perhaps the most technologically advanced brewer that features a full-color interactive screen menu.
The programmable feature will allow you to command a myriad of tasks such as auto on/off command, brew temperature, and setting the preferred language (Spanish, English or French).
The Keurig k155 office pro is great at brewing the perfect cup of coffee, tea, hot cocoa, or iced beverages in less than one minute, using the hands-free button operation.
The brewer has a choice of four cup sizes and provides a detachable drip tray that accommodates travel coffee mugs and a drainable internal hot water reservoir for storage or transport. Sporting a 90 oz water reservoir, the brewer is ideal for a large group and can serve several cups without the need of refilling.
Pros:
This gorgeous café-inspired unit brings the coffee shop into your kitchen.
Its sleek design, programmable touchscreen, and shiny silver face make this unit very desirable.
With four brew sizes and a 90-oz water reservoir, you can start taking people's orders with this machine, as long as you're willing to pay top dollar for it.
Cons:
This expensive boat anchor has been very disappointing.
---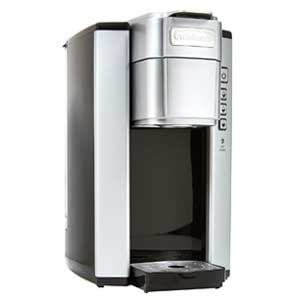 Great coffee tastes to suit the need o everyone is now easier with the splendid Cuisinart SS-5 Single Seve Brewer. The single-serve brewer is K-cup compatible and features a 40oz water reservoir with three serving options.
You can choose from 10,8, or 6 oz, and brew your coffee in a flash. For convenience purposes, the removable drip tray makes the filling process easier, and the 30-minute auto shut-off makes the morning departures stress-free.
Compatible with a reusable filter cup, the Cuisinart SS-5 brewer comes with a Home Barista reusable filter cup that allows users to enjoy making their favorite grounds. However, the Home Barista reusable filter cup is not included with the item.
What we like most about the Cuisinart compact single cup coffee maker is the compact design and the small footprint that makes it possible to use the brewer on just about any surface without consuming too much o the counter space.
Pros:
Ease-of-use is the focus of this machine. It is a simple, robust unit that requires a single press of a button to operate.
The 40-oz reservoir makes adding water infrequent, and the K-cup compatibility makes things easy.
Cons:
This no-frills, no-nonsense machine is perfect for people who want their coffee and nothing more.
---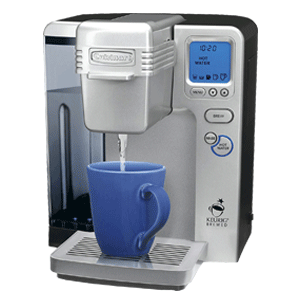 Although its price is slightly higher than that of some of the other Cuisinart single serve brewers available, the SS-700 features a better thought-out, technologically advanced compact design, and also comes with an overall easy to understand – and even fun – learning curve.
Allowing you to make the most of the well-known K-cup system from Keurig, and also being able to brew exceptional coffee at adjustable temperatures ranging from 187 to 192 degrees.
This Cuisinart SS-700 coffee maker can also give you the option of easily customizing the strength and flavor of the ground coffee you use with it, and the easy to read LCD control panel makes operation extremely fast and straightforward.
Some of the main features of the coffee brewing systems include:
A compact, lightweight design allowing for portability at only about 16 lbs – quite lower in comparison with other hi-tech single serve coffee makers;
A straightforward filtration system that makes it easy for you to use your own fine ground coffee to prepare the most delicious beverages in accordance with your taste and preference;
Detailed instructions provided along with the package that allow you to learn how to make your favorite beverages much more quickly and without much difficulty using the Cuisinart SS-700.
Pros:
This machine has everything you might look for in a coffee maker.
Fortunately, the generous price tag helps you overlook these potential concerns. The huge reservoir and programmable options make this machine great for a family to share.
Cons:
It has all the bells and whistles, and this, unfortunately, leads to some maintenance and reliability issues.
---
Save yourself from the hassles of refilling the water reservoir after several cups; featuring an 80oz water reservoir, the best Cuisinart SS-780 single serve coffee maker will effortlessly entertain a large party and also serve the needs of all your family members with a single brew.
To keep your water purified while you make coffee, the SS-780 comes with "impurity-remover" charcoal filter. For coffee enthusiasts who love using their coffee, rather than getting the pre-packaged ones, the Cuisinart coffee maker uses a K-cup and the reusable MY K-cup.
The reusable MY K-cup allows users to choose their favorite gourmet ground coffee while brewing. In case you've a larger mug to fill in, the removable drip tray allows you to detach it from the machine and place your mug.
The removable drip tray also comes in handy during the cleaning process since it makes it an easy task to disassemble the art and conduct a thorough clean.
With regards to the appearance and shape, the Cuisinart SS-780 coffee brewing system comes with a visually appealing boxy shape with contoured edges that will complement any kitchen. The machine also features a square-shaped LCD on the fascia, with three switches for brewing, hot water, and rinsing.
Here are just a few of the additional features and advantages you may want to know about before buying this Cuisinart single serve coffee maker:
Specific on/off times, adjustable temperatures and pre-heating options for extremely flexible brewing;
A reliable automatic shutoff feature that takes all the the risk out of leaving the appliance on for too long;
Quiet and reliable functionality through a well-crafted design that's built to last.
Pros:
Stylish silver and a complex display make this unit stand out.
It is a futuristic way to get your daily cup of coffee.
The customer is limited to the mug size that can fit under the nozzle, but the 80-oz water reservoir makes it easy to fill up cup after cup.
Cons:
There have been reports of clogged machines.
---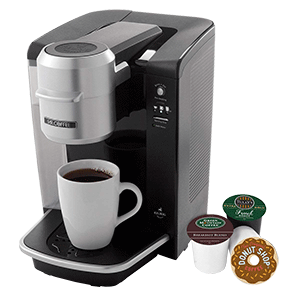 Featuring the Keurig brewed technology, the Mr. Coffee Single Cup Coffee Brewer machine allows you to make a gourmet of your favorite beverages like coffee, hot chocolate and much more.
With more than 200 K-cups varieties to choose from, your perfect cup is seconds away. This single serve coffee brewing machine is among the least expensive that are compatible with the K-cups.
However, the price should not deceive you on its pragmatism. The coffee brewer offers the best from Mr. Coffee with regards to the manufacturing design and plenty of helpful features.
Its distinctive compatibility with 'My K-cup" reusable feature allows you to brew your tea or coffee pods. Featuring a 24-ounce reservoir, the Mr. Coffee single-serving coffee maker can hold several cups of water before refilling.
Also, the brewer exhibits versatility, since it provides you with three different brew-size (6, 8, and 10 ounces) selections to suit your needs. The different selection sizes allow you only to brew what you feel comfortable with.
Most coffee brewers find Mr. Coffee coffee maker is easy to use, excellent flavor and fast (pre-heats water in seconds).
Pros:
This machine looks great and works great. With an option of silver, red, and black, you can add a little aesthetic flavor to your kitchen.
The price is fair, and the unit comes with a starter pack of coffee capsules.
Cons:
Even a tall mug can fit under this reliable machine.
---
How To Choose Best Single Cup Coffee Maker?
There are plenty of factors that we factored in our pursuit of the best coffee maker. Below are just some of the factors.
Programmability
One of the key consideration you should take into account is the programming functions of the coffee machines. Does the machine allow you to set an auto-brew at a specific time of the day so that it's ready at a particular time, or can you adjust the heat and strength settings?
Even though the programming features are not always necessary if you are in search of a basic coffee machine, they are handy to have.
Extra Features
What are some of the auxiliary features do you prefer in your coffee maker, aside from the basic components.
Some of the auxiliary features that were high in demand include the auto shut off feature, that shuts the coffee machine once the brewing process was over, and a brew-pause feature that halts the brewing process once you remove the pot from the power source.
Capacity
Different coffee makers have different brewing capacity; some are large enough to brew 4 cups, while other are enormous and can brew up to 8 to 12 cups of coffee.
Versatility is also an important aspect to consider with regards to size. Choose a coffee maker that can brew any size of coffee cup .i.e. if it's the 12-cup coffee sized coffee maker, ensure it can comfortably brew a smaller capacity like 2 cups.
Filter Process
Some of the first-rate coffee makers sometimes come with a special water filter that aids in the removal of impurities from tap water for a tantalizing cup of coffee.
Coffee makers that do not utilize the filter technology either have a disposable paper filter or reusable filters. With the latter, you'll have to purchase the filter papers when you run out, which is an additional cost to factor in.
Convenience
Convenience in the coffee machines manifests in different ways. For example, with some machines, you've to do the actual process of measuring coffee grinds, while in others, they offer a grab-and-go coffee brew.
---
Final Verdict: Best Single Serve Coffee Makers
Single serve coffee makers are available in a variety of styles, colors, designs and offer different functions to meet the need of every brewer.
While the budget should be the first thing to consider when making a purchase, you should aim at striking a balance between the cost, pragmatism, and functionality.
Find a coffee machine that addresses your needs a possible, while keeping the cost to a minimum. Our single cup coffee maker review guide has included the top picks in the industry.
Related Articles