Quick Summary: You might be in a daze after scrolling through countless percolators available on the internet. We understand the frustration and the feeling of cluelessness that builds up after finding so many products but not the best one. Well, we have the answer to your problem as our team believes that Presto's 12 cup stainless steel coffee maker is indeed the best device to have. With the capacity to make 12 cup-these percolators are ideal to use for serving a large group. The exquisite look given to these stainless steel percolators makes them perfect for serving. The multiple benefits that you get in this percolator along with its affordable price range make this the best percolator of the year. Detailed reviews and product descriptions of other brands have also been added to this article so that you can make a well-informed decision for choosing a cup percolator.
Percolators were invented in 1819 and since then they have undergone several changes. Modern percolators represent a harmonious blend with their functional purpose to be the same as that of traditional percolators but they are paired with innovative technology and features.
The difference between a percolator and a regular coffee making machine is that a percolator uses water to go through the coffee grounds countless times which results in enhancing the bitter, strong taste of coffee beans.
Similarly, with percolators, you get the ease of making strong coffee for a large group of people within a short period of time. Also, a percolator can be used to cook on stovetops, while many percolators are designed to work through electricity.
However, using a percolator initially could be challenging and a good understanding of brewing procedures is needed to excel in this science. An alternate option to this is that one should buy a good quality, well-constructed percolator.
Most percolators that are currently available in the market are user-friendly and equipped with multiple features like detachable cords, permanent filter basket, ergonomic handle, tight fitted see-through lid, etc.
Therefore, rather than opting for distasteful coffee sachets, you should invest in the best coffee percolators to enjoy a strongly brewed coffee.
Quick Navigation
---
10 Best Coffee Percolators Comparison
| | | |
| --- | --- | --- |
| | Sip away warm freshly brewed coffee with the keep warm heater of these coffee percolators. It can instantly heat up 2-12 cups of water that can be used to make coffee, hot cocoa, tea, etc. | Read Our Review |
| | The smartly designed structure of this percolator has been made perfect with a mirror finish polish. Designed with the finest quality of stainless steel, these percolators can be used to make 8 cups of coffee in one go. | Read Our Review |
| | This percolator is ideal to use for smaller groups as it has the capacity to warm up 4 cups of coffee. These compact percolators come with a stainless steel basket, lid, spreader, and power cord. | Read Our Review |
| | Powered with a 500 watts heating system, this percolator can quickly brew 2 to 6 cups of coffee. With these percolators, you don't have to wait anymore as it will update you with its ready to serve indicator light. | Read Our Review |
| | Enjoy the simple joy of coffee brewing with Cuisinart's percolator. Made with stainless steel and paired with a stay-cool handle and indicator light-these percolators are simple and easy to use. | Read Our Review |
| | Made with heavy-duty 18/8 stainless steel-these percolators will bring a new taste to your coffee. With these percolators, you can make a mess-free coffee as they are easy to clean and also dishwasher safe. | Read Our Review |
| | This stainless steel percolator is the ideal device to make and prepare 12 cups of frothy, freshly brewed coffee. With a lifetime guarantee-these percolators will be the safest purchase for you. | Read Our Review |
| | Compatible with every 120v outlet, this 1.7-liter electric kettle will serve you with freshly prepared coffee in a matter of minutes. Its auto shut off feature will save your kettle from boiling dry. | Read Our Review |
| | Stay energetic and active with flavorful coffee prepared in a GSI percolator coffee pot. The three-ply construction of these pots will ensure that your coffee is brewed to perfection. | Read Our Review |
| | Created with durable stainless steel-these coffee makers can quickly prepare 2 to 12 cups of coffee for you. The elegant looking structure of this maker is specially designed to be easy to clean and manage. | Read Our Review |
---
Reviews of Top 10 Coffee Percolators
Below we will be discussing the top 10 percolators and some of their pros and cons: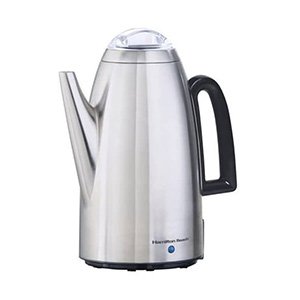 What You Will Love: These sleek looking percolators will satisfy your taste buds with all the authentic flavors of coffee. Host a party of 12 people and serve them with fresh coffee made with Hamilton's electric percolators. Its detachable cord makes it suitable for tabletop serving and also easy to store.
With Hamilton's electric percolator, you can easily carry out the task of heating water to make hot cocoa, coffee, tea, or any type of hot beverage.
Keep Warm Function
These special stainless steel constructed percolators have the capacity to store and heat 12 cups of coffee. You can enjoy any hot beverage at any time because it keeps warm heater makes sure that your beverages stay warm for as long as you like.
Additional Features
These percolators are easy to use and easier to store because they have a detachable cord. Its detachable cord makes it suitable to use for tabletop serving and does not limit your movement. Additionally, the ready to serve light will instantly inform you once the coffee is ready.
Safe Handle
Its heating system gets activated quickly and spreads heat throughout the percolator. However, you can still lift it conveniently without burning your hands through the cool-touch handle.
Pros:
Made from stainless steel
Equipped with a ready to serve light
Lets everything stay fresh and warm with its keep warm function
Cons:
Despite its strong construction-it breaks down and stops working within six months.
---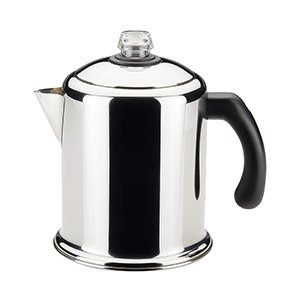 What You Will Love: This percolator is made with heavy-duty stainless steel that has been polished with the most impeccable form of a mirror finish. Designed to deliver the best-tasting coffee, tea, or cocoa- preparing hot beverages has finally become easy with this advanced percolator.
Start your day with fresh coffee or warm tea made in Farberware electric coffee percolator. Nothing can go wrong with these highly advanced stainless steel percolators.
Enhances Taste
Farberware is wide and spacious enough to hold 8 cups of water/coffee/tea. Its tightly fitted lid makes sure that the heat generated through the heater stays within the percolator and thus the taste of every single coffee bean or tea leaf is properly integrated into your drink.
Easy To Clean
Cleaning these percolators is not a difficult task-its simple structure and design has made it compatible and safe to use in a dishwasher. Moreover, its permanent filter basket already makes it easy to use as you don't have to handle the mess of paper filters.
Interior Design
The smooth interior of these percolators has another quality of being non-reactive; this means that it remains unaffected from the surrounding odors and tastes. The water you boil in these percolators has enhanced taste and is free from any odor.
Pros:
Can be used to make 8 cups of any hot beverage
Dishwasher safe
Protected with a lifetime warranty
Cons:
---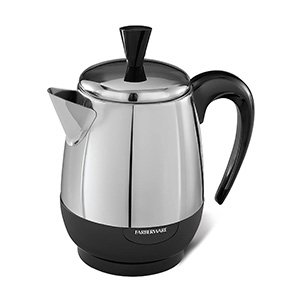 What You Will Love: Engineered with a 1000watts heating system and a special keep warm function these percolators are ideal to use for a small group. You don't need an extra-large percolator to invite your special friends, with Farberware percolator's 4-ounce capacity; you can conveniently host a party of 4 people.
This stainless steel percolator with its modern design and the highly advanced feature will definitely uplift your morning routine by preparing strong, intense, and bold flavored coffee.
Easy To Move
The best feature of these percolators is that not only can they be used for coffee making, but through its detachable cord you can easily move it around and serve your guests directly from it.
Quick Service
Its high-quality stainless steel structure contributes to making it durable. Additionally, its super-advanced heating system has made coffee on the go possible for you as it prepares one cup of coffee in one minute.
Keep Warm Feature
With these percolators, you don't have to worry about the coffee getting cold. Being a modern culinary device-this percolator has an automatic keep warm feature that activates once the coffee is brewed and prepared.
Pros:
Makes one cup of coffee in one minute
Has an automatic keep warm feature
Can be moved around through the detachable cord
Cons:
Does not create strong flavored coffee
Stops working within the first few months
---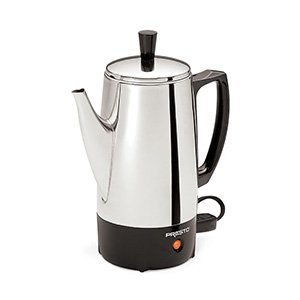 What You Will Love: Now you can prepare 6 cups of fresh coffee in one go with Presto's percolators. Its 500 watts heating system works efficiently by extracting the taste and smell of every single coffee bean and thus, with these percolators you will always have a good coffee day!
Suitable for medium-sized families and groups, this percolator with all its perks has still managed to be one of the most affordable and budget-friendly items.
Easy To Use
A cup of coffee made in Presto's percolator cannot go wrong. Equipped with various options, this percolator has made coffee making a simple process. The ready to serve light turns on instantly once the coffee is made and saves you from having an overcooked coffee.
Portability
The detachable cord system has made these percolators portable and easy to move. Whether it's a counter or a table top-you can easily move it and pour fresh coffee from it. The automatic keep-warm feature lets your coffee stay fresh and hot and keeps all of its flavors intact.
Safe To Handle
Handling this percolator is the easiest task to do. Even with the maximum heat setting-this percolator is easy to lift and touch because of its cool-touch knob and handle.
Pros:
Makes 6 cups of coffee
Easy to move with detachable cord
Designed with cool-touch knob and handle
Cons:
Not suitable for strong coffee lovers
The bottom layer is of plastic
---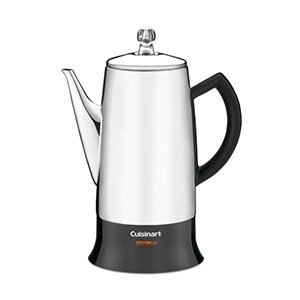 What You Will Love: Cuisinart's new model of percolator can house 4 to 12 cups of strongly brewed coffee for you. What makes it even more exciting to use is its no-drip sprout that helps in pouring coffee without spilling it and saves you from cleaning additional messes.
Elegant looking and a multipurpose product-this device will make your mornings perfect by giving you well -made coffee.
Easy To Use
The design of these percolators is what makes it outstanding. It is made with heavy-duty stainless steel that is accompanied by a long, no-drip spout. The ergonomic handle on the side adds to the overall convenience factor of these percolators.
Additional Features
If you are picky about your coffee and want it exactly according to your taste, then Cusisnart's percolator will also help you with that. The transparent knob on the top lets you monitor each and every step of the brewing process so that you can manage it as per your needs.
Capacity
These percolators are large so you can use them to make 4 to 12 cups of coffee. Its detachable cord feature gives you the freedom to detach it from the electrical outlet and use it for direct serving.
Pros:
Can make up to 12 cups of coffee
Easy to pour with no-drip spout
Has an ergonomic handle
Cons:
Does not enhance the flavor of coffee
---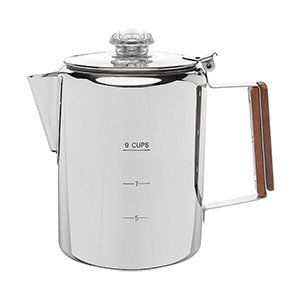 What You Will Love: Have fun-filled camping and outdoor adventures with freshly brewed coffee made in Coletti Coffee pots. This 18/8 stainless steel coffee pot can produce 9 cups of fresh coffee and functions without a cord at any and every stove.
Whether it's in your kitchen or out in the wild-these stovetop coffee pots can be easily used in any setting.
Safe To Handle
These stainless steel coffee pots are suitable and can operate with maximum efficiency on stovetops. The direct heat that these pots receive does not make it difficult to handle it as these pots are supported with a heat resistant rosewood handle.
Easy To Clean
These user-friendly coffee pots have another advantage of being dishwasher safe. The rigorous cleaning cycle of a dishwasher will not cause any damage or negative impact on the strongly built structure of these percolators.
Durability
This percolator is free from all harmful materials like plastic. High quality 18/8 stainless steel has been utilized to enhance this percolator's long-lasting quality by making it anti-rust. Even after constant and regular use-these percolators will maintain its fine quality structure and cater to all your needs.
Pros:
Made with solid 18/8 stainless steel
Consists of a heat-tempered glass top
Easy to handle with a heat resistant wood handle
Cons:
The glass lid does not close down fully
---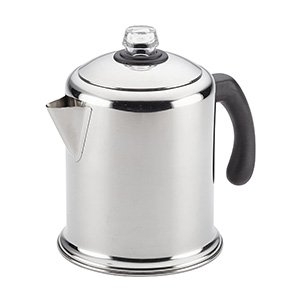 What You Will Love: This 12 Cup Stainless Steel Coffee Percolator consists of a permanent percolator filter basket that saves you from the inconvenience of paper coffee filters. It also is dishwasher safe that means you can relax with a good cup of coffee and have a chore-free day.
Add class and quality to your coffee making utensils with Faberware's classic stainless steel percolator.
Elegant Look
This chic looking, compact 12 Cup Stainless Steel Coffee Percolator will definitely complement the décor and style of your kitchen décor. Its elegant structure and eye-catching design are one of its best-selling features.
Easy To Clean
You don't have to struggle with scratches or spots when it comes to cleaning Farberware's coffee percolator. Just toss it in the dishwasher and your percolator will come out all clean and shiny like a new device. If you choose to hand wash-even then its smooth inner structure can be cleaned with ease in a matter of seconds.
Ergonomic Design
When it comes to supporting handles, Farberware's 12 Cup Stainless Steel Coffee Percolator has the most reliable cool-touch handle. Moreover, it also lets you balance the weight of the percolator by granting you a strong grip over it while you pour coffee from it.
The tightly fitting lid ensures that the heat and steam generated by the heating system do not escape and the coffee is brewed in perfect temperature conditions.
Pros:
Comes with a permanent filter basket
Safe to clean in a dishwasher
Easy to lift handle
Cons:
Poor quality knob added to the lid
---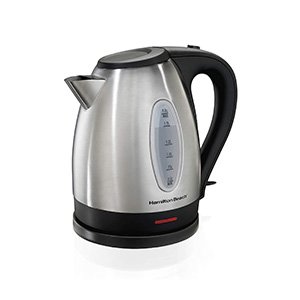 What You Will Love: The best feature of these kettles is that it can be used for boiling water, making tea, and preparing coffee. It's all one feature along with its highly advanced electric heating system makes it the perfect candidate for every kitchen and a must-have for every household.
Time and energy-saving- Hamilton's electric kettle is exactly what you need as it will let you enjoy the best cup of coffee anytime at home or in the office.
User-friendly Design
This kettle comes with a cord-free serving option. As a result of this feature, the movement of this kettle does not remain restricted to a specific place; rather you get the liberty of using it with ease without the problems of wires and cords.
You also get the convenience of safely pouring hot beverages directly from it with the simple push-button that is installed in its lid.
Additional Features
With its easy to view window, you get the opportunity to follow specific measurements that are needed to make a perfect cup of coffee. Its specially designed drip-free spout keeps your hands protected from burning and pain of accidental spills.
Automatic Features
These kettles have an automatic shut off feature, so once the heating system detects that your beverage is ready, it shuts itself off so that the quantity of your drink does not reduce by boiling away.
Pros:
Can be moved around easily with the cord-free feature
Easy to pour with push button lid
Has an easy to view window level
Cons:
---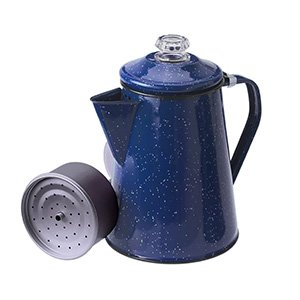 What You Will Love: Available in multiple colors with a shiny polish-these visually appealing coffee pots will serve you with the best cup of coffee. Its capacity to store 1.2 liters enables it to prepare a minimum of 8 to a maximum of 12 cups of coffee.
With a well-built structure and a reliable lifetime warranty, this coffee percolator set is the ultimate product to have.
Smart Design
Having a three-ply construction gives this percolator an added advantage by ensuring maximum heat distribution. You also get the option to visually witness the progress of the brewing process through its unbreakable resin cap.
Durability
This beautifully designed percolator is made with heavy-gauge steel that is coated with an enamel finish. The high-quality construction of these percolators makes it strong enough to resist the impact of scratches and chipping.
Portability
Despite its apparent sensitive structure-this the percolator is portable and can be easily used in a campsite, RV, cabin, farmhouse. Moreover, you get the chance to benefit from its lifetime warranty deal at any time.
Pros:
Available in multiple colors
Can be used to make 8 to 12 cups
Comes with a lifetime warranty deal
Protected with an unbreakable resin cap
Cons:
Poorly designed nozzle
Bad packaging damages the product
---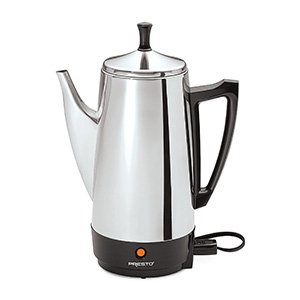 What You Will Love: Fill your day with the energy of freshly brewed coffee made in Presto's coffee maker. This high-quality percolator prepares a maximum of 12 cups of flavorful coffee. Its simple classy design is easy to maintain and easier to clean.
Excel the subtle art of coffee making with Presto's high-quality stainless steel coffee percolator. The heating system of this coffee maker allows it to prepare one cup of coffee in one minute.
Keep Warm Feature
You can brew 2 to 12 cups of coffee in these percolators that will remain fresh and warm through its automatic keep warm feature. The highly active signal light will let you know once your drink is ready. Its easy-pour spout will let you serve coffee with style and elegance.
Additional Features
This coffee percolator comes with a filter basket and a perk tube. Like the percolator, both the basket and tube are made of stainless steel that makes it durable and lightweight. You also remove the attached power cord anytime and easily store these percolators anywhere.
Smart Features
The traditional design of this percolator is paired with a signal light that instantly turns on to indicate that the coffee is ready. With a rate of one coffee per one minute-making instant coffee has become a whole lot easier with these percolators.
Pros:
Makes one cup of coffee in one minute
Elegant looking and perfect for direct serving
Made from high-quality stainless steel
Cons:
---
How to Choose the Best Percolator
Choosing the best percolator really depends on your wants and needs. Most people either love them or hate them. Percolators are great because they make good, hot, and strong coffee that can meet any coffee lover's wants. If you are wondering how to choose the best percolator then the following points will be helpful.
Stove Top or Automatic
Stovetop percolators are very easy to use and even easy to clean. The downfall is that they are difficult to regulate when it comes to temperature.
When the stovetop percolator is done, all you have to do is take it off the stove. Some of the automatic percolators have a "warm" setting and that can burn the brew.
Make and Design
It is always a good idea to read the reviews when it comes to the different makes. Some people use filter paper disks to prevent the grounds from seeping through, and some use a coarser grind, but that can cause loss of flavor.
Ease of Cleaning
The automatic percolator may be faster and easier to heat up, but will not be as easy to clean, since it is electric. The stove top can be easily cleaned with soap and water and some even dishwasher safe.
Speed of Percolation
Determining how fast you want your coffee in the mornings will determine if speed is important. Questions to ask! how long it takes to come up in temperature, when it switches in percolation mode, how long before the brew is ready? This may be a deciding factor when choosing a percolator.
---
FAQs
What Is a Percolator?
A coffee percolator is a type of pot that is used for the complex brewing of coffee. It works by continually cycling the boiling brew through the grounds using gravity until the required strength is reached (Wiki, 2016).
Percolators expose the coffee grounds to higher temperatures than other brewing methods, which results in a wonderful aroma and more robust coffee.
What Makes the Best Coffee Percolator the "Best"?
It is important to choose the best percolator that will fit your needs.
Is clean up important? Does it matter how many cups of coffee it can make? Can it even be used for other things besides coffee?
No need to stress because there are many different percolators available to fit anyone's needs.
How Big Is the Capacity?
The bigger the capacity the more coffee that will be produced. Look for one that can serve up to 12 people because that will offer more cups for about the same price as the smaller percolators.
Also, check to see if the percolator comes with a barrier between the coffee grinds and when the coffee will be poured out of.
Related: Best Home Espresso Machine
What Kind of Coffee Will You Be Brewing?
There are many different types of coffee to choose from, but when using a percolator there are certain kinds that work better with percolators.
It is better to choose a medium roast with percolators because the dark roasts can end up tasting bitter when they go through the percolator.
Choose a stainless steel percolator because it will be able to keep the coffee warm longer and you will be able to keep up with how hot you want the coffee to be. Medium roasts maintain their flavor when they are percolated.
What Will the Percolator Be Used For? Single Servings? Gatherings?
If you are going to use your percolator for camping choosing a medium sized percolator that comes with a plastic handle, instead of a metal handle.
Choosing one with a fill line can make the water measurement easy and one made of stainless steel will be able to take abuse when hiking. If you are looking to use your percolator for just a couple of cups of coffee, try a small percolator.
One that will make about four cups and a smaller one will be easy to clean. If you will be using a percolator for large gatherings then an automatic percolator will be easier and quicker.
Related: Best Single Serve Coffee Makers
How Strong Do You Want Your Coffee?
Some people actually prefer percolators over automatic drip coffee because they can brew rich, full bodied coffee that is full of flavor.
When using a percolator one has the power to control how long the coffee percolates, which will affect the flavor and strength of the coffee. This is why a stovetop percolator would be the best choice.
Related: Best Coffee Maker
Can It Be Used for More than Just Coffee?
Finding a percolator that can be also used for tea is an added bonus. Most percolators can be also used to brew tea. Choosing a smaller percolator would be best for this multiuse.
---
Our Recommendation for the Best Coffee Percolator
The best percolator is the Hamilton Beach 12 Cup Electric Coffee Percolator. If you are looking for a fast and easy percolator then the Hamilton Beach one is the best choice. This percolator is made out of stainless steel and does not have aluminum on the inside.
If you are in a hurry and want a delicious fresh cup of coffee or have many guests who want coffee the Hamilton Beach 40614 Twist Lid Percolator is the right one for the job. Easy viewing window and easy serve spout are helpful for no spills.
We hope that our buying guide for choosing the best percolator and the 10 different best percolator reviews were helpful. If you are looking for a two-cup or a 12 cup they have many different brands and sizes.
We appreciate if you would let us know if you have any comments and if you would share this on social media.
More Related Articles:
---