Quick Summary: A quick search on the internet will convince you into thinking that every available cooker is the best, however by the end of the day you will only be confused. To make this complicated procedure easy for you-our the team tried and tested several brands and found the VitaClay VM7900-6 Smart cooker to be the best! We have added detailed reviews of other brands as well so that you can compare all the good quality cookers and ultimately find the best pressure cooker!
Through the invention of fast food, fast cooking has become a common phenomenon.
In today's fast-paced life routine, everyone wants quicker, easier, and reliable options to perform daily tasks. Previously, with traditional tools and accessories-cooking was considered more of a burden. However, modern technology made cooking chores simple and easy for everyone.
Multicookers are one of those devices that have contributed tremendously in making hassle-free cooking a reality. Regular cookers were also a good invention however, it had to be operated manually-plus limited and difficult features had made it a not so safe device.
Multicookers successfully overcame all the flaws that a regular cooker had. Mainly these cookers can be used for a variety of cooking purposes including cooking, steaming, boiling, frying, deep-frying, baking, etc.
The interior of multicookers has a nonstick coating that allows you to cook anything and later clean it off easily. Similarly, with preset timers, your food doesn't burn or is never left to be undercooked.
For fitness freaks, a multi-cooker does the trick of preparing delicious and healthier meals as these cookers need a very low amount of oil for cooking. Moreover, these cookers ensure that the vitamins and nutrients of different food ingredients don't get spoiled.
If you are aiming to cook healthier, tastier foods with minimal preparation and easy steps-then buy a multi-cooker today. Read our in-depth best multi-cookers' review to choose the best one.
Quick Navigation
---
Comparison of 10 Best Multi-cookers
| | | |
| --- | --- | --- |
| | Accompanied by an unglazed organic clay pot, this cooker pot is ideal to be used for cooking rice and grains and also for yogurt preparation. It is known for cooking food 4 times faster than regular cookers. | Read Our Review |
| | Designed with 10 cooking settings, this pressure cooker set will be your perfect cooking companion. With its highly developed fuzzy logic technology, it is able to adjust the temperature settings to prepare every type of meal. | Read Our Review |
| | Prepare delicious meals to serve at parties and dinners with the 6 quart capacity of this cooker. Main components like the inner nonstick pot and glass lid are BPA free and easy to clean. | Read Our Review |
| | Prepare rice, meat, and even yogurt through the multiple cooking options of this cooker. This pressure cooker uses less energy but it's 1000 watt powered engine makes everything to perfection. | Read Our Review |
| | Cook any delicious meal with Bella's new cooker. Designed to make cooking easier, this device is versatile because of its 10 cooking functions. A steam release valve, an airtight locking lid has been added to it for safe cooking. | Read Our Review |
| | Prepare a hearty meal for 6 or more people using the 5-liter bowl of JML cooker. This cooker can perform all main cooking functions like roasting, steaming, frying, and slow cooking. | Read Our Review |
| | This compact-sized cooker is no less than a magical device for cooking food. Its unique feature is that it is able to prepare any meal with just one drop of oil. Moreover, its advanced features make it an energy-saving device. | Read Our Review |
| | The 6 quart capacity of this cooker will let you cook a meal for 7 or more people. It consists of dual rack feature that allows you to roast and steam items at the same time. | Read Our Review |
| | Perfect to cook any sort of meat, this cooker will prepare every meat dish faster than any other device. Food prepared in it is not only delicious but is always fresh with its keep warm feature. | Read Our Review |
| | This cooker is the perfect cooking device to have as it has 12 cooking features that save you from the hassle of complicated cooking procedures. Additionally, it comes with a fully functional 1-year warranty. | Read Our Review |
---
Reviews of 10 Best Multi-Cookers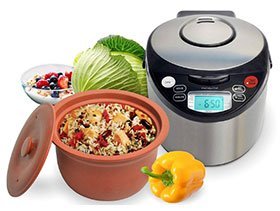 This cooker functions as a rice cooker, food steamer, slow cooker and a yogurt maker. The cooker is very easy to use and programmable.
The use of a clay pot makes this cooker a standout in this list, benefits of clay pot includes intensifying flavor and sealing of vital nutrients and vitamins during the cooking process.
The clay pot is also not sticky making it easy to clean. The VitalClay Smart Organic Multi-Cooker several functions will include making tasty stew and soup, porridge, rice and pot roast.
It comes with a recipe booklet containing over 30 original cooking recipes by the in-house VitaClay Chef Suzanne.
There are two primary reasons why clay pot better the metal ones, clay is porous, and this allows for heat and moisture to flow throughout the pot.Clay is also alkaline, it mixes with the acidity of the food and neutralizes the pH balance.
Pros:
Consists of a unique clay pot that enhances flavors
Four times faster than any regular cooker
Free from lead, aluminum, and harmful chemicals
Keeps food warm always with its automatic warmer feature
Highly versatile and can be used as a steamer, yogurt maker, and rice cooker
Cons:
Time consuming and warms up everything very slowly.
---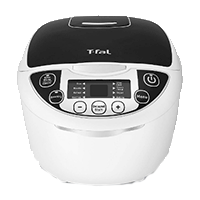 Just like the name implies, this multi cooker is smart.
It comes with 50 preprogrammed recipes which give you a plethora of choices for dinner, 22 of these recipes are for vegetarian, and 33 recipes can be cooked in less than 15 minutes.
It is the perfect cooker for those who live a very busy life and cannot afford to waste much time in the kitchen.
The control panel is smart and very easy to use, its interfaces compose of four menus, they are the ingredient menu, recipe menu, manual mode (allows you to take control) and a favorite menu for saving the favorite recipe.
Features of the Tefal Intelligent multi cooker includes having a large 6-liter capacity, a non-stick ceramic coated bowl, automatic setting of recipe times and cooking temperature and an interactive LCD.
It is one of the most expensive on this list, but its smart and intuitive features plus being a large capacity cooker makes you not want to complain.
Pros:
Adjusts cooking settings itself through the fuzzy logic technology
Its micro pressure valve keeps the natural aroma and flavor of food intact
Easy to operate through the push-button control panel
The nonstick inner pot is removable and easy to clean
Cons:
Makes rice soggy very quickly
The given instructions are hard to read
---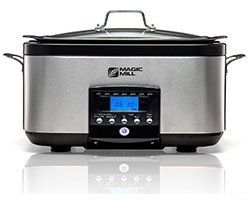 As mentioned earlier, Crock Pot is known for its slow cooker and here is one of them but with some extra functions.
This cooker slows cooks, and it steams, roasts sautés and bakes. This Multi Cooker comes with five pre-programmed smart functions that allow you to make your meals easily and conveniently.
You can also manually alter the time up to 12 hours using slow cmethod ooking and the temperature too, giving you total control of the appliance. With a large 5.6-liter capacity, this cooker can make meals that will feed a whole family.
The manufacturers included 29 recipes including Thai Style Themed Fish and Noodle Stir Fry, all you need do is a little preparation and assembling of ingredients while the cooker handles the rest.
This cooker is one of the best in the market with traditional slow and multi-cooking functions.
Pros:
Has a capacity of 6 quarts to prepare bigger meals
Cooks and browns every ingredient through even heat distribution
Every part is safe to use and is BPA free
Equipped with multiple cooking settings
The wide LCD screen allows operating this cooker with ease
Cons:
The metal handle of the lid gets hot very quickly making it dangerous to hold
---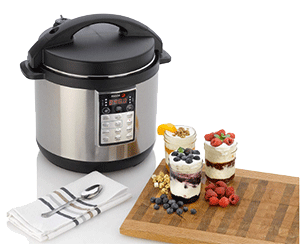 This is a pricey one, but it is worth its price. The unit comes with the essentials; a recipe booklet and a user manual.
It is a 4-in-1 cooker; it can function majorly as a Yogurt maker, electric pressure cooker, rice cooker, and slow cooker.
Other minor functions include brown, stew, steam and sauté; all these functions combined to make the Fagor Lux a complete package.
The cooker comes in three colors; silver, champagne, and copper, so if you are not a fan of silver colored utensils, you can go for the other variants.
Technical features of the Fagor Lux are pressure cooking, which means your meals are cooked faster than they would with traditional cookers.
It's slow cooking function allows you to make stews and soups, alternating between high and low temperatures, you can add ingredients in the morning, and dinner will be set by evening.
The yogurt maker functions make things more interesting; the cooker will pasteurize the milk and prepare your yogurt.
Pros:
Cooks food on pressure through high and low options up to 99 minutes
Its slow cooking feature can be used up to 10 hours
Keeps food warm for 12 hours
Can be used to cook meat, grains, dessert
Comes with an easy manual and helpful recipe book
Cons:
---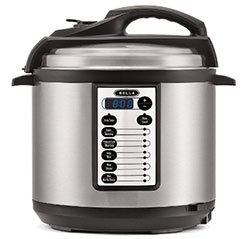 The first thing you notice here is how appealing this cooker is to the eyes plus its large LCD.
It has a large 6-litre capacity, that is a meal for the whole family in one cook.
With its fast and slow functionalities, it can cook your meal faster seventy percent faster than traditional cookers.
The large display mentioned earlier is 12 one-touch digital function for varieties of family meals.
Features to make you love this cooker are it easy to clean thanks to its non-stick coating, loud alarm when the lid is not shut; it can slow cook for up to half a day and multi-function cooking.
The Bella Multi-Function Electric Cooker comes with a year warranty plus gifts such as a spoon, steaming rack and an 11 recipes booklet.
Pros:
Cooks every type of meat 70% faster
Equipped with 10 cooking features to cook a variety of food items
Comprises of steam release valve, airtight locking lid for extra safety
Cooking settings are easy to start and turn off with one-touch technology
Cons:
The nonstick coating of the inner pot comes off easily
The user manual does not cover instruction for critical issues
Related: Stainless Steel Rice Cooker Buying Guide
---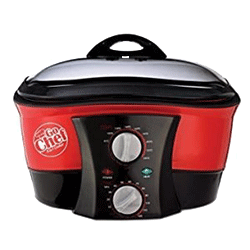 This 8-in-1 multi cooker allows you to do anything from roast, bake, sauté, fry, slow cook, boil, to steam.
It has a large 5-liter capacity which is enough to make meals for a family. A non-stick coated plate makes cleaning very easy and fast.
At a very pocket-friendly price, you can get this cooker that can cook anything from a breakfast fry-up to a full Sunday roast.
It also comes with a recipe booklet! Containing over 30 recipes allowing you to try new meals. One feature missing here is pressure cooking, a big omission!
So it is a bit slower than most of the other cookers listed here but that asides, you have a versatile compact cooker that will not take much of your kitchen space.
Pros:
Consists of a giant 5-liter bowl
Can make a meal for 6 people at one time
Adjustable temperature setting with 20-degree increment
Can be used to roast, steam, bake, fry, slow cook
Cons:
Cooks meat very slowly
Does not come with a warranty deal
---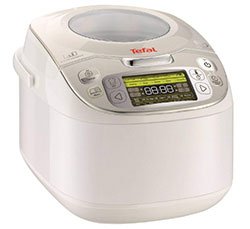 This cooker takes versatility to another level, it has 45 cooking functions! Hence the moniker 45 in One Multi Cooker.
You can bake, steam, fry stew, prepare soup and brown with this cooker and take it a bit further it can also perform specific functions like Porridge, risotto, rice and yogurt, this is just a preamble to what the Tefal Advanced Multi Cooker can do.
The cooker comes with loads of accessories including a steam basket, rice spoon, soup spoon, measuring cup, and a spoon rack.
Features of this cooker include having a large capacity bowl; 5 liters, automatic adjustment of cooking time and temperature based on the ingredients used.
Pros:
Works well with meat, rice and can even prepare yogurt
Makes food with one drop of oil
Cooks food faster and uses less energy
Cons:
Even after a thorough cleaning, the smell of food stays in it
Develops a burn mark on high-temperature settings
Works very slow
---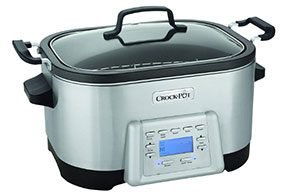 The Crock-Pot brand is known for its slow cookers but has since evolved. This multi-cooker can slow cook, sauté, bake, brown, steam, and roast.
Switching from one function to the other is done with ease by just pressing a button. The easy switching of function makes it easier to prepare recipes that involve more than one form of cooking.
Its large inner pot is ideal to feed a family of six, and the glass lid makes it easy to observe what's going on in the pot.
Features of the Crock-Pot Stainless Multi-Cooker include five touch settings to sauté, slow cook, roast, bake and steam, the dual-position rack for steaming and roasting and glass lid. For a very affordable price, you get this versatile cooker that is made so easy to use.
Pros:
Designed with a 6 quartz capacity
Prepares food to serve 7 or more people at one time
Equipped with five cooking settings to add variety to the meal
Consists of two racks for roasting and steaming at one time
The rack, lid, and inner pot are dishwasher safe
Cons:
The nonstick coating comes off easily
The slow method setting is too low and slow
---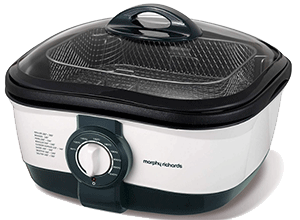 A very low priced cooker, this is one to get in if you do not have much cash set aside for multi cooker. It has a 5-liter bowl, so, it can prepare meals for a family.
The glass lid makes things easier as you can see what is going on inside the cooker. It does not come with a recipe booklet, a bit of a letdown; I am a fan of recipe booklets! Just an instruction booklet to help with the easy to use.
The features I like about the Morphy Richards Multi Cooker include 8-in-1 functions for cooking styles, no need for backup appliances in the kitchen, a clear temperature display eases cooking with precision and large capacity bowl.
Accessories here include a frying basket and a steaming rack. The things I do not like include the lid be tricky to fit on sometimes and the cooker proneness to burning food.
Pros:
Food stays warm and fresh with its keep warm feature
Can be used for deep frying with the provided frying basket
Warms up quickly and prepares dishes faster
Cons:
The liner coating is designed poorly and becomes useless after minimal use
Too large and takes a lot of space
---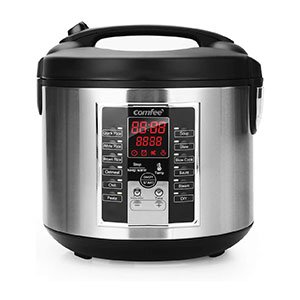 What You Will Love: 12 unique cooking settings have been installed in this cooker so that you can prepare any meal with ease and convenience.
The structure of this cooker is such that it can prepare 10 to 20 cups of rice, 3-6 pounds of meat, or even a whole chicken in one go, thus making it ideal for regular use and special occasions.
This stainless steel with a nonstick coated inner pot is BPA free and will be a perfect addition to your kitchen appliances.
Easy to Use
Its digital panel has multiple cooking options and is paired with an LCD clear display that makes it simple to operate and easy to work with.
High-Quality Features
The highly advanced technology used in this cooker enables it to automatically shift to its "keep warm" feature that keeps food warm for 12 hours. Moreover, the 24-hour time delay feature is added to ensure that you have a more relaxed cooking schedule.
Safe to Carry
The cool-touch handle on top of the cooker remains unaffected by any high setting and thus, you can carry or move this cooker around without the fear of burning your hand.
Pros:
Comes with a 1-year warranty deal
Has the capacity to cook and prepare bigger meals
Durable and safe structure that is certified by UL.
Cons:
---
How to choose the best multi-cooker?
When searching for the best multi-cookers, certain features and functionalities must be considered, these features differ from different personalities and needs of users and they include durability, ease of use, how easy it is to clean the cooker, smart features, best value for money, non-stick property, and its functionalities.
You should also look out for extra features such as pressure cooking and slow method functionalities are also very vital!
Easy to clean
Before choosing a multi cooker, it is important to make sure that it is to clean. It is convenient if the multi cooker parts can be effortlessly disassembled and assembled, so it is easy to clean.
Smart Features
Inclusion of smart features such as temperature control and preprogrammed functions makes preparing your daily meals very easy.
Non-Stick Properties
It is important to look at the interior coating and how much area it covers. Wider area coverage and thicker non-stick coating will make the non-stick properties of your multi cooker last longer.
As regards to functionalities, a multi cooker is supposed to be able to serve several kitchen needs including frying, stewing, slow cooking, baking, browning, and roasting.
Frying
Mainly used for frying those quick bites like French fries, fried chicken or chicken nuggets.
Stewing
This function allows the multi cooker to automatically lower the temperature gradually after your food comes to a boil until the timer runs out.
Baking
This function allows you to make those sweet goodies minus the hassle of dealing with an countertop microwave oven.
Roasting
Again, saving you the hassle of an oven. Making a roast chicken has never been easier. This function smartly controls the moisture through temperature, so you get a perfectly juicy roast.
Related Article: Best Roaster Ovens
Slow Cooking
If you are a very busy person, then slow cooking is highly crucial to you, as you can mix ingredient in the cooker in the morning and come home in the evening with dinner being set already.
Steaming
For steaming up those sides of veggies and potatoes. There are some multi cooker that perform almost every single kitchen need excellently; those are the ultimate!
Related Article: Best Vegetable Steamers
---
Our Recommendation for The Best Multi-Cookers
All of the cookers listed above are great, and some are unique like the VitaClay Smart Organic Multi Cooker, the only one with a clay pot.
The VitaClay Smart Organic Multi Cooker is a standout in this list, the use of clay instead of metal for the inner pot ensures nutrient are sealed, and you make more flavored food.
The Tefal Intelligent Multi Cooker is another amazing one on the list thanks to its smart functions, but the one that ticks all boxes here for us is the Crock Pot Multi Cooker, it has a non-stick bowl, is durable and very easy to clean, but these are basic.
Let's look at its sophisticated features; it is a traditional slow cooker that has been upgraded to function as a multi cooker, it slow cooks, sautés, steams and roast. So you have incredible slow cooking and so much more!
Being a large capacity cooker, you can make a meal for a whole family, and I like how the makers included some delicious recipe in it, 29 in total, to allow you try some new delicacies.
This same cooker has some smart features thanks to the five preprogrammed functions that come with it.
Crock-Pot cookers are known to be durable so you can trust that the Crock Pot Multi cooker will be with you a while.
So you have a cooker that can do almost everything you would expect a multi cooker to do and well too, all for a very affordable price and best all the other cookers listed here as it can do what they can do and even better.
Related Articles
---