Quick Summary: When deciding which is the top stovetop pressure cooker, we gave the Fissler FISS 60070008079 the top award because of its size, durability, and ease-of-use. Made of high-grade stainless steel, it's built to last. Additionally, it's low-maintenance and doesn't make noise. With its positioning aid, you can easily lock down the lid. And it's designed with optimal safety in mind.
You need the right tools when it's time to prepare your meals and enjoy it with your friends or family. Aside from making the cooking process convenient, cooking tools also help make a good impression on clients and more.
We shall be looking at some of the best stovetop pressure cookers on the market. What is this tool exactly? Well, it's a unique pressure cooker that you can use to cook meats, vegetables, and more.
If you are not aware, pressure has been a quick and convenience-inspired technique for hundreds of years. While it has recently just come into proliferation, pressure cookers are excellent for various types of cooking.
Before investing in a stovetop, it's right if you get your pressure cooker from the right brand. These might include considering material constructions, safety features, easy to use, the brand, and more.
Quick Navigation
---
10 Best Stovetop Pressure Cookers Comparison
| | | |
| --- | --- | --- |
| | We start this list with the Fissler Vitaquick Cooker. It's an appliance that features a removable handle for ease of use and cleaning. You can also use it safely on various types of stovetops. The internal markings make it easy to measure the presence of liquids. | Read Our Review |
| | Preparing chicken, beef, or vegetables is always easy when you have the PRESTO 01370 cooker. It can quickly tenderize your meats thanks to its unique tri-clad base for fast and uniform heating. | Read Our Review |
| | The All-American Canner Pressure cooker easily accommodates over five standard regular mouth pint jars to make it perfect for your modern kitchen. It's also made using hand cast and durable aluminum for longevity. It has a satin finish for ease of maintenance. | Read Our Review |
| | Check out the Kuhn pressure cooker that is ideal for fast meals and long-term use. It comes with five safety features and can cook faster than most pressure cookware. It's also easy to clean, and the stainless steel offers exceptional efficiency. | Read Our Review |
| | With the Kuhn Pressure Cooker, you have a reliable means for preparing your meals. It can hold a significant number of jars for convenient canning. Also, the solid aluminum sandwich at the bottom offers excellent heat absorption. | Read Our Review |
| | Enjoy convenient cooking when you have the Culina One-Touch Pressure Cooker. The pressure cooker can hold over 5-quarts and can prepare meals over 70% faster than most units. It also has a one-touch open and close mechanism for convenient operation. | Read Our Review |
| | Experience convenient cooking in your modern kitchen when you have the Caplphalon Pressure Cooker. It has an easy to use cover, with a locking rim so that you can cover it in any position. Also, the spring-loaded indicator will pop up when the cooker produces optimal pressure. | Read Our Review |
| | Prepare your favorite meals conveniently when you have the WMF Pressure Cooker. It has advanced safety features that can help stop excessive pressure accumulation and its dishwasher safe. Also, the handle design offers safety and is to detach for cleaning. | Read Our Review |
| | The Kuhn Rikon 30902 Duromatic Pressure Cooker is also suitable for your modern kitchen. The high-quality steel construction is perfect for meal preparation. It's Bluetooth compatible and will send notifications on the cooking process. Plus, the app is also available for recipes for your convenience. | Read Our Review |
| | Make your kitchen more functional with the Fissler Vitaquick Pressure Cooker. Plus, this unit's unique cooking technology lets you save over 70% in cooking time than conventional pans. | Read Our Review |
---
Reviews of 10 Top Stovetop Pressure Cookers
To find the top stovetop pressure cooker, we looked at a wide selection of products to learn more about what's on the market. We pored over customer reviews to see if each cooker was all it really made out to be.
We weighed in on the pros and cons of each and, when we had personal experience with a particular appliance, we factored in our knowledge as well.
We did all the research so you don't have to. After careful consideration, we narrowed it down to the top ten. And the winners are…
Best Overall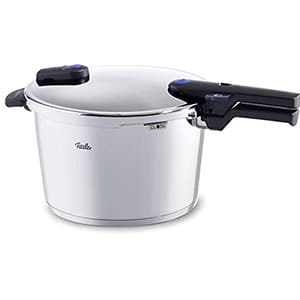 What You Will Love: Large size, low-maintenance, quiet, designed for maximum convenience and safety, durable.
When it came to selecting the best-rated pressure cooker, the Fissler FISS 60070008079 Vitaquick Pressure Cooker stood out from the rest. Constructed of stainless steel, it's completely silent.
In fact, the only sound you'll hear from it is the "click" that lets you know the lid is locked in place. With its conical shape, you can stack it with similarly-sized cookers to save counter or cabinet space.
With its high-grade super thermic base, this cooker is capable of even heat retention, absorption, and distribution. The evaporation valve prevents steam build-up, and markings allow you to conveniently adjust settings (gentle and speed) for seamless cooking.
Its positioning aid allows you to easily secure and close the lid. This unit comes with an internal measuring scale to make meal-prep as fast and efficient as possible.
If you're looking for the best pressure cooker that's low-maintenance, you'll be happy to know that this kitchen appliance is just that. To clean the main control valve, all you have to do is rinse the lid under running water.
Since this cooker holds 8.5 quarts, you can cook enough for a small crowd on all types of stoves-induction variety included. Plus, it's designed with optimal safety in mind.
Pros:
Sturdy and durable
Lots of user-friendly and safety features
Cooks evenly
Dishwasher-safe
Works as a slow cooker
Cons:
Some customers reported issues with a faulty automatic valve.
If you encounter this problem, notify customer service and they'll replace it.
---
Best Budget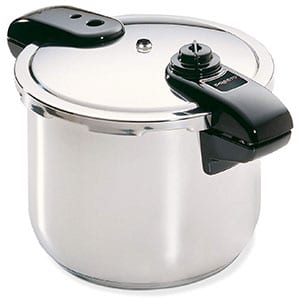 What You Will Love: With its stainless steel design, it looks good in any kitchen. You can prepare multiple foods at once, and the unit cooks 3 times faster than conventional methods.
If you don't want to put up a lot of money for kitchen appliances, the Presto 01370 8-Quart Pressure Cooker can help you expedite your cooking without breaking the bank.
Its solid tri-clad base and stainless steel design allow for consistent heating. While it's most commonly used as a pressure cooker, it can double as a soup pot, too.
With its stainless steel heating basket, you can cook meat and sides at the same time without the unwanted mingling of flavors.
The cover lock indicator ensures that you can't remove the lid until the pressure has reached a safe, low level. This model comes with an overpressure plug, too, to prevent steam buildup.
The unit's regulator maintains proper pressure, while its steam-release valve lets it cool down quickly. Even better, you can use it on multiple cooking surfaces: smooth-top, range, and induction stoves.
Pros:
Durable design
versatility
Ease-of-use
Safety features included
Cons:
Some customers reported problems with leaks
Faulty gaskets and difficulty opening and closing the lid (especially for people with small hands)
---
Best Aluminum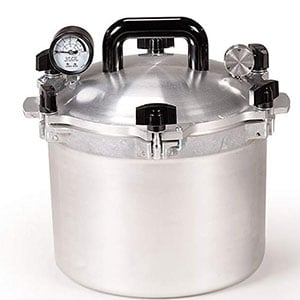 What You Will Love: Great for canning low-acid or non-acidic foods, comes with multiple settings, easy to use and built to last
If you're looking for the best stovetop pressure Canner for canning and preserving, look no further than the All-American 10-1/2 Quart Pressure Cooker Canner.
This unit holds 4 standard smooth quart jars or 7 standard smooth pint jars. With its durable, hand-cut aluminum design, it's attractive and easy to clean.
Since this model is equipped with positive action clamping wing nuts, opening and closing the lid is just about effortless. Complete with a sturdy top handle, the pressure cooker's metal-to-metal sealing system creates a reliable steam-seal by aligning the cover to the base.
Another plus: Most pressure cookers come with gaskets that are prone to burn and wear and tear and are not always the most convenient to clean.
But this stovetop pressure canner doesn't need gaskets, making it especially low-maintenance. Double-thick edges keep the cooker from bearing the full impact of frequent, heavy use.
Finally, to prevent too much pressure from accumulating, this kitchen appliance has an easy-to-read geared steam gauge and overpressure release. Multiple settings-5, 10, and 15 psi make for customized meal-prep so you can cook your favorite foods to perfection.
Appropriate for gas, electric, and flat-top stoves, this model complies with USDA guidelines for canning low-acid foods.
Pros:
Complies with USDA canning guidelines
low-maintenance
user-friendly
Cons:
Not many only a few miscellaneous complaints
---
Best Energy-Saving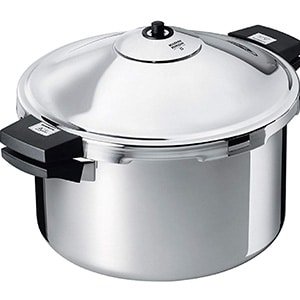 What You Will Love: Durable, energy-saving, large size One of our top picks for a most energy-efficient pressure cooker is the Kuhn Rikon Duromatic Hotel Stainless Steel Pressure Cooker with Side Grips.
It's a 12-quart stock pot-style cooker that holds 5 quart-sized jars or 7 pint-sized jars, and we gave it this "best of" designation because it conserves 70% of the energy that's normally consumed when cooking.
Large enough to cook for a small army, this model can accommodate a 17-20 pound turkey or feed up to 20 people. With its solid aluminum base, it's designed to absorb heat evenly.
Equipped for maximum safety and superior performance, this pressure cooker for energy-saving has a spring-loaded precision valve, automatic locking system, and five over-pressure systems.
Red-line indicators let you know when your kitchen appliance has reached the desired level of pressure. Then, all you have to do is turn a knob to regulate the release of steam.
With Duromatic pressure cookers, you can prepare food faster and preserve virtually all the nutrients, which isn't always possible with traditional cooking.
Pros:
Various features to regulate cooking
Quiet and energy-efficient
Can be used as a slow cooker
Cons:
It's recommended that you hand-wash the unit rather than throw it in the dishwasher.
While most customers were highly pleased with the cooker, there were a few complaints about flimsy plastic parts.
---
Runner Up ( Best Energy-Saving )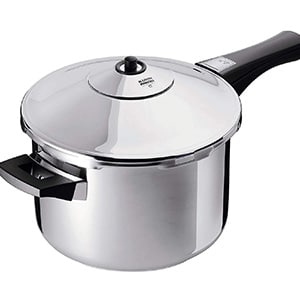 What You Will Love: This stovetop pressure cooker conserves an impressive amount of energy, saving you money in the long run. Plus, it has plenty of features and mechanisms to ensure maximum safety and ease-of-use.
Cooking for a crowd isn't something most of us do every day, so if you're looking for an energy-efficient cooker that's a bit smaller, consider the Kuhn Rikon Duromatic Stainless Steel Saucepan Pressure Cooker.
It's a 7-3/8-quart pressure cooker that comes with a trivet for steaming and can accommodate up to 3 pint jars or 4 quart jars if you want to use it for canning.
Like its larger counterpart, it's equipped with a solid thermal aluminum "sandwich" in the bottom for consistent heat absorption and distribution.
It also consumes 70% less gas or electricity than conventional cooking appliances, so you can reap maximum returns on your investment in a short time. It is the best small pressure cooker if you are thinking about energy efficiency.
The spring-loaded pressure release valve is clearly marked, so you can easily tell when the unit reaches the desired pressure level. When it's time to release the pressure, all you have to do is turn a knob to regulate the process.
Since you can see exactly when to stop cooking, you don't have to worry about overcooking or dealing with a potentially messy or noisy steam eruption. Another thing you can really enjoy about this best-rated pressure cooker: it's amazingly quiet.
Pros:
Energy-efficient
Designed for canning and cooking
Easy-to-use and lets you carefully regulate your cooking
Cons:
Not many; a handful of customers complained that it wasn't as durable as expected.
---
Best One-Touch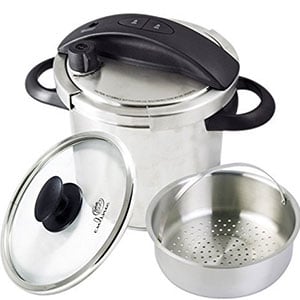 What You Will Love: Durable, energy-efficient, one-touch, one-handed operation, safety features
If you're looking for the top stovetop pressure cooker in terms of convenience, the Culina One-Touch Pressure Cooker may be just what you have in mind.
Like other energy-saving top-rated cookers, it uses 70% less gas or electricity than conventional units, which translates to lower utility bills.
What sets the Culina cooker apart from its other eco-friendly counterparts is its one-touch operation: you can easily open and close the lid with one hand.
You can also lock the cover to the pot in any position. On this unit, you'll find an adjustable pressure valve so you can control the release of steam.
The pot displays water level markings to make sure you can achieve the desired level of pressure without difficulty. If you like to cook vegetables, you will likely appreciate the steamer insert that's included.
If you share your household with small children or just want extra peace of mind when cooking, you'll be happy to know that this best-rated cooker comes with six safety features.
A red pop-up indicator is visible when the appliance pressurizes. You can't remove the lid until you've released the pressure.
Large ergonomic handles make for easy lid removal. Another advantage of this model is its high-quality stainless steel design, created for maximum durability.
Pros:
Sturdy, energy-saving
User friendly
Includes steaming basket
Clear pressure indicator
Cons:
A small number of customers said the unit wasn't as durable as they expected.
---
Best Cooking Time Saver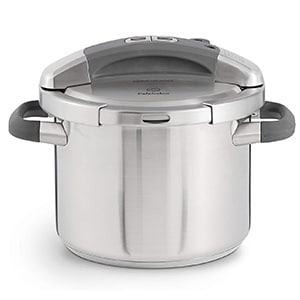 What You Will Love: Significantly reduces cooking time, easy and safe to operate
We selected the Calphalon Stainless Steel Pressure Cooker because of its superior quality and user-friendliness.
With a uniquely-designed cover that locks in place from any position, this unit takes much of the hassle out of prepping your pressure cooker, since there's no need to meticulously try to line up the lid.
All you have to do is touch a button to lock the cover in place. This kitchen appliance reduces cooking time by at least 50%, so on those weeknights when you're short on time, you can prepare pot roast, short ribs, and other dinnertime favorites in minutes rather than hours.
When the cooker reaches full pressure, a pop-up indicator lets you know. With the pressure release dial, you can customize cooking settings and safely reduce the pressure when you're finished.
Another plus: it's compatible with all cooktops: electric stoves, electric ring, induction stoves, and gas cooktops. And since it has a six-quart capacity, you will likely be able to cook for the whole family at one time.
Also, it's relatively low-maintenance because, for the most part, it's dishwasher safe, although the manufacturer recommends cleaning the cover by hand. Additionally, it's compatible with nylon, wooden, coated, or metal utensils.
Pros:
Durable
Relatively low-maintenance
Compatible with all stovetops and most utensils
And allows you to control pressure
Cons:
There were some complaints that it doesn't always seal well, causing steam-and sometimes food-to escape.
There was also a report about a screw near the valve that can easily become loose.
If this happens to you, just use pliers to tighten it back up.
---
1st Runner Up ( Best Cooking Time Saver )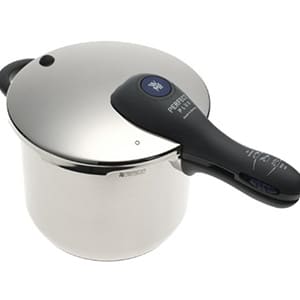 What You Will Love: Attractive design, built to last, easy operation, plenty of safety features, detachable lid for simple clean-up.
Another of our top picks for a best one-touch pressure cooker is the WMF Perfect Plus 6.5-Quart Pressure Cooker because of its quality, safety, and ease-of-use.
If you don't have a lot of time for meal-prep, you will enjoy the fact that, with this best-rated pressure cooker, you can reduce cooking time by up to 70%.
Since it has a trans thermal base, it allows for even heat distribution and works for all stovetop surfaces-even induction. Colored rings indicate when the unit has reached various levels of pressure.
The cooker is designed to enhance comfort and safety, and its ergonomic handle is removable, making it super easy to clean. With sophisticated safety features, this top-notch pressure cooker is capable of preventing excessive pressure build-up, reducing choking hazards.
And you can't remove the lid until the pressure drops to a safe level. If pressure ever does reach potentially dangerous levels, an audible signal alerts you right away.
This best kitchen appliance allows you to quickly prepare your favorite healthy foods while preserving most of the nutrients, something which can't be done as effectively with other cooking methods.
Pros:
Ergonomic handle for comfort and easy clean-up
Designed for all stovetops
Durable
Cooks efficiently
Plenty of safety features
Cons:
Some customers were disappointed with the cooker's quality, experiencing issues after a short time.
About three-quarters of buyers, however, were highly-satisfied.
---
2nd Runner Up ( Best Cooking Time Saver )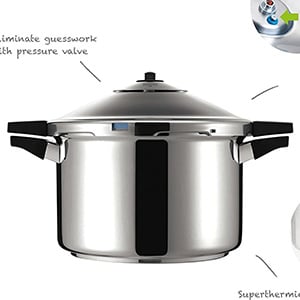 What You Will Love: Sturdy design, allows you to carefully control your cooking, plenty of safety features, reduces cooking time.
Last but not least, the Kuhn Rikon Duromatic Hotel Pressure Cooker with Side Grips also ranks among the top stovetop pressure cookers that cut cooking time.
Because it has an 8 litre capacity that can hold up to 5 quart-size or 7 pint-size jars, this best-rated pressure cooker is ideal not only for cooking but canning too.
Its solid thermal base ensures consistent heat absorption, distribution, and retention. With a lid-locking system and back-up safety features, you don't have to worry about excessive pressure build-up and related cooking hazards.
Red indicators allow you to easily see when the unit is fully pressurized, so you don't have to deal with overcooking. You have full control over the whole pressure cooking process.
And you can easily control how much pressure you want to release when you're ready to cool the appliance down. Stay-cool handles ensure maximum comfort and saves stovetop or storage space.
With its large capacity, it may just be your go-to for that holiday dinner or other special occasions when you're cooking for a crowd. You won't need another large pressure cooker if you have this one.
Another advantage of using this pressure cooker is that it prevents most of the nutrients in your food from simply being boiled away.
Pros:
Durable
Reduces cooking time
Plenty of easy to use features for cooking convenience and safety
Large capacity and ergonomic handles for seamless maneuvering
Cons:
Some customers were disappointed that the cooker wasn't as durable as expected; they reported problems such as screws coming loose and gaskets wearing out quickly.
---
Best for Safety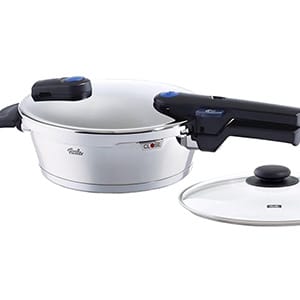 What You Will Love: Multiple safety features, including secure locking mechanisms and indicators that let you know when it's okay to place the appliance on the stove and when it's fully pressurized. Also, it's durable and easy to maintain.
Rounding out our list of top ten pressure cookers is the Fissler 2.7 Vitaquick Pressure Skillet with Glass Lid Set (FISS-AMZ122BOM) because of its many safety features.
If you share your home with children, older people or pets, minimizing hazards in the kitchen is probably highly-important to you.
This unit affords the highest safety on the market. One of its best features is its fool-proof lid, which is incredibly easy to put in place thanks to the positioning aid.
And you don't have to guess whether the cooker is securely locked; a green pop-up indicator alerts you, along with an audible click. Since the unit is equipped with a steam-release function, you can easily regulate the vaporization process, too.
While safety is one of this item's main highlights, there are other features that place it ahead of its less well-designed counterparts.
Consider, for instance, the large indicator for gentle and speed settings, and the high-grade super thermic base that makes the appliance compatible with all types of stoves. Pressure cooking in it is as easy as in an electric pressure cooker because all the process is almost automated.
Its stainless steel design is attractive, yet durable. Another plus, this pressure cooker can double as a non-stick frying pan, so you can accomplish multiple cooking tasks with the same appliance. Heat-resistant and easy to clean, this superior-quality cooker is designed to last a long time.
Pros:
Durable
Versatile
Designed for optimal safety
Easier to use
Perfect for slow cooking
Cons:
Some customers reported that the unit is rather heavy.
---
Final Verdict: Best Stovetop Pressure Cookers
When it comes to finding the best stovetop pressure cooker, remember that not all of them are created equal.
While they all accomplish the same tasks, the highest-quality cookers are especially safe and easy to use. If you want to minimize your carbon footprint, an energy-efficient model may be the right choice for you.
These top ten pressure cookers stood out from the rest because of how well they allow home chefs to safely and conveniently expedite their cooking.
More Pressure Cooker Related Articles:
---