Quick Summary: We have picked the Cuisinart CYM-100 Electronic Yogurt Maker with Automatic Cooling as the best yogurt maker as it has the capacity to make 50 ounces of yogurt at a time, has an auto cooling mode, and an easy to read display. All of its non-electrical parts are dishwasher safe, and it comes with a three-year warranty.
Yogurt is addicting, and we've all gone through the phase at one point or the other.
But if you're one of those people who just can't get enough and are finding yourself buying yogurt every single day or every other day, you might want to invest in an at-home yogurt maker, so you don't end up spending so much.
While yogurt is one of the most probiotic-rich foods available, most store-bought yogurt end up using way too much sugar and undesirable substances.
That's another great reason to invest in a yogurt maker, aside from the cost-efficient benefits. It takes less than 12 hours to come up with a perfect batch of yogurt, and the process is extremely easy with a yogurt maker.
Picking one out for your home might be tricky, considering how there are so many products available in the market. We've made this easier for you by going through multiple reviews, and articles and coming up with the best of the best. We've provided you with the most budget-friendly and high-quality products.
We've listed the best yogurt makers and have kept the factors that go into purchasing the best in mind, which include checking the material it's made of, checking if it's electrical or manual use, checking the timer, the capacity, pots, temperature control, design, the warranty, and of course, the price.
Quick Navigation
---
10 Best Yogurt Makers Comparison
| | | |
| --- | --- | --- |
| | Make fuss-free yogurt within the comforts of your home with this truly convenient yogurt maker. Its built-in cooling system ensures you don't have to worry about the temperature because it automatically shifts to the perfect one for you. | Read Our Review |
| | For a truly unique experience with each serving, this reliable and compact little yogurt maker features seven six-ounce glass containers that allow you to create different flavours in a single use. | Read Our Review |
| | If you're a health buff like me, you'll love this one. The Dash Greek Yogurt Maker empowers you to choose your own ingredients. This means you can choose completely organic and healthy ingredients to put in your yogurt. | Read Our Review |
| | Eliminate the fussy cleaning process with this electric yogurt maker's dishwasher-safe inner container. The inner container also features a tight-seal lid that keeps your yogurt fresh and maintains its ideal temperature for a truly healthy and fuss-free serving. | Read Our Review |
| | You can never go wrong with the basics,—or a manual yogurt maker. Especially if the basics provide you with a truly healthy and protein-rich serving of deliciously fresh Greek Yogurt at the comfort of your home. | Read Our Review |
| | Opt for the ultimate convenience that a two in one kitchen tool provides. This convenient machine doubles as a slow cooker, which means your dessert and meal are well taken care of in a single pot. | Read Our Review |
| | This Cuisinart electronic yogurt maker allows you to control the health content and taste of your yogurt. Furthermore, you never have to worry about turning it off yourself with its auto-shutoff feature and electronic 15-hour timer. | Read Our Review |
| | Always have a quart of your favourite homemade yogurt ready with this convenient yogurt maker. Its compact design is guaranteed to save you space and washables because its inner container is freezer-safe and allows you to store it with ease. | Read Our Review |
| | For true convenience, this electronic yogurt maker cultures and stores your yogurt in the same container. The plastic storage features an air-tight seal and BPA free properties that make it reliable and easy to clean. | Read Our Review |
| | If you're looking for an aesthetically pleasing design, then this electric yogurt maker is the perfect addition to your kitchen. Its user-friendly interface and vibrant color ensure that you are always ready to make your favorite yogurt at home. | Read Our Review |
---
Reviews of 10 Best Yogurt Makers
To find the best yogurt maker, we looked at the features, benefits, ratings, and reviews of multiple options. Ultimately, we chose the following 10 to be the best yogurt makers based on their heating and cooling modes, their capacity, their convenience, and their designs.
Best Overall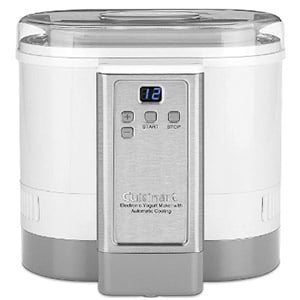 What You Will Love: You can make up to 50 ounces of yogurt at once.
The Cuisinart CYM-100 Electronic Yogurt Maker with Automatic Cooling is very simple to use. Place your ingredients inside, cover, and plug it in.
It automatically sets to an 8 hour fermentation setting, but it can be altered for times from one hour to 24 hours.
When the timer goes off, the unit switches to automatic cooling where it will stay until you unplug it. All of the non-electrical parts are dishwasher safe. This automatic digital yogurt maker has a stainless steel design and a 3 year warranty.
Often, the heating element will burn out very quickly. Unfortunately, the three year warranty is not full, so you may find yourself paying at least a portion for replacement parts.
Pros:
Easy to use.
Easy to read LCD display screen.
Automatic cooling.
3 year warranty.
Easy to alter fermentation timer.
Makes up to 50 ounces of yogurt in one go.
Stainless steel yogurt maker.
Cons:
Three year warranty will likely cost you.
Heating element often goes out over time.
---
Best Budget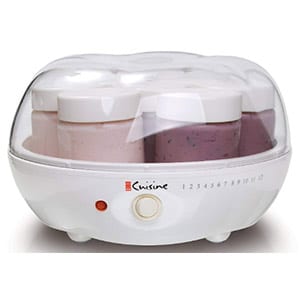 What You Will Love: You can make seven different yogurt flavors at once with the Euro cuisine yogurt maker.
With the Euro cuisine yogurt maker clear lid, you can view the yogurt making process. It comes with seven glass jars that have separate lids.
This means that you can make seven different flavors at once. Even better, all seven glass jars are dishwasher safe for easy clean up when your yogurt is ready. The remainder of the product is free from BPA.
Euro Cuisine YM80 Yogurt Maker gives you control of the sweetness level, ingredients, yogurt thickness, and fat. Your yogurt can be ready in 6 to 10 hours- depending on the thickness of the yogurt you desire.
Additionally, it automatically shuts off after 15 hours of use, in case it has been forgotten. Euro cuisine ym80 comes with a three year limited warranty. Though it has a cute design, it might take up a large amount of your counter space.
However, this handy kitchen tool will usually run under $50, giving you a lot of bang for your buck. At that price, Euro Cuisine YM80 Yogurt Maker just might be worth the counter space.
Pros:
12 adjustable power setting.
Cute design.
Three year warranty.
7- 6 oz. glass jars that are dishwasher safe.
Up to 42 ounces of yogurt at once, on/off switch, indicator light.
Bpa free.
Timer.
Very budget friendly.
Cons:
Takes a lot of space.
It may also get too hot.
---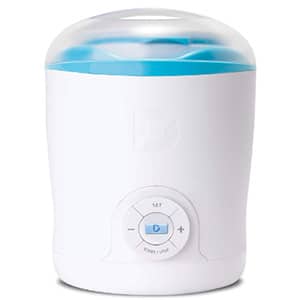 What You Will Love: It has a small and compact design that is even more compact thanks to its ability to store all of the accessories in the unit.
The Dash Greek yogurt maker machine is a small and compact unit with the ability to make up to 2 Qts of Greek yogurt in 8- 12 hours.
When the yogurt has finished cooking, you can store it in the two included BPA storage containers with lids. It also includes a one year warranty, strainer basket, and recipe book.
When the Greek yogurt maker machine is not in use, you can easily store all of the accessories inside of it before putting it away.
Additionally, it comes with a hidden cord and multiple color options. It is easy to operate and the LCD display is easy to see. The only downside to the automatic digital yogurt maker is that you can only make Greek yogurt with this one.
With all of these benefits and extra goodies, you would expect it to put a nice little hole in your wallet. Surprisingly, you can usually find it between $55 and $65, which is quite the bargain.
Pros:
Fair price.
Multiple color options.
Lcd display.
Hidden cord.
One year warranty.
Two BPA free storage containers with lids.
Compact and lightweight.
Easy to store.
Strainer basket and recipe book included.
Cons:
Limited to Greek yogurt.
No automatic shutoff.
---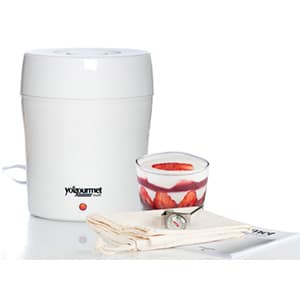 What You Will Love: It has a basic design yet surpasses the more elegant designs in many ways.
Though the Yogourmet 104 Electric Yogurt Maker has a basic design, that does not affect the quality. It is, quite possibly, the best Greek yogurt maker available.
This yogurt maker usersa water bath method that keeps the temperature at an optimal level for yogurt making.
The container in which the yogurt is made comes with a seal-tight lid, meaning that you can store the yogurt in the same container for up to three weeks. Additionally, that container is dishwasher safe so it is preventing extra mess.
The consistent temperature produces up to 2 Qts. of yogurt in about four and a half hours, and the texture of the yogurt is something to brag about.
You can use the included thermometer to check your yogurt's temperature. The price may be a bit high for some budgets, and some users have complained about encountering water leaks with their unit.
Pros:
Basic design.
Can produce two quarts in approximately four hours.
Yogurt can be stored in the container it's made in for up to 3 weeks.
Comes with thermometer.
Water bath method provides consistent optimal temperature.
Dishwasher safe containers.
Cons:
Some complaints of water leakage.
Expensive.
---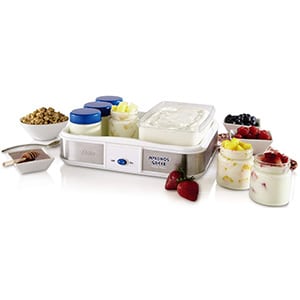 What You Will Love: It comes with containers for making both large and small batches.
The Oster Mykonos Greek Manual Yogurt Maker comes with six 7 ounce glass jars and one 17 ounce plastic container, giving you the versatility of different one batch sizes.
As it is made for Greek yogurt, it is no surprise that the included strainer gives you the ability to turn regular yogurt into Greek yogurt.
When the unit is not in use, all of the included accessories fit inside it for easy storage. With so many positive components, it seems like a pretty perfect manual yogurt maker, but there are a couple of problems. First is that because it is manual, the user will have to do more work.
Second is that the included plastic jar lids are not very durable, so it would be wise to have some extra on hand. Finally, at over $50, it may not be feasible for all budgets.
Pros:
Great for both small and large batches.
Easy to store.
Easy to use.
Versatile abilities.
Cons:
Manual means more work for you.
Plastic jar lids may break easily.
---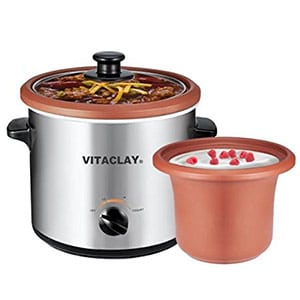 What You Will Love: The insert is designed to preserves nutrients and enzymes, and the yogurt maker can also be a slow cooker.
The VitaClay VS7600-2C 2-in-1 Yogurt Maker is both great as a Greek yogurt maker, and multi-functions as a slow cooker. This may not have the all functionalities of a multi cooker but for a yogurt maker, it is a huge plus.
The clay insert is not only designed to preserve the healthy items, but is also lead free, chemical free, and easy to clean.
Along with the glass lid, you can simply store your yogurt in it and refrigerate, though you will want to transfer the yogurt to an airtight container in a reasonable timeframe.
The stainless steel yogurt maker makes it a more attractive choice for your kitchen. Though it is easy to operate, many users find that it takes longer to produce yogurt than most other models.
Pros:
Good price.
Lead free and chemical free lead insert.
Removable insert and glass lid- easy to clean and refrigerate.
Great for large one batch greek yogurt.
Three temperature settings.
Stainless steel housing.
Also serves as a slow cooker.
Simple to operate.
Cons:
Takes longer to produce yogurt than other models.
---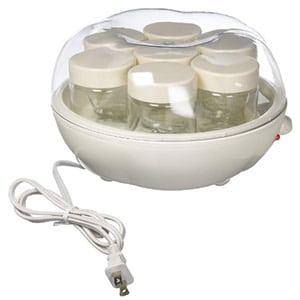 What You Will Love: It comes with seven 6 oz. glass jars that have strong lids for storage.
The Euro Cuisine YM100 Automatic Yogurt Maker is a handy kitchen appliance for any yogurt maker that likes to control the sweetness and texture of their yogurt.
Euro Cuisine YM100 includes seven 6 oz. lids that allow you to make seven flavors at once. Additionally, these glass jars come with strong lids, so you can simply transfer the jars to the refrigerator.
Thanks to the auto-shut off feature, you can set it and forget it while you complete other daily tasks. The plastic components are BPA free and dishwasher safe.
Euro Cuisine YM100 also comes with a three year warranty. At such a budget friendly price, you would think there are no complaints. Mostly, there is not but the one common complaint is that it takes up a good amount of counter space.
Pros:
Automatic shut off after 15 hours.
Bpa free.
Three year warranty.
Seven 6 oz containers.
Strong lids.
Can view yogurt making process and progress through plastic lid.
Durable.
Budget friendly.
Cons:
Takes a good amount of counter space.
---
What You Will Love: Its internal container is great for frozen yogurt as well since it is freezer safe.
Though small in stature, the Salton YM9 1-Quart Yogurt Maker is a mighty home yogurt machine. It can make one quart of your favorite yogurt in 4 to 10 hours.
As the internal container is freezer safe and has an air tight lid, your yogurt can be stored for up to two weeks in it straight from the yogurt machine.
Its small size makes it perfect for those who lack a lot of space, and make small amounts of yogurt at a time.
The small size and built-in power cord storage make it easy to store. It is temperature controlled, lightweight, and easy to use. The included recipe book can assist both newbies and seasoned yogurt makers find new tastes to love.
The only downside, really, might be the price. It is a bit high but still less expensive than most other options.
Pros:
Small and compact.
Easy to store.
Easy to use.
Container is fridge and freezer safe.
Temperature controlled.
Lightweight, included recipe book.
Cons:
---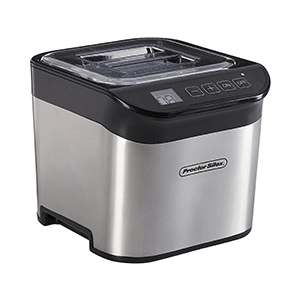 What You Will Love: You'll love how this yogurt maker not only prepares the yogurt but can also store it. No need to buy yogurt from the grocery store, with the Proctor Silex Regular or Greek Yogurt you can prepare yogurt at home in a jiffy.
One of the best yogurt makers in the market, Proctor incorporates an airtight plastic container that you can use to store food.
The food container includes snap-down clips that make it airtight as well as aid in keeping your food fresh. The storage container is BPA-free and dishwasher safe.
This yoghourt maker features a digital timer that counts down the hours until your yogurt is ready. It also includes an alarm that alerts you when the yogurt is fully prepared.
Proctor is incredibly easy to use. The electric yogurt maker's features are quite simple and you wouldn't have to do much, to prepare the yogurt. Furthermore, the yogurt maker is quite easy to clean, as well.
Pros:
Yogurt can be prepared and stored in the same container
Easy to use if you want to make yogurt fast
Features a digital control
Cons:
Temperature goes over 120 degree Fahrenheit which kills the bacteria
---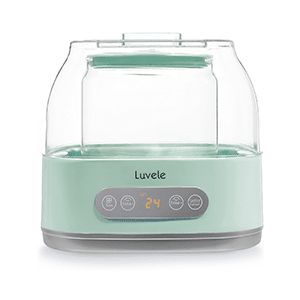 What You Will Love: You'll absolutely love the water-bath technology, which promotes accurate and even temperatures when incubating. Luvele Pure Plus Yogurt Maker promotes a pure and natural way of preparing yogurt; thus, it is definitely a must buy.
This yogurt maker features a water-bath technology feature that distributes even and accurate temperatures throughout the incubating process.
Furthermore, it also incorporates a 24-hour digital control timer that indicates when the yogurt is prepared.
Luvele Pure Plus Yogurt Maker also features a waterproof touch-panel design that incorporates three temperature buttons of 36,38- and 40-degrees C. Furthermore, the yogurt maker also includes an automatic switch-off feature.
This durable yogurt maker includes a 2L Borosilicate glass container, featuring a 400ml and 375ml Ceramic Jars that go hand in hand with the yogurt maker. In addition to that,Luvele includes unique recipe ideas for some delicious yogurt. Last but not least, it features a date selector which indicates how fresh your yogurt is.
Pros:
Features a water-bath technology for even temperature distribution
Incorporates a waterproof touch-panel
Automatic switch-off feature
Cons:
Can sometimes prepare thin, runny yogurts
---
Why Would You Need An Yogurt Maker in Your Kitchen?
The answer to this question can be summed up in just a few words for yogurt lovers: time, money, health, and versatility. Let's start with time.
Making yogurt at home can save a lot of time and energy spent going to the market- something that almost no one enjoys.
In fact, some people avoid the market at all costs until it is absolutely necessary to go. For yogurt lovers, this may lead to being without this beloved food item.
For something that comes in such tiny containers, you would think that yogurt does not cost much, but that simply is not true.
Sure, a container or two will not break the bank, but if you eat a lot of yogurt, you are spending your hard-earned money on something you can make for much cheaper at home.
Like other processed foods, store-bought yogurt can have a lot of preservatives and additives in it. With yogurt meant to be healthy super food, it is counterproductive to eat yogurt with said preservatives.
However, when you make it at home, you can add your own ingredients and keep it all-natural. Additionally, when you make it yourself, you know exactly what is put in it.
Finally, there is the versatility that a yogurt maker offers. You can make any flavor yogurt you want, in as many combinations as you want. You are not limited to what the stores offer, and you do not have to drive across town to find the flavor that you love.
Your options are only limited to your imagination and ingredients when you use a automatic digital yogurt maker. Any of these reasons alone is a great reason to use an at home yogurt maker, but all of them added together makes it a very wise choice.
---
How to Choose the Best Yogurt Maker
When you are ready to purchase the best yogurt maker, there are certain factors to consider.
The Materials Used
You will often find yogurt makers designed with BPA free plastic or stainless steel. Stainless steel does look better and is more durable. However, fingerprints are difficult to get rid of on stainless steel yogurt maker, so plastic yogurt makers are easier to clean.
Type
There are both electric and manual types of yogurt makers. As you can imagine, electric models generally cost more, but they are much more convenient.
You simply have to add the ingredients, press a button, and let the yogurt maker do its job. The timer will go off when the yogurt making process is finished. Manual yogurt makers mean that you have more work to do.
Timer
First and foremost, a timer on a yogurt maker is of great importance. Without one, you may mess up your yogurt batch and have to start all over. Some advanced yogurt maker has automatic shutoff feature that makes life a lot easier.
Second, different yogurt makers' timers do different things, such as switch off the fermenting when time is up. Check your recipe to determine what types of yogurt you want and set your timer accordingly.
Capacity
Different yogurt makers can handle different amounts of yogurt. For instance, some may only allow you to make large quantities of one flavor, while another lets you make multiple flavors in small quantities.
The capacity you choose should rely specifically on how much yogurt you desire to make.
Pots
The pots are generally glass or plastic, including BPA free plastic. However, glass is guaranteed to be BPA free and will not break down as plastics pots will.
Temperature Control
Temperature control is important in a yogurt maker for two reasons. The first is that you want your yogurt to cook consistently throughout the entire cooking process.
Second, an automated chilling feature makes sure that your yogurt does not ruin if you cannot get to it fast enough.
Design
There are many options when it comes to the design of a yogurt maker. First, there is the size. You can purchase very small or much larger devices, as well as the previously mentioned plastic and stainless steel yogurt maker.
They might be taller and skinny or shorter and wide. Some look sleek and more while some look more traditional. The design you choose is a strictly personal decision.
Easy to Use
No one wants to have a contraption that requires a rocket scientist to operate- except perhaps a rocket scientist. Part of the allure of a yogurt maker, especially an electric one, is the convenience that they provide. Making yogurt with a yogurt maker should be an easy task. If it is difficult to operate, it defeats the purpose.
The Warranty
Unfortunately, even the best product can have a defect. You should never buy a product that does not give a warranty with the product. A warranty of at least one year is ideal. That gives plenty of time to know if the product will hold up against use.
---
Final Verdict: Best Yogurt Makers
In this article, we have taken a look at 10 of the best yogurt makers, the benefits of each, and options in those.
Although choosing one yogurt maker in a sea of great options can be overwhelming, the guidelines in this review can help you decide on the best yogurt maker for you.
Related Articles: