Quick Summary: We have picked the Panasonic NN-SN686S Countertop Microwave as the top countertop microwave because it offers a shorter cooking time and evenly prepared food at all settings and across all cooking techniques. It is also compact, with most of its footprint dedicated to an internal 1.2 cubic foot capacity and 13.4-inch turntable. We also love the genius sensor, which automatically adjusts cook power and time based on the type of food being cooked.
In a fast busy world, you need to cook easy food fast! To do that top-quality kitchen equipment turns your cooking experience from pure stress to a total breeze. By investing in the best countertop microwave to suit your home, you'll have more time to chill and enjoy eating!
Nowadays, microwaves come with a huge range of features and it can be hard to know which to choose. That's why it's important you get the most suitable microwave for the needs of your home. Perhaps it's important to have a quiet microwave so it won't cause much noise and ensures a relaxed environment.
If you're a person who likes to keep cleaning to a minimum, go for a model that's easy to clean. Do you have young children in the house? If so, it's advisable to get a microwave with a child-lock to keep them safe from hot spills. When a lot of food is frozen, you might need to defrost so make sure to check what settings are available.
Here is the ultimate round-up of the 10 best countertop microwaves on the market. We've spent hours researching so you have the easy part; to choose the best for your household!
Quick Navigation:
---
Comparison of 10 Best Countertop Microwaves
1. Panasonic NN-SN686S Countertop Microwave (Best Overall)

Cook food fast and evenly with this best-rated countertop microwave by Panasonic. The device does not produce noise when cooking and is also easy to clean.

This microwave countertop has a sleek touchpad control panel with a 4-digital display. The delay-start feature and child safety lock makes it a great choice for family use.

Read Our Review

2. GE PEM31SFSS Profile Stainless Steel Countertop Microwave (Best Budget)

This is a lower wattage countertop but heats well. It's smaller in size, but with multiple amazing features including the sensor cooking controls- popcorn, beverages, potato, and vegetable, 10 power levels, turntable and it does not produce noise when cooking. The device is also easy to clean.

Read Our Review

3. Panasonic NN-SN651WAZ Countertop Microwave Oven

Another incredible product by Panasonic, with cool features such as 12-sensor cooking and reheating options, child-safe lock, delay-start, 1-minute timer, inverter technology, keep-warm, and turbo defrost.

This is perhaps one of the best countertops microwaves of all time. It does not consume a lot of counter space.

Read Our Review

Panasonic is reputed for the production of the top countertop microwaves and this one is no exception. It features cool features such as keep-warm, inverter system, a popcorn button, turbo defrost, sensor cook and reheat with 14 pre-set auto-cook menu items, timer, child safety lock, and delay-start



Read Our Review

Characterized by easy to clean glossy black surface, this 1000-wat countertop microwave by Sharp offers convenient cooking and reheating thanks to its one-touch controls.

It's durable and is affordable.



Read Our Review

6. Sharp ZR559YW 1100W Microwave Oven with Sensor Cooking

Another incredible countertop microwave from yet the same company-Sharp that's slightly smaller featuring a 15-inch Carousel turntable and 1.8 ft of space.

This countertop microwave shares the same incredible features as its predecessor although this one has round-shaped buttons and not square-shaped ones.



Read Our Review

7. Samsung MS11K3000AS Microwave Oven

Cook your food thoroughly without having to worry about everyday scuffs and scratches with this best microwave countertop from Samsung thanks to its enamel coating.

It features a blue LED display and a dial control so you can increase or decrease the cooking time. This countertop microwave also features incredible features including a defrost button, child lock, a popcorn button, a soften/melt button, and cooking presets.



Read Our Review

8. Samsung MG11H2020CT Countertop Grill Microwave

When Samsun is mentioned, you can't help but expect incredible products and this time the company presents to you a 1000-watt countertop microwave with 10 different power levels. The interior is covered with ceramic enamel coating making it easy to clean and maintain.



Read Our Review

9. Sharp ZR651ZS 1200W Countertop Microwave

Sharp never disappoints its customers and the ZR651 1200W Countertop Microwave is a true testimony. This stainless microwave comes with cool features similar to the other products from the same company.



Read Our Review

10. LG LCRT2010ST Counter Top Microwave Oven

A remarkable countertop microwave oven with safety features, easy to clean, and can perfectly cook food evenly. It is large enough to cook larger amounts of food. It also features other incredible features such as sensor cooking technology; turntable, TrueCookPlus, child lockout, and custom defrost.



Read Our Review
---
Reviews of 15 Top Countertop Microwaves
These reviews will help you narrow down your decision when it comes to which microwave will fit in your kitchen and your budget.
Best Overall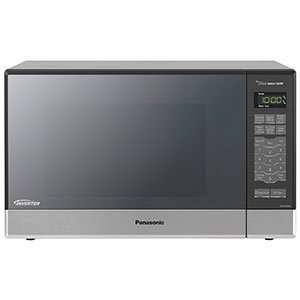 The Panasonic NN-SN686S countertop microwave is one of the best-rated countertop microwaves because of how fast and evenly it cooks food, how quiet it is, and how easy it is to clean.
Weighing in at about eight pounds lighter than other microwave ovens, it devotes less space to electronics.
The Panasonic countertop microwave's compact design means that it has a greater interior capacity while taking up minimal counter space.
With dimensions of approximately 20 inches by 15 inches, by 12¼ inches, and a 13.4-inch turntable, you could fit a 12-inch pizza in it with a little room to spare.
One reason why the NN-SN686S is one of the best Panasonic microwaves because of its sleek touchpad control panel.
The panel features a four-digit display and has sensor reheat, keep warm, popcorn, power level control, more/less, quick 30, cooking timer, and turbo defrost buttons. It also includes a delay start feature, a child safety lock, and a push-button door release.
The sensor cook button has twelve preset auto-cook options, including Frozen Vegetables and Entrees, Soup, Oatmeal, Pizza, and Pasta, and nine others.
The keep warm feature allows you to keep foods like vegetables, soups, and desserts in the microwave in a warming state until you are ready to serve them.
The popcorn button has three different levels, and the power level control has ten different levels so you can choose the right level that's best for the food you are cooking.
The cooking timer allows you to set your own cooking and reheating times at one-minute intervals. The turbo defrost button allow food to thaw faster and more evenly.
This product is also a Panasonic Inverter microwave, which means that it uses a steady stream of power no matter what power setting it's at-to prepare food evenly from the edges to the center.
The result is that the foods you cook will retain more of their natural color, texture, and nutrients. Plus, you won't have to worry about foods getting overcooked.
Because this product is a stainless-steel countertop microwave, it is easy to get it dirty with fingerprints, but it is a breeze to wipe off and keep clean.
With easy-to-press buttons and easy programming, this Panasonic 1200-watt microwave is compact enough to fit on the counter but powerful enough to cook or reheat all your foods.
And a special bonus: if you don't want a touchpad, they do have a dial option of this product that has the same features, but it is more expensive than the Panasonic NN-SN686S.
Pros:
Comes with a compact and lightweight design
Has a spacious interior
Easy to use
Comes with 14 auto cook options
Patented Panasonic Inverter Technology allows you to cook food evenly with no overcooking
Fast cooking and defrosting times
Comes with a keep food warminless Steel Countertop Microwave
Pros feature
Easy to clean maintain and is dishwasher safe
Best value for money
Cons:
The handle structure can make opening and locking the door a bit difficult
A couple of users have reported having code error issues.
---
Best Budget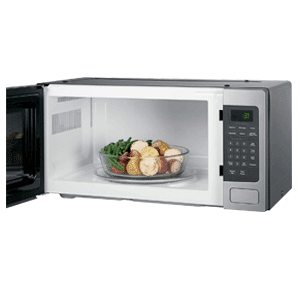 The GE profile countertop microwave is smaller than most other microwaves in both size and power, but that doesn't mean the other microwaves outperform it.
Some 800-watt countertop microwave reviews say that these microwaves don't heat things as quickly, resulting in having to cook your food longer.
But one of the GE profile PEM31SFSS reviews says that, despite being a lower wattage than most other microwaves, it still heats well.
In fact, one reviewer says that it doesn't take any longer to heat things up than it did in the reviewer's previous 1400-watt microwave.
The GE stainless steel microwave, at approximately 12 inches by 24 inches by 12 inches, is twice as long as it is wide or high.
It comes with an optional hanging kit, but its countertop microwave dimensions may make it difficult to mount in your kitchen, especially if your previous microwave was a different size.
If you don't want to hassle with installing it, however, it works just fine as a small countertop microwave.
GE microwave reviews for this product tend to mention that the door opens wider than other microwaves due to its size.
You'll need more clearance room for the hinges, so you wouldn't be able to have it flush with your cabinets. But there is a trim kit that you could get to make it look more like a built-in.
This product is one of the best GE countertop microwaves because of its sensor cooking controls, ten power levels, turntable, and its seemingly noiseless operation.
It is stainless steel, which means you can easily wipe off smudges and fingerprints with a damp towel or washcloth.
It has 4 sensor cooking controls: popcorn, beverages, potato, and vegetable. The power button has ten different levels and changing between them is relatively easy.
First, you input the cook time;
then, you press the power level button and input a number between one and ten to select a power setting.
Pros:
Best for under counter installation
Has quiet operation
Performs excellently for its 800 watts
Great looks once installed
Easy to use
Reliable operation with no hiccups
Rated as the best GE Spacemaker replacement
Has enough number of power levels and cooking controls to cater for a diverse menu
Cons:
Installation is quite a challenge and will take time
The door length and hinges will need extra allowance, which may mess up your installation or space on the countertop.
---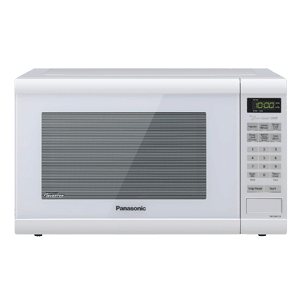 The Panasonic NN-SN651WAZ offers many of the same features as the other Panasonic countertop microwaves we reviewed.
These features include, turbo defrost, twelve-sensor cooking and reheating options, and a keep-warm feature.
Modern conveniences of this Panasonic 1200-watt microwave include a child safety lock, a minute timer, and a delay-start feature.
With the inverter technology, there is less room required for electronic parts. This allows more room for internal space, which in turn makes it take up less counter space.
The turbo defrost uses the Inverter's continuous delivery of power to thaw out foods more evenly and quickly than microwaves without inverter technology. Panasonic inverter microwave reviews say as much.
Pros:
Large capacity caters for large families
Inverter technology allows for the preservation of food flavor by even cooking
It is easy to use and install
Has diverse functionality
Comes with keep warm features
Auto sensors for reheating and cooking
Child lock option increases its safety
Has turbo defrost making defrosting a breeze
Cons:
It is a bit noisy
Can consume a lot of electricity
Paint may start peeling after a short time
---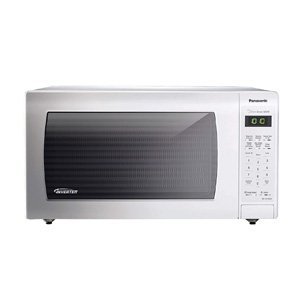 This Panasonic NN-SN736W has 1250 watts of power, which is more than any of the other ones we talked about in our Panasonic countertop microwave reviews.
Is more power always better? No, but this Panasonic microwave oven does offer more options than its predecessors on this list.
It has the Inverter technology, popcorn button, sensor cook and reheat, turbo defrost, keep-warm, timer, delay-start, and child safety lock features, which are all also available on the other Panasonic microwaves that we talked about.
The difference is this microwave takes some of these features and makes them better, which may make this one of the best Panasonic microwaves out there.
For example, the sensor cook has fourteen pre-set auto-cook menu items. It also has a more/less button and a quick 30 button, along with 5 menu buttons, making it easy to program.
Pros:
Powerful performance delivers fast cooking and defrosting times
Perfect for large families with its 1.6 cubic feet capacity
Easy to use and comprehensive control panel with membrane keypad
LED light inside allows you to monitor cooking
Comes with 14 different cooking settings
Has a modern design that blends well in any kitchen theme
Has a quiet operation
Cons:
The door build is prone to have issues either sagging or difficulty in the opening after frequent use
---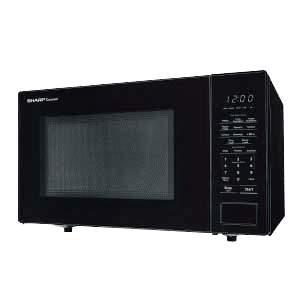 This mid-size, 1000-watt microwave from Sharp has an 11.2-inch Carousel turntable. Its glossy black surface is easy to clean and it has one-touch controls for convenient cooking and reheating.
It has cooking presets for your convenience, although it doesn't have the soften feature that was present on the other two models.
Sharp countertop microwave reviews about this product say positive things about the price and durability of this microwave.
The Sharp microwave ZSMC1131CB has an express cooking feature, for one-touch cooking for times up to six minutes. It also has a "plus thirty seconds" button that has been conveniently relocated.
It used to share a space with the start button but now has its own button. In fact, everything has its own button except for stop and clear.
Pros:
Medium-sized which suits different needs and countertop spaces
Has a touch control panel
Offers a convenient +30 second key for instant starting
Easy to read and use
Has an auto defrost option for most foodstuff
Supports express cooking option
Has a removable 12-inch carousel turntable
Cons:
Has a loud operation
Only turns off when unplugged
Light does not come on when opening the door
---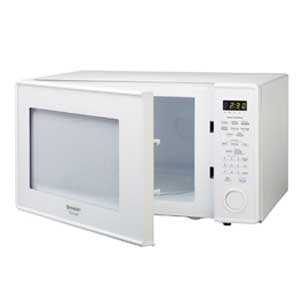 Slightly smaller than the one we talked about previously, the Sharp ZR559YW has 1100 watts of power and features a 15-inch Carousel turntable and 1.8 cubic feet of space.
It offers the same features as its predecessor but has round-shaped buttons instead of square-shaped ones.
The round-shaped buttons go better design-wise with the round push button that you use to open the door, but they are smaller than traditional square buttons and so the words may be harder to read.
Other key features include: ten power levels, a sensor reheat button, time defrost, a frozen entrée button, a frozen vegetable button, one-touch popcorn, and beverage buttons, and a softer option to help soften butter, chocolate, ice cream, and cream cheese.
Pros:
Easy to use and operate
Its high capacity makes it excellent for large families
Its 1100 watts makes cooking any dish a breeze
The precise sensors remove the guesswork in your cooking
Has convenient one-touch settings for popcorn and beverages
A scratch-resistant glossy door that makes cleaning easier
Cons:
It is quite heavy
It takes a lot of space on the countertop
Reported incidents of shutting down after overheating which need troubleshooting
---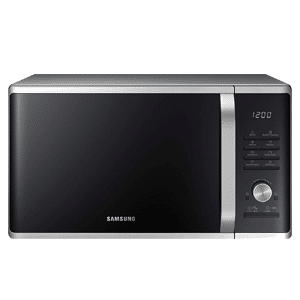 The Samsung MS11K3000AS countertop microwave oven has a ceramic enamel coating to protect the microwave from everyday scuffs and scratches and a three-point distribution system to cook food thoroughly.
The blue LED display shows large text that is highly visible. Instead of a number pad, it features a dial control, which makes it easier for you to increase or decrease the time while cooking.
It has sensor cooking options and cooking presets and is complete with a soften/melt button, a defrost button, a popcorn button, a child lock, and eco-mode.
But one of the unique things about it that make it one of the best Samsung microwave ovens is that it also has a deodorization button.
The deodorization button is useful for cleaning out the microwave after cooking odorous foods or when there is a lot of smoke in the interior of the oven.
You can even turn the beeper on and off.
Pros:
The three-point distribution technology enables even cooking
The ceramic coated interior provides a great look and makes cleaning and maintenance easy
The modern look will fit perfectly in most kitchens
Sensor cooking
Eco-mode saves energy without having to unplug the microwave
Cons:
It is noisy when heating
The dial control makes it hard setting precision timing especially when you go higher
Dark interior means you will struggle to see food cooking inside
---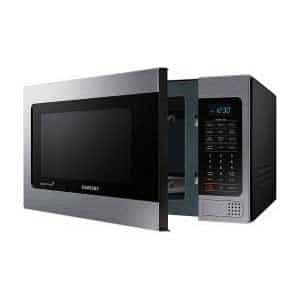 This Samsung 1.1 Cu. ft. the microwave has 1000 watts of cooking power and ten different power levels that you can change with the push of a button.
Its interior is covered with a ceramic enamel coating, giving it a polished surface that is easy to clean and maintain.
It ensures that your food is cooked thoroughly and evenly through its three microwave distribution points.
This Samsung countertop microwave has a lot of selections when it comes to instant cooking, including popcorn, potato, pizza, veggies, kid's meals, snacks, auto reheat, and auto defrost.
It even has an eco-mode that automatically turns the LED display off when you are not using it.
But what really makes it stand out is that it is also a Samsung grill microwave. By pushing the grill button and inserting the included round rack and ceramic plate, you can essentially turn your microwave into a grill that you can use to bring sandwiches, bacon, and even pizza to a crispy finish.
Pros:
Perfect size for most countertops
Scratch-resistant and easy to clean and maintain
Comes with a grilling element
Excellent auto cook options for most dishes
Eco-mode helps conserve energy
Cons:
Grilling element does offer top results
May fail to serve large family needs
Interior is not clearly visible during cooking
---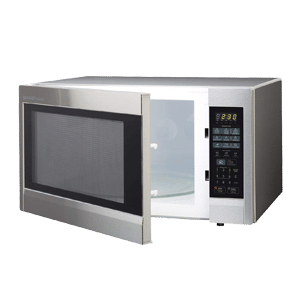 This Sharp stainless-steel microwave has a 16-inch Carousel turntable that rotates the food to ensure that it gets cooked evenly and 2.2 cubic feet of space.
Other features include auto defrost, precise cook sensor technology, one-touch controls, a soften button, and a keep-warm button.
Sharp carousel microwave reviews have positive things to say about its soften button and how spacious it is.
Its one-touch controls offer modern convenience in several ways. The first six numbers on the touch-pad offer an express cook option, allowing a one-touch start from thirty seconds to six minutes.
The "plus 30 seconds" key located on the start button is an excellent way to add time to the timer while cooking. The auto-defrost has three separate buttons: one for poultry, one for meat, and one for fish.
Pros:
It is excellent for large meals
Three auto- defrost buttons for poultry, fish and meat dishes
Provides cooking convenience with one-touch controls and +30 seconds button
Precise cook sensor technology
Has a keep warm button
Comes with an optimal trim kit
Bright display makes it easy to read
Cons:
It is quite heavy
Reported issue with the light bulb which can be expensive to replace
---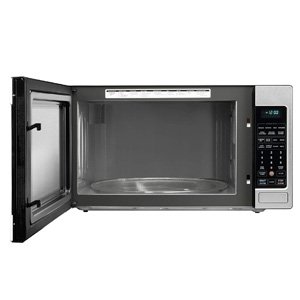 This LG countertop microwave is one of the best LG microwave ovens because of its safety features, because of how evenly and perfectly it cooks food, and because of how easy it is clean.
It has many cooking and design features that contribute to its popularity and success.
LG LCRT2010ST reviews claim that its bigger size is ideal for cooking larger amounts of food or fitting bigger plates or containers inside it. They also rave at how evenly the microwave cooks the food.
The two features that make these things possible are the turntable and the round cavity design.
The turntable allows a rotation that also helps food cook evenly, and the round cavity design increases the usable interior space.
But these two features are only part of what makes it one of the best 1200-watt microwaves in the industry.
Other features that it offers are TrueCookPlus, sensor cooking technology, child lockout, turntable, custom defrost, and Easy Clean.
TrueCookPlus is a great feature because it works as a calculator, doing all the calculations for you. This ensures that all your food cooks perfectly every time. It works by using TrueCook numbers, which you can find on the back of leading food distributor's packaging.
All you do is enter the food item code, and the microwave will do the rest. This is a great feature because it eliminates the frustration of vague microwave directions, especially since microwaves with different wattages take different amounts of time to cook the same foods.
So, you would no longer have to guess about how long to cook your favorite foods; the microwave already knows.
Another thing that helps this microwave cook your food perfectly and evenly is the sensor cooking technology.
It senses the humidity levels within the microwave while you are cooking your food, and based on the humidity levels it senses, automatically adjusts cooking time. It has seven sensor cooking options and six auto cooking options.
The custom defrost feature has individual settings for meat, poultry, fish, and one-pound serving sizes. You can even add time controls in either thirty-second or one-minute increments.
The child lockout, however, is one of the greatest features of this microwave because it locks the control panel, preventing children from using it unsupervised.
In our countertop microwave reviews, this feature alone is a must-have and is a big part of the reason why this microwave is our top pick.
This is one of LG's stainless-steel microwaves, meaning it is guaranteed to be an LG easy-clean microwave. With its EasyClean interior, you can clean both the inside and the outside of the microwave without having to use any chemicals.
You can also engage the child lockout while cleaning the outside, so you don't accidentally press any buttons. The round cavity design also makes it easier to clean since it doesn't have any hard edges.
Pros:
Excellent size for countertops
Powerful enough for fast cooking
Many security features
Large oven for family meals
Easy clean design shape with no edges
TrueCookPlus and Sensor-Cook technology delivers consistent and well-prepared meals
Long-lasting
Cons:
The defrosting function does not deliver the same evenness you get when cooking
Too many cooking options can be confusing and cumbersome to get used to
---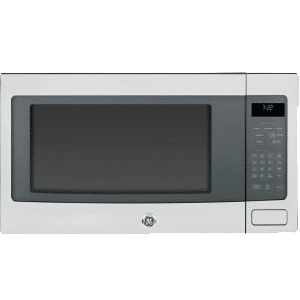 This 1200-watt GE profile countertop microwave has ten power levels and a control lockout and comes with an optional trim kit.
GE microwave PEB7226SFSS reviews rave about the easy-to-read, convenient layout of the touchpad. Except for the start and the off buttons, all the buttons only have one function.
It has auto cook options which are easier to use because they are separate buttons rather than multiple options on the same button.
This, of course, means, that it has fewer options to choose from when it comes to auto-cooking, but this GE stainless steel microwave makes up for it by having a MyPlate button that allows you to cook certain foods by serving or by the sensor.
Simply put the food in the microwave, push the MyPlate button, and input the food code, which you can find in the user's manual.
Pros:
Great for reheating
Large cooking cavity
Good for frozen food
Cons:
Poor preset controls performance
---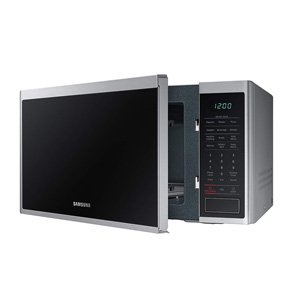 Samsung MS14K6000AS reviews have a lot to say about the style of this microwave. Reviewers comment on how good it looks in their kitchens and like features such as the eco-mode, which conserves energy and saves money on electric bills.
It has essential features of a Samsung microwave: a ceramic enamel interior, a triple distribution system, and a LED display.
Unlike other microwaves that only sense humidity, this microwave's sensor cook technology senses both moisture and temperature, which enables it to provide optimal heating.
It has six sensor cook options: popcorn, potato, veggies, beverage, and reheat.
It also has a healthy cooking button that offers ten pre-programmed, healthy foods. All you do is press the healthy cooking button and then put in the number code for the food you want to make (which you can find in the user's manual).
Cooking times and power levels are adjusted automatically based on which program you select.
All its pre-programmed options are one of the things that make this one of the top countertop microwave ovens. Not only the healthy cooking button, but the kids' meals, defrost, snack, and soften/melt buttons also have pre-programmed meals to choose from, which you can also find in the user's manual.
Pros:
Saves energy
The ceramic body makes it easy to clean
Even power distribution
Bright display
Easy present control
Precise sensor technology prevents overcooking and burning of food
Cons:
Settings go back to default when power is cut off
No internal cooking lights
---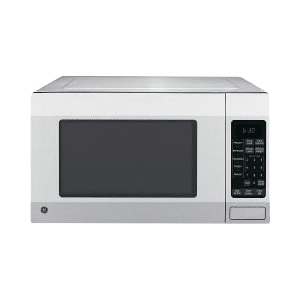 This 1150-watt GE stainless steel microwave's smaller size makes it one of the best compact microwaves.
Even though smaller microwaves tend not to have all the features that bigger ones do, this GE Profile countertop microwave still delivers the goods where it counts.
It still offers sensor-cooking controls, a removable turntable, a control lockout, a timer on/off button, and auto and time defrost.
The auto-defrost is one of the coolest features of this microwave oven because it automatically sets the appropriate defrost times and power levels for meats, poultry, and fish.
All you have to do is press defrost weight, use the number pad to put in the item's weight (up to six pounds), and press start. There is even a guide to help you located on the inside front of the microwave.
Pros:
Allows adjustment of power and time
Easy to clean
Evenly cooks food
Silent ventilation fan
Cons:
---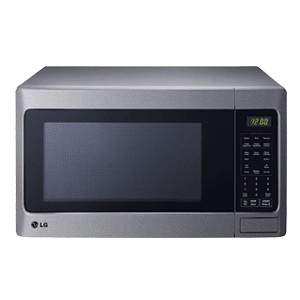 This LG microwave LCRT1513ST is similar to its predecessor on this list in that it offers many of the same features, such as sensor cooking technology, EasyClean interior, custom defrost, child lockout, and Eco-On feature, and a turntable.
The sensor cooking technology, however, comes with slightly different options, including potato, rice, frozen vegetables, fresh vegetables, frozen entrees and more that are highlighted in the user's manual.
LG LCRT1513ST countertop microwave reviews praise how light it is and how quiet the motor is.
This LG countertop microwave also comes with melt and soften buttons, that would be useful for melting or softening things like marshmallows, cheese, chocolate, butter, and caramel.
It has a round cavity interior design, which provides more space so you can fit bigger dishes in it and allows for easier internal cleaning since there are no sharp edges.
Pros:
Easy to clean interior
Has child lock
Evenly cooks food
The one-touch setting for easier cooking and warming food
It Auto adjusts cooking time and temperature
Cons:
It is loud
Keypad hard to see with little light contrast
---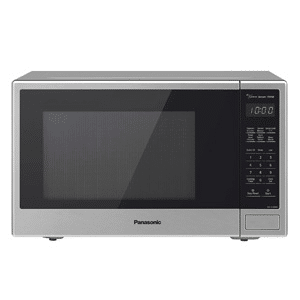 This Panasonic 1100-watt microwave combines convenience with affordability.
It features a touch-pad control panel and a four-digit display and with its genius cooking sensor feature, you could call this product a Panasonic genius microwave.
With just one touch of the sensor cooking button, the microwave does the calculating for you and adjusts the power levels and cooking or defrosting time, which many Panasonic NN-SU696S reviews have praised.
This Panasonic countertop microwave has seven pre-programmed settings, including potato, fresh vegetables, frozen vegetables, frozen pizza, frozen entrée, casserole, and meat.
It also has a popcorn button with three power levels, a delay-start feature, a child safety lock, and a keep-warm function.
Pros:
Long life span
Has child security lock
Excellent for large families and meals
A precise sensor helps you out when unsure of right settings to use
Inverter technology adds efficiency to the cooking process
Cons:
Occupies a lot of space
Lacks beverage present
The handle is not up to standard
---
FAQs
How To Choose The Top Countertop Microwave?
When choosing a countertop microwave for your kitchen, it is important to work out where you plan on putting it, before you jump into buying mode. This will determine important specifications, like size, to ensure it fits into the required space. Here are some other things to consider:
Brand: Some brands are just better than others, so do your research. Of course, the better the brand, the more you are likely to have to pay, so it's important to set a budget.
Power: Microwave power ranges from about 800W to 1300W. The larger the microwave, the more power you need to heat your food quickly and evenly.
Price: You should be looking to spend between $140 to $650 depending on your needs.
Cleaning : Make sure there aren't too many crevices that food can get stuck in that will make your cleaning job harder.
What Are The Best Features Of A Countertop Microwave?
Easy-to-Use: There is no point in buying a fancy microwave if you don't know how to use it. Having easy-to-use controls will help you get started quickly and you won't find yourself having to refer to the instruction guide as much. Look for one with quick keys, such as 30 seconds, to speed things up.
Turntables and trays: Most microwave ovens have a rotating turntable to ensure your food gets cooked through. Others feature a rectangular tray that is much better for bigger dishes. Decide which one you are likely to get more use out of before buying.
Racks: These let you speed the process up a bit and cook two meals at the same time. It's important to check if you can remove the rack, otherwise, it can be hard fitting bigger dishes in.
What Is A Good Wattage For A Countertop Microwave?
Microwave power ranges from about 800W to 1300W. The higher the wattage you choose, the more effective at heating your microwave will be. You want to look for a microwave that is 1000W and above to ensure it cooks your food evenly and quickly. Anything less than this won't be nearly as effective.
What Are The Different Sizes Of Microwave Ovens?
Countertop microwaves have a lot more variation in size than other models (such as over-the-range microwaves), as they can go anywhere on your benchtop, so you aren't as limited by space.
However, in general, they are around:
29-30 inches wide
15-16 inches deep
16-18 inches high
Always measure the space you plan to put your countertop microwave before you go shopping.
What Are The Top Countertop Microwave Brands?
Not all countertop microwaves are created equal. Some of the best brands on the market to look out for are:
Panasonic
Sharp
Breville
Toshiba
Samsung
LG
Where To Put The Microwave In Your Kitchen?
It's important to consider exactly where you want your microwave to go before heading out and buying one. This way you will know exactly what specifications you need.
Here are some ideas:
On the Benchtop: this is one of the most obvious choices, but of course you need to make sure you have the space for it! It is best to look for a corner or somewhere out of the way, so you aren't taking up more valuable bench space than you need to.
Below the Benchtop: don't have the bench space? Consider taking out one or two of your drawers and making a cabinet for your microwave to sit in below the benchtop. It's a great use of space as long as you don't have small curious children about!
In a Cabinet: up high and out of the way is a handy place to try out. Simply clean out one of your cabinets and convert it to a microwave space. This is a very simple and easy DIY fix. You can choose to leave the cabinet door on so you can shut the microwave out of sight, or take it off and leave it open.
Over the Range: as explained above, there are certain microwaves that are designed to sit above your range. They are built differently to your countertop microwaves, so you will want to decide before you go shopping.
In an Appliance Cupboard: many people like to keep their appliances out of sight, which makes an appliance cupboard a great option. Have a power point inside that you can use for different products, and tuck those bigger items away when you can see them until you want to use them.
How To Clean A Countertop Microwave?
Easy microwave cleaning ideas that save time.
---
Countertop Vs Other Microwaves
Countertop Vs. Over-The-Range Microwaves
Over-the-range microwaves are installed above your range or cooktop. While they work the same as a countertop microwave, they have a built-in ventilation system that helps to rid of any cooking odors or smell when in use.
Countertop microwaves are freestanding microwaves designed to sit on your bench countertop. They are portable, so you can change locations when needed. They are very accessible, and easy-to-clean, sitting at bench height for convenience.
Built-In Vs. Countertop Microwave Oven
A built-in microwave oven can be installed into a wall or cabinet, which saves you counter space, unlike the countertop microwave. They are usually tucked away out of sight, but for this reason, they require professional installation, which involves more costs than your traditional countertop microwave.
Not all designs and sizes can be built-in to your kitchen, so it is important to consider this first before going ahead with a purchase.
Toaster Oven Vs. Countertop Oven
While toaster ovens and microwave ovens may look quite similar, they have very different functions.
Toaster ovens are very similar to ovens in use. They use small heating elements that create heat through an electric current that runs through the coil. They cook your food from the outside in. A standard toaster oven can toast, broil and bake, while some can also defrost and roast. They tend to take longer than microwave ovens to heat food up, but they are able to crisp up the food.
Microwave ovens use electromagnetic waves that heat up the water molecules, meaning they heat up a lot faster than the standard toast oven. Microwave ovens can also defrost frozen foods effectively retaining more of the flavor than defrosting in a toaster oven as it is slower.
---
Our Recommandation: Best Countertop Microwaves
That wraps up our countertop microwave reviews. The Panasonic NN-SN686S Counter Top Microwave Oven is our top pick because it offers a little bit of everything for everyone.
But we found all the ones on the list to be some of the best countertop microwaves and they all offer something that the others don't offer. There is not a microwave in existence that combines every single feature that all these microwaves have to offer.
More Related Articles:
---