Quick Summary: The Ovente Electric Food Steamer is our top pick with its 7 ½-quart capacity, stackable baskets for veggies or eggs, and BPA-free plastic. The steamer is 400-watts and can handle any food items and has a 60-minute timer that makes it convenient and gives you the perfect steam each time. 
Are you in the market for a good new vegetable steamer that you can use for your dinners? These units are convenient and make steaming your healthy side dish a breeze while you are handling the cooking or your main dish.
Not only can these be used for veggies, but some also have the capacity to be used for eggs or fish. However, with so many options out there, making a decision on which unit to buy can be a difficult one to make.
Well, with our top pick of the Ovente Electric Steamer, which comes with everything you will need you can go straight for the best of the best. But we have also taken a look at a few others and reviewed them in detail so, if you choose to do so, you can find a suitable alternative.
Whether you are wanting a large option with lots of power or a compact unit that has just enough for small portions, you can find one that fits your needs on this list.
Quick Navigation
---
10 Best Vegetable Steamer Comparisons
| | | |
| --- | --- | --- |
| | The Ovente Electric Food Steamer is a three-tiered option that holds up to 7 1/2 quartz of contents at once and comes with a 60-minute timer for convenient use. | Read Our Review |
| | The Oster Food Steamer is a versatile option that can be used to steam vegetables, fish, meat, and even poultry for dinners and individual dishes. | Read Our Review |
| | The Bella Healthy Steamer is a two-tiered option that has a 7.4-quart capacity that allows you to make separate dishes at the same time. The features make it one of the best food steamers you can get. | Read Our Review |
| | The Aroma Housewares 5-quart steamer is a stainless-steel choice that has two tiers that can be used for separate items to keep veggies and fish apart. | Read Our Review |
| | The electric food steamer comes with two tiers that allow for separate dishes and has a divider for the center to separate small items. | Read Our Review |
| | The Mockins Stainless-Steel Steamer is a heavy-duty option that can hold up to 5 quarts and has a steamer insert that turns this regular pot into a steamer. | Read Our Review |
| | The Cuisinart STM-1000 Digital Steamer is a single steamer unit that can fit a whole meal in one glass pot for fast cooking, easy dinners. | Read Our Review |
| | The Rosewill Electric Food Steamer is a large option that can steam up to 9 ½ quarts of food at once with three tiers that can separate different items. | Read Our Review |
| | The Aicok Food Steamer comes with stackable baskets that can prevent cross-contamination from different dishes and has an auto-shutoff for perfect timing each use. | Read Our Review |
| | The Secura Electric Food Steamer comes with two tiers and uses 1200-watts of power to steam vegetables, fish, and eggs correctly for a properly cooked meal each time. | Read Our Review |
---
Reviews of Top 10 Vegetable Steamers
When shopping for the best food steamers you want to look for a unit that will give you plenty of steaming capacity. Sure you could look for a gigantic product, but the best ones out there will simply provide another tray on top to steam food in. Here are the top 10 we have selected from many.
Best Overall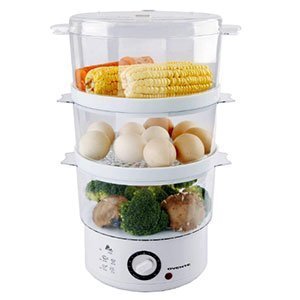 This product has three tiers to give you even more steaming power. You can cook with one, two or all three tiers on the vegetable steamer.
It even comes with a vegetable steamer basket that is perfect for rice, brown rice, quinoa, and other grains you may want to cook along with the vegetables.
This has an auto shut off feature that kicks in when the timer goes off or the steamer runs out of the limit of water level.
Pros:
Three tier design for tons of steaming capacity
Comes with a rice basket
Dishwasher safe
Auto shut off feature
Cons:
Timer is only in 15 minute increments
Can leak
Lots of pieces to put together to make this work as a whole unit
---
Best Budget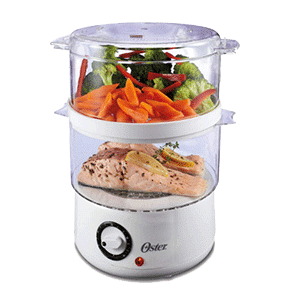 Through the transparent bowls of this two-tier vegetable steamer, you can watch your food cook before your eyes. This can hold up to 5 quarts to store plenty of food without any hassle.
The parts are dishwasher safe and they come apart easily when the cooking is done. You can cook your entire meal in this steamer and when you are done all the pieces store inside of each other for compact and easy storage.
Pros:
Dishwasher safe
Compact and easy to store
Plenty of storage space for food
Easy to use
Cons:
It has an outdated design
It can leak
Not all foods cook at the same temperatures
---
Best Stackable Vegetable Steamer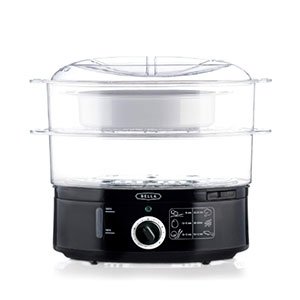 This is another dual basket electric food steamer. In addition to the two tiers of steaming room this unit comes with a basket that is perfect for cooking basmati rice, brown rice, and grains or even dim sum or other favorites.
It has the smart steaming technology to ensure your food is cooking quickly and efficiently. The reservoir window for the water level is also easy to see. The parts are BPA free and dishwasher safe.
Pros:
Basket allows you the same facility of a rice cooker
Display on the front helps you to know how long to steam the food for
Has an auto shut off feature when the timer goes off
Easy to clean and free of BPA
Cons:
There is no function to keep food warm when the timer goes off
Timer can be hard to read
Finding the right cooking time can be hard
---
Best Stainless Steel Vegetable Steamer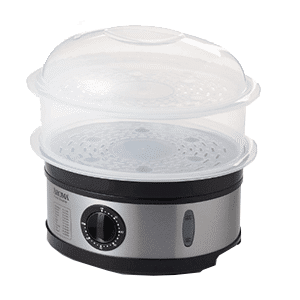 Cook five quarts of food at the same time in this double-decker steamer. This can cook meat and vegetables at the same time.
While it may not have the capabilities of cooking rice that others have, it does provide a light product that is easy to store and simple to clean.
All the parts come off and are dishwasher safe. It is easy to fill the water tank and start cooking. The rotary dial allows you to choose the time you want to cook the food for.
Pros:
Lots of cooking space
Easy to clean
List on the front to show how long vegetables should be cooked for
Trays have handles for easy removal
Cons:
Cannot cook rice
There is no divider for meats
The top tray is smaller and domed
Has a tendency to leak
---
Best Digital Vegetable Steamer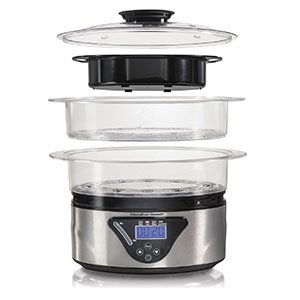 This double-decker electric steamer is designed to allow you to cook an entire meal in one kitchen appliance. You will have the option to use just one tier or both tiers of this steamer. You can also use the divider to keep foods separate.
This can be a great help if you are steaming raw meats such as seafood or poultry with the vegetables.
It has a digital display that shows the timer and when the timer goes off the unit switches to warm to ensure your vegetables do not get overdone.
Pros:
Two tiers mean you can cook more food at once
Cook meats as well as vegetables
Digital display makes cooking easy
Control are easy to use
Cons:
Not all foods cook for the same times so cooking can be uneven
There are a lot of parts
Putting together the second tier can be frustrating at first
The timer is hard to hear
---
Best Vegetable Steamer for Heavy Duty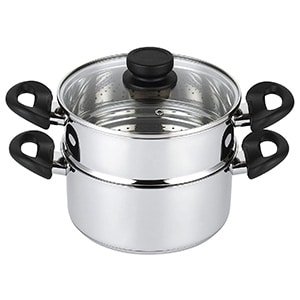 What You Will Love: The Mockins three-piece steamer pot set is a heavy-duty option that comes with a 3-quart and a 2-quart pot that can be used for different dishes to steam at the same time. This prevents cross-contamination between fish and vegetables for safer cooking.
Dual Uses
This steamer pot set can be used for regular cooking with the stainless-steel build, but with the steamer insert you can switch the use into a steamer pot for veggies and fish. The two pots can also be used for different dishes.
Stackable Pots
Both of the pots that come in this set can be stacked so that they can be used at the same time and saves space on your stovetop because it will only take up one space. This is ideal for large dinners and gatherings where many items will be cooked at one time.
Stay-Cool Handles
These steamer pots come with handles that have cooling technology that keeps them at a lower temperature while you are using high heat. This will keep the handles at a temperature that you can still hold onto them without getting burned.
Pros:
Three pieces in set
Dual uses
Stackable pots
Prevents cross-contamination
Stay-cool handles
Cons:
Handles are not as durable as the rest of the unit
Not recommended for gas stoves
---
Best Glass Pot Vegetable Steamer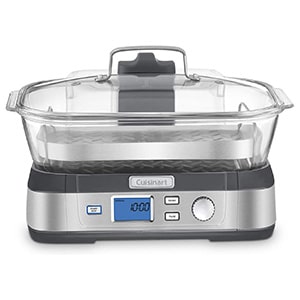 What You Will Love: The Cuisinart Glass Steamer STM-1000 is a one-size steamer unit that can hold multiple items at a time all together for a quick dinner option. This glass pot allows you to see the progression of your dish so that you don't overcook it.
Stainless-Steel Build
This electric steamer may have a pot that is made from glass, but the base is constructed is from tough stainless-steel that makes it very durable. This will ensure that your steamer pot will work for a long time without issue.
Included Timer
The steamer pot's base has a timer that is built-in to the unit so you can cook your dish for the right amount of time. This will prevent overcooking or drying out of the dish from being over-steamed by leaving the ingredients in the pot for too long.
Glass Lid
This electric steamer pot comes with a lid that is also made of glass. This makes the cover more heat-resistant and allows you to easily see the cooking progress of your meal from an aerial view and you are cooking.
Pros:
Holds multiple items
Has a glass pot
Stainless-steel base
Has an included timer
Comes with glass lid
Cons:
The lid is flat and doesn't allow for enough space
Large option that is pretty heavy
---
Best Vegetable Steamer Baskets With Rice Bowl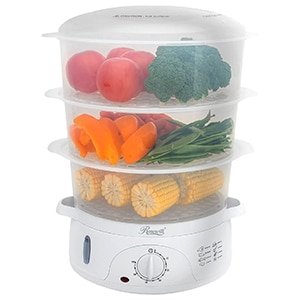 What You Will Love: The Rosewill vegetable steamer offers three tiers of room so that you can cook separated dishes at the same time and cut down on the time that you spend cooking your meal. With its 800-watt power, you will be done faster than you know it.
Stackable Bowls
This vegetable electric steamer comes with stackable bowls that allow you to cook multiple items at the same time so you can be done faster. The bowls stack right into each other so that you can place one into the next so all three are on top of each other.
Transparent Baskets
Each of the three baskets that stack on to the other is transparent so that you can clearly see which one holds which items. This can also be used to ensure that the items that need to be steamed for the shortest time are on the top and can be removed first.
Dishwasher-Safe
This set of steamer pots are not only stackable, but they are also dishwasher-safe so that you can have an easy clean-up when you are done cooking so you don't have to spend a lot of time cleaning up after yourself.
Pros:
Multiple tiers
800-watt power
Stackable bowls
Transparent baskets
Dishwasher-safe
Cons:
The lettering for label will rub off
The timer tends to break fairly easily
---
Best Auto Shutoff Vegetable Baskets Steamer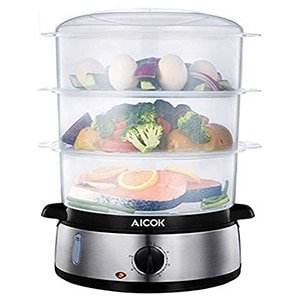 What You Will Love: The Aicok Vegetable Steamer is a BPA-free option that is food-safe and comes with three tiers of stackable containers for food items. This choice can also hold up to 9 ½ quarts of contents so that you can cook a lot at one time.
800-Watts
This vegetable electric steamer comes with 800-watts of power that makes this a powerful option that will keep your food cooking evenly and quickly. The powerful wattage makes your food cook faster so that you don't have to wait as long for your food.
Auto Shut-Off
This steamer comes with a timer and automatic shut-off switch that allows you to choose your cooking time so that your food won't get overcooked and dried out. The timer goes up to 60 minutes and will shut off after the timer ends.
Easy to Clean
Although these baskets are not machine-washable, they are easy to clean because they just need a bit of soapy water to clean off any food particles. This will make the time spent cleaning much less and requires less scrubbing.
Pros:
BPA-free
9 ½-quarts
800-watt power
Auto shut-off
Easy to clean
Cons:
Can't use any of the three tiers as the bottom tier
There is no manual for proper cooking times
---
Best for Fast Heating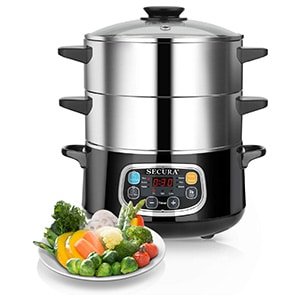 What You Will Love: The Secura Electric Vegetable Steamer is a stainless-steel steamer option that can be used for all different types of food items. It can steam vegetables, meats, fish, and even rice. With a quick heat-up time and a delayed start time, you can use this option for cooking before you get home.
1200-Watts
This steamer pot set comes with 1200-watts of power to steam with and gets your food done much quicker. This wattage makes it easy to get your food done within a certain time frame which makes a great option for large gatherings and parties. You don't need a rice cooker if you have this one.
Delay Timer
This vegetable steamer pot comes with a delayed timer that allows you to put off the start time for the steamer for up to ten hours. This allows you to delay the time while you are at work and have it turn on right before you get home.
Keep Warm Function
This electric food steamer also comes with a keep-warm function that will keep your dish warm without cooking it so that you can leave it in the steamer without it getting dried out from overcooking.
Pros:
Stainless-steel
1200-watts
Delay timer for cooking
Keep-warm function
Quick heat-up time
Can work as a rice cooker
Cons:
Buttons seem to be overly complex
Takes up a good amount of space
---
Why a Vegetable Steamer is Used?
There are a couple of reasons why people use vegetable steamers in their kitchen. The biggest reason is for controlling the calories they consume. Steaming does not add any additional fats or oils to the food, just with steam.
Another reason why people choose steaming is that it is the best way to keep all the nutrients in the food. When many vegetables are placed in water and boiled, the nutrients are lost. Since the food never touches the water in a silicone vegetable steamer set it will retain the nutrients inside. Another great reason to use a steamer is that it is efficient.
It can save you on energy compared to baking or even boiling your food. It also does not take as much time. You simply fill the reservoir water tank, put in the food, and set the timer.
---
Features of a Top Vegetable Steamer
There are several aspects that go into the steamer that make it great. Here are some of the aspects you need to be aware of.
The Steaming Capacity
This refers to the amount of space you will have to put food in the steamer. Typically a vegetable steamer will hold 2.5 quarts of food for every basket. This is why many people go for a unit that has multiple baskets so they can cook more food at once.
Dividers
Another great feature to look for is some sort of divider. This can be a literal divider or simply a basket. This is perfect because it can separate meats from the other food or simply separate your vegetables to make them easier to get out and into serving dishes. A basket is great for steaming grains such as rice.
The Timer
You want to make sure the timer will go on for a good amount of time. While it may only take about 10 minutes to steam baby carrots it will take 60 minutes timer setup to steam other vegetables or sea bass. The timer gives a huge advantage over the traditional bamboo steamer.
Auto Shut Off
This is an important feature for any steamer to have. This is designed so that when the timer goes off or the unit runs out of the water it will shut off. This is important for a couple of reasons.
For one, it ensures your food does not get overcooked. It is also a safety feature that ensures nothing bad happens, such as burning the motor on the unit. In a bamboo steamer, you have to do manual checking for proper cooking.
Transparent Cooking Trays
This may seem like it is not important but it can actually be an important aspect of cooking with steam. Transparent cooking trays mean you can keep an eye on the vegetable steamer to make sure it is not getting too done.
For instance, canned beans have a very different flavor when they are dark versus light green which is reflective of the amount of time they are cooked for. By being able to see the color of the green beans you will be able to see if they are at the color for the taste you prefer.
---
How to choose the best vegetable steamer?
The next best step after switching to a healthier diet is to select the best vegetable steamer for your green and nutritious vegetables. With countless brands and claims, one can never figure out which vegetables steamer to buy and why. The following guide lists the crucial factors that you should look out for in your new vegetable steamer.
Size
Vegetable steamers come in various sizes and have the ability to contract and expand so that they can be easily placed in different pots. A good-sized food steamer proves to be efficient in steaming vegetables and is also easy to store and use. Steamers with 9L capacity are perfect to use to prepare meals for large groups. Similarly, food steamers with 6L capacity are ideal to cook a healthy dinner for two.
Material
Steamers for vegetables are mainly constructed with three materials:
Stainless Steel
Stainless steel steamers are durable and will last you a long time. They are adaptable and can be used in every cooking setting.
Bamboo
A bamboo steamer works fine but, over time their quality gets affected and they start to get dark very quickly.
Plastic
Plastic steamers are mainly used in microwave-despite the fact that they are user-friendly. Using these steamers for a long time could be dangerous for our health.
Number of tiers
Many steamers come with multiple tiers. These tiers are helpful because they allow you to steam different items at one time and also they let you add or remove the food at your convenience.
Types of Steamers
Following are the different types of vegetable steamers that are used widely:
Stove Top Steamer
A stovetop steamer comes in the form of an insert that can be placed in or on top of a saucepan. The base of the insert is filled with holes that transfer the steam from the simmering water to the food.
Electric Steamers
These modern steamers have multiple trays. These trays can be used to place various items for steaming at one time. It is super easy to steam any food with an electric steamer. You just have to place food in it and add water to it, the device does the rest of the work.
Oven Steamers
Oven steamers (also called combi-steamers, hot-air steamers, combination steam-convection ovens, or only combi ovens) are kitchen appliances typically used in professional catering services or restaurants.
Collapsible Steamer Baskets
Collapsible steamer baskets are a type of stovetop steamer. Their design makes them easy to store. These are usually made of good quality materials like stainless steel or silicone.
Usage
Another very important thing to consider when buying a steamer is to be clear about how many times you intend to use it. If you want to buy a steamer so that you can use it regularly then a good quality steamer is worth buying as it will save you from the troubles that are caused by poor quality steamers. However, if you want to have something for occasional use then a steamer basket is a good option.
---
Our Recommendation For The Best Vegetable Steamer
Finding a vegetable steamer that comes with the features that you want shouldn't be that difficult to do, but with multiple options at every store and online retailer, there can way too many vegetable steamers to sort through.
Out of all the options listed above the best steamer option is the Ovente FS53W 7.5-Quart 3-Tier Electric Vegetable and Food Steamer. This unit has plenty of space to put all your favorite foods with the three tier design. You can make dinner for the whole family, including rice or other grains in the included basket.
You don't need a rice cooker if you have this one. It is versatile enough to be used with one or all three of the baskets in place. It is also dishwasher safe and free of harmful BPAs in the plastic while also being transparent so you can keep an eye on the vegetable steamer while cooking.
Related articles
---