Quick Summary: We have picked the Instant Pot DUO60 7-in-1 Multi-Use Programmable Pressure Cooker is the top electric pressure cooker as it is seven kitchen appliances in one, made from food-grade stainless steel, and has no chemical coatings. It also comes with 10 safety mechanisms, 14 Smart Programs, and technology that makes it self-adjust if the food is cooking too quickly.
You enjoy food that is easy to cook and tasty, right? Well, the best thing about choosing one of the best electric pressure cookers is that they keep all the nutrients in your food. The second best thing? They save time in the kitchen and your food will taste amazing! Winner!
When you're a busy person, an electric pressure cooker elevates your kitchen game. After quick food preparation, you set the timer in the morning so great, healthy, homemade food is ready when you get home at the end of a long day! Plus the house smells incredible!
Before buying, it's essential you take into account what sort of things you enjoy eating and whether the features are versatile enough for your diet. Find out how large the different cookers are and how many food portions they will cook at one time.
You want enough for guests too! Also, it's useful to know if the pressure cooker has a warranty and if replacements are an option. After all, you want it to last a long time! Discover the ultimate electric cookers online with our top 10 round-up. We've found the best out there, so you can simply decide your favorite.
Quick Navigation:
---
10 Best Electric Pressure Cookers Comparison
It's one of the pressure cookers with a unique steamer and sterilizer suitable for preparing rice and making yogurt. You can never go wrong while preparing these meals due it's easy to follow recipes.

Read Our Review

It's a one-touch programmable cooker with digital settings that helps you prepare various meals such as stew, rice, poultry, and multigrain.

Read Our Review

A microprocessor electric cooker developed with 3rd generation technology helps you cook eggs, rice, porridge, and cakes.

Read Our Review

It is made with crispy technology that effectively allows you to cook ingredients effortlessly. The cooker is suitable for preparing tasty deep-fried French fries.

Read Our Review

It's one of the best multicookers with a pressure relief valve that allows you to prepare meals without being exposed to burning threats. Moreover, the upgraded plate provides a uniform heat from all angles, which reduces your cooking time.

Read Our Review

A 1200w electric cooker is designed to cook faster without altering the flavor of your meal.
Similarly, it has a large capacity for preparing food enough to serve up to six people.

Read Our Review

It has 33 programmable settings that help you prepare and cook different meals with high or low pressure. It is suitable for preparing boiled eggs, beans, beef stew Risotto, cheesecake, vegetables, and omelet.

Read Our Review

It's an instant pot smart cooker with both automatic and manual settings with 8 quarts to help you cook for 10 plus people in a single preparation. It's suitable for cooking grains due to its customizable recipe.

Read Our Review

A 14 program electric cooker with an extra silicone gasket; suitable for preparing rice, poultry, soup, cake, beans rice, porridge, and yogurt. Equally, it has a manual setting that is easily customizable.

Read Our Review

14-quart pressure cooker can help you prepare a meal for many people, especially when you have an event or a party.

Read Our Review
---
Reviews of Top 10 Electric Pressure Cookers
Best Overall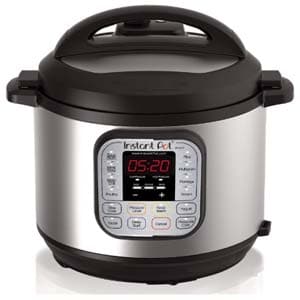 What you will love: The Instant Pot Duo is the best 6-quart pressure cooker available thanks to its performance and the fact that it can replace seven kitchen appliances. It acts as a pressure cooker, slow cooker, microwave steamer, yogurt maker, warmer, sauté, and rice cooker.
It is equipped with 14 Smart Programs, which include meat/stew, poultry, keep warm, steam, and more. The cooking pot is made from food grade steel and has no chemical coatings.
Instant pot duo pressure cooker also comes equipped with 10 safety mechanisms and technology that monitors the pressure and temperature and adjusts the heat intensity. Ranging between $80 and $100, it is an expensive item.
However, since the pressure cooker acts as so many appliances, the cost per function is less than buying them all separately. Additionally, there have been a few units that have stopped working after a year or so of use.
Pros:
Highly recommended
7 products in 1
Programmable with 14 smart programs
Food grade stainless steel
Safety mechanisms
Great technology
Cons:
Kind of expensive
May wear out after a year of use
---
Best Budget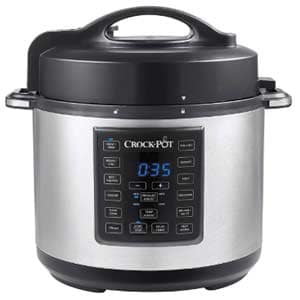 What you will love: This multi-cooker gives you eight one-touch cooking settings. The Crock-Pot 6-Quart 8-in-1 Multi-Use Express Pressure Cooker lets you slow cook, brown and sauté, pressure cook, or steam.
It gives you eight meal settings that include meat/stew, poultry, soup, dessert, and more. Clean up is a breeze since the pot resists stuck-on food and you can throw it in the dishwasher.
For those busy parents who shuffle kids to sporting events all day, you can add your ingredients before you leave home. Then, you can set the delay timer so it is hot and fresh when you arrive home.
It can also reduce the number of drive-thru dinners you eat. The purchase includes a recipe book, serving spoon, and steaming rack. Crock Pot pressure cooker is fairly priced for its capabilities.
A potential problem for some is that you must use the preset buttons, but you can increase or decrease the time- except for the poultry setting.
Pros:
Eight cooking settings
Resists stuck on food
Dishwasher safe
Delayed cooking
Recipe book
Steaming rack
Fair price
Cons:
Does not give as much control over cook times and settings as other pressure cookers and multi-cookers
---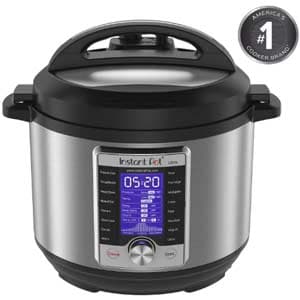 What you will love: This cooker adds new features, including cake, egg, and sterilize. Instant Pot Ultra 10-in-1 Multi-Use Programmable Pressure Cooker brings some great new features to pressure cookers.
It can replace the following 10 kitchen appliances: rice/porridge cooker, pressure cooker, cake maker, egg cooker, slow cooker, yogurt maker, sauté/searing, food steamer, warmer, and sterilizer.
Additionally, it provides altitude adjustment, steam release, cooking indicator, and an ultra button that allows for custom programming.
This pressure cooker comes with a serving spoon, a soup spoon, measuring cup, recipe booklet, and a steam rack with handles. It monitors the pressure and temperature to ensure your food is cooked the way you want.
Instant Pot Ultra pressure cooker has 11 safety features and is made from food grade steel. At around $130 and up, it is a bit expensive.
Pros:
10 appliances in one
Adds cake maker and egg cooker
Sterilize features, altitude adjustment steam release
Ultra button which allows for customer programming
Comes with great accessories
Food grade stainless steel
11 safety features
Cons:
---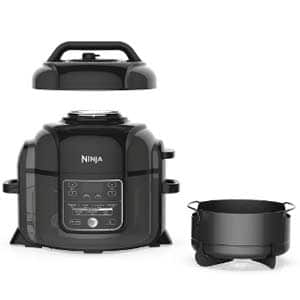 What you will love: It has TenderCrisp Technology that gives your meals a crispy finish. The Ninja Foodi Pressure Cooker is a 6.5 qt pressure cooker that also steams and air fries your food. It is ceramic coated and nonstick making it easy to clean.
The 4 qt cook and crisp basket can hold 3 lbs of French fries or 5 lbs of chicken, so it is a great size for a large family.
You know all those times when you realize way too late in the day that you forgot to lay out dinner to thaw? I do this quite often, but this pressure cooker solves that problem. Ninja Foodie pressure cooker even evenly cooks frozen foods to crispy deliciousness with no need to thaw first.
It has 14 safety features, and it comes with the following accessories: crisping lid, stainless steel reversible rack, ceramic-coated cook and crisp basket, air fryer lid, and over 45 recipes. Don't forget that can be used as an air fryer too.
At $200 and up, it is definitely expensive, but it comes so highly recommended that it seems a worthy investment.
Pros:
Can cook from frozen
4 qt cook and crisp basket holds a great deal
Ceramic coated and nonstick
Easy to clean
14 safety features
Great accessories
Cons:
---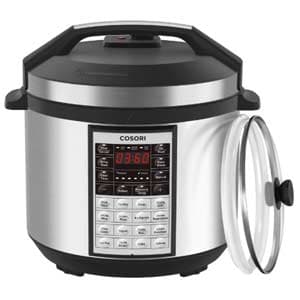 What you will love: This pressure cooker has 19 programmed functions, and gives you the capability to cook two dishes at once.
With the COSORI Electrical Pressure Cooker, you can limit your cooking time by cooking two dishes at once. This seems like an extremely useful kitchen companion for busy or working moms and dads.
It comes with extra sealing ring, glass lid, ladle, rice spoon, water collection cup, a measuring cup, and 50 recipes.
Cosori electrical pressure cooker has 10 safety mechanisms and six pressure settings. The food grade stainless steel is made with a 3-ply bottom to make it tougher. A little under $100, it is in the mid-level price range.
On the downside, with so many buttons and settings, it may take a while to learn them all, so be patient. Read the user manual carefully before use.
Pros:
19 programmed functions
Cook two dishes at once
Great accessories and over 50 recipes
Strong 3-ply bottom, food grade stainless steel
10 safety features, okay price
Cons:
May take some time to learn all functions
---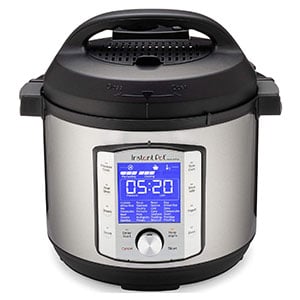 What you will love: It's a fast, slow pro, the best pressure cooker that can save your cooking time. Moreover, this user-friendly pressure cooker has safety features that are effective for beginners. Check the recently updated prices on amazon com.
It's multi-tasking and timing- saving cooker that slow cooks, steams, bakes, ferments, warms, and pasteurizes your food with easy to follow cooking recipes.
Instant Pot Duo Evo Plus Pressure Cooker has both manual and automatic warm programming that ensures that your meals are at the right temperatures. Consequently, you can adjust these programs to enable you to meet your food preparation preferences.
Features:
Have a heating element of 1200w to minimize preheating time.
48 customizable settings options that help you to be preset according to the meal you're preparing.
Stainless steel interior and exterior to maintain hygiene.
Customized non-slippery handles to prevent pouring your food on the floor.
Contain steaming rack with steeling ring.
Pros:
Easy to clean
It's safe for beginners due to the automatic pressure control mechanism
Free-easy to follow recipes available on android phones.
Cooks faster for all varieties of food
Contain easily customizable temperature settings
Excellent for fermenting and for baking purposes
Have easy to use icons
Cons:
It's not suitable for cooking for more than six people in the house
---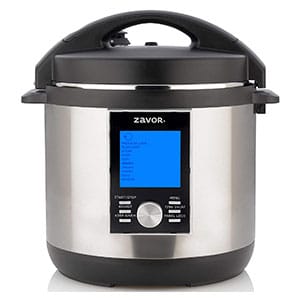 What you will love: This pressure cooker has a timer that helps you to delay your cooking process by up to 6 hours. Similarly, this unique aspect helps to manage when the food is ready. For the updated fair prices, check on amazon com.
It is a top-rated electric pressure cooker with a steamer basket that allows you to prepare various food. It's most suitable for making yogurt and cooking rice due to the delay aspect that maintains your food's flavor.
Equally, Zavor LUX LCD Programmable Electric Pressure Cooker has a temperature regulator to ensure your food is not overcooked.
Features:
It has 33 useful programmable settings to prepare eggs, beans, meat, soup, vegetables, risotto, cheesecake, and omelet.
Have a time-delay feature which helps to delay the cooking process for up to 6 hours.
Contain a 6-quart aspect which assists you in preparing a variety of meals at the same time.
It has a steamer basket that helps you to preserve food's nutrients.
Contain both manual and automatic recipes to help you with effective cooking.
It has a stainless steel rack and inner pot for easy cleaning.
It has adjustable temperature settings to help you control your cooking process.
Pros:
Saves power due to the excellent heating elements
Food can be ready at your convenience due to a delay timer
Easy to follow manual settings
Excellent temperature regulation
Keeps your food warm for a longer period
Have both high and low cooking pressure options
Easy to follow recipes
Cons:
It has only one year of warranty
Related: Best multi cookers
---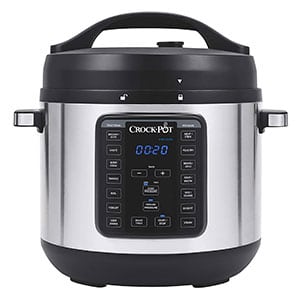 What you will love: It's an 8- quart pot that will allow you to cook enough food that serves up to 10 people. Similarly, you can manually reset the cooking programs depending on your preferences.
It is suitable for pressure cooking grains, meat, and vegetables. If you want to purchase one, check the updated prices on amazon.com.
This is one of the best pressure cookers that are effective for preparing large meals. Equally, it allows you to slow or accelerate the cooking process, depending on the mode you have initiated in the settings.
Furthermore, Crock-pot 8-Quart Multi-Use XL Express Crock Programmable Slow Cooker has one-touch settings that help you spend the least time in the kitchen but still prepare a healthy meal. As a result, you can steam, boil, simmer, and saute in a one-pot meal.
Features:
Manual settings help to regulate pressure from low to high, depending on the type of food you are pressure cooking.
Have non-stick pots simplifies the cleaning process since the food can't stick.
It has one-touch settings this helps to ease your cooking process.
Contain steaming rack.
Pros:
Easy to clean
It can cook for many people
It has easily customizable pressure cooking recipes
It has a fast-effective boiler and simmer
Comes with a serving spoon
Cons:
It is not adequate for cooking for a few people
---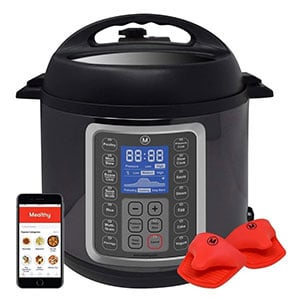 What you will love: It is one of the best electric powered pressure cookers on this list with two dish pots that will enable you to prepare two meals simultaneously. Similarly, you will love the efficiency of the cooker due to easy 14-touch programs.
Consequently, it helps you make the best yogurt, cook rice, and bake rice. For the recent prices, check on amazon com. It's a 6-quart slow cook appliance that has 14 touch programs.
Similarly, Mealthy MultiPot 9-in-1 Pressure Cooker has a stainless pot, easy recipes that can help you prepare your desired food in minutes. It has a large pressure cooking pot that is suitable for boiling grains.
Features:
Has stainless steel pots for easy cleaning.
Has 14-touch easy cooking programs helps to prepare a meal of your choice.
Has a sizeable measuring cup assist in measuring the right amount of food to cook.
It has a big steamer basket it helps you to prepare enough food.
Consist of a silicone gasket.
Pros:
Can cook two dishes at the same time
It helps to prepare a large meal at once
Easy to follow recipes for beginners
Keeps your food warm while maintaining the flavor
Cons:
Manual settings can be challenging for a beginner
---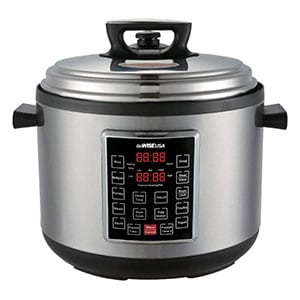 What you will love: It's one the best slow cookers that you can set a delay timer for up to 20 hours while still maintaining the food's flavor. Equally, it has an auto warm feature where you can take your delicious meal anytime you want.
Moreover, GoWISE USA GW22637 4th-Generation Electric Pressure Cooker will suit you better, especially when you are pressure cooking for a huge crowd at your house.
Its 14 quarts rice cooker with a 24hr timer helps you choose the appropriate time you want the food to be ready. It has simple cooking guidelines that assist you in cooking large meals for your family or friends.
Features:
Have a delay timer for up to 24 hours helps to slow cook your food effectively.
Auto warms food this assists in keeping your food ready all the time.
Temperature regulator helps to ensure your food is cooked according to the recipe.
12 effective cooking programs assist you in preparing a variety of meals.
Pros:
Effective-easy to follow pressure cooking recipes
Favorable for cooking for a large amount of food for events, parties, or gatherings
Easy to clean stainless steel helps to keep both exterior and interior resistance from rust
Food can be ready when you want the delay timer helps you set your preferable time
It's safe for beginners comes with easy to follow settings
Cons:
It's not suitable for pressure cooking for a meal for one person
---
Final Verdict: Best Electric Pressure Cookers
If you are looking for a way to feed you and your family more healthy, less processed foods, an electric pressure cooker might be the answer for you. Our in-depth review will help you with that.
With all of the options, be sure you research and determine what features you want before you shop so that you can pick the best electric pressure cooker for you.
Related Articles:
---