Quick Summary: Based on the reviews, the stainless steel rice cooker that is likely to meet the needs of most cooks is the Aroma Housewares 8-Cup (Cooked) Digital Cool-Touch Rice Cooker. In addition to having a number of easy-to-use functions, this cooker has a non-stick inner pot that is removable, making it easy for you to clean it up quickly.
If you enjoy eating rice, a rice cooker can be one of the best kitchen appliances you can invest in. If you also enjoy steamed vegetables and meats, a rice cooker and steamer combo is the best multi-cooker for you to own.
While some can strictly cook rice and soups, others do so much more. They come with steam trays that you can fill with vegetables, meat and poultry while you cook rice underneath.
This gives you the ability to cook an entire healthy meal in one kitchen appliance. That saves time, energy, space, and even dishes that need to be washed. Many of them also offer programming features that delay the cooking, extend the warming time, and much more.
If you are ready to invest in a rice cooker but are feeling overwhelmed by your options, this article should be helpful for you. Throughout this information, you will learn what a rice cooker is, the specifications you should look for when shopping for one, and the benefits and downsides to the best stainless rice cookers on our list.
Continue reading to educate and prepare yourself to purchase the best one for you, your kitchen, and your budget.
Quick Navigation
---
10 Best Stainless Steel Rice Cookers Comparison
| | | |
| --- | --- | --- |
| | The Aroma Housewares rice cooker is a large capacity option that can hold up to 8 cups of rice at a time that offers steaming abilities for vegetables too. | Read Our Review |
| | The Aroma Housewares Simply Stainless is a three-cup option that comes with a one-touch operation that makes cooking your rice for dinner easier than ever. | Read Our Review |
| | The Cuisinart CRC-400P1 is a rice cooker that holds up to four cups of rice that comes with a square shape that has a modern and sleek style. | Read Our Review |
| | This Miracle Exclusive is a stainless-steel rice cooker that also has a vegetable steamer tray so you can do two things at once while cooking. | Read Our Review |
| | The Zojirushi NS-LAC05XT comes with multiple cooking functions that can be used for sushi, porridge, and brown rice so you have total control of what you make. | Read Our Review |
| | The Aroma Housewares is a large capacity cooker that can handle up to 6 cups of cooked and 3 cups of uncooked rice at a time. | Read Our Review |
| | The Oyama CFS-F12W is a large rice cooker that cooks up to 7 cups of rice and has a triple-layered base for even cooking and a keep-warm function. | Read Our Review |
| | The Aroma Housewares commercial rice cooker that can be used in professional kitchens and can make 60 cups of uncooked rice at once without burning. | Read Our Review |
| | The Tatung TAC-11KN is a large option that is multi-functional that can make fish, rice, and veggies and can hold up to 11 cups of content at once. | Read Our Review |
| | The Tiger JNP-S1OU is a 5 ½-cup rice cooker and warmer that has a non-stick interior and a keep-warm function that will work for up to 12 hours. | Read Our Review |
---
Reviews of Top 10 Stainless Steel Rice Cookers
Below we have compiled reviews of some the bests to make it easy for you to reach a decision when shopping for the rice cooker that will meet your needs.
Best Overall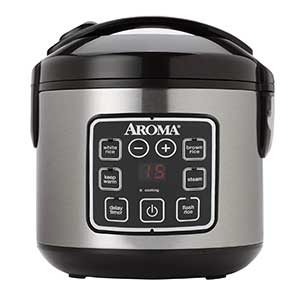 What You Will Love: This rice cooker can give cook up to 3 cups of uncooked rice in just 15 – 20 minutes. The Aroma Simply Stainless Rice Cooker includes a stainless steel inner pot with a tempered glass lid, both of which can be easily removed and are dishwasher safe.
The included measuring cup and spatula are BPA free. There is no nonstick material to worry about in this. It is a compact and efficient kitchen appliance is very budget friendly.
It does not have an on or off button, so it will need to be plugged and unplugged for power. There have been a few complaints about it spitting and spattering out of the cooker. However, a couple of users have reported that by placing a cloth or bowl over the steam hole in the lid, this problem is no longer a problem.
With a stainless steel exterior, this cooker has a capacity of four cups of uncooked rice, yielding eight cups of cooked rice. The rice cooker has some easy to use functions including a delay timer of up to fifteen hours, an automatic keep warm function and programmable digital controls with steam.
Also, the appliance has a removable nonstick inner cooking pot for easy cleaning of the unit. Aroma also made sure that it is dishwasher safe. Some of the accessories that accompany the cooker are a steam tray, a cup for measuring rice, one spatula, and some exclusive recipes.
Pros:
Great accessories
Easy to use
Sturdy rice cooker
Does all kind of rice perfectly
Cooks quickly
Stainless steel inner pot is removable and dishwasher safe
Compact and efficient
Included utensils are BPA free
Very budget friendly
No nonstick coating
Cons:
Easily breaks down
Takes long to cook
The bowl is a bit small
Steam leaks
No on or off button
May spit and spatter forcing you to cover the steam hole with cloth or bowl
---
Best Budget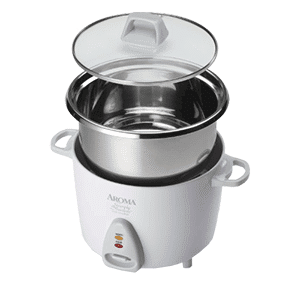 What You Will Love: This unit is a very budget friendly, set it and forget it. The Aroma Digital Cool Touch Rice Cooker is one the best available. It has over a dozen functions giving the user the ability to cook rice, soups, steamed veggies, and more.
The budget friendly price and cool touch surface make this unit even better. You can choose between a silver cooker and a white cooker. The lid and pot are both easy to clean. There is also an open/close handle for easy handling.
There seems to be some issues with the durability of this product. There have been a few complaints of the product falling apart over time, especially the plastic outer latch. Some buyers have gone to a local hardware store to purchase clamps to keep it closed.
Its cooker pot made of surgical-grade stainless steel. It has a capacity of three cups of uncooked white rice which gives six cups when cooked. Similarly, it has a capacity of two cups of uncooked brown rice, giving you four cups of the same when cooked. The appliance also features one-touch operation and an automatic keep warm function.
Apart from being able to prepare any variety of cooked rice, the unit comes with a measuring cup and one serving spatula for your convenience.
Pros:
No plastic in contact with the steam
Stainless steel bowl is thick and sturdy
Cooks rice perfectly
Does not take much space
over a dozen functions & cooking versatility
budget friendly
cool touch surface
2 colors to choose from
easy to clean
open/close handle
set it and forget it design
cooks up to 8 cooked cups of rice
Cons:
Splatter around the lid
Does not cook other grains well
Rice sticks sometimes
Cooker is not long-lasting
not durable
plastic latch may break easily
---
1st Runner-up for Overall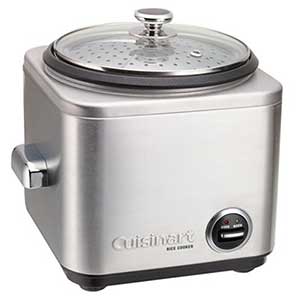 What You Will Love: This rice cooker is designed in a square shape with a round stainless steel steaming basket that sits on top for versatile cooking capabilities. The Cuisinart CRC-400 gives the user versatile cooking capabilities, such as steaming veggies in the stainless steel steaming basket while cooking rice in the nonstick rice cooker below.
The stainless steel housing is a square design with cool to touch handles. It is priced very fairly for its style and capabilities.
There has been one steady complaint among users. They say that this unit tends to boil over easily. A few of the buyers, however, learned that if you keep the steaming basket on top, even when it is not in use, the boiling over decreases or stops completely. Also, it is recommended to only use the included measuring cup to ensure accurate measurements.
This Cuisinart can steam rice, vegetables, and meat. The design of the appliance features a square shape with a brushed stainless steel finish. The cooker, which automatically activates the warm function when the meal is ready, comes with a stainless steel steaming basket, a paddle, a glass lid, and a measuring cup.
Also, it has a steam vent to prevent splattering and chrome-plated handles that remain cool to the touch.
Pros:
Inner nonstick pot is easy to clean
Cooks rice fast
Stainless steel finish blends well with other appliances
Simple and easy to use
unique square design
stainless steel steaming basket
versatile cooking options
cool to touch handles even when cooking
fair price for the capabilities, features and benefits it offers
Cons:
Overcooks rice when filled
Cannot do brown rice
Too small for a family
The unit frequently overflows
boils over when steaming basket is not placed on top of cooker
may not cook right if you measure with anything but the included measuring cup
---
Best Glass Lid Rice Cooker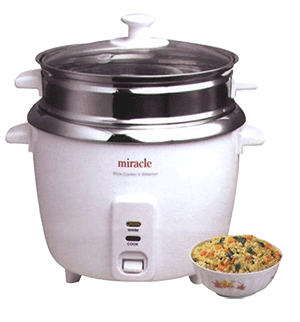 What You Will Love: This rice cooker features a stainless steel cooking bowl as well as a stainless steel vegetable steamer tray. The cooker comes with a measuring cup, a rice paddle and a glass lid that lets you monitor your rice as it cooks.
Moreover, this rice cooker has an automatic function that switches it from cooking to warming mode.
With the all stainless steel construction, there is no worry of food coming into contact with chemicals. The cooker has indicator lights and can cook eight cups of rice to yield twelve cups of cooked rice.
Pros:
Can make rice and steam vegetables
Very easy to clean
Stainless steel and dependable
Works fast
Cons:
Cooker is not durable
Expensively priced appliance
Rice sticks at the bottom
Sometimes switch does not go on to cook
---
Best for 3 Cup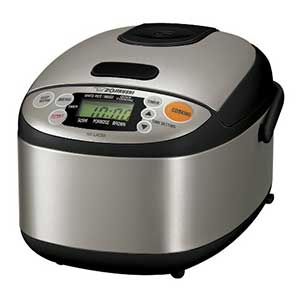 What You Will Love: The attractive design takes up little counter or storage space. This includes a delay timer, a reheat function, and it evenly cooks rice, sushi, porridge, and more. The detachable lid is easy to clean, and the LCD control panel is easy to read and easy to adjust.
The automatic warming cycle can be extended for hours if need be.Though this product receives tons of great reviews, there are a couple of downsides. The first is that it is a pretty pricey kitchen tool, but reviewers claim that it is worth every penny.
Also, due to the particular way it is designed to cook, brown rice takes a couple of hours to get done. While some hate this, others do not mind because they believe the outcome is well worth the wait.
The Zojirushi has a capacity of three cups and yields six cups of well-cooked rice. It has cooking functions for white and mixed rice, sushi, porridge, and quick cooking. The inner cooking pan is designed to allow for even heating for better results as well as measuring lines to help you to control your ingredients.
The appliance features an LCD control panel, a detachable inner lid, automatic keep-warm setting, a retractable power cord, and a reheating cycle. Lastly, the appliance is designed to occupy minimal storage space.
Pros:
Makes very good rice
Plays song when cooking starts and when it stops
Does not leak when it cooks
Easy to use
versatile cooking abilities- rice, sushi, porridge, and more
even cooking
detachable, easy to clean lid
reheat function and extended keep warm feature
retractable cord for easy clean up and storage
attractive, modern design
easy to read and adjust LCD control panel
Cons:
Cooker is a bit slow
Nonstick coating flakes off of bowl
Does not keep rice heated
Very high priced- too high for many budgets
Takes a while to cook brown rice
---
Best Pot Style Rice Cooker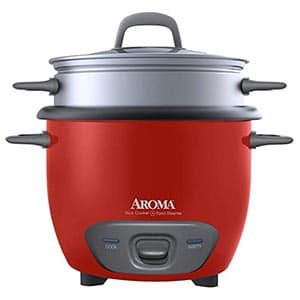 What You Will Love: This handy rice cooker can also steam foods while the rice is cooking. The Aroma Housewares 6 Cup Rice Cooker has a "set it and forget it" one touch design. It comes with a non stick inner pot, an aluminum steam tray, a rice measuring cup, and a plastic rice spatula.
The pot can be used for rice, soups, and cakes. The steamer tray can steam vegetables and meats while the rice cooks underneath. After the rice has finished cooking, it automatically sets to warm.
It is very budget friendly and comes in three different color options: black, red, and white. It is important to mention that the 6 cup capacity is referring to cooked rice. Only 3 uncooked cups can be added, but buyers suggest cutting that down to 2 uncooked cups to prevent overflowing.
Starchy water has been known to overflow out of the rice cooker, making a mess on your counters. Additionally, there is no on/off button so you will have to plug it in and unplug it to control the power.
Lastly, some buyers state that if you leave the rice in the "keep warm" setting for too long, the rice will dry out and eventually burn.
Pros:
"Set it and forget it" design
Foods can be steamed on aluminum tray while rice cooks underneath
Automatically switches to "warm" setting when done cooking
Budget friendly
3 color options
Cons:
6 cups refer to cooked rice, can only put half of that in if uncooked
overflows starchy water onto countertops
no on/off button- power controlled by plugging and unplugging it
"keep warm" setting may dry out and burn rice
---
Best for Separate Inner Pot & Lid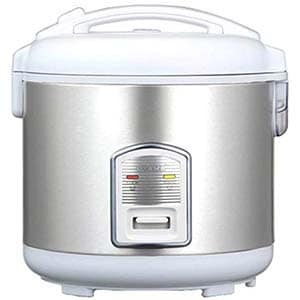 What You Will Love: This rice cooker includes no Teflon or other toxic chemicals. The Oyama includes a stainless steel cooking bowl, stainless steel steaming tray, and a stainless steel inner lid. There is no Teflon or other added toxic chemicals to worry about.
The steam tray is great for steaming veggies, meats, and poultry while cooking rice below. This unit is designed for three dimensional heating that comes from the lid, sides and bottom to ensure even cooking.
It has the ability to keep your rice warm for a 24 hour period. Also, there is a detachable cord for easy storage. This unit comes in stainless steel and white, or stainless steel and black. Additionally, the lid is removable for easy cleaning.
As with most new kitchen appliances, there is a bit of an odor when first using it. However, this can be burned off. Also, it has been known to boil over if you add too much rice or water.
Users suggest cutting down by a cup of what the capacity is to ensure no mess is made on your counters. Some users have reported some rice sticking if left in the cooker too long. Many buyers suggested using a little cooking spray to help prevent this.
If some does stick on the pan, simply let it soak before washing. Plastic utensils are suggested to keep from scratching your cooker. Lastly, the price may be a bit high for some budgets.
Pros:
no Teflon or other potentially toxic materials
two color combination options
entire inside is stainless steel
can steam veggies, meat, and poultry while cooking rice
3 dimensional heating for even cooking
removable lid for easy cleaning
detachable cord
Cons:
new kitchen appliance odor that needs to be burned off
may boil over onto counters
a bit pricey for many budgets
rice may stick if left in cooker too long
---
Best for Commercial Use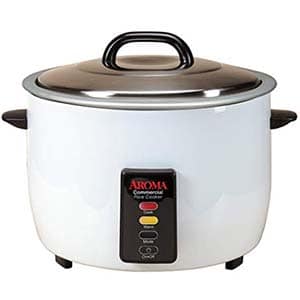 What You Will Love: This stainless steel rice cooker provides up to 60 cups of cooked rice and comes with the utensils you need.
The Aroma Housewares 60 Cup Rice Cooker is a great option for restaurants, catering, or even just large family gatherings. Add up to 30 cups of your favorite uncooked rice for a large pot of fluffy rice.
It comes with two rice measuring cups, a plastic rice spatula, and a durable stainless steel lid. Inside is a nonstick inner pot that can be easily removed and cleaned. There is a keep warm feature for use after the rice is fully cooked. It is a great price for the available capacity.
While many buyers swear by this product, there have been some complaints of the unit not working after a few months of use. Also, the keep warm feature may not keep rice as warm as you would like for it to be.
Some reviewers stated that the rice even became cool while in "keep warm". Most buyers transfer rice to a warmer immediately after it is through cooking.
Pros:
good price for cooking capacity
2 rice measuring cups
durable stainless steel lid
removable, easy to clean nonstick inner post
plastic rice spatula
many buyers, including caterers, swear by this product
Cons:
may stop working after a few months of use
keep warm feature may not work well- rice may need to be transferred directly to a warmer
---
Best for Long Time Keep Warm Feature
What You Will Love: The Tatung TAC-11KN is a large capacity stainless-steel rice cooker that can be used for rice, porridge, and veggies. This large option can handle making lots of rice at a time and can be used for large dinners and parties.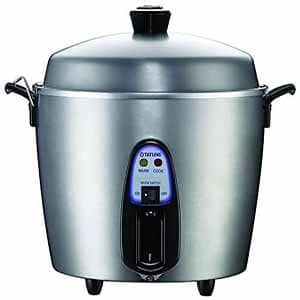 11-Cup Capacity
The Tatung rice cooker is a large option that can hold up to 11 cups of rice at once. This option can be used for multiple types of food and offers even cooking so that no part of the contents are ever burned.
Keep Warm Function
The Tatung's keep warm function allows you to keep your cooked rice warm for serving for hours at a time, which is ideal for large parties and gatherings. It is also easy to switch to this function because of the switch on the front.
Four Cooking Modes
It has four different cooking modes that can be used for different occasions. There is a braise, steam, stew, and rice cooking. Each mode offers unique functions that make it ideal for each dish you make.
Pros:
Ideal for large gatherings
Holds up to 11 cups
Has a keep warm function
Has four cooking modes
Easy to use
Cons:
The handle is not very durable
A rice measuring cup is not included
---
Best for Retractable Power Cord
What You Will Love: The Tiger JNP-S1OU-HU is a warmer and rice cooker that will work for multiple types of meals from steaming vegetables to cooking brown rice. This option includes both a spatula for serving the rice and a rice measuring cup.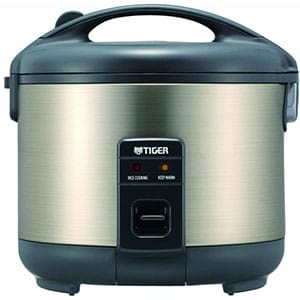 Keep Warm Mode
This Tiger rice cooker comes with a keep-warm function that allows you to switch from cooking mode to just keep the rice warm while you are ready to serve it. The keep-warm will keep the rice for hours.
Retractable Power Cord
The power cord is fully retractable so that the cord is not hanging out and taking up space on your counter. Whether you are using it or not, the cord can be hidden so that it is not seen.
Non-Stick Interior
The inside of it comes with a non-stick coating that keeps your ice from getting stuck to the inner pan. This keeps all the rice that you cook from cooking unevenly.
Pros:
Cooks and steams
Includes rice measuring cup
Keep warm mode
Retractable power cord
Non-stick interior
Cons:
Difficult to clean all the small areas
The light is not very durable
---
What Is a Stainless Steel Rice Cooker?
A rice cooker, also known as a rice steamer, is a kitchen appliance that is used to cook rice.The cooker prepares rice automatically, switching from cooking to warming mode when the rice reaches the proper temperature.
All you have to do is to add the ingredients and plug in the cooker. It can be used to cook, keep warm and reheat rice. The appliance consists of a source of heat, a cooking bowl, and a thermostat.
Related article: Top Rice Cookers Reviews
---
How to Choose the Top Rice Cooker
Even as you mull over the best rice cooker to buy, it is important that you choose the one that will meet most of your kitchen and culinary needs. As such, there are some considerations that you have to be mindful of as you shop around for rice cookers.
Thermal Convection
The cooking pan itself does not heat up in these models. Instead, the heated air outside the pan passes through it by thermal convection, effectively making the rice cook.
The unit contains a thermal sensing device which automatically switches the cooker to warming mode once the rice is ready.
Heat Induction
The cooking pan does not heat up so much. It generates an electromagnetic current which causes heat to build up when it passes through the metal cooking pan.
Cooking rice through heat induction makes for a more consistent rice cooking process and takes place at higher heat. Heat induction models are more expensive than their thermal convection counterparts.
Power Cord
The best cookers have power cords that are detachable or retractable. This enables you to easily store the appliance as well as save space during storage.
Also, such power cables enable the rice cooker to double as a serving bowl, making the process of cooking and serving rice very convenient.
Outward Design
The outward design of your stainless steel rice cooker should go beyond looks. The design should feature several creative functions on the external part of the cooker. Stay-cool handles and see-through glass tops would go a long way in making your cooking easy.
However, you should also take looks into account since most rice cookers are usually stored on countertops, shelves, and you will want an electric appliance that accentuates the appearance of your kitchen.
Size and Capacity
When thinking about the size and capacity of the stainless steel rice cooker that will serve you best, you need to consider the size of your family.
In case you plan on preparing rice for a few people, the three cup rice cooker will do. For larger groups of people, you may consider buying a six cup rice cooker.
Easy to Use and Clean
Although basic cookers will often have a one-touch operation, more expensive models will feature digital controls.
Whichever the case, a good stainless steel rice cooker should be easy to operate once you have had a look at the manual.
Rice cookers with a nonstick interior will often be easy to clean using water, soap, and a sponge. Some of these cookers are also dishwasher safe. A rice cooker with stainless steel pot will not only be durable but will also be easy to clean.
Convenient Functions
There are some functions that will be convenient as you work in a busy and hectic kitchen environment. For instance, cookers with digital controls should have a timer that can turn on the cooker as well as let you know how much time remains until your rice is ready.
Also, an automatic keep-warm setting will help to keep your rice warm once it is cooked but you do not want to serve it right away. Simultaneously, a quick-cook setting is a feature that is available in more advanced cookers.
This feature will come in handy when you are pressed for time and still need to prepare your meal. Lastly, it is important that your chosen rice cooker be suitable for preparing different kinds of rice. This will help in eliminating the guesswork out of cooking different types of rice.
Extra Features
There are several extras that can be the deciding factor between two rice cooker models. For example, some can double as vegetable steamers. In a similar fashion, a good rice cooker has a cup for measuring rice as well as a rice spatula. A spatula holder will also be a great extra feature.
Lastly, a steamer basket is a great tool in case you want to cook vegetables or meat at the same time that your rice is getting ready.
Related reading: How To Choose The Right Pressure Cooker?
---
Final Verdict: The Best Stainless Steel Rice Cooker
We hope that through the best stainless steel rice cookers article, you have learned a great deal about the features and benefits of owning one. We aim to bring you the most relevant data concerning rice cookers and hope that you found it all useful.
Every purchase should be made with careful consideration, keeping a close eye on ratings, budgets, and the capabilities an item can bring to you. Purchasing a kitchen appliance should only be done after researching the available options. Use the information included in this article to make sure you make a good buying decision.
Related reading