Quick Summary: There are many incredible options for egg cookers available, depending on the type of egg cooking you want to do. Whether you want something you can toss into the microwave or plug into the wall, you have options. We selected Cuisinart CEC-10 Egg Central Egg Cooker.
The majority of people love to eat eggs. However, we all have various preferences with the way we want them prepared – poached, hard-boiled, fried, or scrambled. The list is endless. Armed with proteins and other nutrients, eggs have been a super meal for ages.
Nonetheless, eggs can also cause several cholesterol-related health issues, mostly if they are wrongly cooked.
Cooking an egg may seem very easy, but the truth is that it requires a ton of experience to get that flawlessly cooked egg. It's frustrating when you can't prepare a simple meal like this perfectly, right?
No worries, though, the electric egg cooker kitchen appliance was invented to ease the process and let you savor the delicacy.
Egg cookers come in many models, sizes, features, and accessories. They are a handy device for anyone who loves well-cooked delicious eggs. We'll take you through the best choices in the market today, their features, usefulness, and the not-so-good aspect about each. This is to help you make a wise decision on the best that fits your needs and budget.
Yet when we compared all the egg cookers, there was one that really came out on top: the Cuisinart Egg Central Egg Cooker.
The Cuisinart is a durable, convenient electronic egg cooker that cooks eggs perfectly every time and to your specifications.
Load it up, and it'll cook your eggs within ten minutes, automatically shutting itself off when it's done.
You can do everything from poached to scrambled eggs in the Cuisinart (with its special, included tray), and it's attractive enough that you won't feel bad about leaving it visible on your counter.
Quick Navigation
---
10 Best Egg Cookers Comparisons
| | | |
| --- | --- | --- |
| | From adding a unique aesthetic style to the modern kitchen, polished steel lid, 10-egg capacity, built-in timer, and LED indicator, the Cuisinart CEC-10 is worth every penny. | Read Our Review |
| | This DASH black Rapid is incredibly easy to use and comes with a recipe book and a one-year warranty. It cooks other foods, too, apart from eggs. | Read Our Review |
| | This 3.2 ounces compact cooker has a well-rounded bottom to help center the yolk for fried eggs and a removable non-stick base for easy transfer of cooked eggs. | Read Our Review |
| | With a clear top, measuring cup, inbuilt-timer, and ample capacity, the Egg Genie indeed has what it takes to make exceptionally delicious eggs for your family. | Read Our Review |
| | This cute, compact white ceramic appliance with a yellow base looks relatively easy to use when making some delicious scrambled eggs for breakfast. | Read Our Review |
| | This cooker boils and poaches your eggs firmly and correctly every time. With its compact size and lightweight, you can carry it to any place. | Read Our Review |
| | The sheer capacity of the Dash Deluxe Rapid Egg Cooker is utterly amazing, 12 eggs? Comes with an automatic alarm and indicator for perfectly cooked eggs. | Read Our Review |
| | Shaped like a hen, the Maverick SEC-2 features a four-egg poaching tray and a seven-egg rack that allows you to have your eggs in your desired cooking method. | Read Our Review |
| | This automatic egg cooker comes with a clear top, versatile design for you to cook various foods and a non-stick surface for easy cleanup. | Read Our Review |
| | The Dash Rapid Egg Cooker is a compact and lightweight device that can make you six eggs at once perfectly in record time without occupying lots of space. | Read Our Review |
---
Reviews Of Top 11 Egg Cookers
Best Overall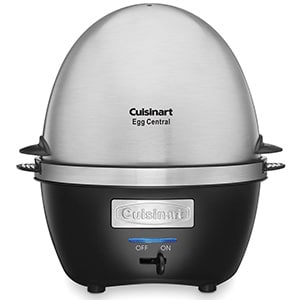 Why You'll Love This: We love how consistent this product is: with the push of a button, you can cook your eggs to perfection every time. Cuisinart is a trusted brand, and this egg cooker is no exception.
With the ability to cook a total of ten eggs at a time, the Cuisinart CEC Egg Central Egg Cooker is the only product you'll ever need.
When we looked for the best-of-the-best in the market, we had to choose the Cuisinart.
When it comes to egg cookers, most cookers are pretty good at cooking, but where they really falter is reliability.
Not so with the Cuisinart. The Cuisinart will be serving you up your hard, medium or runny eggs for a long time to come, with its built in 600-watt heater.
Not only does the Cuisinart come with the ability to cook perfect soft or hard-boiled every time, but an additional poaching tray (for four eggs) and omelet tray (for three eggs) makes it possible to cook eggs any way you'd like them.
For healthy, high protein diets that don't require a lot of time, this is the perfect solution. When are your eggs done? The egg cooker will turn itself off and then there'll be an alert that sounds, so you know exactly when to pull your eggs out.
Because of the auto off function, your eggs will never be overdone: you'll get them exactly how you like them.
And, like most Cuisinart products, this egg cooker looks slick: the brushed stainless steel of the appliance will fit into most kitchens.
Want to clean it up? The trays can be washed off and put into the dishwasher.
The cord can be placed into the built-in cord storage so you can throw everything, stacked, in the cabinets when you don't need it… though it's clean and attractive enough to be kept on your shelf permanently.
A special measuring cup is included for when you're cooking omelets and there's a piercing pin that's designed to pierce the eggs cleanly and efficiently.
It's hard to find anything better than the Cuisinart, with the only downside perhaps being capacity: if you need to cook a full dozen eggs, you might be out of luck.
As an electric egg cooker, it's plugged directly into the wall for convenience… but it doesn't allow you to easily scramble eggs, if that's what you're looking for.
Pros:
Sleek, modern design
Durable stainless steel interior and lid
10-egg holding capacity
Built-in timer and alarm
Comes with a beaker and piercer –prepares the eggs for boiling
Cons:
The steel lid can cause burns since it gets hot while cooking
Pricy
---
Best Budget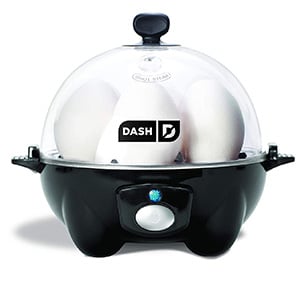 Why You'll Love This: Cook a half-dozen eggs at once in the Dash Rapid 6 Egg Capacity Electric Egg Cooker, the original egg cooker on the market. We love how easy this egg cooker is to use: you plug it in, load the eggs, set the timer and wait.
But that doesn't mean it just cooks soft or hard-boiled eggs: it also can be used for scrambled eggs and omelets!
Known as the first egg cooker on the market, the Dash Rapid Egg Cooker has had a lot of time to perfect egg cooking. Put the eggs in and set the timer: the buzzer will sound and the egg cooker will turn off when it's done.
That means that you'll never get eggs that are cooked too long. You have hard-boiled eggs, poached eggs, and more.
The Dash Rapid is small enough to be featured in even smaller kitchens, which makes it a fantastic appliance and utility for those who want to do simple cooking and fast.
College dorms, first apartments, and shared housing are all excellent applications for the Dash Rapid, which hosts a long list of fantastic reviews due to its reliability and convenience.
Since the Dash Rapid has no external heating elements, it can even be used by children to help them cook their own meals.
There are a number of color options and some elegant designs that make it so that the Dash Rapid can fit into any place. You can cook six hard-boiled eggs at a time and two poached eggs at a time, perfect for a single breakfast.
The only downside to the Dash Rapid is that it's really only ideal for a single breakfast if you're cooking poached eggs or scrambled eggs, because of its capacity.
At the same time, there are very few automatic cookers that can support a larger capacity than that!
With a one year warranty, you can purchase the Dash Rapid and rest-assured that it's going to last you and your kitchen a long time to come.
Pros:
Lightweight and small
Features a recipe book
Removable dishwasher-safe plastic parts
Cons:
---
Best Microwave Egg Cooker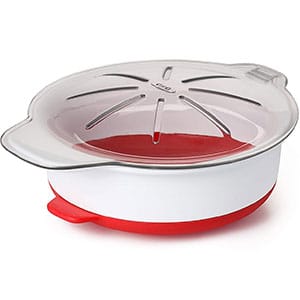 Why You'll Love This: The OXO Good Grips Microwave Egg Cooker is part of a collection of OXO microwave breakfast products. We love that you can get a complete set of easy-to-use microwave-friendly breakfast products from OXO, in addition to how long this good grips product is to use.
Easy to clean and easy to love, the OXO Good Grips egg cooker is a convenient and affordable addition to any kitchen.
The OXO Good Grips product is a simple tray that you slide into your microwave to cook your eggs.
You can scramble eggs or fry eggs in this product: just pour the egg into the bottom tray and put on the top.
Since you set your microwave to cook your eggs, you're able to control exactly how long they cook. For scrambled eggs, you can add flavoring and other mix-ins like salsa or green onions.
Unlike some of the other products on this list, the OXO is a specially designed plate that helps you cook eggs efficiently and effectively.
It's similar to OXO's bacon cooking tray, which means you can easily use OXO products to cook any type of breakfast food that you want.
But it isn't just a plate: it's been specially designed with things like a curved center, so that you make fried eggs perfectly every time.
Since OXO has a non-stick surface, you don't need to cook your eggs with heavy butter or oils. You'll be able to rinse it off in the sink with ease, and it's dishwasher safe for sanitization.
The base can pour the eggs directly onto your plate, and everything for your breakfast can be done in a matter of minutes, especially if you have some other OXO products.
You don't even need to use something to take the OXO out of the microwave. The handle stays cool, so you're able to pop it right out. That reduces the amount of effort you need for your early morning breakfasts.
OXO's products are guaranteed, so if you aren't immediately satisfied, you can return it. But it's a very cheap cooking option.
Unfortunately, OXO products can't be used to hard-boil or soft-boil eggs, because you can't use eggs in the shell inside of it.
It is ideal for those who love scrambled eggs and fried eggs, though, and it can fit conveniently inside of your cabinet.
Pros:
Non-stick device for an easy cleanup
Heat-proof silicone handle
Compact and lightweight for easy transportation
Removable base – for safe and convenient transfer of cooked eggs
Reasonably priced
Safe removal while cooking
Cons:
Hard to control timer for excellent poached eggs
---
Best Electric Egg Cooker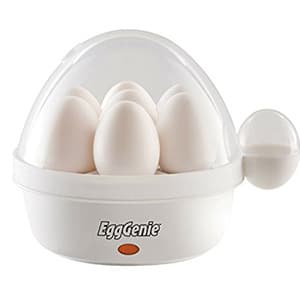 Why You'll Love This: The Egg Genie electric egg cooker lets you easily cook up to seven eggs to your liking: soft, hard, or medium. We love the attractive appearance of this space age egg cooker, which has a clear top to let you view your eggs as they cook.
The Egg Genie can be turned off either manually or it will turn itself off with a cooking timer, and it'll make both cooking and clean up a breeze.
Whether you like runny yolks, medium-boiled eggs, or hard-boiled eggs, the Egg Genie Original can help you.
The Egg Genie is a fantastic, dedicated kitchen appliance that lets you put seven eggs in and get seven eggs out, with either a manual off or timed shut down.
With the timed shut down, you'll get the eggs you want correctly every time. The manual off lets you interrupt the cooking if you want your eggs cooked a little less.
In addition to cooking boiled eggs, there's also an egg poaching tray that can be used to either poach or scramble eggs, depending on what you want.
You can watch the eggs with the clear top, to see whether they've steamed or cooked properly, and the tray for the eggs themselves can be popped out so you can serve them easily. Everything involved can be wiped off and washed out.
To cook eggs in an egg cooker, they often first need to be pierced, so they won't break open.
A built-in piercing pin breaks open the eggs for easier cooking, so you'll get perfect and presentable eggs each time.
The only reason you might not want this type of egg cooker is if you want to cook more than seven eggs, or if you want to cook eggs in a microwave rather than through an electric appliance.
As a small format countertop appliance, the appearance of the egg cooker matters: and it's an attractive, sleek design.
This is a simpler cooker that doesn't have any unusual bells-and-whistles, but if you just want a simple option for cooking your breakfast eggs, this is a fantastic choice.
Pros:
Affordable
Clear lid for easy monitoring
Built-in timer for customized cooking
Cons:
Does not come with a warranty
---
Best Ceramic Egg Cooker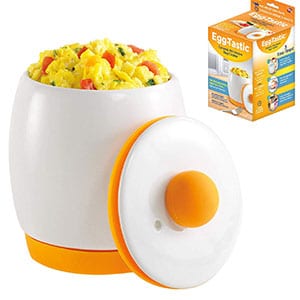 Why You'll Love This: The Egg-Tastic Ceramic Microwave Egg Cooker makes it possible to cook the perfect scrambled eggs in your microwave. We love how simple the Egg-Tastic ceramic microwave cooker is, as you just place the eggs in, mix them up, and throw them into the microwave.
You can mix in everything you want, creating everything from omelets to poached eggs.
The Egg-Tastic is a ceramic appliance that you place eggs into and put in the microwave.
You can scramble up eggs with different ingredients, fold up an omelet, or just poach an egg by placing it in the microwave and setting it to run for a specific time.
The Egg-Tastic boasts that you'll be able to get delicious, fluffy eggs every time, and you won't need to babysit an appliance that's on the stove.
With a thick, ceramic surface that retains heat, you'll be able to cook your eggs gently without potentially burning them in a pot or pan.
Since it's a ceramic bowl with a top, it's easy to clean and can be put into the dishwasher right after being used, or washed out and dried in the sink.
You can whisk your eggs inside of the bowl itself to reduce the amount of things that you need to clean. Just pop the top on and put it in the microwave.
The pot itself is specially vented to let steam out, so you'll be able to cook everything perfectly without any excess condensation. And because there's a non-stick interior for the pot, you won't need to add any butter or oil: you'll be able to cook your eggs in a healthy way every single time.
Customers have noticed some complaints with the Egg-Tastic, as the non-stick surface doesn't work every time: sometimes, you may need to scrape the eggs off the bottom, which could lead to some burning.
Since it is a ceramic jar, technically a ceramic mug could work similarly, but the benefit for the Egg-Tastic is that it has a special vented lid and that it can cook a larger capacity at once. Up to four eggs can be cooked within the Egg-Tastic egg cooker.
Pros:
Easy to use thanks to straightforward instructions
Allows for versatility – you can personalize your cooking by adding cheese, and ham, etc. to your eggs
A small vent on the lid for steam to escape, thus allowing eggs to cook perfectly
Cons:
Does not have a handle – becomes a bit tricky holding it
---
Best Stainless Steel Egg Cooker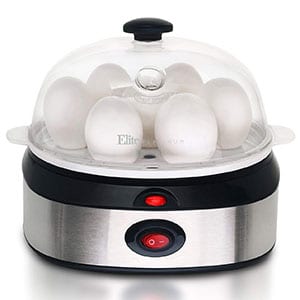 Why You'll Love This: We love that this egg cooker comes in six attractive colors, making it possible to use it to accessorize even the most trendy of kitchens. The Elite Cuisine Maxi-Matic is a no fuss way to cook up to seven eggs, either soft or hard-boiled, perfectly every single time.
Featuring a transparent lid, built-in piercing pin, and indicator lights, it's everything you need to make the best eggs for the whole family.
The Elite Cuisine Maxi-Matic Egg Poacher's major advantage lies in simplicity. Place seven eggs into the Maxi-Matic and it will automatically pierce them, so that you'll get a nice clean cook without any breaking and without any green yolks.
You can then set the Elite Cuisine to cook them either soft-boiled, medium-boiled, or hard-boiled. Once the eggs have been cooked to perfection, the egg cooker will turn off automatically.
You don't need to worry about overcooking eggs the way that you might need to worry about boiling them in a pot, and you also don't need to sit around watching a pot to boil.
This egg cooker is not only automatic, but it's also a fast way to cook eggs, whether you're trying to make them for breakfast or for sandwiches.
A measuring cup makes it possible to add the right amount of water for steaming every single time, and the egg rack itself has a handle so you can easily remove the eggs and serve them as needed.
An included poaching tray makes it possible to poach eggs quickly as well, so you have a versatile appliance that can be usefully displayed in your kitchen: both hard-boiled and also poached.
An indicator light makes it obvious when your eggs are done, and the machine itself will make a sound when the eggs are complete.
If you want a simple, easy, and above all fast way to cook eggs the way you like them, the Elite Cuisine is a great choice… and it comes in six trendy colors that can match a contemporary, themed kitchen.
Pros:
Allows for versatile cooking – poach, boil, or make omelets
Compact and lightweight for easier transportation
Cons:
The construction material looks flimsy
---
Best Multipurpose Egg Cooker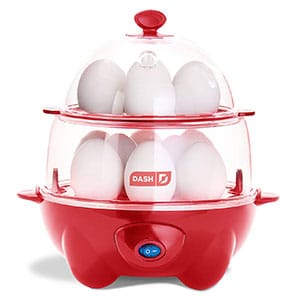 Why You'll Love This: Fast, simple and easy, the Dash Deluxe can be used to cook eggs in a variety of ways. We love the four colors that this double-stacked appliance comes in, as well as the ability to cook so many different types of eggs.
Sometimes you just want it to be luxe. The Dash Deluxe egg cooker is a double-stacked egg cooking device for making large volumes of perfect eggs.
Able to be used for both eggs and steamed food, the Dash Deluxe is a versatile option that cooks perfectly each time.
The double-stacked Dash Deluxe can cook up to a dozen eggs, which makes it one of the few options for cooking for a large amount of people (or just cooking a large amount of food).
It's also available in a smaller model with the same feature set, and it's available in a total of four attractive colors. The Dash Deluxe Rapid Egg Cooker can be used for soft, hard, scrambled, poached, and omelets. Just prepare the eggs, place them in the egg cooker, and turn it on.
When the egg cooker has cooked everything perfectly (which can also include other types of steamed food, such as buns), the device will shut off and a buzzer will sound.
All of this makes it possible to cook a wide array of foods without any threat of burning. You don't need to use butter or grease, and you'll be able to cook everything perfectly.
Dumplings, tortillas, and other items can be cooked on multiple tiers, which makes it possible to cook meals at once, rather than cooking a single item at a time.
There are a number of things included with the Dash Deluxe, such as a recipe book, poaching tray, and omelet tray, making it possible to cook all sorts of things as well as getting other ideas.
For the purposes of easy cooking, the trays can all be wiped off and placed inside of the dishwasher for sanitization.
There's also a one year manufacturer's warranty provided to protect your investment, though the product itself is very affordable.
Pros:
Easy to clean – removable dishwasher-safe parts
Built-in timer and alarm
Large egg capacity – great for big families
Allows for versatility – you can cook your eggs in various ways
Comes in a variety of colors – red, aqua, black, white
Cons:
Short power cord
Too loud alarm
---
Best for Easy Maintenance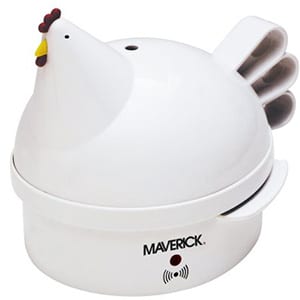 Why You'll Love This: A simple and easy-to-use appliance with a lot of whimsy, the Henrietta Hen Egg Cooker allows for hard, medium, dippy eggs, and poached eggs, with a total of either four poached eggs or seven hard-boiled eggs.
We absolutely adore the design of this device: the hen-shaped appliance is as attractive as it is useful and compact. Cook up to seven eggs at a time with the Henrietta Hen Egg Cooker.
Once eggs are placed into the cooker, you can fill it with different water levels, depending on whether you want your eggs soft, medium-boiled, or hard-boiled.
You can also use a special poaching tray: fill the poaching tray with four eggs and have perfectly poached eggs for breakfast or sandwiches. Perhaps the most special part of this appliance is how attractive it is: it has a cute, chicken-shaped design that doubles as decor for a contemporary or rustic kitchen.
When eggs are put into the egg cooker, a piercing pin is used to prevent the shells from cracking. The piercing pin also reduces the amount of sulfur, which provides bright yellow egg yolks each time.
The entirety of the cooking parts can be wiped down and put in the dishwasher, and when the cooking is done the device will give off a special chirping sound.
The device turns itself off when water levels are detected to be low, making sure that the food is cooked correctly depending on what you want, and making sure that there isn't any danger associated with heating elements.
Rather than waiting for water to boil, you can make sure you're getting perfect eggs every time. Unfortunately, the chirps can be a little quiet when using the cooker, which means you may not always know exactly when you should check it.
There are some issues with the consistency of this product, but what it lacks in consistency, it certainly makes up for in charm.
Pros:
Shaped like a hen
Four-egg poaching tray and seven-egg rack
Removable and dishwasher friendly parts
Versatile cooker – hard, soft, or medium-cooked eggs
Comes with a piercing pin
Cons:
Must turn it off manually
Occasionally drips water
---
Best for Soft Cooked Egg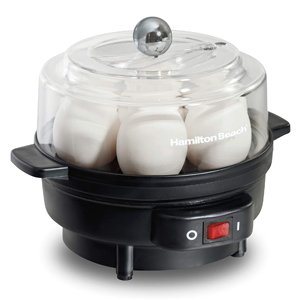 Why You'll Love This: Given its price tag, the Hamilton Beach Egg Cooker functions much better than most models out. It's highly versatile and very user-friendly. You'll love the built-in timer that lets you poach or boil your eggs to just the right texture.
This seven-egg capacity device prepares soft, medium, or hard-boiled eggs fast and doesn't take much of your kitchen counter.
Features
3-egg nonstick poaching tray – for easy cleaning once you're done enjoying your delicacy.
Ready timer with alarm – The alarm alerts you loudly enough when the eggs are ready, so they don't overcook.
Switch button – to let you know when it's in use.
Pros:
Easy to use and clean
Built-in timer and alarm for easy monitoring
Small, thus easily portable
Affordable
Cons:
The design comes off as too basic.
---
Best for Fast Cooking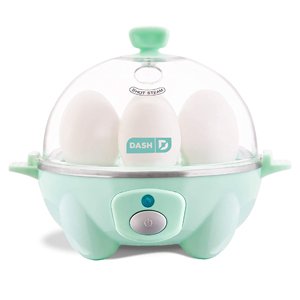 Why You'll Love This: Perfect piece of equipment if you want your eggs cooked fast with little effort and without getting the kitchen messy. Cooks excellent eggs and also well-cooked yolks up to their centers for hard-boiled eggs. While for soft or medium boiled eggs, the texture comes out also great.
From poached eggs to boiled eggs and omelets, the Dash Rapid Egg Cooker can make your eggs any way you want them. Made of BPA-free plastic, also comes with safe dishwasher parts, including a recipe book, measuring cup, omelet, holder, and poaching tray.
Features
Versatile cooking methods – with a 6 egg capacity, you can boil, poach, or make omelets
Clear lid – to see how the eggs are cooking
Great size – it's lightweight, and the right size that makes it easy to carry from one place to another
Pros:
Reasonably priced
Easy to use, clean, and store
Striking design and size for the modern kitchen
Cons:
Slower than a traditional stovetop
Very loud alarm
---
Best Egg Cooker Plus Food Steamer
Why You'll Love This: We love how versatile this egg cooker is, in addition to how healthy it is for cooking. It's a simple appliance that can be used for a lot of things.
A rapid egg cooker, the Chefman electric egg cooker plugs directly into the wall and cooks eggs quickly. With two layers, the egg cooker can be used for a number of other foods, such as tortillas or dumplings.
An egg steamer and food steamer, this 2-in-1 cooking option can be used as a vegetable steamer. It can steam beans, corn, and all kinds of vegetables.
The Chefman is one of the most versatile products on this list, which is very important for smaller kitchens, dorm rooms, and apartments. This egg steamer provides a healthy option for cooking, because you don't need to cook with butter, grease, or vegetable oil.
This egg cooker produces food quickly and it produces it in a large volume. Many simpler, smaller cookers can only be used by those who are cooking for one, but that's not true with the Dayocra.
The Chefman electric egg cooker makes it possible to cook a breakfast in under ten minutes, and it's small enough that it can be used when traveling or on an RV.
In addition to being convenient and attractive, the Chefrman has a number of safety features and features designed to improve upon cooking.
The Chefman electric egg cooker automatically detects when the water levels are low, so it knows when eggs and other foods are done steaming and can turn off for the purposes of safety.
It will automatically turn off when everything is done, making it possible to cook things perfectly even if you've never cooked before.
Temperature controls are further used to improve upon the safety of the device and make it possible to use even for children, so children and teens can easily prepare their own breakfasts.
The only problems with the Chefman Electric Egg Cooker is that its puncturing tool can be a little erratic, and the device itself can sometimes leak.
There are also some reported quality issues with the Dayocra that may mean that it works intermittently, but it's possible for the Dayocra to be returned or replaced. It comes 100% satisfaction guaranteed.
Read Next: Best Food Steamers
---
How to Choose the Best Egg Cooker?
There are a lot of egg cookers available and, from the outside, they can look virtually identical. Most are pretty affordable, and at the core they're pretty simple: a lot of them are steamers. How can you choose the best one?
Type
Electric egg cookers are used to cook hard-boiled and dippy eggs, while microwave egg cookers are used to cook fried, scrambled, and omelet eggs. Electric cookers plug in and steam the eggs inside of them, while microwave cookers are usually trays that fit into the microwave.
Material
A microwave egg cooker will either be ceramic or plastic, with ceramic cookers retaining more heat and plastic being a little easier to clean. Electric ones are mostly steel and plastic.
Alarm features
When the cooking is done, an egg cooker will alert you. Some egg cookers are set based on the type of cooking you want done, others are set by a specific amount of time. Many egg cookers can automatically determine when cooking is complete to avoid overcooking, similar to a rice cooker.
Capacity
Cookers generally range from six eggs to a dozen eggs: it depends on the amount of eggs you need to cook at once, though most of them will cook eggs within ten minutes. If you have a large family, you may need a larger capacity.
Cooking options
There are many types of egg cooking: hard-boiled, medium-boiled, coddled egg, scrambled, omelets, poached, and more. Some items can cook all types of eggs and some items can cook even other foods.
Safety precautions
It's important to have some safety precautions. Some egg cookers automatically turn off if they detect temperatures that are too high. Others are cool to the touch throughout to make them safer to work with.
Cost
Microwave trays tend to be a little cheaper than electric egg cookers, but it all depends on what you're looking for. Either way, it depends on the features you need, as all of them tend to be affordable.
With all that in mind, we've created a list of the best egg cookers available, including both electric and microwave egg cookers. You can find the perfect egg cooker for your family on our list.
---
Electric vs. Microwave Egg Cooker- What Will You Prefer?
There are two major types of automatic egg cooker: electric and microwave. Electric egg cookers are usually used primarily to hard-boil or soft-boil eggs, as you can include the eggs inside of the device with a shell.
Microwave cookers are used for poached, fried, and scrambled eggs, as well as for omelets. You don't use microwave egg cookers for hard-boiled or soft-boiled eggs.
So, the choice between electric and microwave egg cooker is going to be primarily based on what type of egg you want to cook. Microwave egg cookers are also fairly simple: you put them in the microwave, set the timer, and the eggs come out.
Electric egg cookers are also simple to use, but the appliance is more complex: it usually comes with a timer and other features.
---
Related Articles