Quick Summary: We have picked the Philips HD9220 Air Fryer as the best air fryer as it's hot air circulation is manufactured in such a way so as to help cook the food nicely with up to 75% less fat. Depending on your settings, fries are cooked in a way that makes them crispy on the outside and soft and juicy on the inside.
Dinner time is the happiest time of the day! Unless you're in charge of cooking and find it really stressful. Make mealtimes easy by choosing one of the best air fryers on the market.
Air fryers cook pretty much anything from savory to sweet. And the best thing? Most models are designed to use minimal oil, which keeps the weight off. Air fryers are like a great pressure cooker because they make cooking much easier and quicker.
It's essential you buy the right one for your household. You want to be able to cook your favorites. When you're choosing, check which size basket you'll need to feed everyone in your home.
There are other features that you need to bear in mind as well, some air fryers come with built-in cooking programs, but you might prefer dial controls. A timer is also very helpful so that you don't burn anything.
Keep the whole family happy cooking a menu of French fries, chicken tenders, and even cakes (with some of the featured products)!
For the best results in the kitchen, check out our top 10 air fryers of 2023 you'll find online!
Quick Navigation:
---
Comparison of 10 Best Air Fryers
| | | |
| --- | --- | --- |
| | A top-quality air fryer that fries, bake, grills, and roasts with up to 75% less fat than. Ideal if you want your foods with less grease. | Read Our Review |
| | A technologically-advanced air fryer that has touch screen controls. Great when you cook tasty treats like fries and chicken wings. | Read Our Review |
| | The best air fryer if you cook your favorite food often. The preset button remembers how to cook food just the way you like! | Read Our Review |
| | An affordable air fryer that works like a convection oven so you can make all your recipes with ease. Amazing for good, simple cooking. | Read Our Review |
| | Cutting edge technology developed this top-of-the-range air fryer. One of the best kitchen appliances for quality when it comes to air frying foods. | Read Our Review |
| | The trustworthy Black+Decker air fryer uses powerful convection fans and the heating element to make your recipes perfect every time! | Read Our Review |
| | A versatile air fryer that is easy to use and holds a lot of food. A dream to create all your favorite recipes in for all your favorite people! | Read Our Review |
| | The best air fryer for if you want to cook more recipe options. It's the dream product if you're holding a party and want healthy food! | Read Our Review |
| | A simple-to-use air fryer that suits all your cooking requirements. One of the best models to keep kitchen time to a minimum. | Read Our Review |
| | This is the Big Boss for a reason. It's the ultimate of air fryers for oil-free cooking. Amazing when you want to cook more than one food at a time. | Read Our Review |
---
Reviews of 10 Top Air Fryers
Here is the list of 10 best air fryers of 2023 and their reviews. You can choose your air fryer according to the features given.
Best Overall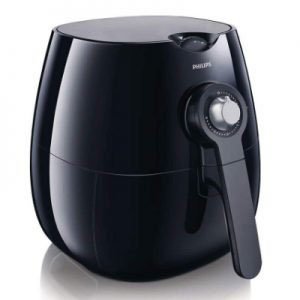 With Philips Air Fryer you will be able to eat fried food with up to 75% less fat. It has a very appealing design and makes your food ready very fast.
This air fryer comes with a Philips Air fryer cookbook which contains 150 recipes for breakfast, dinner, dessert, and other meals or snacks.
For those who believe in the brand name, this is something you should go for. It is the world's best brand to buy with over 7 million units sold. Philips hd9220 reviews are excellent.
This model depicts the shape of a patented starfish. The hot air circulation is manufactured in such a way so as to help cook the food nicely.
Depending on your settings, fries are cooked in a way that makes them crispy on the outside and soft and juicy on the inside.
You can prepare your favorite food items just by using a tablespoon of oil or less.
Another most interesting thing about this one is that Gordon Ramsay has teamed up with Philips air fryer toaster to make healthy meals that are great in taste and easy to prepare.
Those who follow cooking shows or otherwise would know Gordon and will be convinced of this model as it is Gordon Ramsay approved.
Pros:
Set the air fryer timer to suit you
Comes with a recipe book!
Air fryer basket holds 15 pounds
Cons:
---
Best Budget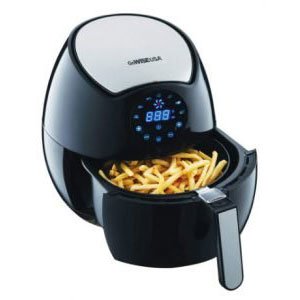 Gowiseusa USAQQ gw22621 reviews are going to open your eyes. This is their latest model of electric air fryer.
Just to let you know whether you should opt for this one, here is the complete Gowise USA air fryer review.
This air fryer toaster lets you enjoy food without worrying about the oil. If you cannot afford a very high-end air fryer, then GoWise USA GW22621 is the best hot air fryer for you.
It has a dimension of 9×8.5×12 inches. It weighs around 12 pounds. If you are ordering it online then it is going to weigh around 14.1 pounds.
You get to access the touch screen program to adjust cooking time or other functions. Temperature ranges from 175- 400 degrees F that allows you to cook crispy fries.
It's 30-minute timer with automatic standby is a winner. It has ETL certification. The detachable basket that comes with it helps to transfer food to the plate.
If you want to enjoy food that absorbs less oil but tastes absolutely like deep fried food items then this is the perfect choice for you. This way you will be able to count your calories.
You can easily make meat, chicken, fish, steak, shrimp, and chips with this Gowise USA air fryer toaster. There is the accessibility of a button guard that prevents accidental detachment of the basket.
Pros:
Manually program your air fryer or use one of the 7 in-built programs
Adjustable temperature for your ease
ETL certified so your digital air fryer is safe
Cons:
Can't put in the dishwasher
---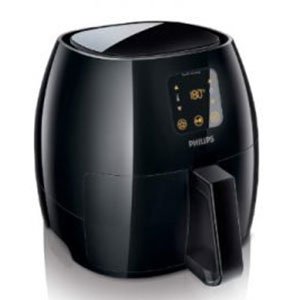 This model of Philips stands out for having rapid air technology at a high speed.
The Philips XL air fryer are exceptional as it holds a smart preset button that memorizes the settings of your favorite food.
Isn't that amazing? Also, it is as large as 2.65-lb.
The Philips air fryer hd9240/94 is as good as it gets. Its design makes possible good cooking as the hot air circulation cooks the food entirely. The cooking capacity is perfect for 4 people.
You can cook any meal throughout the day mainly fries, grills, bakes, and roasts. All this can be prepared by you by using a tablespoon of oil or less. The non-stick drawer is removable.
The drawer and food basket is both dishwashers safe. It has a digital touch screen that helps you to set it according to your cooking needs making this appliance the best air fryer.
This Large capacity air fryer gives you 100% guarantee of tasty food. To make your work easier, with this purchase you get to have a cookbook containing over 150 recipes.
You can find this model in black color. So do not think twice before you order for this air fryer. Be quick and get your hands on one of these!
Pros:
Preset button saves settings so you don't have to manually program every time
Rapid air technology circulates hot air for great air fried food
Safe kitchen appliance with non-slip feet
Cons:
Not as easy to use as dial air fryers
Small basket
---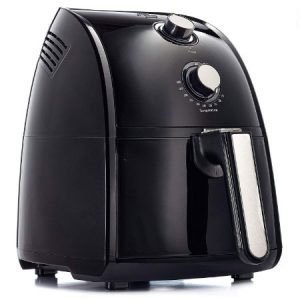 A convection that is 1500 watt has a circulating heat system that is the most striking point of Bella reviews.
It has a 2.5-litre basket that you can remove to put in the dishwasher and it has the capacity of holding up to 2.2 lbs.
The 60-minute timer with an automatic shut down button actually helps you do other work while your food is cooked.
This hot air fryer is made up of stainless steel so that the inside gets heated up fast enough. The indicator light lets you know when your food is cooked. You will be able to cook any food for any meal during the day.
Every sort of fries can be made and served to your guests. You can enjoy the food items without using excessive oil and help yourself grow healthier even by eating oily food.
The thermostat is adjustable and can be adjusted up to 400 degrees. Bella air fryer won't make your fries soggy or mushy.
The appliance is very easy to clean and maintain. Bella products are trust worthy and are best suitable for your lifestyle.
In order to gear up your kitchen, it is very important to keep suitable kitchen appliances and utilities. Bella is here to provide you with such benefits.
Pros:
Convection bake air fryer: great for cooking frozen French fries, as well as cakes and bread
Use minimal oil, great for keeping off weight
Budget-friendly
Cons:
Doesn't come with additional cooking aids
---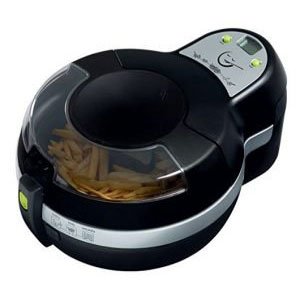 Now you can cook all your favorite fried food items with less than a tablespoon of oil.
The T-fal ActiFry reviews are going to help you understand better about the product so that you can go ahead and buy it as soon as possible.
The T-fal air fryer has a capacity of up to 2.2 lbs. There's a countdown digital timer that helps you to keep an easy watch over the food that is cooked.
The power button has a simple on/off that makes anybody understand the functioning easily.
You also get a removable ceramic-coated non-stick pan which is easy to clean. You need not worry about any electric shock as the exterior remains cool.
This appliance gives you the benefit of hassle-free cooking and filter for odorless cooking.
Also, you get to have a color recipe book with 38 recipes in it. Moreover, you get a free measuring spoon. The parts are dishwasher safe and are cleaning is easy.
As T-fal ActiFRy says that by purchasing their products you get to enjoy "healthier alternative for traditional deep frying".
This appliance is based on patented heat pulse system for entire circulation that makes sure that your food is nicely cooked.
ActiFry is the result of 10 years of research and development. It has a very different stirring paddle which helps you cook food to perfection.
Pros:
Paddle and pulse heat system to air fry food perfectly
Pan, lid, paddle, spoon, and filter are safe to use in dishwasher
Comes with a recipe book so you can cook the tastiest fried foods
Cons:
More expensive than others
---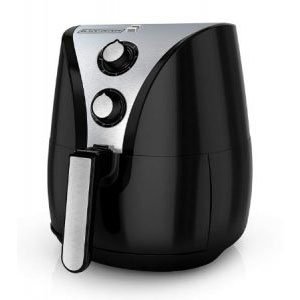 This compact air fryer has dual convection fans that contribute to sufficient air irculation around the food to make it crispy and is faster to cook.
The black and decker hf110sbd will help you to choose the best oil-free air fryer.
The appliance has a 2l capacity which is about 8 cups. The air frying basket fits 2-4 servings of your favorite snacks and other main dishes.
The non-stick cooking surface undoubtedly helps to scoop out the food. It is easy to clean up and the air fryer basket and basket separator both are safe to use in the dishwasher.
The temperature control ranges from 175 – 400 degrees F. The settings are user-friendly as there is an indicator that tells you when the unit power is on and another indicator tells you when the pre-heat is reached.
The best part about this compact air fryer is that you get to enjoy absolutely oil free food that is not wet with oil, unlike others. The 60 minutes timer automatically shuts off when the cooking is done.
It is available in black color. The company gives you a 2-year warranty which is very satisfying for customers. Think no more to buy Black and Decker Purify and enjoy the guilt-free fried food.
Pros:
Convection multi cooker means cooking is fast
Temperature controls and indicator lights for easy use
60-minute timer control so you can leave it
Dishwasher safe
Cons:
Basket holds 2L: small compared to others
No cookbook to accompany it
---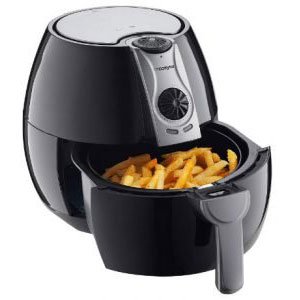 Cozyna reviews are going to help you to make your decision. The air fryer technology is the perfect alternative to cooking tasty fried food that is oil-free. It requires 70% less oil than any other conventional.
You can do anything in this from grilling, baking, roasting, frying, and others like an instant pot. You just have to use a very small amount of oil.
The best part about Cozyna is that there are two cookbooks included where you can come across more than 50 recipes. You can get a hint of cooking food that is high in nutritional value and delicious at the same time.
The most amazing recipes in these cookbooks are Thai mushroom and chicken meatballs and also added are dessert recipes such as molten chocolate lava cake. This product guarantees 100% satisfaction. It claims 30-day money-back guarantee if you are not satisfied with the product.
Now that is something convincing! You can eat hamburgers, fries, and other fries without any guilt. If you are worried about the washing and cleaning of the parts then do not worry as they are dishwasher safe.
Pros:
Uses 70% less fat than conventional fryers
Big basket: 3.2 L
Comes with 2 cookbooks
Cons:
---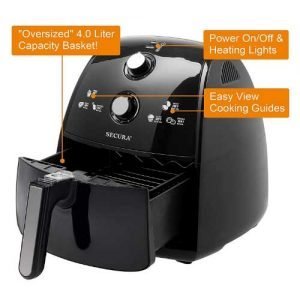 Secura 4-litre electric hot air fryer is excellent as it combines the air circulation to help you prepare tasty fried food items in no time.
It has a 4 lire basket which is more than what other air fryers claim to give.
The Secura reviews will help you to choose wisely. You can prepare healthier food items without worrying about the grease and oil.
The 60-minute cooking timer with auto shut-off is also there which is helpful for you to know whether the food is done or not.
The indicator lights are there which is great to see when the machine is performing what function. The accessories are included to help you experience the electric compact air fryer with oil less food preparation.
There is a recipe book to have better knowledge of what to cook when you are using this appliance. This comes with a two-year manufacturer warranty. The temperature ranges from 1890A-390A degree F.
To cook food for your family that is great in taste you need to own this appliance fast. You can prepare chicken, steaks, shrimp, and fish and in fact many more food items with the help of this air fryer.
Pros:
Basket size: 4 L
Comes with BBQ rack and skewers
Automatic shut-off when dinner is ready
2-year warranty
Cons:
You might want to cook smaller amounts
Takes up space
---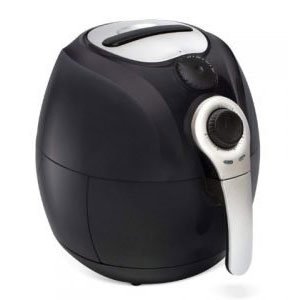 This air fryer is very easy to use making it one of the best choices of air fryers. The simple chef reviews are going to help you out to better understand the product so that you can make a wise choice.
The Simple chef oil less fryer helps you to cook delicious food items that are excellent in taste, but they need less oil to cook.
This obviously benefits the health reducing the possibility of cholesterol and calorie intake. The air cooker follows the mechanism of air circulation that prepares s the food into crisp and tasty items.
You need not worry about what to offer your guests when they pay you a surprise visit. These air fryers are designed in a sturdy style with 100% BPA free plastic and state of the art components.
This is absolutely the perfect choice for you if you are looking for an appliance that ticks all marks in appearance and also in its functions.
You can prepare a variety of food items here from fish, shrimp, fried chicken to other big dishes. The parts are very easy to clean. This product gives you a 100% guarantee of money return if you are not satisfied with the product.
Pros:
Overheat protection to keep family safe
Easy to use so stress-free
Rapid air circulation so dinner is ready quickly
Cons:
Timer runs up to 30 minutes
---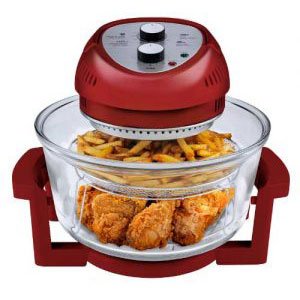 The big boss oil-less fryer reviews are going to help you with your purchase. It has three cooking power: convection, halogen, and infrared heat. It is best to cook frozen food items as you don't need to give the food anytime for thawing.
There are two trays that can prepare many dishes at the same time that serves many people at a time. This is excellent for serving many people at a time especially if you have a big family.
It absorbs less amount of energy which helps it to cook up to 3 times faster. The tight seal of the lid keeps the hot air giving off crispy and tasty food items. This should be your perfect choice if you believe in good looking appliances.
The Big Boss is 1300 W air fryer oil-less that makes your heart healthy. This is perfect for versatile cooking as you can cook everything from poultry, meat, desserts, and vegetables.
If you think that some dishes are impossible to make without using excessive oil, then think twice. The big boss oil-less fryer reviews are enough to convince you of excellent service that you are going to be satisfied with. It weighs around 14.7 pounds and has a dimension of 16×12.5×13.5 inches. Be quick to decide to purchase this amazing air fryer.
Pros:
Transparent walls air fryer feature so you can watch your meal being cooked
2 shelves cooks more
Rotisserie feature to roast chicken
Triple cooking feature: halogen, convection, and infrared for ultimate cooking power
Cons:
A lot of parts can get lost in the kitchen
A little pricier
---
Things to consider when buying the best air fryer
In order to make fried food at home with good quality ingredients and obviously using much less quantity of oil is possible through Air Fryers.
They work on the mechanism of circulating heat around the food. The air moves inside at a very high speed which helps to produce crispy and tasty fried items.
The mechanism used here is called the Maillard effect. You can cook potato chips, chicken, fish, and others. So, make sure to keep these points in mind when you decide to buy an air fryer.
Check the functions provided by the air fryer
It is very important to check the functions of the fryer in the very beginning. See that you can cook the maximum number of food items. There should be enough options for cooking.
The size and dimension
It depends on you entirely that how big an air fryer you would buy. You have to keep in mind the place you would keep it. So, you have to remind yourself whether you have enough room in your kitchen or not.
Capacity
It means that you have to choose an air fryer according to your needs. If you have a big family, then go for a big air fryer. If you are all by yourself or with your partner then probably you won't need a big one.
Look for a proper booklet
We mostly buy air fryers for the first time owing to the fact that it's a new product. You should always see that the air fryer you are buying has a good guidebook. It should have the list of items that can be cooked.
Check the power option
An air fryer works on electricity. It is always advisable that you go for a low power air fryer. It saves your money. It slow cooks your food thus making it nicely cooked.
User-friendly or not
We will have to admit that electrical appliances are complicated at times. Though they make our work easier but it takes a while to understand its functions. When it comes to an air fryer, you should buy the one that is easy to use.
Adjustable temperature
This is a tricky part. The temperature remains the same for almost every air fryer, but it can be different in some cases.
This function is best when it can be adjusted as you will need different temperature for different food items. The best air fryers have this feature.
Cleaning and maintenance
Like all other appliances in your kitchen, it is essential that your air fryer is also easy to maintain. Undeniably, as you use for cooking, it is bound to get dirty.
At the same time, you cannot ignore it by not cleaning it regularly. The best air fryers should be easy to maintain.
Look for safety
If you have children at home, then it is a must for you to check the safety options of the air fryer. The first thing to check is the possibility of electric shocks.
But rest assured that the outer body of an air fryer is made out of polymer. There is no chance of shock. For better safety, try to keep the appliance in a higher place in your kitchen.
Check for warranty
We all know that electronic appliances have a life. That simply means that they will need servicing after a while.
Warranty is the assurance from the company that they would take the responsibility for the repair and replacement of the product when need be.
Customer service
It is essential to have a customer service center nearby to where you live. For this reason, most people choose leading brands so that they don't have to struggle to get hands on the customer service.
It is very natural that the customers may face problem while using the product. If you plan to buy it online than the online reviews are going to give you some idea about customer service.
Keep track of the accessories
When you are going to buy the air fryer for yourself, check whether all the accessories are in place.
Some of the accessories that you should look for are the lower, additional and upper racks, tongs to pick up, extend rings to raise the unit for making more space for cooking.
Other accessories to look for are a grill pan, various kinds of baskets, skewers, non-sticking baking mats, and a steamer.
---
Final Verdict: Best Air Fryers
The above are air fryer reviews to help you make a decision regarding the best air fryer to buy. With the help of the reviews, you would be able to understand the pros and cons of each product and make a wise decision.
More Related Articles:
---