Pressure cookers are an amazing invention. They are one of the must have kitchen appliances for your home. Pressure cookers build up steam inside to cook food. They cook food fast and with little effort from you. There are many different types of pressure cookers leaving you to wonder how to choose the right pressure cooker?
---
Things To Consider While Buying A Pressure Cooker
There are many features to consider when looking for the perfect pressure cooker. It is a piece of cookware, so most importantly, it must cook your food properly. You also want one that fits into your budget, but also lasts you many years. Some of the features to consider are:
PSI (Pounds Per Inch)
Since pressure is in the name, it is not difficult to understand that pressure is important. PSI is how much pressure is used to cook your food. The standard is around 15 PSI. The higher the PSI, the faster your food cooks.
Pressure Adjustment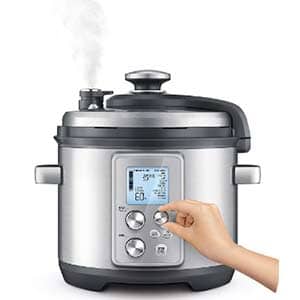 Some pressure cookers come with the ability for you to adjust the amount of pressure it uses. Foods cook best at different pressures and this allows you to control how your food is cooked. They typically come with low, medium, and high settings. Low is around 6 to 8 PSI, Medium is 8 to 13 PSI and High is 13 to 15 PSI.
Capacity And Size
Size does matter. You want to make sure you get a pressure cooker that meets the needs of your family. A 5 liter pressure cooker is perfect for one or two people.
If you have a family up to five, you should consider a 7 liter capacity. This is big enough to make meals for your whole family but small enough to store easily. Large families up to nine members need a large pressure cooker with up to a 10 liter capacity.
Material (Aluminium Vs Stainless Steel)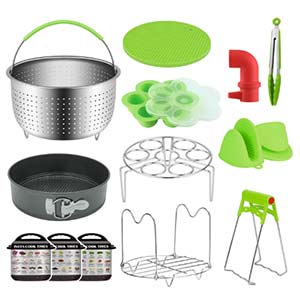 The two materials you find most when looking for a pressure cooker are stainless steel and aluminum. A stainless steel pressure cooker is durable and lasts a long time.
They tend to be heavy and more expensive. Aluminum is much lighter but typically does not last as long as stainless steel.
Aluminum pressure cookers are less expensive, but tend to stain easily. If you can afford it and it will not be too heavy to lift, stainless steel may be the better option for a long life.
What Pressure Cooker Size Do I Need?
This depends mainly on how much people for whom you are cooking. The larger your family, the bigger, 10 liters or more, your pressure cooker should be. If you are making meals for one or two, but like leftovers, you might consider a 7 liter pressure cooker.
Price
The price of a pressure cooker ranges from under $50 to well over $300. The price depends on the size, the material and the features of the pressure cooker.
An electric pressure cooker costs more than a stove top pressure cooker. Price should be a consideration because you want to buy something you can afford.
You should not necessarily buy the cheapest pressure cooker you find. It may not be the highest quality cookware.
---
Know the Differences Between a Pressure Cooker and Other Kitchen Appliances
Pressure Cooker vs Instant Pot
A pressure cooker and an instant pot both use pressure to cook food. They both can brown and sauté in addition to cook. They have many similarities because an instant pot is a pressure cooker.
An instant pot has a control panel on it that is basically a computer. It comes with a delay timer. You can set it the night before to turn on in the morning, or have it cook overnight so it is ready in the morning.
Pressure cookers and Instant pots have valves that slowly release steam when it gets too hot. They both prevent you from opening the lid when they are full of steam. Instant pots come in sizes based on quarts. Pressure cookers come in sizes based on liters.
Slow Cooker vs Pressure Cooker
The major difference between a slow cooker and a pressure cooker is that one cooks slowly and the other cooks quickly. A slow cooker cooks at low heat over a long period of time.
A pressure cooks at high heat, specifically steam, in a short period of time. A pressure cooker cooks food in an hour. A pressure cooker cooks vegetables better than a slow cooker. Vegetables tend to get mushy in a slow cooker, but cook perfectly in a pressure cooker.
Pressure cookers take up a lot of space on a counter top. You can only use a slow cooker for slow cooking. It does not have any other uses. A pressure cooker, on the other hand, can cook, brown, and sauté foods.
Pressure Canner vs Pressure Cooker
Both pressure canners and pressure cookers are typically heavy duty pots with locking lids that vent to release pressure and steam. They both lock and seal and heat to allow pressure to build up inside the pot.
Pressure canners tend to be more advanced kitchen gadgets that monitors the pressure inside the pot accurately. The monitors are usually in the form of weighted gauges or dials.
Pressure canners are used to can foods like vegetables and meat. You can use a pressure canner to cook some foods but you cannot use a pressure cooker to can.
---
The Common Types of Pressure Cookers
---
Stovetop Pressure Cooker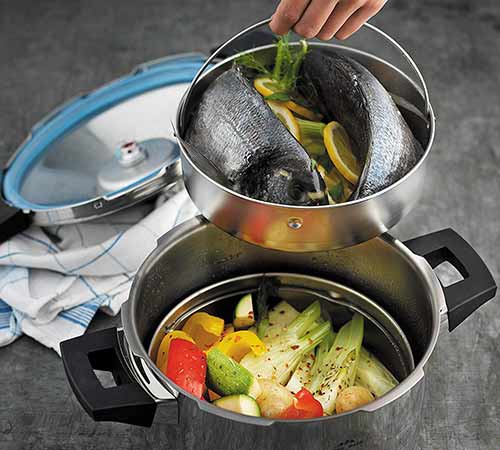 Stovetop Pressure Cookers do not have their own source of electricity, so they need to be used on the stovetop. The best stovetop pressure cooker is the Kuhn Rikon Duromatic Stainless-Steel Saucepan Pressure Cooker – 7.4-Qt. It has a pressure valve that is a spring that helps regulate steam and reduce noise.
It has an automatic locking feature so there is no chance of opening it while it is too hot. It has many safety systems in place when the cooker is full of pressure.
The Kuhn Rikon is constructed from stainless steel and the bottom is stainless steel and aluminum which allows even transfer of heat.
This pressure cooker is a mid range size so it feeds an average sized family but it is not too small.
Read more about best stovetop pressure cooker.
Electric Pressure Cooker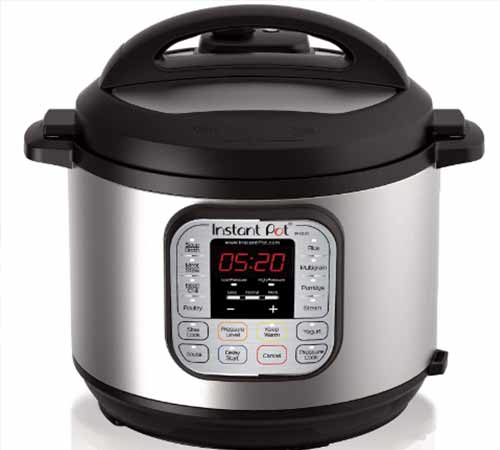 Electric Pressure Cookers have their own source of electricity. They have cords that plug into an electrical outlet. They cook on their own, so you do not have to stand next to it while it is cooking. The best electric pressure cooker is The InstaPot Duo.
This is the number one selling multi cooker. It is a slow cooker, pressure cooker, steamer, rice cooker, warmer, and yogurt maker all in one. It cooks food up to 70 times faster.
Its cooking pot is made of 18/8 stainless steel. It is food grade and does not have a coating from chemicals. The bottom of the pressure cooker allows for perfect heat distribution because it is three ply.
It is basically a mini computer that monitors pressure, temperature, time, as well as the length and intensity of heating. It has easy to use one touch controls on the front.
The stainless steel body resists finger prints and is easy to wipe clean. It has two handles making it easy to carry. The InstaPot cord is removable.
Read more about best electric pressure cooker.
---
The Best Pressure Cookers Based on Size
---
Small Pressure Cooker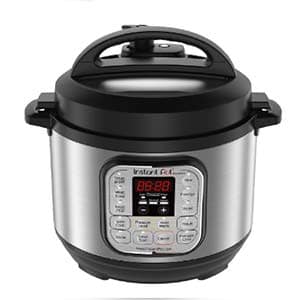 A small pressure cooker is typically the perfect size to feed one or two people consistently. The best small pressure cooker is the InstaPot Duo Mini. This is a miniature version of the InstaPot Duo.
It is like everything the regular size Duo can do, I can do smaller. This is a three quart version of the Duo. It is compact, so it does not take up much space. This is the perfect size for cooking side dishes, or rice.
It can make a meal for one person. No steam comes from the InstaPot while cooking. This is the perfect pressure cooker for small spaces like a dorm room, or a tiny kitchen. It has automatic cook programs, which have designated buttons.
There are rice, yogurt, sauté and steamer buttons. It also has three slow cook settings. It has a delay start, so you can program it to start cooking when it is convenient for you. It also has a keep warm button.
It uses 700 watts of electricity so it can get to optimum pressure quickly. The lid locks into place while there is pressure in the pot as one of its safety features. All of the components, lid and cooking pot are stainless steel. The lid and cooking pot can be washed in the dishwasher.
Learn more about best small pressure cooker.
Large Pressure Cooker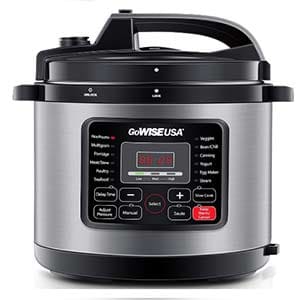 A large pressure cooker can cook enough food to feed 10 or more people. The best large pressure cooker is GoWise Electric High Pressure Cooker.
This pressure cooker has a capacity of 12.5 quarts. It has almost 12 pounds per square inch (PSI), which is a high pressure cooker. It has presets for rice, yogurt, porridge, meat, seafood, poultry, canning, and steam.
It is a multi cooker that can perform over nine functions in one pressure cooker. It also has a manual mode that allows you to set low, medium, or high. It has a non stick ceramic coated pot, stainless steel rack, stainless steel baskets, measuring cups, and a detachable cord.
It has over seven built in safety overrides to ensure your safety while using the pressure cooker. One of these safety features is a quick release. The lid has a built in pressure release button to allow you to release the pressure faster and safer so you can get your meal on the table.
The GoWise has a built in timer delay, so you can set it to begin cooking when you are ready for it to do so. It is the ultimate set it and forget it.
---
What are the best Pressure Cooker Brands?
There are many different pressure cookers brand on the market today. How to choose the right pressure cooker? We have listed some of the best pressure cookers brand on the market.
---
1. InstaPot Pressure Cooker
InstaPot is one of the stand out favorite electric pressure cooker brands. It is incredibly safe as InstaPot has worked hard at creating safety features you can feel good about. It is a durable pressure cooker as it is made of stainless steel. It has automatically regulating temperatures.
2. All American Pressure Cooker
All American is a well known pressure cooker brand. This brand is great for those that are interested in canning. These pressure cookers are large and can cook a lot of food. They are incredibly durable, but tend to be heavy as a result.
These pressure cookers will last a long time. It has metal to metal sealing that is exclusive to All American. There are no gaskets or seals to crack and eventually need to be replace.
3. Presto Pressure Cooker
Presto has been in the pressure cooker game for a long time. They make a great middle road pressure cooker. Presto uses a tri-clad base that allows for faster cooking time. It has a layer of aluminum between two layers of stainless steel.
The handle has a cover lock that has an indicator to let you know if there is steam in the pot. This way you know when it is safe to open the pressure cooker. It has a steam release valve so you can quickly release the steam, if necessary.
4. Cuisinart Pressure Cooker
Cuisinart makes pressure cookers that have a front panel with simple to understand and easy to use buttons. It has an easy to read display. It has a 99 minute timer and LED countdown display.
It has a precise thermostat. It has settings for pressure cooking, simmer, browning, warming, and sautéing The handles remain cool to the touch. The cooking pot is dishwasher safe. The Cuisinart cooks faster and with less water so you food retains its freshest flavors.
---
We have given you a lot of information about pressure cookers. We told you how they are similar and different from pressure canners and slow cookers, and InstaPots.
There are many different types of pressure cookers available and it is easy to become overwhelmed by the options. We wanted to make that easier for you by explaining the key features of pressure cookers.
We have given you some of the top pressure cooker brands for you to research before making your purchase. We have given you some of the best pressure cookers in specific categories so you have a place to start when looking for a pressure cooker.
---
Related Articles:
---