Quick Summary: We have picked the Kerazo- K&K Keramik German Made Fermenting Crock Pot as the top fermentation crock as it is handmade with one single piece of German made ceramic, is both lead and cadmium free, has handles for lifting and transport, and is aesthetically pleasing. It holds 5 L, and it has a deep gully that allows gases to escape while keeping bugs and other unwanted things out.
It is common to run to the supermarket to pick up the produce you want, but there is a downside: you favorites are not always in season.
Having a fermenting crock in your dinnerware collection can solve this problem as you can keep a stock of your favorites all year long. In this article, we are going to look at the leading fermentation crocks and nine others.
Quick Navigation
---
10 Best Fermentation Crocks Comparison
| | | |
| --- | --- | --- |
| | The Kerazo Fermenting Crock is a German-made option that is handmade and has a deep gully that helps expel gas and is free of cadmium and lead. | Read Our Review |
| | The TSM Fermenting Crock is a German pot that is made out of solid stone and has a capacity of up to 5 liters of food or liquid. | Read Our Review |
| | This Kenley Fermentation Crock is a 2-liter option that can be used for kimchi, pickles, or kombucha and can make the whole process easier. | Read Our Review |
| | The Ohio Stoneware Bristol Crock is a small, white crock that is inconspicuous and can also serve as a kitchen container for storage but also ferments food. | Read Our Review |
| | The Boleslawiec 10 is a Fermenting Crock Pot that can be used to ferment foods like veggies or kimchi and includes the pressing weight for use. | Read Our Review |
| | The Ohio Stoneware Fermentation Crock Kit comes with a 3-gallon crock and pressing weight that can be used to ferment food easily with effective fermentation effects. | Read Our Review |
| | The Humble House Sauerkrock Fermentation Crock is a 2-liter crock that is made with a German-style that is a standard size for private kitchen use. | Read Our Review |
| | The Seeutek Fermentation Crock is a 2-liter pot that can be used to ferment food and beverages like pickles or kombucha and is ideal for vegetarians. | Read Our Review |
| | The Nik Schmidt 3210 Fermentation Crock is a classic German-style option that holds up to 10 liters at a time and can create anything from kimchi to kombucha. | Read Our Review |
| | The K&K Keramik Fermenting Crock Pot is a German-made choice that is handmade from ceramic and has two handles for easy carrying when filled. | Read Our Review |
---
Reviews of Top 10 Fermentation Crocks
To find the perfect crock, we searched through a sea of ratings and reviews surrounding multiple models. In the end, we chose the following ten fermenting crocks as the best due to their materials, cleaning ease, and ease of use.
Best Overall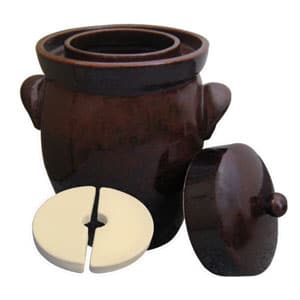 What You Will Love: This crock is a single piece of ceramic, meaning that there are no seams or weak points to worry about.
The Kerazo- K&K Keramik German Made Pot is a beautiful fermentation pot that is one single piece of handmade German ceramic.
This lead free and cadmium free ceramic pot is a healthy option. It is a 5 liter crock with handles on each side to simplify lifting and transporting.
However, the handles are not very large so it is important to take care when using them.
The deep gully allows gases to escape while simultaneously keeping insects, dust and air out. With its speckled brown and copper shiny finish, this crock is an aesthetically pleasing tool.
As the weights have no finish to them, they can easily retain microbes and allow mold to grow. While the crock itself is dishwasher safe, it is safer to hand scrub the weights to help clean out any unwanted mold.
Additionally, it is an expensive option.
Pros:
Deep gully,
Handmade german ceramic free of lead and cadmium,
Handles for lifting, beautiful,
Dishwasher safe
Cons:
Handles are not very large,
Unfinished weights may allow bacteria and mold to grow without proper care,
Expensive
---
Best Budget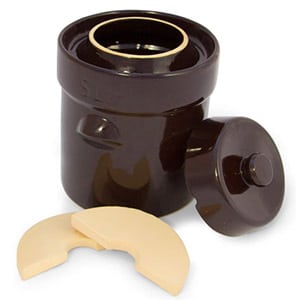 What You Will Love: It has a similar high quality to German made crocks at a fraction of the cost.
The TSM Products 31060 German Style 5 L Fermentation Harvest Pot is lightweight and extremely budget-friendly. It provides an oxygen and mold free environment leading to a natural lactic fermentation process.
The ceramic is both lead and cadmium free, and it has handles for easy transport. Unfortunately, as with the previous option, those handles are not very large, so they require a great deal of care.
As this crock has somewhat thin walls, it is fragile and can easily break if it falls. You should hand wash it only and immediately dry it to prevent bacteria and mold.
Pros:
Lightweight,
Budget-friendly,
Has handles,
Oxygen and mold-free environment,
Lead and cadmium free ceramic,
And provides natural lactic acid fermentation
Cons:
Fragile,
Small handles,
Hand wash only
---
Best Ceramic Fermenting Crock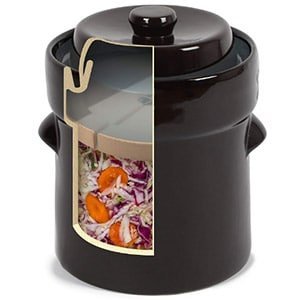 What You Will Love: This crock jar is high grade ceramic and 100% natural materials.
The Kenley Fermentation 2 L Crock Jar is another budget-friendly, well-made crock with handles.
The design allows gases to escape while air stays out. It is 100% natural materials to keep food from taking on any extra chemicals or odors. The jar and lid are also easy to clean.
Unfortunately, the porous weights have a tendency to grow mold if not clean and fully dried.
Pros:
Budget friendly,
Holds up to 2 lbs. Of vegetable,
Burp lid, gases escape while air stays out,
100% natural materials,
Made from high-grade ceramic,
Easy cleaning
Cons:
Porous weights will grow mold if not cared for,
Handles not large enough for most hands
---
Best Stoneware Fermenting Crock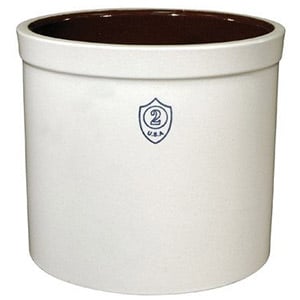 What You Will Love: This fermenting crock pot is made from the well-known and reliable Stoneware material.
The Ohio Stoneware 02436 2 Gallon Bristol Crock is a tough beauty that serves multiple purposes. Two of these functions are as fermentation crocks and as storage containers.
They are designed with the trusted lead free Stoneware material and contain no additional dangerous chemicals. It is dishwasher-, convection oven, and stove– safe.
It is also budget-friendly, though you must beware of the rough bottom as it tends to scratch counters and other surfaces.
Pros:
Lead free,
No dangerous chemicals,
Dishwasher safe,
Multi-purpose,
Convection oven and stove safe,
Solid stoneware,
Great price
Cons:
Rough bottom may scratch counters
---
Best Polish Fermenting Crock Pot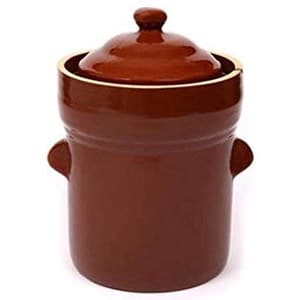 What You Will Love: This fermenting pot is enough to press the crock's contents without destroying them.
The Boleslawiec 10 L Polish Crock Pot is a beautiful crock of hand crafted ceramic. It is both heavy and sturdy so as to not easily fall over or break.
The included weighted stones weigh a collective total of about 4 lbs. This is enough to press the crock's contents without destroying them. It is also well glazed and has handles, albeit small ones.
As long as the water level is remaining where it should and the water seal remains intact, there should be no mold or bacterial growth. On the downside, this is one of the more expensive fermenting crocks available.
Pros:
Hand crafted ceramic crock and lid,
Heavy and sturdy,
Well glazed, beautiful,
No mold growth if seal is intact and water at correct level,
Two pressing stones that weigh about 4 lbs. Together,
Handles
Cons:
Expensive,
Handles are small
---
Best Large Fermenting Crock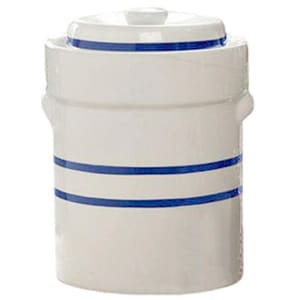 What You Will Love: It holds up to 30 lbs. of sauerkraut and creates an airtight seal, decreasing the chance of bacterial growth.
Because this crock can hold a lot of food, it is very heavy once it is full.
In fact, it is too heavy for most people to pick it up at all. This means that you should place it in a spot out of your way for the fermentation process.
Once there, it probably will not move without great effort. With its white outer color, it is brighter than the other options on this list. The walls are thin, however, and the handles are small. Additionally, it is one of the more expensive options.
Pros:
Airtight seal can hold up to 30 lbs of sauerkraut or kimchi,
Heavy when full,
Weights are heavy enough,
Brighter than most other options
Cons:
High investment,
Walls a bit thin,
Small handles
---
Best Small Fermenting Crock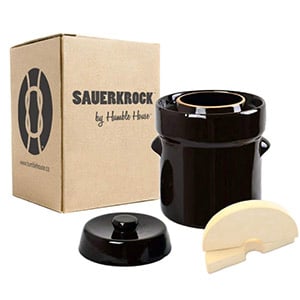 What You Will Love: You can choose from multiple color options, and it is very budget friendly.
The Humble House Crock German Style SAUERCROCK is a 2 L crock made from very tough ceramic.
The glaze coating is both lead and cadmium free to prevent these harsh chemicals from entering your food. Though the traditional brown color is beautiful, you have multiple color options to choose from.
This crock is excellent at keeping contaminants out during the fermentation process. It is also a very fair price.
Unfortunately, it only has space to ferment up to 4 mason jars at a time, which is great for an individual or two people. However, it is not so great for large families or when you are hoping to stock up.
Pros:
Made with tough ceramic,
Budget friendly,
Multiple color options,
Lead and cadmium free glaze,
Keeps contaminants out,
Cons:
Small batches at a time,
Only 4 jars at once
---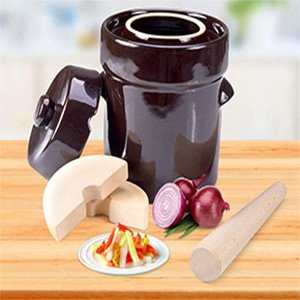 What You Will Love: The Seeutek Fermentation Crock Jar is a stoneware option that is made with durability in mind. This crock ferments food and liquid in a traditional way that promotes healthy digestion and has many natural enzymes.
Includes Pressing Stones
This crock comes with the pressing stones included so that you can press down the weight of the food contents to make a larger amount at a single time. These come with the purchase price so it saves you money from having to buy them separately.
Easy Cleaning
This fermenting pot's design is easy to clean because the size allows you to fit your hand inside the pot so you can scrub the interior with ease. This allows you to get to the hard to reach areas for a complete clean.
Water Sealed Lid
The lid of this crock is water sealed but is designed to allow the fermentation gases to escape from the pot to prevent bad odors from forming. This also allows more air to circulate to prevent oxidation.
Pros:
Promotes digestion
Includes pressing stones
Easy cleaning
Has a water sealed lid
2-liter capacity
Cons:
Handmade design makes it imperfect with small bumps in ceramic
Not made in the U.S.
---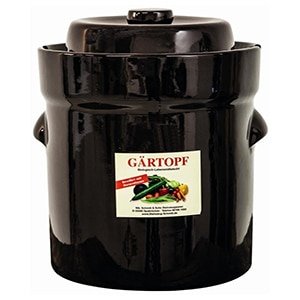 What You Will Love: The Nik Schmidt fermentation crock is a large German-style option that will allow you to easily ferment any dishes you love. From kimchi and veggies to homemade kombucha, you can have all your favorites at home.
Dual Handles
Each side of this large crock has its own handle that you can carry to use it and place it where you need it. The handles on both sides enable you to carry it without spilling and give you better control over the contents even when it is heavy.
Lid Included
The entire crock is made from a hard ceramic material that makes it tough and durable. The lid is made from that same durable material so that it will last a long time and will let the fermentation gases out.
10 Liters
This large crock has a high capacity with 10 liters of contents able to sit inside this pot. This allows you to make a large amount of food. Whether it is kimchi or kombucha the pot is enough for a large party or to feed your family for the whole week.
Pros:
German-style pot
Has dual-handles
Easy to carry
Lid included
10-liter capacity
Cons:
Can get pretty heavy when full
Instructions are in German
---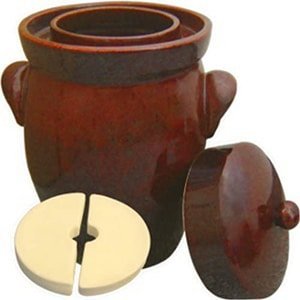 What You Will Love: The K&K Keramik fermenting pot is a German-made option that has a unique curved design that makes it look more like a decorative vase than a pot. The deep gully makes it easy for the pot to expel the fermentation gas and keep your food fresh.
Handmade Ceramic
This German creation was handmade from ceramic and is hard and tough. The outer shell is extremely durable and will last through years of use. The handmade design also gives you a unique look that makes each one that you buy distinct.
Chemical-Free
This ceramic pot is made by hand from ceramics but does not contain any lead or cadmium in the material. This makes it completely food-safe and allows you to feel better about it for your whole family.
Pressing Stones Included
This crock comes with its own pressing stones that fit directly into the pot. These stones are used to keep your food down instead of allowing it to float up in the liquid and fail to ferment properly.
Pros:
German-made
Handmade with ceramic
Durable design
Chemical-free
Pressing stones included
Cons:
Not the largest size for the price
The pressing stones could be a bit bigger
---
How To Choose The Right Fermenting Crock?
If you are ready to take the plunge into fermenting, there are a few factors you should consider:
Fermenting and pickling – What is the difference?
There are two major differences in fermenting and pickling: the process steps and the time frame. Pickling is the process in which an acidic liquid is added to the vegetable. Often, this is vinegar. This process does not take long, and the result is a sour taste.
Fermenting, on the other hand, is the process in which the vegetables soak in their own natural ingredients, eliminating the need for added ingredients. This process takes longer, usually weeks or longer, and results in a bitter tasting vegetable.
Open Crock vs. Water-Sealed Crock- What to buy?
An open crock is very simply a fermentation crock with an open top. It does not come with a lid and is much more like the process that previous generations used.
A plate and weight is generally used to hold down the vegetables while a cloth covers the top to keep bugs out. Water sealed crocks are more common these days. They come with a lid that provides an airtight seal when the water gutter is filled with water.
Because of this airtight water seal, the water sealed crocks are less likely to have bacterial growth. However, an open crock is generally cheaper and easier to clean, pack, and unpack thanks to its wider neck. Both have their advantages, so which to choose is a personal choice.
Location
As the processes for making these fermenting crocks are known in Europe and America, it is safest to choose a crock from one of these areas. That is due to the possibility of additional chemicals and/or toxins. If you choose to buy from another area, be sure to do your research and check out any ratings or reviews.
What time of year is best for fermenting?
This depends on what you are fermenting as you should ferment when that produce is in season. However, it will take less time to ferment in hot weather than it will in cold weather.
What size do you need?
This really depends on the amount of produce you grow, how much of it you choose to ferment, whether or not the crock can be moved, and how many people you are fermenting for.
What Quantities Of Fermented Vegetables Are You Planning To Produce?
The higher the quantities, the more capacity you will need. This can come in two separate ways. You can either buy a large capacity crock that can stay in one place, or you will need to buy multiple small fermenting crocks. If you will not be producing much, you can stick to a smaller size.
Do you want it to be movable, Or Can It Stay in One Place?
If you will need to move it around, it is best to use those with a smaller capacity. If you need more food, it is worth it to buy a few smaller ones, as the large ones are too heavy to move easily when full.
Container or Canning?
Both options have their benefits, but storing your fermented foods in containers will provide the maximum health benefits.
---
Why you need the best fermentation crock in your kitchen?
If you are new to fermenting, or never heard of it before, you may wonder why on earth you would need the best fermentation pot in your kitchen. Well, it is simple: not all fermenting crocks are created equally.
While some are made in the same basic way, there are distinctive differences to pay attention to. Some of these differences include obvious things like the size.
Other differences are slightly more subtle such as the thickness of the walls, whether they are a continual piece or made from separate pieces, the type of glaze added, and more. When you decide that you want to ferment your produce, it is very important to find the best option for you and your needs.
---
Final Verdict: Best Fermentation Crock
We have taken a look at some of the best fermenting crocks available and hope that this information helps you make an educated decision.
It can be difficult to decide what the best for you, but start with the capacity you will need from this handy tool. That will help you eliminate some of the options.
More Related Articles:
---