Quick Summary: Our top pick is the Danby DCR032C1BSLD Compact Fridge and Freezer because it has a capacity of 3.2 cubic feet, is energy-efficient, and is completely Energy Star compliant. The stainless-steel exterior is resistant to hand-prints and smudging and the door shelves can hold tall bottles for storage for large beers.
We all love inviting our friends and family over,but are you tired of cans and bottles overflowing your kitchen fridge whenever you have guests? Getting a beer fridge is an excellent solution for this problem.
Not only will a beer fridge free up some space in your regular fridge, but it will also keep your favorite beverages at the right temperature. If you're worried about a beer fridge taking up your precious space, the good news is that you can place it anywhere,even in your garage or basement.
There are so many good beer fridges available on the market. But there is a difference between a good beer fridge and the best beer fridge. The latter ensures that your beverages are cooled down to the ideal, refreshing temperature, so you don't have to settle for warm drinks with poor taste. That is precisely why we prepared this buying guide for you.
With so many models available, finding the right beer fridge for your home can be challenging. We researched the most popular beer fridges currently available and narrowed the list to the top 10 products. Keep reading to find out a beer fridge that will fit in your home perfectly.
Quick Navigation:
---
Comparison Of 10 Best Beer Fridges
| | | |
| --- | --- | --- |
| | If you're looking for a relatively small fridge that can handle your beers, then this Danby fridge is perfect for you. It features a 3.2 cubic feet interior capacity and an integrated shelving system that stores tall bottles. | Read Our Review |
| | 18 bottles of wine in this fridge, 18 bottles of wine you'll cool. The NewAir Wine cooler and refrigerator features a quiet and vibration-free cooling system and a digital display that allows you to quickly monitor the temperature. | Read Our Review |
| | Never run out of perfectly chilled cans of beer with the NewAir Beverage Cooler. This miniature fridge cools down to 34 degrees Fahrenheit, which guarantees that your drinks are always ice-cold. | Read Our Review |
| | The Whynter BR-130SB Beverage Refrigerator features an internal fan, black interior and a stainless steel doorframe. Not only does it boast a beautiful aesthetic, but its mechanical temperature control also allows you to keep your drinks frosty. | Read Our Review |
| | Add a touch of retro aesthetic to your Garage with this 3.2 cubic feet red toolbox fridge. Make sure your man cave, garage or work area never runs out of much-needed frosty beer while satisfying the room's aesthetic. | Read Our Review |
| | If you want to be the perfect party host, then this can compressor beverage cooler is the perfect addition to your home. Efficiently cool up to 106 cans of beer without the bulky exterior thanks to its slim design. | Read Our Review |
| | If you're looking for something that can switch between home and commercial usage, then this 24" beverage cooler is perfect for you. Its optimized design stores up to 154 cans while it's superior chilling guarantees the coldest brew. | Read Our Review |
| | Display your wine and beers side by side thanks to this dual-zone NewAir beverage cooler. It features an 18-bottle and 60-can capacity that allows you to keep the temperatures at the perfect chill. | Read Our Review |
| | You can never go wrong with a beautiful aesthetic. This stunning 3.2 cubic feet capacity mini-fridge features a space-saving flush back design and a black finish. The built-in can dispenser and freezer compartment maximize its convenience. | Read Our Review |
| | Quality and aesthetics come together in this stunning black-finished two-temperature zone under-counter beer and wine refrigerator. It features an Embraco compressor that guarantees optimal chill without the noise. | Read Our Review |
---
Reviews of 10 Best Beer Fridges
You don't just settle on any beer fridges. You have to know what to look for in your dream beer fridge. Fortunately, we've made it straightforward for you by researching on the beer fridges on the market.
Best Overall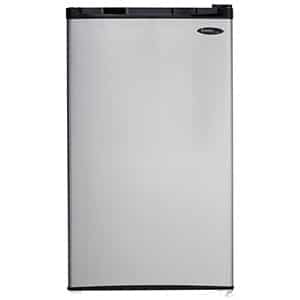 What you will love: This beer fridge comes with a simple manual defrosting system and a non-complex thermostat that renders it a high-performing unit. Despite that, it's Energy Star compliant meaning it doesn't' consume much energy.
Besides, it has incorporated door shelves and two wire shelves that allow you to maximize the storage.
And with the large freezer section that has a large capacity of 92 liters, there's enough room to store enough beer for everyone.
What's more, this Danby beer fridge has an innovative opening hinge that features a reversible door. That makes it possible to adjust the door so you can switch between the left hand and right-hand opening.
Also, the door of the unit has a stainless finish to prevent it from picking up dirt when opening and closing the door. Even more, this compact Danby beer fridge prides itself on having a one-of-a-kind CanStar beverage dispensing unit where you can store large two-liter bottles.
If you're looking for a compact beverage fridge for your home bar, kitchen or man cave, you can never go wrong with DCR032C1BSLD.
Pros:
Comes with full-width ice compartment
Integrated door shelving with tall bottle storage and CanStor dispenser
Reversible door hinge with integrated door handle
Energy Star rated with energy efficient R600a refrigerant
3.2 cubic feet storage capacity
Cons:
Some users say the door doesn't close well and that the fridge doesn't last that long
---
Best Budget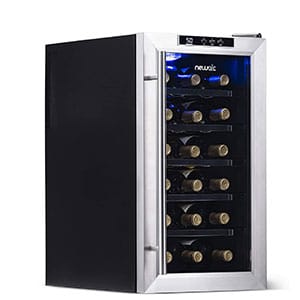 What you will love: Taking your beer cooling a notch higher using the superior NewAir thermoelectric wine cooler. NewAir beer fridge offers ample storage to fit 18 bottles of wine.
The unit comes with sliding and removable shelves giving you the storage flexibility. Also, the beer fridge features a sturdy construction rendering it highly durable.
Combined with an innovative and exceptional design, it will complement your décor regardless of the place of use.
Adding to the fact that is that this beverage fridge is compact and is freestanding and setting it is pretty simple as it doesn't occupy much room.
It features a robust glass door that blocks the penetration of the harmful UV rays. This NewAir 18 bottle wine refrigerator comes with a digital thermostat that allows for precise temperature check.
What's more, NewAir refrigerator uses a vibration-free thermoelectric cooler, a property that prevents the formation of sediment. As a result, you're guaranteed of sipping your beer and wine at its best flavor.
Besides, it comes with push control buttons that are effortless to use. Additionally, NewAir refrigerator features blue LED that provides lighting necessary when in the dark.
Pros:
18 bottle capacity, perfect for wine bottles
Digital display for easy temperature control using push buttons on door frame
Stainless steel construction with glass door and interior blue LED lighting
Adjustable shelves
Compressor-free cooling system for quiet operation
Cons:
Some users say the circulating fans could be better quality
---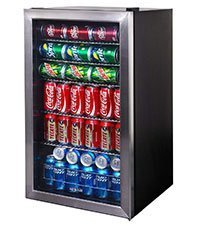 What you will love: Beer is at its best when frosty, and NewAir Can Beverage Cooler offers you exactly that. This beverage fridge offers enough room to store 126 cans although there's still a NewAir mini beer fridge that holds 84 cans.
AB-1200 126 cans beverage cooler features five sliding and removable racks such that you can grab whatever drink you want effortlessly. Plus, the cooler has a large storage bin that allows you to store large bottles and cartons.
Besides, NewAir stainless steel beer fridge has seven thermostat temperature settings that you can adjust to your preferred degree. And the best part is that the temperature can go to as low as 34° Fahrenheit.
With the interior LED lighting, you're sure that your drinks will be illuminated even in the dark. Apart from enhancing the look, it makes it possible to reach the right drink regardless of the room lighting.
Even more, the unit comes with a black and stainless steel finish that is highly durable and renders it highly attractive to complement any décor in your home, man cave or even the office.
Pros:
7 custom thermostat settings for temperature range from 37 to 64 degrees fahrenheit as a beer fridge or beverage cooler
5 easily removable chrome racks for cans or bottles of various shapes and sizes
Durable stainless steel door with recessed handle that is reversible
Cons:
---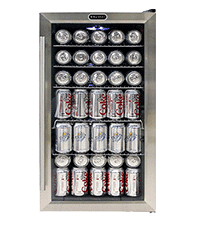 What you will love: Whynter refrigerator is the best beverage cooler and meets your desires for proper display and efficient refrigeration. It features an active compressor and an internal air-cooling system that ensures even cooling for consistent temperatures throughout the entire unit.
Besides, Whynter stainless steel features interior LED lighting that you can control with the ON/OFF button excellent for the illumination of the whole cabinet. That makes it possible for you to reach the right beer bottle regardless of the lighting in the surrounding.
Whynter Mini beer fridge features an excellent design giving it a fantastic look. It comes with a unique stainless steel towel bar handle.
Together with the stainless steel door frame and stylish cabinet, the unit offers an outstanding display and appearance. Also, it comes with reversible doors, so you switch from the right hand to the left hand.
Also, this beverage man cave refrigerator has five sliding shelves that offer enough storage for 120 can beverage, 12oz each. With enough drinks in the cabinet, the party cannot get any better.
Additionally, Whynter mini beer fridge assumes a freestanding compact design and takes less space.
Pros:
120 can beverage center, best fridge for storing beer cans or similar
Sleek black cabinet with glass door trimmed with stainless steel
Temperature from high 30ºF – mid 60ºF
Comes with a cylinder lock to keep beverages safe
Cons:
Not the best design if you want to store large bottles
---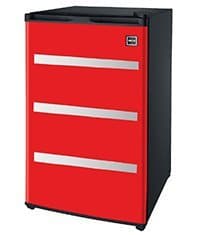 What you will love: Looking for an excellent beverage fridge to keep your beverages a secret? Igloo toolbox looking fridge should be your perfect choice.
Igloo garage refrigerator offers you 3.2 cubic feet space enough to keep your beers and beverage accessible.
What's more, the mini fridge features a crisper located in the interior so you can store your fruits and vegetables. As such, you can be sure they will retain their freshness for an extended duration.
Besides, Igloo man cave refrigerator uses a powerful compressor to ensure that your drinks remain cold to maintain the original flavor. And despite the high cooling power, it consumes minimal energy.
Even more, located at the bottom of the unit are four caster wheels that make it possible to roll the fridge to wherever you want. When set, you can lock the wheels to maintain your fridge at one point for endless fun.
Also, igloo man cave fridge comes with a design perfect to blend in a man space or garage and even complement them ready to give you an ultimate drinking moment.
Pros:
Design blends in well in tool shed, man cave, garage or other work area
4 caster wheels for easy mobility
Includes a crisper, door can dispenser and drip tray
3.2 Cu Ft capacity
Can be used as a wheeled cooler
Cons:
The red design that looks like a tool box may not be to everyone's taste
---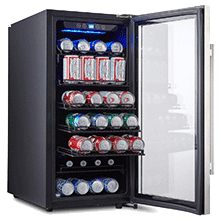 What you will love: It's time you stopped stuffing your fridge with food and beverages. Phiestina beverage cooler is your solution to storing and entertaining yourself with cool drinks whenever you want. The cooler has enough space to fit 106 cans.
Thanks to its compressor cooling system, Phiestina mini beer fridge runs silently. As a result, whether in your home bar or the man cave, you'll chill out without any annoying noise common with the ordinary coolers.
Besides, Phiestina beverage cooler grants you the opportunity to sip icy-cold drinks. It allows you to adjust the thermostat from 38°F to 50°F.
Also, the beer fridge features removal wire compartments in which to store your drink cans and bottles. What's more, fitted in the interior is a blue LED light that makes it possible to spot the drink you want even if it's at night.
Besides, for ease of storage and to occupy less room, Phiestina mini fridge comes in a freestanding design. It gets even better with its adjustable legs.
Pros:
Chills up to 106 cans
Slim free standing design so it can fit in tight spaces
Six removable wire shelves for easy adjustment
On/off LED lights for added style
Compressor cooling ensures a quieter operation
Users say this mini fridge keeps beverages nice and cold
Cons:
The door is not reversible
---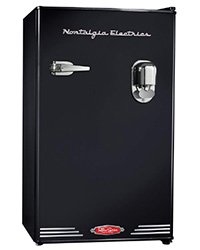 What you will love: If you want a fridge that doesn't take much space, Nostalgia mini retro beer fridge is the real deal.
Although compact, it has a spacious interior for the storage of your drinks. And thanks to the door shelf, you can store tall items such as bottles where you grab them easily.
Besides, the refrigerator features a freezer compartment that will keep them icy-cold.
What's more, Nostalgia mini retro beer fridge has thermostat control dial that allows you to control the temperature. If you want even lower temperatures of the cabinet, you only dial higher numbers.
Also, Nostalgia retro compact refrigerator features an innovative beverage dispenser tank that you can fill water or any other beverage. The dispenser is designed in such a way that you can serve your drink of choice outside the fridge door.
Besides, this beer fridge does not lag behind when it comes to the look. It combines ancient beauty and a modern appeal to giving it an elegant yet stylish design.
Bunn Nostalgia is the perfect model for an office, home bar, man cave or even the kitchen.
Pros:
One of the only mini fridges with an exterior beverage dispenser
Includes freezer compartment and ice cube tray
Easy temperature adjustment with dial control
Chrome dispenser with tank that holds 2 quarts of your chosen beverage
Cons:
You need to assemble the beverage dispenser and door handle
---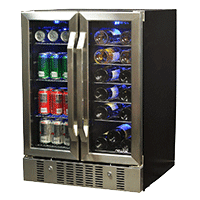 What you will love: Beer is served best when icy-cold. NewAir stainless steel fridge will store your beverage your preferred temperature ready for that refreshing sip at any time.
NewAir build-in fridge has an adjustable creative dual zone compressor cooling system. As such you can adjust the temperature as you please from a low of 36°F to a high of 72°F.
What's more, the fridge comes with a digital display located in the interior. You only need to push the control buttons to adjust the temperature in both cabinets.
NewAir build-in fridge has a beverage center with a capacity enough for 18 bottles and 60 cans. That way, you can keep your beers, wines, and other beverages frosty ready for the entertainment at any time.
Besides, it features interior blue LED lighting that illuminates the inside of the fridge so you can pick the right beverages even in the dark or low-lit rooms.
Also, NewAir dual zone wine and beverage cooler come with five sliding and adjustable shelves plus four chrome plated racks for the beverages. As such, loading is super easy while access is straightforward.
Pros:
Best beer fridge for holding 18 bottles (of wine or beer) and 16 cans
Beverage racks and wire wine shelves are adjustable
Digital display with easy temperature adjustment
Interior lighting with blue LEDs
Lockable door to keep drinks safe
Cons:
Some users say this unit is noisy
---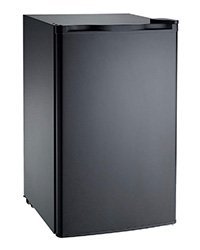 What you will love: Short on space? The compact RCA beer refrigerator will suit you perfectly. Mini Igloo refrigerator and freezer feature an outstanding design and style that will surely complement your décor.
Combined with the invisible door handle, nothing can beat the appearance of this refrigerator and freezer offers. The unit has a large capacity of 3.2 cubic feet with an innovative interior design to maximize the storage.
Besides, RCA reversible door refrigerator features two adjustable interior racks that make it possible to store different sizes of beverages plus glass shelves. Additionally, the door comes fitted with shelves and drink holders offering many storage options.
Also, this mini beverage fridge comes with an adjustable thermostat that allows you to set the temperature of the unit to your preference. As such, you can be guaranteed that your beers and other beverages will retain an optimum temperature range.
What's more, thanks to the reversible door, it's possible to adapt to the layout of the storage area. Also, you get to open the door however you like, using the left hand or the right hand.
Pros:
Door is reversible for this beverage cooler and refrigerator
Compressor cooling for quiet and effective performance
Adjustable thermostat and adjustable lever feet
3.2 cu. ft of inner storage space, including 0.2 cu. ft of freezer space
Cons:
Some users say the product does not arrive like new
---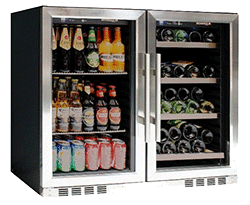 What you will love: Grab yourself a quality beer fridge and get to enjoy your drink at the optimum temperature range. Kings bottle glass-door refrigerator features a dual zone digital temperature controller that makes it possible to store your beverages at two different temperatures.
Besides, this beer bottle fridge features an EMBRACO compressor that renders it highly-performing yet energy efficient.
What's more, the cooler is whisper quiet such that you can enjoy the tranquil wherever you place it. Plus, the beverage fridge comes with high-quality DC fans that keep it cool when operating.
Also, Kings Bottle glass door refrigerator features gas charge stainless steel trimmed glass door for an amazing display.
On top of that, it has adjustable wood shelves for the wine section and chromed shelves for the beer to suit your storage requirements.
Kings Bottle refrigerator has enough capacity to hold 100 cans or bottles of your beer and other beverages plus 28 bottles bottle of wines.
Pros:
Best combo mini fridge, with self-closing double glass doors with UV protection
Two separate temperature zones in this beverage refrigerator and cooler
Digital display controller
Includes door lock
Can be built into existing cabinets
Attractive wood shelves and metal shelves
Cons:
Quality seems to be hit-and-miss based on user feedback
---
Top Features Of The Best Beer Fridges
Cooling System (Compressor Or Thermoelectric)
Given the massive number of beer fridges on the market, it can be hard to decide what suit your needs.
Beer refrigerators with thermoelectric cooling systems work by allowing the flow of current between two conductors and is common in small units.
Cooling by compression involves compression of the refrigerant molecules, producing a heated vapor. The resulting vapor then goes through the condenser where it evaporates and becomes cold.
Units using a thermoelectric cooling system are known for the quiet operation, efficiency and occupy less space. However, the cooling may not be sufficient for regions with high naturally high temperatures.
Compressor Units are the real deal when you want to achieve very low temperature. Besides, these units can handle high temperatures and are durable.
The downside is that fridges using a thermoelectric cooling system are relatively loud, large and heavy.
Temperature Control
For temperature check, Fridges featuring compressor cooling system now comes with a digital temperature dial or control that allows you to adjust the temperature range by dialing some numbers.
Construction Design & Features
The top beer fridges now come with dual compartments and dual compressor cooling systems. Features worth noting include caster wheels for mobility, digital temperature dial and interior LED lighting.
Energy Saving
Extreme energy consumption is a problem that owners of fridges have to deal with. Old fridges are notorious when it comes to consuming energy, and the secret is to replace it with one that's Energy Star Compliant to avoid rising energy bills.
---
How To Choose The Best Beer Fridge Or Cooler For Your Needs
Capacity
How much storage space do you need?
In a beverage fridge, the liter is the unit of measurement and the larger the capacity, the better.
Style and Design
This comprises of the internal and external appearance of the beer refrigerator. Some aspects to check out include interior lighting, the shelves, and racks.
Also, the dimensions and shape, door and more fall under this category.
Temperature Check
Beer needs to retain the original taste and texture. Your choice of fridge needs to have temperature regulator. Beer fridges can have either compressor or thermoelectric cooling system with former being a bit sophisticated and more efficient at cooling.
Consider Durability
When buying your fridge, you should have the future in mind. Be sure to go for the beer refrigerator with robust construction.
Glass shelves and doors should be strong enough to prevent easy breakage. Also, steel finish is a great addition not only to ensure durability but also enhance the looks.
Mobility
Although not a major requirement, it would pay to have a fridge with caster wheels. That allows for easy movement as you'll only need to have it rolling. However, where movement is not essential, you can compromise on that provided everything else works just fine.
Price & Your Budget
Your budget will inform your choice of the beer fridge.
However! It's always advisable not to compromise functionality and quality in the name of saving some bucks.
Compressor units tend to cost more than the thermoelectric units and efficient.
Storage Space
Before purchasing your next fridge, you must establish where you want to keep it. For instance, your aim may be to squeeze it in your apartment, but it has limited space. A mini beer fridge would be your best bet in that case.
Warranty
While this may not be a big issue to many, a warranty is a guarantee that the manufacturer offers a quality product. Risks are less in buying a fridge with warranty as you can return it or have it fixed for free if it develops issues within the duration covered.
Be sure to buy a product with a warranty. Also, make sure the warranty is long enough to give you time to test the working of your fridge.
---
Maintenance And Safety Tips For Your Beer Fridge or Mini Cooler
If you want your beer fridge also to be energy efficient and to extend the lifespan, proper maintenance is a must.
Always Keep the Doors Closed- to ensure your beer stays fresh and cut on the energy bills, make sure the doors of the fridge remain closed all the time. Inspect to see if something is amiss.
You might be dealing with broken door gasket, a blockage, interference with the alignment of the hinges and or improper level of the door.
Set the Fridge to the Right Temperature- to maintain the original taste and flavor, adjust the temperature range to between 34° and 40° Fahrenheit.
Nevertheless! The new crop of beer fridges with digital temperature regulator allows for flash temperature adjustments and can go over 70°F.
Defrost Regularly- there those fridges designed with self-defrosting mechanisms. If yours doesn't, you'll need to do it manually.
After That, Unplug your unit, remove all the beer and other contents and allow for the frost to melt. You can then proceed to turn the unit on and return your drinks.
Clean the Interior- you need to remove any accidental spills from the shelves and walls of your fridge. You'll need a damp cloth and warm water for that. Schedule regular cleaning.
Vacuum the Coils Clean- condenser coils get covered with dust which affects the operation and efficiency of the fridge. Most beer fridges have their coils positioned at the back although some models have them located behind the lower front grill. Please confirm the location from your manual.
After that, unplug your unit and move away from the wall. Make use of your vacuum cleaner to vacuum the coils off the dust and dirt accumulated.
---
Final Verdict: The Best Beer Fridges
Without a doubt, a beer fridge is an essential addition to the home bar, office, garage, or man cave. As such, you have to know how to choose the best beer fridge that will suit your preference. We believe that the ten top beer fridges we've reviewed are quality, functional, and durable.
More Related Articles:
---