Quick Summary: Based on the reviews we have compiled, as well as the pros and cons of each of the 10 Airtight Containers, the food storage container that is likely to meet most of your needs is the Royal Air-Tight Food Storage Container Set. The containers are truly airtight, making it possible for them to keep your food fresh for a long time. The food storage containers not only look great but also meet the required hygiene and safety standards.
Nobody likes stale food, and yet most food has to be stored for later use. That's where airtight containers enter the equation, providing you with a safe environment for food to be stored, away from the rare creepy-crawlies, and away from liquids which usually get exposed to food left outside.
Airtight containers are also great for traveling purposes whenever you want to bring food along with you. Searching for the perfect container is a tedious task, but we've made it easy.
After having gone through numerous product reviews, forums, and descriptions, we've listed the best air tight containers available on the market.
Keeping in mind all the factors that go into the search for the perfect airtight container, we've made a list of the best of the best.
When looking for a good container, look for one that is light, compact, easy to store in your kitchen compartments, and bags, and of course – durable and sturdy.
Price is also something to look for, although usually, an airtight container is pricier due to the materials which make it sturdier and more durable.
Investing in a durable container would be a good idea as a container of such is not something you'd want to buy on the regular.
Quick Navigation
---
10 Best Airtight Containers Comparison
| | | |
| --- | --- | --- |
| | This unique air-tight container comes with a lid-lock mechanism. It is easy to clean, versatile, liquid-friendly, and made of the highest quality available. | Read Our Review |
| | Keep your foods dry and fresh with this perfectly sized and calibrated container. It has a round design to prevent injuries through sharp edges. | Read Our Review |
| | One of the largest sets available on the market, this thermo-resistant set is a safe space for your food, away from liquid and dust exposure. | Read Our Review |
| | The first product to introduce 4-sided lids, this container is engineered to last and is one of the most durable ones available. All plastic used is FDA approved. | Read Our Review |
| | Leakproof, smell proof, and made of stainless steel, you can feel at ease leaving your food inside this. The silicone lid has a tight seal that won't betray you. | Read Our Review |
| | Made in South Korea, with top quality eco-friendly materials, this air-tight and water-tight container is one you can use for everyday use without any wear. | Read Our Review |
| | This storage container is stain-free and made of the highest quality materials. The seal is unique, with a push to remove air and pull up access features. | Read Our Review |
| | The airtight lid on this product preserves all your food stores and works best for storing cookies, flour, and spices. | Read Our Review |
| | Made of acrylic glass, you can see exactly what's inside the container and still feel at ease knowing it won't break that easily. | Read Our Review |
| | Perfectly sized and made with the highest quality materials, you can rest easy knowing your food won't go stale in this container. | Read Our Review |
---
Reviews of Top 10 Airtight Containers
To make it easier and faster for you to arrive at the food container that will meet your storage needs, we have put together 10 best air tight container reviews.
Best Overall
What You Will Love: The R Zeppoli Air-Tight Food Storage Container Set is a set of five and it can hold liquid or dry items.
The Zeppoli Air-Tight Food Storage Container Set are the best container because they can hold dry food and liquid. They are completely versatile and can hold water, soup, juice, and any other liquid.
These come with lids and made of BPA clear durable plastic containers. They have black lids to match any kitchen decor.
They are in four different container sizes. The tall container hold 2 quarts, or 2.3 liters. The medium container holds 1.5 quarts or 1.7 liters. The two small containers hold .9 quarts, or 1 liter. The mini container holds .35 quarts, or .38 liters.
These special containers offer an air tight seal once you have pushed down the handle. All you do is push down the ring on the lid and the vacuum seal inside, which is made of silicone ringl, expands and seals the jar.
There is no need to worry about your liquids spilling out. To open the container, simply pop the rind up, and then it is a handle you can lift. The corners of the containers are specially designed for easy pouring.
The Zeppoli Air-Tight Food Storage Container are simple to clean. To clean the Zeppoli locks, remove the silicone that it attached around the lid of each container. Wash with soap and water. After drying thoroughly, wrap the silicone around the lid and seal it again.
These food containers have been tested to ensure they are durable and will last a long time. They are modular and stackable to leave plenty of room in your cabinets.
Pros:
BPA free plastic
Airtight locking technology
Cons:
The vacuum seal may not always work
---
Best Budget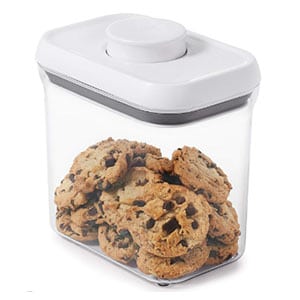 What You Will Love: The OXO Good Grips POP container has a push-button airtight seal. The POP containers are one of the best because it has a push button to let you know it is sealed. You push the button on top of the lid to seal the container.
Then, you push the button again to unseal it. When the button is popped up, it acts as a handle. The handle is not seen when the container is being stored.
This air tight seal guarantees that your food will stay dry and fresh all while saving space in your cabinets. This container is a 1.5 quart and it is big enough to hold a one-pound bag of coffee beans. OXO POP Container is the perfect size to hold common items like sugar, flour, and rice.
It can even be used for toys, in garages, bathrooms, or offices. You can let your imagination run wild with storage ideas. The airtight food storage containers are stackable and modular to fit in any space. They have rounded corners, which allows for easy pouring. They are simple to clean.
You just unsnap the lid and the silicone ring comes off to wash the parts. The silicone ring is dishwasher safe, however, the rest of the container must be washed by hand. The containers are made from BPA free plastic.
OXO Good offers the better guarantee on all their products. They are confident in their products, but know there are always lessons to be learned, so if you experience any problems, they want to know about them. They will replace or repair any of their products.
Pros:
Pop lock seal
BPA free plastic
Cons:
The majority of the container needs to be washed by hand
---
Best Airtight Glass Container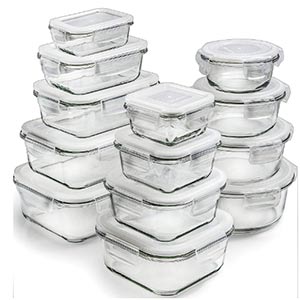 What You Will Love: The Prep Naturals Glass Containers has every piece you need with this 13 piece airtight set. The glass food storage containers have all your bases covered. These airtight food storage containers can do it all. They can store food, act as cookware, or be dinnerware.
This 13 piece set has everything you need. These containers are perfect for the meal prepper in your house.
Everyone can feel confident using these glass containers. They are durable and simple to use. You will be excited to use these containers for meal prep and cook at home.
These containers are perfect for storing leftovers. They are in various container sizes and shapes making it easy to store and transport your food. They help you portion control and take food with you anywhere you need to go.
They go easily from freezer to oven because of their thermal resistant properties. They can withstand temperatures up to 840 degrees Fahrenheit. They are also safe for the microwave.
Glass Container by Prep Naturals comes in different sizes and shapes. All the containers have lids. The lids are BPA free. Prep Naturals stands behind all of their products and wants to ensure your complete satisfaction. If you do not love your glass containers, they will give you a full refund.
Pros:
Glass container
Can go from freezer to oven
Cons:
The glass could chip or break
---
Best Airtight Plastic Container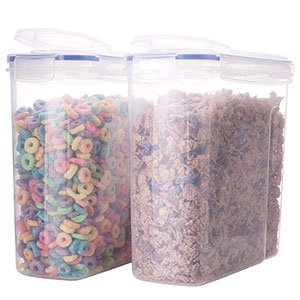 What You Will Love: The Komax Biokips Original Airtight Cereal Container Set has four sided locking lids to protect your food from moisture, air, and pests. The Biokips is the original design that has been copied by many but never matched.
This set contains two large containers that hold 16.9 cups, or 4 liters, or 135 ounces. The dimensions are 9.7 inches x 4.6 inches x 9.6 inches.
They can be stacked for the ultimate in space saving. These airtight food storage containers hold rice, brown sugar, and flour perfectly.
The opening of the container is 2.4 inches so you can get to your contents effortlessly. The containers have a measurement scale etched into the side of them for long lasting measuring at a glance.
These containers are made from a polypropylene (PP) BPA free plastic, lab tested and FDA approved. Komax ensures the safety and durability of all of their products.
Made of high-quality plastic, the containers in this set are hygienic and safe for storing different types of food. Additionally, the Komax Biokips Original Container are both watertight and airtight. This feature not only works to keep food fresh but also prevent the loss of essential nutrients from your food.
Apart from the durable construction design of the containers, they also have a four-sided locking system with silicon seals. These could be ideal airtight containers for coffee.
Pros:
Easy to clean and dry
Can store a wide range of food items
Easy to grip
Sturdy material
Contents are visible
Cons:
Sometimes lids do not fit right away
A little small for a whole cereal box
The top is not ideal for pouring cereals
Leaks water when help upside down
---
Best Airtight Stainless Steel Food Container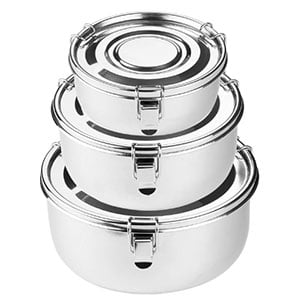 What You Will Love: The Premium Stainless Steel Containers by the Fresh Lockers are 316 grade stainless steel.
The Fresh Locker's premium stainless steel containers are made from 316 stainless steel, which is food safe and resistant to heat damage, stains, and corrosion.
They are BPA, phthalate, and lead free. They are better for you and the environment. The lids are also stainless steel.
There is no plastic on these containers. There is no glue or adhesive used on the rings. They stay in place using pressure. Premium Food Containers set of three containers are airtight, leak proof, and smell proof.
The quality steel of these containers helps cold food stay colder and hot foods stay warmer longer. These containers are versatile and can be used for lunch, snack, sauces, baby food, and leftovers. There is nothing these containers cannot hold.
The large containers holds 44 ounces and is 6.25 inches wide and 3.25 inches tall. The medium one is 30 ounces and is 5.5 inches wide and 2.75 inches tall. The small container holds 16 ounces and is 4.5 inches wide and 2 inches tall.
The Fresh Locker guarantees your complete satisfaction. They have a 100 percent guarantee. If you have any problems, contact them and they will work to make sure you are happy.
Pros:
316 stainless steel
Three piece set
Cons:
The clips on the lid may not always work properly
---
Best Large Airtight Containers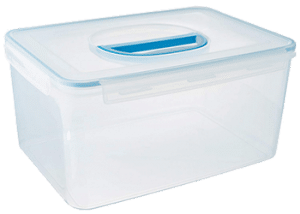 What You Will Love: The Komax Biokips Extra Large Food Storage Container has a strong handle to make it easier for anyone trying to lift the container. The container has a tighter seal to help keep all ingredients fresh and away from pests.
The Komax is a designing winning extra large container. It is the original four sided locking lid combined with function, ergonomics, and durability.
It hold 48.6 cups, or 388 ounces, of any dry or bulk products. It can hold a 20 pound bag of flour, 18 pounds of rice, or 15 pounds of dog food. It can also hold up to three gallons of any liquid.
Komax Biokips Storage Container is food-grade plastic that is BPA free. All Komax containers are lab tested and FDA approved. This container is 13.4 inches x 9.8 inches by 7 inches. Made of BPA-free plastic, the container is great for storing both food and liquids.
The container meets high hygiene and safety standards, making it a great choice for holding foods such as cereals, coffee, flour, brown sugar, rice, and snacks.
The four-sided locking system with silicon seal makes the container leak-proof, a factor that enables you to use the container to transport food. Indeed, this container removes any worry that you may have about dangerous chemicals leaking into your food.
Pros:
Great shape for organization of pantry
Proper seals
Easy to clean and dry
Safe for all foods
Cons:
A bit pricey
Not much regarding variety
Difficult to open and close
The product leaks from time to time
---
Best for Coffee & Tea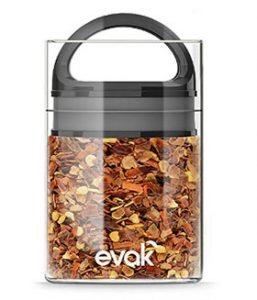 What You Will Love: The Best Premium Airtight Storage Container for Coffee Beans, Tea and Dry Goods has a fully innovative and functional container patented for coffee beans and other dry goods.
They have won four international awards for their design and function. It works simply by removing all the air from the container when you push down the lid.
The lid is a plunger and you hear a whoosh sound that lets you know the air is removed. Allowing air to get to your food is the quickest way to destroy it.
The Evak lid has a special twin-valve process that pulls the air out of the container. There are no valves to be replaced, no switches or pumps. The glass container is made of borosilicate and stainless. The glass is dishwasher safe, but the lid should be washed by hand.
These airtight kitchen containers come in three different sizes. There is the large 1.4 qt container with a capacity of 5.75 cups, the 0.75 qt medium-sized container with a capacity of 3 cups and the small 0.5 qt container with a capacity of 2 cups.
The containers have a twin-valve system that releases air when the container is sealed off. The Airtight Storage Container come with a five-year guarantee for quality and satisfaction. Lastly, the beautiful design and appearance of the containers is meant to accentuate and complement your kitchen décor.
Pros:
Resists odors and stains
Keeps food fresher for longer
Truly airtight
Clear material displays contents
Cons:
Small in size
Leaves some air trapped between food
Quite fragile containers
Open is too small to pull out lid
---
Best Airtight Spice Containers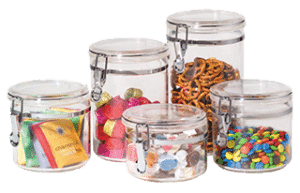 What You Will Love: The Oggi 9322 5 Piece Airtight Containers Clamp Lids are completely airtight to protect all of your food goods. The acrylic containers have silicone seal to hold a tight seal. The clamps are made out of stainless steel.
The Oggi containers are lightweight, but they strong and resistant to breakage. These containers are simple to clean. All you have to do is wipe them down with a damp cloth.
It comes at a very reasonable price for this five piece airtight set. The five containers come in four different sizes. This 5 piece airtight set comprises airtight containers for flour and sugar. At the same time, the containers can be used for storing cookies, spices, and other kitchen staples.
The Oggi 9322 container set includes 65 ounce, 51 ounce, 22 ounce, and two 26 ounce containers. The lids of the containers have silicone rings, which help in preserving your stored foods. Moreover, it is Easy to open and clean. You only need to wipe them with a damp cloth.
Pros:
Ideal for organizing pantry shelves
Lightweight containers
Strong and break resistant
Easy to use
Cons:
Not entirely airtight
Do not prevent odors
Canisters begin to rust after some time
Lids do not close easily
---
Best Airtight Acrylic Canister Set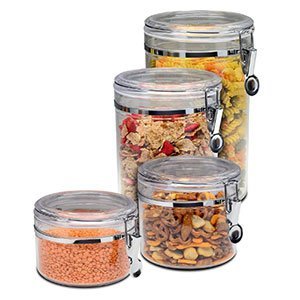 What You Will Love: The Bellemain 4 Piece Airtight Acrylic Canister Set is a set of four clear acrylic containers that you can see how much dry food is left in the container. The containers are lightweight and break resistant. If you drop them, they will not break, but they will bounce.
They have an airtight vacuum seal that happens with a silicone ring and a clamp to make sure you have a tight fit every single time. The Bellemain 4 piece canisters keep your food fresh and safe from pests.
These containers are BPA free and do not contain any chemicals. Made of BPA-free plastic, these containers prevent your perishable foods from harmful chemicals.
Additionally, the vacuum seal and secure clamps keep food fresh and safe from bugs and ants. The canisters are light that you do not have to worry about them slipping from your hands and shattering.
However, if they slip and drop, the canisters are break-resistant, only bouncing back when they hit the ground. The set includes an assortment of different sizes; 65 ounces, 51 ounces, 26 ounces and 22-ounce containers.
The same containers also come in different heights, making it very convenient for you to store different quantities of foods and liquids. This Bellemain 4 Piece Airtight set will be great if you live in an area with warm, humid climate.
Pros:
Shatterproof container
Easy to open
No mess when opening
Clear material displays the contents
Great different sizes in the set
Cons:
Metal rings need improvement
Not watertight
Gaskets can easily pull apart
---
Best for Versatility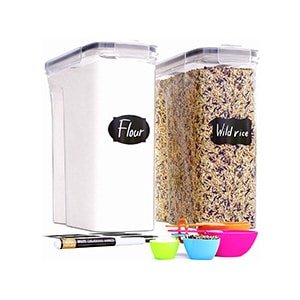 What You Will Love: The Chef's Path Cereal Storage Container Set is BPA free and comes with Chalkboard labels and pen.
The Chef's Path Cereal Storage Container set has a four sided locking lid that comes with silicon seals to keep your food safe.
The containers are BPA free and are 9.6 inches x 9.3 inches x 3.9 inches. They come with eight reusable chalkboard labels and pens to help you organize your containers and cabinets.
They are air tight containers that perfectly store four, rice, sugar, and nuts. They have a flip top lid that makes pouring much easier. There is an ergonomic grip that makes it easy to hold while you are pouring.
This Chef's Path Cereal Storage set comes in a beautifully designed gift box making them an ideal gift. The containers are 100 percent dishwasher safe.
The Chef's Path offers their better than money back guarantee. They have full confidence in their products and know you will love them. If you do not, they will give you a full refund with no questions asked.
Pros:
Four sided locking lid
Easy to open
Money back guarantee
Cons:
The containers are on the small side
---
Why Use Airtight Containers?
If you do not have the requisite knowledge, you will frequently find it difficult to store your food. Whether raw or cooked, how you store your food is imperative. Exposing food to air for a long period is likely to affect the quality of your food adversely.
Airtight containers will help you in keeping your foods dry, preventing it from developing freezer burn, getting soggy or absorbing odors.
---
How to Choose the Best Airtight Containers?
Before settling on a food storage container to use in your kitchen, we advise you to keep in mind some considerations.
These will not only help you in getting quality containers but will also go a long way in ensuring that you eat quality and tasty food at all times.
Materials
The material from which a food storage container is made is a critical factor for you to consider as you shop around. There are many options to choose from, and your decision will boil down to what serves you best.
Glass
Airtight glass containers allow for faster product identification as they are transparent and display content. Moreover, glass is suitable for both microwave heating as well as refrigeration.
At the same time glass does not contain chemicals that could be dangerous to food. Lastly, glass containers prevent moisture build-up and odors.
Plastic
This is a popular material for airtight storage. Plastic makes it possible to use airtight plastic food storage containers for many, little storage purposes. However, we advise against the use of recycled plastic for food storage. This is to avoid the transmission of any contaminants to your food.
Paper
Paper food containers are mostly used for transporting food as they can retain both cold and hot foods. This material has biodegradable properties, a factor that makes it possible to recycle it. One major advantage of paper containers is that they are designed to be leak-proof.
Shapes and Sizes
Containers come in two major shapes, square or round. Round containers ensure better circulation of air enabling faster cooling times.
Additionally, the round interior of the containers works to minimize food waste. On the other hand, square containers maximize space, making them great for holding larger quantities of food.
Similarly, all airtight food containers come in different sizes. The size you choose will depend on whether you want to store wet or dry ingredients, soups, jams, fresh produce or sauces.
There are infinite possibilities with these containers. As such, depending on your specific storage needs, you can either choose small airtight containers or large airtight containers.
Lids
Air is the enemy of food. As such, the lid of your chosen food container will play a major role in helping you to achieve proper food storage.
The best lids for containers should fit tightly, be spill-resistant, have inner and outer seals for increased protection and keep your contents fresh until they are ready for use.
Stack Ability
To allow you to save on space, good containers should have stackable designs. The best air tight containers have a nesting system that allows you to safely stack them with containers from similar brands as well as from other brands. Such containers should be easily nested both when in use and when not in use.
Graduations
The best airtight food containers will not just hold your food and liquid. They will also have graduated measurements to let you know how much of the content is in your container. This will be very convenient as you will not have to measure out the contents.
Storing and Reheating Leftovers
Some leftovers require being refrigerated to remain safe. Such leftovers ought to be refrigerated within two hours of serving to eliminate the risk of bacteria growing.
The best food storage container should be able to withstand extremely cold temperatures to hold your food and liquids while in the refrigerator.
In a similar fashion, good containers should be safe for use in reheating food. Microwave and oven safe containers will save you the hassle of having to transfer your food to another container before reheating.
Leak-proof
Containers are aimed at helping you to achieve order and cleanliness in both commercial and your kitchen at home. Leak-proof containers will be great in avoiding leakages of liquids as well as other food items during the storage period.
Certifications
There are several sanitation safety standards that certain products have to meet to serve you satisfactorily.
Before buying containers, we advise that you check whether they have the necessary certifications that communicate quality and safety.
---
How to Keep Food in Airtight Containers Fresh?
When you open a package of food, you are already exposing it to air and it can begin to degrade. It is best to put it in a reusable container to keep your food fresh.
This also helps to stop the food from spilling and making a mess in your cabinet. All of your food should be kept in an airtight container.
The top items that you should keep in an airtight container are items like bread flour. You should make sure you keep your flour in a container big enough to hold it.
Sugar attracts moisture and keeping it in an airtight container stops it from clumping. Rice and beans should be kept in an airtight container to keep moisture and odor out and flavor in.
Spices kept in an air tight container keep the strong scent away from other foods. An airtight container will keep dried fruit from hardening.
---
Final Verdict: Best Airtight Containers
After extensive research, we have presented to you the top airtight containers in each category. We looked at the reviews of experts and consumers. We reviewed all of their features and took a hard look at the quality of each one.
We examined the strength and durability. We also looked at their prices to ensure you would get value for the money you spent. The 10 listed above rose to the top of our list for the best containers. Be sure to check out these airtight containers before you buy your next one.
We will greatly appreciate if you can share with us your comments or articles through social media.
More Related Articles:
---