Quick Summary: The 8″ Hardwood Tortilla Press is our top choice for the best tortilla press and tortilla maker. Being a connoisseur of tortilla making requires using the best equipment. The Tortilla Press is handmade out of walnut and Red Oak. Since each 8″ Hardwood Tortilla Press uses two types of hardwood, they are highly durable.
Cooking's the best, right? There's nothing quite like sharing a huge Mexican feast with your friends and family. For that you need one of the best tortilla presses to ensure you're the host with most!
Did you know the word "tortilla" comes from the Spanish word "torta" meaning, "sweet cakes"? Tortilla, though, isa brilliant savoury flatbread that has become a staple in homes across the world. Everyone's happy when it's tortilla night. To do that you need the best press!
As you browse our top 10, it's important to consider what the tortilla press is made from. Hardwood is brilliant if you want style and durability, whereas cast iron is ideal for pressing. If it's tortillas alone you want, you might opt for a different model than you would if you want to also cook pancakes, tostones, and pizzelles. If size is important to you, check out how the diameter length compares on each model.
Here, we run through the best tortilla presses available online, so that you don't have to spend hours searching for the most durable, versatile models. Sit back and enjoy finding out all about the 10 best tortilla presses available!
Quick Navigation:
---
10 Best Tortilla Presses Comparison
1. The 8 Inch Hardwood Tortilla Press (Best Overall)

This Central Coast Woodworks Hardwood Tortilla Press is made from high quality hardwoods that give it a unique character and durability. Several coats of food-grade mineral oils and beeswax have been applied to the press to avoid sticking.

Read Our Review

2. Victoria TOR-003 Cast Iron Tortilla Press (Best Budget)

This Victoria 8-inch Cast Iron Tortilla Press is made from heavy-duty cast iron for easy and even pressing, improved base & handle for resistance and also great for patacones, tostones, empanadas, arepas and more.

Read Our Review

3. Cuisinart CPP-200 International Chef

This Cuisinart CPP-200 International Chef Tortilla Press breezes through crêpes, tortillas, blintzes, and pizzelles with ease. The press also opens flat to griddle traditional pancakes across the two dishwasher safe 8 1/3" diameter nonstick plates.

Read Our Review

4. CucinaPro Tortilla Maker 10″ Pitas, Chapati, Flatbread

This CucinaPro Tortilla Maker features heavy weight aluminum, non-stick Coated cooking plates distribute heat evenly for uniform baking. Effortless cleanup, just wipe clean. Ready light and convenient cord wrap. Conveniently stores upright.

Read Our Review

5. Brentwood Non Stick Electric Tortilla Maker

This Brentwood TS-128 Electric Tortilla Maker makes perfectly round and authentic 10-inch tortillas. Adjustable heat gives you the power to make soft or crispy tortillas. Clean up is a breeze thanks to the non-stick aluminum plates.



Read Our Review

6. Elegancein Life Cast Iron Tortilla Press

This Eleganceinlife Cast Iron Tortilla Press is made from commercial restaurant grade heavy-duty cast iron. Improved base and handle for greater resistance. Heavy balanced weight of the press and bolted handle provides a stable press.

Read Our Review

7. Brentwood TS 126 Non Stick Tortilla Maker

This Brentwood TS126 Non-Stick in Stainless Steel Tortilla Maker is made from high-grade stainless steel covered with a non-stick coating that's great for making authentic tortillas.

Read Our Review
---
Reviews of 10 Top Tortilla Presses
The following are our reviews of what we believe to be the best choices in Tortilla Presses and Tortilla Makers. With each one of these, it is possible to make flour or corn tortillas.
However, remember that the gluten in flour tortillas still likes to bind and pull back as we roll it out, so flour tortillas may take a tad bit longer. Coming in at Numero Uno, our top pick is:
Best Overall: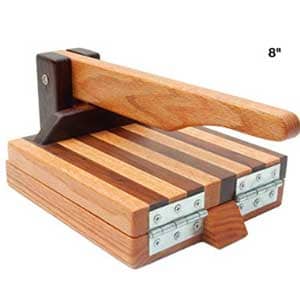 What you will love: This is unique and beautiful. It is very easy to use. This press comes in three sizes.
Who would have guessed that using a piece of artwork to make tortillas could be so easy? This piece of equipment is American made in California, by hand.
The craftsman uses two types of wood; Red Oak and Walnut. This combination gives strength and beauty. No two are exactly the same due to coloring and the wood grain.
This press comes in three sizes, small (8 inch), medium (10 inch) and large (11.5 inches). These presses are built extremely sturdy and will last for a long time.
This press is very well-designed and makes uniformly sized tortillas each and every time. The Hardwood press is fully functional and the hinges remain in place over long periods of use, unlike others that tend to loosen.
The wooden handle is bolted to the press to prevent it from falling off. The 8" Hardwood Tortilla Press is coated with multiple layers of food grade mineral oils and beeswax.
This makes it very safe for any food that touches the surface. It is suggested that you use a sheet of plastic or waxed paper on the press to prevent the tortilla from sticking.
As long as your dough balls are uniform in size, the Hardwood Tortilla Press will do a phenomenal job of making any quantity of tortillas that you require.
Many restaurants and professionals have made the move to this press and are finding better results than they had been.
The ease of this tool is amazing and will allow your family to become healthier eaters with just a few ingredients.
No more store-bought corn tortillas for your crew! Other reviews state the same, high quality, works as though it will last forever. We say quality this awesome and at such a great price is well worth the purchase and the better health you gain.
Pros:
This is a beautifully designed and strong tortilla Press.
The price fits well within any budget.
Comes in different sizes
Cons:
The balls of dough should be placed a little off-center when pressing.
---
Best Budget: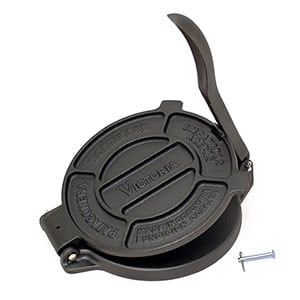 What you will love: This cast iron tortilla press has an improved base. It is an authentic tortilla Dora. It is a very easy cleanup.
Our choice for the best in the budget is: Victoria TOR-003 Cast Iron Tortilla Press. This heavy duty, the cast iron press now has an improved base allowing for better usage. This is truly an authentic tortilladora.
This one is made in Columbia, as it always has been. Included with the press is an extra screw for the handleand detailed instructions for care and maintenance.
There is also a warranty available to keep you free from worry. This tortilla press is coated with non-GMO flax seed oil for seasoning. This tortilla press is very durable and easy to use.
Simple cleanup makes it a great choice for those of us who are busy.
The size is approximate at 11 inches both width and front to back.
The Victoria press comes in weighing a bit over 8 pounds, making it quite lightweight for a piece of cast iron.
The makers use precise and most advanced sand casting to make this kitchen gadget. This Victoria tortilla press is also ideal for making more than just tortillas.
You and your family will also be able to make empanadas, flat breads and more. Considered an amazing tool that flattens dough to about ⅛ inch, if you want thinner, press again.
This Victoria Tortilla press is press only, it can not be used on your stove. Do not limit yourself to just tortillas and miss out on all the variety you could have.
We have found this to be very well made and sturdy. Of course, there are always some out there that will push too hard, or put too much weight
on cast iron.
If that is done, obviously ANY cast iron can break. If directions are followed, this is a very easy and functional piece of equipment to keep on hand in your kitchen.
The lower cost does not hurt either! As with any other press, using plastic on the plates is critical for non sticking.
Pros:
Improved base for ease of use
Lightweight cast iron
Cons:
---
Top Electric Tortilla Presses: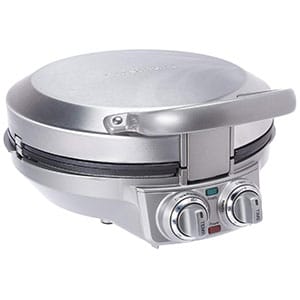 What you will love: This tortilla press and maker takes up very little counter space. Includes extra tools for use. You can make a variety of foods.
The Cuisinart CPP-200 International Chef Stainless Steel combination tortilla press and maker is a dream come true for the maker of tortillas.
That is not all though, there is such a wide variety of foods that can be made using the Cuisinart that will make for a healthier lifestyle for you and yours.
This combination press and maker is made with reversible plates. This press also comes with other tools to help you make crepes, pizzelle and pancakes, as well as healthy homemade tortillas.
Tools included are tongs, a controller and measuring spoons. This press and tortilla maker can be stored on its side to take up less room.
When in use, the 8.3 inch can be doubled when fully opened. For convenience and ease of use, there is a locking lid and the removable plates are safe for dishwasher cleaning.
The temperature controls, light indicators and time rare all easily located on the lower front. The multi-use option is highly reliable, with a high performance rating.
We liked that this press and maker combination allows for using it for many other foods. The dimensions and weight are adequate at 13.4 x 10.1 x 5.5, and this little marvel weighs in at only 6.23 pounds.
An amazing product that cuts time spent cooking, down drastically. The outside does get very hot, so you do need to be cautious of that.
Included with the purchase is a recipe book with such a variety, you will soon be considered an international chef.
A true multi functional tool for your kitchen that makes so many wonderful foods for your family. It is so easy to use that the family will want to help in the kitchen.
This Cuisinart International Chef will match any of your kitchen decors, as it is a brushed stainless steel finish which is absolutely gorgeous! Who would not want one of these?
Pros:
Can be used to make many other food items
Lightweight
Brushed Stainless Steel finish
Cons:
Although this is a multi use piece of kitchen equipment.
It is on the higher end of the pricing range.
---
1st Runner-Up (Electric):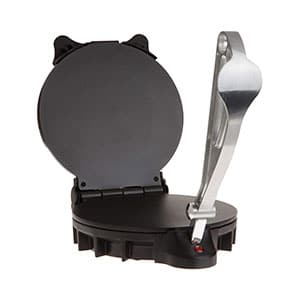 What you will love: This piece of equipment is a combination press and maker. You get quick and easy cleanup. Very affordable.
Now, this is one super cute little kitchen toy! A combination press and maker for corn or flour tortillas, chapati, pitas or flat breads.
The CucinaPro is a heavyweight aluminum, that has non stick plates for easy, even cooking. With a quick wipe, cleanup is complete.
Easily seen light lets you know when it is ready, and handy cord wrap to contain the cord. The only drawback we found for the CucinaPro is that you cannot use gluten-free flour in this machine.
Simply, with this machine, you can expect the same expert craftsmanship that is in every Cucina product.
This is a small kitchen appliance that weighs in at only 9 pounds, and is easily stored upright, with the cord tucked away when not in use.
It is ideal for all your kitchen gadget addicts out there. Considered a miracle machine that does it all for tortillas, corn or flour.
Simply roll the ball in your hand and flatten for one second. If you want it thinner, press again. You do not need super muscles for this one either.
For those of us who are old school and prefer rolling by hand, oh, wait until you see and feel the difference. Warranty information is available to consumers.
One slight be-aware-of-rule, as with most electrical appliances, there is always a slight smoking when the equipment is heated the first time. This is nothing to worry about.
For budget-minded individuals, this kitchen machine will fall in mid-range pricing, worth every single penny when you realize how much you can accomplish, and how great it will all taste when homemade.
Do not pass this one up, by any means!
Pros:
Works for both corn and flour tortillas
Multi use for other food items
Cons:
The manufacturer warns that first use may produce a slight smoke.
It is common though.
---
2nd Runner-Up (Electric):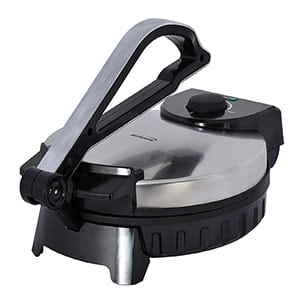 What you will love: The brushed stainless Steel finish is a beauty. Comes with a one year warranty. Non stick coating.
This fun and uniquely styled tortilla maker comes with a warranty, that you will likely never need to look at twice.
Stunning, brushed stainless steel look, with easy-clean, nonstick aluminum plates. The nonstick coating that is on the plates is teflon, and not ceramic.
This has an adjustable heat variance for you, and easily detected ready and temperature lights.
The Brentwood TS-128 Stainless Steel Non Stick Electric Tortilla Maker allows you to make not just tortillas, but a host of other items as well.
Items such as Chapati, an African fried bread; roti, flatbreads, mandarin pancakes and so much more. With variety such as this, why not let the kids try creating breakfast, lunch or dinner? With supervision, of course.
That is how simple to use the tortilla maker is. This is a nice, small kitchen gadget. 8 x 9 x 2 inches and weighs only 3.7 pounds.
Where else can you find a gadget that allows you to create so many foods for your family, that is convenient, easy to use, sturdy and very reasonable price wise.
The durability and value you get from this cute little gadget are worth more than what you pay. If like so many of us, you find it hard to actually roll out and cook around tortilla, you will find this amazing.
The tortillas come out perfectly round, and dependent on the heat temp you use, your tortilla can be soft or crispy, however, you like it.
This makes the process of homemade into more of a home simple and healthy alternative to store-bought.
This will be the Tortilla press and maker that you will cherish for a long time. Your tortillas and other products made will taste authentic and very fresh.
Pros:
Budget friendly
Easy to use
Easy to clean
Sturdy and durable
Cons:
Plates are teflon and not ceramic.
---
Best Cast Iron Tortilla Press: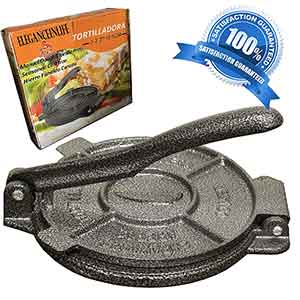 What you will love: The size makes it easy to handle. Made out of heavy cast iron. Sturdy, bolted handle.
Here is a work of art for your kitchen. It can also show off all your cooking abilities. This 7.3 inch cast iron tortilla press ranks as our top choice in the cast iron category.
This press and maker is made out of a heavy cast iron, very durable, with a well-balanced base. The handle is sturdy, and is bolted in place.
This tortilla press is easy to use.
The Eleganceinlife tortilla press has a nice finish and with this durability is likely to last for generations to come. Imagine being able to share this tool with your grandchildren.
With dimensions of 13 x 9.5 x 2.7; with a total weight of only 5.6 pounds; this is a medium-sized gadget that will work wonders in your kitchen. This tortilla press is easily stored and ready for use in an instant.
It does not require you to put extra strength into flattening the tortilla. Simply lift the lid and repress until the desired thickness is achieved.
As with all the presses, be sure to use plastic or waxed paper so that your dough does not stick. Shockingly, this press is on the low end of the price range. It will fit every budget easily.
The option of making so many more items such as flatbreads, naan or dumpling wrappers is there also. You will be surprised at the ease of use with this one.
When used according to directions, your tortillas will look and taste professional. The machine will hold up to pressing, as long as you are not the incredible hulk trying to get your tortilla as thin as paper.
The only thing you may need to replace every few years is a nut and bolt, which costs mere pennies. As the name implies it is elegance in cast iron mode, a work of art to keep in your kitchen.
Pros:
Low end on the budget range
Easy to clean
Multi-usability
Cons:
Must use waxed paper or plastic to ensure no sticking.
---
Best Stainless Steel Tortilla Maker/Press: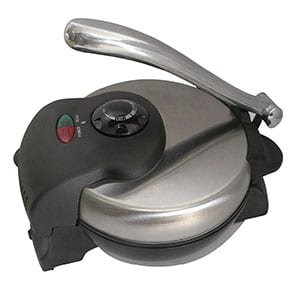 What you will love: Durable and non-stick surface. It is a combination press and maker. You can make many other food items with this.
This amazing little piece of equipment is a tortilla maker, not meant as a roti maker. Not only can you press out the dough for tortillas, this wonder also cooks them.
It is Stainless Steel and has a non stick coating on the plates.
The Brentwood TS 126 measures 11 x 8 x 6.8 and weighs a simple 5 pounds. There is a cord storage to keep cord safe, also has a temperature control dial and ready lights. The handle is sturdy, as is the base.
The reason this is not meant for Rotis is that the temp does not go to the temperature needed for Rotis.
There is a warranty available, also includes safety instructions and user manual. When used according to the directions, there are no listed issues.
When using the press, as always, you cannot put an overabundance of weight on any handle as that could cause damage.
This little gem makes more than just tortillas. You can use it to press pie dough thin, make international bread that is flat. Mini pizza crusts, won't on wrappers, and a wide variety of other cuisine needs.
The Brentwood TS 126 brings the fun back to making authentic tortillas, and other food items. Simply made, durable and easy to clean.
Save the headache of fighting crowds in the stores to get a pack of tortillas, go home and make it a family cooking night where everyone helps.
The TS 126 is easy enough that even the youngsters can make a tortilla, with obvious supervision. Imagine the giggles and full tummies after creating homemade tortillas.
Not only are they healthier, but they also taste better too. Which will for sure get your family eating a wider variety of meals made with this fun little gadget.
This is definitely worth the money, as it fits in the mid range pricing level.
Pros:
Can be used for multiple foods
Lightweight
Easy to clean
Cons:
Temperature does not go high enough to make Rotis.
---
What are the Features of A Top Tortilla Press?
Size
Look for a size that is compatible with your needs, will fit your counter space or can be easily stored.
The Type
You will have a decision to make between the hardwood, stainless steel or cast iron. Base the decision on which is easiest for you to use.
Durability
You want to look for a press or press and maker that has the handles welded on, or bolted on. You do not want a press that seems flimsy and unable to do the task.
Ease of Use
Although the manufacturer has use beeswax and food grade mineral oils on the wood, it is recommended that plastic or waxed paper be set between the food and the plate to prevent any sticking.
---
How to Choose A Good Tortilla Press or Maker?
Owning a tortilla Press or combination tortilla press and maker is not only a way to save money and have better-tasting tortillas, but also a quicker method of getting the task done.
Rolling out the dough is difficult at times, and it may seem near impossible to end up with an evenly rolled ball of dough. The tortilla press will allow you to do just that.
Deciding which press to purchase can be a daunting chore. We have done much of the research for you, to help you decide.
Some items you will want to consider before making a decision are:
What size do you want?
Maintenance of equipment
Just a press or cooking ability also?
What is the intended use?
When the intention is to have a piece of equipment to flatten the dough into a tortilla, you want to compare the tortilla presses, sometimes called and confused with a roti press.
There are a variety of sizes, ranging from 7.3 inches up to 11 inches. Many of these pieces of equipment can also make a variety of other items such as chapati and dumpling wrappers.
Pricing Of Tortilla Press
Having an understanding of how often you will use the machine, along with which type you want will vary the price range.
However, if you are the person who loves tortillas or any number of other bread-type products, and you enjoy the process of creating and cooking, then the price is no factor.
However, all of the machines we tested fall within a comfortable price range of $23.00 up to $159.95.
Through our research, we have chosen what we believe are the best options for both, either the tortilla press or the press and maker. Having an all in one will eliminate some formerly needed items such as a griddle or pans.
The purchase of a machine that helps you make traditional tortillas cheaper than going to a grocery store, and with a much better flavor, cuts down on calories, is authentic and worth its weight in gold. Luckily, you do not need that amount of gold to own one.
Electric or Manual Press?
There are also both electric and manual models. Either route that is chosen does not take a superman strength to use. Gentle pressure on the handle will flatten the tortilla out to the desired size.
What Type of Material Do You Prefer?
A big decision that may be required to make is the type of material used in the making of a press or press and maker. Cast iron is a heavier, and even pressing machine. Stainless Steel is obviously a lighter weight and usually has a non stick coating applied.
There are also heavier weight aluminum presses and combinations available. These also have a nonstick coating applied. Our choice of hardwood is a true beauty. There are no two alike and these will make a beautiful addition to your counter space.
One fact to remember when making corn tortillas, it is part of the recipe to make sure the corn grains are crushed so that you can make the dough, the press can help with that.
Also, time can be such a critical factor in our busy lives today. We do not have the time it takes to roll out the dough to the thinness we prefer. This lack of time in our lives means we pick up tortillas from the store.
You know, the ones with all that added gunk to preserve them, so they can sit on the store shelf for a long time, and when we get them home, they taste old and disgusting.
Yeah, no more of that for us! We all know Fresh is Best, and healthier too. Homemade means you know exactly what you are putting into your family's food. That is what nature intends, healthier eating. Your tortillas can be soft tortillas or cook and be crunchy.
Using this authentic type of tool, whether manual and stovetop or electric all in ones, means more time for the family and less time slaving away in the kitchen while everyone else is out having fun.
---
Final Verdict: Best Tortilla Presses
Now is the time, purchase any one of these excellent tortilla press and makers. Invite the neighborhood over for a fajita bar.
You will be at the start of the party. The only research you need is right here for you All you need to do is decide which of these choices fits your budget and needs.
The struggle to roll out tortilla dough is made much easier when using one of a variety of tortilla presses. Save your arms and use a tortilla press to make life easier.
More Related Articles:
---