Quick Summary: The VillaWare Prego Pizzelle Baker Non-stick is our top pick from the best pizzelle makers because of the ability to make two at once and the tough iron build that makes this option one of the most durable. This item is manufactured in the U.S. for the highest quality construction possible.
While the world grew up on chocolate chip cookies, Italians grew up with their unique pizzelle cookies. Pizzelle's bear a strong resemblance to waffles but, anise being its key factor makes it different from waffles. Its selling point is its visual appeal in the form of snowflake patterns embossed on it. Like every food item, pizzelles can be made through the hard way or an easier way, either way, the taste remains the same and unaffected.
If you choose to make pizzelle using the traditional method then you are putting yourself up for a challenge, the wiser option would be to get the best pizzelle maker and treat yourself with these delicious Italian cookies at home.
The secret to making perfect pizzelles lies not only in following the correct proportion of its ingredients; rather it is actually in having the best pizzelle maker. For your ease, our team has suggested the following pizzelle makers which are no doubt the best and a must-have!
Quick Navigation
---
10 Best Pizzelle Maker Comparisons
| | | |
| --- | --- | --- |
| | The Villaware V3600-NS Prego Pizzelle Maker is a non-stick option that makes two five-inch pizzelles at a time and has a steam guard for protection for your hands. | Read Our Review |
| | The Palmer 1000T Electric Pizzelle is an iron option that comes with a non-stick coating that keeps your cookies from sticking to the pan after they're done baking. | Read Our Review |
| | The CucinaPro Pizzelle Maker is an electric option that creates two pizzelles that are five inches in width in the same iron pan with intricate designs. | Read Our Review |
| | The Chef's Choice PizzellePro Toscano offers even and consistent pizzelles and comes with a light indicator that tells you when your food is done cooking. | Read Our Review |
| | This Chef's Choice 8530000 PizzellePro Express Bake option makes three at a time and features temperature recovery for easy cleaning after cooking. | Read Our Review |
| | The Palmer Pizzelle Maker is a cast-iron option that has aluminum plates that makes two five-inch pizzelles at once and is made in America to ensure the highest quality. | Read Our Review |
| | The Cuisinart WM-PZ2 Pizzelle Press is a choice that comes with designs on each pizzelle made and a locking lid to ensure even browning and crispness. | Read Our Review |
| | This Palmer Pizzelle is the 75th Anniversary option that comes with special designs that you can't get anywhere else and comes in a thinner unit than usual. | Read Our Review |
| | This CucinaPro Polished Pizzelle Maker is made from rugged iron that makes the unit more durable and comes with a polished finish for extra shine. | Read Our Review |
| | The Palmer Pizzelle Maker is made from rugged iron and is durable for long use and built in the U.S. so you get the highest quality construction possible. | Read Our Review |
---
Reviews of 10 Best Pizzelle Makers
Best Overall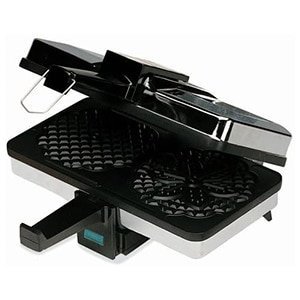 What You Will Love: The VillaWare V3600-NS Prego is a pizzelle maker that is electric and makes two cookies at once with spots for two batters. The automatic function lets you know when the cookies are done so you know when they are done every time.
30-Second Baking
This VillaWare pizzelle maker comes with the ability to fully bake two cookies at a time within just 30 seconds. This fast cooking allows you to make dozens of pizzelles within a short time so that you don't have to spend as much baking.
Non-Stick Grids
This VillaWare pizzelle and cookie maker comes with non-stick grids that will not cause your cookie batter to stick to the plates once you open it up. This keeps the designs looking crisp as well so you can clearly see the design on each cookie.
Steam Guard
This pizzelle baker comes with an included steam guard that helps protects your hands while you are holding the handle of the unit and either removing cookies or adding more batter. This will keep your hands from getting burned from the hot steam.
Pros:
Automatic finish light
Cooks two pizzelles at once
30-second baking
Non-stick grids
Has a steam guard
Cons:
The plastic handle can break pretty easily
Price is higher than some other options
---
Best Budget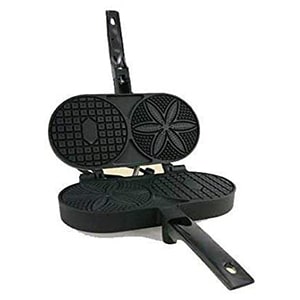 What You Will Love: This Palmer 1000T Pizzelle Maker is a premium option that is made in the US and comes with a high-quality construction that makes it a durable option that will last through heavy use. This is ideal for those who will use this item often.
Makes Two Cookies
This Pizzelle and Cookie Maker comes with a plate that makes 2 cookies at one time so that you can bake a larger amount of pizzelles in a short time. This is great for bake sales or large meals over the holidays.
Non-Stick Coating
This iron pizzelle baker comes with a non-stick coating on the cooking surface so that the design of the pizzelles is consistent every time you cook. This also ensures that the shape is not compromised when you remove them from the plate.
10-Year Warranty
It comes with a 10-year warranty that allows you to exchange or return your item if there are any manufacturer defects or malfunctions. This will ensure that you get a quality item, or you will be given a new one.
Pros:
Made in the US
Two pizzelles at a time
Non-stick coating
Durable iron build
10-year warranty
Cons:
The non-stick coating doesn't work very well, needs cooking spray
Iron plates tend to have one or two hot spots
---
Best Pizzelle Plus Cookie Maker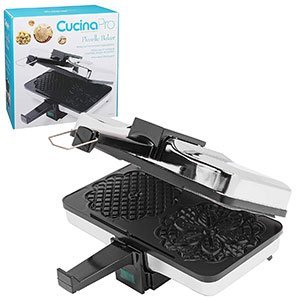 Ideal for making pizzelle, this non-stick maker is a baker's delight.
The steam guard feature protects the individual's hands from getting burned when removing the finished product from the Italian pizzelle and cookie maker.
Easy to use and cleanup makes this machine an even more coveted commodity, and extra-thick baking plates ensure even heat distribution for stellar results.
Pros:
Makes 5-inch bite size cookies;
Two pizzelle's at a time;
Crisp results;
Delivers great texture.
Cons:
No indicator lights;
Inconsistent timing;
Cord easily burns out;
Does not heat uniformly.
---
Best for Instant Baking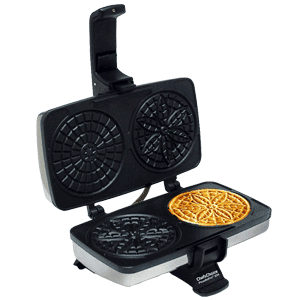 The Chef's Choice Pizzelle makes two 4 3/4-inch cookies in less than one minute.
Thirty seconds is all it takes to craft a dessert fit for the local bakery.
This cast iron pizzelle baker press has a non-stick baking surface that recovers quickly. So you don't have to use silicone baking mat.
You can easily make several batches in five minutes with this cookware.
Recipes are included with the instruction manual of this Pro Express machine.
Pros:
Even heating;
Latch for uniformed thickness;
Instant temperature recovery;
Ideal for daily use.
Cons:
Too fast;
Easy to burn pizzelles;
Exterior burns fingers;
Soggy pizzelle results.
---
Best 3 Slice Pizzelle Maker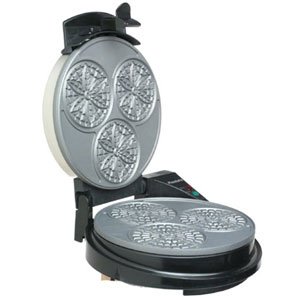 This cheap pizzelle maker bakes a three-inch cookie in less than two minutes.
The recovery time on this machine is pretty rapid, which means that you can put one cooked pizzelle aside and immediately place another one on the burner for preparing.
Electronic controls make this pizzelle press a beginner's paradise as there are separate indicator lights for heating up and ready features.
This Chef's Choice pizzelle baker press produces Italian cookies that are nine inches wide, 3-1/4 inches high, and 10 inches deep.
Pros:
Stores upright;
Overflow area for excessive batter;
Non-stick plates;
Cannoli recipes and spoons included;
Cons:
Teflon is not as durable as other parts of the machine;
Loose lid;
Cookies are too small;
Cooks too fast.
---
Best for Thick Pizzelle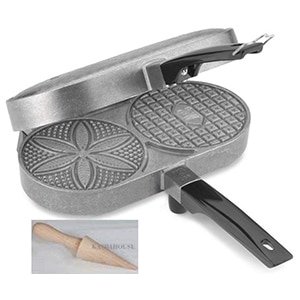 What You Will Love: The Pizzelle Maker is a Home Supply option that is made in the USA to ensure that this unit is made of cast-iron for the most durable option available. The designs that come on the iron will imprint onto the pizzella for a unique look.
Two Cookies
This Pizzelle and Cookie Maker can make two cookies at once that are five inches each so that you can get your baking done faster. This also ensures that your cookies are made to look the same shape and size so they are all uniform.
Cast-Aluminum Plates
This pizzella maker's plates are made from cast aluminum which is strong and durable for use through dozens of baking projects. The aluminum is food-safe and helps the cookies cook more evenly.
5-Year Warranty
This handy kitchen appliance comes with a 5-year warranty that allows you to get your money back if you are not satisfied with the unit. This is a great thing to have so you don't feel obligated to keep it and you can get a refund if you don't like it.
Pros:
Made in the US
Designs in the metal
Two pizzeles at a time
Cast-aluminum plates
Has 5-year warranty
Cons:
Heat isn't completely even with browning
Handle tends to get a bit hot
---
Best for Even Browning
Bake one four-inch pizzella for yourself and share the other with a friend.
It can cook two dishes at once so that you don't have to spend as much time in the kitchen.
Make a quick snack for the kids after school or use the pizzelle press to impress attendees at your next party. It has a measuring spoon, tongs and a mini ice cream cone roller with the pack.
Two decorative patterns make their mark on the dough and the locking lid ensures that all sides are brown. This Cuisinart prize can be stored in an upright position.
Pros:
Locking lid;
Brushed stainless steel;
Includes measuring spoon and rolling dowel;
Instruction book with recipes.
Cons:
Latch easily breaks;
Plates are too small;
Pizzelle burns when maker is set in the middle position;
Poorly crafted.
---
Best Pizzelle Plus Waffle Maker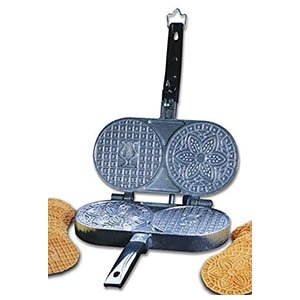 What You Will Love: The Palmer 75th Anniversary Pizzelle Iron is a great option for those who want to use a premium product. An iron build is a durable option that is easy to clean and maintained for long-lasting use for years to come.
Unique Designs
The plates of this pizzelle iron come with a unique design that doesn't come on any other Palmer iron so that you get a one-of-a-kind product that is different from other versions. The harp-like shape in the middle is new and distinct.
Cast-Iron Build
This pizzelle and cookie maker is made from cast-iron which is extremely durable and will last for many years of consistent use. This will ensure that you can use your it whenever you want it without issue.
Thin Design
It is made to be thinner than the normal options. This makes it lighter and easy to use. It also makes it a compact option that is easy to use, store and transport with the lightweight build that is much thinner.
Pros:
75th anniversary product
Cast-iron build
Long-lasting
Unique designs
Thinner than average design
Cons:
The coating on the surface comes off easily
---
Best for Durability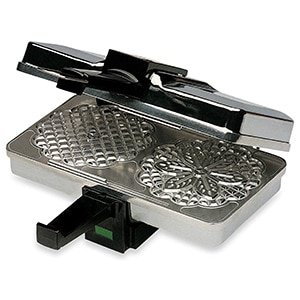 What You Will Love: The CucinoPro Pizzelle Maker is a great option for those who want to make pizzelles often because the durable aluminum material allows you to use it heavily without taking damage to the unit itself. This is ideal for home cooks.
Intricate Designs
This CucinoPro pizzelle maker is an option that comes with intricate designs that are imprinted into the tops and bottoms of the cookies you make. This makes your pizzelles unique from others and makes them easy to identify.
Iron Construction
This Cucinapro pizzelle and cookie maker is made from strong iron material that makes it durable for heavy use and makes the cookies cook more evenly. This will make it last for a long time without needing to be replaced.
Locking Handle
The handle lock into the other side easily so that you can fully close the plates together so the cookies are cooked all the way through to the middle. This keeps your pizzelle maker working its best and cooking fully.
Pros:
For heavy use
Durable materials
Intricate designs
Iron build
Locking handle
Cons:
The latch on the handle can be hard to open
---
Best for Crispy Pizzelle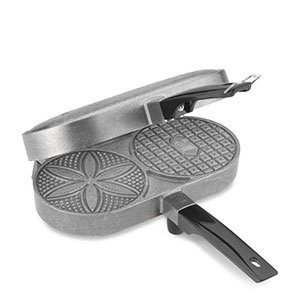 Made in the USA, this pizzelle cookie maker has two aluminum plates and a five-year warranty.
The cast iron material is both durable and effective as the machine makes two 5-inch thin cookies at once.
This Italian pizzelle and cookie maker is designed to render the classic taste of the beloved cookies in half the time.
Pros:
Simple instructions;
Basic design;
Produces light and crisp cookies;
Works well with glutton-free batter.
Cons:
Pizzelles too thick;
Not enough space for overflow of batter;
Sticky;
Company's return policy is unfair.
---
What is a Pizzelle Maker?
A pizzella is a Italian cookie that takes on the form of a waffle. The delectable dessert is made out of flour, eggs, butter, and flavorings.
Traditional Italian pizzelle usually have a touch of anise, though modern versions of the cookie may bolster vanilla or lemon zest seasonings.
There is no way that you can enjoy the crisp taste of this Italian treat without having the right machine to make it. The electric or cast iron pizzelle maker takes on the form of an American waffle maker but has features that make it the perfect match for crafting superbly cooked pizzelle.
While it is true that you can make waffles even cookies using an Italian pizzelle maker, you can never get a pizzella from a waffle maker or cookie press.
Related reading: Best Cookie Presses
---
What Else Can the Best Pizzelle Maker Be Used For?
In addition to making incredible pizzelle, Italian cookie machines can also be used when making waffles. Let's say that you are in the mood for a breakfast treat that is light and crunchy.
A standard waffle maker is not capable of delivering such results. The best pizzelle makers can provide the taste and texture that you crave while breaking your fast in the morning and setting the stage for a productive day. A pizzelle cookie maker can also be used to make cookie and waffle cones.
You can turn your desire to enjoy a frozen delight with waffle addition into a reality with an electric pizzelle maker that comes with the roll feature crafted especially for individuals searching for alternative ways to use their pizzelle machines. There are numerous ways to be creative and utilize your maker all year round.
---
How to Choose the Best Pizzelle Maker?
Selecting the right Italian pizzelle maker is a matter of answering a few questions:
How often do you plan to use the maker?
If you get an occasional urge to cook pizzelle, then you may be able to settle for an electric pizzelle baker. While they are not as durable as their cast counterparts, they do let you make pizzelle at home.
Are you a beginner?
Experts know how much batter to use and can, therefore, use a traditional machine to get the results that they want. Beginners, on the other hand, may need a pizzelle cookie maker that provides step-by-step instructions and indicator lights that inform users when the machine is hot and ready to bake cookies.
Are you willing to wait?
Those who want their pizzelle fast will enjoy a modern electric maker. Individuals who value quality over timeliness will benefit from the cast iron pizzelle maker.
Do you need space for overflow?
Experts can administer enough batter to prevent overflow. Beginners, however, may need additional space for the batter that spills because of too much administration of the product.
Heat and Distribution
It is not possible to get the crispy results that make pizzelle great without proper heat and distribution.
Sogginess in the middle of the cookie is inevitable if you have an Italian pizzelle maker that gets hotter around the edges. The best pizzelle makers typically has a latch that allows for even heat distribution.
Cast iron machines do not need a special latch to connect the top of the maker to the bottom because the stainless steel is heavy enough to close off any gaps that would allow heat to escape.
How to Clean?
Depending on the brand and type of maker that you invest in, cleanup can either be a breeze or a nightmare.
Those who stick with traditional pizzelle machines may find its more difficult to purify their appliance since cast iron often requires a bit of scrubbing.
Individuals who are open to the idea of an electric pizzelle maker may be pleasantly surprised to learn that cleaning the machine is a matter of mixing soap with water and wiping it down.
---
How Much Should A Pizzelle Maker Cost?
The price of your pizzelle machine depends on your lifestyle. You can settle for a cheap pizzelle maker if you are not planning to use the appliance often.
You will pay more if you are a devout cook who wants the authenticity of the cookie to shine through with every batch created but a cast iron pizzelle maker lasts longer than its plastic counterpart.
---
Our Recommendation for The Best Pizzelle Maker
Sometimes traveling down the path of old is a good thing. The VillaWare Pizzelle Baker Non-stick is a cast iron machine that runs circles around its modern electric counterparts
This cast iron pizzelle maker delivers crisp cookies that are more closely aligned with the Italian tradition of baking.
While some may complain that the outward appearance of the machine leaves much to be desired, you cannot deny the stability this handy gadget when consistently creating cookies worth eating.
Sogginess is not a product of this kitchen appliance and poor construction is not an attribute that can be associated with this work of art.
If you are searching for a Italian pizzelle maker that produces quickly with the possibility of burning your dessert, then search elsewhere.
If, however, you want a machine that operates efficiently so that you can spend less time making pizzelle's and more time eating them, then we suggest going with the Palmer cast iron pizzelle maker.
We hope that our buying guide to choose the best pizzelle makers will help you choose the right one.
Let us know what you think by commenting on the review and sharing this guide with your friends.
Related article