Quick Summary: It's difficult to pin down the best electric griddle because many of them are so different. Some of them have multiple functions, some are made for indoor or outdoor use, some have wide temperature ranges and others have larger cooking surfaces. Yet, at the end of the day, we had to pick the Hamilton Beach 3-In-1 Electric Indoor Grill + Griddle as our editor pick.
Every kitchen should be equipped with a good electric griddle. This multi-functional appliance is a perfect choice for whipping up tall stacks of pancakes or preparing a breakfast feast for your family. Say goodbye to crowded stovetops! An electric griddle can help you cook eggs, bacon, sausages, pancakes, and even toast all on the same surface and at the same time.
Besides being able to cook a variety of foods simultaneously, griddles also provide you more control over temperature (by degrees) than a stovetop. In addition, a griddle will provide consistent heat, and, in general, it is easier to clean than griddle pans and stovetops [KB1] . Many users also love griddles because they are energy-efficient appliances that will not heat up your kitchen as a conventional stove would.
Whether you're making a single serving or feeding a hungry family, you've got so many options when it comes to buying this multi-functional appliance. We put together a list of the best electric griddles currently available on the market. We made sure to review each product in detail and provide all the pros and cons so that you can find the perfect griddle for your home and your budget.
Quick Navigation
---
10 Best Electric Griddles Comparison
| | | |
| --- | --- | --- |
| | Enjoy this sturdy and durable portable electric griddle. A bright red hue offers an eye-catching visual appeal, while a convenient warming tray makes it easy to keep food piping hot. | Read Our Review |
| | This electric griddle features removable handles that make it easy to tuck into a cabinet when not in use, while a fully submersible cooking surface ensures cleaning is totally simple. | Read Our Review |
| | Whip up a delicious breakfast for the whole family with this extra large electric griddle, which features enough cooking space for up to eight servings of pancakes, bacon, and more. | Read Our Review |
| | A huge list of features makes this combination electric griddle and panini press a joy to have in your kitchen. Sear steaks, make sandwiches, grill chicken breast, and much more. | Read Our Review |
| | A low-profile design allows this great basic electric griddle to double as a buffet server for family gatherings and holidays. Best of all, it is compact and easy to store. | Read Our Review |
| | A special tilt feature makes this extra large electric griddle convenient and easy to use, while a special heat control keeps temperatures steady and even throughout the entire cooking time. | Read Our Review |
| | If you can't decide between purchasing an electric griddle or an indoor grill, this stylish and durable unit combines both for ease of cooking, efficiency and overall storage. | Read Our Review |
| | This solid and durable tabletop griddle is made from stainless steel to provide the same cooking experience as a commercial kitchen. An extra large surface area makes it easy to make breakfast, cook burgers, and much more. | Read Our Review |
| | For tailgating and camping, this propane fueled griddle is the perfect choice. A large cooking surface and a durable design easily holds up to outdoor cooking, but is still super easy to clean. | Read Our Review |
| | If you're looking for a griddle that can withstand whatever you throw at it, this heavy duty stainless steel model is an optimal choice. | Read Our Review |
---
Reviews of 10 Best Electric Griddles
Best Overall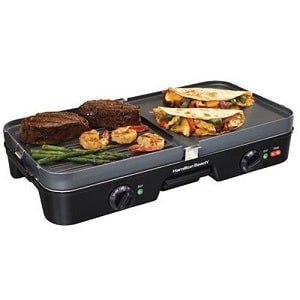 What You Will Love: You can get everything you need in a single product with the Hamilton Beach 3-in-One Grill/Griddle. We love the fact that this product is dishwasher safe: you just throw the grilling or griddling plates directly in your dishwasher and you're done.
Want something that's going to inhabit your countertop? If so, you need something that's going to be versatile: something that's going to be able to do multiple things at once.
You need something that's 3-in-One. The Hamilton Beach 3-in-One electric griddle and grill have multiple plates that can be used inside of it, depending on whether you want to grill or griddle. That's why it makes top in our list of best electric griddles.
With two separate cooking areas, you're able to cook multiple types of food at once, or just switch between different usability options. A central grease trap makes it possible to drain oils away from your food, cooking healthier, and removing a lot of excess grease.
It can be used as a grill, griddle, or both grill and griddle at once, which makes it a 3-in-1 product… and once you're done cooking, you just remove the plates and toss them into the kitchen sink for a wash.
This electric griddle has the bonus of being a dishwasher safe product, as you can put the plates directly into the dishwasher after use. If you want a single product in your kitchen and you want to make sure it doesn't take up a lot of space, consider the Hamilton Beach.
Consider purchasing this if you want an entry-level project that provides both electric grilling and electric griddling features.
Pros:
The Hamilton Beach Electric Griddle features an easy-to-clean non-stick surface ideal for family breakfasts and more. An included warming tray is awesome for when you're cooking for a crowd.
Cons:
This electric griddle is fairly basic and doesn't have a ton of features that other models have. Plus, the bright red color isn't for everybody.
---
Best Budget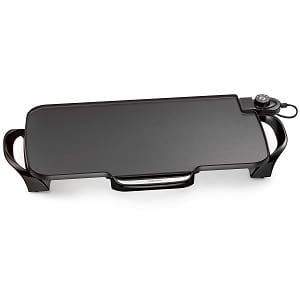 What You Will Love: Get the Presto 22-inch electric griddle, an easy-to-clean griddle that comes complete with a drip tray and removable handles. We love the large cooking area of this griddle, which can also be taken apart to store in a smaller space.
Let's say you want an easy-to-use, small griddle that's also extremely cheap. You can't go wrong with the Presto. The Presto 22-inch griddle offers nearly two feet of cooking space at an extremely low price, and that's not all.
The Presto electric griddle is also a non-stick surface, making it easier to cook foods even for inexperienced chefs. A drip tray that's attached to the griddle will collect any excess oil and grease, allowing for easy cleaning.
Griddles are highly desirable because they're easy to control, and the Presto is no exception. With the Presto, you'll be able to control the heat easily, so you can cook perfectly and to your heart's content.
And though this is a "budget" model, there's little budget about it: it's made out of durable, heavy aluminum that will last a long time and isn't going to warp.
Once you're done with your Presto griddle, you can disconnect the griddle plate, empty out the drip tray and wash off the griddle itself with ease. Handles can be removed from the base of the griddle to make it easier to clean, and the handles themselves make it easier to manipulate the griddle as needed.
All told, it's one of the easiest to use products on this list, as well as one of the most affordable options here.
Finally, this electric griddle also can be disassembled to fit into a standard kitchen cabinet, thereby reducing the amount of space that it takes up in even compact kitchens.
While it isn't the most attractive or advanced griddle available, it's definitely one of the best entry-level options.
Pros:
The best part about the Presto Electric Griddle is the handles that remove for easy storage, while a removable heat control makes it easy to eliminate grease by handwashing.
Cons:
Some buyers have reported that the non-stick surface can scratch easily if you don't use the right tools during cooking.
---
Best Flat Top Electric Griddle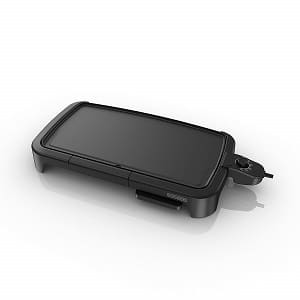 What You Will Love: Cater for your large family with the Black+Decker family-sized electric griddle, a large format griddle that makes cooking fast and fun. We love not only the large format of this griddle, but also the fact that it's easy to clean and comes with a warming tray: it can shave off a significant amount of time for those who frequently need to prepare large meals.
Black+Decker is known for making high quality products, and this family-sized electric griddle is one of the best available.
An extra-large griddle, there are a total of 200 square inches of cooking space: you can make breakfast for an entire family. Its non stick coating makes it one of the best electric griddle in the market.
This is only made easier with the completely safe non-stick cooking surface, which makes cooking easier and which will not flake off or peel off into your food. As with the Oster, the Black+Decker comes with a warming tray, which will keep your food warm until eaten: perfect for those who want to serve foods.
You just griddle and then move the foods straight from grilling to warming, so people can serve themselves as desired. The thermostat on the Black+Decker griddle keeps everything at the right temperature, making it easy to use for even more challenging cooking.
When it needs to be cleaned, a drip tray can be removed and emptied. This is a durable, long-lasting electric griddle that also looks great.
While it's probably too large to permanently take up counter space (and the large size is probably the biggest negative for most families), it's attractive enough to be placed on a table and used for serving food. The easy clean up makes it an attractive option for both large families and large events.
Pros:
The extra large cooking area, adjustable temperature, and warming tray are definitely ideal for families with big appetites. A temperature indicator light allows you to see when your surface is ready for cooking.
Cons:
Storing this electric griddle is a little more difficult, as the added size doesn't fit into most standard kitchen cabinets.
---
Best Steel Electric Griddle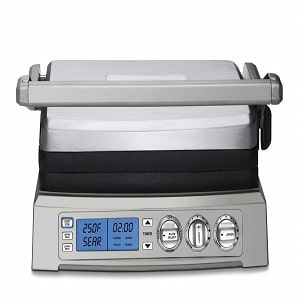 What You Will Love: A multi-function griddle and grill, the Cuisinart Griddler features dual-zone temperature controls and a number of interchangeable griddling and grill plates. We love that this appliance can be used for multiple functions in your home.
If you want something that's versatile, you want the Cuisinart Griddler. Many griddles can only be used for things like cooking breakfast or becoming the perfect "short order cook" in your own home or at your own event.
The Cuisinart Electric Griddler is another thing entirely: it can be used for a whole host of things. You may have heard that you should never have a "single use" appliance in your home. The Cuisinart Griddler took that to heart.
With the Cuisinart Griddler you get a total of six options for cooking. You can make paninis, contact griddle, full griddle, half griddle/half grill, full grill, or perform a top melt. While you may not immediately use all of these features, it's likely that you'll be using a lot of them once you get used to this product.
Above all, it has multiple grilling and griddling plates that are easy to clean and easy to replace, and you can do two things at once thanks to the dual zone temperature controls.
In fact, the griddler can even sear at 500 degrees, which is something that many griddles wouldn't be able to do: perfect for also grilling.
Once you're done with the Cuisinart Griddler, you can remove the plates and clean them, and you can store it anywhere (though on your counter is a good bet, given how versatile the product is).
Like many Cuisinart appliances, the Cuisinart Griddler is built to last, and you'll likely find yourself pulling it out frequently for cooking of all types and styles.
Pros:
The biggest benefit to the Cuisinart Electric Griddler is the sheer number of ways you can use this appliance. Interchangeable nonstick plates make it easy to accomplish dozens of different tasks using the same unit.
Cons:
If all you're looking for is something to cook breakfast on, this electric griddle might be a little too much.
---
Best Ceramic Electric Griddle
What You Will Love: One of the easiest to clean and easiest to maintain options, the Presto Cool-Touch features technology that makes it possible to touch the sides and front without burning yourself. We love that this griddle can easily move from cooking to serving, as well as its fast and simple cleaning process.
Safe and cool, the Presto Cool-Touch base makes it easy to use even in smaller kitchens.
You can touch the sides of the Presto Cool-Touch, as well as the front, and not get burned: that's not something you can do with commercial or larger units.
Additionally, the Presto Cool-Touch does feature a great ceramic non-stick surface, which is something you don't need to worry about getting into your food. There aren't any harmful chemicals in a ceramic non-stick surface.
When you need to clean the Presto Cool-Touch is where it really shines. Just remove the heat control, slide out the drip tray, and you can toss the Presto directly into the sink. Small and compact enough to clean easily in any at-home sink, the Presto makes clean up fast and simple. And isn't that the end goal of cooking with a griddle?
The Presto Cool-Touch is designed with smaller kitchens in mind, with a low-slung design that's stylish and doesn't take up a lot of space. It can be used for both cooking and serving, which also makes it ideal for those who want to be able to do a fast meal and then serve it within minutes.
It doesn't have a warming tray, though, which may be a negative to some. The ceramic finish and the heat control of the Presto is where it really shines, in addition to the Cool Touch base which makes it easier to use the device for serving and cooking.
Pros:
The Presto Cool-Touch Griddle features a durable cast aluminum base and a ceramic non-stick coating for ease of cooking.
Cons:
Unlike some of the other models in this best electric griddles guide, the handles are not removable and it can be difficult to store without scratching the cook surface.
---
Best Large Griddle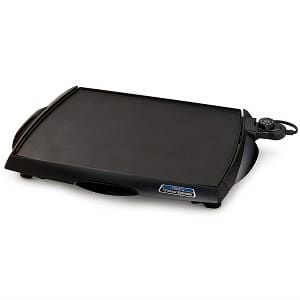 What You Will Love: Cook everything from meat and vegetables with ease with this large format electric griddle. Not only is the Presto Tilt'n'Drain big, but we love the fact that it can be tilted to drain oil and water from meats.
The Presto Tilt'n'Drain Big Griddle is the ideal solution for those who need to cook large meals, cater or host events.
This is a large, advanced griddling surface, which is designed to be non-stick for easy cleaning and cooking.
A ledge around the surface ensures that grease doesn't get everywhere while also making the process of both cooking and serving much easier. While cooking, the master temperature control will make sure that everything is cooked thoroughly, evenly and to specifications.
Like the other Presto big griddle on this list, the Griddle can be quickly cleaned by detaching the heat control and placing it in a sink. All of this means that the Presto griddle is a good option for those who are new to using griddles, as well as a decent every day or frequent use tool. It is highly rated among new users and one of the easiest and best electric griddles to get started.
This Presto model is special in two ways: it's larger than most and also has a Tilt'n'Drain feature. That means that the griddle can be slanted when you're cooking meat or other items that need to drain (such as vegetables that leave off a lot of moisture).
When the electric griddle is slanted, water and oil will run off to the oil tray, and can be collected for disposal (or further cooking). The griddle can tilt or be placed level with easy-to-use handles, which further increase the utility of the griddle.
If you frequently find yourself wishing you could quickly drain your griddle, this is a good option for you.
Pros:
The Presto Tilt 'n' Drain Big Electric Griddle features a one-touch tilt feature to drain off excess grease while cooking meats, but keeps the cooking surface level for other food items.
Cons:
The extra-large size might be too big to clean in some kitchen sinks, which can be a bit of a hassle.
---
Best Countertop Electric Griddle
What You Will Love: Get commercial with the Koval Inc Electric Griddle, a multi-use griddle and grill that is as versatile as it is durable. We love the compact format of this grill, especially because it isn't likely to be put away: the industrial design makes it a bit difficult to store, but also increases its sturdiness and reliability.
Want a low maintenance, entry-level electric countertop griddle? If you want something that's going to last a long time, cook well and not eat up counter space, you want the Koval Inc Electric Griddle Countertop.
A small format, multi-use commercial grill and griddle, this is the perfect electric appliance for breakfasts, meat, vegetables and more. It can be used for griddling and grilling, and it's designed to be a commercial product.
Even though it's simple and easy to use, Koval Inc griddle is made with premium grade stainless steel and, consequently, is a good entry-level choice.
If you hate having to repair and replace "disposable" products frequently, the Koval Inc is going to be a long-lasting workhorse in your kitchen. Of course, since it is commercial, it also has a somewhat industrial look and it's not likely to be "put away" in your kitchen.
That means you are going to need to dedicate some space (even a small amount of counter space) to the device. A removable grease trap makes it easy to clean the Koval once you're done, and elevated legs make sure that it's not going to wobble and move when you're cooking.
While the Koval is probably most at home in a commercial kitchen (or a fairly large kitchen), this multi-use commercial grill is nevertheless a great addition to any home that needs it.
Pros:
The interchangeable grill plates on this Hamilton Beach Three-in-One Grill + Griddle makes it easy to cook different parts of a meal at the same time.
Cons:
The dual design makes it harder to drain off grease, which can be a bit of a problem if you're cooking bacon or other fatty meats.
---
Best Table Griddle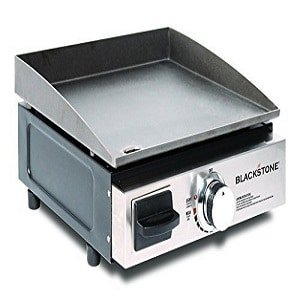 What You Will Love: If you want a gas-powered, outdoor griddle, we've got the perfect solution for you. An extra-large griddle surface that's propane-fueled, the Blackstone table top griddle is a versatile and high quality solution. We love that this outdoor, table top gas griddle is so compact and easy to store: you can take it with you anywhere, and simply turn it upside down to protect it from dirt and weather.
With a total of 268 square inches of cooking surface, the Blackstone Table Top griddle is one of the largest and best electric griddles for cooking for big parties.
Meant to be placed on your outdoor table top and stay on your outdoor table top, the Blackstone Table Top griddle is the option of choice for those who want to be able to cook up a feast fast. This premium, commercial product is a gas griddle rather than an electric griddle, which does mean that it has to be used outside.
However, it's also extremely convenient and easy to use: rather than having to store it, you can just turn it upside down and it'll be protected from the elements. You can also get a griddle or grill cover for additional protection.
A non-stick, heavy-duty surface will make it easy to cook, while the 12,000 BTU heat output of the device means that you can sear and grill to your heart's content.
This is halfway between a griddle and a grill in terms of utility, as its high heat means that it can be used for cooking and searing practically anything. Just load some propane and you're already ready to go.
The only downside to this Blackstone electric griddle is that it does require propane/gas to ignite, and it is an outdoor tabletop griddle rather than an inside griddle: both of these things may be benefits to the right person, however.
Regardless, it's durable, long-lasting, and provides a very large cooking surface for those who are going to be doing a lot of cooking at once.
Pros:
This solid unit is designed to mimic the grill style you'd find at your local cafe, which makes it ideal for cooking entire meals.
Cons:
The temperature unit is not removable, which makes it a bit more difficult to clean. Plus, the bulky size makes it hard to store in most homes.
---
Best Broil Griddle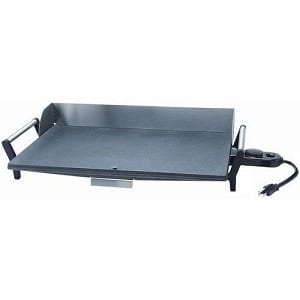 What You Will Love: The Broil King Professional Griddle is a non fuss commercial-style griddle that offers a lot of cooking space and removable parts. We love that despite the high quality, durable build of this griddle, it's still a fairly simple and direct product: absolutely anyone can immediately begin using this griddle without any special training.
Want a professional griddle? Consider the benefits of the Broil King. The Broil King professional griddle is a non-stick, durable, high quality electric griddle that comes with a back-splash to prevent grease leaks and make cooking much easier.
The removable stainless steel backsplash is as easy to clean as the rest of the product, which also features a removable grease tray for easy cleaning. When you're done with the Broil King, you can remove the electronics and wash it off in the sink, along with the removable backsplash and the grease tray.
To further collect grease and divert it away from the food itself, the Broil King comes with rear legs that can be used at a slant. This makes cooking meat much easier.
The downside to the Broil King griddle is that it can only go up to 400 degrees. That's useful for most griddling, but not grilling: if you want to get a clean, solid sear on a piece of meat, you're not likely to be able to.
That being said, there's still a lot to enjoy about this electric griddle, which has an environmentally-friendly non-stick coating, a large cooking space, and even temperatures.
Pros:
This Blackstone portable outdoor griddle features a durable design and plenty of cooking space, making it ideal for times when you don't want to bring along a massive backyard grill to the party.
Cons:
This is an outdoor griddle that runs entirely off propane bottles and not electricity.
---
Best Oster Electric Griddle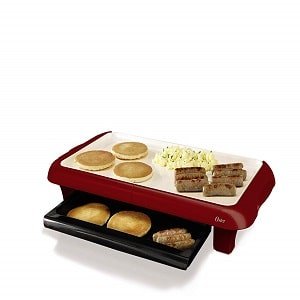 What You Will Love: Start griddling today with the Oster DuraCeramic, an all-around entry-level grill available at a decent price. We love that this comes with a special warming tray, which makes it easier to serve foods as well as to cook them. This model provides bang-for-the-buck, and it has the bonus of being easy to cook with, even for those not experienced with griddles.
Oster is a trusted brand when it comes to low budget, high quality goods, and this DuraCeramic electric griddle with warming tray is no exception.
The Oster DuraCeramic is an easy-to-use electric griddle that comes with titanium-infused metal, intended to make it easier to grill and griddle foods without any of it sticking to the griddle itself. Not only does that make clean up fast, but it also makes cooking a lot healthier: you don't need to add anything to make sure that your food comes up.
Despite having a non-stick coating, the Oster DuraCeramic is safe, without any harmful chemicals such as PTFE or PFOA. When cooking, you can easily adjust the temperature on-the-fly, and the Oster DuraCeramic's griddle warming tray is intended to keep foods warmed until they're served. That means that this Oster can be used both for griddling and also as help for service.
This is a fairly direct, easy-to-use, and simple electric griddle: it doesn't come with a lot of features, but it's a good entry-level product for those who want to be able to make a pancake for fast breakfast, serve dinner or contribute to a backyard cookout.
If you want more premium features, you may need to dig deeper into a more deluxe Oster model: as it stands, this model is perfectly charming in its simplicity.
Pros:
Heavy duty construction ensures longevity and durability. A large backsplash prevents grease drips and spills.
Cons:
This is a hefty model that isn't suited for the casual cook. A large cooking area creates a large footprint that can be difficult to store when the electric griddle isn't in use.
---
How to Choose The Best Electric Griddle?
To choose the right one from the best electric griddles needs some consideration. The best electric griddles are good at cooking large amounts of food at even temperatures, while also making clean up faster and easier.
It's these things that you're likely going to want to focus on when you compare different electric griddles to purchase.
Size
There are two sizes you should consider when choosing an electric griddle: cooking surface area and footprint.
The cooking surface area is going to control how much food you can cook at once, but the footprint will control how much counter space it takes up.
Ideally, you want one that has a cooking surface that's very similar to its counter space, so it doesn't take up more space than it needs.
Grill inserts
Some electric griddles come with a single, large flat plane that you cook on. Others come with inserts. Inserts don't provide as large of a cooking surface, but it means they can be replaced: a griddle could come with a "griddle" insert and also a "panini" insert and also a "grill" insert, depending on the type of cooking you need to do. Grill inserts also tend to be easier to clean.
Surface coatings
The best electric griddles are going to be entirely non-stick, as that's part of the major appeal. The surface coatings can vary, however. Ceramic coatings are often some of the best, as they are healthy without potentially harmful chemicals. You want a griddle that isn't going to have its non-stick coating come off.
Heat controls
How easy is it to control the temperature and how hot can it get? Many electric griddles can only go up to around 400 degrees, which is fine for most cooking but won't produce a clean sear.
Some griddles can go up to as much as 500 degrees, which is enough to cook nearly anything. You should find a griddle with solid and reliable heat controls.
Dual thermostats
Some electric griddles have dual-zone heat controls so you can cook at two temperatures, others have only a single heat control.
The reliability and precision of the heat control really matters, because you'll be cooking a lot of foods at once. If you want to cook food at different temperatures, you need dual thermostats.
Related reading: Best Meat Thermometers
Commercial or residential
Commercial electric griddles tend to be more durable and long-lasting than residential electric griddles, but there's a catch: they also tend to be larger, less attractive, and also they won't "break down" for storage (you usually keep them on the counter). Which is best for you depends on the amount of cooking that you're likely to be doing.
Indoor or outdoor
Indoor electric griddles are commonly fairly small and fit on either a table or a counter, while outdoor griddles tend to be much larger and heavier.
Outdoor griddles may be fueled by propane while indoor electric griddles are universally fueled by electricity, making them easy to plug-in the power cord, and begin using.
Related: Best Smoker Box for Outdoor Gas Grills
Budget
An electric griddle comes in a large spectrum of budgets, and they can be surprisingly affordable, especially if they're smaller and simpler. Yet you may want to spend more on a higher quality griddle if you're going to be using it more frequently; generally, the larger the griddle is, the more expensive it's likely to be.
From a very small electric griddle to a very large grill/griddle combination, there are a lot of different appliances available for your kitchen (or outdoor cooking area).
With the above features in mind, we've compiled a comprehensive list of the best griddles available, depending on whether you want any entry-level budget product or an expensive, commercial outdoor grill.
---
Electric Griddles vs Grills vs Stove Top
Grills, griddles and stove top: what really is the difference, in terms of the cooking and the food produced?
Quite a lot actually. Grills, griddles, and stovetop are all used for dramatically different types of cooking, and understanding those differences will tell you which product you need.
An electric griddle is a flat cooking surface that's usually used to cook eggs, bacon, pancakes and other foods that benefit from even cooking. The food is cooked directly on the griddle, which means that it's easy to cook and also to clean.
You can cook more food on an electric griddle than either a grill or a stove top, because you have such an extended cooking surface. Once you're done, you can pop it in the sink or wipe it off with a rag. The temperature of a griddle is controlled either through electricity or through propane, and the entirety of the griddle surface is kept at a single temperature.
That means you can't always fine-tune your cooking the way you can on a stove, but it also means that you can cook a lot of food quite quickly, which is one of the major benefits.
A grill, by comparison, usually runs much hotter. It can be wood and coal, gas or electric. Food is usually suspended above a grill, which means that it's usually used for cooking things like vegetables and meats, rather than things like pancakes and eggs.
Grills are almost universally used for BBQ foods, in fact: it's much harder to say, cook a breakfast with a grill.
At the same time, grills tend to be more useful for high heat, outdoor cooking, and a grill can get much hotter than an electric griddle.
Grills are often used for producing a sear on meats, and it can be used to cook other things with liberal applications of tinfoil, and other camping cookware.
Compared to an electric griddle, though, a grill usually takes up more space and most grills are outdoors only (because of the smoke). There are some electric grills, but they're closer to griddles than they are to traditional outdoor grills.
Finally, there's stove top cooking. Stove top cooking usually involves multiple heat implements, which means things can be cooked at different times.
It also means different cooking surfaces can be used, such as cast iron (to sear meats) and non-stick (for things like eggs).
Stove top cooking is versatile and fast, and because you don't cook directly on the cook top, it can be easier to clean. However, there can also be more to clean, because you'll use multiple pans.
Since it isn't a single, unbroken cooking surface (or large grill), stove top cooking can mean that you can't cook as much at once, because a lot of your real estate will be taken up. Portable electric stovetops can be used for outdoor cooking too.
But it does mean that you can cook at different temperatures at once, which most small grills and small griddles can't do. Cooking on a stove top is also essential for cooking some foods like sauces.
Of course, any well-equipped kitchen or outdoor cooking area is likely to have all the above options, which means you may want to start purchasing your appliances now.
---
On this list, there are multiple appliances that offer both grilling and griddling, in an easy-to-use and easy-to-clean countertop electric format. Getting one of those devices will make it possible to start cooking immediately.
Done looking at griddles? At BestPickist, we explore all types of indoor and outdoor cooking products and appliances. Continue browsing to find more important information and reviews.
Related Article