[lmt-post-modified-info]
The best part of picking up a fresh loaf of bread at the bakery or popping one out of your bread machine is the crunchy crust, aromatic center and the above the ordinary flavors. But slicing bread at home can be a chore.
Using just your bread knife you get uneven slices, resulting in awkward leftovers and strangely shaped chunks that head to the trash bin.
The best bread slicer can solve portioning problems and improve the appearance of home baked goods. But which one is the right one for your kitchen or for that special foodie on your shopping list?
We've collected five of the best bread slicers and have reviewed them so you can make the best bread slicer choice.
---
Quick Navigation
How To Choose The Best Bread Loaf Slicers?
Wood, Acrylic or Plastic
When selecting the bread slicer that will work best for you, the material out of which it is constructed can be the deciding factor. Wood is attractive, but you will want hardwoods like hickory or maple for the best performance.
If the slicer does not say what kind of wood it is made out of, the slicer may be subject to chipping, splintering or simply breaking.
Wood must be carefully maintained to prevent greasy build up and the surface is subject to creating a good place for germs to breed.
Acrylic bread slicers offer a nice modern appearance, but the slots where the bread knife slides through can chip and wear down over time. Acrylic is also subject to becoming foggy and scratched with repeated washings.
Plastic is lightweight, cheap and flexible, but cheaper products may not stand up to repeated use if you are a real bread enthusiast.
Fold Away for Easy Storage
Who really needs another gadget taking up space on counters and inside crowded cupboards? Some wood bread slicers are designed to sit on the counter and look lovely if you have the room.
However many of the inexpensive slicers offer easy fold and stow designs that can also be tossed in the dishwasher. A few provide a catch tray for all those crumbs, speeding up counter clean up.
Multiple Slice Sizes
Do you want the same exact slice thickness with each kind of bread you serve? If so, the simple single slice version may work well for you.
But if you're interested in producing extra thick texas toast or french bread slices, look for a bread slicer with varying distances or adjustable slots so you can decide on nice thin slices for crispy toasting or chunky style on which you can load tons of toppings.
Makes One Slice or Cut The Whole Loaf At a Time
Do you want to take just a single slice off the loaf? Or do you tend to serve the whole thing to your big family at supper?
Bread slicers are available in a variety of heights and depths, able to keep a 2 lb. loaf steady so you can break it down into even sections.
Some also provide width adjustments to better secure your fruit or nut bread vs. the square loaf that pops out of your bread machine pan.
Make sure to check the height of the slicer, as well. For bread that has a beautiful crown, some slicers may not be tall enough to provide an even cut down the entire side.
---
How Do Bread Slicers Work?
A bread slicer is a pretty smart addition to your set of kitchen tools. It is a utensil that will allow you to cut your bread evenly without much effort of your part. You can choose the thickness of your slices, making them thin or thick, simply by moving the adjustable cutting guide. Many of them are durable for every day use. They are great if you make your own bread or visit a bakery regularly.
A bread slicer has a guide that you can move the knife through slit helping you to slice into the bread. The guide has slits a specific distance apart from each other depending on how thin or thick you want your bread slices. These guides protect your hands from getting cut by the knife while slicing your bread.
---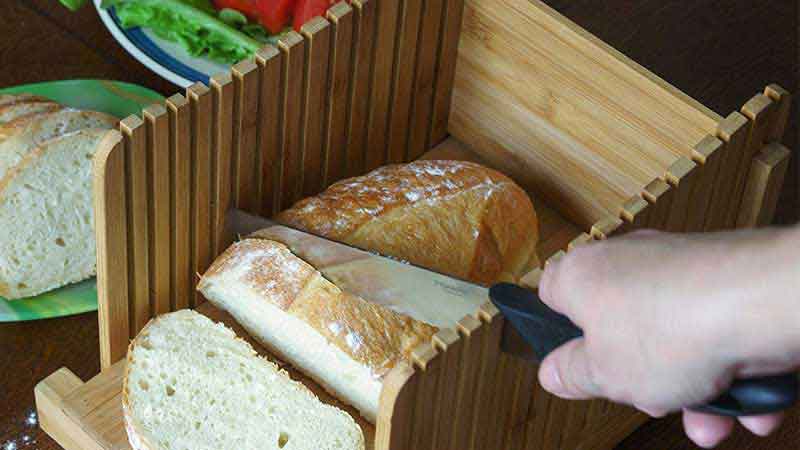 Top 7 Best Bread Slicers Are:
Here's a list of the best bread slicers on the market today: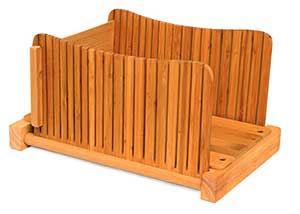 What You Will Love:The DB-Tech is an attractive slicer made out of eco-friendly renewable bamboo.
It blends nicely with other wooden utensils you may have on your kitchen counter.
It has a moderate price point. With dimensions of 12″ x 7 ½ x 6 ½ it is sized to hold a standard loaf of bread in place while you cut away.
The sides feature three different width slots for thin to thicker slices of bread. It folds down for easy storage.
The main drawback of this slicer is that the bamboo is not that sturdy and can flex while you are sawing away at the bread.
If you love a crusty loaf of bread, this one may have difficulties maintaining an even cut all the way down the loaf.
Pros:
Attractive
Made out of eco-friendly bamboo
Multiple slice thicknesses
Cons:
Bamboo is thin/feels flimsy
Will not accomodate 2 lb. loaves
Hinges have been known to snap
---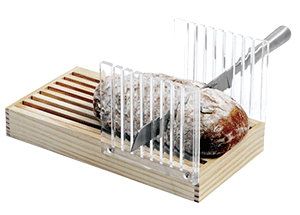 What You Will Love: For the modern home chef that still loves home-baked goods, the Norpro 370 bread slicer offers a sleek, chic appearance with its acrylic cutting guide and solid wood crumb catcher base.
It is a roomy size able to fit almost any loaf of bread out there.
The acrylic guide makes it an attractive addition to your counter-which is where it is intended to stay. It does not fold down.
However, the sliding crumb tray helps to keep your counter clean. It has a nice economical price point, too.
The slicing guide only has a single size and the base is carved out of pine-which is subject to knicks and dents even after a single use.
Acrylic is also subject to becoming cloudy and scratched after repeated washings. Due to the extra large size, some bread knives may not cut all the way across.
Pros:
Extra large-will fit any size loaf
Acrylic and wood design is attractive and eye catching
Good value for its cost
Cons:
Does not fold up for storage
Single slice width
Soft pine base will get dented
---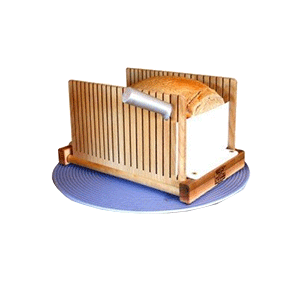 What You Will Love: Bread Pal is the bread slicer that has set the standard for counter top slicers since 1994. Constructed out of splinter resistant hickory and maple wood, it really is built to last.
Its hinges are not spring loaded, but simply allow the sides to slide into place each and every time.
Eight inches high and twelves inches long, it easily holds a large loaf of bread.
The plastic guard pops into place to help hold the loaf in place while cutting. It only has two different widths for slicing options and does not feature a catch tray.
You will spend about double compared to less expensively crafted slicers, but the Bread Pal is likely the last bread slicer you will ever have to buy.
Like other quality models, it folds down flat for easy storage in a drawer or in your vertical pan storage cupboard.
Pros:
Solid hardwood construction
Extra large size fits almost any load
Folds flat
Product has excellent reputation
Cons:
No crumb tray
Only two slice widths
More expensive that most other bread slicers
---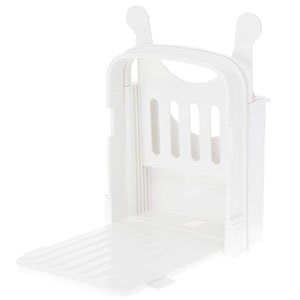 What You Will Love: Perhaps you really only need to take one slice off your fresh loaf each time.
This compact kitchen gadget is going to meet all your requirements for a bread slicer in an inexpensive model that you can replace with feeling guilty about the hit to your wallet.
The slicer guide can be adjusted for four different thicknesses and offers enough play that thicker high-end bread knives will have no problem slipping through.
With dimensions of 5 1/2 inches W x 6 7/8 inches H by 2 1/2 inches deep, it really can be stored just about anywhere in your kitchen.
With such a low purchase point, it's a fun add-on when stuffing stockings or filling up a kitchen gadget gift basket.
Pros:
Clean white appearance
Compact size
Inexpensive kitchen gadget
Cons:
Plastic construction subject to wear
Won't hold large loaf of bread
Only cuts single slices at a time
---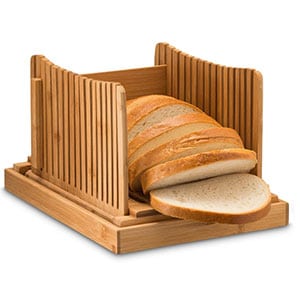 What You Will Love: The Bambusi Bamboo Bread Slicer Cutting Guide is compact, can be folded and comes with a crumb tray.
The Bamboo Bread Slicer cutting guide allows you the ability to cut bread evenly. A 10 inch knife is recommended to cut the slices most evenly. The grooved sides of the guide help guide your knife through the bread.
The grooves are adjustable to give you thick or thin slices. You have four adjustments from which you can choose. You can also slice bagels and loaf cakes.
You can slice any type of baked good you would like while keeping your fingers out of the way of the knife blade.
The bread slicer guide comes with a crumb tray to collect any mess your cutting causes. This prevents crumbs from going all over your counter and makes clean up much easier.
This slicer folds flat and can be stored in any kitchen drawer.
This best bread slicer is made from organic bamboo. It is environmentally friendly and 100 percent without antibacterial properties.
It is much more stable that its plastic counterparts. This design is lightweight and simple to clean by wiping it down with a damp cloth.
Bambusi is confident you will love their bread slicer. If you do not like this product for any reason, they provide a 100 percent lifetime guarantee. They will issue a full refund, or replacement.
Pros:
Cutting guide is adjustable for thick or thin slices
Includes a crumb tray to keep your area clean
It is compact and folds up for easy storage
Cons:
---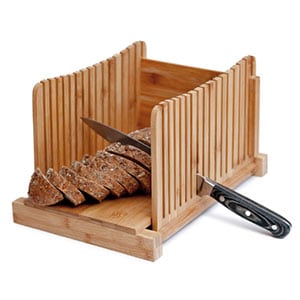 What You Will Love: The Kenley Bamboo Wood Cutter Box with Knife Slicing Guide looks similar to a box and has a cutting board.
The Kenley Bamboo Wood Cutter Box gives you the ability to cut your bread, any kind of bread, evenly every time.
This bamboo cutter will provide you the ability to cut any type of bread or loaf cake, or other baked good you would like to slice.
The Kenley offers three thickness choices, which are 1/3 inch, 3.8 inch, and 1/2 inch, so you can slice bread as thin or as thick as you want.
This bread slicer is foldable so that it can be stored flat when it is not in use. The dimensions of the slicer is 12 inches x 8.7 inches x 5 inches.
There is a guide that protects your fingers so you will not cut them while trying to slice your bread. The bamboo wood cutter is easy to clean. Simple wipe it down with a damp cloth and that is it.
A 10 inch knife is recommended for the easiest slicing.
Pros:
Comes with a cutting board
Cutting guide protects your fingers from the knife
Cons:
The cutting walls are high
10 inch knife is needed
---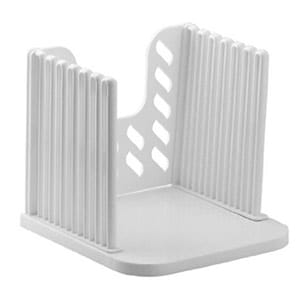 What You Will Love: The BlastCase Bread Slicer is made of plastic and comes completely apart.
The BlastCase is a best bread slicer because it can be taken completely apart for storing purposes. While the BlastCase Bread Slicer will not replace your dinnerware, it will be your most practical tool for slicing bread.
The BlastCase comes with four different thicknesses from which you can choose. It can slice any type of bread, bagel, or baked good that you want to throw in it. The thinnest slice that you can cut is about an inch thick.
The plastic case will keep your hands completely safe while cutting your favorite bread. It is made from ABS plastic and measures 16 inches x 15 inches x 14.5 inches.
It has a crumb catcher for easy clean up. You simply dumb the crumbs into the trash. The slicer can be completely taken apart for storage.
Pros:
Inexpensive
Can be completely taken apart
Cons:
The bread slicer must be assembled
The plastic may seem flimsy
---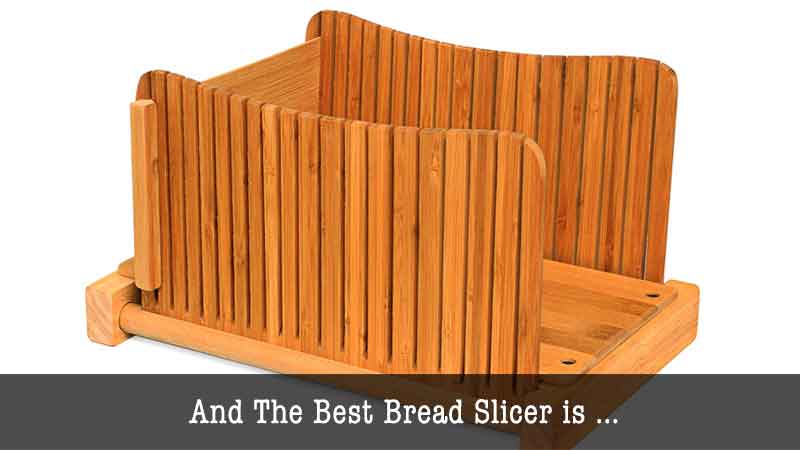 Which One Is The Best Bread Loaf Slicer?
Now you only have to choose the bread slicer that will work best for you. If you need a compact slicer and only want to cut a single slice each time, you really can't go wrong with the Bread Slicer- Multi-functional.
For the bread machine fiend that wants an attractive yet durable wood bread slicer, the Tech Bamboo Compact Foldable Bread Slicer offers a compact storage solution along with a versatile design.
---
After extensive research, we have presented to you the best bread slicer in each category. We looked at the reviews of experts and consumers. We reviewed all of their features and took a hard look at the quality of each one. We examined the strength and durability.
We also looked at their prices to ensure you would get value for the money you spent. The seven listed above rose to the top of our list for the best bread slicer. Be sure to check out these bread slicers before you buy your next one.
---
Related Articles:
---