Quick Summary: If you are into hiking or kayaking, the Hydro Flask Vacuum Travel Coffee Mug is the best travel coffee mug the market offers. What we like most is that it keeps your hot beverages warm for 24 hours while retains the coolness of cold drinks for 6 hours. Besides, the drinking hole of the lid is made extra wide so that you get sufficient water intake.
With coffee being such a popular drink, and with coffee mugs being the "in" thing in today's age, everyone seems to be out in the market to get the best and most versatile mug out there.
Especially for people who travel, you want your coffee to remain warm for at least 24 hours and these are the types of mugs we look into in this article. Invest in a travel coffee mug now, as it has been scientifically proven that coffee tastes better in ceramic, glass, and steel mugs rather than in paper or plastic cups.
We've gone through the trouble of going through multiple lists, reviews, and forums in the search of the best travel coffee mugs out there, making your search much easier.
We've also listed down the multiple factors that you should look out for, before purchasing a great travel coffee mug. These factors include characteristics such as the amount of time the mug keeps your coffee warm, the material that it's made of, the design, the weight, and how securely the lid is placed on top.
These features are important because you don't want to regret your choice in the middle of a trip, as that could ruin a big part of it.
Quick Navigation
---
10 Best Travel Coffee Mugs Comparison
| | | |
| --- | --- | --- |
| | One of the best mugs for coffee, this 18/8 food-grade stainless steel travel flask is meant to be your perfect traveling companion with its durable and BPA free structure. Plus, you can enjoy every form of customer privilege with its lifetime warranty. | Read Our Review |
| | Keep yourself hydrated all the time with the 16oz of liquid that can be stored in this chic looking flask. Besides Zojirushi's smooth nonstick interior makes it easy to clean and manage. | Read Our Review |
| | Available in eye-catching shades of colors, these travel mugs are a must-have. With an upgraded auto seal technology, Contigo makes sure that your drinks stay fresh and secure. | Read Our Review |
| | Unlike other flasks, Atlin is made to be 8 inches high. It can store 30oz of liquid that remains fresh in taste because of the dual vacuum insulation. | Read Our Review |
| | You can enjoy the freshness of your drinks even after 4+ hours with CamelBak. Plus there are no unwanted spills thanks to the self-sealing cap. | Read Our Review |
| | Don't worry about going thirsty in long rides as the modern structure of Thermosfits in any car cup holder. Besides, the built-in tea hook keeps your tea bags and leaves in place. | Read Our Review |
| | This travel mug from Contigoprotects your drinks from going stale for up to 18 hours. The lid is layered with extra seals making it leak-proof and keeping you safe. | Read Our Review |
| | Travel anywhere with this mug and you will be amazed by the function of its auto seal technology that finishes off every chance of spills and leaks. | Read Our Review |
| | Store 14 ounce of liquid in these shining stainless steel mugs. With a 7.8 inch height and 2.5-inch width, they are compatible to use with all Keurig brewers. | Read Our Review |
| | The double-wall, vacuum insulation ensure that the temperature of your drinks stays stable. Besides, the closable lid shuts off tightly and secures your drinks. | Read Our Review |
---
Reviews Of 10 Best Travel Coffee Mugs
Best Overall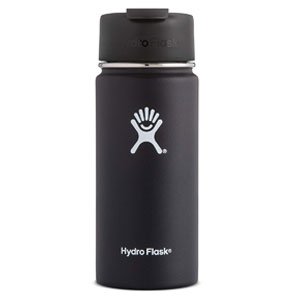 If you want to pack the best coffee mug in your bag, then you should take a look at the Hydro Flask double-wall vacuum insulated stainless steel travel coffee mug.
The flask comes with a wide mouth opening of 2.19" that perfectly fits the Hydro Flip, Wide Mouth Flex Cap, and Hydro Flask Straw Lid.
The vacuum insulated travel mug has double wall TempShield technology is meant to keep the liquid hot for about 6 hours and cold up to 24hours.
The flask is made up of BPA free, non-toxic plastics, and its 18/8 food-grade stainless steel will assure about its durability. The proprietary powder coat makes this mug slip-free, and you will be able to handle it easily under any circumstances.
Moreover, it comes in the same size as the coffee shop sizes. Hydro flask forms the perfect option for road trips as well as treks where you would require a sufficient amount of whatever you drink.
This hydro flask wide mouth travel coffee mug is designed for fitting under maximum coffee brewing systems. It could serve as the best mug for coffee by offering a little bit of jolt to your traveling days.
Pros:
The hydro flip lid helps in preventing leaks and spills
Keeps both hot and cool drinks fresh from 6 to 24 hours
Made from 18/8 food-grade stainless steel and is durable
Protected with a lifetime warranty deal
Cons:
Not budget-friendly
Some customers experienced lid related leak issues
---
Best Budget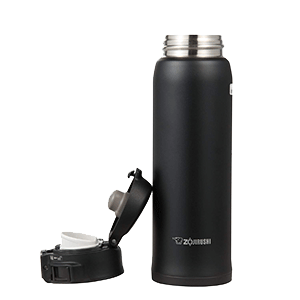 Among the best stainless steel coffee travel mug, Zojirushi stainless steel mug could be a good option to opt. This mug comes with a 1 to ½ inch opening and bears a capacity of 16oz.
Its robust quality, aesthetic design, one-hand usability, and spill-free sealing make all its other competitors behind.
The mug is made up of stainless steel and bears a nonstick coating. This travel coffee mug even comes with a pictograph lock, and it makes sure that your coffee will be secure in your cup.
This means that this mug is completely safe for transport and the lock will prevent it from opening by accident easily.
Zojirushi stainless steel mug has the capability to keep the coffee hot or cold for more than eight hours. The great leak-proof design of the mug and ease of one-hand usage make it beneficial as hell.
You just need to press with one finger for opening the mug and enjoy sipping the hot coffee. As per the Zojirushi stainless steel travel mug review, it is regarded to be number one in rank. The reason is quite simple. It is light, highly durable, and at the same time, keeps the drink hot.
Pros:
Comes with a maximum capacity of 16oz to store liquids
Both the exterior and interior have a nonstick coating
Easy to use with the 1-1/2 inch opening
The stopper is easy to remove for hassle-free cleaning
Air vent eases up the process of pouring drinks out
Cons:
The rubber or inner lining clings to soap
Starts leaking from the screw joint
---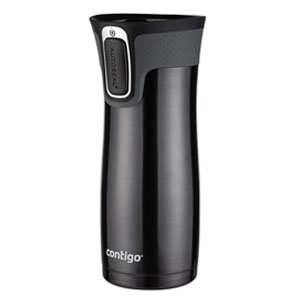 The newly designed lid pivots opening in Contigo Autoseal West Loop travel coffee mug make it a good choice for a travel mug for coffee. This feature will let you clean the mug easily.
The mug comes with a new lid lock which would prevent the auto-seal button from accidental pushing on the way.
Moreover, the Autoseal lid seals automatically between sips for preventing spills and leaks. This coffee mug comes with a vacuum insulated double-wall stainless steel.
This makes sure that your beverage will remain hot for about 5 hours and cold for 12 hours. No matter whether you are traveling by train, car, horse drew the carriage, taxi, or any other medium, Contigo stainless steel travel mug would prove to be the coffee mug you want.
The lids can be easily cleaned as it is dishwasher safe. Moreover, this lid is a single connected piece. Hence, there will be no chance to misplace any parts while washing.
The one-touch Autoseal lid is meant for one-handed and easy drinking. You just have to press and release the button to sip and seal automatically. You can look for Contigo West Loop Autoseal travel coffee mug review to make sure about the Contigo Limited Lifetime Guarantee.
Pros:
Drinks stay warm for 5 hours with the thermalock vacuum insulation
Equipped with auto seal technology to reduce spills
Dishwasher safe lid
Protect cool drinks from becoming stale for up to 12 hours
Cons:
The paint comes off
The body of this cup is hard to clean and is prone to collect mold
---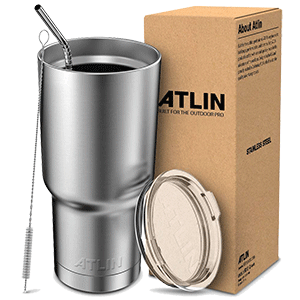 Altin tumbler stainless steel travel mug for coffee comes in a sleek design and is made up of 100% stainless steel.
The mug features a grip-friendly design for keeping hydrated while on the go. The mug is built tougher.
It is 7 5/8" high and can bear up to 30 oz liquid. Moreover, its size will make it fit in every standard size holders.
Most importantly, out of the above three travel coffee mugs; Atlin tumbler is offered two layers of insulation.
Now this will maintain the temperature of your drink whatever might be the outside climate. The lid of this mug is transparent and weatherproof. This would allow you to keep an eye on the amount of your remaining drink.
However! Its dual insulation feature can keep a drink hot for about 6 hours and cold for 24 hours. This stainless steel coffee travel mug comes even with a metal straw as well as a straw cleaner to help you in your drinking experience.
The mug is completely dishwasher safe, and there is no threat of toxic materials. The clear lid locks the liquid in place, thereby minimizing the risks of accidents.
Pros:
Keeps the temperature of drinks stable with 2 layers of insulation
Can be used to store 30oz of liquid
With a length of 8inch, these are extra high and easy to carry
Comes with a unique free metal straw
Slim design makes it fit into regular car cup holders
Cons:
No handle
Poorly manufactured lid
---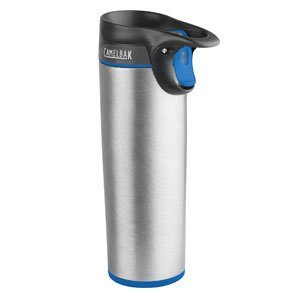 Camelbak forges travel coffee mug is an imported, stainless steel travel coffee mug which can be easily carried. The mug is entirely leaking and spill proof.
It comes with a self-sealing cap which will allow you to drink one handily. It will even snap back in place for preventing spills or leaks.
You would have to simply press the button on the top for locking the opened cap and enjoy frequent sipping.
Moreover, the cap will not collect crud. You can easily clean the cap as the drink lever pops open to let you reach every part while cleaning in dishwasher or sink.
This stainless steel coffee travel coffee mug bears vacuum sealed, double-walled insulation. Now this will make sure to keep your drink hot for more than four hours. The impact cap in the bottom is provided for preventing dents, and it cracks if the mug is dropped.
Camelbak forge travel coffee mug is made very durable and constructed to resist any impact. This feature makes it a perfect choice for any long road trip. Moreover, the mug features a finger carry loop, which means, that you can carry it wherever you go.
Last but not least, it offers CamelBak Got Your Bak Lifetime Guarantee.
Pros:
Available in multiple beautiful colors
Easy to use in any situation with the one-handed drinking lever
Comfortable to hold through the finger carry loop
Made with fine quality of stainless steel
Designed with thermos vacuum insulation for temperature retention
The BPA free material of the cup adds quality to your drinks
Cons:
The lid is of poor quality
---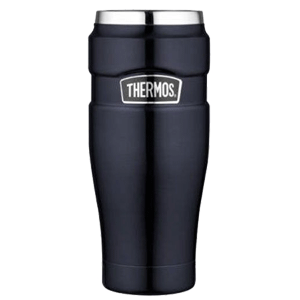 If you are in ardent need of a good travel mug for coffee, then just go on through the Thermos travel coffee mug reviews.
The mug is made using Thermos vacuum insulation technology. This assures of the maximum temperature retention.
As a result, the liquid in the mug will stay hot for 7 hours and cold for about 18 hours.
The mug is very durable and comes with a stainless steel construction both exteriorly and interiorly. In traditional containers, the cold or hot finds out its way with the help of convection.
Moreover, the Thermos vacuum insulator produces an airless area between the two walls. It nearly eliminates the process of convection and change of temperature.
No matter what is the outside temperature or forecast, the drink inside the mug will stay steamy hot or icy cold. Moreover, the mug will be even cooler to touch with hot liquids and at the same time, sweat-proof with cold.
Thermos travel coffee mug comes with a built-in tea hook. This means, it can hold tea bags easily or maximum loose leaf infusers.
The mug bears a capacity of about 16 ounces, and its size makes it perfectly suited for most automobile cup holders. Moreover, you will get plenty of color options to choose anyone according to your choice.
Pros:
Inbuilt tea hook helps in keeping the tea bags in place
Compatible to place in most automobile cup holders
Keeps drinks fresh from 7 to 18 hours
Chemical and BPA free material used in its production
The lid is easy to clean in the dishwasher because of its compact size
Cons:
The lid breaks easily
The body is prone to develop scratches easily
Contigo Snapseal Byron Stainless Steel Travel Mug
---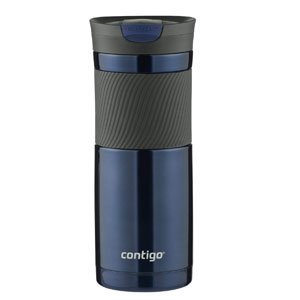 Contigo travel coffee mug comes with a leak-proof lid for making it safe to use while on the go activities.
After completing sipping, you just need to snap its lid closed for the leak-proof protection while going anywhere.
Moreover, its Thermolock vacuum insulator makes it one of the best in this list. This insulation locks the heat inside the mug and keeps it hot for about 7 hours.
The mug is designed to make your drinking experience easy and travel-friendly. You simply have to pop the top for drinking. You don't have to remove or unscrew any lid.
It has to be simply snapped closed after drinking for sealing the leak-proof lid. Contigo travel coffee mug is even easy to clean. It comprises the top rack dishwasher safe lid and a body that requires handwash-only.
Overall its easy-grip will allow you to grab securely and experience one-hand drinking. However, the mug comes in a perfect size to fit most of the cup holders. Well, like all other Contigo products, this mug even comes with a Contigo Limited Lifetime Guarantee.
Pros:
High-quality lid to seal of all your drinks
Simple to use with the one-handed feature
Cons:
Drinking lever is hard to open
---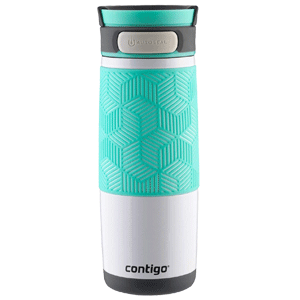 Contigo Autoseal transit stainless steel travel mug is made up of using Autoseal technology, making it one of the best travel coffee mugs for coffee on the market.
Spills can literally ruin the interior of your car or a new shirt, and this spill-proof technology is provided keeping this in mind.
No matter whether you are at work, home or car, the leak and spill proof design of the mug eliminates the chances of spilling.
Contigo stainless steel travel mug can be your ultimate traveling companion. It has all the features which you love and prefer in your coffee mug.
The Thermalock Vacuum double wall insulation is offered to lock the heat inside the mug. It keeps the cold out and heat in to ensure that the drink remains hot for about 7 hours and cold up to 12 hours.
The mug even comes with a Clean Guard lid which rotates for locking the Autoseal lock. This will certainly let you enjoy your trip with peace of mind.
Moreover, it features an open-access lid that flips open, and this will allow you to clean the mug easily. There are even no separate parts to misplace while washing. Lastly, the mug even bears the Contigo Limited Lifetime Guarantee.
Pros:
Convenient to carry anywhere as it weighs only 9.6 ounce
The lid paired with a clean guard feature protects drinks from moisture and dirt
Spill-proof even in the most unpredictable situation thanks to the auto seal technology
Cons:
The lid collects liquid which turns into fungi over time
---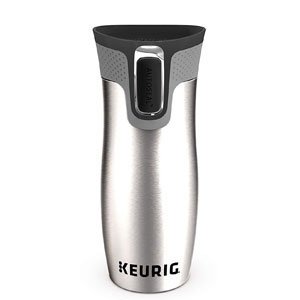 Keurig Stainless steel travel coffee mug for coffee will let you carry your favorite beverage or drink securely on the road.
The mug features the Contigo Autoseal technology. It is the leak and spill proof technology that would prevent you from losing a single drop of water.
The mug bears double wall stainless steel and vacuum insulated body which assures its ability of temperature retention.
Your drink will stay hot for about 5 hours per day and cold up to 12 hours. Keurig travel coffee mug comes with an easy to clean lid, taking away the hassles out while washing.
Nevertheless! The mug features a 14-ounce capacity, and this makes it an ideal size for a K-cup pod. With Keurig Stainless Steel West Loop Travel Mug, you will be able to enjoy your drink easily without slipping. It is 100% leak and spill-proof.
Pros:
Works with all Keurig reservoir brewers
Has the capacity to store 14 ounces of liquid
Made with stainless steel but lightweight to carry
Locks your drinks in place with auto-close technology
Cons:
Related: Best Keurig Coffee Makers
---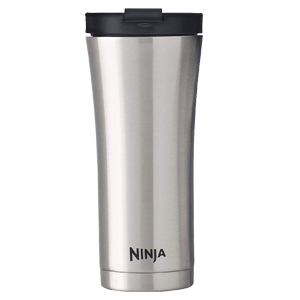 Ninja coffee mug can be your favorite commuter for its stainless steel construction.
The mug has a stainless steel vacuum insulated double walled design which makes sure to keep iced drink cold and hot liquids hot.
It is designed to a slim fit in most automobile cup holders. This travel coffee mug comes with a lay-flat open or close lid. It will let you drink from your mug easily.
However, the mug bears a capacity of 16oz. You just need to place the mug on the bottom place of your coffee maker and prepare your drink in it directly for the best convenience.
This stainless steel coffee mug possesses a full closable lid. It completely seals and prevents dribbles or leakages. Ninja travel mug for coffee is dishwasher safe and will let you clean it easily. As per the Ninja travel coffee mug reviews, this could be a worthy choice to invest in for your traveling days.
Pros:
Maintains the temperature and taste of drinks with its stainless steel vacuum insulated design
Has a smart and slim design and can be placed easily in any car cup holder
The entire device is made to dishwasher safe
Cons:
The rubber seal of the lid breaks off easily
---
How to Choose The Best Travel Mug for Coffee
Like everybody else, you even would want to brighten up your day with a hot sip of coffee from one of the best travel coffee mug.
It is a little bit luxury to be able to prepare the coffee in the way you want and enjoy it to the fullest on the way. Well, you will come across plenty of travel coffee mugs in the market, and the numbers are much more.
But there are a few things you need to consider, and this will narrow down the options, thereby letting you choose the best travel mug for coffee.
Temperature Retaining Capacity
A travel coffee mug must have good insulation. It is the main asset that would keep the coffee hot or cold for good hours. On the other hand, a flimsy coffee cup would struggle even in short distances.
From the list of the best stainless steel vacuum insulated travel coffee mugs, there are many that employ similar working principles as that of a full-size thermos. Everyone doesn't require very high heat retention.
If you want a good travel coffee mug for shorter commutes or simply a picnic on Sunday, then you don't have to invest in a costly thermos. You would have to choose the vacuum insulated stainless steel travel mug according to your needs as well as preferences while making a choice.
Related Reading: Best Insulated Tumblers
Leak Proof and Handles
A well-constructed travel coffee mug will possess a lid design which resists spills and leaks. There are certain such travel coffee mugs which are not leakproof, and they can't be carried in travel bags.
Leak-proof travel coffee mugs are usually designed as mini thermos bottles, having a screw top or something similar to it. You won't have to carry these mugs upright every time. However, the choice would depend on your traveling style.
While selecting a travel coffee mug, look at its design, and check whether it has a handle that would fit properly in your hand. Some coffee mugs of travel are built up of materials that might cause burns after coming in contact with the skin.
Like for example, glass mugs having to hold strips or plastic handles could be dangerous if someone touches it accidentally.
Hence, if you are gawky, then you must consider this fact while purchasing such a mug. We have brought to you this best travel coffee reviews through extensive research on the pros and cons of each.
Perfect Size and Price
The size of your coffee mug would depend on the amount of coffee you require in the morning. A tiny travel coffee mug will possibly be disappointing for the individuals who prepare a whole coffee pot and gulp it down before noon.
However, people who like to sip more moderate amount of coffee, a big thermos of coffee will not be convenient for carrying.
Affordability is a key consideration for many people, and this has a valid reason. While it comes to choosing the best coffee mug, you will find them in a wide price range. A costly travel mug would not necessarily mean that it is good.
You simply have to avoid the flimsy options of the mug and go for a durable one. You will eventually get many affordable mug options that would suit your needs perfectly.
Easy to Clean
It is not always possible to clean travel coffee mugs properly in between uses. And you won't want to throw away your coffee mug after using for some months as you are unable to get rid of the hard stink of milk stains or old coffee.
Hence, if you are a regular user of travel coffee mugs, then you need to go for the material which doesn't stain the mug easily. Machine-washability could even be a plus point.
Durability
While choosing a travel coffee mug, durability is an important factor to be considered. A good durable coffee mug would mean you can easily maintain it in good condition for many years.
In fact, people who are outdoorsy type would require a travel coffee mug which has the ability to survive a few bumps. Materials such as plastics could lose their capability of retaining heat if the surface of the mug wears out or gets scratched.
---
Final Verdict: Best Travel Coffee Mugs
Well, these were some ideas for selecting the best travel coffee mugs that would let you start your day with the fresh sip of your favorite coffee and keep your over-charged the entire day.
In addition to it, our review of the 10 available best travel coffee mugs for coffee which offer reliability, quality, and value will help you choose the best one suited for your needs.
Related Articles: