---
What Is The Best Microwave Bacon Cooker?
We've actually got two picks for you: a bacon tray and a bacon rack. While they both produce great-tasting bacon, they're made for different uses: a bacon tray is a compact cooker that cooks up to six pieces of bacon, while a bacon rack is a larger cooker that cooks up to ten pieces of bacon.
Our top pick for bacon tray is the multi-purpose Nordic Ware Bacon Tray & Food Defroster, an affordable all-in-one solution that makes it easy to microwave foods without having to worry about grease or water run-off. Durable, easy-to-clean and versatile, the Nordic Ware can make up to six pieces of perfect bacon at a time.
Our top pick for bacon rack is the Presto PowerGrip, a large bacon rack that can cook up to ten pieces of bacon at a time. With large, triangular racks, the PowerGrip can be quickly loaded and quickly removed from the oven, with only a knife needed to release finished bacon from the racks. The PowerGrip collects grease in a tray below the racks, which can be easily poured out for disposal.
But that's not all the important information we have for you. You can check out our comprehensive reviews below to find out more about selecting the perfect bacon cooker tray or rack for you.
---
Have you been looking for a healthier way to cook bacon strips that won't cost you a fortune? Cooking on a skillet allows the meat to sit in the fat and grease, making it an unhealthy breakfast choice for you and your family.
However, baking the strips in the oven doesn't solve that issue either because it still cooks in the fat while on a baking tray.
Well, one solution is to get a microwave bacon cooker. This product will cook your bacon faster than on the stove or in the oven but lets the fat and grease fall into a drip tray so your bacon isn't sitting and cooking in it.
This makes your favorite breakfast food healthier while still keeping that juicy, crispy flavor.
But, finding the best microwave bacon cooker means having to sort through hundreds of different options to pick the one that you like the best.
Well, our top choice for a bacon cooker for your microwave is the Makin' Bacon strip rack because it gets rid of the fattening grease while it cooks and ensures that your breakfast is done in just minutes.
---
Comparison of 10 Best Microwave Bacon Cookers
Get this easy to use BPA and melamine free microwave bacon tray and food defroster at an affordable price and cook delicious and crispy bacon. Cleaning this microwave bacon cooker is also a breeze as well (throw it into the dishwasher after cooking).

With this cooker, you can prepare large amounts of bacon or defrost slabs of meat.

Read Our Review

Cook bacon meticulously with this vented microwave bacon cooker. This is a versatile cooking option that can hold large volumes of bacon (up to six strips of bacon) at once and is dishwasher safe.

The excess grease on the bacon and foods will drain away as you cook hence giving you a healthier meal.

Read Our Review

The OXO Cooker has a thin ridged tray to keep your bacon from coming into contact with the grease and a shallow bowl to hold the extra grease when grilling. You can empty the excess grease easily after cooking thanks to the adjustable kickstand.

Read Our Review

It features a simple design, it has a no-splash lid and is stylish but what we love the most is the deeply grooved tray that makes bacon cooking a simple task.

Unlike the other microwave bacon cooker, this one has deep rounded ridges purposely for collecting the excess grease- this bacon cooker doesn't have a separate oil tray.

Read Our Review

Cook up to 5 slices of delicious and crispy bacon at a time with this cute microwave bacon tray. It has a splatter lid that keeps the grease from splattering over your microwave when cooking bacon.

Well, if you want to cook a lot of bacon at once, this equipment would not make the best option for you.

Read Our Review

If you are looking for a large bacon cooker you can use to prepare up to ten strips of bacon at a time, then look no further than this appliance.

Excess fats and grease will drain into the deep tray from the racks so you can enjoy healthy bacon meat at any time. The tray can also be emptied and cleaned easily after cooking.

Read Our Review

Get the Original Makin' Bacon Cooker with a set of Y-shaped racks that separate your bacon from the grease while cooking and cook up to 10 slices of bacon at a time. You rest assured of bacon that's 35% free of fat.

The Y-shaped rack can hold larger pieces of bacon so grease can drip directly into the tray.

Read Our Review

Nordic Ware Bacon Rack With Lid is Specially designed microwavable rack that keeps bacon elevated so fat drips off. Lid helps contain spatters. It is also BPA and Melamine Free

Read Our Review

The Emson bacon cooker is a multi-rack system that allows you to place the strips of bacon vertically so that the fat and grease drips away from the meat and into the tray below.


Read Our Review

The Presto bacon cooker is a bacon rack that offers room for up to twelve strips to be cooked at once without a high fat content.


Read Our Review
---
Reviews of 10 Top Microwave Bacon Cookers
By looking at expert ratings and consumer reviews, we've found the best options for you. To choose from the best microwave bacon cookers, you can simply follow our list.
---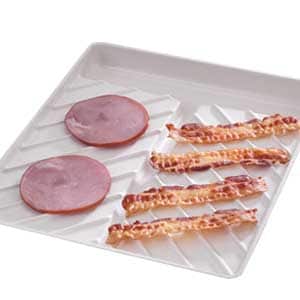 What You Will Love: Get everything you need with the all-in-one Nordic Ware Microwave Bacon Tray & Food Defroster, an easy-to-use, slanted tray that drains away oil and water as food cooks and defrosts.
An affordable option, the Nordic Ware is touted as being easy to use and easy to clean.
We love the lengthy warranty that this microwave bacon cooker comes with, in addition to its attractive appearance that can go straight to the table.
The Nordic Ware Microwave Bacon Tray & Food Defroster comes as an angled tray with a large capacity, perfect for cooking large amounts of bacon or defrosting slabs of meat.
The large ridges of the tray make sure that bacon is held away from the grease as everything cooks, keeping the bacon deliciously crunchy and crispy.
For defrosting, the tray ridges will drain water as food defrosts, preventing the food from cooking in the microwave.
Easy to clean, the Nordic Ware can be slid directly into the dishwasher when you're done, and the trap can be easily drained of either oil or water. A clean appearance also makes it possible to serve food directly off the tray itself.
The Microwave Bacon Tray is BPA and melamine free for safe cooking surface, and also comes with a five-year warranty to ensure that it lasts a long time.
One of the most affordable options, the Nordic Ware is a good choice for anyone who wants an affordable way to cook crispy foods in the microwave.
It can be used for more than just bacon: any food that often drips is going to be a good choice. The Nordic Ware can also be used with optional plate covers, to keep your food warm and fresh.
The only major issue with the Nordic Ware is that some report that cleaning in the dishwasher doesn't get it completely clean, as the grooves are quite deep and may need to be either rinsed or wiped out.
And while some report that the Nordic Ware doesn't cook evenly, this is more likely to be a problem with a microwave than the dish itself.
Pros:
A generous five-year warranty
large rectangular format
deep grids
an easy-to-empty tray.
Cons:
May be a little difficult to keep clean.
---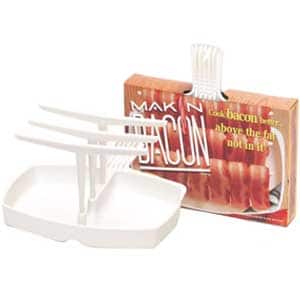 What You Will Love: Go back to the original with the Original Makin' Bacon Rack, a set of Y-shaped racks that will hold bacon out of the grease while they cook. Bacon cooked in the Original Makin' Bacon will lose up to 35% of its fat.
We love the simple design of the Makin' Bacon, which easily collects excess fat for fast disposal.
The Original Makin' Bacon, this bacon rack features a number of specialized hooks that can be used to suspend bacon over a large tray.
Large numbers of bacon can be placed on the Y-shaped rack, which will then drip grease directly into the tray. The tray can either be emptied or the tray can be used for additional cooking.
The special design of the Original Makin' Bacon Rack makes it easy to remove the bacon from the rack when done, though the bacon will be folded in half once complete.
It can be used to cook about eight to ten slices of bacon each time, making it perfect for those busy mornings. It cooks at a speed of one minute per piece of bacon, so five pieces of bacon will only take about five minutes to cook perfectly.
The Original Makin' Bacon is cheap and long-lasting, dishwasher safe and made out of specially formulated high heat plastic.
By removing up to 35% of the fat that's in bacon, it offers bacon that is just as delicious but more healthy. Many people save the fat for later.
The only downside to the Original Makin' Bacon is that it can't make perfect, flat bacon slices, because the bacon is going to be folded in half.
Further, sometimes the bacon may not cook entirely evenly, because it can get stuck to itself while on the rack. The Y-shaped rack makes it easy to remove bacon, but also makes the cooking aspect of it a little iffier.
Pros:
Cook up to ten slices of bacon at a time while draining 35% of its fat.
Cons:
Leaves you with half-folded pieces of bacon rather than perfectly flat slices.
---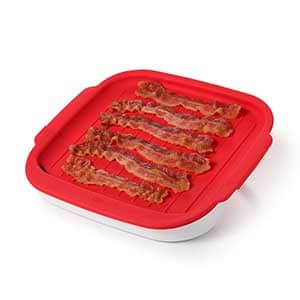 What You Will Love: The stylish OXO Cooker comes in two parts: a ridged tray that separates bacon from the grease, and a shallow bowl that catches the grease and can be emptied out easily.
We love the adjustable kickstand that comes with the OXO Cooker, in addition to the ability to take apart the cooker and store in flat. As another advantage, the OXO Cooker comes with a special OXO guarantee.
Bring some flair into your kitchen with the brightly-colored OXO Cooker. Uniquely built, the OXO Cooker features a thin, ridged tray that is placed on top of a grease trap.
The grease just flows off the lid and into a shallow bowl beneath, where it can be easily disposed of. The OXO microwave bacon cooker is perfect for draining large amounts of liquid from anything cooked, including items being defrosted.
A special, adjustable kickstand makes it easier to drain grease, regardless of the food that's being cooked. The entirety of the device can also be folded flat, for easier storage.
This is one of the best bacon cookers available, as the entire system can be modified and customized depending on what you're cooking, and you can clean it very easily.
OXO offers a special guarantee: if you aren't satisfied with their product, you can get it returned or replaced.
While the OXO Cooker is a little more expensive than some of the other options, it definitely pays for itself in terms of versatility and ease-of-use.
It's also completely BPA-free, safe for cooking at hot temperatures, and dishwasher safe.
A slightly different model of the OXO can be used to cook eggs as well as bacon, making it the perfect set for those fast and easy breakfasts.
The only downside to the product is that it's fairly large, which means it won't fit into smaller microwave ovens.
It also doesn't have a splatter guard available, which means it may splash oil around the interior of the microwave oven if an additional topper isn't used.
Pros:
Adjustable kickstand
easy-to-empty grease trap
and OXO special guarantee.
Cons:
A little more pricey than the other options
and having extra parts makes it more difficult to clean.
---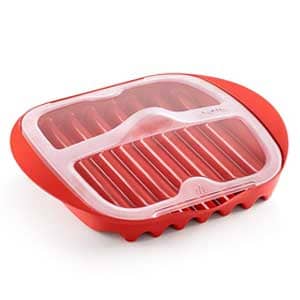 What You Will Love: An attractive, bright red, deeply grooved tray makes bacon cooking a trivial task, with the Lekue Microwave Bacon Cooker. We love the no splash lid, simple design, and stylish look of this bacon cooker, as well as a special integrated drain spout that makes clean up easier.
Deep, rounded ridges distinguish the Lekue microwave bacon cooker from the other options.
Rather than having a separate oil tray or oil catch, the Lekue Microwave Bacon Cooker is instead made out of a single piece (with lid) that has deep ridges which collect the grease.
These ridges provide for perfectly cooked bacon every time. An additional lid ensures that your microwave remains splatter-free and the entire device can be used for up to six pieces of bacon at a time.
The tray is minimalist and makes excellent use of space, with an integrated drain spout that makes draining the grease out of the device simple and fast.
The clear lid means you can spy on your bacon while it's sizzling (and take it out when it's done), while the large handles make it easy to remove once cooking is complete.
The Lekue is a simple, elegant option, and while it's not as affordable as some other options, it's definitely designed to be attractive within your kitchen.
With a bright red design and attractive, rounded corners, it can double as a serving tray as well as a bacon cooker. It's made with a special heat-resistant plastic material that's safe to use.
Unfortunately, cooking with the Lekue appears to be a little erratic when it comes to larger and thicker slices of bacon: it seems to be best for smaller slices of bacon that are sliced regular.
Longer slices of bacon may not fit in the device, and the deep ridges appear to lend itself to some uneven cooking. Nevertheless, with some experimentation, it's likely possible to get the perfect slice.
Pros:
Integrated drain spout
splash guard lid
and attractive design.
Cons:
A little too small for larger slices of bacon.
---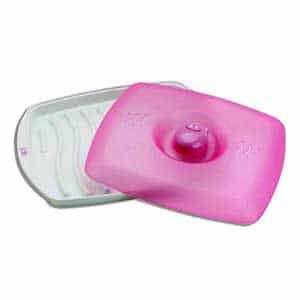 What You Will Love:A cute little piggy decorates the top of this Microwave Bacon Tray, which is designed with smaller microwaves in mind. We absolutely adore the small format of this bacon tray, along with its simplicity and ease of use.
The Joie Piggy is an affordable, splatter-free bacon tray that can cook up to five slices of bacon at once.
A small format bacon tray, the Joie Piggy lets you cook four to five slices of bacon at a time. With a cute pink piggy design, this is a whimsical addition to any kitchen.
The small, simple white plastic tray has shallow drainage grooves, which nevertheless promote crisp, cooked bacon. The splatter lid prevents your microwave from getting greasy while the bacon cooks.
While this is one of the simpler items on this list, the Joie Piggy Microwave Bacon Tray does have an advantage: it's smaller than many of the other bacon drays available.
If you have a small or mid-sized microwave, this bacon tray is for you. Also, if you only cook four or five strips of bacon at a time, the other bacon trays may be excessive.
This is a simple product that is easy to clean, with the special design of the tray top adding a bit of flair. It can be wiped off and placed in the dishwasher for easy cleaning, especially because it doesn't have any special tray or oil catch.
It cooks bacon quickly and is the perfect solution for those who frequently want to cook greasy or oily foods. It can be used for more than just bacon, too.
One of the more affordable options on this list, the only real downside to the Joie Piggy is that it is smaller: if you want to cook a lot of bacon at once, you won't be able to.
The Joie Piggy also doesn't have very deep grooves, which means that it may not be able to cleanly cook bacon that has a lot of additional grease. Still, it's a great budget option.
Pros:
A uniquely cute design
simple construction
and small format.
Cons:
Can't cook more than five slices of bacon at a time.
---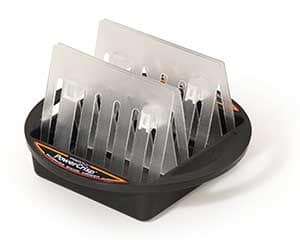 What You Will Love: The Presto PowerGrip is a large bacon cooker rack that can cook up to ten strips of bacon at a time. Once cooked, bacon can be easily released from the rack with the use of a knife.
A large tray collects grease underneath the bacon cooker rack, and the rack itself is simple enough that it can be easily stored and cleaned.
Cook up to ten strips of bacon at a time with this impressive bacon cooker rack, designed to cook large amounts of bacon with the perfect crisp each time.
The Presto PowerGrip comes with angled, vertical racks, which hold the bacon away from the fat. All the fat and grease flows into the tray from the racks, ensuring that the bacon cooks thoroughly without being doused in unhealthy grease.
Many people find racks superior to the trays, as racks make it easier to clean large volumes of bacon within the same footprint. Racks also drain oil more effectively, as they are able to leverage gravity to drain all the oil away.
Racks are a little more complex than trays, though, and sometimes require some amount of assembly. The PowerCrisp has a deep tray that catches all oil and grease, which can be emptied out afterward for easy cleaning.
It comes complete with large handles, so the bacon cooker can be removed from the microwave quickly and easily.
The simple format of the device makes it easy to wipe off and clean, and there aren't any grooves or dips that have to be washed out. This rack is perfect for cleaning exceptionally large volumes of bacon at once, though there may be some issues with splatter because it isn't covered.
The slots on the racks make it easy to remove the bacon once it's been cooked, and the heavy-duty plastic is durable and long-lasting. This is undoubtedly one of the best-standing bacon racks available on the market.
Pros:
Cooks up to ten pieces of bacon at a time
drains all oil into a large
waiting tray
easy to clean.
Cons:
May splatter inside of the microwave.
---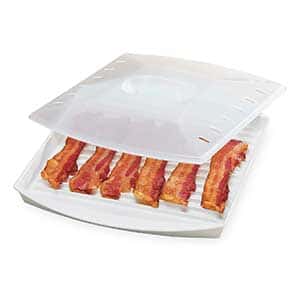 What You Will Love: The Prep Solutions Microwave Large Bacon Grill features a fantastic, vented cover, which keeps the rest of the microwave clean while cooking bacon thoroughly.
A versatile cooking option, the Prep Solutions can cook large volumes of bacon at once, and can be cleaned directly within the dishwasher. We love how affordable this large bacon grill is.
By far the most affordable option, this Microwave Large Bacon Grill doesn't skimp on quality.
With a special, vented cover, this large bacon grill is able to cook evenly, while the deep grooves at the bottom make sure that anything cooked inside of it remains crispy.
With its large capacity, the bacon grill can cook up to six strips of bacon at once. All the extra grease within bacon and other foods just drain away, making the food healthier, too.
The special vented cover on the bacon grill reduces splatter (so you don't need to clean your oven every time) while also making it easier to remove the bacon grill from the oven itself.
The grill is multi-purpose: it can be used for any greasy food, ranging from pizza rolls to sausage.
BPA-free, the Microwave Large Bacon Grill is safe to use at high heats and can be placed into the dishwasher to clean it. It's a simple, no-fuss tool that can be tossed into the microwave at any time for the perfect bacon, every time.
And not only will the bacon be cooked perfectly, but you can cook bacon faster than ever for those large breakfasts.
It should be noted that the size of this bacon grill means that it may not be able to be used in smaller microwaves: though it'll fit, it won't turn.
Further, the bacon grill is a little more lightweight than some other options, which means it may not be as durable as some other bacon grills on this list.
Pros:
Affordable and high capacity
with a special lid that cooks thoroughly
keeps your microwave clean.
Cons:
Made out of thin plastic and cannot fit in smaller microwaves.
---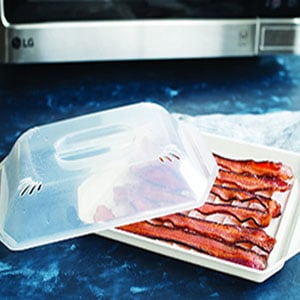 What You Will Love: The Nordic Ware 60109 Bacon Rack with Lid comes with an elevated rack for cooking bacon in the microwave. The rack enables fat to drip off, offering the option to discard it once you are done. It is not only made for bacon, but is highly versatile, allowing the user to cook sausages or hotdogs as well as bacon.
Cooking bacon is one of the dirtiest jobs one can do. With fat splattering all over the place, it can be hard to contain the mess.
The Nordic Ware 60109 Bacon Rack with Lid is an angled rack with a wide base that contains all the splatter from cooking fat. The elevated design enables the user to get rid of the fat and adds a crispy texture to the cooked product.
Because it's BPA and Melamine free, it's a safe choice that avoids harmful additives that have been linked to many profound diseases. The tray itself is made from a durable, plastic-like substance, and is easy to clean.
It's designed to prevent sticking, but since it's not recommended to put it in the dishwasher, cleaning it can be a bit of a challenge.
Overall, it is a large tray that is helpful when cooking a variety of different meals. It is an effective bacon rack that saves you from unnecessary messes. An additional five-year limited warranty will definitely add some peace of mind and give you value for your money.
Pros:
Effective for fat-free cooking
Easy to clean
Affordable price
BPA and melamine free
Cons:
Not recommended for dishwashers
---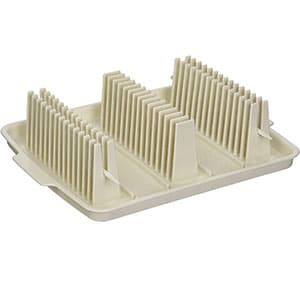 What You Will Love : The Emson microwave cooker is a multiple strip cooker that can handle up to fifteen pieces of bacon at one time and will keep each strip cooking evenly with the vertical rack design. The tray below lets the grease slide off the bacon strips and into the tray so you don't cook the bacon in the fat.
Lowers Cholesterol
This microwave bacon rack is a great way to make bacon healthier because it cuts the amount of fat and cholesterol that you eat so it is less harmful to your body. It also separates the grease from the bacon so it's not cooked in it.
Cooks Evenly
This bacon rack and cooker ensure that each strip of bacon that is cooked is done so evenly because of the vertical racks that keep each piece in a straight line. This also keeps each piece from collecting grease.
Dishwasher Safe
This bacon strip cooker makes cleaning up after cooking very easy because there is no need to scrub the tray yourself since you can place it in the dishwasher for deep cleaning. This makes cooking and cleaning up take less time.
Pros:
Holds up to 15 bacon strips
Cooks bacon evenly
Holds grease in tray
Lessens fat and cholesterol
Dishwasher safe
Cons:
Tends to come out drier than if bacon was fried
Plastic sustains damage with frequent use in high heat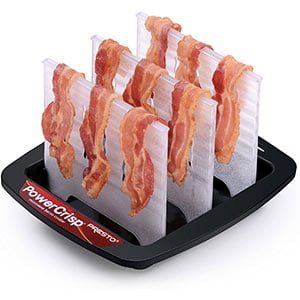 What You Will Love: The Presto microwave bacon cooker rack is a twelve-strip bacon cooker that keeps your meat from coming out greasy and fattening while cooking at a faster pace than frying would. The deep base catches the grease and fat instead of letting it cook into the bacon strips and takes only a few minutes to cook all twelve strips.
Easy Cooking
This bacon cooker makes cooking easy because you don't have to do anything but put the strips of bacon on the rack and place it in the microwave. There are no hard to reach areas for cleaning so scrubbing it clean is easy too.
Remains Crispy
The bacon cooker makes sure that the strips of meat are not overdone or dry by keeping them crispy with the use of vents in the racks that make them cook evenly no matter what rack they are on.
Easy To Store
This microwave bacon cooker comes with racks that can be taken apart and placed inside the tray for a simple and compact storage solution. This is easy to place in a drawer or in a cabinet without taking up much space.
Pros:
Holds twelve bacon strips
Less grease and fat
Cooks evenly on each rack
Dishwasher safe
Bacon comes out crispy
Comes apart for compact storage
Cons:
Plastic is not very durable with high heat
Still needs a paper towel over bacon to keep from splattering
---
What Are The Best Features of Microwave Bacon Cookers?
Bacon cookers come in both trays and racks, depending on the amount of bacon you want to cook (and how committed you are to get rid of the grease). With that in mind, some of the top features include:
Tray Or Rack

Trays are simpler and smaller, but they can't cook as much bacon at once as racks. Racks tend to be able to drain off more grease, because they have the advantage of gravity, but trays may cook the bacon more consistently (and flatter).

Effectiveness

Not all microwave bacon cookers are made equal. Some may have more shallow grooves or different designs that mean that they drain less grease than the competition.

BPA Free

Heat Resistant Plastics. To survive in the microwave, plastics need to be durable. And to be healthy, they need to be BPA free. Cheap bacon cookers purchased internationally may not always be safe.

Splash Guards

Microwave bacon cookers without splash guards can easily lead to a mess in the microwave, even if the bacon comes out perfectly. Trays can have splash guards, racks cannot.

Size

How much bacon do you want to cook? That will impact the best option for you. Trays can usually cook up to six pieces, while racks can cook up to ten.

Ease Of Cleaning

The more pieces a bacon tray or rack has, the less likely it is to be easy to clean. Sometimes it's a trade off: some of the best trays have deeper grooves, which are harder to clean but produce better results.

Cost

Most of the trays and racks available are fairly affordable. However, the more expensive options don't necessarily mean that they're better. You can get a very good bacon tray on a budget.
All of these features were considered when we were ranking our best microwave bacon cookers. We've included a complete selection of the best-of-the-best below.
---
Things To Know Before Buying Bacon Cookers
If you're looking for the best microwave bacon cooker, you should first decide whether you want a rack or a tray. From there, you can look at the specifications of each to see which option is best for your cooking style and needs.
Brand And Warranty
A reliable brand often means high-quality—as does a good warranty. Some microwave bacon cookers come with no warranty at all, while others come with up to a five-year guarantee.
If you're going to be investing in a product, it's better to get one that you know you can return for any breakdowns or defects.
Ease Of Cleaning And Use
A bacon cooker shouldn't be difficult to use, but it can be difficult to clean. If there are multiple parts, deep grooves, or strangely-shaped trays, the cooker may be difficult to empty and clean.
Grease is difficult to manage on its own: it can't be poured down drains without damaging them. You need to look for a bacon cooker that's easy to manage.
Consistent Cooking
Some bacon cookers are more consistent and reliable than others. Often, this depends on the depth of the tray, or the arrangement of the racks.
We've created a list that is filled with the most consistent and reliable cookers out there, but others may cook unevenly, leaving some bacon raw or burned.
Cooking Capacity
How much bacon do you normally prepare every morning? If you don't need the capacity of a bacon rack, a bacon tray may be easier to manage.
Of course, also keep in mind that any bacon rack or tray will usually cook at about a rate of one minute per piece of bacon: you can always load it up with new bacon later.
Color And Style
When it comes to appliances, sometimes style matters. The bacon cookers on our list all have attractive appearances, and many of them can also be used as serving trays.
---
Final Verdict: Best Microwave Bacon Cookers
Using a microwave bacon cooker is a great way to make bacon that is not as fattening and unhealthy as when it is fried.
These racks and trays make it easy to cook and clean up faster than with any other cooking method and any of the options on this list will get the job done right.
If you opt for our top pick you will not be disappointed, but even if you choose to go with one of the alternatives, you will have a bacon cooker that you are sure to love.
Thanks for reviewing our best microwave bacon cookers list! Stay tuned for more exciting information from the BestPickist.
More Microwave Bacon Related Products
Nonstick Bacon Drip Rack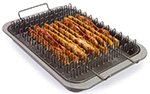 Microwave Fried Egg Bacon Cooker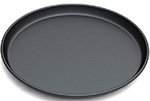 Smart Planet Bacon Master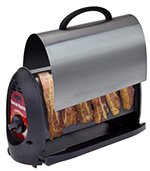 ---
How To Cook Bacon In The Microwave
Super fast and easy way to cook bacon in the microwave
Insanely easy and convenient way to cook bacon in the microwave
---
More Related Articles:
---