Quick Summary: Our choice for the top pick of these options is the Zuhne Ventus Kitchen Wall Mount Range Hood because it is made for eight, or nine-foot ceilings, which are common. It also offers great filtration and excellent LED lighting while adding a sleek and contemporary look to a typical kitchen.
Your kitchen is the busiest room in the house, especially when you're cooking! With all the frying, steaming, boiling and, dare I say it, burning, going on, ventilation is critical. That's why it's essential to have one of the best ductless range hoods money can buy!
They're especially designed to keep the air in your kitchen as clean as possible. They remove smoke and grease so that you can rest assured that the air you're breathing is safe. This is especially important in homes where people might have breathing/lung problems.
When deciding which ductless range hood to buy you need to ensure it suits the cooking you do and your kitchen space. Some are very large so make sure you measure up. As you're cooking you might prefer a product with LED lights so it's easy to keep an eye on.
You might go for touch-panel which is quick and easy to use and keep clean. Perhaps you'll want adjustable motor speeds? If clean air is really essential to the people in your home then go for carbon filters. Take a look at our top 10 ductless range hoods now, so you can choose the ultimate choice for your home.
Quick Navigation:
---
10 Best Ductless Range Hoods Comparisons
---
Reviews of Top 10 Ductless Range Hoods
Here's a list of the top best ductless/non-vented range hoods review on the market today:
Best Overall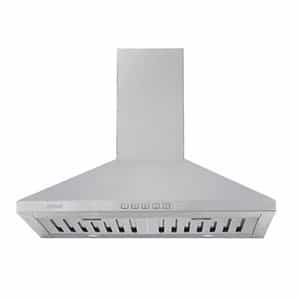 Okay, now we get to look at one that has earned its reputation as one of the best hoods with a sleek and stylish wall-mounted design, great fan speed, and easy to clean filters.
The manufacturer states that it meets all building codes for electrical appliances in the United States and Canada. Simple buttons offer quickly on/off function for multiple fan speeds and the bright task lighting.
Whether you install it yourself or have your contractor finish up the job, it will look absolutely amazing over your new cooktop. It does not have a low or night-light option, which can be nice for those late night excursions to the kitchen.
If your ceilings are over 8-feet tall, you will need to purchase an extension for the chimneypiece. The baffle filters are neatly hidden beneath an easy to open panel on the bottom of the unit and the grease trap can be washed in the sink or dishwasher.
Pros:
Looks and performance are outstanding
Powerful fans are designed for quiet operation
Manufacturer backs their product
Cons:
No night light setting
Requires additional parts for higher ceilings
---
Best Budget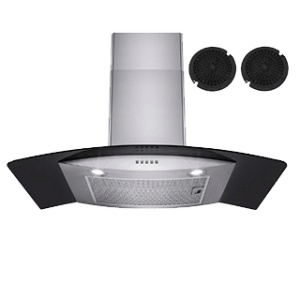 For the contemporary upgrade, the Firebird wall mount is the ductless hood when looking for superior performance in a modern design.
This stunning piece offers tons of great looks without totally blowing the budget while ticking off all the top features on your shopping list. Its powerful fan moves 380 CFM of air and uses both an aluminum mesh filters and charcoal filters to remove as many smells as possible from the room.
When the grease filter gets clogged, you only have to unclip it and toss it in the dishwasher to restore performance. Easy to understand buttons operate the 3 fan speeds and the two LED lights. However, when the fan is running at the highest setting it can be very loud and the lights are not as bright as you might need.
The chimneypiece is modular so you can add extra height for tall ceilings. There is no heat sensor. Some users have reported problems reaching customer service and there is no mention of a warranty, so you may struggle to get a defective unit repaired.
Pros:
Beautiful stainless steel contemporary design
High airflow rating of up to 380 CFM
Easy to clean filter
Cons:
Customer service may be a problem
LED lights are not as bright as they should be
Fan is noisy at highest setting
---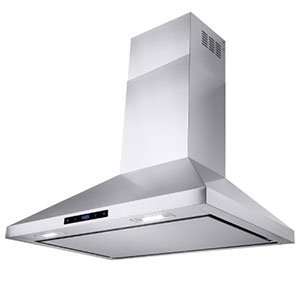 The AKDY has all the features you might look for in a great hood, but unfortunately, its performance does not stand up to its specs.
You might think it is the best range hood with its 400CFM, 4-fan speed, and brilliant LED lights, but if you check with its users most of them are thoroughly disappointed with the purchase.
This duct-free range hood is brushed stainless steel and sports a very contemporary, angular design that works well with the latest is kitchen decor. It is able to fit ceilings up to 10-feet tall with an additional chimneypiece extension, but now for the reality check.
Its construction is subpar with poorly welded joints, filters that don't align with their mounting points, and wall brackets that don't work with standard 16-inch stud home construction. So, you spent the same money as a better unit but end up with one that you can't even mount properly in your home. Don't waste your money.
Pros:
Strong fan
Excellent lighting
Cons:
Poorly built
Not easy to install
---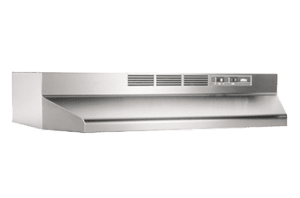 If you are upgrading to a new stainless stove and want to switch out your old range hood on a budget, the Broan under-cabinet hood is the recirculating range hood to meet all your basic requirements. They also offer the unit in a variety of designer finishes.
It features a 75-watt light, providing tons of light for cooking. Simple controls offer a high and low-speed fan, but only has a rating of 180 CFM. This ductless range good has only a charcoal filter that you cannot clean, so you will be replacing it every six months for the best performance.
Pros:
Low affordable price
Multiple finishes to match your decor
Easy-to-Use Controls
Cons:
Low airflow rating
Only a replaceable charcoal filter
No automatic sensors
---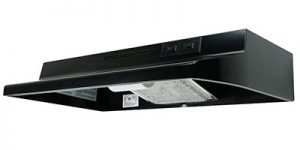 Sometimes you simply need a hood that will perform as expected while keeping your budget in control.
The Air King Advantage is one of the top recirculating range hoods for under-cabinet installation that works with your current decor and doesn't require a major investment. It features classic styling found in many homes and apartments across the nation.
Now, it is not the most powerful unit with a rating of 180 CFM and uses a combination of charcoal/grease filter that requires replacement instead of washing. It uses a standard 60-watt bulb and has two light settings. It is simple and will answer your need for a ductless under cabinet hood without fuss.
Pros:
Budget-friendly
Works with most kitchen designs and decor
Great for apartments
Cons:
Low airflow rating
Filter is not washable
---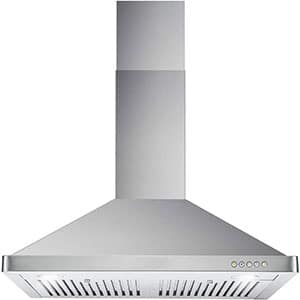 What You Will Love: The Cosmo 63175 is a 30-inch option that is wall mounted range hood that doesn't have a duct and that has a chimney-style that allows you to reduce the amount of smoke while you are cooking on the stove and add some flair to your kitchen.
Modern Design
The Cosmo range hood has a contemporary style that adds a modern look to an outdated kitchen and comes with a sleek stainless-steel build that keeps it looking brand new and shines when it is clean.
Quiet Operation
Although this range hood offers a lot of power, it doesn't make a lot of noise and disturb the others in the house. You can still listen to music or have a conversation over the sound of the motor without feeling like you have to yell.
Dishwasher-Safe Filters
This Cosmo 63175 range hood model comes with baffle filters that can be reused again and again because they can be washed in the dishwasher. This makes it easy to clean when the filters begin to get too clogged and it costs less money to maintain.
Pros:
30-inches in width
Chimney style look
Modern design
Quiet operation
Dishwasher-safe filters
Cons:
At full power, it can get pretty noisy
Not easy to install
---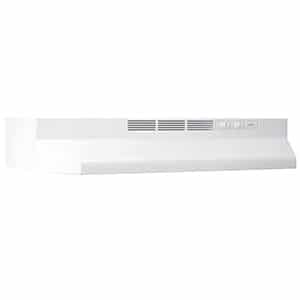 What You Will Love: The Broan-NuTone 413001 non-ducted range hood that is made to be placed under-cabinet and is a better filtration system for reducing the smoke that accumulates as you cook. The range hood comes with lighting and filters to reduce smoke while giving better lighting as you cook on the stove.
Protective Lighting
This Broan-NuTone 413001 range hood model has a protective lamp that evenly gives light over the space of the stove and makes cooking at night or in dim lighting much easier and safer. This lamp is able to work with up to a 75-watt bulb.
Replaceable Filter
This Broan-Nutone range hood comes with a replaceable and removable charcoal filter that captures grease and prevents nasty odors from forming after cooking multiple items on the stove. Just replace them with a new filter for a better, fresher scent.
Separate Switches
This range hood doesn't have to work as a filtration system and lamp at the same time, all the time. The separate switches allow you to use only one function at a time if you need to only use the light or only use the fan speed.
Pros:
Under cabinet design
Has protective lighting
Takes up to 75-watt bulb
Replaceable filters
Separate switches
Cons:
Doesn't come with a power cord
A higher price than would be expected
---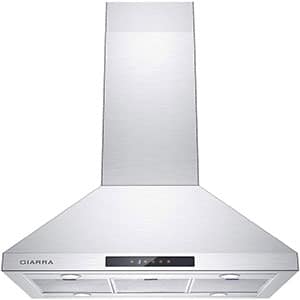 What You Will Love:The CIARRA ceiling mount range hood is a ductless option that comes with the ability to convert it to a ducted version if you need it. The chimney-style hood attaches to the ceiling and provides a newer hood option for older houses that is more updated.
36-Inch Hood
As most range hoods hover around the 30-inch mark, the fact that this option is 36 inches means that you will get a wider filtration area and reduce more smoke at once. It also gives a better fit to a larger kitchen with stainless steel appliances.
Aluminum Filters
This CIARRA range hood model is ductless and comes with aluminium mesh filters that are removable and built from aluminum. This makes the filter longer-lasting and allows you to easily change them out whenever you need to.
4 LED Lights
The CIARRA 450CFM range hood has four LED lights that are built into the hood and makes shining light on the stove very easy. The brightness of the LED lights covers a large area of the stove and preparation area for night or dim-lighted cooking.
Pros:
Chimney-style hood
36-inch width
Removable filters
Aluminum filters
Cons:
Doesn't come with trim that covers the mounting bracket
Too low for standard eight-foot ceilings
---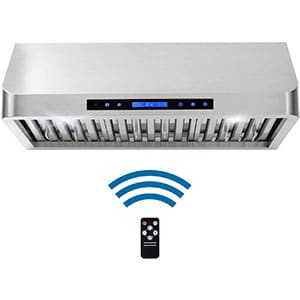 What You Will Love: The Cosmo QS75 is an under-cabinet option of range hood that is ductless and can be converted to ducted if needed. The permanent filters make it easy to clean them out when they get clogged and some parts of the hood are even dishwasher-safe.
Convertible With Kit
This Cosmo QS75 ductless range hood comes with the ability to be turned into a ducted model with the use of a conversion kit. This is not included in the purchase and must be bought separately for those who want it to be converted.
Permanent Filters
This Cosmo QS75 range hood has filters that are removable for cleaning but are designed to be a permanent part of its build. Just take out the filters and scrub them clean and put them back in the hood to reuse them over and over again.
Dishwasher-Safe Parts
The permanent filters can be hand washed if you prefer to do so, but these filters can actually be tossed in the dishwasher for easy cleaning.
Pros:
Under-cabinet
Convertible to ducted
Permanent filters
Dishwasher-safe filters
Cons:
Lights don't work as well
Instructions are very hard to follow
---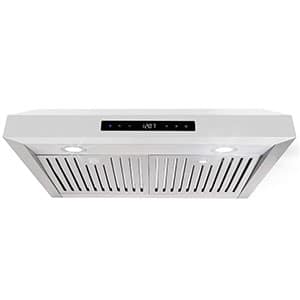 What You Will Love: The Cosmo UMC30 is an under-cabinet hood that works as a filtration system and kitchen vent over your stove to reduce smoke while you are cooking. With a powerful stove vent with LED lights, this model is ideal for any kitchen.
Quiet When Running
Although the power of these range hoods are high, the sound level of it is low. The high setting can be heard clearly, but the low and medium settings are very quiet as to not disturb anyone else.
Easy-Clean Filters
The filters on this hood model are stainless steel and can easily be cleaned off and by hand or in the dishwasher. The steel will last a long time even with consistent dishwasher cleaning and will look new.
Contemporary Style
The Cosmo UMC30 has a new and modern style that feels more contemporary and will help to update any older range hoods to fit a newly remodeled kitchen or to begin the process of updating.
Pros:
Under-cabinet
LED lights
Quite operations
Dishwasher-safe filters
Contemporary style
Cons:
Installation can be pretty tough
No instructions on where to place the filters
---
How to Choose Good Ductless Range Hoods
Whether you are ordering a hood over the internet or checking out options for the best ductless hoods at your local DIY store, make sure to check the specifications of each unit before leaping on the lowest price option to avoid disappointment in the future.
A Perfect Brand: Look for hoods by Zuhne as they offer all the right finishes in a wide range of products that are known for their reliability and performance by builders and contractors around the world.
Budget: Expect to spend between $75 and $300
Wall-Mount vs. Under-Cabinet Design: If you have cabinets over your stove, you will need an under-cabinet design. Wall-mounts won't look right or fit in your space.
Airflow & Filtration: Make sure to look for the specifications on the airflow-350 CFM or better is recommended. There should be both a charcoal and a grease filter.
Built-in Lighting: This is a great opportunity to improve the task lighting over the stove.Look for high lumens, as LED lighting does not correlate wattage and brilliance like older lighting systems.
Easy-to-Clean: Your ductless hood only works with clean filters. Ensure the design offers easy to remove and wash filters.
---
What are the Top Features of the Best Ductless Range Hoods?
While you will likely be looking for duct-free range hood that complements the style of your appliances and cabinets, there are a few functions you should consider before deciding on which one is right for you.
High airflow with quality aluminium mesh filters: Look for a high CFM (cubic-feet-per-minute) number on the fan included with the hood. 350 to 400 will be able to exchange the air quality in your kitchen quickly. There should be a charcoal and aluminum filter to catch grease, odors, and smoke.
Heat sensor: The hood should be able to sense when the heat over the stove gets too high and automatically switches on the fan to start filtering smoke from burnt foods. It should also shut off when the sensors detect no more excessive heat.
Dishwasher friendly: The aluminum mesh filters work better when they are cleaned regularly. So, They should be able to be tossed in the dishwasher for simple service.
---
How ductless range hoods work
With ducted range hoods, the smoke-filled air from cooking is ventilated outside. Alternatively, if you have a recirculated range hood it uses a blower or fan with charcoal or carbon filter to suck up smoky particulates.
Then, the air quality is filtered and recirculated back into the kitchen. Since the filtered air is recirculated, consider that a range hood may cause some humidity in your kitchen. The higher the CFM on your range hood the more air it will take in and as a result, it may be louder. CFM stands for cubic feet per minute.
Some ductless range hoods will do the job quietly more quietly than others. The loudness of a range hoods are measured in sones. The more sones a range hood has, the louder it is. Depending on the brand range hoods can have multiple features including a sensor for heat, the ability to warm food, extension and retraction, and indicators showing when to maintenance the filter.
Ductless is a good option if you have minimal space or budget to work with. Having ductwork installed in your kitchen will certainly drive up the installation costs. If you live in a condo or an apartment that doesn't have access through the ceiling above the stove, you may want to choose ductless over ducted. Kitchens with cooktops need ventilation which will certainly help keep your kitchen cleaner.
The size of your range hood will depend on the size of your cooktop. It needs to cover the entirety of the cooktop area. If you don't have ductwork or a designated place for your air to be filtered, a recirculated range hood is a good solution.

---
How To Clean Ductless Range Hoods
Dirt and smoke can build up on the exterior of the range hood so it will need to be cleaned from time to time. You'll need to regularly replace or clean the filters to avoid the buildup of odors and grease within the home. Filter replacement should take place at least once or twice per year.
While it might seem like a good idea at first to clean the filters themselves, don't attempt to clean carbon filters. They should be removed completely and replaced. It's relatively easy to see exactly where the dirt is on the range hood. You'll see a dull shine build up from grease or you may see little specks dark smoke that can be wiped with a kitchen towel moist with cleaner.
---
Advantages of a ductless extractor hood
The installation of range hoods are less extensive than one requiring ductwork. Ducted range hoods also require an electrician because of their complexity. recirculated range hoods are smaller, easy to install, more affordable.
Oftentimes, they can be installed by a homeowner with some experience doing their own repairs. You can install range hoods where there is no duct located. It is easy to install anywhere and does not have the restrictions that ducted hoods have. The abilities of the ductless model are versatile, it may have a timer that allows you to program it to turn off and on as needed.
---
Ducted vs. Non-Ducted Range Hoods
A ducted range hood draws smoke and smells from your cooking surface and uses a fan to expel the air outside your home through a duct hidden behind walls or in cabinet tops. A recirculated range hood uses filters to remove as much smoke and odor as possible before returning the air to the room. Read more here.
---
Our Recommendation: Best Ductless Range Hood
We have checked out a variety of products in our non-vented range hood reviews. Now, which one is the Best Ductless Range Hood that will outperform your expectations in style and function? Go with the Zuhne Ventus Wall Mount Ductless Range Hood for your kitchen remodel.
If you need a simple ductless hood that will fit in with your traditional kitchen, save a few dollars when you opt for the Air King Advantage Ductless Under Cabinet Hood.
We hope that you have enjoyed reading our review and buying guide on duct free range hoods and it has helped you find the perfect one for your home. Please share your experiences and thoughts about these products with your friends on social media or in the comments section below.
More Related Article:
---