Are you revamping your old kitchen or making a new one? In either case, deciding a suitable type of range hood is an important consideration. Broadly speaking, range hoods can be classified as ducted range hoods and ductless range— numerous options are available for both types. Whichever of these you choose depends on your kitchen setup and the kind of cooking range you have.
Let us quickly do a rundown of ducted vs. ductless range hoods so that you can make a suitable choice.
---
What Exactly Are Ducted and Ductless Models?
Just as the name implies, ducted range hoods have a duct. The smoke and other particles in the kitchen exit from the duct. Though ducted range hoods are fairly common, they are not suitable for every kitchen design. When installing, bear in mind that the duct network must be proper.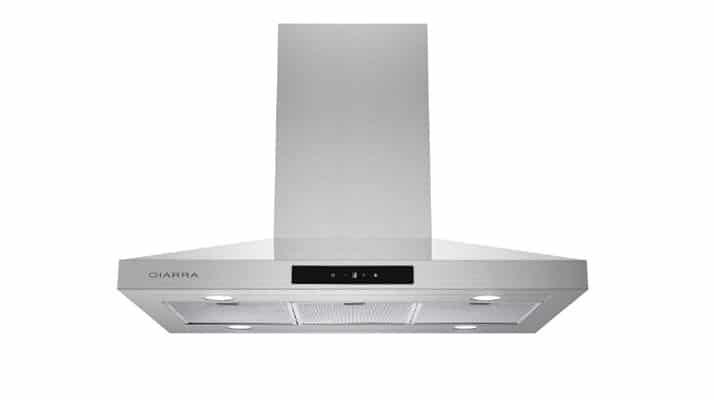 Ductless hoods can be installed in any kind of kitchen, even the smaller ones. They don't require an outlet vent, so can be installed even if there are no ducts. Ductless hoods work on the basis of a recirculation process— they suck in and filter air before throwing it back out into the kitchen in a cleaner form. They often contain charcoal, activated carbon and other similar substances that eliminate odor and some particles.
Should you choose a ductless model, you may have to clean or replace the filter annually or biannually depending on how frequently you use your kitchen.
---
How Effective Are They?
A ductless model reduces airflow when air is forced inside the filters. Generally, such a model can reduce extraction by around 35% when compared to ducted models.
For ducted range hoods, the effectiveness is impacted by the duct type, length and even the number of bends. Shorter ducts are more effective and extract more polluted air than longer ducts. Also, a hood with a lower number of bends performs much better.
While ductless models only remove smoke particles and eliminate odor, ducted models perform an additional function: they also remove steam, preventing the buildup of condensation.
---
Are Any Extra Accessories Required?
If you're planning to install a ducted range hood, a ducting kit, pipes, wall vent and right-angle bends are required. Determine a suitable pipe diameter. Generally, quality range hoods require pipes to be at least 140 m wide. For certain models, a chimney kit may also be required, which has to be purchased separately.
If you are opting for ductless range hoods, charcoal filters are needed, but they are often included in the kit that you buy with the hood.
Now that we have reviewed ducted vs. ductless range hoods, you can easily decide the best option for your particular needs.While ducted versions are efficient, they do have their limitations, especially when it comes to installation. Ductless hoods offer more flexibility, but their filters require frequent maintenance.
Follow our blog for more information about cooking and kitchen equipment.
---
Related Articles:
---