Quick Summary: Our pick for the best bento box has to be the Original BentoHeaven Bento Box. With a classic design, two separate trays and a compact format, the BentoHeaven makes it easy to bring your meals to work in style. Dishwasher safe, microwave safe and large, the BentoHeaven box is suitable to carry a meal, snacks and even condiments all in a single, easy-to-carry device.
Bento boxes are brilliant for packed lunches for anyone. However, there are many things to look for when checking out the best bento boxes. Check what materials are available. Some of the bests are made of stainless steel, others of BPA-free plastic.
Plastic boxes are microwave safe, but if you want something more durable that retains heat better, you may prefer the steel boxes. Then there are some models that are even better as they offer plastic containers inside a metal exterior.
Look at the quantity offered as well: the higher the quantity, often the lower the quality. Whether you want disposable or durable lunch boxes is up to you. The best bento boxes are dishwasher safe, or at least are easy to clean. Some models are also easier to open than others.
Do you need an easy-to-open box best for children, or one that's very secure? There's also the style: some have small trays for food, others have individual containers placed inside a larger tube.
How do you know which are the best? Read on to benefit from our careful research that will enable you to select the best bento box for you and your needs.
Quick Navigation
---
10 Best Bento Boxes Comparison
| | | |
| --- | --- | --- |
| | The Bento Heaven Bento box bundle comes with a leak-proof Bento lunch box, divider, utensils, pair of chopsticks and notes. Designed as an original Japanese bento box. | Read Our Review |
| | These 20 stackable bento lunch box containers will allow you to keep your food prepped in advance for the week. Dishwasher and freezer safe, and microwaveable. | Read Our Review |
| | This bento lunch box kit has 5 practical compartments portioned perfectly for a child's appetite, with a design that's drop-proof and has rubber-coated edges. | Read Our Review |
| | This adorable bento box is in the form of a panda face and comes with two separate compartments to separate different dishes. Perfect for carrying a healthy lunch. | Read Our Review |
| | Designed like an original Japanese bento box, this beautiful box comes with a band and a lunch bag with a traditional plum flower design. The two lunch containers are stackable. | Read Our Review |
| | This eco-friendly bento box includes a knife, fork and spoon and has dual layer containers with dividers for compartments, ideal for portion control. | Read Our Review |
| | This stainless steel bento box is the best choice if you need high-quality locks to keep contents secure. The best overall choice for storing food, holding over 6 1/2 cups of food. | Read Our Review |
| | These handy, reusable plastic food containers contain three compartments, making it easy to provide balanced meals for any time of day. Best budget option. | Read Our Review |
| | This set of 25 meal containers are BPA-free, stackable, and are safe for the microwave, dishwasher and freezer. Each bento lunch box has a capacity of up to 32oz. | Read Our Review |
| | If you are looking for the best overall option for keeping food warm, this is the one for you. This jar contains 4 microwaveable inner bowls and retains heat well. | Read Our Review |
---
Reviews of Top 10 Bento Boxes
There are tons of great bento boxes out there. Some of them are made to be used every day, others are part of a larger set. We've created a list of the best overall boxes, budget friendly boxes, best boxes for kids, best steel boxes, and best container boxes.
Best Overall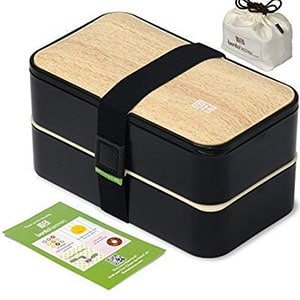 What you'll love: Our top pick, the Bento Heaven Bento Box is a large, upgraded multi-container bundle that comes with utensils, a travel sack and chopsticks. We love how versatile and complete this package is: it's an all-in-one system for anyone who wants to start their meal today.
A stylish, minimalist and classic bento box, the BentoHeaven bento box bundle is perfect for someone who wants a contemporary, permanent lunch box to take to work every day.
With BentoHeaven bento box bundle, you can cook vegetables and rice, separated into leak proof bento box containers. This bento box is designed to completely prevent leaks, even if you just toss it into your backpack or briefcase.
Bento boxes are an excellent way to control the amount that you eat, save money, and adhere to specific diets, depending on what your specific dietary needs are. The Bento Heaven box can be used for adults or children and are versatile enough to be cleaned with the dishwasher or thrown into the office microwave. Since it's BPA-free, it's entirely safe to microwave it.
BentoHeaven comes with two different boxes, including a food divider, an on-the-go set of cutlery, and even chopsticks. BentoHeaven Bento Box comes both in black and white, depending on your style.
It's easy to clean and easy to maintain, and it's designed with special ventilation and sealing that is designed to make it easier to heat your food faster. Don't waste time during your precious lunch break.
With BentoHeaven, you'll be able to continuously alternate between bento boxes, or keep one box for breakfast, lunch or dinner, and another box for a separate meal or snacks. Not only is this an affordable bundle, but it's also a high quality product that will last a long time to come.
Pros:
Smooth inner surface is easy to clean, BPA-free and is dishwasher safe
The bento box is made to be durable, microwave and freezer safe
Silicone sealed lids and ventilation caps allow shorter heating times
Cons:
A beautiful and sleek classic designed box for adults, not as suitable for children
---
Best Budget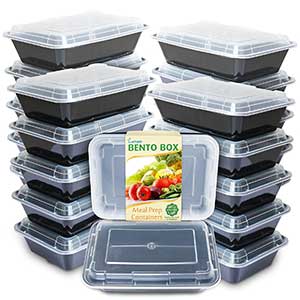 What You'll Love: An affordable, multi-use container, the Enther plastic containers are built to last. Enther containers can be stacked in your fridge or while being transported, and make it easy to prep a lot of meals at one time. We love how affordable these are, really making meal preps easy to do.
Want some containers for prepping meals on a budget? Enther provides containers that are durable and affordable. These containers are durable enough to be used multiple times.
You can take Enther with you in your meal preps bag and throw them directly into a microwave, day after day. This provides you with the ability to constantly take your meals with you on-the-go all the time. BPA-free and microwavable, the Enter containers are safe and easy to use. But their most significant benefit is how affordable they are.
While they're built to last, you can afford to get enough containers that you'll be able to prep a ton of meals at once.
You can save time (or prep meals for a large family) with the use of the Enther Meal Prep Containers. These Enther Meal Prep Containers won't crack or break. You can control your portions of meat, vegetable, rice, salads, or fruits with the meal preps containers, which have dividers inside of them to make them more useful.
These high quality containers have a special guarantee: you can get them returned and refunded if they are damaged within a total of ten uses. That means you can purchase them without worry or risk.
In addition to being able to be microwaved, the Enther containers can also be frozen and washed in the dishwasher: they aren't temperature sensitive.
That makes them easy to clean and maintain, as well as giving you the ability to save your food for longer periods of time in your refrigerator or your freezer. When put away, Enther containers are able to be stacked. There are also dividers within the device for additional portion control.
Pros:
Suitable for microwave, freezer and dishwasher
Allows you to prep food for the week in one go
Leak-proof and stackable containers for easy storage
Durable food-grade plastic that is also BPA-free
Cons:
No separate compartments within each box, although there are dividers
Not as attractive as some other types of bento box
---
Best Kid's Bento Box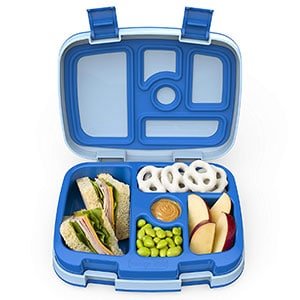 What You'll Love: A great box for children, the Bentgo kids' lunch box is made to be easy to open for children. We love the rubber-coated edges, which prevent the box from getting damaged or spilling open when dropped.
Are you looking for bento boxes for your kids? The Bentgo Kids Lunch Box is specifically designed for children, especially children who are above the age of three or under the age of seven. What does making a bento box for children mean?
For a start, the bento box has a total of five compartments, with these compartments separating different, healthy snacks for your children such as crackers, fruits, and other things created with love in the kitchen.
The latches are also specially designed to make it easier for small children to open it. For better utility for children, these Bentgo boxes have rubber-coated edges, which protect them from being dropped. If children throw them around, they won't damage them.
The container itself is also leak-proof, making it so that the separated areas inside of the lunch box don't infiltrate each other. Many children hate it when their foods mix. Once food is ready to eat, the tray inside of it can be microwaved to heat it up and make it even more delicious.
When the food has been eaten, the dishes can be rinsed out and tossed into the microwave, though the outer shell is supposed to be rinsed off rather than put in the dishwasher. Finally, the manufacturer of this Bento box is a supporter of a non-profit organization called "Feed the Children".
With a two year warranty, a complete manual, and more, the Bentgo Kids Lunch Box compartment lunch box is one of the best supported products on this list, in addition to being an affordable and durable option.

Pros:
Two large latches make this bento style box one of the best to open and close for children
Removable compartment tray to heat food in the microwave
Dishwasher-safe components
Cons:
The outer container can go in the dishwasher but must be washed by hand to retain the leak-proof seal
---
Runner Up (Kids)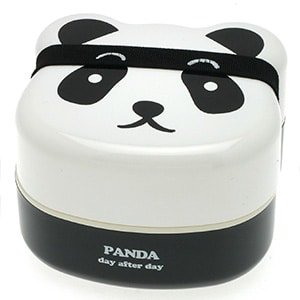 What You'll Love: Whimsical and stylish, the Kotobuki 2-tiered bento box has a panda bear-shaped face. We love that the design doesn't detract at all from the utility of this bento box, which is made from multi-compartment, food-safe plastic.
This adorable bento box has a total of two-tiers, as well as a friendly and enchanting panda bear-shaped face.
The Kotobuki makes meals fun for children, and it's absolutely fantastic either for younger children or people who really love their whimsical side. Though the 2-Tiered bento box is made for children, it's more than large enough to contain large meals.
The two stacked compartments can be used to hold entirely different foods, such as separating rice, meat and vegetables from each other. For children, it can even be used to separate a meal and a snack.
Food-safe plastic means that this compartment tray can be safely used even in high heat environments, and the compartments are dishwasher and microwave safe for convenience.
It's hard to emphasize how cute and unique this Kotobuki bento box is, and for the design it's also surprisingly affordable. This Kotobuki 2-Tiered Bento Box isn't just a meal carrier: it's also a statement. Your child will be able to make all their classmates envious, or you'll become the talk of your classroom or office.
Pros:
Top and bottom compartments are dishwasher and microwave safe
Made of food-safe plastic
Easy to carry and big enough to serve as a lunch bag for adults or for a kids lunch
Cons:
The inner lid is not suitable for the dishwasher and needs to be hand washed
---
Best Traditional Japanese Bento Box
What You'll Love: An elegant plum flower design really elevates this traditional bento box, which is perfect for something simple and easy to use. We love the design of this box, which is as useful as it is attractive.
If you're looking for an elegant, sophisticated, traditional rabbit blossom bento box, this is it. With a plum flower design and made out of food-safe plastic, this stackable lunch box can be neatly placed into a lunch bag.
While it is a contemporary bento box, the plastic updates it and makes it easy to use, while also making it durable enough to take everywhere.
The updated plum flower design isn't too "old": this could be a Japanese Bento Box Set for anyone from a young adult to a professional. These stackable boxes fit into a handy cloth sack for easy transportation, and once the food has been eaten you can toss one container into the other.
The elastic strap keeps everything together easily, so you don't need to worry about them getting loose inside of the sack. Everything together creates a convenient and easy-to-use option. Of course, there are some issues with this bento box: it can't be microwaved and it isn't dishwasher safe.
While it is easy to wash off, it's still not as easy to sanitize as something that can be thrown into the dishwasher directly. And the ability to a microwave can be very useful if your food regularly gets cold, though the insulating properties of the thick plastic can at least keep most things warm.
Pros:
Made of food-safe plastic
Includes a beautiful bag of the same design
Upper container fits into the lower container after eating
Holds up to 2 1/2 cups of food between the upper and lower containers
Cons:
All of the components must be hand washed
Not suitable for use in a microwave
---
Runner Up (Japanese)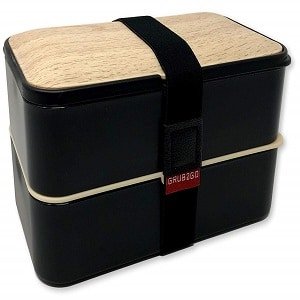 What You'll Love: This popular Japanese bento box is one of the top sellers on the internet. We love the leak-proof containers, which are silicone-lined to be safe to carry anywhere.
Known as the "original" Japanese bento box, with a black and bamboo design, this GRUB2GO Bento Box is sophisticated and elegant.
It has a minimalist design with black sides and a bamboo designed top, which makes it look extremely traditional. A special strap keeps the bento box together and keeps it from potentially coming apart.
Though this is the Original Bento Box, it has been updated to make it larger, with bigger utensils, two dividers and a special holder.
The GRUB2GO Japanese Bento Box are both leak proof, making it possible to carry even liquids with you without spilling them. The lids are silicone-lined, which prevents leaks and also makes it easier to heat food inside of it.
Despite the classy design, these Japanese bento boxes are both microwave and dishwasher safe: there are dishwasher-safe and microwave-safe trays inside of the exterior, which can be rinsed out after use. BPA-free, these bento boxes are versatile and safe. Choose this bento box if you want something that is compact, stylish, and easy to carry.
Pros:
Silicone-lined lids with vents ensure this lunch container is leak-proof
Made of food grade materials that are BPA-free and dishwasher, freezer and microwave safe
Use just one or both containers
Dividers can go anywhere within each container for easy portion sizing
Cons:
There is no bag or handle for carrying
---
Best Stainless Steel Bento Box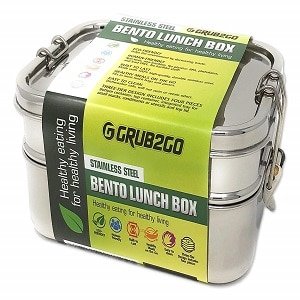 What You'll Love: Want something more durable? This is going to last you a long time, though it can't be used in the microwave. We love the metal-fastened lid, which is adjustable and secure.
Do you want something a little more durable than plastic? These incredible bento boxes feature all metal containers and a metal-fastened lid.
With Securlock Lid Locks, these stainless steel bento containers are going to be locked tight regardless. The lid will be snapped tightly to prevent any leaks even if the box is tossed around while on the go.
If you don't want a conventional bento box, but rather something that's contemporary and stylish, these stainless steel lunch containers are the best choice.
Not only do they have an attractive design, but they're also ecologically-friendly and sustainable because they don't use potentially harmful plastics. Other plastic bento boxes may not be sustainable because they may not be biodegradable.
Since these are made out of food-grade stainless steel, they are completely safe to use for food. They don't have the chemicals that plastics can contain, such as BPA or PVC. GRUB2GO Bento Lunch Box is perfect for those who want to make sure that their food is completely safe, including those who have young children or elderly adults to care for.
These bento boxes are also extremely large, which is advantageous when combined with the locking mechanism. With a large number of pieces, this box can hold a number of sides, main dishes, snacks and also condiments, in addition to utensils.
This is the bento box that you definitely want if you need extra space, but there is a downside: since it's all metal, it can't be microwaved. At the same time, being unable to be microwaved may not be as bad as it seems, since the bento box can retain heat better through its metal walls.
This stainless steel bento box is the best choice if you need high-quality locks to keep contents secure. The best overall choice for storing food, holding over 6 1/2 cups of food.
Pros:
Made of the best stainless steel materials for maximum durability
Bottom compartment fits condiment trays or cups
Integrated tray for snacks, condiments or utensils
Integrated locking clips are adjustable for tightness
Large capacity (6 1/2 cups)
Cons:
Not 100% leak-proof as there are no plastic or silicone components
Not insulated
---
Best Plastic Bento Lunch Box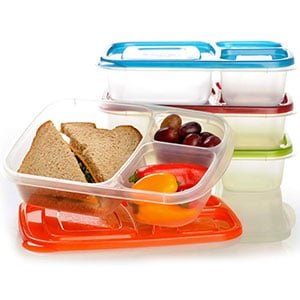 What You'll Love: Great for children, the EasyLunchboxes lunchbox containers are an easy way to bring snacks and meals with you, though they aren't leak proof. We love that this box gives options for those who may not have the dexterity to open a traditional box.
Specifically designed to be easy to use, EasyLunchboxes are perfect both for children and adults who may have dexterity issues.
There are three compartments in each of these bento boxes, making it possible to add a main meal and multiple sides or snacks. However, because the easy-open lids are designed to be opened by children, they are not leakproof. They cannot be used for soups or condiments.
Despite the fact that the lids aren't entirely leak proof, they still aren't going to come off easily. With three compartments, you can create healthy meals with anything you want, or just place leftovers in the refrigerator for later.
The food can be reheated in a microwave, stored indefinitely in the freezer or placed in the dishwasher to clean them.
When storing the for long periods of time, the bottoms are able to be nested and the lids can lay on top. If you're looking for cheap plastic containers for a meal prepping that are nevertheless extremely durable, this is a fantastic option.
Not only are they cheap, but they also come in sets that can be used to make multiple meals at once. These meals can be safely stored as long as they aren't too liquid. These EasyLunchboxes meal containers also come in multiple colors, for different styles.
Pros:
Save money with these boxes that are cheaper than other options
Easy-open lids for children
Microwave, dishwasher and freezer safe, BPA-free and stackable
Comes in a set of 4 with a different color for each day
Cons:
Not as stylish as other bento box options, as these are plastic compartmentalized boxes
---
Runner Up (Plastic Bento Box)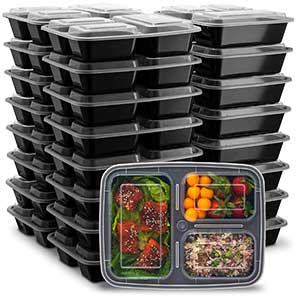 What You'll Love: The Ez Prepa is an affordable option that comes in 25 packs. We love the large quantities these containers come in, perfect for large meal preps.
If you do a lot of meal preps, you need the Ez Prepa. Coming in a large, inexpensive set of 25, these bento boxes are perfect for making multiple meals or making meals for a large family.
You don't need to rotate a small amount of plastic containers: instead, you'll be able to do all of your meal prep at once, tossing them into the refrigerator or the freezer for easy storage.
These large containers are bento box style and reusable: you'll be able to reuse all 25. Even though they may be affordable, these containers are dishwasher friendly and microwave safe. They are made from BPA-free plastic and won't leach potentially harmful chemicals into your foods.
These containers aren't the thickest or most durable plastic, but they're definitely one of the more versatile and affordable options, if only because they come in such large sets.
You can prep large amounts of food at home or cook two or three recipes at once, so you can get a variety of healthy foods instead of having to prep one or two meals at a time.
These Ez Prepa Meal Prep Containers are among the most popular containers available. They have two divisions and can be used for a variety of purposes. They are the perfect purchase for someone who wants a lot of options.
Pros:
Each contains 3 compartments so you can prepare complete meals in advance
Large number of containers meaning you are able to pack batches of breakfasts, lunches or dinners for the week and even freeze some for later
Cons:
The design is simple and is made for utility rather than attractiveness
---
Best Bento Jar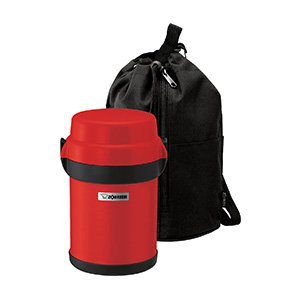 What You'll Love: A compact, sleek unit, the Zojirushi Mr Bento is an insulated lunch jar made of many separate internal containers. While it's a little more expensive than the others, we love its style and durability.
The most trusted name in bento boxes is probably Mr Bento, and Zojirushi maintains a large array of bento products, rice makers and other meal preparation appliances.
With an extremely long-lasting, stainless steel construction, the Mr Bento is special in that it provides an entirely insulated lunch box inside for heat retention. Place a meal in the Mr Bento in the morning and it'll still be hot by lunch.
There are a total of four inner bowls in the Mr Bento (the smaller Mrs Bento comes with fewer), and these bowls can be microwaved and rinsed out afterwards, placed back inside of the container to be carried home.
The Zojirushi Lunch Jar itself can be rinsed off rather than placed in the dishwasher, and it comes with a bag that makes it easier to transport. Mr Bento is a little more expensive than many other options, but it's also stylish and durable. It comes in many different bright, modern colors, and is known to be a high-quality option.
If you want a lunch box that's going to last you a long time, in fun shades and with a durable construction, the Mr Bento is perfect for you.
Pros:
Durable stainless steel construction with excellent heat retention
Washable nonstick coated outer container, BPA-free
Original design that's practical for carrying
Available in a variety of different colors
Cons:
All the bowls are the same size, so not suitable for carrying small portions of sauces or condiments
---
Which Lunch box is Best? Planetbox? Yumbox? Bentgo?
There are many different lunch box options, including Planetbox, Yumbox and Bentgo. These boxes are all traditional cafeteria-style plates that are made from metal or plastic.
But they don't have the traditional bento style. Traditional bento boxes are a little different, in that they attempt to pack everything into an extremely compact, leak-proof format.
The bento boxes on our list are often separate containers that are in a single, larger container, or containers that are stacked into a bento tube. The design and features of these differ from a traditional lunch box.
But when it does come to lunch boxes, Planetbox provides some fantastic metal cafeteria-style boxes, while the Yumbox has plastic cafeteria-style boxes. Finally, the Bentgo boxes are perfect for kids, and one of them even made this list.
---
How to Choose The Best Bento Box?
Bento boxes are perfect for when you want to send a loved one to work or school with a lunch, or when you want to take control over your own diet and eating.
But there are a lot of different types of bento boxes, what bento box should you choose? Here are a few factors you should consider when comparing different types of bento boxes.
Material
Steel and plastic are the most popular materials for bento boxes. Plastic has the advantage of being microwave safe, but steel is more durable and tends to retain heat better. You can get the best of both worlds with plastic containers in a metal exterior.
Cost
Bento boxes can range substantially in price, with the lower end being a few dollars for a single one. Of course, cost directly relates to durability. You may want to have a large amount of essentially disposable boxes or a single high quality one.
Durability
While most bento boxes are made to look similar, the quality of their construction can differ significantly depending on manufacturer. The ones that come in larger quantities will usually be less durable.
Style
Many bento boxes come in small trays that are partitioned for different types of food. Other bento boxes come with individual round containers which are placed inside of a larger tube container. The style really depends on what you're most comfortable carrying with you day to day.
Accessibility
Some children's bento boxes are designed to be easy to open, while other bento boxes are designed to be extremely secure. This depends on the person who is going to be using them and whether it has to be leak and spill-proof.
Quantity
Do you want 2 boxes or 20? This depends on how you do your meal prep. If you want to take leftovers with you every morning, two boxes is enough. If you want to meal prep everything for the week in one day, you need 20.
Cleaning
One of the major goals of these boxes is to save time, so if your bento boxes are hard to clean, it's going to defeat the purpose. Some bento boxes are dishwasher friendly while others are not.
---
Final Verdict: Best Bento Boxes
The right bento box will make your meal preparation extremely easy, but it depends on the type of meal preps you do. We've created a complete list of the best bento boxes out there, depending on your cooking style and what you need from it.
More Related Articles:
---