Quick Summary: We all want to avoid the last-minute panic struggle of finding the best meal prep containers. You might find countless options that are suitable for a specific purpose, but it is rare to get one that can be used for all your needs. Well, you don't have to look any further as our team has finally discovered the ultimate answer to your storage container-hunt. From different tested models, we have found Enther 20 Pack 3 Compartments to be the most versatile, handy, and long-lasting. These boxes are produced with the finest quality of BPA-free plastic and are microwave and freezer safe. The balanced size of its 3 compartments will let you follow your diet exactly the way your trainer recommended For more details and information about other available meal prep containers, please keep reading on as we have included reviews of all the famous brands.
If you want to stay energized and active with healthy home-made food then you must own a good food container. Meal prep containers are usually thought to be products just for storing. However, modern technology has significantly changed and improved their functionality by making them the best food boxes.
Long gone are the days when containers were limited to fridges and refrigerators, instead, the new meal prep containers are lightweight and are hence, extremely convenient to carry around while traveling. Furthermore, most modern boxes are divided into different sized sections which will help you in sticking to a controlled diet.
This unique feature has made these a holy grail for fitness foodies. Not to forget that with the wrong lid meal prep containers become completely useless. Every single container comes with secure, easy to place lids which will help in increasing the life of your food by keeping them fresh.
The stackable design structure of these boxes has made them super convenient to store. Last, but not least every container is available at an economical price rate.
So, stop worrying about those tempting leftovers or about preparing portion-sized meals and check out our list of the best meal prep containers. We have also included the pros and cons of each meal prep container so that you can make a more informed decision.
Quick Navigation
---
10 Best Meal Prep Containers Comparison
| | | |
| --- | --- | --- |
| | Enther's containers are built with the safest and best quality of plastic which means they will not break under pressure. Moreover, these containers can withstand a heat temperature of 250F and can be used to warm food. | Read Our Review |
| | Control your diet by managing the portion size in your meal through MealLab's food storage container. These containers are divided into different parts which can be used to store food. Your food will stay fresh in this container because of its tight fitted lid. | Read Our Review |
| | Organize your meal properly through Bento's one in all lunch box. This container is designed with 3 compartments, with each section being spacious for a generous serving. You can easily warm things in this microwave-safe container. | Read Our Review |
| | These rectangular shaped containers are made with BPA free plastic. Its sturdy lid will protect your food and keep it fresh as new. The compact design helps in stacking them for easy storage. | Read Our Review |
| | Pack your favorite meal in Misc Home containers and carry these lightweight containers anywhere with you. This container is divided into two parts and each compartment is designed in such a way that you can store a balanced amount of food in it for one serving. | Read Our Review |
| | These big, spacious containers are made with borosilicate glass. You will see that this container is divided into two parts, you can use one section for sides and appetizers while the bigger portion can be used for main meals. | Read Our Review |
| | Rubber maid's square-shaped food containers are perfect for preparing on the go meals. These containers come with solid in-built vents that help with keeping your food fresh for long. Moreover, this set of containers is microwave and dishwasher safe. | Read Our Review |
| | Prep natural containers are best for everyday use as its quality remains unaffected after consistent use. These glass containers are secured with a tightly fitted lid which makes these containers leak and spill-proof. | Read Our Review |
| | Bento's smartly designed meal containers have a capacity to store 32oz of food. This container set is produced with high-quality, BPA-free plastic and keeps your food safe from harmful chemicals and toxins. | Read Our Review |
| | Youkius portable and compact meal containers store a balanced amount of food through its 3 containers. These containers are produced with BPA free plastic and are super easy to carry because of its leak-proof lid. | Read Our Review |
---
Reviews of Top 10 Meal Prep Containers
Below we have put together 10 reviews of some of the best containers for meal prep to make it easy for you to reach a decision when shopping that will meet your needs.
Best Overall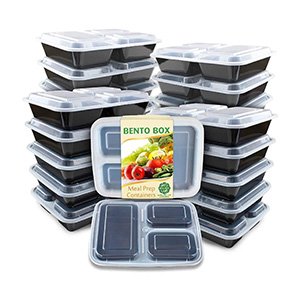 What You Will Love: Built with BPA free plastic-Enther's container is one of the handiest products for storing food. These are divided into 3 compartments. Approximately 36 oz of food can be easily kept in these boxes.
Take your favorite snacks and munchies everywhere with you by storing them in Enther's multipurpose meal prep boxes.
This Enther Meal Prep Container are by-products of BPA free plastic. The biggest benefit of these boxes is that they keep your food protected from absorbing any harmful toxins and chemicals.
The three compartments design structure of these allows you to not go overboard with eating. Every compartment has been given a safe size that will help you in managing the portion size diet.
Even though these boxes are made from plastic, they are still strong and sturdy enough to be used in various temperature settings. You can use these boxes for heating in the oven and microwave as they are heat resistant up to 250F.
Pros:
Made from BPA free plastic
Divided into 3 sections
Comes with a refund policy
Cons:
Difficult to open and close
---
Best Budget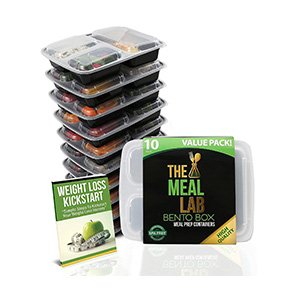 What You Will Love: Apart from the BPA-free material that the containers are made of, these have a dishwasher, freezer, and a microwave-safe.
More to this, the portion control compartments are airtight, making it possible for the boxes to provide you with healthy and fresh meals even after storing it for a while.
This set is made up of ten boxes, each with three compartments to store your meals separately, containers that can be stacked for easier storage. The divider design of the storage containers makes it ideal for meal prep.
Pros:
Easily stackable
Great for office lunches
Dishwasher safe
Perfect separation
Cons:
Difficult to clean
Material is a little brittle
Lids crack easily
Not truly leak-proof
---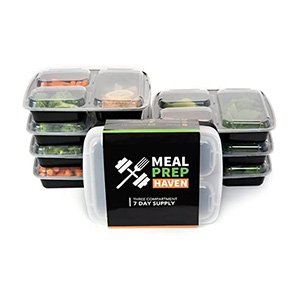 What You Will Love: The design of these Bento Boxes features durable plastic, a double-snap seal, and an airtight lid to prevent spilling and spoiling.
In fact, they are so long-lasting that the manufacturer gives you a lifetime warranty.
With an excellent interior for portion control to prevent cross-contamination, it is also a great tool for maintaining weight.
Moreover, the containers are microwave safe, dishwasher safe and freezer safe, making it possible to reuse them.
Pros:
Ideal for a single person
Large capacity
Lightweight
Easy to clean
Cons:
Lids are easily breakable
Lids do not seal properly
Separate compartments are not leak-proof
Not good for transporting meals
---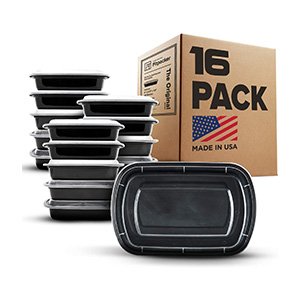 What You Will Love: The Fitpacker meal prep containers are BPA-free and are made of CFC safe materials. They are also safe for use in microwaves, freezers as well as dishwashers, making it possible for you to use them over and over.
The material is dense, which ensures that the boxes do not break easily. Moreover, the patented seal of the container clicks into place making them leak resistant thus preventing the spillage of your contents.
Pros:
Can be reused
Lids fit properly
Truly leak-proof
Do not take much space when stored
Cons:
Difficult to remove lids
Easily breakable
No tab with which to hold lid
Debatable dishwasher life
---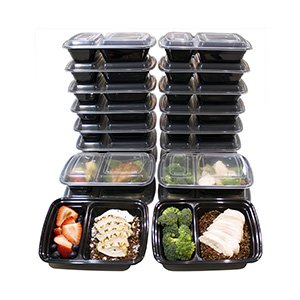 What You Will Love: These reusable lunch containers for meal prep are conveniently sized and are stackable, a factor that helps you to save space when you store them.
You can wash these using a dishwasher, can use them for reheating your food in a microwave, and can use them to hold your food when you store them in your freezer.
The boxes enable you to manage your macronutrients by allowing for portion control.
Pros:
Great for sending leftovers with guests
Sturdy and well-made
Perfectly sized
Affordably priced
Cons:
Leak contents
Lids do not stay secure
Only two compartments available
Bottom of containers warp
---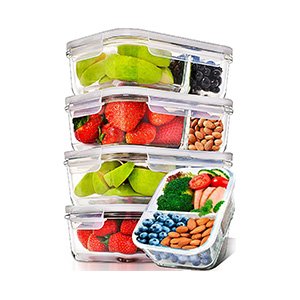 What You Will Love: Prep natural food container is an all-rounder product because of its solid construction and versatility. These boxes are designed with glass yet they are super lightweight and easy to handle.
With Prep natural's smart meal prep containers you don't have to burden yourself with bags and packets. These portable boxes are perfect to use in every situation.
These boxes have been given an ideal and well-balanced size, therefore they are neither too big nor too small. This creates ease in arranging them as they can be easily placed over one another and stored with convenience.
This Prep Naturals Meal Prep Containers set is made with a thick form of borosilicate glass. This means that they can bear freezing temperatures and are freezer safe. Similarly, you can use it for heating things up in the oven and microwave.
Prep Natural is accompanied by well-built lids. These lids smoothly fit around the edges of the container and lock the container from every side making it leak and spill-proof.
Pros:
Made from high-quality borosilicate glass
Lightweight
Dishwasher safe
Cons:
---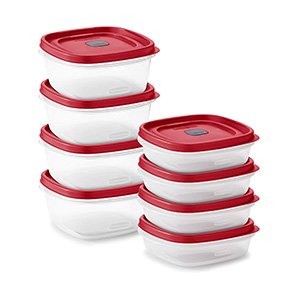 What You Will Love: Rubbermaid's food containers will give you a feeling of nostalgia with its classic, traditional design. However, you will be surprised that these small boxes are a complete package because of its additional modern features.
Rubbermaid's meal prep boxes are all in one storing items which will make food storage way simpler and easier for you.
The entire structure of these is strengthened with thick, double-layered walls. As a result, these containers can be used in various temperature settings. You can freeze food in them and also heat it in the microwave.
Managing these Rubbermaid Food Storage is a hassle-free task and not a tiring chore. While you can clean them through hand wash, however, you also have the option to get them washed through a dishwasher as these boxes are dishwasher safe.
As an additional feature, the lids of these boxes come with vented lids. These vented lids make sure that there is no splatter and no mess when you microwave food in these.
Pros:
Come with vented lids
Easy to organize and arrange
Microwave safe
Cons:
These develop stains and scratch quickly
---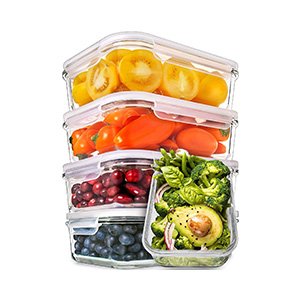 What You Will Love: Prep Natural's glass food containers are well designed and spacious enough to store a proper whole meal. These have been validated by the FDA and LFGP to be BPA-free.
If you want your food to stay fresh and delicious then store it in Prep Natural's glass meal prep containers.
Unlike common meal prep containers, this one is made from glass and is not plastic-based. You might assume that the glass body would make it delicate; however, that is not the case.
These strong and sturdy containers can be used for direct freezing and heating through freezers, microwave, and oven. The extra thick glass structure of these stays unaffected by odor and smell. No matter whatever you fill in this in the end it stays clean and free from every repugnant odor.
You don't have to stress about making extra space for these. Prep Naturals Meal Prep Containers is space-saving design turns its claims of being easy to store completely true.
Pros:
Easy to store
Freezer safe
Certified to be BPA free
Cons:
Does not have compartments
---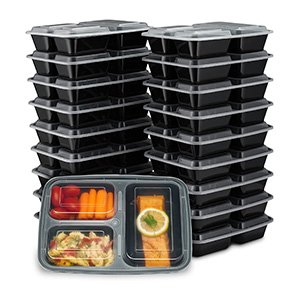 What You Will Love: Made from the best quality of eco-friendly plastic-Ez Prepa meal containers will let your food stay nutritionally rich by protecting its freshness. This 3 compartment container can hold a minimum of 32oz of food.
Say goodbye to long starving days in the office because Ez Prepa's meal prep boxes will serve you with fresh servings anywhere, anytime.
You can utilize these boxes for carrying a full meal. The 2 small sections are best to store appetizers and snacks. The larger section is most suitable for items like grilled meat, chicken pieces, or any main course portion-sized dish.
EZ Prepa Meal Prep Containers plastic containers are a durable and a one-time investment. Unlike meal prep glass containers, these boxes don't break or crack and are therefore super travel friendly and safe to pack and carry.
The lid of these boxes slides smoothly over it and stays put throughout to keep your meal fresh and tastier. Also, these can be easily washed and disinfected in dishwashers.
Pros:
Divided into three parts
Dishwasher safe
Keeps food fresh for a long time
Cons:
Poor packaging damages its overall quality
---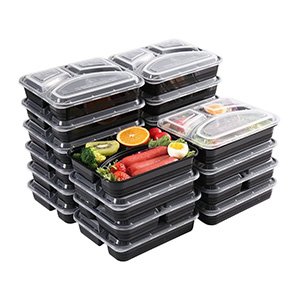 What You Will Love: The high-quality containers have 3 compartments of different sizes. The three compartments allow you to have a complete meal that includes the main course, salad, and dessert. The leak-resistant design of the containers helps you to keep your bag clean and orderly.
Additionally, these are safe for dishwasher, freezer, and microwave use. The convenient sizes of the components of this set make it suitable for a variety of uses including work, restaurants, and weight management.
Pros:
Compartments are large enough
Clean nicely
Affordable
Dishwasher safe
Beautiful packaging of food
Cons:
Breaks when removing lid
Poor quality plastic
Too big for portion control
Do not seal well
---
What Is A Meal Prep Container?
Meal prep, preparing your meals for the week in advance, plays a critical role in determining the success or failure of your fitness life.
The process involves three main elements: planning, preparation, and storage. Meal-prep containers are an integral part of the weighing and packing of your food. As such, the best food storage for meal prep can make a world of difference in your life.
---
What Makes The Best Meal Prep Container?
When shopping for the best containers for meal prepping, you should keep the following criteria in mind.
In this way, you will avoid the frustration that some cheap meal prep containers for meal prep can bring about.
Leak-proof with Airtight Lid
One of the worst nightmares you may experience is reaching out for your food storage container only to find that liquids from the food have spilled, making a big mess in your bag. To prevent this from happening, you should choose containers with fitting lids.
Top containers for meal prep should have lids that stay on even when the container leans on its side, is shaken up for a considerable period of time or when the container is dropped.
At the same time, good lids should not crack or break easily under pressure. Even if you are unlikely to carry liquid meals, having lids that fit properly will go a long way in helping you to avoid accidents.
Safe for the Microwave
The primary purpose of buying a portable meal prep container is to enable you to eat directly from the container.
In such cases, you may need to reheat your food before eating it. Some plastic is not safe for oven use and may melt if you use it when reheating your food.
This may bring up health concerns. As such, the best to use for meal prep should have a label for safe microwave use. In case you are worried about your plastic container, the safe option is to transfer the food to a paper container that is microwave safe.
Freezer-friendly
Although freezing food can promote longevity, it may also cause freezer burn. This causes your food to lose its flavor. In a similar fashion, foods that are stored improperly are likely to absorb other odors.
The best containers for meal prep should be sealable and rigid, reducing the exposure of food to air, a factor that is responsible for the unwanted results associated with freezing.
Although freezer-friendly containers will not entirely prevent freezer burns, they will play a significant role in helping you to preserve the food.
How Portable Is It?
When it comes to portability, the best meal prep container is the most portable and versatile. Moreover, a good container should be light, slim and flat-shaped, making it easy for you to carry around.
The best size for meal prep containers is one that is large enough to carry the amount of food you need and yet small enough to fit in small spaces such as your travel bag.
Cost
Meal prepping involves the preparation and storage of meals enough to last you up to two weeks in some cases. With such an arrangement, you will require some containers to accommodate all your food. With this in mind, only affordable sets will let you purchase containers that will conveniently serve you for the entire period.
Regardless of the set of containers that you settle on, you must always ensure that you do not compromise on quality. You should also remember that some sets advertise as having a given number of pieces, but this may sometimes include the lids!
Durability
Durability is one of the key factors to consider when buying any product. The same applies to buy containers for meal prep. The best container for meal prep should withstand the wear and tear that comes with using them daily and carrying them from place to place.
For plastic containers, the same should apply to when they drop. When it comes to durability, a good container should be able to handle the freezer, the microwave and the dishwasher.
Ease of Cleaning
Some foods are known to leave rings on the surface of your container as well as odors. For this reason, the ease of cleaning your food container after use is another thing for you to consider.
In case you prefer to wash all your containers together, then you should ensure that they are dishwasher safe.
Glass Versus Plastic
Although glass costs more, it is more economical in the long term. It is also too heavy for travel. However, it is easy to clean and ideal if you are concerned about the safety of plastic.
On the other hand, plastic is perfect for a mobile lifestyle, more convenient for the different sizes and is easily disposable.
---
Our Recommendation: Best Meal Prep Containers
Based on our reviews, the best containers for meal prep that are likely to meet your needs for a healthy lifestyle are the Enther Meal Prep Container 20 Pack 3 Compartments.
The components of the set are easily stackable, allowing you to save space when you store them. Moreover, the airtight compartments enable you to keep your food fresh for longer than when you use other containers.
We hope that our buying guide to choose the best containers for meal prep and our compiled 5 top containers for meal prep reviews will be of use to you as you choose the most suitable meal prep container.
We will greatly appreciate if you can share with us your comments or articles through social media.
More Related Articles
---