Quick Summary: Our top pick for the best Tupperware is the Tupperware Fridgesmart Containers, which come in a pack of four that each has a corresponding lid. There are different sizes for fitting all kinds of food dishes and the lids are color coordinated so you won't use the wrong size again.
Are you looking for the best Tupperware for prepping meal that meets or exceeds all of your standards?
Do you want to have a comprehensive collection of containers, servers, and spice shaker sets that will make all your culinary activities easier?
We have put together this buying guide to help you choose the very best Tupperware Sets for meal prep. We've also added 10 Tupperware Sets to help you in purchasing the very best Tupperware products.
Quick Navigation:
---
10 Best Tupperware for Meal Prep Comparison
---
Reviews Of Top 10 Tupperware for Meal Prep
Here's a list of the best tupperware containers on the market today: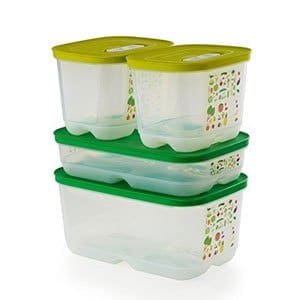 This Tupperware set includes two Small Deeps, 1 3/4 quart, one 1-gallon Medium Deep container, and one 1 3/4 Medium in either Wintergreen Snow White or Margarita.
These containers are redesigned to offer advanced moisture protection and better air circulation. A relocated storage chart upgrades easier viewing, and the improved venting system connects to the easy-open seal.
These brand new modular sizes provide storage flexibility and also save space by nesting together. They are dishwasher safe and come with a limited lifetime warranty.
Pros:
Gives all food a longer shelf life
The slide on top keeps track of the amount of moisture retained in container
Some fruit and vegetables last 4 times longer than normal
Cons:
Take up a lot of fridge room
Don't hold very much
Berries only lasted a few days longer than normal
---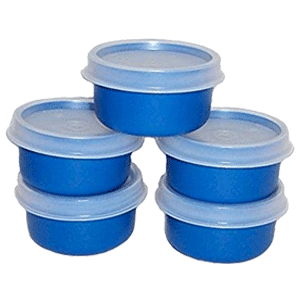 These small containers are 2.5 x 4 x 4.9 inches. Each container measures just 1.5″ in diameter and 1″ tall, and are able to hold 1 fluid ounce, which is equivalent to 2 tablespoons. They are a perfect size for spices and dips.
The tops are an extra tight fit, and they are of extremely high quality. Campers swear by them because they keep all seasonings dry.
Pros:
Perfect for holding 1 tablespoon of powdered supplement
Extremely watertight
Good for holding fresh minced garlic
Cons:
Great difficulty in getting the top on
Not good for people with arthritis
They're expensive for such tiny containers
---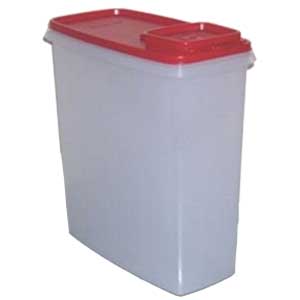 This 20 cup passion color (lid) container is perfect for buying cereal in bulk.
It measures 10.4 x 9 x 4.9 inches. Including the lid, it is 10.25 inches tall.
It has a virtually seamless airtight seal, and protects contents from bugs, saves space, prevents waste, and keeps your cabinets much tidier. The Tupperware container has a flip open spout which is perfect for fast and no mess pouring. In addition, they are dishwasher safe.
Pros:
Cereal is kept much fresher than keeping it in a box
Great for any dry product, including pasta
Holds about 5 pounds of bread flour
Cons:
Doesn't have finger holds to help when pouring
Hard for older people to hold
Hard for arthritic people to hold
---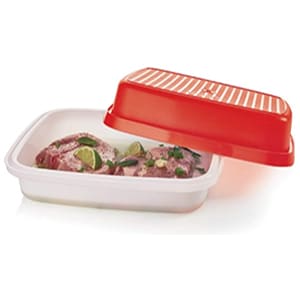 This container, which measures 4″ H x 10″ W x 12″ L, is used to put marinade over meat and vegetables in the fridge. The top cover closes tightly. All that is necessary is to turn the container over once every 3 or 4 hours.
There are special grill marks on the bottom and the top, which ensures that the marinade flows. This Tupperware container keeps vegetables, meat and fish extra fresh, even if you're marinating them overnight.
Pros:
Never have to worry about a leak
Ideal for marinating a small roast, burgers, or a steak
Dome top is perfect for added space
Cons:
Overpriced for what it does
A little hard to open after it's closed
Hard to separate the two sides when it's time to cook
---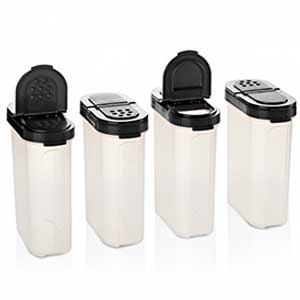 This spice shaker set measures 6.4 x 4.4 x 3.6 inches and weighs 5.6 ounces, and they have tight secure closures. Each container has a 1 cup capacity. You'll never have to worry about having stale spices again.
The double-hinged tops are useful and make it easy to sprinkle or spoon on your favorite spices.
Comes with a limited lifetime guarantee.
Pros:
Great for storing powdered spices
Completely waterproof (even in a Florida rainstorm)
The modular design makes stacking easy
Cons:
Shaker spout frequently clogs
Smaller than advertised
One of the spices became stale
---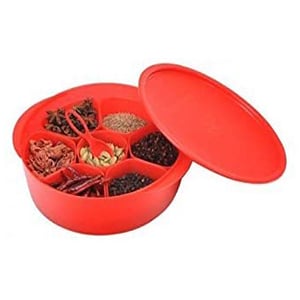 What You Will Love: The Tupperware container is a large option that comes in a bright red color that comes with a handle for the easy opening lid. The lid also holds in the freshness of all the contents so you can place any leftovers in the fridge without losing out on any flavor.
Airtight Container
This container comes with an airtight lid that keeps the contents of the container fresh and doesn't let the other flavors from the fridge alter the flavor of the food. Whether it is leftovers or a newly made meal, you keep your food safe inside this container.
Seven Cups
This Tupperware container comes with seven removable cups inside it that can be used to separate smaller items like spices so that you can use it for multiple things at once. This can be a space saver for those who don't want to use multiple Tupperware containers.
Included Serving Spoon
This Tupperware container comes with a small serving spoon that you can use for taking out contents as needed so that you don't feel the need to use all of it at once. It also works as a measuring spoon.
Pros:
Bright red color
Handle on both sides
Airtight container
Comes with seven cups
Included serving spoon
Cons:
Circular bowls tend to waste some space in the container
A bit on the pricey side
---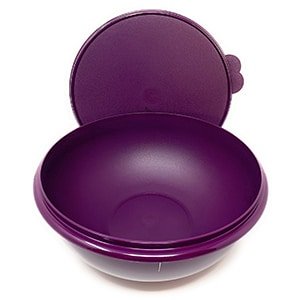 What You Will Love: This Tupperware Fix N Mix Mixing Bowl can be used as both a fridge container and a mixing bowl for cooking and baking. The bowl has a purple color that makes it stand out and is a great option for salads and similar dishes.
26 Cups
This Tupperware mixing bowl is a large container that can hold up to 26 cups of contents. This size is great for pre-mixed salads, potato and macaroni salads, or fruit mixes. It also works great as a chip bowl for parties.
Textured Interior
The inside of this mixing bowl has a textured interior that makes the material more resistant to scratching. This is particularly useful when you use the bowl for harder foods like chips, which would normally cause scratches.
Dishwasher Safe
This Tupperware Fix N Mix is a dishwasher safe option that can be tossed in the machine at the end of the night for easy cleaning. The lid is also dishwasher safe so that they can both be washer together.
Pros:
Used for storage and mixing
Dark purple color
Holds up to 26 cups
Has a textured interior
Is dishwasher safe
Cons:
Lid is not completely airtight
Higher in price than other options
---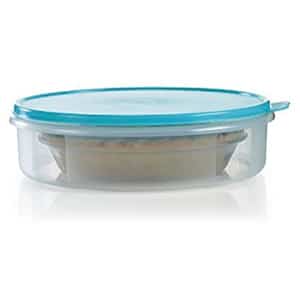 What You Will Love: The Tupperware Pie and Cupcake Keeper is a container that can be used to keep food fresh in the fridge so that you can keep your dish. This option will work great for whole pies and cakes, or several cupcakes, and fits flat in the fridge for stacking.
Stackable
This Tupperware container has a flat shape that allows you to easily stack multiple ones on top of each other. This helps save space in the fridge so you can put more leftovers in it without taking up too much extra space with bulky containers.
BPA-Free
This Tupperware container is made from food-safe materials that are also BPA-free. This allows you to feel safe that you are giving your family containers that contain no unwanted chemicals or additives.
12 Inches Around
This Tupperware container has a diameter of 12 inches that allows you to use it for large items or dishes. This container is large enough to whole a round-shaped pie or whole cake, which is great for transport.
Pros:
Fits whole pies or cakes
12-inch diameter
BPA-free plastic
Container is stackable
Ideal for transporting items
Cons:
Lid can dip a little bit when heavy items are stacked on top
The blue lid makes it difficult to see what is inside from the top view
---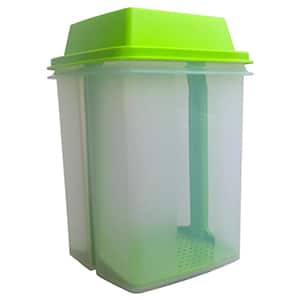 What You Will Love: This Tupperware Pick a Deli container is a 2-liter container that is made for keeping your pickles and other items in. The bottom comes with a handle that makes it easy to lift and remove a single item whenever you want one.
2 Liter Capacity
This Tupperware container can hold up to 2 liters of liquid so you have plenty of space to put your pickles or fruits while still having space to fill it up with water or juice to keep the food from getting dried out.
Dishwasher Safe
The Pick a Deli is a container that is safe to clean by placing it into the dishwasher. The plastic will get nice and clean without getting warped from the heat and can last through hundreds of washes without damage.
Airtight Lid
The lid of this container comes extra tall to keep the liquid from getting too close to the top, which prevents spilling if the container were to be opened. Also, the handle inside the container allows you to easily raise up the pickles without having to stick your hand into the liquid.
Pros:
Holds up to 2 liters
Easy lift handle
Dishwasher safe
Airtight lid for preventing spills
Picks up pickles without using hands
Cons:
The container is large and not comfortable to hold in one hand
Heavy to hold when filled with pickle juice
---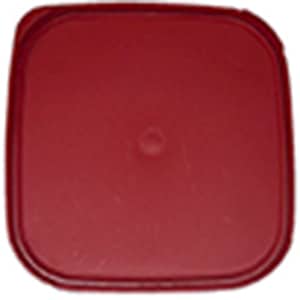 What You Will Love: The Tupperware Square Modular Mates Seal is a square-shaped lid that can be used for any leftovers and prepared food items for the week with a Tupperware container. They are ideal for medium-sized Tupperware containers.
7 by 7
This lid is a seven by seven option that makes keeping your leftovers fresh easy. The lid snaps onto a Tupperware container and will hold on even when the container is flipped over or dropped on the ground.
Sealed Lid
This Tupperware lid fits nicely onto the top of a container and seals on so that air doesn't get to the food you prepared. This keeps it fresh for a longer time and allows you to keep it in the fridge without losing flavor.
Bright Color
This Tupperware lid comes in a bright red color that will stand out and allow you to tell which one is yours. This makes it a great choice for taking to other homes so that you don't forget it on your way out.
Pros:
Square shape
Seven by seven inches
Seals for freshness
Has a bright red color
Cons:
A bit tight on the fight
Different then the Tupperware original's one
---
Introducing Tupperware Containers for Meal Prep
First, make certain that your Tupperware sports a microwave-safe symbol somewhere on it. Remember that you must use your Tupperware products in the microwave only, and NOT in a regular oven, on the stovetop, or under the grill.
Second, to avoid scratches, only use wooden or plastic utensils.
Third, make sure not to cook small amounts of any food containing large amounts of sugar or fat.
Fourth, do not microwave any Tupperware products using more wattage than has been recommended.
Fifth, many Tupperware products are for reheating only (using only 50% or medium power). Make sure to use extra care when you reheat those foods that contain large amounts of fat, sugar, or oil.
Sixth, staining may occur if you reheat tomato-based foods and sauces.
Seventh, don't forget to use oven gloves when handling containers after they've been cooking inside the microwave, in order to always protect your hands.
Finally,if overheating has occurred, be sure to allow your containers to cool before trying to handle them.
FAQs
What Kind of Plastics Are Found in Tupperware?
Tupperware started out using polyethylene in their dinnerwares, but nowadays their products use low-density polyethylene, polypropylene, and polystyrene that are 100% recyclable and BPA-free.
The plastic used in them has been approved by the FDA (Food and Drug Administration), the EFSA (European Food Safety Agency) and the FSANZ (Food Standards Australia New Zealand).
What Are the Different Types of Tupperware Used for Meal Preparation?
There are a large variety of Tupperware products that are used for meal prep. This includes a seven-piece set of compartmental food divider storage containers for meal prep with
airtight lids,
bento boxes,
and lunch boxes for meal prep;
a sixteen piece set of Fitpacker meal prep containers that can be used for lunch boxes,
food storage,
and portion control;
a fourteen pack of meal prep containers that include lunch boxes,
bento boxes, and containers that are useful for food storage portion control;
a large blue Season Serve which is perfect for seasoning or marinating food in the refrigerator;
and there is a 20-pack of 32 ounce two compartment containers for meal prep that also double as reusable food storage containers.
Other recommended items for food preparation include a juicer, a colander, and That's a Bowl, a multipurpose bowl perfect for preparing many recipes and food, ranging from meatloaf to cookie dough to garden-fresh salads.
Related: Best Insulated Lunch Box
Is Tupperware Microwave Safe?
Tupperware is aware that there have been a number of confusing reports concerning the safety of using plastic products in the microwave. They reassure their users that all of their products meet or exceed the safety standards of each country's Federal Government standards.
There are no dioxins in Tupperware, and they follow the regulations set out by the TSCA (Toxic Substances Control Act) in the US, the EINECS (European Inventory of Existing Chemical Substances, and the ENCS (Japanese Inventory).
All of their products that are meant to be used in the microwave are labeled with a seal on their bottom with the words "Microwave Cooking" or "Microwave Re-Heatable".
Is Tupperware Dishwasher Safe?
The majority of Tupperware products manufactured after 1978 can be washed safely in the dishwasher, except for the following products:
Shape-O,
ClearMates Range,
Garlic Wonder,
Ice Cream Scoop,
TupperChef Knives,
Printed products,
CheeSmart CondensControl Grid, or
Any product that has a glass-like clear finish.
Make sure when you're loading the dishwasher that you wash containers and Seals together, use some baking soda paste if you have stains, and put your Tupperware products securely around the dishwasher's top shelf in a way that water won't be able to force them loose.
If they are directly on top of the heating elements, they will warp or melt.
Is There Disposable Tupperware?
Tupperware can eventually be recycled, but their products are meant to be used and reused many times over.
Where Is The Best Place To Buy Best Tupperware Products?
The best place to buy Tupperware products is at a Tupperware Party, where you'll see free cooking demonstrations. There are special offers available for guests, as well as for hosts.
Tupperware consultants will show you how to qualify to get 50% off any set or product found in their Seasonal Catalog. This Seasonal Catalog is also available online.
Our Recommendation For The Best Tupperware For Meal Prep
Based on the 10 Tupperware reviews we compiled, as well as all the pros and cons that are related to each product, the best Tupperware for prepping meal with a 5 star rating was the Tupperware Fridgesmart 4 piece container set with the newest design.
These containers offer better air circulation, advanced moisture protection, an improved venting system, and a relocated storage chart. They come with a limited lifetime guarantee and are dishwasher safe.
We hope that our reviews have been useful to you. We also hope that you will share this article and your comments through social media.
More Related Articles:
---