Quick Summary: If you are shopping for the best bakeware set for a cake baking fiend, you won't go wrong with the Calphalon Nonstick Bakeware Set as it provides a variety of pans in a quality product that provides even heating and nice browning bake after bake. For nice oven-to-table service bakeware set the CorningWare 1094026 French Bakeware Set features an excellent selection of round dishes with glass and plastic lids for a very reasonable price.
The best bakeware set is essential for every cook. Whether you're starting out in the kitchen or are aiming to be the next Rachael Ray, you want the best bakeware set to suit your needs.
If cooking the ultimate red velvet cake or blueberry muffins is your dream then it's worth investing in. The best baking pan set and oven safe dishes enhance your cooking. They turn food from good to perfect!
Ask yourself what you're looking for. Do you want to upgrade your nonstick bakeware set and desire top quality? Do you need the best round cake tins on a budget? A 5 piece might be better than 10. Have you considered what a bakeware set is made from?
It could be carbon steel, but an aluminized steel 6 pieces set might suit better. If you hate washing up, choose a set that goes in the dishwasher! Some bakeware evenly heats food and makes it easy to release. Is this essential? Are looks important?
A copper bakeware set might tickle your tastebuds. Here, we've checked out the features and rounded up the 10 best bakeware sets online. Enjoy…
Quick Navigation
---
10 Best Bakeware Sets Comparison
| | | |
| --- | --- | --- |
| | A top value for money Calphalon nonstick bakeware set. The steel core ensures evenly browned cakes and their easy release! Ideal for all your delicious home-cooking. | Read Our Review |
| | A gorgeous pair of oven dishes complete with both plastic and glass lids. Corningware material is durable and made for both the oven and fridge. Absolutely crucial for home cooks! | Read Our Review |
| | A 10 piece bakeware set of Corningware dishes that will last a lifetime in the kitchen! The non-porous stoneware is chip-resistant and safe in dishwashers. Amazing for slow-cooked meals. | Read Our Review |
| | An essential 5 piece carbon steel baking set. The Love-To-Bake set has non-stick surfaces which are great for cooking loaves, cookies, cakes, and muffins. | Read Our Review |
| | A sturdy 8 piece set of Pyrex dishes made from high-tempered glass that is durable and oven safe. The plastic lids are secure-fit making food storage safe. Cooking and serving is simple. | Read Our Review |
| | A high quality 10 pc bakeware set complete with baking sheets, cake pans, a loaf pan, and a 12 cup muffin pan. This Calphalon nonstick bakeware 10 piece set is designed for even heat distribution and easy food release. | Read Our Review |
| | The Cucina nonstick bakeware set is stunning and has everything you need for your baking techniques. The signature Rachael Ray silicone handles and non stick layer make kitchen work a doddle. | Read Our Review |
| | The Ayesha Curry 6 piece is a long-lasting heavy gauge steel bakeware set with cake pans, baking pans, a square cake pan, and a loaf pan. Its textured interior is perfect for even heating. | Read Our Review |
| | AmazonBasics is one of the best bakeware sets for budget buyers. This 6 piece bakeware set has non-stick and carbon steel coating. It's ideal for kitting out your new kitchen. | Read Our Review |
| | A top of the range 8 piece nonstick carbon steel construction set designed to be stored as a "brick". It's dishwasher safe and takes temperatures up to 450 degrees Fahrenheit. | Read Our Review |
---
Reviews of Top 10 Bakeware Sets
Best Overall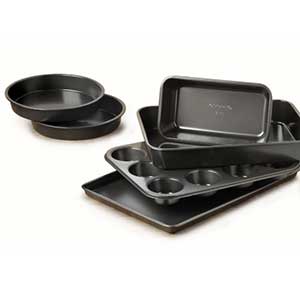 What you will love: Calphalon has been known for decades as the premier manufacturer of quality bakeware. This bakeware set features a muffin tin, two 8-inch cake rounds, a loaf pan, a 9-inch by 13-inch pan and a cookie sheet.
Constructed out of carbon steel with layered non-stick surfaces, it is an excellent bakeware set for producing quality desserts that won't become glued to the pan.
The carbon steel provides even heat with no cool spots. They are considered dishwasher safe and come with a 10-year warranty. It does not include a lid for the 9 x 13 and the non-stick surface requires the chef to avoid using sharp implements.
Pros:
Manufacturer has excellent reputation
10-year warranty
Great set for dessert baking
Cons:
Does no have any lids
Non-stick surface can be scratched
Metal can warp over time
---
Best Budget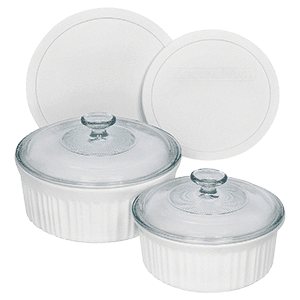 What you will love: For about the same cost as the stoneware set, this ceramic set also includes two more 4 oz. ramekins and a 24 oz round. Similar in appearance, it also has glass and plastic lids to facilitate baking, transportation, and storage.
Ceramic resists stains and maintains its sleek, glossy appearance for years and works well with dishwashers.
It is not freezer safe and food should not transfer from the fridge to the microwave in it as it can crack due to sudden temperature change.
Attractive as serving dishes, this set is versatile enough to bake almost any dish short of an extra large roast. It's quality bakeware set for the new kitchen.
Pros:
Comes with wide variety of pans
Maintains attractive appearance
Good bargain
Nice service pieces
Cons:
Sudden temperature changes can crack pan
Will break when dropped
Not for use in freezer
---
What you will love: The CorningWare 6018696 French 10-Piece Bakeware Set is designed to present your casseroles in a classic, time-tested manner. The stoneware can be used in the microwave, fridge, freezer, and oven.
The set includes glass and plastic lids, so the dish can be baked in the oven then stored for later use. There's a 2.5 quart round, 1.5 quart round, a 16 oz. round and a pair of 4 oz. ramekins.
Bake deep-dish casseroles, souffles, and even small roasts then transfer to the dining table for an elegant presentation. There is a certain heft to stoneware, making it less attractive for bakers who can't lift heavy items.
Pros:
Classic white appearance
Glass and plastic lids
Versatile stoneware can be used to cook and store
Cons:
Stoneware is heavy
Can chip and crack when dropped
Not for baking cakes or breads
---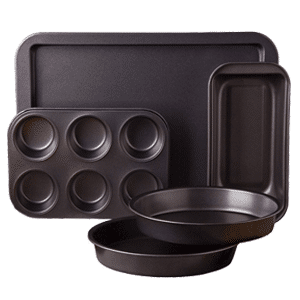 What you will love: When shopping on a budget for a decent dessert bakeware set, the Sunbeam 76893.05 set is going to meet your needs, but not always your expectations.
While it is made out of the same combination of carbon steel and non-stick coating as the Calphalon set, Sunbeam simply doesn't produce the same quality pan.
The cake pans, muffin tin, loaf pan, and cookie sheet will provide a nice, even bake the first time or two, but the pans tend to become stained and lose their non-stick qualities when used often. Hand washing is recommended to preserve the non-stick coating.
Pros:
Low price
Dishwasher safe
Good variety of pans
Non-stick
Cons:
Not dishwasher safe
Tends to discolor
Non-stick surface can fail
---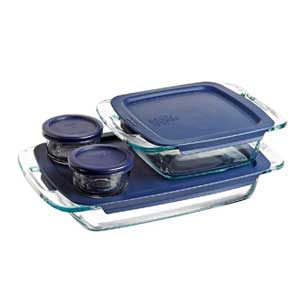 What you will love: This bakeware set is designed to go straight from the oven, be covered with snap in place plastic lids and travel to the big celebration ready for reheating.
The bakeware set includes an 8×8 square and a 3-quart oblong baking dish. It also includes a pair of 1-cup storage dishes which make for great dipping or sauce dishes.
Pyrex can go from the freezer straight into the oven, making it versatile. New larger handles make it easy to pull out of the oven and carry. Pyrex can shatter and stain if not maintained properly. The lids are not ovenproof.
Pros:
Easy bake and carry design
Attractive glass service piece
Freeze, bake and microwave safe
Cons:
Can shatter when dropped
Lids not oven safe
Glass can discolor over time
---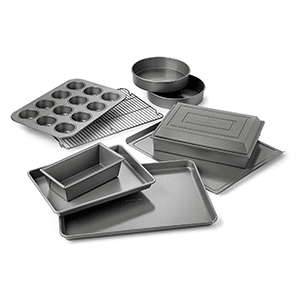 What you will love: The Calphalon non-stick bakeware set is a must-have 10 piece. It includes all your baking pans: cake pans, baking sheets, a loaf pan, and a square cake pan.
With this bakeware, you'll be set to make delicious cookies, cakes, brownies, and muffins. There's even a cooling rack! It's safe in ovens up to 500 degrees Fahrenheit. Great for roasting potatoes!
Cook the best sweet treats in the neighborhood with Calphalon's easy food-release nonstick bakeware set!
Non stick
The nonstick bakeware 10 pc has interlocking nonstick layers that are designed so you can free your food easily. Gone are the days of losing the top of your cake!
Heavy gauge steel core
The steel core is durable and will last for years. It also means that your bakeware heats food evenly for a perfect finish.
Dishwasher safe
This 10 piece bakeware set is safe to go in the dishwasher. After all that whisking and mixing, it's so easy to clean your bakeware.
Pros:
The full bakeware set – all your baked food equipment is covered.
Evenly browns baked goods.
Easy to wash.
Handles high temperatures.
Cons:
Takes up a lot of space in the cupboard.
---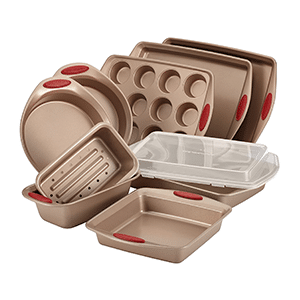 What you will love: The Rachael Ray bakeware set is a huge 10 piece that covers all your baking needs. From roast dinners to pecan pies, you're sorted.
The Rachael Ray Cucina nonstick coating is a stylish latte color. If you're looking for one of the easiest to use bakeware sets, this is the USA pan bakeware for you!
Baking has never been so comfortable or looked so darn good than with the Rachael Ray nonstick bakeware set!
Rolled Rim Edges
The Rachael Ray Cucina Nonstick Bakeware Set includes rolled rim edges. All the baking pans are comfortable to cook with because the edges have big surfaces and are easy to hold.
Cranberry silicone handles
The silicone grips make your oven bakeware baking set easy to grab during cooking. With your oven gloves on or when dessert has cooled, your cookie sheet or springform pan is effortless to move around.
Versatile bakeware
The heavy gauge steel set comes with various pans that can be used for sweet or savory cooking. There's also a lid for the cake pan so you can easily transport your treats without any flies getting to them!
Pros:
Non-stick coating for easy food release
Oven safe up to 450 degrees Fahrenheit
Even heat distribution for perfect cookies
Cons:
---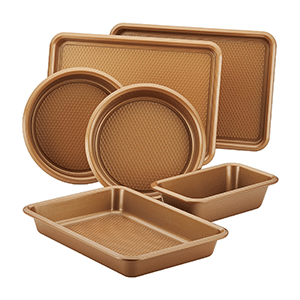 What you will love: The Ayesha Curry 6 piece set is one of the best bakeware sets for combining comfortable use and durability. The gorgeous copper brown nonstick bakeware set 6 is a favorite for a reason!
The set includes your baking sheet, cookie sheet, cake baking pan, square baking pan, and loaf pan. This versatile bakeware is used for starters, mains, and puddings.
Heavy gauge steel construction
The construction is heavy-duty. Whatever you're planning to cook, this USA pan bakeware can take it. The extended edges also make easy handling. The stunning Ayesha Curry 6 piece bakeware set will make your dream cooking easy for years to come!
Diamond textured interior
The striking pattern makes this one of the most unique and top quality bakeware sets. Ayesha Curry Nonstick Bakeware Set designed for nonstick oven bakeware baking so heat is evenly spread over the baking sheet and cakes easily slide out.
Dishwasher safe
The easy to clean non-stick coating means that your time spent on clearing up is kept to a minimum.
Pros:
Quality assurance guarantee
Long-lasting and durable
Dishwasher safe
Even heating for best cooking
Cons:
---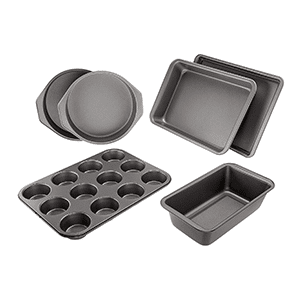 What you will love: The AmazonBasics is the ideal dishwasher safe bakeware set if you're on a budget and want to cover all angles in the kitchen. You get everything from the roasting tray through to a cookie sheet and a 12 cup muffin pan. It's a great gift for anybody about to move into their first home.
Bake cookies, banana loaf, roast dinners, and two-tier cakes with this great value for money bakeware set!
Versatile pans
Where other USA pan bakeware sets fail, this set shines. For an affordable cost, you have everything you need to cook up a storm for the entire family!
Made from carbon steel
AmazonBasics 6 piece bakeware set is built to last. The steel is resistant to warping and cooks your tasty food evenly.
Nonstick coating
No need to shove the knife in between the sponge and the cake tin to peel out your cake. The nonstick means cakes simply drop out.
Pros:
Food is cooked well through heat being evenly distributed.
A sturdy set that won't damage and will last ages.
Dishwasher safe
Both round and square pans
Cons:
Harder to grip when you're wearing oven gloves. Would be better with silicone handles!
Hand Wash only – not so quick and easy to clean
---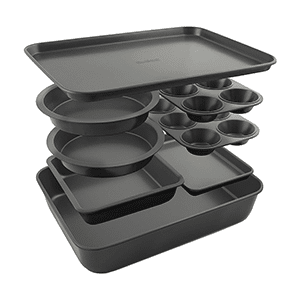 What you will love: This has to be one of the ultimates of the 10 best bakeware sets! It has all the baking pans you need: a roasting tray, cookie sheets, cake tins as well as muffin pans. The wonderful part is that it stacks away easily in a "block". All of this for a reasonable price!
Nothing is off the table with the Elbee 8-piece Stack 'n' Store bakeware set. Bake incredible cupcakes, pies, and biscuits every time!
Stack 'n' Store
Every pan fits together like a jigsaw into the roasting tray. The set fits neatly in your cupboard and you'll find everything tidy each time you go to cook!
Heat resistant
The carbon steel material means the tins can handle temperatures up to 450 degrees Fahrenheit. Great for those long roasts.
Easy to maintain
After a rinse, pop them in a dishwasher. Take good care of them and they'll last years.
Pros:
Great if you like a tidy kitchen. Don't take up much space
Easy to store
Lots of cooking options available from the wide variety of pans
Cons:
---
How to Choose the Best Bakeware set
Your criteria for a great cookie sheet is going to be different from a nice casserole dish. When considering purchasing a bakeware set, ensure you know what the pans are intended to be used to make the best decision.
Should the Pans Be Made Out of Glass, Stoneware or Metal?
Each material can be used to make the best bakeware set when it is used for its intended purpose. Glass pans, such as those made by Pyrex, can be an attractive addition to your baking arsenal. When properly maintained, they work well going from oven to the dining table.
Glass heats evenly and Pyrex can go from the freezer to the microwave and into the oven. However, you drop it, it will shatter. Stoneware tends to be fairly heavy in them. Available in a variety of colors and shapes, they are a nice addition to the decor of your kitchen and dining table.
They can be put in the dishwasher and hold up well over time. They are durable but are subject to chips and cracks when abused. Finally, aluminum and carbon steel pans have been the reliable workhorses of the bakeware world for a couple centuries.
These are preferred for baking desserts, as the non-stick surfaces release baked goods very well and the metal provides even heating for nice brown crusts. These may require handwashing to preserve the surface longer.
Are You Baking Cakes or Casseroles?
When hunting down the best bakeware set, it's best to know what the intended chef wants to use it for. Are they interested deep dish lasagna, a nice bread pudding, or have a passion to turn out the prettiest cupcakes?
A round stoneware set is not going to get plenty of use when it arrives at your cake baking friend's door. Make sure to take into consideration which dishes the cook is known to produce before making your selection.
Will You Use the Pan to Serve or Simply to Cook?
It's the most convenient thing in the world to pull the double-baked mashed potatoes out of the oven and slide them onto a trivet in the middle of the dining table.
It's even better when the baking dish you use features an attractive design or matching color to your dishes. However! Dessert bakers usually transfer the cakes and cookies to cooling racks for decoration, so a pretty cake pan is not so crucial.
When deciding where to spend your bakeware dollars, make sure you are buying the colorful or sculpted casserole when it is going to be used as a centerpiece.
Related Articles: Best Silicone Baking Mats
Clean Up Should Be Easy
The best bakeware sets are the ones that clean up in a jiffy, such that preparing your favorite food doesn't become a great clean-up chore. Stoneware and glass can easily be popped into the dishwasher and resist scratching over time.
Some of the better quality cookie sheets require hand washing, but the discerning baker might be willing to make the sacrifice for the pan that perfectly browns their bake every single time.
Lids Are Convenient for Transport and Service
If you enjoy bringing casseroles to share, a snugly fitted lid is convenient and almost necessary. Aluminum foil and plastic wrap are poor seconds when you can buy a bakeware set designed to stand up to the rigors of transport.
---
Final Verdict: Best Bakeware Sets
It's a set you can be proud of displaying for years to come. Hopefully, you have found all the information you need in our Best Bakeware Set reviews to help you decide which one will become part of your kitchen or that of a loved one.
More Related Articles:
---