Quick Summary: We have picked the USA Pan Bakeware Pullman Loaf Pan as the top bread pan as it is an aluminized steel pan, it releases bread easily, and it is easy to clean. It has a fluted surface that causes better air circulation and even cooking, coated with nonstick silicone, and comes with a limited lifetime warranty.
Baking homemade bread can be one of the tastiest and most healthy tasks one can do. By making the bread from scratch, you eliminate, or at least significantly decrease, the number of processed ingredients that you take in.
If you are going to bake your own bread, it is imperative to have the quality bread pan you can find. They come in different sizes but most bakers are accustomed to using a 9" x 5" pan.
They are made from different materials including steel, aluminum, silicone, and glass, each of which has its own benefits. Familiarizing yourself with the different types can help you make a good choice.
---
Quick Navigation
---
Top Bread Loaf Pans Comparisons
| | | |
| --- | --- | --- |
| | Explicitly fashioned from aluminized steel, USA Pan features a non-stick silicone coating that offers a quick release of baked goods and adds to the bread pan's elegance. | Read Our Review |
| | This aluminized steel loaf pan features a distinctive corrugated surface design, which aids in air circulation when goods are being baked. Furthermore, it is incredibly durable and long-lasting. | Read Our Review |
| | Manufactured from heavy-duty steel, this set from Farberware promotes a non-stick coating and offers a warp-resistant baking performance. Furthermore, it is dishwasher safe | Read Our Review |
| | This unique loaf pan, which is fabricated from heavy-gauge steel, is incredibly durable and sturdy. It is dishwasher safe and can withstand temperatures up to 500 degrees Fahrenheit. | Read Our Review |
| | This aluminized steel loaf incorporates a corrugated surface for even distribution of heat. Furthermore, this elegant loaf pan features a silicone coating that makes the loaf pan easy to wash. | Read Our Review |
| | Manufactured from 100% Food Commercial Grade Silicone, this baking pan is typically designed to cook bread, quiche, meatloaf, lasagna, and potpies. | Read Our Review |
| | With its incredibly ergonomic design, this pan for bread is explicitly designed to prepare and heat loaves of bread. The Pyrex Glass further adds to its elegance. | Read Our Review |
| | The instant pot is designe to make dinner and dessert simultaneously. The non-stick feature further augments the elegance of lasagna and casseroles. | Read Our Review |
| | Manufactured from steel, this medium loaf baking grill with pan is uniquely fashioned to make bread and available in vibrant colors. | Read Our Review |
| | One of the best pans, this ultra-durable, high heat steel pan is ideal for heat retention when making muffins. Besides, it distributes heat evenly across the pan. | Read Our Review |
---
10 Best Bread Loaf Pans
To find the right bread pan, we searched through multiple ratings and reviews from both experts and buyers. From all of those we analyzed, we chose the following seven based on their durability, even cooking, nonstick properties, and more.
---
Best Overall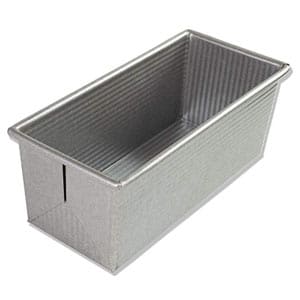 What You Will Love: This bread pan is very durable and releases bread easily.
If you are looking for a bread pan to go the distance, this USA Pullman Pan is possibly the best bread loaf pan to get. It is a heavy-gauge aluminized steel pan, meaning that it is very durable.
The fluted surface provides for better air circulation, so your bread will cook more evenly. It is also covered with American Plus nonstick coating, which is a silicone coating that helps the pan release your bread easily.
Though the pan can be cleaned with warm soapy water, it is hand wash only.
Also, the grooved corners will likely find crumbs stuck in them. If that is the case, you can use a toothpick or skewer to help you clean them out.
Pros:
Durable,
Commercial quality,
Aluminized and heavy gauge steel,
Limited lifetime warranty,
Fluted surface for better air circulation,
Silicone coating,
Nonstick
Cons:
Hand wash only,
Crumbs build up in grooved corners
---
Best Budget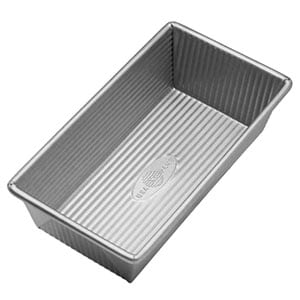 What You Will Love: This loaf pan has very sharp corners providing a beautifully shaped loaf of bread.
The one pound heavy gauge aluminized steel USA loaf pan is a very durable pan. It is commercial grade and has a corrugated surface, which cooks your bread evenly.
The BPA free silicone coating provides a great nonstick surface that releases the bread quickly. It runs under $15 and has a limited lifetime warranty, so it is a reasonable price.
Unfortunately, there are no handles or lips to grab. This makes it difficult to efficiently flip the pan to release the bread.
Pros:
Durable,
Sturdy, coated with americoat silicone,
Great air circulation,
Easily releases bread,
Great value for the price
Cons:
---
Best Loaf Pan with Handles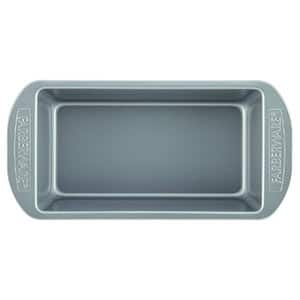 What You Will Love: These loaf pans are great for even cooking, and you get two.
These Farberware Round Sucker Candy are great for baking bread.
They are durable, heavy-duty steel that can withstand oven temperatures up to 450 degrees.
The bread is cooked and easily comes out as a result of the nonstick coating, and there is a Quality Assurance Guarantee.
They are easy to clean but hand wash only, and you must be careful in handling them or you may find the finish scraping off.
Pros:
Great price,
Comes with two,
Heavy duty steel,
Nonstick coating inside and out,
Oven safe to 450 degrees,
Durable,
Even heating
Cons:
Hand wash only,
Finish may scratch off if not careful
---
Best Nonstick Loaf Pan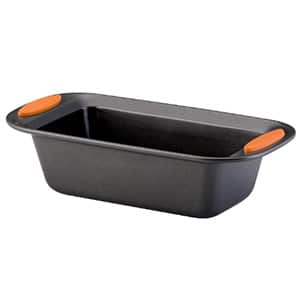 What You Will Love: This loaf pan has silicone grips on the handles and is a great price.
The Rachel Ray Yum-O! Nonstick Bakeware Loaf Pan is a durable bread pan that solves the problem of the hot handle.
It withstands oven temperatures up to 500 degrees, and the silicone grips on the handles help prevent burnt hands.
The heavy grade steel construction is very nonstick so it releases the bread easily. It can also be used for multiple foods.
Possibly the best part of this pan, though, is the fact that a portion of the proceeds goes to Rachael Ray's charitable foundation.
The downside to this pan is that it may cook more quickly on the outside than the inside, so you may need to adjust the temperature of your recipes.
Pros:
Great price,
Heavy grade steel,
Sturdy construction,
food releases well,
Easy cleanup,
Silicone grips on handles,
Oven safe to 500 degrees,
Versatile uses
Cons:
May need to adjust the temperature of your recipe because it might cook quicker on the outside than the inside
---
Best Aluminized Steel Loaf Pan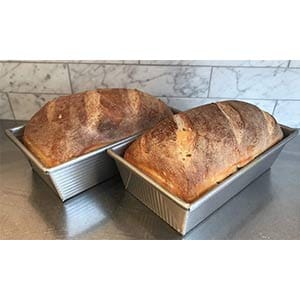 What You Will Love: Aluminized steel is a material used for its sturdiness and durability, making this pan a great choice.
The USA Pan Bakeware Aluminized Steel Loaf Pan is a very tough and durable pan made from both recycled and new steel.
The silicone covering is BPA free and it has a limited lifetime warranty. Unfortunately, there is no real place to grip the loaf pan.
Pros:
Tough,
Durable,
Silicone nonstick coating,
Steel wire in the rim for extra strength,
Corrugated surface for air circulation,
Commercial grade,
good price,
Limited lifetime warranty
Cons:
---
---
Best Silicone Bread Pan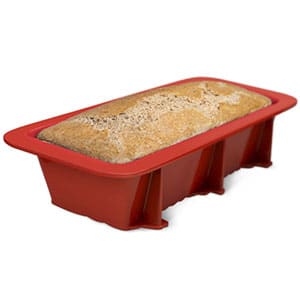 What You Will Love: This loaf pan set is red and it comes in a set of two for a great price.
The Silicone Designs Bread and Loaf Pan Set is both BPA free and 100% food grade silicone.
The silicone makes it environmentally friendly as well as family friendly. These loaf pans are dishwasher safe, microwave safe, freezer safe, and oven safe up to 450 degrees.
They are also easy to clean and the bread easily pops out. This set also comes with a bread recipe book sent to your email. It is great for bread, meatloaf, lasagna, and more.
If you have never baked with silicone before, you will find it is different than other materials. You may have to play around with your recipe in order to get it right. They are also smaller than the description states.
Pros:
Comes with a recipe book,
100% food grade silicone,
Bpa free, latex free,
Versatile uses,
Commercial grade,
Easy to use,
Dishwasher safe, microwave safe, freezer safe,
Environmentally friendly,
Great price for a set of two
Cons:
Silicone bakes differently than steel and aluminum,
They are smaller than descriptions state
---
Best Glass Loaf Pan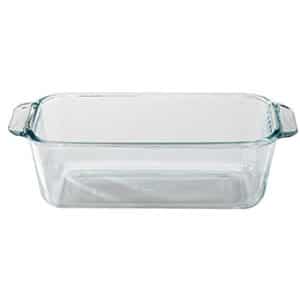 What You Will Love: It is Pyrex, which is known as a great, durable brand.
This Pyrex Basic Glass Loaf Pan is a great piece of cookware to own. Pyrex is a durable, nonporous glass.
Food cooks evenly throughout the entire pan, and you can use it for bread and many other foods.
This set comes with two loaf pans that are small enough to fit into a toaster oven. Pay close attention to the size because many buyers expected it to be larger.
Pros:
Made from nonporous glass,
Pyrex brand,
Even cooking throughout,
Versatile uses,
Set of two, small enough to fit in a toaster oven,
Easy to clean,
Very nonstick with a light spray
Cons:
May be too small for a one pound loaf of bread
---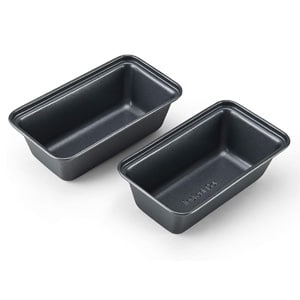 What You Will Love: You'll love the fact that you can make dinner and dessert simultaneously with Instant Pot.
America's Number 1 set of baking pans from Instant Pot will help you prepare highly nutritious and incredibly delicious meals in the most practical way possible.
Apart from baking bread or a delicious dessert, these mini loaf pans also come in handy when you cook lasagna, meatloaf, casseroles, and many others. You don't have to buy different cookware, only invest in these pans, and you'll be perfectly fine.
If you own an Instant Pot cooker, then you are in for a treat! These mini loaf pans can fit inside the cooker at the same time. You'll have your work cut out for you as this will enable you to prepare a meal in one pot while you prepare dessert in the second one, both simultaneously. They can also fit inside a 6-quart and an 8-quart ordinary cooker.
The non-stick feature further elevates their status as one of the best loaf pans. Since the food doesn't stick, it remains intact when served. Furthermore, the mini loaf pans are relatively easier to clean up.
Pros
Incredibly handy and versatile
Can fit a variety of cookers
Can cook food and dessert at the same time
Cons
Might cause the liquid to spill
Sometimes the coating tends to peel off
---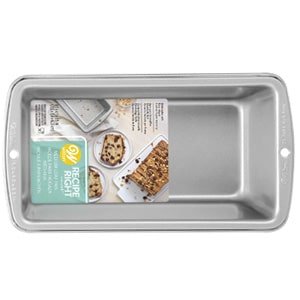 What You Will Love: You'll absolutely adore the fact that this loft pan comes with Wilton's secret bread recipe. Its durability is second to none as well.
With heavy-gauge steel that provides an even-heating performance, Wilton is perfect for baking your favorite apple tart.
This heavy-duty banana bread baking pan is unquestionably durable. Its pan line is fashioned from heavy-gauge steel, reinforcing its sturdiness and enabling it to heat evenly throughout the whole surface area. This allows equal distribution of heat and massively aids in making some delicious bread.
Apart from baking bread, you can also prepare cakes, meatloaves, casseroles, and many other foods. The incredibly ergonomic design of the baking pan also enables easy handling.
Apart from being multi-purpose, this pan comes with a non-stick coating; thus, it keeps the food intact after preparation. Moreover, this makes the cleaning of the baking pan easy as pie after usage.
Pros
Fashioned from steel, which makes the pan incredibly durable
Dishwasher safe and oven safe
The non-stick coating makes food release effortless
Cons
The coating tends to come off after using for a while
Some individuals might find it too small
---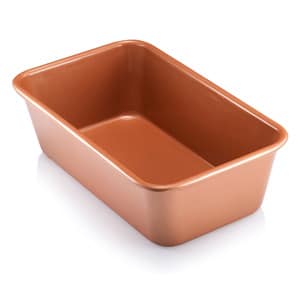 What You Will Love: You'll love its sleek interior of this banana bread pan if you casually drift your hand across its smooth surface.
If you want to make sure your muffins are cooked to perfection and evenly browned, then you should definetely get yourself Gotham's 8mm thick gauge pan.
When we say that it is incredibly durable, we mean it! The 0.8mm thick Aluminum gauge is one of a kind and simply makes this baking pot indestructible. Furthermore, neither its interior nor the exterior will give up to heat if it's exposed to temperatures up to 500 degrees Fahrenheit.
The incorporation of Aluminum, along with a ceramic coating, makes this baking pan non-stick. The combination of the two suppresses any need for baking sheets, oil, or butter. It also distributes the heat evenly across the surface.
No matter how much you clean the surface, it'll remain scratch-less. In addition to that, you'll find this baking pan incredibly easy to clean. You can also toss it in a dishwasher, and it'll come out as good as new.
Pros
Incredibly durable and long-lasting
Oven safe up to 500F
Has rolled edges that don't warp the aluminum doesn't warp or flex
Cons
We couldn't find any cons
Read next: Gotham steel pans review
---
How do I choose a bread loaf pan?
A bread pan or a loaf pan is bakeware in which you can prepare elegant bread of your desire. If you love making bread at home, you must own a quality bread pan that caters to your baking needs.
A bread loaf pan can massively aid you in acquiring that perfect bread look. Furthermore, it can help you get the right amount of crust and browning.
Thus, without further ado, let us look into a few factors that might need your attention when purchasing a bread loaf pan:
Size of the Pan
One of the most essential factors when purchasing a bread loaf pan is its size. The standard size of a bread pan is 9 x 5 inches, but you can also acquire a bread pan that suits your needs. The pan's size is essential as a slight difference in the pan's dimensions can affect how the bread looks and tastes. Therefore, always do your homework on which size do you want.
What Material is Used To Make it
Most bread loaf pans are made of aluminum. This is because aluminum offers a smooth, sleek, and even cooking surface. It also conducts heat efficiently and delivers evenly baked bread and loaves. Aluminum is incredibly durable and easy to clean, as well.
Then, some pans are made of stainless steel. These pans don't heat as evenly as aluminum; therefore, they don't offer the same type of brown crusts as the aluminum does. Stainless steel pans are also durable and easier to clean as compared to aluminum.
Aluminized Steel pans are also an excellent choice for bread loaf pans. They are basically steel pans that are coated with aluminum. The smooth aluminum coating of an aluminized steel loaf pan offers an even-heating surface and grants protection from corrosion.
Glass pans can also be used to bake bread, although they are not as popular as aluminum or stainless-steel ones. Glass pans heat up faster than the stainless-steel ones, but they do not heat evenly; therefore, they do not cook evenly as well.
Silicone pans are relatively new, but they are quickly gaining popularity as they don't tend to get scratched, dented, or oxidized, contrary to the metal pans. They do not break or shatter like glass, so you should definitely keep an eye on the silicone pans. You can also use a silicone baking sheet to make the baking easy.
Color
The darker the pan, the darker the bread would bake. If you want a dark shade of brown, then you should opt for a dark-colored pan. If you prefer a lighter shade of brown, then a light-colored pan would be suitable for you. This is because the dark-colored metals absorb and retain heat much more swiftly than the light-colored ones.
Comfortable Handle
Make sure that the pan has some nice handles to grab when you wish to take it out of the oven. The larger handle, the better it would for you to hold onto the pan. This is an essential factor, and you should definitely opt for a pan with a handle with which you feel comfortable.
---
FAQs
Why Get A Bread Loaf Pan?
You'd probably do yourself justice if you purchase a bread loaf pan to make bread. While you can also prepare bread without a bread loaf pan, if you prepare it in one, you'll find that it provides structure to the bread. Furthermore, you can make the bread more hydrated and can experiment with new types of grains. In short, a bread loaf pan makes your bread delicious.
What kind of pan is best for baking bread?
If you are looking for a baking pan, go for one made up stainless steel, aluminized steel, or even glass as they bake your bread perfectly. Also, if you wish to acquire a lighter color on the exterior of your bread, select a lighter-colored material for your baking pan.
Is it better to bake bread in a glass or metal pan?
In most cases, a metal pan is ideal for baking bread since metal is an efficient heat conductor. But people also tend to bake bread in a glass pan as it takes longer to bake; thus, the batter is baked thoroughly.
What is a standard bread pan size?
There is a variety of loaf pan sizes. The standard bread pan size depends upon your requirement. Although the ideal pan is the one that keeps the depth of the batter the same as mentioned in the original recipe; thus, it offers the same pan area as in the recipe.
What is the difference between a loaf pan and a bread pan?
A loaf pan is fundamentally a bread pan, but its dimensions are ideal for baking a loaf. Its dimensions are 8.5 x 4.5 x 2.5 inches, which are the dimensions of a standard loaf.
What else can I make in a loaf pan besides bread?
Besides bread, you can make various food such as casseroles, lasagna, meatloaves, and potpies. You can also prepare desserts such as cakes, pound cake, and brownies.
---
Final Verdict: Best Bread Pan
Bread pans are quite essential if you are looking to make some elegant baked goods at home. They come in all sizes and are made of different materials, as discussed earlier. If you are in the market looking for a bread loaf pan, fret not, we've got you covered.
We've handpicked three different bread loaf pans that are quite unique. Their durability and sturdiness are unmatched. Furthermore, they are quite efficient at retaining and evenly distributing heat. You'll find them to be incredibly non-stick and easy to clean.
You might think that you can make do with a standard pan to make bread, but the bread loaf pans are an essential and a vital arsenal to your kitchen essentials. Before purchasing one, go through our guide, and you'll land yourself the perfect bread loaf pan.
If you love baking bread or want to give it a try, a good bread pan can make all the difference. The wrong one can keep your bread from cooking evenly, leaving you with a mess and disappointment. Use our list to find the right bread pan you can for your needs.
---
Related Articles: