Quick Summary: We have picked the USA Pan Bakeware Muffin Pan from the best muffin pans list due to its heavy-gauge aluminum steel construction and non-stick silicone coating. Its fluted and corrugated design allows for better air circulation, which provides more even cooking and easier release of foods. This is also durable and comes with a limited lifetime warranty.
Baking is one of the most gratifying culinary activities. The fascinating way through which it allows various ingredients to interact with each other and create a wholesome product seems no less than a wonder. One of the most famous and popular baked goodies are muffins.
These small-sized edibles are a treat for everyone with a sweet tooth. The main distinguishing feature between cupcakes/muffins and regular cakes is the size. While a regular cake is available in various sizes, they are known for their well-constructed and unique size and shape.
It is for this reason that special muffin trays are available as they let bakers give the perfect shape to their muffins. A wrong pan or mold will spoil the precious batter and therefore it is better to always bake muffins with the best pan. The biggest factor of convenience in these pans is that they give you the option to bake a big bunch of products in one go.
Moreover, high-quality muffin pans have non-stick coatings that save your muffins from burning and breaking up. As they are an essential item for every kitchen pantry, therefore, they are reasonably priced and are super easy to buy from common markets, shops, etc.
If you want to treat your friends and family with the most delicious muffins, then check out our list of the best muffin pan in order to make a more informed decision.
Quick Navigation
---
10 Best Muffin Pans Comparison
| | | |
| --- | --- | --- |
| | Make perfect cupcakes and muffins with this versatile pan. This pan consists of 12 standard-sized wells to hold the batter whereas the americoat lets you scoop out the baked goods with ease. | Read Our Review |
| | Made with 100% food-grade silicone, this baking pan is the best baking accessory. With qualities like BPA free design, freezer safe, dishwasher safe and heat resistant-`this pan will give perfect shape to your munchies. | Read Our Review |
| | This pan is designed with heavy gauge aluminized steel which ensures that every single piece gets thoroughly heated and baked. You can easily prepare a batch of cupcakes, muffins, or mini quiches with this nonstick pan. | Read Our Review |
| | The best and most reliable form of European silicone is utilized in the manufacturing of muffin pans. The non-stick interior of the pan shells makes it super easy for removing out the freshly-baked muffins, cupcakes, etc. | Read Our Review |
| | This sleek muffin pan is made with high quality cast iron which is super effective in transferring heat to the batter. With the help of its smooth non-stick coating, you can easily take out the baked cupcakes. | Read Our Review |
| | These ceramic pans are ideal for baking proportionally sized cupcakes, muffins, etc. The nonstick coating added to these pans is free from all harmful chemicals and will ensure that your baked products are safe to consume. | Read Our Review |
| | This rectangular shaped baking pan is a winner for producing quality baked goods. Lightweight and durable-this stainless steel baking pan is perfect for baking a dozen cupcakes, muffins, mini quiches, etc. | Read Our Review |
| | Designed with pure aluminum-this muffin pan is one item that will last you longer because of its durable structure. Moreover, this pan is made to be rust free and will resist the impact of scratches, corrosion, and stains. | Read Our Review |
| | This small-sized muffin pan is a perfect mold to prepare a limited amount of cupcakes etc. These muffin pans are safe to use according to the FDA and are also BPA free. | Read Our Review |
| | This silicone muffin pans house 24 spots for baking the ideal shaped cupcakes and muffins. With the help of its non-stick coating, you can easily take out your baked items and conveniently clean them after use. | Read Our Review |
---
Reviews of Top 10 Muffin Pans
Best Overall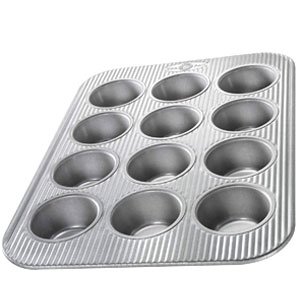 What You Will Love: The corrugated design provides better air circulation for more even baking and enhanced non-stick function.
The USA Pan Bakeware Muffin Pan is a very well-loved kitchen tool. It is made from heavy gauge aluminized steel with a patented silicone coating. It is durable, BPA free and comes with a limited lifetime warranty.
Some users have stated that the non-stick coating seems to wear down, but others state that with proper care, this is not a problem. Wash by hand only and keep sharp items away so as to not scratch the coating.
The fluted, corrugated design assists in even baking and better non-stick function. USA Pan Bakeware Muffin Pan runs around $30 making it the highest-priced muffin pan on this list, but it still comes highly recommended.
Pros:
Room for 12 muffins
Non-stick, quick release
Heavy-gauge steel
Patented silicone coating
Corrugated design
Durable
Bpa free
Cons:
Non-stick properties may wear out quickly
---
Best Budget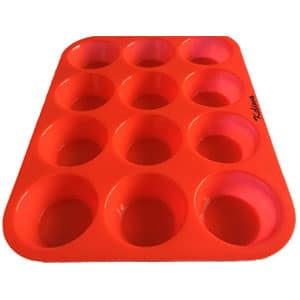 What You Will Love: This flexible muffin pan can even be used to make frozen treats.
The Keliwa's Silicone Muffin and Cupcake Pan is a non-stick muffin pan that comes in an exciting red color. The silicone is FDA approved and BPA free.
It is also dishwasher safe, freezer safe, and is very flexible. This flexibility makes it very easy to pop the muffins out but also decreases the sturdiness of the pan.
Keliwa's Muffin and Cupcake Pan is important to have something like a cookie sheet underneath this pan when it is full and in use. The price is great at around $10, making it a great deal.
Pros:
Non-stick, silicone
Microwave safe
Red,
Fda approved,
Bpa free,
Freezer safe, dishwasher safe,
Stain-resistant, flexible,
21 free recipes,
Even baking,
Heat resistant up to 450 degrees,
Versatile use,
Easy release
Cons:
---
Best Non-Stick Muffin Pan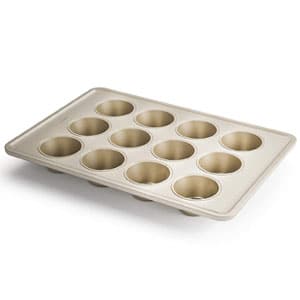 What You Will Love: It has rolled edges for better grip and crimp free corners for easier cleaning.
The OXO Good Grips Non Stick Pro is made from Swiss engineered heavy gauge aluminized steel that has two layers of non-stick coating. It is ceramic reinforced and has square rolled edges and crimp free corners.
The micro-texture increases airflow for more even cooking and enhanced non-stick properties.
The muffin pan is stain-resistant, corrosion-resistant, and scratch-resistant. Unfortunately, some users complain that it warps during use. It is a pretty fair price, too, at around $25.
Pros:
Versatile uses,
Swiss-engineered,
Ceramic reinforced,
2 layer coating,
Rolled edges for good grip,
Micro texture for increased airflow,
Scratch- and stain- resistant,
Corrosion resistant,
Heavy gauge aluminized steel,
Crimp free corners
Cons:
---
Best Silicone Muffin Pan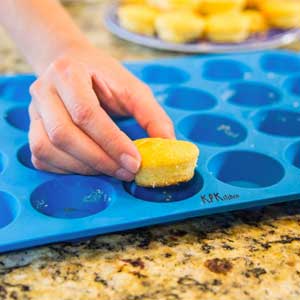 What You Will Love: It is a set of two pans- one for 12 regular size muffins and 24 mini muffins.
The KP Kitchen Muffin and Cupcake Set is an attractive blue muffin set that is made from 100% pure silicone. The set comes with a 12 and a 24 muffin piece setup. Both are dishwasher safe, microwave safe, oven safe, and freezer safe.
The silicone makes it easy to release food but may also not heat evenly so you may need to adjust the temperature and cooking times. This great set can usually be found around $13.
Pros:
Non-stick,
Bpa free,
Dishwasher safe,
Blue silicone,
Easy to pop muffins out,
Non-toxic food grade,
Comes with a recipe book,
Microwave safe,
Oven safe,
Freezer safe,
100% pure silicone,
Great price,
Two sets
Cons:
Floppy,
May not cook evenly
---
Best Cast Iron Muffin Pan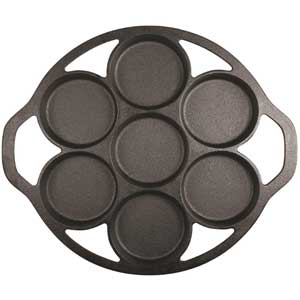 What You Will Love: This pre-seasoned cast iron cake and muffin pan is a great pan for many different foods thanks to its even cooking and non-stick properties.
The Lodge Cast Iron muffin cupcake baking pan comes pre-seasoned for non-stick properties. The round design gives the pan a traditional look, and it offers seven slots for biscuits, desserts, and more.
This may not be a good choice for a home that bakes a lot at one time as seven slots do not provide a lot of openings.
The cast iron does provide slow and even cooking. It is also rust proof and will last a very long time if cared for. At around $25, you can find cheaper options, but cast iron options are generally well worth the investment.
Pros:
Pre-seasoned,
Great for many foods including biscuits,
Provides slow and even cooking, non-stick,
Rust proof,
Traditional look,
Round design,
Non-stick
Cons:
Only has 7 slots,
A higher-priced option on this list
---
Best Ceramic Muffin Pan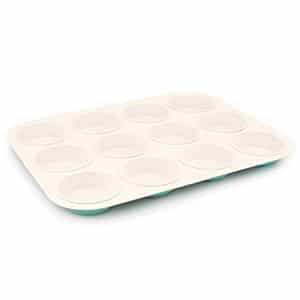 What You Will Love: The color combo is great for bright and fun kitchen décor.
The Greenlife BW000056-002 Bakeware Muffin Ceramic Pan is a great addition to most dinnerware. It is white on top and turquoise on the bottom, making it a fun color combination.
It is safe in the oven for up to 450 degrees and it is safe for you. You cannot use any spray oils on it but with the use of butter or real oils, your food will easily release from the pan.
The ceramic non-stick surface also contributes to that to the easy release. However, the ceramic coating is just a coating, so it can easily scratch off. It is also hand wash only. Greenlife Muffin Ceramic Pan will run you around $15, so it falls in between other options on our list, but it is closer to the lower prices.
Pros:
Fun color,
Great price,
Ceramic non-stick coating,
No pfas or pfoa,
Safe up to 450 degrees,
Releases food easily
Cons:
Hand wash only,
Ceramic is literally a painted on the coating,
Scratches easily,
No spray oils- butter and oil only
---
Best Stainless Steel Muffin Pan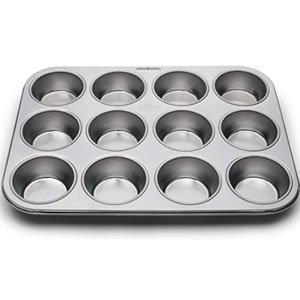 What You Will Love: The stainless steel design makes this pan lightweight yet durable.
The Fox Run 4868 Muffin Pan is an attractive stainless steel option. It is thin and lightweight yet durable. It is also stain-resistant, non- reactive, non- porous, and rust-resistant.
On the downside, it is not very easy to clean. Additionally, though there are twelve muffin tins, they are only 1.25" deep. Fox Run 4868 small depth results in pretty shallow muffins.
If you want to bake large muffins, this is not a good choice for you. At around $23, it is one of the higher priced pans on our list.
Pros:
12 muffin cups,
Stainless steel,
Lightweight yet durable,
Stain- and rust-resistant,
Non- reactive, non-porous, attractive
Cons:
Higher price than other options,
Not very easy to clean,
Might be too shallow for many
---
Best Aluminum Muffin Pan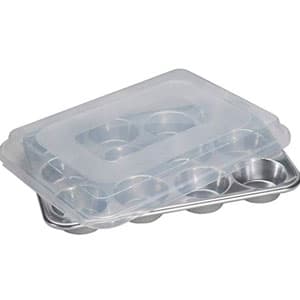 What You Will Love: This even cooking muffin pan comes with a lid to cover your goodies.
The Nordic Ware Natural Aluminum Commercial Muffin Pan is made from pure aluminum, so it offers superior heat conductivity and even cooking. It is also made with a steel rim to make it more durable and less apt to warping.
The included lid is great for keeping your baked goods fresh and delicious. Unfortunately, as the lid is not very tall, it may cause problems for those that want to add icing to either muffins or cupcakes. As it runs around $24, it is not very expensive but there are definitely cheaper options.
Pros:
Even cooking,
Comes with lid,
Pure aluminum,
Even heat distribution,
Steel rim to prevent warping,
Rust resistant
Cons:
Hand wash only,
Lid may prevent adding icing to desserts,
A little high price
---
Best for Large Size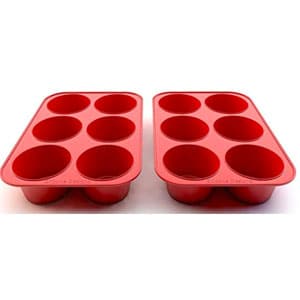 What You Will Love: The red muffin pans comes in a set of two and comes with a recipe eBook.
This 6 cup silicone muffin cupcake baking pan comes in a set of two pans that have six large cups each. These cups have no chemical coating and are up to 25% larger than regular muffin cups.
The silicone is BPA free, FDA approved, and able to withstand oven temperatures up to 470 degrees. Though most silicone options are rather flimsy, these come with stability bars. At less than $20, it is a really good price.
Pros:
Microwave safe,
Freezer safe,
Dishwasher safe,
Bpa free,
Fda approved,
100% satisfaction guaranteed,
Can register for an extended warranty,
Good price,
Set of 2 pans,
No chemical coating
Cons:
Foods might stick and burn
---
Best for Small Size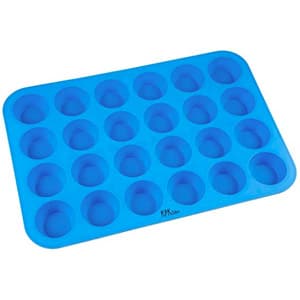 What You Will Love: You can bake 24 mini muffins or cupcakes in a cute pan that releases baked goods easily.
The KP Kitchen Silicone Mini Muffin and Cupcake Baking Pan is another fun choice in muffin pans. The bright blue pan holds 24 mini muffins or cupcake.
The silicone is non-stick, BPA free, and dishwasher safe. To make it even better, the pan comes with a recipe book and a satisfaction guarantee.
KP Kitchen Silicone Mini Muffin is not very sturdy, however, so you will need to set it on a flat, solid pan when using it. At about $13, it is one of the best values on our list. There is also an option for a large 12 cup muffin pan.
Pros:
24 cups, non-stick,
Bpa free,
Great price,
100% silicone,
Dishwasher safe,
Blue,
Even heat distribution,
Comes with a recipe book,
Satisfaction guarantee
Cons:
It is floppy so you will need to set it on a solid pan for stability
---
Why Get a Muffin Pan?
In my home, nothing is more loved for breakfast or an after-dinner snack than strawberry or blueberry muffins. Banana and chocolate chip muffins have also been known to make an appearance. And though we have given it an honest try, store-bought goodies just do not cut it.
We love how fresh and moist homemade muffins are, so having a few pans in my kitchen is an absolute necessity. If you love muffins as we do, it is imperative to keep at least one good muffin pan available.
The great thing, however, is that you do not have to stick with just muffins and cupcakes as these handy kitchen tools can be used for many different foods and desserts.
Many people use them to make quiches, mini omelets, popsicles, fruit cups, and any other creative idea they come up with. The versatility of these make them invaluable.
If you are looking to replace some old pans or you are stocking your kitchen for the first time, this article can help you find the top muffin pan for you.
---
How to Choose the Best Muffin Pan?
Muffin pans can be made from many different materials, all of which have their own risks and benefits.
Below is a list of construction materials and other differences you can expect to find. Types and Construction Materials:
Silicone
Silicone is a very flexible material which is loved by many chefs and bakers. Unlike other materials, it can be used in freezers, microwaves, and convection ovens. Foods also pop out pretty easily. The downside is that silicone does not heat evenly.
Aluminum
Aluminum is a great heat conductor but it is not very good when it comes to non-stick features, and it tends to be dented easily as it. However, it is easier to clean than other options.
Aluminized Steel
Aluminized steel has the benefits of regular aluminum with the strength and durability of steel.
Cast Aluminum
Often, this material is cast iron with an aluminum coating, though at times it may actually be carbon steel underneath.
Carbon Steel
Carbon steel is dark steel similar to cast iron. At times, it will also have an aluminum alloy coating to help prevent rust and corrosion.
Non-Stick
Non-stick is basically what it says- the coating does not allow food to stick. However, there are a couple of downsides. First, the non-stick coating can actually be hazardous to your health if you are not careful. Second, the non-stick coating can wear off over time.
Capacity
A muffin pan's capacity can range greatly. Some may only have space for four muffins while others have space for 24. Some are for baking really large muffins while others are made for mini muffins. There are even some that are designed specifically to make just muffin tops.
Common Problems in Muffin Pan
Quite possibly, the biggest trouble with muffin tins is finding the "sweet spot" when using them. This is because different materials and different color pans cook differently.
For instance, darker pans will cook quickly on the outside but not on the inside so you will likely have to adjust the temperature.
Lighter pans do not cook as quickly, so you will probably have to add some time. It can take some time to figure out how to tweak your cooking times and temps.
---
Final Verdict: Best Muffin Pans
Muffin pans can be a great source of enjoyment in any home, as well as a valuable kitchen tool. The convenience and health benefits associated with baking homemade muffins far outweigh any time it takes to do so.
And baking muffins with little ones can start a family tradition. If you are ready to trade in your old model for a new one, or just ready to break into the baking scene, this article can help you find the best muffin pan for you.
More Related Articles:
---