There's no denying that the industry for amatuer baking is overflowing with a variety of backing appliances that are supposed must-haves: tins, sheets, cake turntables, rolling pins, pie weights, pastry cutters – the list goes on and on.
The reality is that many of these products – purchased for a one-time baking endeavor and seemingly vital to the project – end up sitting in your pantry in the darkest corner on the highest shelf, never to be used again.
While some baking appliances seem to be a make it or break it product for an otherwise simple recipe (highlighted in recipe books as a necessary "ingredient"), the truth is that there are really only ten or so essential products you really need for most at-home baking adventures to be successful.
Used again and again, they've proven to be useful, durable, and most importantly, multi-purpose. Follow this guide to find, aside from a standard assortment of utensils (rubber spatulas, measuring spoons/cups, mixing bowls), everything you'll need to produce professional-level baked goods at home every time.
Quick Navigation
---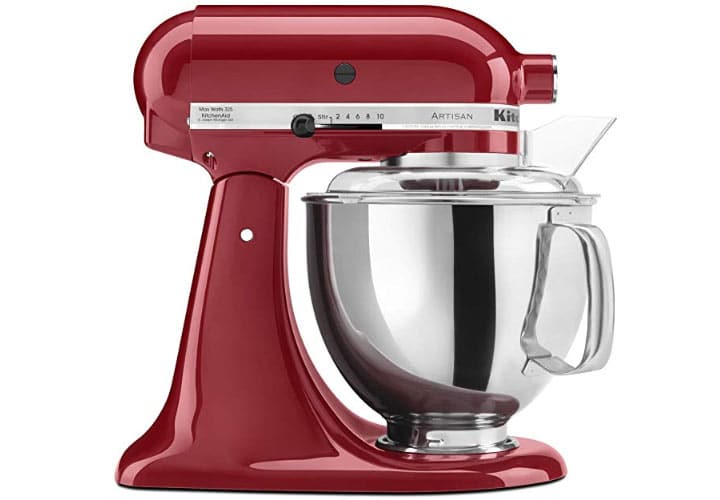 Did you know, aside from the oven, that stand mixers have come to be one of the most used baking appliances in both amateur and professional bakers' kitchens?
In addition to providing greatly reduced preparation times in hundreds of baking recipes, stand mixers are a great addition to any budding chef's kitchen as well.
Not only are they an incredibly diverse tool, but they also provide the option for doubling or tripling recipes with their bowl size and internal power, a necessary feature for at-home bakers looking to batch bake for events or gatherings.
Simply turn it on and walk away, and in no time you'll have the perfect meringue, frosting, or cookie dough without the affliction of a sore hand.
That being said, stand mixers are likely to be your most expensive baking investment, with prices ranging from around $80 for a more economic option, to hundreds of dollars for commercial-sized models.
So which mixer is best? We'd recommend the KitchenAid Artisan Tilt-Head Stand Mixer. Not too small to be restrictive, nor too large to be cumbersome, and coming right in at the mid-range in price, this stand-mixer is a favorite.
A variety of colors, dependable quality, and endless attachment options make this model the perfect little assistant to any baker, beginner or advanced. Check it out here.
Related article : Hand Mixer Vs. Stand Mixer: What's The Difference?
---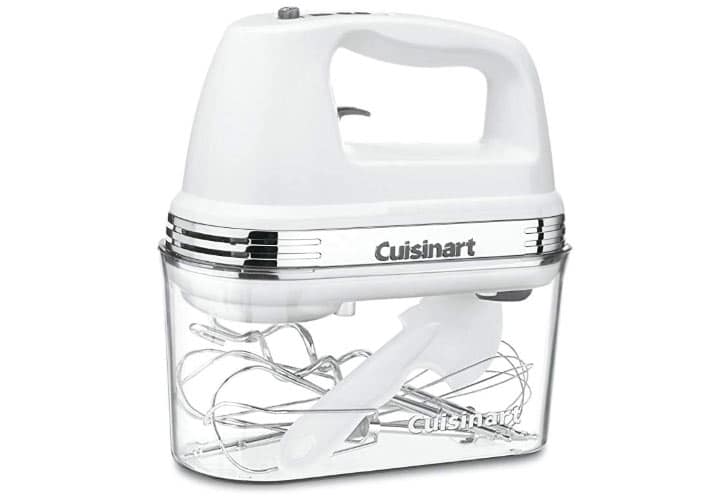 While stand mixers are capable of knocking out just about any wearisome mixture, often you'll need something more concentrated.
Hand mixers are vital for one-bowl recipes, smaller batches, and mixtures that simply don't need as much time or power. Hand mixers remove the effort, without the commitment of larger scale clean-up and assembly.
You'll find yourself pulling out this appliance any time a recipe calls for a little more than just manual mixing, but nothing too lengthy or hardcore.
Hand mixers are also a great option for more controlled mixing, as in the case of macarons, where precision is key. Not to mention, a quality hand mixer can absolutely be purchased in lieu of a stand mixer if you're just starting out and don't want to commit to stand mixing just yet.
Our pick? The Cuisinart Power Advantage Plus 9-Speed Handheld Mixer is affordable, compact and storable, and comes with a convenient storage case for attachments. View it on Amazon here.
Related article : Best Hand Mixer Review
---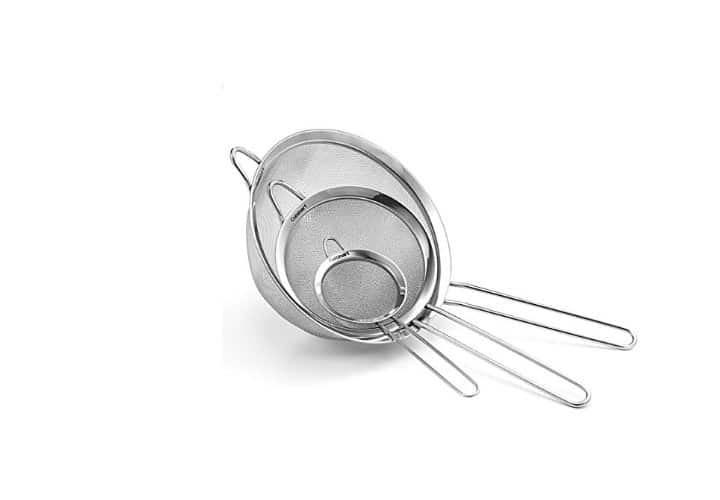 What is a sieve and why do you need one? It may seem obscure, but sieves are actually one of the handiest tools you can have in your kitchen, baking and cooking alike. A sieve, or sifter, comes in a variety of sizes and is usually mesh and circular in shape.
It is mainly used for sifting flour in recipes, but can also be used for dusting, decorating, and draining. A sieve is incredibly important for a baker to have, primarily for its ability to combine ingredients quickly as well as eliminate any pesky lumps in your dry ingredients.
Once you purchase a sieve, you'll notice just how many recipes recommend it, as well as how much of a difference it can make in the efficiency of your baking and the texture of your finished products. Plus, it's affordable.
We recommend this one from Amazon, which comes in three sizes for only $13.00. Plus, it's made out of stainless steel for extra durability.
---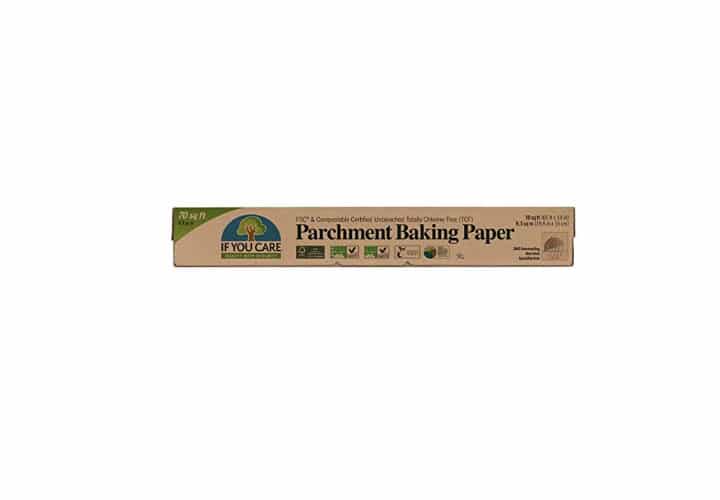 It may seem like it goes without saying, but good parchment paper can make or break a baked good. From proper cookie spread-age in the oven to quick clean-up, to a reliable barrier between pastry and pie weights during blind bakes, parchment is just about the most versatile tool you can buy. Get a greaseproof, heatproof roll for zero leakage and oven resistance, like this.
---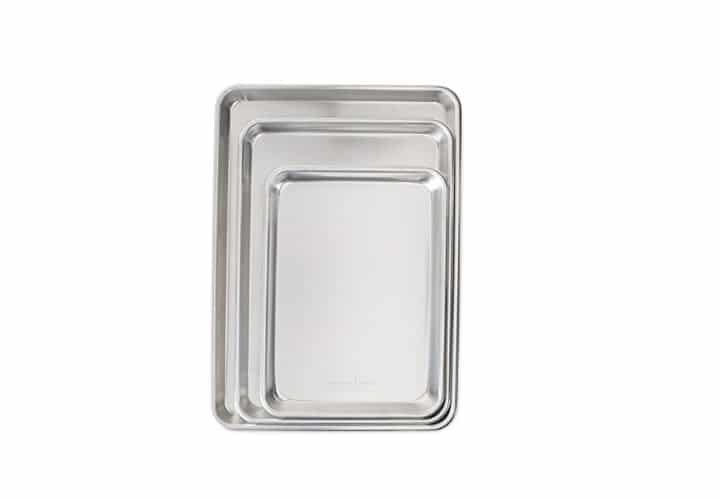 It doesn't get more basic than baking tins and sheets, and you don't need to empty your pockets for long-lasting, high-quality options. We've done the digging for you, with baking tins and sheets for the three most common types of recipes that require bakeware.
For cookies, candy, and bars: this set from NordicWare comes in three different sizes. With pure aluminum and steel rims to promote even heat distribution and prevent warping in the oven, they're also rust-proof. Take a look.
For loaves: non-stick and calphalon, this tin will give you professional quality, standard-sized loaves without the outrageous price tag. You can find it on Amazon.
For cakes and cupcakes: bakers far and wide trust Wilton with their cupcakes and cakes, for good reason. The brand is known for being affordable, sturdy, and consistent. This cupcake mold will hold up to two dozen cakes, cutting normal bake times in half, and this set of two circular cake tins is deep and non-stick for perfectly round layer cakes.
Related article : Best Cookie Sheets
---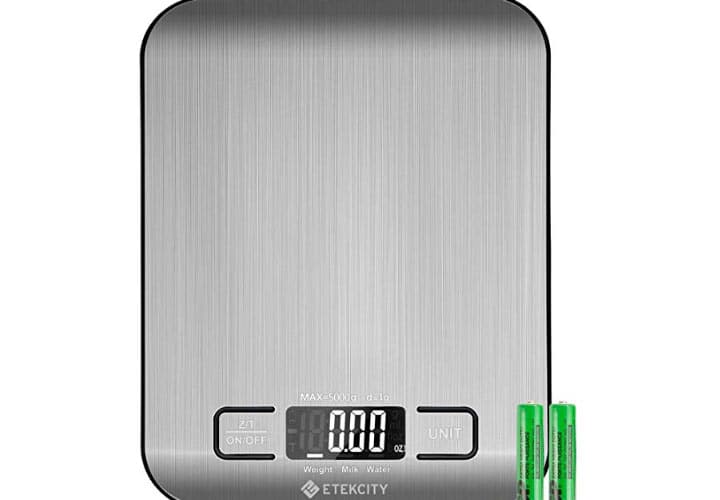 Many bakers in the United States are under the impression that electronic scales are an unnecessary purchase as most recipes use cups, tablespoons, and other imperial measurements.
However, this isn't the case. Many, recipes online give weight measurements in addition to cup measurements in order to be accessible to bakers around the world.
It is also incredibly easy to convert measurements from cups to grams or ounces with online tools. Why should you make the switch?
Electronic scales are imperative for accurate measuring, and as a result, you'll find your bakes to be far more precise and balanced, as well as the baking process much easier without all the extra clean-up of measuring utensils.
This option from Amazon is great. It's large enough that you can set your bowl directly on it and compact enough for easy storage. It's also incredibly accurate. Check it out here.
---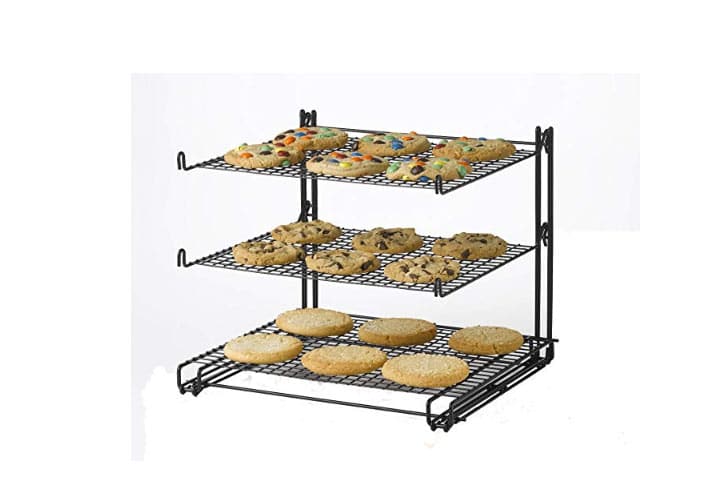 It doesn't get more basic than a cooling rack. This tool is insanely useful, yet often overlooked. There's often nothing more detrimental to a perfectly baked cake or loaf than letting it sit in the pan after it's removed from the oven, only to have it continue to cook in the hot metal and become dry and overbaked.
Cooling racks, like this cool three-tiered option from Betty Crocker, allow you to quickly halt the baking process, offer a convenient space for goods to cool, and provide a great surface for decorating.
Cooling racks can be used for virtually any dessert made in the oven, quickly exceeding the cost of purchase.
---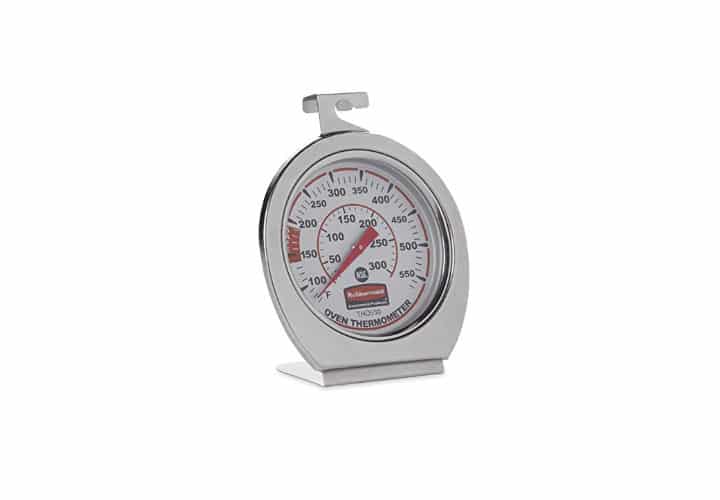 Nothing can ruin an otherwise perfect baker's dozen like an inaccurate temperature reading on your oven.
What many people fail to realize when their recipe calls for a specific strict temperature setting is that most non commercial ovens can vary by around thirty degrees, thereby throwing off the end result of otherwise well-executed dishes.
Keep an eye on the real temperature of your oven by placing one of these thermometers near the space on the rack where you plan to place your item. You'll certainly be able to tell the difference every time you bake.
Related article : Best Oven Thermometers
---
If you bake a lot of cakes, or use a lot of frosting in your baking, you'll be aware of the struggle of constantly running out of piping bags, reaching for a Ziploc with the tip cut off instead for a quick, messy fix.
Reusable piping bags are the answer, a tool that will last you hundreds of recipes and save you countless dollars in the long run. Plus, they're easy to wash and great for the environment. We recommend something like these, which can easily accommodate a variety of nozzle tips.
---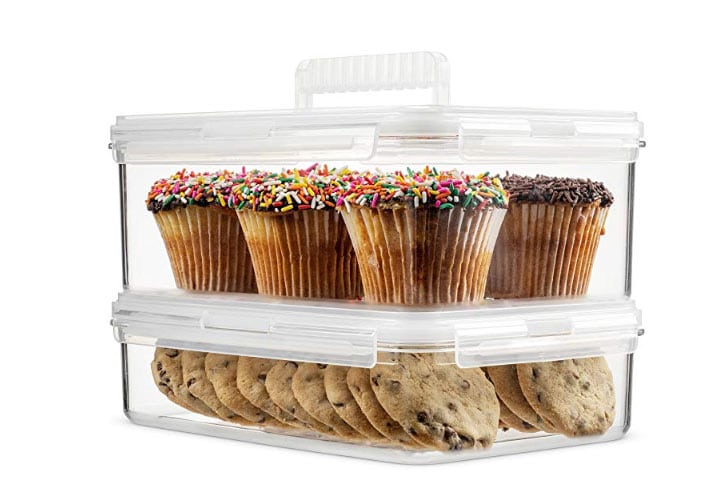 Finally, it's time to store your delicious dessert! Producing a perfect result is difficult enough. Store it properly and you'll be sure to enjoy it for as long as possible. Airtight containers provide a compact way to safely store food and prevent it from going stale or moldy.
They come in an endless array of sizes and shapes. We recommend starting with the basics. This two-piece set is sturdy, stackable, and dishwasher safe – perfect for cupcakes, cookies, and bars.
Related article: Best Airtight Container
---
You don't need an endless budget to get started baking. Get started with even one or two of these essentials and you'll find that when it comes to building up your kitchen, versatility in your products will take you much further than niche purchases.
Every recipe is different, but finding a variety of products that can be reused across multiple different types of baking will pay off big in the long run.
Related Articles