What Is The Best Oven Glove?
The top choice of our reviewed options is the Gülife Oven Gloves because this pair can handle temperatures up to 660 degrees and offers protection for your hands whenever you cook or bake. The M-Aramid fiber material is tough yet pliable and resistant to fire so you don't get burned.
---
You've probably used oven mitts that were made of padded, quilted cloth that have gotten singed around the edges.
They develop thin spots where your fingers get burned whenever you reach into the oven to pull out a hot pan.
These days, oven mitts are being replaced with silicone oven gloves with fingers that can take the heat, clean up well, and store easily.
There are several oven gloves brands to choose from, but we've reviewed the 10 best oven gloves on the market for you to choose from.
They are the Revolutionary EN407 Standard Gulife Oven Glove, the Makimy Professional Barbeque-Grill-Oven Cooking Gloves, the NON-Slip Grip Silicone Oven Gloves, the Dante Super Oven Gloves, and the OUUO Extreme Heat Resistant Kitchen BBQ Gloves.
---
Comparison Of 10 Best Oven Gloves
---
Top 10 Oven Gloves Reviews
---
Best Overall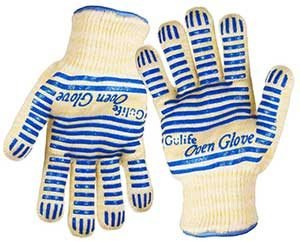 What You Will Love: Made with P-Aramid and M-Aramid, the fibers used in Kevlar vests and Nomex firefighter equipment, these are oven gloves with fingers designed to hold hot dishes securely while withstanding the heat involved in baking and grilling.
No pot holder can compare to this in ease of use, safety against burns, and sheer ease of clean up and care.
Features:
Withstands heat up to 662°F
Large interior
Soft lining
Can be switched from left to right hand and back
Fits medium sized hands the best
Machine or hand wash in mild detergent
---
Best Budget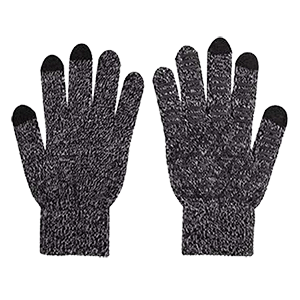 What You Will Love: Available in a medium and large size, these professional quality chefs oven gloves use Nomex and Kevlar fibers, just like those used in firefighters' equipment.
Heavy duty but lightweight, they have excellent heat resistant protection for your hands with good wrist coverage as well.
Features:
Inner layer is 100% cotton
Comes in medium and XL sizes
Includes 50 BBQ recipes as a download
Lifetime free replacement guarantee
Silicone grip dots offer great grasping ability
Heat resistant to 650°F
---
Best Silicone Oven Gloves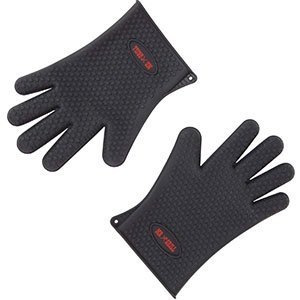 What You Will Love: These are silicone (or rubber) oven gloves with fingers that are so easy to clean- throw them in the dishwasher or simply rinse them off!
Without the Nomex and Kevlar layers, they won't be heat resistant to extremely high temperatures, but they work well for kitchen cooking and basic grilling.
Features:
Heat resistant to 425°F
Stain proof silicone design
Rinse clean and hang dry
Ten year guarantee
Dishwasher safe
Less expensive than many oven mitts
---
Best Cotton Gloves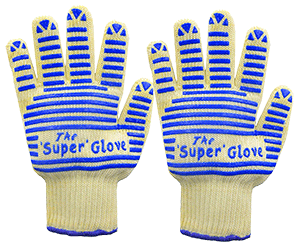 What You Will Love: Designed to resemble the original oven glove, these improve on it with two gloves (instead of just one) and the comfort of cotton on the inside.
Accompanying the pair is an e-book brimful with 400 recipes for baking, grilling, microwave cooking, and fire pit cooking.
Features:
Inner cotton lining
Mid-range price
One size
Long lasting
Heat resistant to 662°F
Accompanied by 400 recipe e-book
---
Best BBQ Gloves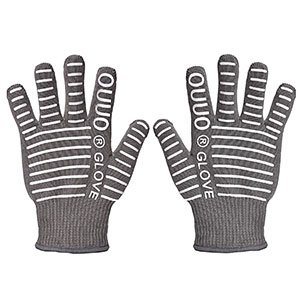 What You Will Love: For really high temperature oven gloves, look no farther than the OUUO Extreme Heat Resistant Gloves.
With knitted gloves that are covered with silicone strips for reliable gripping, these are lined on the inside with comfortable, breathable cotton.
They are nevertheless priced for the first time user who might need convincing that oven gloves are the way to go.
Features:
Heat resistant to 932°F
Low-range price
Middle layer made of rubber to protect user from steam
One size fits most
---
Best Heat Resistance Gloves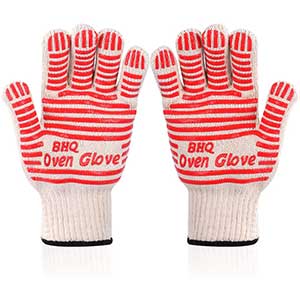 What You Will Love: The CZSYZCZS Oven Gloves are a great option for extreme heat because they can handle more heat than other oven mitts and gloves and protect your hands better in harsh conditions. They allow you to hold large pots with ease and ensure that you can transfer heated dishes from the oven to the table.
Versatility
These gloves have individual fingers that allow you to move your hands more freely to grab smaller items from the bbq or oven. This also enables you to use these gloves for non-cooking purposes like moving firewood.
Cotton Lining
These pair of gloves come with a comfortable and soft lining that makes wearing these gloves easy and comfy. The cotton lining also keeps your hands from sticking to the fabric like other glove's fabrics so your hands don't get sweaty and stick to the interior.
Lifetime Warranty
These oven gloves come with a warranty that offers a replacement pair of gloves if anything were to damage or rip these products. This makes it easy to get a replacement if something happens to either one of the two you purchase.
Pros:
Handles up to 932 degrees
Versatile with mobility
Has a cotton lining
Comfortable to wear
Comes with a lifetime warranty
Cons:
Comes in only one size, which is very big
They are not waterproof
---
First Runner Up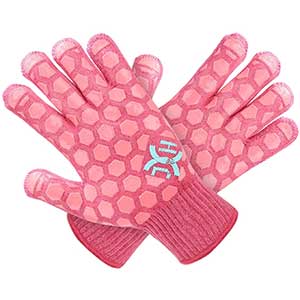 What You Will Love: The JH oven gloves are a pair that comes with the ability to handle high heat so you will be able to hold the hottest dishes right out of the oven. They are resistant to heat and fire so you can use it for roasting items on an open fire, or for flipping items on a bbq.
Two Layers
These gloves have two layers of silicone that make them able to handle a higher temperature than other options. The silicone is thin and heat-resistant and doesn't make the gloves too thick and immoveable so you still have mobility.
Non-Slip Texture
These JH oven gloves have a non-slip texture that prevents you from dropping pots or pans while you are carrying them. This prevents spills and keeps your hands firmly on whatever item you are holding so you don't drop it.
Reversible
These JH gloves are reversible so it doesn't matter whether you put each one on a certain hand because the shape allows you to wear both gloves on either hand with a comfortable fit that doesn't feel unnatural or overly tight.
Pros:
Heat-resistant
Handles high heat
Has two layers of silicone
Has a non-slip texture
Both are reversible
Cons:
Can feel a little bulky
Might be too big for smaller hands
---
Second Runner Up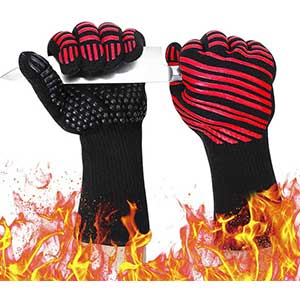 What You Will Love: The Semboh bbq gloves that allow you to transfer hot items from the grill to the table or to flip meats so they don't burn. These are also ideal options for oven use because they can handle high heat and can be used to hold heated pans.
Extreme Heat Use
These Semboh bbq gloves are able to withstand very high temperatures so you don't have to worry about using them in conditions that are too hot. This will keep your hands from getting too hot even in the hottest temperatures and allows you to cook over open flames.
Three Layers
These gloves are made with three layers of material that keep you from feeling the heat and also make them more comfortable to wear while carrying or lifting heavier pots or pans so you don't feel the hard steel or ceramic underneath.
Anti-Slip
This pair of gloves comes with food-safe silicone strips that keep your hands from slipping off the item you are holding so you won't drop the pot or pan you are holding. These keep you from slipping and dropping any dishes and losing out on the food you just cooked.
Pros:
Handles extreme heat
For bbq and oven
Keeps hands protected
Three layers of material
Anti-slip silicone on exterior
Cons:
Not for commercial or professional use
Not made for heavy use with non-food items like wood
---
Best Kitchen Gloves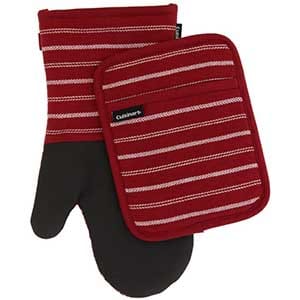 What You Will Love: These Cuisinart oven mitts are in a set that comes with one oven mitt and a potholder to remove hot items from the oven so you can choose which hand to put the full mitt over. Both options come with a loop at the top to use for hanging in the kitchen for easy access when you need them.
Neoprene Material
This set is made from Neoprene material that is heat resistant up to 400 degrees and will keep your hands from feeling the heat from the oven while you are removing a pot or pan of food. The Neoprene material is durable and will make your oven mitt set last.
Gripping Texture
This oven mitt and potholder set both come with a gripping texture that makes it easier to get a better grip on the item you are trying to hold. This will allow you to handle items that are difficult to carry, like large pots, without feeling like they are slipping from your hands.
Easy to Clean
This potholder and oven mitt set is made to be easy to clean and makes the job easier because all you need to do is hand wash and lay them out to dry naturally. You can even hang them up by the loop to help them drip dry faster.
Pros:
Comes in a set
Includes potholder and oven mitt
Made from Neoprene material
Has a gripping texture
Easy to clean
Cons:
The oven mitt doesn't seem to last as long as the potholder
The length is on the shorter side
---
Best Professional Gloves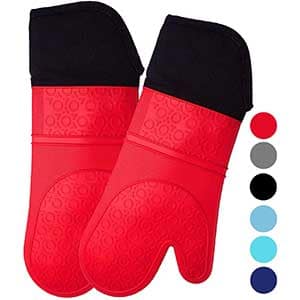 What You Will Love: The HOMWE professional silicone oven mitts are a set that offers your hands protection for the high heat coming from the oven or bbq. These oven mitts can be used for handling or removing pots or pans from the oven or bbq.
Professional Use
These oven mitts are designed for professional use in a commercial kitchen and can handle heavy use and hectic work conditions without sustaining damage. Long-lasting use is important for professionals and these mitts provide just that.
Steam Resistant
These HOMWE oven mitts are steam resistant and can be around it without getting too hot to use. This is because they don't absorb liquids like other oven mitts and can also be used as dishwashing gloves when needed.
Non-Slip Grip
These oven mitts have a non-slip grip that makes them easier to grip when wearing and makes transferring dishes from the oven to the table much easier.
Pros:
Handles high heat
Usable for bbq and oven
For professional use
Steam resistant material
Non-slip grip
Cons:
The mitts are too loose for smaller hands
Is not as heat-resistant as other options
---
Buying Guide Of Oven Gloves
Here are some questions below that we asked ourselves as we researched oven gloves and which friends have asked us when we told them about our latest kitchen experiment.
Whether you're a first-time oven glove buyer or you've been using them for some time, you've probably had questions like these too.
Why Are These Better Than Other Oven Gloves?
These oven gloves combine safety features like Kevlar and Nomex fibers for strength and heat resistance.
The makers didn't want to sacrifice comfort, so they lined the inside with cotton or cotton and polyester mixes to provide soft layers against the skin.
The designers made each glove reversible so that lefties can bake their dinners just as safely as right handed people.
Finally, they designed the silicone strips on each glove finger to offer secure handling of hot dishes.
With high-tech design meeting comfort in a pair of heat-resistant oven gloves like these, we were too impressed to really care about other brands. Most others either had no silicone strips or had no wrist protection at all.
There was even a brand with long wrist cuffs that covered more of the forearm and while we were interested at first, we discovered that these were harder to pull off and put on the way gloves need to be when you're working in the kitchen.
The 10 we chose simply make handling hot pans much safer and easier than it has ever been.
Do They Really Work Like That?
Many oven glove users are nervous at first about reaching into an oven wearing what appears to be winter driving gloves. It just looks odd to some people.
But once you experience the safety and security of these strong gripping, non-burning oven gloves, you're convinced. Most oven glove users usually never go back to mitts or pot holders.
What's This About Kevlar? Isn't That Used In Police Vests?
The fibers we're talking about are Nomex and Kevlar. Each are forms of Aramid fibers.
The Nomex fiber is called M-Aramid and is hardy yet flexible. It is used in firefighter equipment to resist heat and protect firefighters, so it works well under extreme conditions.
The Kevlar included in these gloves is made of P-Aramid fibers and is five times as strong as steel when measured on an equal basis.
This means durability that will last under the pressure of both oven heat and your Grandmother's piercing, judgmental gaze.
Are The Oven Gloves Clumsy to Use?
Not at all. These oven gloves give you a better grip than old oven mitts or pot holders ever did. You can use each finger to feel your way, which you couldn't do with mitts.
Grip the handles of roasting pans like never before.
Feel the silicone adhere to glass dishes in ways cotton mitts never could.
Think of it: combining the glove design with the silicone grips give you great confidence in holding that you made in your aunt's 50-year-old casserole dish.
Are Oven Gloves Worth the Investment?
The investment here is in the finest fiber materials used by firefighters and military personnel, designed to fit the average hand and to make baking safer and simpler.
These will last a long time and the pleasure you experience baking without burns (and without dropping slippery dishes) will continue to pay for itself for years to come.
As you will see below, their cost is not that much more than many oven mitts anyway.
Pot holders might be useful as trivets, but when compared with the oven glove, they simply can't compare on far too many levels.
Why Shouldn't I Just Pick Up a Cheap Pair of Pot Holders?
You can, of course. It's certainly a cheap price to pay for the opportunity of singeing your fingers and not feeling a secure grip on those hot pans full of boiling food.
Honestly! They'll do in a pinch. But we get the feeling that oven gloves are replacing them.
One day people will wonder how we ever took anything out of the oven with a plain piece of cloth that was designed like a mitten or a washcloth.
And finally, remember how oven mitts get gunky with food on the edges whenever you have to lift a pan and the mitt actually touches the food?
Oven gloves will give you a better grip on more ways to hold and lift. They're just that much cleaner.
---
Final Verdict: The Best Oven Gloves?
For excellent design in heat-resistant oven gloves with fingers, we had to agree that the Revolutionary EN407 Standard Gulife Oven Glove met every need a kitchen or outdoor barbeque enthusiast might have.
The heat resistant and durable blend of Nomex and Kevlar fibers made these gloves the ones you could depend on for a long time. We preferred the inside layer being a mix of 83% cotton and 17% polyester because, in our experience, 100% cotton can become rather damp as it absorbs perspiration.
They cost a little more than the less expensive brands, but we felt they offered the highest quality performance for the lowest price possible, so the Revolutionary EN407 Standard Gulife Oven Glove became our favorite of the best oven gloves on the market today.
---