Quick Summary: After looking at what we think is just about every cookie press on the market, the OXO Good Grips Cookie Press stood out from the rest. We liked the simple, sturdy design of this press, with its non-slip base and ergonomic, contoured handle. You can monitor the dough as it cycles through the machine, so there is no guessing about when it's time to refill. It comes with a dozen die-cut disks in fun cookie shapes. Loading and cleaning it are a snap because it's so easy to disassemble. This press produces beautiful cookies, every time.
Cookies are one of the more complicated things to make, especially when you don't have the right tools and are improvising in many areas. With cookies being so popular all over the world, people always want the best taste. And for good taste, you need good tools.
A cookie press is one of those tools that you need to have if you want cookies as good as those from the bakery. These presses help you get creative in your kitchen, instead of spending large amounts at the bakery on manufactured packs of cookies. Aside from just providing an appealing look to your cookies, cookie presses make the entire baking process much easier.
There are certain factors you have to look into before investing in a cookie press, such as the amount of die-cut discs the press possesses, if the press is dishwasher safe or not, the design, the shank capacity, rest-resistance, and of course, the price.
We've compiled the best of the best in the article after having gone through numerous lists and reviews. You need to look no further for quality presses after you've gone through this article.
Quick Navigation:
---
10 Best Cookie Presses Comparison
| | | |
| --- | --- | --- |
| | A lifetime warranty guarantees the durability of this product, and the clear well-designed cylinder is what hooks the customers into the purchase. | Read Our Review |
| | This cookie press has a comfortable handle for an easy press and a plastic clear barrel. It comes with 12 plastic disks. This product should be hand-washed and wiped until it's dry. | Read Our Review |
| | Make cookies with ease with this efficient cookie press, which comes with 12 different stainless steel discs and 8 decorating tips. The press comes with a 3-year warranty. | Read Our Review |
| | One of the easiest to use cookie presses on the market, the design, and high capacity usage make this a popular choice among cookie presses. | Read Our Review |
| | Save precious time in the kitchen with this sturdy cookie press made of stainless steel. It comes with 13 aluminum discs giving a variety in your design. | Read Our Review |
| | This cookie press comes with an easy pull trigger, 12 different cookie cut-outs, and a well-constructed barrel. The barrel is easily cleanable. | Read Our Review |
| | With 9 different cookie discs and a decorator/ filler tip included, the cookie press also comes with a recipe booklet to help you make the perfect cookies. | Read Our Review |
| | Well designed and made with stainless, this cookie press is easy to use. It has a comfortable handle and comes with 8 different tips. | Read Our Review |
| | Made with anodized aluminum this press includes 20 cookie disc shapes and comes with a 10-year warranty. It has a simple aesthetic design. | Read Our Review |
| | This cookie press comes in an original box, alongside a recipe book and 12 different cookie tips, and 3 filler tips. A wooden tray is provided for the tips and discs. | Read Our Review |
---
Reviews of Top 10 Cookie Presses
To find the best cookie presses, we looked at hundreds of products, analyzed the pros and cons of each, and read customer reviews. The best presses are durable, versatile, and rust-resistant.
Many allow you to use them for more than just cutting out cookies. Some of them, for instance, come with decorating ideas for icing cookies and filling pastries, deviled eggs, and pasta shells. Here's a breakdown of the 10 best cookie presses.
Best Overall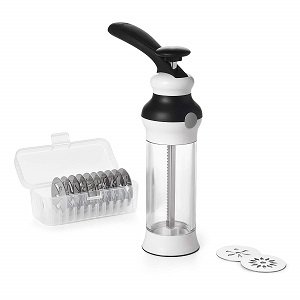 What You Will Love: This lightweight cookie-cutting tool is easy to use and delivers great results every time. The storage case comes equipped with 12 die-cut disks.
The OXO Good Grips Cookie Press with Stainless Steel Disks and Storage Case took the top prize because it's sturdy, durable, and easy to use.
Its non-slip base keeps it steady while it dispenses dough. You can track how much dough is left through the transparent cylinder.
Because it's designed to be used over and over, the lever on this press is comfortable to grasp, so kids can operate it too. The press is easy to take apart, a plus when you're loading dough, or you've finished cutting cookies and are ready to clean up.
Open the accompanying storage case and you will find 12 stainless steel disks inside in the shapes of a daisy, leaf, sunflower, flower, fleur-de-lis, butterfly, shell, bear, heart, tree, wreath, and snowflake.
OXO Good Grips Cookie superior press is made to produce the same results every time, allowing you to achieve the cookie consistency you want.
Pros:
The press is sturdy and easy to operate.
Clean-up isn't difficult, either; the bottom ring, barrel, and disks are dishwasher-safe.
Cons:
This isn't as easy to use as an electric press
It can be a little tough to get the hang of it if you have never pressed cookies before.
---
Best Budget Cookie Press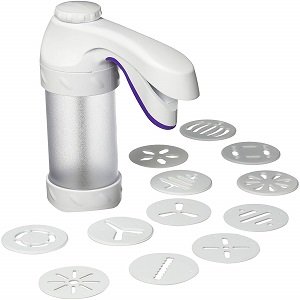 What You'll Love: If you're baking on a budget, this press delivers the convenience and quality you expect– all at a very reasonable price.
If you're looking for a quality cookie press at a modest price, check out the Wilton Comfort Grip Cookie Press (2104-4011). This sturdy plastic cookie press comes with a see-through barrel so you can monitor how much dough you have left.
It has a fluted bottom to raise it off the cookie sheet so the dough doesn't get stuck or smashed down when it's dispensed.
The ergonomic handle allows you to press large batches of cookies without giving your hands too much of a workout. And because the dough squeezes easily through the press, you can be sure the cookies will come out in the desired shape and thickness.
This go-to for bakers comes with 12 plastic disks in a variety of cookie shapes, such as a wreath, Christmas tree, ribbon, flowers, and heart. To clean the unit, wash it by hand, and thoroughly wipe it dry. An extra bonus: There's a spritz recipe included, too.
Also, since it must be washed by hand, Wilton Cookie Press may not be the best fit for people who like kitchen implements that they can just throw in the dishwasher.
Pros:
This machine is so easy to use
It yields perfectly-shaped batches with very little effort for a plastic press
It is surprisingly sturdy.
Cons:
It may take some practice to learn to use the press correctly.
The cookies tend to come out rather small.
---
Best Electric Cookie Press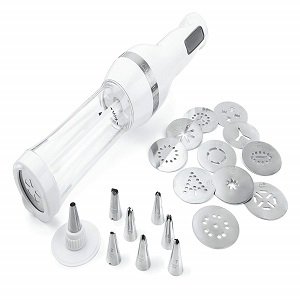 What You Will Love: This convenient electric press lets you take your baking to the next level. Not only does it allow for seamless operation, but it also comes with cookie disks, recipes, and designer decorating ideas so you can begin making professional-quality cookies without delay.
If you prefer an electric cookie press over the manual variety, consider the Cuisinart CCP-1O Electric Cookie Press with 12 Disks and 8 Decorating Tips (White). With this all-in-one model, you can create perfectly-cut cookies, and decorate them, too.
Use the ergonomic handle and keep the dough moving through the barrel with the touch of a button. The clear, quick-view tube means there's no guessing when it's time to reload the dough.
Clean-up is as simple as pressing – just remove the detachable pieces and toss them in the dishwasher. The Cuisinart CCP press comes with recipes, 12 stainless steel cookie disks, and 8 stainless steel decorating tips.
Pros:
It's easy to use, cuts out cookies quickly and efficiently, and is easy to clean.
The handle is easy to grasp– great for small or arthritic hands.
It's also highly-versatile because the designer decorating tips can be used on a variety of treats besides cookies – namely, pastries, deviled eggs, and even pasta shells.
Cons:
Because this press has to be plugged in, the cord may be a bit of a constraint, as it can limit the amount of counter or tabletop space you have to work with.
Several customers lamented that the press is not strong enough to make cheese straws.
---
Best Plastic Cookie Press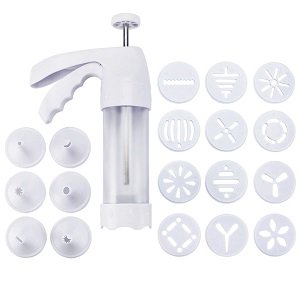 What You Will Love: This high-capacity press is sturdy and allows you to press a large number of cookies at one time. It's also easy to clean.
When we looked at plastic cookie presses, we chose the Cookie Press kit– Plastic Cookie Gun Set with 12 Disks and 6 Icing Tips-by SveBake as the best in its class because of its high capacity and ease-of-use.
It measures 3″ wide by 8.66″ high, so you don't have to reload the dough as frequently as you do with most conventional presses.
The sturdy base provides plenty of traction when you're squeezing the dough, so you don't have to worry about the press sliding around.
The ergonomic handle fits comfortably in your hand. SveBake Cookie Gun Set well-designed press ensures an even cookie consistency, every time.
The clear barrel allows for constant monitoring, so you know how much dough you have left. Equipped with a frosted glass cylinder, this has removable parts that you can place in the dishwasher.
Pros:
The press holds a lot of dough, and you can easily see when it's time for a refill.
It consistently produces well-formed cookies.
It comes with cookie disks and decorating tips to make your baking experience complete.
With removable, dishwasher-safe parts, clean-up is a snap.
Cons:
Some customers reported that, if you have arthritic hands,
The press can be difficult to operate because you have to press the lever really hard.
---
Best Metal Cookie Press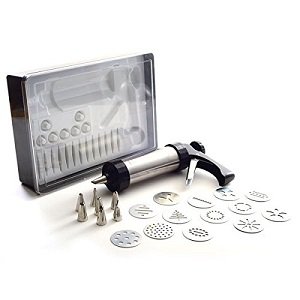 What You Will Love: This kit comes with everything you need to make beautiful, delicious cookies. The durable press is rust-resistant and easy to use. Indulge your creativity with 13 cookie disks, 6 decorating tips, and a feature that lets you add color to the press.
When looking for the best one constructed from metal, we decided to give that designation to the Best Professional Cookie Press Kit. This sturdy press is crack-proof and rust-resistant, so it should last a long time.
Norpro Cookie Press is easy to use-just remove the top cover, insert the die-cut disk you want, fill it with dough, put the top back on, and press the lever for consistent cookie-cutting.
The manufacturer recommends that you hand-wash the press rather than place it in the dishwasher. You can fold it up for easy storage when it's not in use. To help you get started, recipes are included.
Pros:
It's durable
Its stainless steel design makes it resistant to rusting and cracking.
It's easy to use and maybe a practical option for people who have hand pain that may make pressing a lever difficult.
The press comes with 13 die-cut disks and decorating tips, and you can even add color to the press to create beautiful cookies that look almost too good to eat.
When not in use, it doesn't take up much room in a cabinet or drawer.
Cons:
This may not be the best option if you're looking for something low-maintenance, because the press must be washed by hand.
---
Best Spritz Cookie Press
What You Will Love: This spritz cookie press makes cutting out cookies almost effortless. Clean-up is easy too.
Spritz cookies are incredibly popular, especially during the holiday season. That time is stressful for a lot of us, so you probably want to do whatever you can to make your culinary endeavors as seamless as possible.
When it comes to making spritz cookies, look no further than the 1X Spritz Cookie Press. This lightweight tool is incredibly easy to use.
Dough fits easily into the well-built barrel, and you can activate the machine with the easy-to-pull trigger. All you have to do to get started is pull back the plunger, fill the barrel with rolled cookie dough, pull the trigger, and you can create perfectly-formed 2-inch cookies.
1 X Spritz Cookie Press comes with 12 interchangeable disks, including cookie shapes for special occasions and holidays. Removable parts and dough come off easily so you can easily clean them.
Pros:
It's durable
Easy to use, and makes cookies quickly.
If you don't have time to make your own cookie batter
The press works well with the chilled rolled cookie dough you can find at the grocery store.
Clean-up is not complicated.
Customers were also satisfied with the price tag on this item.
Cons:
Some of the more complicated shapes require you to pull the trigger two or three times
So it may slow your cookie-cutting down a bit.
---
Best Super Shooter Cookie Press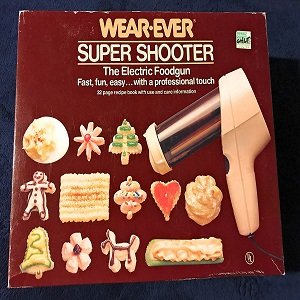 What You Will Love: The Super Shooter electric food gun lasts a long time, quickly creates beautiful cookies, and is incredibly versatile.
Looking for a fun, fast food gun that lets you cut out cookies with ease? We selected the Wear-Ever Super Shooter as the best in the super shooter category.
Wear-Ever Super Shooter electric cookie press contains the following components: Electric food gun and transformer, Barrel, complete with loader and cap, l9 Cookie disks, 2 Tips for filling and decorating.
The tips are for more than just icing cookies. You can use them to fill deviled eggs, pastries, or pasta shells. This electric food gun is easy to operate. Using small amounts of dough at a time, fill the barrel.
Then, take the long plastic piece with small circles on either hand (the barrel loader), and use it to tamp down the dough.
Place a disk on the barrel, tighten the cap, plug in the press, and pull the trigger. When you're done, wash the removable parts in warm, soapy water (Don't put them in the dishwasher).
Pros:
The Super Shooter easily makes beautiful cookies.
The decorating ideas make it a highly versatile tool since you can use them to make appetizers and other desserts besides cookies.
Cons:
Since you have to plug it in to operate
Using the press may be a bit restrictive
Since the cord limits the amount of room you have to move around.
---
Best Professional Cookie Press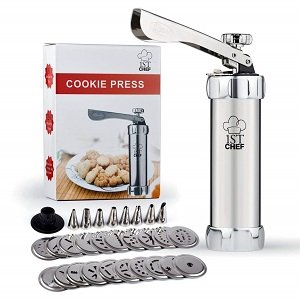 What You Will Love: This press is professional-quality and allows you to take your culinary creativity to the next level, with 20 cookie disks and 8 decorating ideas.
If you're looking for the best to use in a commercial kitchen, or you're a seasoned home chef who likes to make cookies that look like they came from the bakery, try out the Stainless Steel Cookie Press Kit-Professional Quality.
Constructed with premium-quality stainless steel, this superior cookie press is built to last a lifetime. Included are 20 cookie disks and icing tips, so you can take on a plethora of cooking projects, and this press makes it fun and easy.
Enclosed you'll also find a reusable piping bag for icing cookies, filling pastries, and more. 1st Chef Stainless Steel Cookie Press has been tested by baking professionals, and it consistently delivers as promised.
Pros:
The press, disks, and tips are sturdy and durable, so you don't have to worry about them bending or wearing out.
Disks and tips allow for virtually unlimited possibilities for making cookies, cheese straws, and other appetizers and snacks.
Different-sized disks allow you to make cookies both small and large.
You can switch back and forth between high and low settings.
When you purchase this press, you'll get an e-book of recipes too, so you can start making cookies and other treats without delay.
Cons:
Some customers (though certainly not the majority of reviewers) reported that they had difficulty getting the hang of using the press.
A few people had issues with the cap popping off.
---
Best Deluxe Cookie Press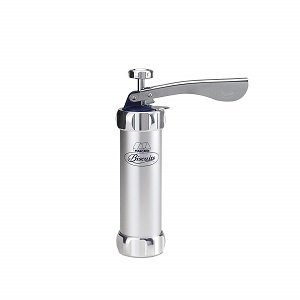 What You Will Love: With two different cookie sizes and so many shapes to choose from, this deluxe press makes cookie-cutting fun and easy.
For baking enthusiasts, we found the ultimate press that lets you make different sizes of cookies in several different shapes. We selected the Marcato 8300 Atlas Classic Biscuit Maker Cookie Press.
Constructed from anodized aluminum, steel, and ABS, this heavy-duty press can produce 35-40 small cookies and 20-25 large cookies.
Its ergonomic handle and overall design allow you to easily advance the dough for consistent cookies. Turn the knob to adjust cookie size.
Marcato Atlas Biscuit Maker Press comes with 20 traditionally-shaped cookie disks. To get started, just remove the cover, insert the disk you want, fill the barrel with dough, and press the handle. After each use, hand-wash the press in warm, soapy water.
Pros:
It's easy to use, lets you make 2 different sizes of cookies, and comes with 20 die-cut shapes.
Cons:
So many customers wrote such glowing reviews about this press, it was hard to find any drawbacks.
About the worst that can be said is that because it has to be hand-washed
It's a little higher maintenance than presses that can be placed in the dishwasher.
A few people had difficulty getting it to work when they were just beginning to use it.
---
Best Vintage Cookie Press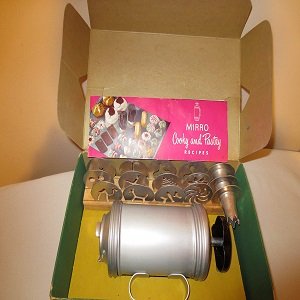 What You Will Love: This throwback to the presses of bygone days works efficiently and comes with 12 disk designs and 3 decorating ideas, giving you everything you need for creative cookie-cutting.
Looking for a cool cookie press that's a throwback to bygone days? We found one: the Vintage MIRRO Cooky Cookie Press.
It even comes in its original box. You also get 12 disk designs and 3 tips-in a wooden tray so it really looks vintage. A recipe book is included too.
VINTAGE Cookie Press is incredibly easy to operate. All you have to do is choose the die-cut you want to use, fill the press with dough, and place the press over a cookie sheet so that when you turn the handle, you can release the dough onto the flat surface. Repeat these steps for each cookie.
Pros:
It's easy to operate and makes great spritz cookies.
Customers report that their presses were shipped to them in excellent condition and that the machine performs extremely well, just as it did 40 or more years ago.
One customer noted that this press is especially easy on the hands.
Cons:
We really couldn't find any.
---
How to Choose the Best Cookie Press?
Cookies are probably the most popular sweet treat in the US. But making them can be a little tedious-at least if you want the cut-out variety. You have to break out the cookie-cutters and rolling pin, sprinkle some flour on a cutting board, and get to work.
But there's an easier way to whip up a batch of die-cut cookies, and with the same quality and consistency as those you pick up at the bakery. How is this possible? With a cookie press.
It cuts cookies out quickly and drops them right on the cookie sheet. If you're looking for a faster way to make cookies, here are some factors to consider as you shop for a cookie press.
---
Electric vs. Manual Cookie Press-Which One Is Better?
Most cookie presses are manual, though some require a power cord or batteries to operate. In most cases, electric cookie presses are easier to operate, but you might have to deal with a power cord in your way or batteries that die unexpectedly.
Most customers reported that the manual varieties we reviewed were highly-dependable, especially the vintage kind, which can last for decades.
As for which one is better, that depends mostly on your tastes. Think about how much work you're willing to put in to make cut-out cookies.
---
FAQs
How many die-cut discs does it have?
Most presses come with die-cut disks of various shapes, some of which are themed around holidays and other special occasions.
Of the presses we list in this guide, the number of accompanying cookie discs ranged from 12 to 20. If you want to try to find more, do some research ahead of time to see where they can be ordered.
Keep in mind that, in addition to cookie disks, many (but not all) presses come with decorating ideas, which are used primarily for icing cookies. They also come in handy when you want to fill pastries, pasta shells, deviled eggs, and more.
Is It Dishwasher Safe and Easy to Clean?
If you're looking for a cookie press that's low-maintenance, you may want to opt for one that has dishwasher-safe parts. Most presses have removable parts for easy cleaning, but some of them are hand-wash only, so read the care instructions before cleaning.
Handle Design or Tube Design?
Most cookie presses operate via either a handle or a plunger system to release the dough. Look for a press that's easy to operate. Some require more of a squeezing motion, which can be difficult for people with conditions like carpal tunnel or arthritis.
What Is Its Shank Capacity?
The amount of dough each cookie press can accommodate varies. Those that are high-capacity are especially beneficial if you are making large batches, since you don't have to reload as often.
Similarly, if you're making large cookies, you want to be able to work with as much dough at one time as possible. If you're making small cookies or modest-sized batches, capacity is probably not as much of a concern.
Is It Rust-Resistant?
Since the press comes into contact with food, you want one that isn't prone to rusting. Stainless steel and aluminum are two metals that do not rust.
Similarly, plastic parts aren't capable of collecting the reddish build-up either. However, some plastic cookie presses have metal parts that may be susceptible to rusting.
Find out which materials the press is constructed from. It's important, too, to dry the press and its many components thoroughly after washing to prevent them from sustaining damage.
How's the Price?
Consider how much you want to pay for a cookie press. Electric ones tend to be a lot more expensive than the manual variety. Some cookie presses sell for under $20, while some of the higher-end instruments run well over $100. Generally, you don't need a pricey press to get the job done.
Make sure you know what features are included before making a decision. Read customer reviews to see if it performs as promised. The more costly presses we list in this guide are of exceptional quality, yielding great results and standing up well to frequent use.
More Related Articles:
---