Quick Summary: When looking at the options listed above the best long slot toaster oven is the Breville BTA830XL Die-Cast 4-Slice Smart Toaster. This will give you the ability to toast 4 slices of bread at once. It also has plenty of options so you can get the toasted bread just the way you want. It is also very easy to clean and use.
There was a time when a standard 2 slot toaster seemed like a dream. You could easily pop in two bread slices and have them ready in minutes. Over time, people began to discover other things that could be toasted in them, such as waffles and Poptarts.
As more time passed, food options got bigger and the amount of time people had to wait on a toaster lessened. And thus, the long slot toaster was born.
This handy gadget provides much more space than a standard 2 slot toaster, allowing you to toast larger pieces of food including bagels in short order.
If you want to toast larger food items, or just double the amount, a long slot toaster is a good choice for you, but with so many options, how do you know which one to choose? Fret not.
We searched through many of them to bring you what we feel are the top ten and the pros and cons that each has. We bring you the information in this guide to help you find the perfect long slot toaster for you and your lifestyle.
Researching a product is always the most important step in a purchase. Whether you are new to long slot toaster or you have purchased one before, being armed with this information can help you through your buying journey and make you more confident in your decision.
Quick Navigation:
---
Comparison of 10 Best Long Slot Toasters
| | | |
| --- | --- | --- |
| | This die-cast metal body toaster stays cool to the touch while toasting, and holds extra-long slices of bread. The best long slot toaster with bagel mode, it allows for toasting of pastries too. | Read Our Review |
| | This toaster allows for 4 slices to be toasted, while staying cool to the touch. The Keep Warm feature keeps toast warm for up to 3 minutes after toasting. | Read Our Review |
| | With this 4 slice toaster you get 7 settings including Defrost, Reheat, Keep Warm and Bagel. The crumb tray is removable for easy cleaning, and the slots are extra wide. | Read Our Review |
| | A polished stainless-steel toaster with an extra-wide slot and custom settings, this 2-slice toaster has a high-lift lever and a removable crumb tray, with self-centering guides. | Read Our Review |
| | This long slot toaster has a removable warming rack for warming pastries and rolls, a variable browning control, and settings from 1 (light) to 6 (dark) with a lift & look function. | Read Our Review |
| | The best long slot toasters like this one allow you to toast long cuts of bread as well as side-by-side toasting of smaller bread slices. Removable warming rack, variable browning control. | Read Our Review |
| | A 4-slice stainless steel long slot toaster with extra-long slots, as well as auto-adjusting bread guides, a removable crumb tray that's dishwasher-safe, and 7 toast shade settings. | Read Our Review |
| | This long slot toaster has 6 variable settings to control the toasting process, and is one of the best long slot toasters. It has wide slots, non-skid feet and stays cool during operation. | Read Our Review |
| | Toast thick bread slices and check their progress with the see-through window. A slot toaster for 2 slices, the window and tray slide out for easy cleaning. 7 browning levels. | Read Our Review |
| | One of the best toasters for a busy family, this slot toaster also has an energy-friendly mini oven, for toasting bread slices and baking artisan bread at the same time. | Read Our Review |
---
Reviews of 10 Top Long Slot Toasters
Best overall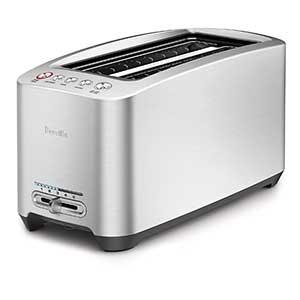 What You Will Love: This is created to hold larger artisan bread, thick bagels, and dense pastries.
The Breville 4 Slice Smart Toaster has cool touch brushed metal that can keep little fingers from burning. The two large slots can toast larger than normal bread, including thick bagels, and it has dual independent controls so each slot can make toasted brad to a different shade.
It has an intelligent one-touch lowering button, a Lift and Look setting, 'A Bit More' setting for those needing their bread just a little darker, and an auto-off button so it does not have to be unplugged.
It gives you four slots to toast in any shape you want while also giving you volume control on the timer for the unit. You will also find that it has a convenient crumb tray to make cleaning out easier for you.
There is also an LED light that tells you the progress so you can know how much time is left. The slots on this are 10 inches long and 6 inches deep to accommodate just about any style of bread you use.
Though it seems to offer great features, this Breville has its downsides, too.
It is priced pretty high for most budgets, especially when you consider the other complaints about uneven cooking, squeakiness, and a problem of getting stuck. When it gets stuck, the LED indicator lights start blinking on and off, and there is no easy fix to this as of yet.
Pros:
Auto Off feature keeps bread from burning
The steel appearance is trendy and matches most kitchens
Toast 4 bread slices at once
Plenty of options to control toasting progress
Can accommodate thick breads
Dual independent controls
Cool touch sides
Cons:
Is over-engineered
May not work as well for frozen items as for fresh breads
Can take longer to cook than some toasters
Problem with bread getting stuck
Uneven toasting progress
Expensive
---
Best Budget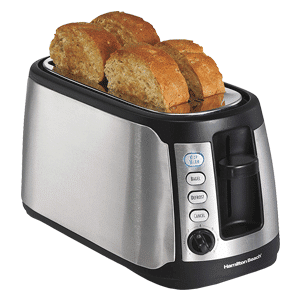 What You Will Love: There is a Keep Warm feature that will keep your bread warm for an additional three minutes after toasting.
The Hamilton Beach 4 Slice Keep Warm Toaster is convenient for anyone who likes to cook big meals with or for those who constantly have to eat cold storage toast.
The generously sized slots allow 4 regular size pieces of toast or two large slices to be toasted at once even while the outside wall stays cool to the touch. The price is reasonable.
This comes with plenty of features for toasting your bread. You will find two slots that are deep and wide to accommodate even thick-sliced bakery bread.
When you first purchase this unit, you might find a chemical odor to it, but according to buyers, this can be burned off with two to three cycles set on high before toasting with it.
Two other complaints have been that it heats unevenly and that it beeps for every task it completes, i.e. going up, going down, switching settings, and the like. For many, this beeping gets annoying since it cannot be turned off.
Pros:
Keep warm feature is great for people making an entire meal
Easy to use and clean
Sleek design and finish
Compact with cord wrap system
Reasonable price
Cons:
Only cooks two bread slices at a time
Dial can malfunction and cook toast at different settings
Beeps when the slot goes down toasting progress
Strong chemical smell when first used
Toasts unevenly
---
Best 4 Slice Toaster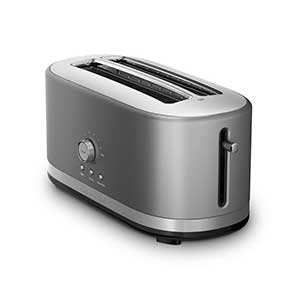 What You Will Love: The inner grates of the extra wide slots are very effective at holding your toast in place.
This KitchenAid 4 Slice Long and Wide Slot Toaster comes in your choice of three different colors: silver, red, and black. The crumb tray makes it easy to clean as you can remove the tray.
There are two long extra wide slots for multiple toasting options and 7 shade settings for you to choose from.
The high lift and look lever makes it much easier to get a short piece of bread out, there is an alert for when the cycle is complete, and a keep warm feature. For the high ratings it has received, the price is very reasonable.
With one and a half inch slots you can even thick slices of artisan bread in this toaster. This toaster comes with settings to allow you to keep your bread warm.
There is a cancel button to stop the cooking if it is getting too done. It has a sleek design that includes a cord wrap system under the unit.
There are a few potential downsides. The first is that it heats the edges faster than the center. This is not a problem for those who like crispier edges. Also, some users have complained of one side being cooked darker than the other.
Pros:
Make 4 bread slices at once
Three color options
10 and a half inch slots allow for long bread
Inner grates keep toast centered
High lift and look lever
Completion alert
Reasonable price
Easy to clean
Cons:
May not cook evenly
Settings are on side which may be inconvenient for the counter
Handle is small
Though it can toast 4 bread slices, there are only two slots
Edges toast faster than inside
---
Runner-Up (4 Slice)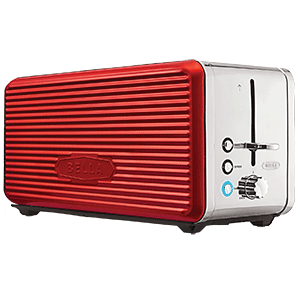 What You Will Love: If you are looking for a artisan bread toaster that will grab attention then the bright colors of this unit may be just what you are looking for. Not only will you find vivid color, you will also find a unit that offers two deep slots for toasting.
The Bella Linea Toaster has two long and wide slots for a variety of toasting process. The reheat function is useful for people who cannot get to their breakfast as soon as it is done. This unit is set at a really good price.
There is a bagel button as well as defrost, reheat, and cancel buttons. You will also find 6 shade functionality to allow you to get just the right color you want with your toast.
There have been a few complaints among the raving reviews. One is that when you push down the lever, the unit tries to flip.
Others do not have this problem stating that it is in the amount of force you use on the lever. There have been reports of uneven cooking. Also, the inner grates are said to be narrow and the toast sits down low making it hard to get out.
Pros:
Great design and visual appeal
Has a button for bagels so they can be cooked properly
6 shading functionality
Reheat function
Easy to use and clean
Cons:
Short cord
Flimsy lever
Th steel is not fingerprint resistant
Uneven cooking
Unit may try to flip when pressing the lever
Toast sits low
---
Best 2 Slice Long Slot Toaster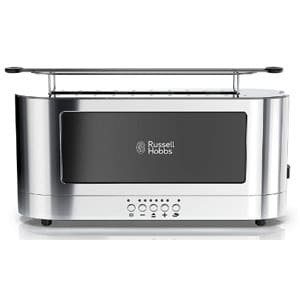 What You Will Love: It has a great look, narrow design, and a removable warming rack. The Russell Hobbs 2 Slice Glass Accent Toaster is a sharp looking kitchen gadget that has a narrow enough design to fit almost any empty spot on your counter.
It has a warming rack that can be added to the top of the toaster to warm pieces of bread such as buns, pastries, and rolls that will not fit in the artisan bread toaster.
When you want to make toast, you simply remove the warming rack. Using this warming rack can save on energy costs since you are not having to turn on an oven.
It has a long toasting slot that has enough room for you to fit either two separate pieces of toast side by side or a long slice of artisan bread.
The black and beautiful design makes it aesthetically pleasing and the crumb tray makes it easy to clean. There is an included bagel function and it has 6 different levels of darkness you can choose from.
There are a couple of downsides that most users have to deal with. The first is that it is a bit pricey, but for the functions it has, the price may be worth it.
The second is that many users have complained that it defaults to the highest setting and you must reset it every time you use it. Otherwise, you will end up with burned toast consistently.
Pros:
Warming rack for bread that do not fit in the toaster
Bagel function, 6 settings, good look, narrow design
Crumb tray with easy removal option
Long toasting slot
Cons:
Expensive
Defaults to highest setting
User has to reset with every use
---
Runner-Up (2 Slice)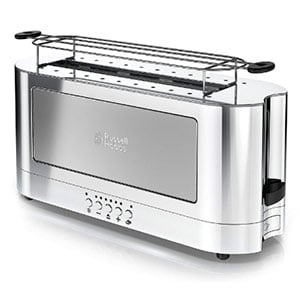 What You Will Love: The beautiful, narrow design, the removable warming tray, and the removable crumb tray. This Russell Hobbs Toaster is the sibling of the previously mentioned black. However, the silver and stainless steel design give it a much sleeker and modern look.
The identical size takes up little space on the countertop and makes it very simple to store away when it is not in use. It is a 1200 watt, 120 volt kitchen appliance which can toast your bread in 6 different shades and has a bagel function.
It also cooks longer bread slices or two side by side. The removable warming tray allows you to heat up bread that will not fit into the toaster, and the crumb tray makes it easy to clean.
This silver and stainless steel version is priced higher than the black, making it a little too higher for many. As with the other model, it also defaults to the highest setting, so you have to be diligent about resetting it.
An additional downside is that customers have complained that it does not always pop the toast up when it is done, leaving you with burned toast.
If you choose to purchase this appliance in either color scheme, you will most likely have to remain close to it and watch closely to make sure your bread does not burn.
Pros:
Beautiful silver design
Narrow enough for countertops and easy cabinet storage
Bagel function
6 shading option
Long toasting slot
Removable crumb tray
Removable warming tray
Cons:
Expensive
Defaults to highest setting
Needs to be reset with every use
Does not always pop toast up when done
Will need to be watched closely when in use to prevent burned toast
---
Best Extra Long Slot Toaster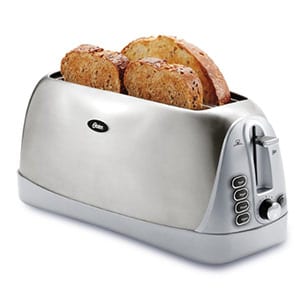 What You Will Love: This toaster has an anti-jam automatic shut off to prevent your toast from burning.
The Oster 4 Stainless Steel Toaster has two extra long slots for either 4 regular size pieces of toast, 2 long pieces of toast, or a combination of the two.
There are also dual bread guides that will adjust to the thickness of different types of bread. This gives you multiple options for a toasted bread, snack or meal as you can fit in deli and artisan style bread.
There are 7 shading option for your toasting pleasure and a removable crumb tray that is dishwasher safe.
There is an anti-jam automatic shut off that means if your bread gets jammed, the toaster will automatically turn off instead of continuing to cook to prevent burning your toast or even causing a fire.
There is also a cancel setting in case you noticed that your toast is getting dark too quickly. The price is quite reasonable for the functions and space this kitchen tool offers.
One downside is that many customers have complained that the bagel function does not work as it claims.
Though the description states that it toasts on the inside and only warms on the outside, many say that it actually toasts on both sides making the bagel too crunchy.
A few buyers also stated that it took a few tries and uses before the toaster seemed to level out and cook to the desired setting.
Pros:
Anti-jam automatic shut off to prevent burned toast or fire hazard
Extra slots can fit 2 long pieces or 4 regular size pieces of toast
7 shade option
Cancel setting
Reasonable price
Dual bread guides automatically adjust to bread's thickness
Great for deli bread, artisan-style bread, and other various options
Cons:
Makes bagels too crunchy
Takes a few uses before settings level out
---
Best for Multiple Toast Settings
What You Will Love: You'll love this because it is perfect for artisan bread and other specialty breads. Toast 4 slices at once, easily and quickly. 6 toasting settings mean that you can choose from light to dark toast easily.
The toasters must be contained a feature that it should be easy to use, this model has a simple control panel and yet provides many different settings.
It toasts bread evenly while not taking up too much counter space. The dimensions of this toaster are 15.50 x 6.50 x 7.25 inches.
Toast lever
Easily remove your bread from the slot after toasting.
Wide slots
The slots are wide, at 1.25 inches, so you can easily prepare bread, bagels or other thick breads. Even waffles and pastries. Enjoy a wider variety of toasted breakfast foods – perfect for those with gourmet tastes who enjoy more than just toasted bread.
Various functions
Defrost, reheat, and cancel functions allow for versatility, along with the 6 variable toast shade features. The defrost function thaws the bread and then toasts it in one easy step. The reheat function warms up previously toasted bread without browning it any further. The cancel function allows you to stop the toaster at any time.
Pros:
Can toast baguettes. The 10-inch slots can fit baguettes and other long items such as specialty breads
Removable slide-out tray to catch crumbs for quick cleaning to keep the toaster slots free from debris and working effectively
Remains cool to the touch while toasting, so it prevents fire incidents and safe for children to use
Slim profile so doesn't take up much space. Perfect for smaller kitchens or for those who want as much countertop space as possible
Non-skid feet to keep it in place
Cons:
Some users say the toast comes up out of the toaster so fast that it lands on the counter, although if they place their plate correctly, it can land on the plate and amuse the family(!)
Some users say that the settings can be a bit tricky to get the toast the way that you want it so it takes a bit of practice
---
Best for See Through Window
What You Will Love: You'll love the multiple functions of this toaster which allows you to have a different breakfast every day! The wide slot makes it easy to toast bagels, waffles, specialty breads and other baked items.
This Dash toaster has defrost, reheat and bagel functions available at the touch of a button. An excellent gift option with its sleek design and beautiful color options to match any kitchen. This model is available in black, aqua blue, grey, red, or white.
See-through window
You can check on the progress without having to worry about interrupting the heating function. Children love this feature as they can see how the bread turns brown as it toasts.
Auto shut-off feature
Prevents overheating of your toast without you having to think about it. Leave the kitchen and come back to fresh toast.
Easy to clean
The glass window and the tray for crumbs both slide out so that you can clean them easily, and the outer surface of this 2-slot toaster wipes clean. Users say that the glass window stays clean through many uses over time.
Pros:
7 browning levels, so you can get just the way you like it (most other models have 6 settings)
Small size, so it doesn't take up a lot of counter space in your kitchen
Choice of several different colors to match your current kitchen's color scheme or provide an accent color
Comes with a 1-year manufacturer warranty for added peace of mind
Includes recipe book and recipe database access for thousands of recipe ideas to inspire you with new breakfast dishes
US-based support team to help with your questions
Toasts bread 24% faster than a leading toaster oven so saves you time
Cons:
Users say that this toaster ejects toast fairly forcefully so you have to place it strategically in your kitchen
No lift up feature once toast is done, although users haven't found this to be a particular concern
---
Best for Mini Oven Functions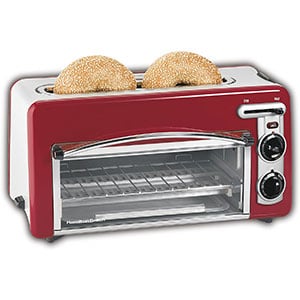 What You Will Love: You'll love that unlike other toasters, this one comes with a mini oven, so you can bake or toast by sliding a lever. Choose from a classic black color or a shiny red to brighten up your kitchen.
The best toaster with an oven, where you can bake up to two 16-inch pizza slices, as well as fish fillets, chicken pieces, sandwiches, fries, chicken nuggets and more. The total dimensions of this unit are 8.1″ height x 16.4″ width x 8.9″ depth.
Multi-functional
You get an oven and a toaster in one while using less space in your kitchen. Make bread without a bread making machine in the toaster and then heat appetizers in the oven. Simple!
Quick cleanup
Slide out the tray with crumbs and wipe it clean. Clean the walls and bottom of the oven, as well as the glass door, with a damp and soapy cloth. Much faster than cleaning a traditional oven.
Good sized opening for toaster
You can toast either bread, bagels, even hot dog buns in the wide 1.5-inch toaster opening.
Pros:
Oven goes up to 450 degrees Fahrenheit and uses 73% less energy than a conventional oven
Automatic shut-off so that you can leave your kitchen and come back when food is done with no concerns for food burning or overheating
Toaster has 6 shade settings so you can get your toast the way you like it
Bread pan included so you can start baking right away
Outside stays relatively cool while in operation, so safe for children to use
Users say it is durable and dependable and is good value for money
Cons:
Oven is a bit small, won't fit common items like baked potatoes, so users say it is more suitable for singles or couples rather than families
Users say sometimes bread sticks to wire grid inside slot and can be challenging to remove
---
What is a Long Slot Toaster?
A long slot toaster is just what it sounds like- a toaster that has longer slots. The point of this is to provide people with the ability to toast all types of breads.
You might be wondering that regular toasters are only designed for sandwich bread.
If you want to toast bakery bread that may be longer or a waffle this is not always an option with a traditional toaster. It is with a long slot toaster though.
This is also great for bakers who like to make their own artisan bread and then slice it.
Most of these units also offer thicker slots so you can toast thick slices of bread as well. The only downside to thicker bread is that it will need to cook longer, which if you don't pay careful attention can burn the bread.
---
Features of A Good Long Slot Toaster
There are a few things you should look at when you want to find the perfect toaster.
These qualities are what make products the best of the best and are definitely worth looking for in the long slot toaster you buy.
The Number of Slots
This is important because it will determine how many pieces of bread you can toast at a time.
The nice thing about this is that you can still toast regular sandwich bread in them. You can just usually fit two bread slices in one slot rather than just one with traditional toasters.
The Size of the Slots
Along with looking at the number of slots you also want to look at the size of them as well to find the best one. You want something that will be long enough to accommodate your bread.
Most of the long slot toasters on the market are 10 inches long. There are products that can be longer or shorter than this so pay attention.
You also want to look at the thickness of the slot. A size of one and a half inches wide is a good width though you can go with something smaller or larger depending on your preferences.
Ease of Cleaning
You will also want to go with a toaster that has a crumb tray. This may not seem important until you have had the toaster for a little bit and notice all the crumbs sitting down at the bottom.
With some toasters, there is no way to get this out, aside from reaching down in with tools to clean it out.
This is why you should look for a model that has a crumb tray that you can simply pull out to clean it and slide back in when you are done.
Plenty of Options
You also want to go with a toaster that has plenty of options so you can get your bread to the right level of toasted you like. This is crazy that some people like their bread barely touched while others prefer dark brown.
You want to make sure there are plenty of settings so you can get your toast somewhere in between these two settings. A smart electric gadget may solve most of the baking appliance needs of a typical home baker.
Along with this, many great toaster ovens will give you other options such as bagel, which only toasts the bread on one side, or defrost options. This can allow you to use your toaster for so much more.
---
How to Choose the Best Long Slot Toaster
When you shop for a long slot toaster there are a few things you want to think about:
First should be your need for the toaster. If you live alone you may be able to get away with a toaster with only one slot.
However, if you have a family you are constantly cooking or frozen waffles for, a four slice toaster is a better option.
Now, once you know the size of the toaster you want, the next thing you should think about is the space you have for one.
You may only have a small amount of space on your kitchen counter and you do not want to get a toaster that will be too large for this.
When considering this you also want to think about where the controls for the toaster are and whether this will work with your kitchen.
For instance, if the controls are on the side, yet you want to be able to slide the toaster between your knife rack and cookie jar, this may not work for your kitchen.
---
Our Recommendation for the Best Long Slot Toaster
With all of the toasters available today in a wide range of styles and functions, choosing the best one can be a challenge. If you use or are planning on using a toaster for more than regular sandwich bread, the Breville BTA830XL Die-Cast 4-Slice Long Slot Smart Toaster is a great choice for you. It is one of the top long slot toasters in the market.
These toasters give you a broader list of bread you can prepare in them. Through this article, we hope to have helped you learn what to look for, about the various options available to you, and how to choose the best long slot toaster for your lifestyle and budget.
More Related Articles: