Quick Summary: The Nesco FS-250 food slicer has all the features that are necessary for in-home meat slicing. For the families who enjoy those sandwiches made with the freshest and high-quality meats, this appliance may be the right option for you. The Nesco FS-250 food slicer Stainless also has the capability to slice perfect portions of cheese also, to really elevate that deli sandwich taste.
When it comes to slicing food, knives are a good option, but do you know what is even better? Meat slicers, of course. If you introduce this magnificent appliance to your kitchen, you'll be able to slice any food you want into thin, even slices, and it will be so satisfying.
You know when you take out the meat or cheese from the fridge and try to cut it with a knife? It's often challenging and frustrating. But the meat slicer will cut through everything like a hot knife through butter. Besides being satisfying to use, the best meat slicers will bring you efficiency, especially if you need to slice large amounts of food.
When you shop for the best meat slicers that the market can offer, you have to look at their power, and to ask how fast and thin they can slice, are they safe enough, is it easy to clean them, and much more. Clicking through pages and pages of items can be a huge hassle.
That is why we made this practical buying guide for your convenience. Keep reading and find out which one of these best meat slicers will satisfy your needs and bring you the thinnest and most enjoyable slices of food.
Quick Navigation
---
Comparison Of Top 10 Meat Slicers
1. Nesco FS-250 Food Slicer Stainless Steel (Best Overall)

This NESCO FS-250, Stainless Steel Food Slicer features precision depth control and a strong, high quality 180 watt gear motor. Variable thickness control knob for paper thin to 9/16" thickness range.

Read Our Review

2. Elite Platinum EMT-503B Food Slicer (Best Budget)

This Elite Platinum EMT-503B Precision Electric Deli Meat Slicer features ultra-sharp 7.5-inch stainless steel blade – rustproof, retractable and removable cutting blade will help you slice any food with surgical precision.

Read Our Review

3. Gourmia GFS700 Professional

This Gourmia GFS700 Professional Meat Slicer features sharp 7.5" stainless steel cutting blade, driven by 180 watts of fast, high yield slicing power designed with a prime coated steel and die-cast aluminum housing.

Read Our Review

4. 8.7in. Stainless Steel Electric Food And Meat Slicer

This Valley Sportsman 8.7-inch Stainless Steel Electric Food and Meat Slicer features 180 Watt AC power; a built-in, side adjustment system and an easy-to-clean removable stainless steel carriage cover.

Read Our Review

5. KWS Premium Commercial 320w

This KitchenWare Station MS-10NT Premium Commercial 320W Electric Meat Slicer features 320-watts of motor power for commercial applications, it is perfect for slicing meats, vegetables, cheeses and fruits smoothly, quickly and effortlessly.

Read Our Review

6. Electric Deli Food Slicer with Child Lock Protection

This OSTBA Electric Deli Food Slicer has the 7.5'' stainless steel serrated blade, driven by 150 watts of fast, high yield slicing power, it will help you keep a consistent sharp cut.

Read Our Review

7. Chefman Die-Cast Electric Deli/Food Slicer

This Chefman Die-Cast Electric Deli Food and Meat Slicer features a powerful 180-watt motor and serrated stainless steel blade, this machine is ideal for slicing meats, cheeses, bread, fruits, and vegetables.

Read Our Review

8. Techwood Meat Slicer Electric Deli Food Slicer

This Techwood Electric Deli Food and Meat Slicer is made from premium coated steel and die-cast aluminum housing, which is more durable and less prone to corrosion. Ideal for commercial use, home use, catering and chefs.

Read Our Review

9. CUSIMAX Meat Slicer Electric Food Slicer

This CUSIMAX Electric Food and Meat Slicer features 7.5-inch stainless steel 420 cutting blade which helps you cut your food in an orderly manner and evenly without food being stuck.

Read Our Review

10. Continental Electric PS77711 Pro Series

This Continental Electric PS77711 Pro Series Meat Slicer is a high-performance heavy duty meat slicer designed for safe and accurate slicing. It's sturdy blade is made from heavy duty cast aluminum.

Read Our Review
---
Reviews of Top 10 Meat Slicers
A home meat slicer is a must for any busy kitchen. They make it easier to precisely cut foods into exact portions for better presentation, food usage, and without all the strain and labor of using a knife. Here are the top 10 meat slicers and the reasoning behind their success.
Best Overall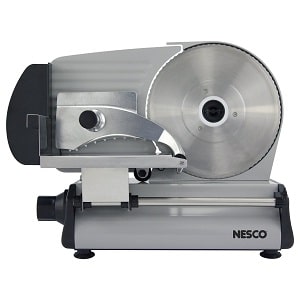 What You Will Love: Equipped with several security features, a stainless steel serrated blade, and one of the larger powered motors available, this food slicer is ready for any kitchen.
The Nesco brand has a lasting reputation for quality small appliances that bring an elevated lifestyle to its customers in the comfort of their own homes.
Nesco focuses on bringing services to the home at commercial speeds and quality, which is something that other competitors struggle to deliver.
The high-powered motor at 180 watts for this model will quickly and powerful slice your meats and cheeses to match the quality of professional deli meats and cheeses.
For those who truly enjoy these foods regularly and plan to use their food slicer daily, this Nesco FS-250 can handle the demand.
If sandwiches are a daily commodity for your family, requiring you to slice your meat frequently throughout the week for those delicious and affordable meals, the power of the Nesco FS-250 can easily meet your needs.
More than meats can be sliced with this appliance. Even cheese slicing, which is known to slow down the process of food slicers, can be maintained and has no effect on the powerhouse of this one. Cheaper and less dependable options find cheese to be an enemy of the slicer, but not for the Nesco FS-250 Food Slicer.
A detachable food carriage is available to carefully and safely catch the sliced food as the slicer continues to operate its slicing duties electrically for your convenience. This appliance is not only durable but also a more attractive option, as it is available in stainless steel color.
This material not only has the ability to match the modern kitchen in style, but this material also makes the food slicer easy to clean, maintaining its quality with stainless steel.
Stainless steel is a durable material that is heavily sought after in small electric appliances due to its attractiveness as well as its durability. The lifespan of stainless steel appliances is often longer than other material options.
Pros:
High-Powered
Durable
Efficient
Cons:
More expensive than other options
Larger than competitors
---
Best Budget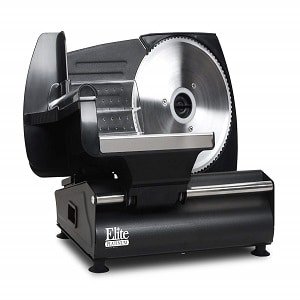 What You Will Love: This meat slicer is designed specifically with time-saving in mind, as its electrical capability is focused on premium slices quickly and efficiently, minimizing the work on you.
The Elite Platinum appliance brand is not one of the most well-known brands in small appliances, but that does not deter from the quality and convenience that they deliver to their customers during designs.
This appliance is designed to cut more than meats finely, but also cheeses, bread, and fruit for your convenience. Just turn the slicer to the setting of your choice and let it do the work for you.

It has controls that will adapt to the appropriate settings and surgically slice the food you choose. The serrated blade is designed with rustproof metal stainless steel, sized at a convenient 7.5″ with the ability to slice from the finest slices to thicker options.
The design of the sleek black and stainless steel make the meat slicer an attractive option. Also, its price point is a more affordable option compared to its leading competitors.
The price of this particular product allows it to be used as a great gift option for upcoming housewarmings, weddings, and Birthday options.
It is a bit smaller in size than its competitors, but it is still an electric meat slicer option that has an average blade size, with the power to cut a variety of foods outside of meats.
The safety measures found on the Elite Platinum EMT-503B include the slicer's ability to remain still while slicing, as well as a skid-free mat. For families with small children, this feature is essential to keep the slicer from moving and getting into the hands of smaller ones.
They are also portable and able to be used upon the counter, also making it harder to reach and a safer option for growing families. This smaller size also makes storing much more convenient after it has been cleaned.
For smaller kitchens, storage space is a must, and this electric appliance may be the best option if you require your appliances to be stored when not in use in order to maximize your counter space.
Whether you have small kids or a small apartment, this feature is essential to a variety of customers seeking a meat slicer.
Pros:
Affordable
Safe
Electric
Storage Ability
Cons:
Smaller blade
Not Dishwasher Safe
Single Color
---
Best Electric Meat Slicer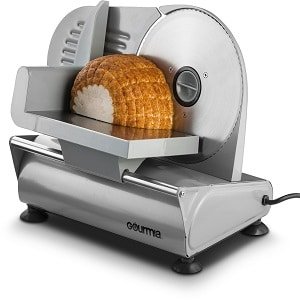 What Will You Love: This meat slicer has a large blade at 9″ with the ability to slice larger cuts of meat than its competitors. It is also lightweight at just under nine pounds, making it convenient to carry and transfer from one surface to the other.
Designed by Gourmia, this company focuses on the different conveniences that their customers enjoy in the comforts of their own home. They specialize in delivering durable appliances that meet the same qualifications as commercial grade conveniences.
The Gourmia GFS900 is a premium quality appliance that can slice through just about anything under its blade.
From meat and cheese to harder and tougher vegetables, this powered food slicer has one mission to slice your food to your preferences, whether you enjoy them paper thin or in thicker chunks.
Safety is also implemented into this product, as the blades and food holder are conveniently removed for proper and safe cleaning. For families that host frequently or enjoy sliced deli meat daily, this may be the best option.
This appliance is also ETL certified appliance, meeting all the safety requirements necessary for such certification. There is also a large food carriage area available for the slices foods, that prevent them from clogging and damaging the slicer.
It also is used to protect the quality of the food being sliced. The Gourmia GFS900 Professional is designed with high-quality stainless steel over the slicer's entirety.
Because of the material, larger blade, and strong power motor, the price of this appliance is much higher than its competitors.
For those families who are budgeting for a food processor, this may not be the appropriate choice. For those who have the financial flexibility to purchase premium appliances and also plan to use the meat slicer frequently, this option may be better suited for their needs.
Pros:
Premium material
Large 9″ serrated blade
Lightweight
Electric
Large Food Carriage
Safety Features
Cons:
Single color option
More Expensive than competitors
---
Best Meat Slicer For Home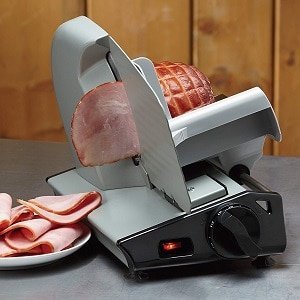 What You Will Love: The stainless steel feature of this meat slicer makes it easy to clean and prevents rust and wear on the appliance. It has a high power motor that allows it to operate electrically for customer convenience.
Valley Sportsman is the manufacturer of this appliance. It is not as well-known as other manufacturers, but Valley Sportsman prides themselves on small appliances that are designed with a general-purpose in mind.
There are no frills and extra features, just simple, to the point, meat slicing for those who enjoy deli-style sandwiches, or beautifully cut ham portions for Sunday Dinner.
This stainless steel electric food and meat slicer has the ability to slice through a variety of different foods at different cuts to fit your preference.
Embracing the benefits of a stainless steel material, customers can take advantage of an easy clean option and rest easy knowing that there will be no rust.
This product is also equipped with the safety feature of non-slip feet that prevent it from moving and falling while it is in operation. This is an important feature to consider when allowing a slicer to operate on its own electrical motor.
Families with small children or pets can appreciate this feature as other competing models may not be as secure and can be dangerous for those it may fall onto.
It is a heavier appliance compared to its competitors, coming in at 14 pounds. This is considered heavy in terms of appliances that must be moved and carried from storage to counters for usage. Other options come in at or under ten pounds and could be a deciding factor for a customer.
If you are more inclined to purchase lightweight options or like for your small appliances to be easier to carry, then you may need to seek out another option. For those who are able to move the appliance with ease at this weight, this is still an option.
The affordability of this electric appliance as compared to others is on the lower end. It averages well below some of the more distinguished options, making it an option for those seeking out a gift or looking to keep to a budget.
Unfortunately, the food carriage on the appliance is smaller than others. Many customers find themselves requiring additional plates to capture the sliced meats.
Pros:
Stainless-steel material
Cuts to 9/16 slice
Affordable
Non-slip feet for safety
Cons:
Heavier than competitors
Small food carriage for processing
No color option
Small food carriage
---
Best Commercial Meat Slicer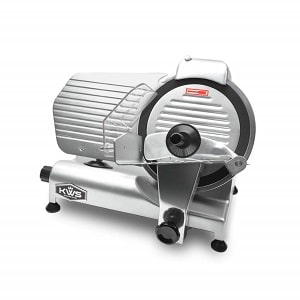 What You Will Love: At a commercial grade, this meat slicer has the power to efficiently and quickly based upon needs. Working with a motor powered at 320 watts can facilitate large orders in minutes.
KitchenWare Station is a leading manufacturer of small appliances at both consumer and commercial grades.
It is known for not only utilizing premium materials for their appliances but also ensuring that all conveniences requested by the customer are met with a variety of features.
This KWS Premium product is one of the best options on the market, as it is a commercial grade meat slicer designed to slice out large orders of meat and other foods in both large batches and a few minutes.
With a 10″ blade, the meat slicer has the ability to take a large ham or other large meat roll and slice it into paper thin slices.
This kitchen tool meets all testing qualifications, giving it approval from the following testing institutions: ETL, NSF, and FDA. The safety measures associated with this meat slicer include waterproof operation switch and non-skid feet that maintain the position of the slicer during slicing.
Equipped with a Teflon blade and in-house sharpeners, customers can expect surgical precision on their meat slices with each cut.
Because of its design, it has the ability to be used commercially, in-house, or even the ability to be used manually should the customer choose. This type of quality far exceeds its competitors, putting the KWS Premium Commercial 320w in its own class.
In order to receive all of this power, larger blade, and different features, the price point on this product is much higher than that of the other reviewed meat slicer options.
For those who are operating a deli-style service either part-time or full-time in their home or looking to make that transition, this is the right option for them.
Smaller restaurants, catering companies, and delis are able to successfully function of the use of a meat slicer at this caliber.
Pros:
High Power Wattage
A variety of slice options
Secure and Tested to use in Home or Restaurant
Self-sharpening
Manual option available
Cons:
More Expensive than competitors
Heavier meat slicing option
---
Best Easy to Use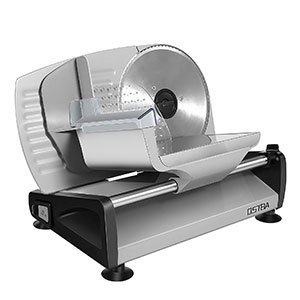 What you will love: Ostba 150W slicer for meat has child-lock protection and easy cleaning thanks to removable parts that are a snap to wash.
The Ostba electric stainless steel meat slicer features a seamless design for both strength and sanitation, and a 7.5″ removable blade and durable, adjustable food carriage with options to slice from paper-thin to 3/4 of an inch thick. As one of the top slicers, it is perfect for meat and cheese, bread, and vegetables too.
Easy to Clean and Sanitize
The thoughtful design of the Ostba high-quality stainless steel kitchen slicer includes seamless construction so food and grime do not build up in hard to clean areas.
Adding to the ease of keeping the unit sanitized is the removable ring-guard that keeps the cutting surface free of food and grime.
Washing is easy as the blade, food carriage, slide-rod including the food pusher are easy to remove and wash up nicely in soap and water or the dishwasher.
Safe to Use
The built-in child safety lock keeps the safety on check. To power up the slicer, you must press the safety lock while engaging the power button at the same time. Another top safety feature is the suction cup feet that keep the slicer in place.
High-quality Stainless Steel Blade
The 7.5″ stainless blade features a serrated cutting edge and a powerful 150W motor making short work of hard, dense foods, like cheese and meats.
Pros:
Easy cleaning.
Easy to use.
Power meat slicing
Durable
Optional 200w motor, and childproof.
Cons:
Comes with a single blade
---
Best for Space Saving
What you will love: Adjustable food slicer perfect for meat, cheese, fruit, bread, and vegetables.
A lot of Value for the Price
The nice price is sure to be an eyecatcher. It is easy to clean, features a steel blade, and an adjustable cutting swath. The quality design makes the Chefman meat slicer perfect for many kitchen chores, including prepping bread, vegetables, fruit, cheese, and meats.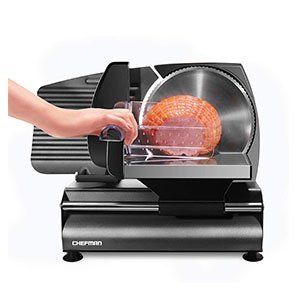 Designed with Safety in Mind
From the ground up the Chefman is made to be safe. The non-slip feet keep the unit in place while operating providing a stable platform to slice food just right.
The food pushcart is sturdy allowing you to apply even pressure so cuts are uniform and easy to produce.
Perfectly Sized
Its small footprint means it does not take up the whole counter. The small size of 9″ X 12″ makes it easy to store and the perfect size to handle most slicing jobs in the kitchen. The die-cast aluminum housing makes it lightweight and easy to move.
Easy to Clean and Sanitize
The 7.5″ serrated stainless blade and the and die-cut housing are easy to remove so cleaning is a snap.
Pros:
Small size and light-weight make it easy to move and store
180W motor
7.5-inch blade with a serrated edge
Perfect for home use.
Cons:
No child safety power features.
---
Best for Safety
What you will love: Perfect for home use or in a commercial setting. The stainless steel blade means quality, clean slices for longer, the adjustable slicer means you can customize cuts of fruit, meat, bread, cheese, and more to fit your needs. Techwoods' deli slicer makes our list for a number of reasons.
Built to Perform
A 6.7-inch blade in steel fits the bill for home or commercial use. The easily adjustable slicer handles precision slices to 3/4 of an inch and as small as 1 mm in thickness.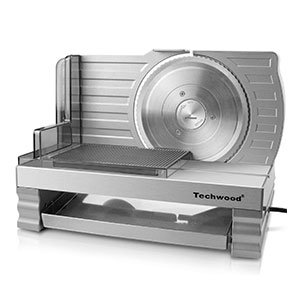 Belt Driven
Designed with a heavy-duty belt drive for easier food processing in comparison to rod-slide food carts that you have to push. This feature makes it one of the best for super thin slices to full-thickness cuts.
Easy to Clean and Sanitize
Some appliances are just a pain to clean. Not the Techwood Deli Slicer. The easy to clean and sanitize unit includes a removable blade, food cart pusher, and food carrier are easy to remove and clean. The design makes the slicer a joy to use and to keep clean
Pros:
Easy cleaning
Upgraded design with better bearings, and drive belt.
Sturdy safety design
Cons:
Smaller blade than many comparable slicers
---
Best for Multipurpose Use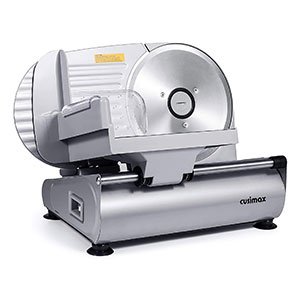 What you will love: Adjustable food slicer meat cutter for all-around kitchen slicing jobs. A 7.5-inch cutter with stainless pusher makes the Cusimax meat slicer an ideal tool for food prep, sandwich prep, and vegetable and fruit prep.
Always Clean and Sanitary
Its easy to remove parts including the blade and food track the unit is easy to maintain and sanitize. The thoughtful design makes your job easier as the powerful cutter does a quality job slicing food and cleaning up is easier too.
Belt Driven for Ease of Use
The CUSIMAX features a belt-driven slider tray where many slicers use manual labor to push the food over the blade. They have upgraded the design with quality components for longer use and the blade remains sharper longer.
Super Safety Designs
Anti-skid suction cup feet keep the unit in place while the exceptional 7.5 inch blade slices meat and vegetables like a hot knife through butter. The CUSIMAX is a stable, counter-top unit with plenty of power balanced by safety designs.
Pros:
Belt drove for easier cutting
Improved safety design with suction-cup feet
Easy cleaning
Cons:
Large size
No child safety power features
---
Best Counter Top Design
What you will love: Beautiful quality in stainless for a lifetime of use, a smart design makes food prep easier, one of the most affordable options, and tops our best list for home food prep tools.
Serrated Stainless Steel Cutter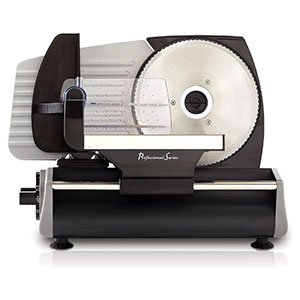 Stay-sharp technology keeps the 7.5 inch blade sharp so food prep is not only easy but also consistent. The blade is easy to remove with no extra tools required.
Easy to use Adjustable Cutting Setting
The simple twist knob allows you to adjust the cutting thickness making it easy to adjust the thickness of slices quickly when working with multiple food items. The clear market dial helps you set the cutter at the right angle the first time.
Professional Quality Cast Aluminum Design
Easy to clean and light in weight, the aluminum design is perfect for countertop use and for storing. Strong and durable for a lifetime of use.
Pros:
Easy kitchen use
Quality parts, and design
Ever sharp blade
Easy to store.
Cons:
Lack of childproof safety components
---
What Are The Leading Features In The Best Meat Slicer
Quality Blade & Size
It is important to focus on the blade of the meat slicer when you are making your purchase. Depending on the types of meat you would like to cut and the ability to cut them as fine as you desire should be the leading feature to assess during this time.
The 8.7″ blade on the Nesco FS-250 food slicer Stainless allows a blade large enough to make the cut, but not so big that it is inconvenient. Its size is perfect to comfortably slice the meat at your convenience.
Power & Motor Type
In addition to the blade type and size, power and motor is also an essential feature. When seeking out the top meat slicer, the motor should be one that can maintain the quality of the meat it is slicing and maintain its durability for the approaching jobs.
The Nesco FS-250 food slicer Stainless has a motor wattage of 180, which equates to a premium size and speed, making it one of the faster and most efficient on the market.
Compared to the other slicers in the consumer-grade grouping, the Nesco slicer's power level reigns supreme.
Safety Features
The best meat slicer will have safety features in place that will deter dangerous situations and maintain the safety of the operator.
The Nesco FS-250 food slicer Stainless is equipped with a dual safety feature of a food carriage and slicing guard that protects the hands of the slicer operating the appliance.
These features are great for those who may not be as experienced with using a meat slicer, and protect them from doing any physical damage to themselves and also protect the meat being sliced by having a secure landing for the product.
Easy Operation Of Meat Slicers
The best slicer is one that is easy to use by the operator. A meat slicer that is difficult and inoperable to the average person cannot be considered one of the better options.
The Nesco FS-250 food slicer Stainless is easy to maneuver, as it is designed to be operated by customers of different heights with its 8.7″ blade.
Also, the Nesco FS-250 food slicer Stainless is equipped with only ten minimal parts. All of these parts make the slicer easy to assemble, clean, and operate for each use.
Price
Another top feature to consider when purchasing a meat slicer is to consider the price of it. Commercial grade meat slicers have a larger price tag due to their larger size and durability to slice larger cuts of meat for longer periods of time.
For in home meat slicers, a consumer style product and price are the most appreciated, especially since the use of the slicer will be in-house.
---
How to Choose A Good Meat Slicer
Manual Or Electric?
One of the first features you must consider before making a purchase for the best meat slicer is to determine if you need a manual or an electric option. Consider the number of uses you plan for the meat slicer.
Will you be using it daily? Once a week? If you plan to use the meat slicer frequently, an electric option may be the best fit for you.
However, some enjoy the experience of manual slicing. Determine what is important to you and the time consumption that the manual has over electric.
Related : Best Manual Meat Grinder
Counter Space
How big of a meat slicer can you get? Do you want one that will sit atop the counter?
If so, you must consider the height and make sure that you are able to properly operate the meat slicer with it sitting on your counter space.
Purchasing the best meat slicer for you will require close attention to the measurements of the appliance and how tall it will be in conjunction with countertop measurements.
Do You Have Storage?
Now that you have determined the right size of the meat slicer for you, check your storage spaces.
Depending on the size, you may need to put away the meat slicer in your cupboard, pantry, or another storage space that can hold the meat slicer based upon its height and width.
Storage space can be a determining factor in the type of meat slicer that is purchased. Consider your personal storage space and determine where you have space to store a meat slicer.
Measure the height and width of the area, and determine the meat slicers that fit within that space.
Budget
How much are you looking to invest in your meat slicer? Are you setting your budget to a couple of hundred bucks? Maybe less?
Depending on the amount of money you are willing to invest in will determine what options you are open to purchasing. Consider things such as the overall size, motor power, and blade size when determining a price.
All of these features can enhance the price point of a meat slicer. Determine what features are most important for you and what you are willing to pay for when you purchase your meat slicer.
Durability & Style
How often do you plan to use your meat slicer?
You want an appliance that is durable and can withstand the usage that it will receive from day to day or week to week, depending upon your personal frequency.
Remember that you are making this purchase based on the need, so a certain high power motor may be required for your purchase because you plan to frequent the use of this appliance.
Some available meat slicers come in a variety of style options and may be more attractive than other options.
Consider the reasons for the meat slicer initially, and do not sacrifice durability for the sake of style.
After all, you will most likely be storing the meat slicer away when not using, so having it matches the theme and colors of your kitchen is not as important as other factors to consider during your purchase.
---
Final Verdict: Best Meat Slicers
These are some of the best meat slicer options available for customers who are seeking this appliance.
Whether you want it to use only in-house, or purchase for a catering business, there are a variety of options that vary based upon blade size, materials, speed, and weight for your convenience.
Also, price points for these tools come range from under a hundred dollars to several hundred depending on the associated features.
Before you make your purchase, review the features you desire from your meat slicer and compare to the leading options in their respective class.
---
Related Articles:
---