Quick Summary: Based on the reviews, the Elite Cuisine 1000 Watt Single Buffet Electric Hot Plate ticks all the boxes as an ideal hot plate. This electric burner consumes less power than it's competitors while still reducing your cooking time. Moreover, the housing of the hot plate features a cool to touch base and rubber feet that promote stability by reducing the chances of skidding. Lastly, the hot plate has several safety features and is cleaning is easy.
High-quality hot plates should be easy to carry and store, versatile, energy-friendly, and heat food evenly. The temperature settings as well as the power should be easy to control, with fine-tuning adjustments if you need them. The very best models should feature burners that are easy to clean, too.
Digital timers are a welcome kitchen feature so that you don't have to set separate timers or stand watch over your electric burner. Some burners are induction so you can heat your food in seconds. Others have a double burner for greater flexibility. You want to make great food easily, no matter where you are.
The best hot plates will fulfil all of these criteria and more. But how good are the various brands and models? Which hot plates are the best?
In this review, we have done the time-consuming research for you and have identified the best hotplates around. Here is our review of the very best hot plates on the market for 2020.
Quick Navigation
---
Top 10 Hot Plates Comparison
| | | |
| --- | --- | --- |
| | This 1000 watt, cast-iron flat hot plate has a single burner with adjustable temperature control, a cool-touch base with non-skid rubber feet, and a power indicator light. | Read Our Review |
| | This single burner has a temperature regulating knob, a slim design, non-slip rubber feet, and can be used for cooking either outdoors or at the office. | Read Our Review |
| | Easy to clean and with 15% faster heating, this 1000-watt, single burner plate offers precise heating and durability with its die-cast metal construction. | Read Our Review |
| | This stainless-steel, heavy-duty cast-iron hot plate has 6 different temperature settings, a 'coil-less' cooking surface for easy cleanup, and has 1300-watt power. | Read Our Review |
| | This double-coiled double burner hot plate from Black & Decker features 2 burners (one 1000 watts and one 500 watts), and has an adjustable temperature knob. | Read Our Review |
| | This portable, stainless-steel hot plate has one 1500-watt burner that heats up in seconds to cook food quickly. It also has an adjustable temperature and works with glass and aluminum. | Read Our Review |
| | This beautiful induction countertop burner has 15 preset power levels and a touch screen with two timers. It is highly energy-efficient (83%) and also has 15 temperature presets. | Read Our Review |
| | Perfect for kitchen use, this lightweight, durable induction cooktop burner has auto-pan detection, 10 heat settings and power levels, and a built-in digital timer. | Read Our Review |
| | This cooktop uses crystallite glass and infrared technology for smoothly heating up kitchen food without hot or cold spots, and works with all types of cookware. | Read Our Review |
| | Make food using 5 pre-programmed settings: Warm Milk, Soup, Stir Fry, Fry, Hot Pot. This induction cooktop also has a crystal plate surface and an LED screen display. | Read Our Review |
---
Reviews of Top 10 Hot Plates
Here some of the options available include a single burner hot plate, double burner hot plate, and a 10 burner hot plate.
Below we have put together five reviews of some hot plates to make it easy for you to reach the right decision when shopping for the hot plate that will meet your culinary needs.
Best Overall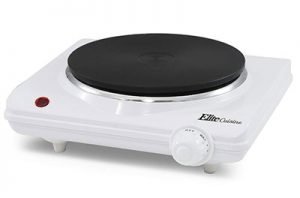 With Off, Low Medium, High and Warm temperature settings, this hot plate allows you to control temperatures. The heavy-duty cast-iron heating plate is flat and uses 1000 watts of power to reduce your cooking time.
The hot plate features a power indicator light, a base that is cool to the touch and non-skid rubber feet that make for safe and stable cooking.
Lastly, the cleaning of the heating plate is easy, a factor that makes it easy for you to maintain the appliance.
Pros:
Heavy iron pad on heating element distributes heat evenly
Affordable, compact hot plate
Easily portable hot plate
Does not make noise or overheat
Cons:
Does not last long
Indicator light sometimes goes out
No heat shield to protect the countertop
Some units are not level when sitting on a surface
---
Best Budget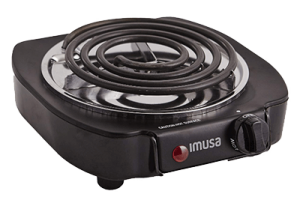 This is a single burner that is both small and compact, making it perfect for travel. In connection with this, it can be used for outdoor cooking or in the office.
The electric burner features heat distribution coils as well as a knob for regulating temperatures.
Lastly, the design of the plate allows you to save space when you store the kitchen appliance.
Pros:
Heats up water rather quickly
Affordably priced
Great for on-the-go meals
Decent size and works well
Cons:
Product does not maintain steady temperature
Starts to omit smell of burning rubber after some time
Coils do not sit flat
Power light and coil are unstable
---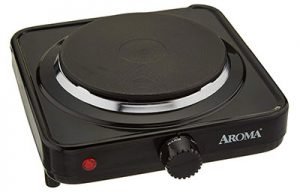 This portable, induction hot plate has the heating plate made of die-cast metal. The single burner hot plate delivers consistent heat within a very short period.
The design of the plate features non-skid feet, an indicator light as well as a control function with high, medium, warm and low-temperature settings.
The table top hot plate has four legs underneath the housing to lift it off the surface on which you place it.
Lastly, the coil-less design of the heating plate makes the appliance easy for cleanup.
Pros:
Precise heating and durability
Lightweight, making it ideal for travel
Temperature adjusting knob works well
Takes very little room when in use
Cons:
Way too small
Gives off unbearable smell
The electric cord is too short
Takes long to boil water
---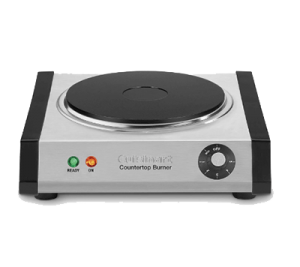 The portable electric hot cooktop has a strong cast-iron plate to offer you durability. The single burner hot plate uses up 1300 watts of power making it heat up fast and retain the heat for a long time.
This helps you to save power even as you cook your meals.
The small electric kitchen appliance also has safety indicator lights and a knob for adjusting temperature over six different settings from the lowest to the highest temperatures.
The electric burner is easy to clean since it has a coil-less cooking surface. Lastly, the base features four rubber-legs to keep the appliance from skidding.
Pros:
Easy to use
Functions consistently
Perfect for office use
Easy to clean
Cons:
Uneven heating surface
Plastic sidewalls of the burner melt
Burns out too fast
Sometimes light comes on, but it does not heat
---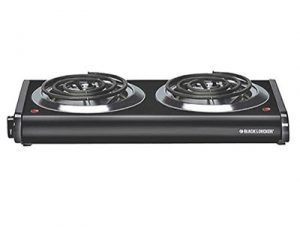 In addition to being a double burner, this appliance is light enough for easy portability and to offer you the convenience of cooking wherever you need to.
The design of the coil burner is meant to allow even distribution of heat for better cooking results and well-cooked foods.
The two temperature control knobs let you set the temperatures of the two burners independently.
Lastly, each burner has its power indicator light to offer better safety and security whenever you use the appliance.
Pros:
Ideal for camping
Powerful and beautiful
Saves space during storage
Sturdy and dependable hot plate
Cons:
Elements are a little too close together
Burners are weak
Does not get hot enough
The unit smokes in some cases
---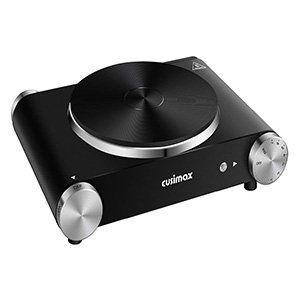 You will love the safety and durability of this model that is so simple to keep clean! Just wipe with a cloth and some mild dishwashing liquid.
Make all kinds of foods with just one burner: warm sauces, decoct steak, grilled cheese, boil water, make soup, and cook pasta and vegetables.
Its small and compact size makes it ideal for taking on trips or using in college dorm rooms, offices, camper vans, and other small spaces.
This model shuts off automatically with its temperature function regulated by a thermostat, giving you added peace of mind. You'll be able to heat food quickly and thoroughly thanks to the high wattage.
You can cook a variety of foods easily with minimum amount of fuss, thanks to the temperature dial with preset heat functions. There are even minute degrees of heat selection below 1 for added versatility.
Pros:
The CUISIMAX is compatible with all types of cookware and works with glass and aluminum to heat food efficiently with minimal heat loss.
Works with ceramic pots, frying pans, aluminum pans, teapots, and more.
Cons:
The maximum size of pots and pans is 7.1 inches
---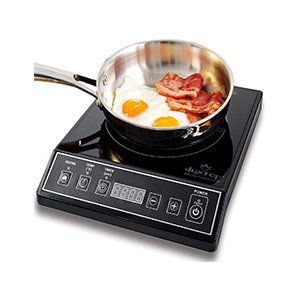 You will love the large and beautifully-designed display screen on this hot plate. You can easily view the temperature and other settings from a distance, making this countertop burner very easy to use for everyone.
This lightweight and portable hot plate fits perfectly in boats, offices, camping cars, student dorm rooms, and other small kitchen spaces.
Its induction surface has a wipe-clean top and is easy to carry and store. The auto-pan detection function ensures safety by switching off automatically after 60 seconds if no pan is detected.
This induction model is more efficient than its electric counterparts, with an energy rating of 83 percent. You can heat up food faster and more efficiently with a minimum amount of energy spent.
You can select any one of 15 different preset power levels from 200W to 1800W, as well as 15 preset temperatures from 140F to 460F. With 1-minute increments up to 170 minutes, this digital timer will ensure you can cook your food perfectly every time without having to hover over the electric burner.
Pros:
No open heating element, so food won't burn on the glass cooktop and you can easily clean the unit.
Simply allow the unit to cool down, and then wipe with a damp towel.
Cons:
This electric burner requires induction-ready cookware, so you have to choose cookware with a magnetic bottom no larger than 5 inches in diameter.
---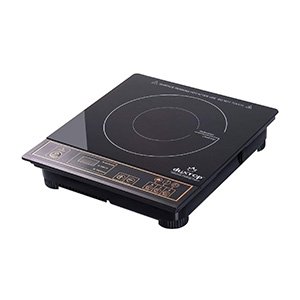 You will love the look of this electric burner! This model is one of the best for its flat housing and sleek ceramic glass top.
The stainless steel finish looks wonderful with any type of kitchen and works great as a backup stove or as a gift for someone starting out in their own living space.
This induction hot plate cooks all kinds of food and is simple to clean: just allow the unit to cool and then wipe the crystallite glass surface clean with a damp cloth.
Slim and lightweight, you can carry it anywhere to make food on the go, whether you're camping, on a boat trip, or making food at the office.
Its infrared technology and 1000 watts of power allow you to heat up dishes quickly and easily. Cook all types of food evenly without any hot or cold spots.This model is very slim and lightweight, weighing only 3 pounds.
Because there is no flame, this burner hot plate is perfect for students and anyone else living on their own in a small space. It has non-slip rubber feet and an on/off indicator light, so it is easy and safe to use.
Pros:
Compatible with all kinds of cookware, unlike other induction countertop hot plates
Cons:
For non-induction cookware to work, the pots and pans have to be flat and as close as possible to the plate size of the burner (7 inches in diameter)
---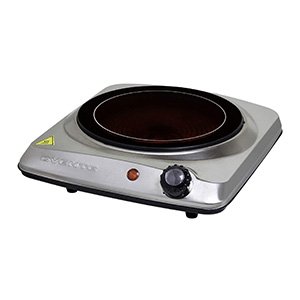 You will love the simplicity of this hot plate, with its flat housing of stainless steel and its sleek glass top made of crystalline ceramic. It looks fantastic while doing a great job in your kitchen.
This infrared countertop hotplate heats food quickly with 1000 watts of power, and unlike other induction models, it is compatible with all kinds of cookware.
Just make sure the undersides of your pots and pans are flat and are no wider than 7 inches in diameter. A hotplate that only weighs 3 pounds is easy to slip in a bag and take with you to the office, on your camping or boat trip, or to a vacation cabin.
Both the crystallite glass burner top and the metal housing only need to be wiped clean with a damp cloth, making post-meal cleanup a breeze.
This model comes with a 1-year warranty on domestic (USA) repairs, as well as replacements on materials and workmanship.
Pros:
This particular hot plate, although it is an induction model, works well with all types of cookware
Cons:
There's no touch screen or built-in timer, and no preset temperatures: just one dial to adjust the heat
---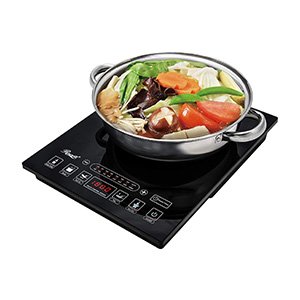 You will love the stylish look of this induction cooktop, as it looks more like a fashionable kitchen accessory than an appliance.
Everything is set flush into the flat black surface so you won't even know your hot plate is there till you decide to use it. One of the best choices if style is important to you.
The beautiful crystal plate surface of this model make it one of the best and most attractive plates for heating your food easily. Everything is preset so you don't have to think about anything – just touch a button and you're set to go!
There are 5 settings that are pre-programmed: Warm Milk, Soup, Stir Fry, Fry, and Hot Pot. Choose the perfect temperature by pressing just one button!
The attractive and large 4-digit LED screen display can be seen by anyone from far away, making keeping an eye on your cooking easy and practical temperature range from 150 to 450 degrees: 150, 200, 250, 300, 350, 400, 425, and 450 degrees.
Pros:
A beautiful 10-inch stainless steel pot with lid is included with this hotplate, so you can get started cooking right away
Cons:
No gradual temperature adjustment – you have to use one of the presets
---
Key Features Of A Good Hot Plate
These are the must have features of the perfect hot plate:
Timer – some hot plates have timers to indicate whether the cooking time has elapsed.
Temperature setting – temperature settings range from simple ones that offer high, medium, and low, to more advanced ones that allow you to set temperatures by degrees.
Power switch – some hot plates go on once they are connected to the power supply. However, others have power switches, allowing you to plug them in even when they are not in use.
Power indicator – a power indicator comes on when the plate is connected to power. In some appliances, this light will go off once the desired temperature has been reached.
Magnetic stirrer – a magnetic stirrer hot plate has a magnetic stirrer that rotates right below the surface
Drip pan – this is a removable pan that is placed beneath the burner to hold spills and help in preventing a mess.
---
How to Choose the Best Hot Plate
We understand that choosing the best hot plate for use at home can be a daunting task. However, to ensure that you buy a high-quality product that will serve you effectively, you should keep a few factors in mind.
Power Sources
Electric-powered induction heating
A cord plugged into an electric outlet supplies power to the portable hot plate. Magnetic induction then heats the pan, passing on the heat to the contents. Induction heating is much faster than standard electric and propane or gas hot plates.
Propane or natural gas
Powered by gas, the portable plate that can be placed on a countertop has natural gas or propane supply tanks.
Microwave oven heating
This involves heating stone ceramic hot plates in a microwave before placing it underneath the item to be heated. The reheating is done as many times as the manufacturer has directed.
Standard electric
These hot plates feature coiled heating elements in a burner and use around 1,000 watts of power. You might be wondering: Some models in this category come with an adapter that can be plugged into a car or other power sources.
Hot Plate Materials
Tempered glass
This material is used in induction cooktops that are portable and have a heating element below. It heats up rather quickly and cooks food fast.
Stainless steel
Stainless steel makes for durable and easy-to-clean surfaces. While some models will have a flat stainless steel surface, others will feature a burner area made of stainless steel with a heating element located underneath.
Electric heating element
In cases where the element is exposed, there will usually be an extra surface material around it. These hot plates will either come with single or double coils. The elements take some time to heat as well as to cool down.
Die-cast metal
The durable and heavy material allows for even cooking of your food. Die-cast metal takes longer to heat in comparison to other metallic surfaces. In the same way, it holds the heat for long, a factor that can add warmth to a room.
Ceramic stone
After placing them in a microwave and heating them for three to four minutes, ceramic stones can take up to one hour to lose their heat. Heat is lost faster on the edges than at the center.
Safety
Cool to the touch
The handles, controls and housing of the hot plate should not burn your hands. Moreover, they should not melt plastic in case there is contact.
Non-skid
Non-skid surfaces work to prevent movement and spill whenever you are using your hot plate. For easier use, we advise that you look for hot plates with rubber legs or bases.
Safety switch
A safety switch works by turning the appliance off after a specific period. However, this can be very frustrating when cooking meals that need to be heated for several minutes.
Electrical cord
The best electric burner has an electric cord that meets all the required safety standards.
Child lock
This feature prevents children from turning on the appliance or going on accidentally.
Size and Capacity
Depending on your specific needs, you will need to choose a hot plate whose size and capacity will serve you well.
---
Hot Plate vs. Induction
A hot plate is more portable than an induction cooker. It can be moved around the kitchen or carried to a campsite for a delightful homecooked meal.
An induction hot plate is not as durable and will only heat when a pot is placed on its range, making pre-heating a loss with this product. Also, inductions find themselves to be much more expensive than an electric burner, which can be a deciding factor for a customer on a budget.
Related reading: Best Electric Woks
---
Electric Skillet vs. Hot Plate
The electric skillet has the ability to cook a variety of dishes like the hot plate, but it lacks the ability to be portable, making it less convenient for the user. Also, a hot plate cools much quicker than an electric skillet, proving quick and efficient clean up over the skillet that takes longer to cool.
Also, an electric griddle is not as easy to store as a hot plate. When the hot plate has cooled and been cleaned, it can be placed out of the way and not to be seen again until it is needed for cooking.
An electric skillet will require extra storage space or need to be out on the counter because of its size.
Read next: Best Portable Electric Stoves
---
We hope that our buying guide to choose the best hot plate and our compiled 10 best hot plate reviews will be of use to you as you choose the most suitable electric burner. We will greatly appreciate if you can share your comments or articles through social media.
Related Articles