Quick Summary: Our top pick for performing best electric wok is the Presto 5900 1500-watt Stainless-steel Electric Wok because of its all-around quality. It's sturdy and durable. Plus, its glass-tempered lid allows you to monitor your cooking and retain maximum heat for even frying. Side handles make for easy maneuvering, too.
Traditionally, woks are used to prepare tasty dishes from Asian cuisine. But people use them to prepare all sorts of meals. A wok is a superior cooking pan that allows you to make a range of dishes, from breakfasts to stir-fried meals. Woks are known for their ability to distribute heat evenly. And you can also use less oil when cooking with a wok.
If you like to whip up complicated meals that require more burners than you have on your stovetop, an electric wok is a major convenience. Plus, if you're preparing food in advance for your guests, you can use your electric wok to keep it warm. The greatest benefit of electric woks is that you can use them anywhere, as long as you have a power outlet nearby.
If you're looking to take your cooking to the next level, an electric wok can help you get there. However, since there are so many models available, it might be challenging to choose just one. That is why we prepared this buying guide. We reviewed the best electric woks currently available, so you could easily decide which electric woks will fit in your kitchen the best.
Quick Navigation:
---
10 Best Electric Woks Comparison
---
Reviews of 10 Top Electric Woks
Best Overall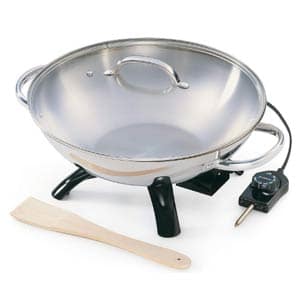 What You Will Love: This top rated electric wok is attractive, durable, and incredibly easy to use. Plus, it's low-maintenance since you can place it in the dishwasher.
The award for top electric wok overall goes to the Presto 5900 15-Watt Stainless-Steel Electric Wok because it's so durable and easy to use.
Its stainless-steel design, 1500-watt heating element, and aluminum-clad base allow for rapid, even heating. The heat-control feature is easy to see and use, too.
With a tempered glass lid and stainless steel rim, you can conveniently and securely cover your food while it's cooking, or keep it covered afterward so it stays warmer, longer.
Side loop handles make the wok easy to lift and carry without the hassle of trying to balance a hot appliance in your hands.
Even better, the wok and lid are dishwasher-safe, so after all that cooking, you won't need to spend lots of time on clean-up.
Another bonus: there's a long-handled wooden spatula included with the wok for stirring the food as it cooks.
Pros:
Sturdy, heats evenly.
Plenty of user-friendly features.
Accommodates large amounts of food.
Stainless-steel cooking surface can be a healthier alternative to non-stick coating.
Cons:
Not designed for use with an adapter. For some people, the bottom of the wok heated more than the rest of it, causing food to burn.
---
Best Budget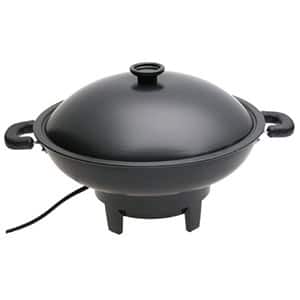 What You Will Love: Full-range temperature control, well-thought-out design, cool touch base and handles.
If shelling out a lot of cash for cooking equipment isn't your thing, we have just what you might be looking for: the Aroma Housewares AEW 305 Electric Wok. It offers superior quality at a modest price.
With a 7-quart capacity, you have plenty of room for your favorite cuisine. The domed lid helps to circulate heat throughout the wok and lock in warmth and moisture during and after cooking.
But the handles and base are cool-touch, so you don't have to worry about the possibility of burning your fingers when the rest of the pan is hot (a plus, especially because the wok heats up quickly).
With its durable non-stick coating, this culinary apparatus makes clean-up almost effortless. Full-range temperature control lets you cook with precision.
Pros:
Large capacity.
Modest price.
Sleek design.
Retains food flavors for professional results.
Cons:
It's somewhat shallow and temperatures may sometimes fluctuate unpredictably.
---
Best of Large Capacity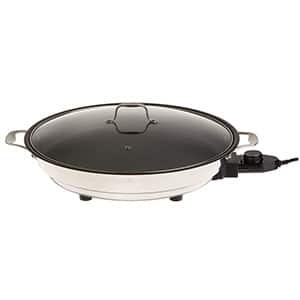 What You Will Love: Huge capacity, non-stick surface, ultimate temperature control, easy to clean.
When it came to selecting the best of large capacity, the choice was obvious: the Electric Skillet with Tempered Glass Lid– Professional Non-Stick Cooker by CucinaPro.
At 16″, this electric skillet is a behemoth, so it's likely to be your go-to when cooking for your family or prepping enough food so you can enjoy the leftovers for a while.
The non-stick interior heats quickly for efficient cooking. With a temperature-probe, you can easily heat the wok to the desired setting so you can make stir-fries, curries, and other dishes just the way you like them.
Since the skillet comes with a tempered glass lid, you can monitor your cooking while retaining maximum heat and moisture for a finished product that's professional-grade.
Clean-up isn't difficult either– just hand-wash or wipe the pan with a damp paper towel.
Pros:
Enough room to easily cook for four.
Non-stick cooking surface.
Temperature control.
See-through lid for easy monitoring.
Cons:
Not many; only a few reviewers weren't happy with the skillet's quality.
---
Best Professional Wok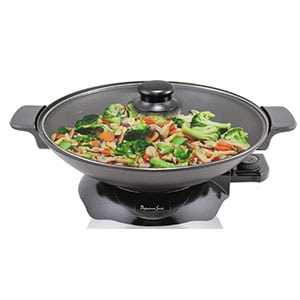 What You Will Love: Non-stick surface, temperature control, and sleek design yield professional-grade results, and clean-up is easy, too.
Another electric wok that we consider best in its class is the Continental Electric PS– SK319 Chef Electric Skillet.
With this superior appliance, you can bring the benefits of restaurant-made dishes right from your kitchen to your table.
Its professional series stainless steel body and non-stick surface yield consistent results. You can also adjust the temperature to prepare meals to your liking.
Its tempered glass lid retains heat and moisture and enables you to monitor the frying process, while the side handles allow for easy maneuvering. With its sleek design, the electric frying pan keeps messes to a minimum.
Its modest size makes it a handy addition to any home kitchen, apartment, dorm room, or RV, because it doesn't take up a lot of counter or storage space.
Pros:
Produces professional results.
Ideal size for smaller spaces.
Temperature control.
Cons:
Handle position can make plugging in and setting temperature difficult.
---
Best for Precise Temperature Control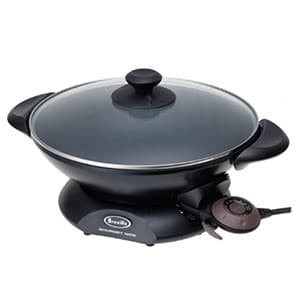 What You Will Love: Multiple cooking settings, non-stick surface, easy to clean.
To continue our "best of" roundup, let's look at the Breville EW30XL Electric Wok.
Equipped with a butterfly element that has 14 different heat settings plus a high sear option, this top-notch electric wok allows for precision cooking in a way most of its counterparts do not.
Plus, it comes with a 4-layer quantanium non-stick cooking surface, making frying and clean-up as hassle-free as possible.
Additionally, the quick-release base is dishwasher-safe. With its 6-quart capacity, you can prepare a considerable amount of food.
Pros:
Non-stick surface and dishwasher-safe base make clean-up a snap.
There are multiple temperature settings so you can cook your favorite dishes to perfection.
It's large enough to cook plenty of food or give you enough room to stir smaller amounts of food without spilling it over the sides of the wok.
Cons:
Cooking settings are numbered 1-14 rather than according to temperature.
Some people reported issues with the non-stick coating peeling after extended use or when the wok became extremely hot.
It's only compatible with US voltage.
---
Runner-Up (Best for Precise Temperature Control)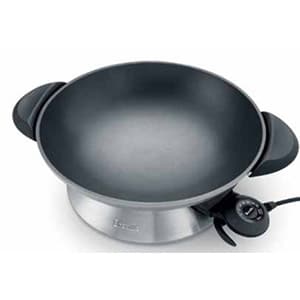 What You Will Love: Large size, precision heat settings, transparent lid, non-stick surface.
With a 6-quart capacity, the Breville BEW600XL Hot Wok easily outranks others of its kind.
Its sturdy stainless-steel base supports a 14″ diameter die-cast wok bowl with a quantanium non-stick surface.
With a "cook 'n' look" glass lid, you can monitor your cooking at all times. Since the bowl and lid are dishwasher-safe, clean-up is as hassle-free as possible.
Finally, you can heat the wok up to 425°F for high-heat searing, and 15 different precision settings help you get the temperature just right.
The 1500-watt Butterfly heating element makes frying in this wok similar to cooking on a gas stove.
Pros:
Large capacity.
Non-stick surface.
Multiple heat settings.
Transparent lid.
Dishwasher-safe parts.
Cons:
A few customers had issues with the non-stick surface peeling or scratching after a short time.
---
Best for Energy Saver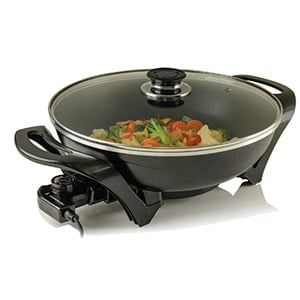 What You Will Love: Large capacity, energy-efficient, heats up quickly, temperature control settings.
What really stands out about the Ovente Sk3113B Non-Stick Electric Skillet is its eco-friendly, temperature control features.
Because it heats up more quickly than conventional stoves, it uses considerably less energy.
With its superior temperature controller, you can choose any setting you like and the wok, upon reaching that heat level, will maintain it, thanks to the "keep warm" feature.
With its aluminum design, the wok has a non-stick surface, won't warp or break, and is able to conduct heat evenly throughout the unit to optimize your cooking experience.
Pros:
Durable.
Energy-efficient.
Allows you to customize cooking settings.
Can double as a buffet server or pizza maker.
Cons:
The wok may shut off after reaching the desired temperature.
---
Best Wok for Safety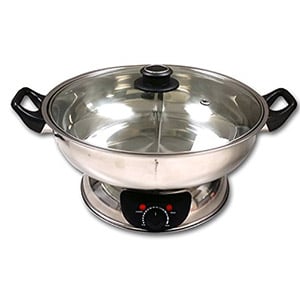 What You Will Love: Built for optimal safety and durability, see-through lid, internal divider to make two different foods simultaneously.
If you share your household with small children, you're probably on the lookout for kitchen appliances that keep hazards to a minimum.
When it comes to safety, the Sonya Shabu Shabu Electric Mongolian Hot Pot doesn't disappoint.
A heat-resistant handle protects your hand when maneuvering the unit. Silicone "feet" keep it from sliding, minimizing the danger that you will drop the skillet or spill hot food on yourself.
You can constantly monitor your cooking through the transparent glass lid. Another plus: the wok has an internal divider so you can prepare two different foods simultaneously without mixing them up.
Pros:
Durable design.
Divider for different foods.
Safety features.
Cons:
Several customers reported that the unit leaked. Carefully following the instructions may minimize the problem.
---
Best Non-Stick Electric Wok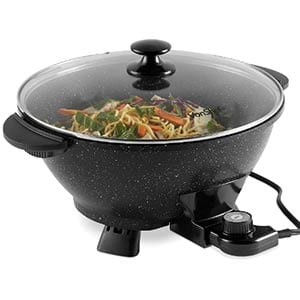 What You Will Love: Large size, non-stick coating, temperature settings, cool-touch handles.
With a capacity of just over 7 quarts, the high-quality VonShef Electric Wok with Lid allows you to cook for a small army.
And all that cooking is easier with an advanced coating that not only keeps food from sticking, but also makes it possible to cook with little or no oil.
Use the rotary dial to conveniently adjust the temperature to one of four settings: warm, low, medium, and high.
Both the aluminum pan and tempered glass lid come with cool-touch handles, so you're less likely to burn your fingers while cooking.
Pros:
4 temperature settings.
Heat-resistant handles.
Non-stick surface.
Cons:
No major issues reported.
---
Runner-Up (Best Non-Stick Electric Wok)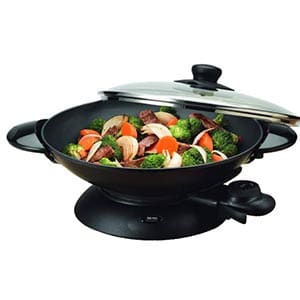 What You Will Love: Cool-touch components, temperature control, non-stick surface, large capacity.
Last but not least, we rated the Aroma Housewares AEW– 306 5-Quart Electric Wok as one of the best woks with a non-stick surface.
Its sizeable capacity allows you to cook larger portions, and the durable non-stick coating means you won't have to spend hours scrubbing food residue from the skillet.
It heats up quickly and it's designed for maximum heat retention. With full-range temperature control, you can cook your favorite Asian cuisine to perfection.
In fact, this versatile appliance is built for more than just stir-frying; use it to try your hand at steaming, tempura, and braising. The unit locks in flavor so you can achieve professional results.
Pros:
Full-range temperature control.
Non-stick surface.
Versatility.
Large capacity. (There is also a 7-quart version of this unit).
Cons:
A few issues with power/heating and coating peeling.
---
How to Choose A Good Electric Wok For Cooking?
When deciding what is the right electric wok for you, there are quite a few factors to consider. Add them to your checklist of what to look for in a wok so you'll have all the information you need to compare appliances. Here are some points to consider:
Metal or some other material
Most woks are made of aluminum or stainless steel. Which metal you choose is generally a matter of personal preference. Keep in mind, though, that many electric fryers come with a non-stick surface, such as Teflon.
Many people have concerns about the non-stick coating eventually flaking off and ultimately ending up in their food.
If you'd rather avoid this possibility altogether, go with a stainless steel or ceramic option. Be sure to treat the ceramic first, if needed, to prevent food from sticking. You can also find woks made of copper.
Adjustable temperature settings
The perfect electric wok is one that gives you maximum control over your cooking. Toward that end, many of them come with adjustable heat settings so you can prepare your favorite dishes to perfection.
Capacity and size
Yes, size matters when it comes to electric woks. You may want a larger capacity skillet if you're preparing food for a crowd.
If you're just cooking for yourself, or you have limited countertop and cabinet space, a smaller appliance may be your best bet.
Also, many cooks prefer a deep wok, which makes it easier to stir or scoop out food without having it spill over the sides.
Budget
Think about how much you really want to spend on a wok. If you aren't planning to use it frequently, a cheaper model will probably get the job done well enough.
But if you're a frequent fryer of Asian cuisine, a more expensive unit is likely to last longer.
Stovetop or electric?
Stovetop woks limit you to range-top cooking only, but they can usually reach higher heat levels than the electric variety. Most electric woks typically reach a maximum temperature of 400°F.
That said, they can generally perform just as well as the stovetop variety, plus they give you the freedom to cook wherever you have access to a power source.
You can cook on your kitchen island, or even a campground if it has electric hook-ups. Selecting an electric wok with heat settings can easily make up for the lack of a stovetop.
---
Final Verdict: Best Electric Woks
When deciding on the best electric wok for you, consider your preferences and lifestyle. How often you cook and for how many will help dictate your choice.
Because it doesn't need to be placed on a stovetop, an electric wok can give you more freedom to cook anywhere there's an outlet.
Finding the right electric wok can make cooking easier and more precise than ever before.
More Related Articles:
---