Quick Summary: When it comes to selecting the best turkey fryers, we believe that Waring Electric Digital Rotisserie Turkey Fryer is the best candidate to hold this title. Its most unique feature is that it is designed to be oil-less, thus you can get healthy food made in it with the most delicious flavors. With a two knob design, this fryer is easy to operate and can be used to cook boned and boneless meat. Besides this product, this article features detailed reviews on other brands and fryers as well which you must read. We are hopeful that our honest reviews and analysis will help you in finding your very own best turkey fryer.
Whether it's Thanksgiving or any other special occasion-a huge, glazed, well-fried turkey surely adds finesse to every meal. Compared to other bird's meat, a turkey's meat is huge in size. A turkey's size does become a matter of concern while cooking it, but with the best turkey fryer this problem can be easily solved.
High quality, special turkey fryers are designed with such capacity that they can conveniently accommodate a whole turkey along with its frying oil. Contrary to common assumption-frying a turkey does not mean overloading it with oil and grease, rather good fryers ensure that a balanced amount of oil seeps into its skin and meat.
Various cooking styles like baking, roasting, steaming is preferred by foodies when they are preparing turkey meat-however, a fried turkey is way better in taste and flavor. A good fryer helps you in ensuring that the turkey meat is properly cooked, that is-it is juicy, moist and rich in flavor.
Turkey fryers function with gas, while most of them can also be operated through electricity. However, we are in the favor of using electric turkey fryers as they are easy and safe to use. Either way, both types do eventually produce that classic, mouthwatering turkey meal.
If you are looking to surprise your friend with a home-cooked 5 Michelin star turkey dish, then you should definitely buy the best turkey fryer and that's why you should check our list of the best turkey fryers the market offers.
Quick Navigation
---
10 Best Turkey Fryers Comparison
| | | |
| --- | --- | --- |
| | Built with high-quality stainless steel, this innovative frying set with rotisserie feature will cook up a delicious whole turkey for you by using 1/3 less oil. | Read Our Review |
| | Frying up a 20 lb. turkey has now become possible with this highly powered 1650 watts frying machine. The added drain valve will assist you in quickly cleaning up this heavy-duty equipment. | Read Our Review |
| | Experience the joy of celebrating special events with healthier food by cooking it with this Oil-less turkey fryer. You can cook almost everything including chicken, beef, (16lbs) turkey, and even pork with this fryer. | Read Our Review |
| | Engineered with 1650 watt heating system and stainless steel exterior-these fryers are the best device to fry a 14lb turkey and that also with 33 percent less oil. | Read Our Review |
| | Whether you want to fry, steam, or boil meat and vegetables-you can do it easily by using a Masterbuilt Indoor Electric fryer. This stainless steel fryer is durable and easy to use with its smart features. | Read Our Review |
| | These modern fryers are equipped with a rotisserie feature that fries the meat from all sides with even distribution of heat. Its 120-minute timer allows you to avoid overcooking any meat. | Read Our Review |
| | This fryer consists of a perforated basket that makes it suitable for steaming items. It comes with a 12 inch stainless steel thermometer so that you can easily measure and check its cooking settings. | Read Our Review |
| | This aluminum cooker is lightweight and heats up quickly so that you can fry a 20lb turkey. For ease in cooking, you get accessories like a rack, lifting hook and thermometer with it. | Read Our Review |
| | This heavy-duty aluminum made outdoor cooker functions through a 33000 BTU cast burner. Additionally, you get a 11qt fry pan with it that is supported with heat resistant handles. | Read Our Review |
| | These fryers are made of stainless steel and can easily accommodate a 20lb turkey. It is designed with a drain valve that makes it easy to clean and manage. | Read Our Review |
---
Reviews of 10 Best Turkey Fryers
We have chosen the following turkey fryers on a variety of their features, such as non-stick interiors, how quick the oil heats up, safety and cost. Here are our picks for the best turkey fryers:
Best Overall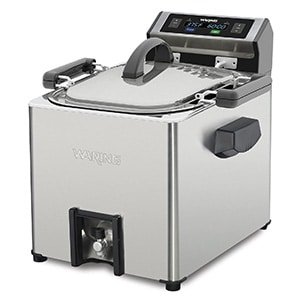 What You Will Love: The Waring TF250 Electric Turkey Fryer and Deep Fryer Steamer is the only deep fryer on the market that uses a rotisserie to hold the bird while it is cooking.
Along with being able to cook up to an 18-pound turkey in a little over an hour, other features of the Waring TF250 Electric Rotisserie Turkey Fryer include:
Key Features
The rotisserie alternates direction, which allows for more even cooking and helps to retain the bird's natural juices
It is a large-capacity rotisserie fryer, food steamer, and basket fryer all in one
Because the turkey is continuously being rotating in and out of the oil, it uses 1/3 less oil for cooking than a traditional turkey deep fryer
The rotisserie can be removed so you can use it to steam or deep fry other foods
The digital control panel has a precise thermometer that can adjust the temperature from 175 degrees to 375 degrees and a 99-minute countdown timer
This electric turkey fryer has an indicator light to let you know when the oil has reached the appropriate frying temperature
Pros:
Works as a fryer and steamer
Rotisserie feature allows to cook meat fully
Uses 1/3 less oil for frying turkey
Easy to operate with a 99-minute timer
Inbuilt temperature settings are adjustable between 175-375f
Cons:
Takes a long time to cool down after use
Heating coil is not long-lasting
---
Best Budget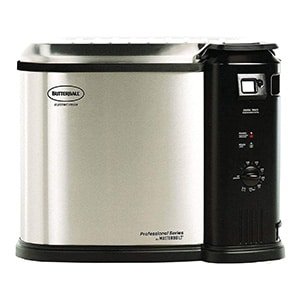 What You Will Love: The Butterball Indoor Electric Turkey fryer will fry a 14-pound turkey in about 4 minutes per pound. Other features of the XL Butterball Indoor electric turkey fryer include:
Key Features
Fries a turkey up to 20 pounds
An aluminum cooking basket with a drain clip
Digital timer with thermostat temperature control and analog controls
Has a 1650 watt electric heating element so the oil heats quickly
The convenient oil drain valve makes cleaning easy
Tested and designed to meet commercial standards
A magnetic break-away power cord
Pros:
Strong functioning with analog controls
Easy to disassemble and clean
1650 watt powered system heats up quickly
Simple to clean because of the oil drain valve
Consists of a drain clip
Can be used to fry 20 lb. turkey
Installed with digital timer and thermostat temperature controller.
Cons:
---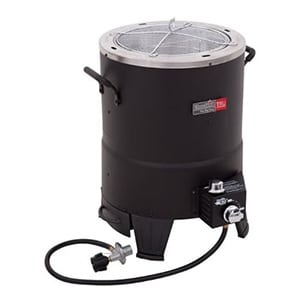 What You Will Love: If you are looking for a "healthier" version of fried turkey, the Char Broil Big Easy Tru Infrared Oil-Less electric turkey fryer is a perfect choice. Features include:
Key Features
A patented infrared cooking design that prevents, hot and cold spots
Dry fries up to a 16-pound turkey
Can be used for other items as well, including chicken, beef roasts, and other large cuts of meat with either a meat injector or a seasoning rub
You do not have to worry about hot oil that burns, spills, or splatters
Includes a cooking basket, a meat lifter, a meat thermometer, and a cooking guide.
Best oil less turkey fryer you can get.
Pros:
Stays protected from flare-up, hot and cold spots through infrared technology
Requires less amount of oil for frying
Works same as an air fryer
Can be used to cook boneless and boned meat, chicken and pork pieces
Simple to operate with just two knobs
Designed with a drip tray that stores all juices for making gravy
Cons:
---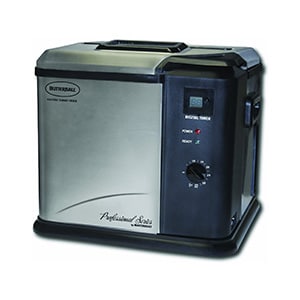 What You Will Love: The Masterbuilt 20010109 Butterball Professional Series Indoor Electric Turkey Fryer is one of the easiest indoor turkey fryers to use.
Along with a 1650 watt electric heating element that will heat your oil in less than 30-minutes, some of the other features include:
Key Features
Uses 33 percent less oil than a conventional fryer
Has a porcelain-coated inner fryer pot and stainless-steel exterior
Digital timer that will let you know when the oil is heated and beep to let you know when the turkey is done
A built-in drain clip on the fry basket
Hideaway storage compartment for the cord
Automatic shutoff function if the cooking temperature gets to high
Built-in filter to reduce cooking odors
Drain valve for easy cleaning
Can be used to fry other foods as well as for steaming or boiling
Comes with a 90-day limited warranty
Pros:
Spacious enough to be used for 14lb turkey
Durable because of stainless steel construction
Best indoor turkey fryer for the money
Utilizes 33 percent less amount of oil for frying
1650 watt heating system heats up oil quickly in 30 minutes
Can be used for frying, boiling, and steaming
Cons:
Does not have an on/off button
Comes with a poorly made attachment cord
---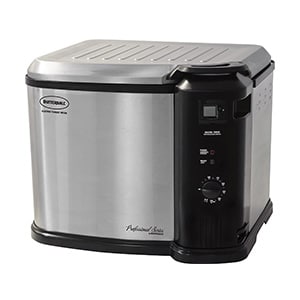 What You Will Love: The Masterbuilt 23011114 Butterball Indoor Electric Turkey Fryer, XL is an electric fryer that has been certified as safe for use on your kitchen countertop. It comes with host of excellent features, including.
Key Features
Cooking basket with drain clip
Stainless steel exterior construction
Thermostat temperature control
Drain valve for easy cleaning
Can be used to fry up to a 20-pound turkey as well as boiling and/or steaming
Pros:
Well-built construction of stainless steel
The wide cooking basket has an attached drain clip
Equipped with a drain valve for quick cleanup
Can function as a fryer, steamer, and boiler
Cooks whole turkey weighing between 14-20lbs
Cons:
Does not sustain high-temperature settings
Too expensive
---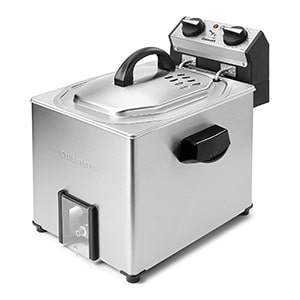 What You Will Love: Treat your guests to a healthier meal with less oil using Cuisinart's one of a kind Rotisserie deep fryer. Spacious and big enough to fit a 14lb turkey-this versatile fryer can also be used to steam vegetables, dumplings, and seafood.
Cooking raw whole meat has become a lot easier with the highly active heating system of these kitchen appliances as it cooks an entire meal within an hour.
Versatility
Cuisinart's deep fryer is famous as the "all in one" cooking equipment because not only does Cuisinart function as a deep fryer rather it works exceptionally well as a steamer too. You can use this fryer to make large servings of meat and also for smaller items like onion rings, donuts, vegetables etc.
Easy To Use
The most important feature of any fryer is its heat settings. A poorly made heat control system not only reflects a flaw in the machine but, Cuisinart also becomes the reason for a horrible meal. Cuisinart's deep fryer has an easy to use control system that will allow you to adjust and manage the temperature settings as per your needs.
Additional Items
This fryer comes with a large stainless mesh basket that can be used to place a 14lb turkey, whole chicken, lobster etc. Moreover, this basket has cool to touch attached handles that will protect your hands from burning.
Pros:
Can be used for frying and steaming
Equipped with a 120 minute timer
It has adjustable temperature control settings
Cons:
Poor packaging
Does not heat more than 340F
---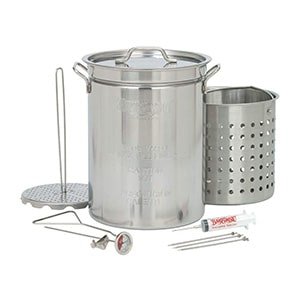 What You Will Love: Enjoy being the host of the town with Bayou Classic Turkey Fryer. This outdoor frying set is a famous culinary device and is most commonly used for cooking a delicious, humungous 20lb turkey. You can also use this propane fryer for other cooking functions like boiling, steaming, etc.
Turkey fryer bayou classic is one of the most popular kitchen equipment as Bayou Classic is lightweight, durable, easy to use, and more importantly affordable!
Durability
Made from solid, heavy-duty stainless steel-this deep fryer will withstand every test of time by being anti-rust. Its durable structure makes these propane turkey fryers strong enough to bear higher temperature settings without letting it affect their overall quality.
Easy To Manage
In order to give customers a more satisfying cooking experience-the Turkey Fryer Bayou Classic includes a 12-inch stainless steel thermometer. By using this thermometer, you can manage and control the heat settings of this device and prepare a well-cooked meal.
Design
Weighing 14.2 pounds, these propane turkey fryers are supported with heavy-duty handles that will allow you to lift it and move it with ease and convenience. Turkey Fryer Bayou Classic contains a uniquely designed perforated basket that will ensure that heat and steam are distributed evenly for every ingredient.
Pros:
Comes with a 12 inch stainless steel thermometer
Made of solid stainless steel
Easy to use and clean propane turkey fryers
Cons:
Despite its solid construction, some pieces come with a hole at the bottom that became a reason for leakage
---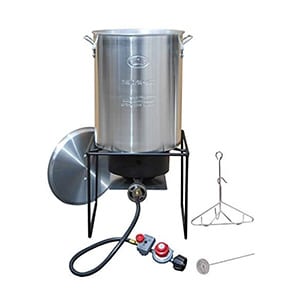 What You Will Love: With this aluminum turkey fryer you can fry and steam a 20lb turkey. Consisting of a 29-quart aluminum turkey pot with lid, poultry rack and a well-designed lifting hook-this outdoor cooker is a simple, easy to use cooking set.
CSF certified-these outdoor aluminum turkey fryers are integrated with modern features that will assist you in preparing wholesome and well cooked dishes.
Spacious
Unlike other turkey fryers, these heavy-duty turkey fryers have 12 inch propane tank that have enough space to accommodate a 20lb turkey. Equipped with an adjustable regulator, thermometer and battery-operated timer-these turkey fryers are user-friendly and easy to operate for everyone.
Heating System
The main component of this fryer is its 38000 BTU cast burner that creates an intense heating setting for any raw food by cooking it thoroughly through high pressure and heat. Since this cooker is made from aluminum, therefore King cooker heats up quickly and sustains the appropriate temperature settings throughout. 
Additional Items
A detailed, well-explained instruction guide is provided with this cooker so that users can access King cooker with ease and learn more about its functions. Additionally, a cooking thermometer is supplied with this set so that you can timely monitor and controls its cooking settings.
Pros:
Has a high pressure 38000 BTU cast burner
Can be used to cook 20lb turkey
Heats up quickly
Includes a poultry rack
Cons:
---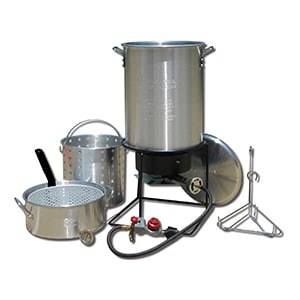 What You Will Love: Known for their optimal productivity-these outdoor turkey fryers will surprise you with their versatile features. Equipped with a 33000 BTU cast burner and provided with other cooking devices-this the frying set is worth every penny of your investment.
Free yourself from the worry of long cooking procedures by adding King Kooker's Frying set. King Kooker high-quality propane tank fryer will make cooking fun and enjoyable for you.
Modern Features
These turkey fryers are designed with an adjustable regulator and a smart timer. With the help of the regulator, you can easily control the heat settings by increasing or decreasing the flame. Similarly, the timer gives you peace of mind and keeps you informed about the progress of the cooking procedures.
Additional Items
Ascertaining and judging the cooking temperature is difficult for everyone King Kooker propane burner is for this reason that you get a thermometer with this frying set. Using the deep-fry thermometer, you can easily check the rising temperature of the oil and cook accordingly. 
Boiling Feature
You also get a punched aluminum basket with this frying set. These aluminum baskets are added so that you also have the option of using this device as a boiler.
Pros:
Can be used for frying and boiling
Comes with an aluminum frying pan
Includes a precise thermometer
Cons:
The timer comes without batteries
Poor packaging resulting in damaged quality of products
---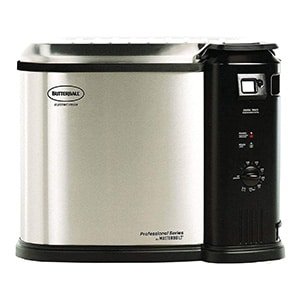 What You Will Love: With this heavy duty, solidly constructed stainless steel fryer you can fry, steam, and boil anything. Since this is an electric fryer, so all you have to do is plug it in and it will be ready to cook with you and for you.
Bring variety and taste to your dishes by using the Masterbuilt highly advanced indoor turkey fryer.
Durability
Masterbuilt's indoor electric fryer is a one-time investment because; these fryers are made to last long. Masterbuilt Butterball stainless steel structure makes it pretty solid to resist the effect of rust or any other form of wear and tear. Additionally, it is paired with a porcelain-coated inner fryer pot that acts as a stable, well-protected space for that hot, burning oil.
Additional Features
To grant you with convenience at every step, this frying device has special added features like a drain valve and thermostat temperature control. The drain valve helps in its cleaning process whereas, the temperature control makes it easy to operate and change the heat settings.
Healthy Cooking
Frying in this cooker does not mean going off-board with excessive oil, rather this frying machine uses 33 percent less oil as compared to other fryers. Masterbuilt Butterball quality has made it the best product for health-conscious foodies. You can go completely oil-free with this fryer and use it for steaming and boiling. 
Pros:
Made from high-quality stainless steel
Can be used for frying, steaming, and boiling
Can accommodate a 14-20lb turkey
Cons:
---
What is a Turkey Deep Fryer?
An indoor turkey deep fryer is similar to other deep fryers that you would use to fry foods, except it has a larger, deeper container. A deep fryer is essentially a large countertop fryer that uses a rotisserie or a basket to hold the bird. They are safe to use indoors and basically safer in general than an outdoor propane tank turkey fryers.
They are available in different sizes, prices, and designs as well as the option to choose from one that uses oil or does not use oil.
Unlike an outdoor turkey deep fryer, even cheap turkey fryers are safer than using propane tank turkey fryers.
---
Things To Consider Before Buying A Good Turkey Fryer
There is a fairly large number of turkey deep fryers on the market for you to choose from, so you will have an easier time choosing the best turkey fryers if you first consider a few key factors, including:
Capacity
Although most turkey deep fryers have a deep enough container to comfortably hold a turkey, there are different basket sizes. You should be able to turn the turkey freely in the basket if it gets caught; the basket isn't large enough for the turkey. Many turkey deep fryers have an 18-pound capacity, but it's usually best to use a bird that is smaller than the allotted capacity.
Safety
The primary concern when buying an electric turkey deep fryer is safety. Even the best turkey fryers rely on extremely hot oil to cook the bird and working with hot oil can be dangerous. Look for safety tips and features, such as an automatic shutoff feature when the oil reaches an unsafe temperature and a break-off cord that detaches from the fryer in case the cord is disturbed.
Cost
This is a warning: there are several options to choose from when buying an electric turkey deep fryer, so set a budget before you begin your search. Keep in mind that even a cheap turkey fryer will provide you with a tasty bird, but it may be made to hold a smaller bird.
Ease of use and cleaning
It is important to know that cleaning a deep fryer, regardless of the size, is never fun. However, some models are made with parts that are dishwasher safe or that can be easily detached for easier hand washing. Draining the oil is a tedious and messy task, so take into consideration how easy it will be to drain the oil. For example, some turkey deep fryers come with a detachable compartment, making it easier to dispose of the oil.
Built
In thermostat-although this isn't a critical feature, it is an extra convenience that saves you from having to buy a separate meat thermometer.
Cool touch exterior
Your turkey deep fryer should stay cool to the touch while it is in use. This will help to prevent the risk of burns as well as make it easier to work with your turkey deep fryer.
Oil change notification
If you are planning to re-use your oil, then you should look for a model that includes a notification to let you know when it's time to replace the oil.
Automatic shut off
This is essential for any indoor turkey deep fryer. If the oil gets too hot, it can combust, so choose a model that will automatically turn the heat off if the oil gets to a dangerous temperature.
---
Our Recommendation for the Best Turkey Fryer
Based on our turkey fryer reviews, all of the above electric turkey fryers will do an excellent job of cooking a bird.
We personally prefer the Waring TF250 Electric Digital Rotisserie Turkey Fryer, in part because of the bonus rotisserie that comes with the fryer.
The rotisserie can be removed, so you can also use the Waring TF250 as a large capacity steamer or a deep fryer.
We hope that our buying guide on how to choose the best turkey fryers and our reviews will be beneficial in helping you choose a suitable turkey fryer for your family's needs. We would greatly appreciate it if you can share your comments with us.
More Related Articles: