Quick summary: Our top pick is the Presto 03430 Pizzazz Plus Rotating Oven. There are both top and bottom heating elements that are separately controlled so you can achieve the exact results that you want. There's also a rotating tray for even baking, and a timer so you can walk away knowing your pizza will be cooked perfectly. The removable nonstick baking pan is easy to clean and store, so party cleanup is quick. You can even use it to effectively reheat any leftover pizza and other oven-baked foods such as chicken wings, nachos, and more.
When looking for a pizza oven for your home, you want an oven that is simple and will bring you deliciously crisp and tasty results. You want dependability and consistency so that your recipes will turn out perfectly every time, with evenly melted cheese and a crispy thin crust.
In other words, you want to be able to make quality pizzas in your own kitchen so that you don't have to go out to your local Italian restaurant every time you want a margarita or a 4 seasons pie.
Restaurant ovens reach quite high temperatures (800 degrees), which isn't possible in a conventional oven. The great thing about these, though, is that they can reach high temperatures fast to allow you to make perfect pizzas without long preheat times or messy cleanups.
The Best Pizza Ovens For Home should reach piping hot temperatures quickly, have several temperature settings, and have easy-to-use settings. If they are quick to clean, even better.
So how do you know which home oven is best for you? And are they as good as they promise to be? We have reviewed the top ten home pizza ovens so that you can choose the best model to suit your needs.
Quick Navigation
---
10 Best Pizza Ovens For Home Comparison
| | | |
| --- | --- | --- |
| | This compact and stylish rotating oven saves 60% energy when compared to a conventional oven, and has controls enabling you to adjust the temperature above and below your pizza. | Read Our Review |
| | This compact pizza maker is perfect for making not only pizzas, but also quiches, giant cookies, nachos and other foods. The nonstick coated baking plate is easy to clean. | Read Our Review |
| | This oven is best for cooking pizza on your gas stovetop. It reaches a high heat (up to 600F) fast and cooks pizza in 6 minutes. Features a pizza stone that fits pizzas up to 12 inches. | Read Our Review |
| | Here is a pizza maker that can bake frozen as well as fresh pizzas. It features upper and lower heating elements that you can control independently, and a timer. | Read Our Review |
| | This pizza maker is one of the lightest countertop pizza ovens, weighing 7.53 pounds. Easily portable, you can make pizza anywhere. The nonstick aluminum hotplate makes for easy cleaning. | Read Our Review |
| | This is an outdoor oven that can be used indoors as well. It is gas powered and has a built-in valve which allows you to control the flames. Bakes like a brick oven! | Read Our Review |
| | This kit will allow you to transform a 22.5-inch kettle grill into one of the best outdoor pizza ovens. You can use charcoal, or use wood for a true wood fired pizza maker. | Read Our Review |
| | This digitally controlled, stainless steel oven has two heat settings for both thick and thin crust pizzas, and at 1450 watts, your pizza will cook much faster than in a traditional oven. | Read Our Review |
| | This pizza maker features a pizza drawer and bakes a frozen pizza in just 15 minutes without preheating. You can bake different foods and the timer will shut off automatically. | Read Our Review |
| | This beautiful compact unit cooks pizzas as well as other snacks and appetizers, and has a plate that rotates for even cooking, with a view window at the top and a cooking timer. | Read Our Review |
---
Reviews of Top 10 Pizza Ovens For Home
Best Overall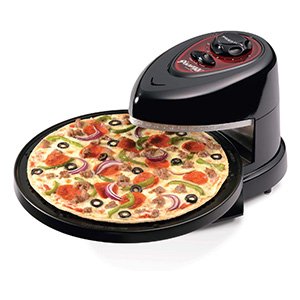 This rotating oven is designed to cook your pizza like a record player to give it more even cooking.
The pizza sits on the pan and the pan turns as it heats the pizza. This cook on both the top and bottom.
Presto oven is open to allow for more versatility. The baking pan is nonstick and removable to make cleaning easier. You simply choose your setting and set the timer to create the perfect pizza in no time.
Pros:
Saves 60 percent on electricity compared to a conventional oven
There are no hot spots, food is cooked evenly
You can use it for frozen or raw foods
Takes up minimal counter space
Cons:
Only cooks a 12 inch pizza
Timer only goes up to 20 minutes
Not many options for cooking
---
Best Budget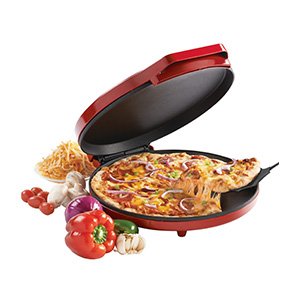 You will love that this pizza maker is not only great for pizza, but is the perfect shape for frittatas, flatbreads, giant cookies, quiche, nachos, quesadillas, and many other foods.
This small and lightweight appliance allows you to make homemade pizzas or easily heat frozen pizza. Users appreciate that this pizza maker is so simple to use, and yet pizzas come out perfectly cooked.
The crust is crispy, the cheese is melted, and the toppings are crispy. There are indicator lights for 'power on' and 'ready to bake.
Compact design
This unit has a cord-wrap and is easy to close up and store in a cupboard or drawer when not in use.
Nonstick baking surface
Cheese and other cooked foods slide easily off of the nonstick baking plate, making cleanup easy for you!
Lightweight
This unit is easily portable, as it only weighs 0.16 ounces. You can take it on camping trips, on your boat, to parties, or to the office!
Pros:
Has a dual base with a floating hinge, making it simple to use without taking up a lot of space in your kitchen
Cons:
Is small compared to other models – you can only make one pizza at a time
---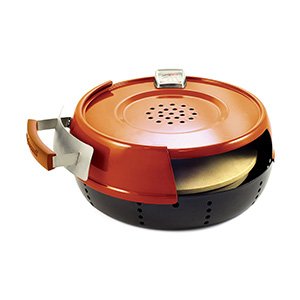 This pizza oven for home looks more like a hybrid dutch oven than it does a pizza oven. This works with a system of doors, a pan, and a lid to cook the pizza to perfection on your gas stovetop.
Simply turn the burner on high and let the oven precook. There is a thermostat that will regulate the temperature inside the oven for optimal cooking temperatures.
This is designed to cook other items as well such as breads. You simply need to use a pizza peel with this product, though it is not included.
Pros:
Cooks quickly
Easily sits on the burner to cook the pizza
Can make more than just pizza
Satisfaction guarantee
Cons:
More work than other pizza ovens
Only works with gas stoves
Gets hot enough to burn
Only designed for fresh pizza
---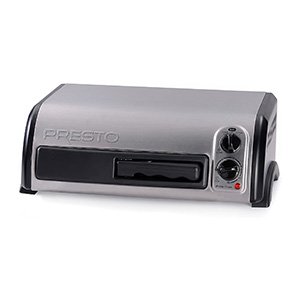 Whether you want to cook a fresh pizza or just heat up a frozen pizza in a more efficient way, this unit can do the job.
The rack pulls straight out and the handle to pull it out closes when not in use to save counter space.
The crumb tray is removable making cleanup easier. It heats quickly and you can choose to turn on the top, bottom or both heating elements for baking.
Pros:
Heating element turns off when the timer goes off
Saves space on your counter
The stainless steel finish fits with most modern kitchens
Easy to clean
Cons:
Can only fit up to a 12 inch pizza
The opening is just under 3 inches meaning it will not fit some thick pizzas
---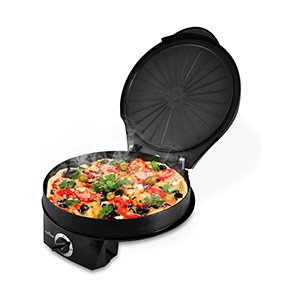 This compact unit barely takes up any more than the 12 inch pizza it cooks. The round shape of this oven and fold down lid keep heat in as much as possible to simulate the heat in a gas or wood oven.
The controls are easy and you simply set the timer and let the pizza cook. When the timer goes off your pizza will be done and ready to enjoy.
Pros:
Saves counter space
Can be used for other foods
Indicator light tells you when cooking is done
Time settings are rotary controlled for easy use
Cons:
Does not have options for cooking
Can heat unevenly
Only cooks a 12 inch pizza
---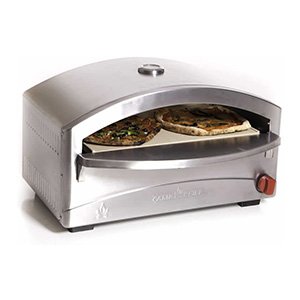 You will love that this oven has been designed to replicate the features of a wood fired oven with its double walled construction and ceramic stone.
It is ready to cook in just 15 minutes, and the valves allow you to adjust the flames to perfect the cooking of your pizzas just the way you like them.
A regulator and 5 foot hose are included to adapt to any standard bulk propane tank. Pizza on your patio!
Easy to clean
Its stainless steel housing means that it is simple to clean and stays looking beautiful for a long time.
Has a pizza stone
Camp Chef Italia has a cordierite ceramic pizza stone to hold the heat more evenly and to help the crust puff up like in pizzerias.
Works with portable propane
The portable nature of this gas powered model means you can take it with you on trips to create great pizza no matter where you are.
Pros:
This oven can reach temperatures upwards of 700 degrees F which is a far higher heat than conventional ovens, and the best type of heat for pizzas
Cons:
It is rather heavy, at 47 pounds
---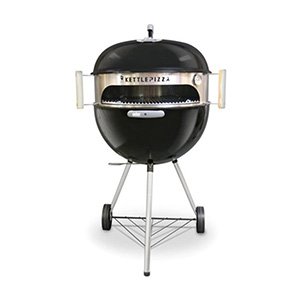 You will love that this kit will transform your outdoor grill into a pizza oven in no time! Simply lift the lid of your grill and slide in the center pieces, and you've got yourself an outdoor pizza oven.
This handy kit includes a riser sleeve, a high-temperature thermometer, wooden handles, and a 14-inch pizza pan.
The deluxe versions also include a baking stone and wood or aluminum pizza peel. During testing, the heat of this unit reached a high heat: up to 900 degrees (mixing charcoal and hardwood).
Use either charcoal or wood
You can make wood fired oven pizzas with hardwood for an authentic wood-smoked taste, or use lump charcoal.
You can use a skillet
If you want to cook meat, fish or vegetables in a skillet with this grill kit, you can do so. You could make pizzas and then for those who wish, prepare other foods so that everyone is happy.
Made in USA
If prioritizing American-made products is important to you, this kit is entirely made in the USA.
Pros:
The temperature remains stable throughout cooking, as you don't need to lift the lid to remove the food – simply slide it out, just as you would in a pizzeria
Cons:
This kit only works with 22.5 inch kettle grills
---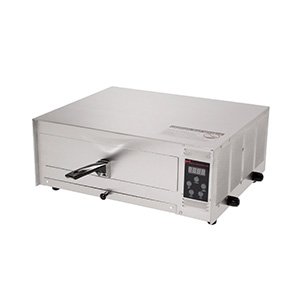 This stainless steel pizza ovens for home comes with a few great features that make it easy to use.
You will find minimal settings for low or high pizza temperature, 350 degrees, and 450 degrees respectively.
Wisco Digital Oven cooks the pizza on both top and bottom at the same time to make cooking faster and more even. It can also be used for many other foods, such as cookies, pies, and more.
Pros:
Can be used on frozen foods as well as frozen pizza
Comes with a one year manufacturer warranty
Uses long life heating elements
Even heating
Cons:
Outdated design of the unit
Has minimal control options
Only designed to cook frozen items
Can cook item too fast
---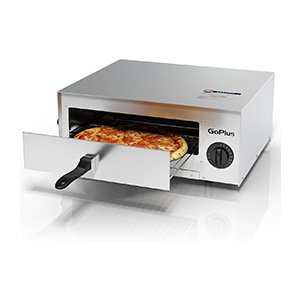 You will love that this pizza oven can be used on your countertop and comes with a snack pan, so you can make pizzas as well as other foods quite easily and effectively.
Goplus has dual backing elements that allow you to bake a frozen pizza in less than 15 minutes, with no need to preheat the oven.
Just turn it on and it's ready to go! The removable crumb tray helps keep the oven clutter-free, and can be cleaned with warm soapy water.
Auto shut-off
You can set the time you desire and walk away, knowing your food will be cooked to perfection and never burnt.
Simple to clean
The stainless steel oven body and bakeware are simple to clean and care for. Burned food can be removed quickly.
Insulated handles
The handles of both the food rack and the tray are insulated for your protection.
Pros:
Suitable for both domestic and commercial use, so you are getting a top-quality oven for your home
Cons:
The baking time can only be set from 8 to 12 minutes, which may not be suitable for some other foods, and the outside of the oven gets very hot while in use
---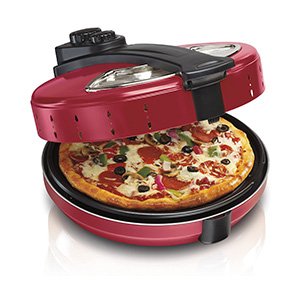 You will love the look of this small yet powerful oven! Its beautiful red color and compact design means it looks gorgeous in your kitchen, fits easily on your countertop, and is small enough to store when not in use.
This model can make many foods, including chicken wings, sausages, croquettes and other appetizers and snacks. Users have made giant cookies too, with great results.
Hamilton Beach Pizza Maker is small but powerful: it cooks 40% faster and is up to 525 more energy efficient than a conventional kitchen oven. You can save time as well as energy. There's a 30-minute cooking timer with auto shutoff, and no preheating is required.
Top and bottom heating
The dual heating elements ensure that pizza is cooked to perfection, from the crispy crust to the melted cheese and cooked toppings.
Viewing window
You can watch food as it cooks – great to keep children occupied while waiting for their dinner!
Rotating tray
Your food rotates as it cooks for even cooking.
Pros:
Easily portable, as it is lightweight (weighing only 6.36 pounds). You can take it with you to have pizza parties wherever you go!
Cons:
Only holds a 12 inch pizza, and you can only make one at a time
---
What Makes the Best Pizza Oven For Home?
If you want to make sure you are getting the best oven for home then you need to know the things to look for. Here are a few things you should keep in mind.
The Size of the Pizza Oven
You want to know how large of a pizza you can cook in the oven. The average size is 12 inches but there are some that are larger or smaller. The size you will go with is dependent on how many people you will be cooking for.
Related Reading: Best Pizza Cutters
The Heating Options
To cook the pizza best there should be even cooking on top and on the bottom. This is why a home oven should have a top and bottom heating element. Some even have the option to choose whether you want one or both elements during cooking.
You should also look at the options for the heat setting. Some pizza ovens will allow you to set the temperature. Other pizza ovens will not allow you to do this but will only give you options such as high or low.
While! this can be easier to use, it can also be frustrating because you cannot get the exact temperature you are looking for to cook the pizza. You will be limited to only a couple of options which can lead to burnt pizza.
The Versatility of the Pizza Oven
Remember! when you want to find the perfect pizza oven, is one that is versatile to allow you to make a thick crust, stuffed crust, rising crust, or any other type of pizza crust you are looking for.
This can be done in many ways. One way is to look at how large the opening is for the oven. If it only opens a slit then the versatility will be limited.
Some people like that they can use their ovens for all types of different foods and if you like this then you should go one that has a large enough opening for you to do this.
---
Why Use a Pizza Oven for Home Kitchen?
Cooking a great pizza requires high, even heat. This is why so many people use home wood pizza oven. They may cook the pizza to perfection in a way that a conventional oven simply can't, they are large and extremely expensive to install and maintain.
The alternative is to go with an oven that sits on your counter and does the work for you. This home appliance is great for people who like to put their own ingredients or special sauce on their pizza. You can make any variety of pizza you think up when you use the Best Pizza Oven For Home.
---
Our Recommendation for the Best Pizza Oven For Home
After looking at the different options provided the best option to go with is the Presto 03430 Pizzazz Plus Rotating Oven. This pizza oven heats the pizzas on top as well as bottom to ensure that cooking is complete. It is the most versatile by having an open-top where you can cook thick pizzas, chicken wings, and so much more.
It is also very easy to clean by having a non-stick removable pan. Though it only cooks an average size pizza, it still provides more options for cooking deep dish and rising crust where some of the others on this list are not capable of doing this.
More Related Articles:
---